I've had my fair share of delicious Cajun Chicken Pasta, and this one is no exception. It tastes like something that is fancy and luxurious, but it's actually a really fast and easy pasta recipe. Serve up a big bowl of this tender and juicy chicken, steamed broccoli, and fettuccine noodles tossed in a spicy cream sauce.
If you're looking for another delicious pasta dish, check out my Shrimp and Scallop Pasta in White Wine Cream Sauce.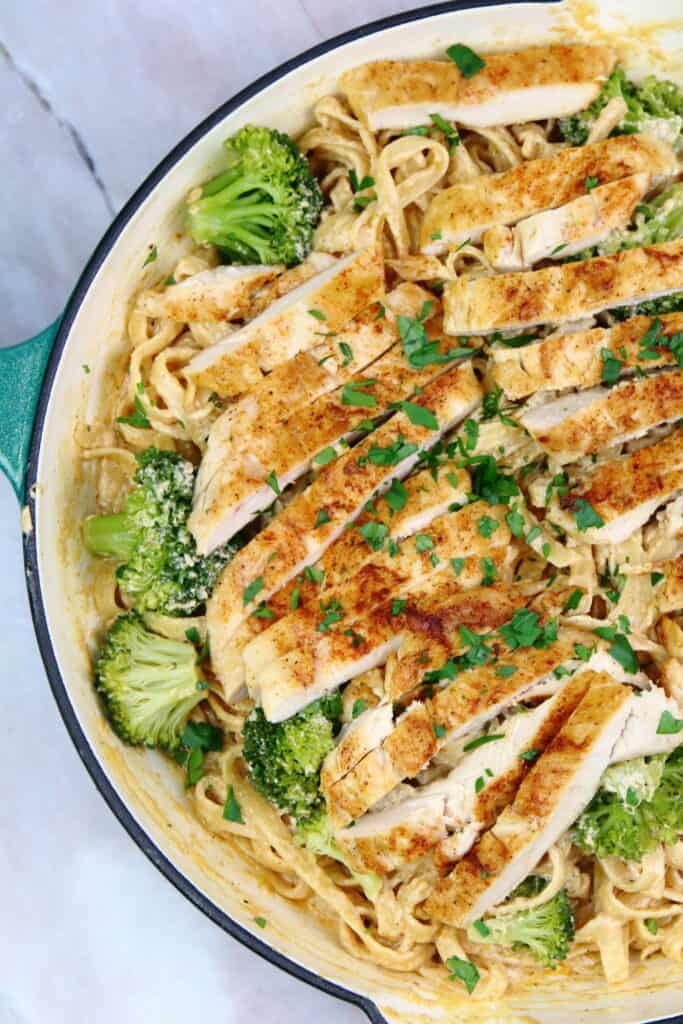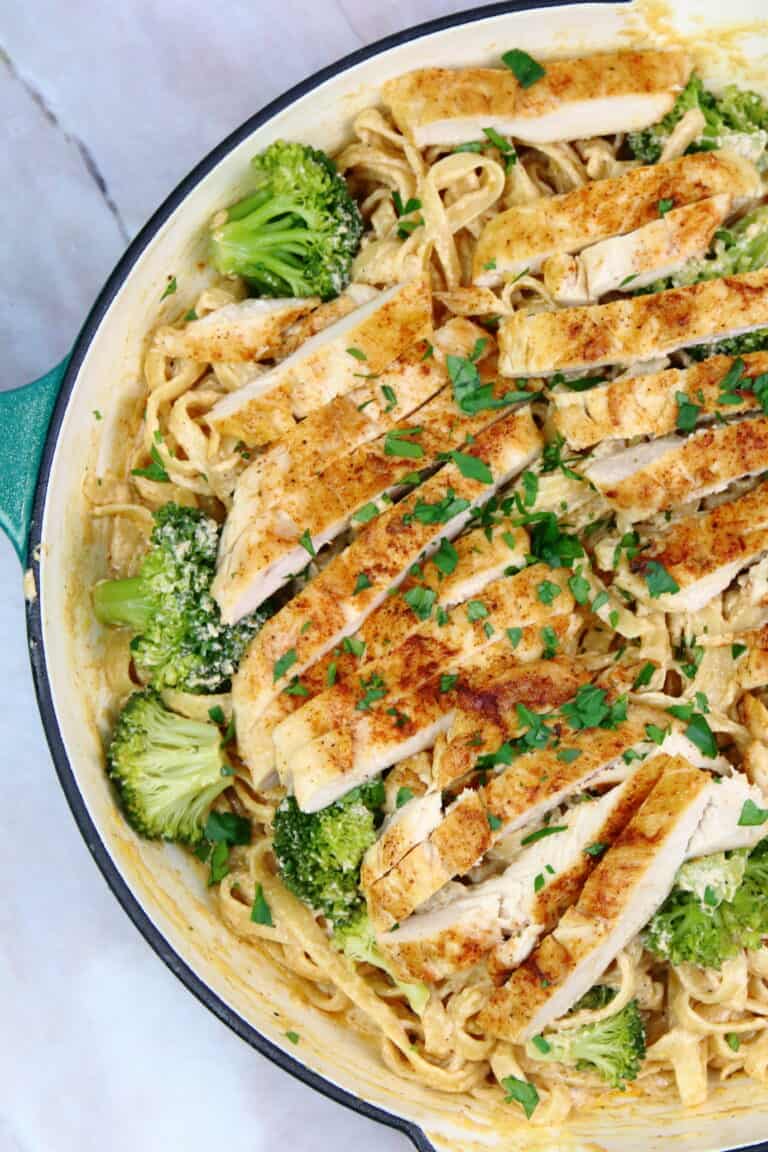 For me it's hard to decide what is the star of this dish, between the chicken and the sauce. They are both so delicious. Chicken breast can get dry really quickly, but not here, and it's so tender you can cut it with a fork.
How do you keep the chicken breast tender and juicy?
Chicken breast can be tricky. A standard chicken breast is usually very uneven as far as size and thickness and can cook unevenly if you don't prepare it first. This can lead to it being dried out and tough. But there is a really easy solution: The meat tenderizing hammer (paid link).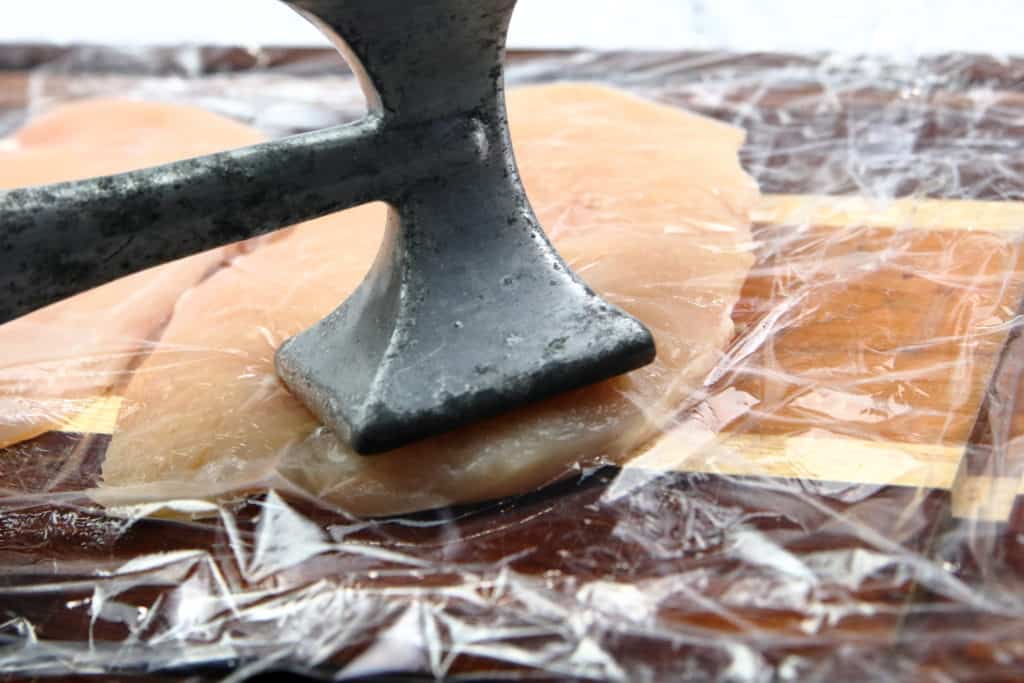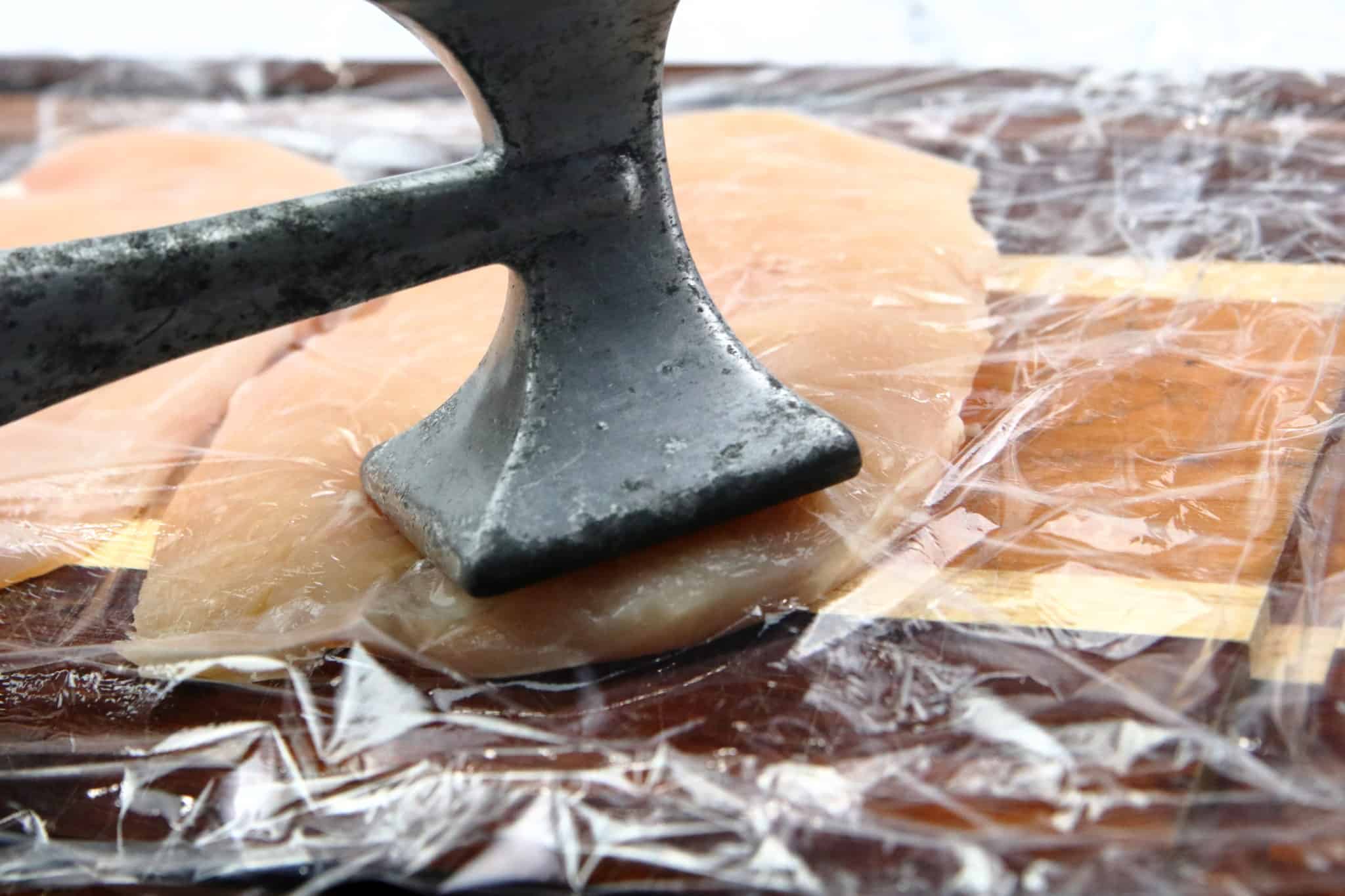 Don't skip this step! If you've never used a meat hammer before, trust me. It makes a WORLD of difference. Simply place your chicken breast in between two pieces of plastic wrap, use the flat side of the mallet, and flatten the chicken. This serves two purposes:
Flattens the entire chicken breast so that it is a uniformed thickness all around. This will ensure a perfectly even cook.
Tenderizes the chicken so that it is fall apart tender.
After you've flattened your chicken to about a half inch thickness, season it and saute. After your chicken is cooked, set aside in a warm oven and get to work on the sauce.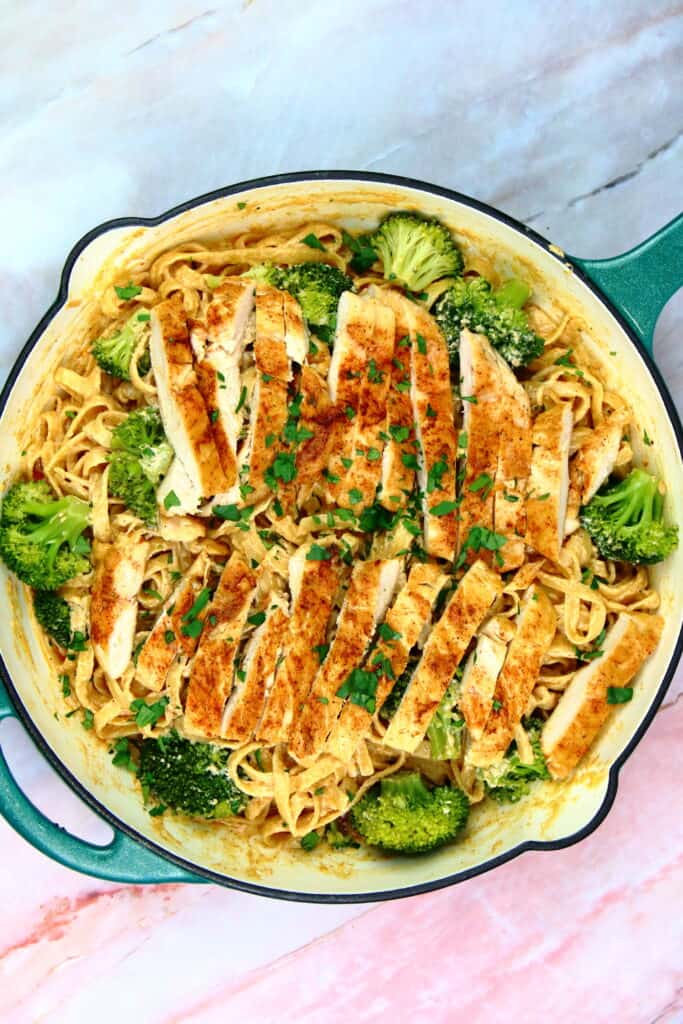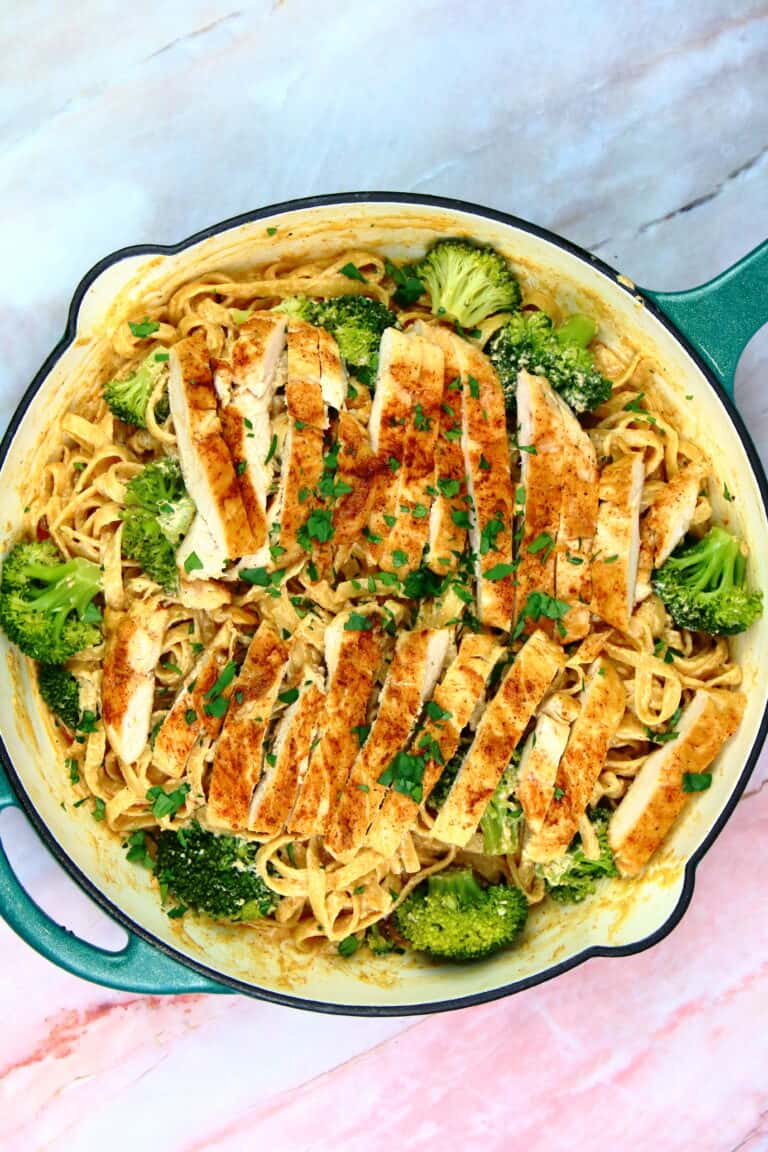 What spice do you use for the Cajun Chicken Pasta?
If you have been on System of a Brown before, you probably know where I'm going with this. Everyone say it together:
Tony Chachere's.
There are a lot of cajun/creole spices out there in the world, and I've tried a ton of them. Every time I feel like I've tried one that I like, I always come back to my number one. It's spicy, it's flavorful, and it really enhances everything you put it on.
As an Amazon Affiliate, I earn a small commission at no extra cost to you.
Making your spicy cream pasta sauce
Making your cream sauce for the cajun chicken pasta is actually simple with very few steps. After you've cooked your chicken breasts, you can make your sauce right in the same skillet.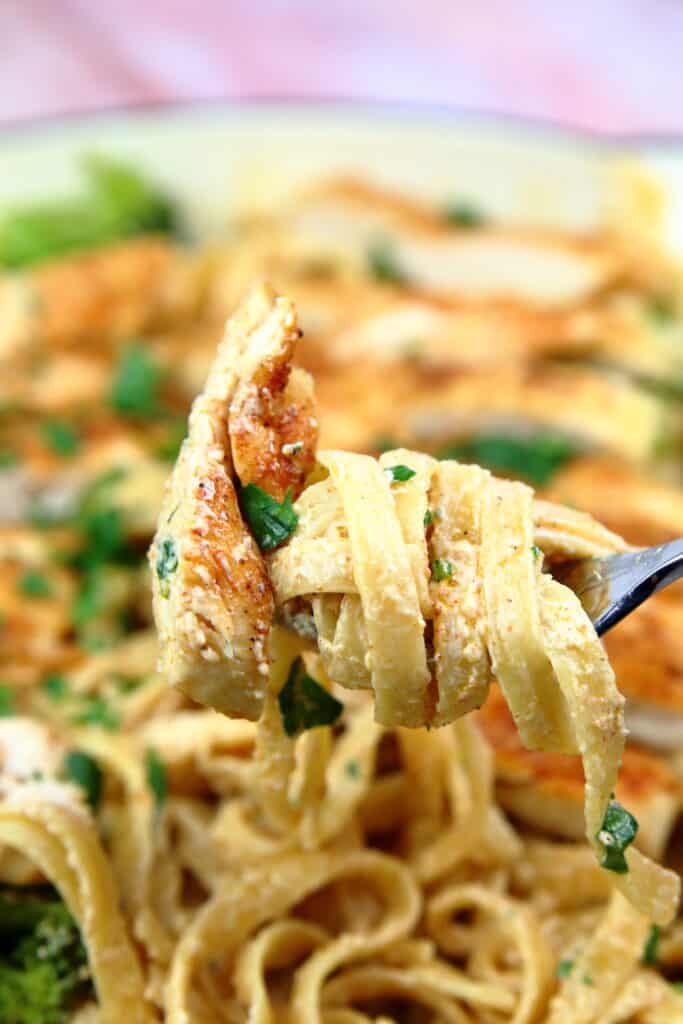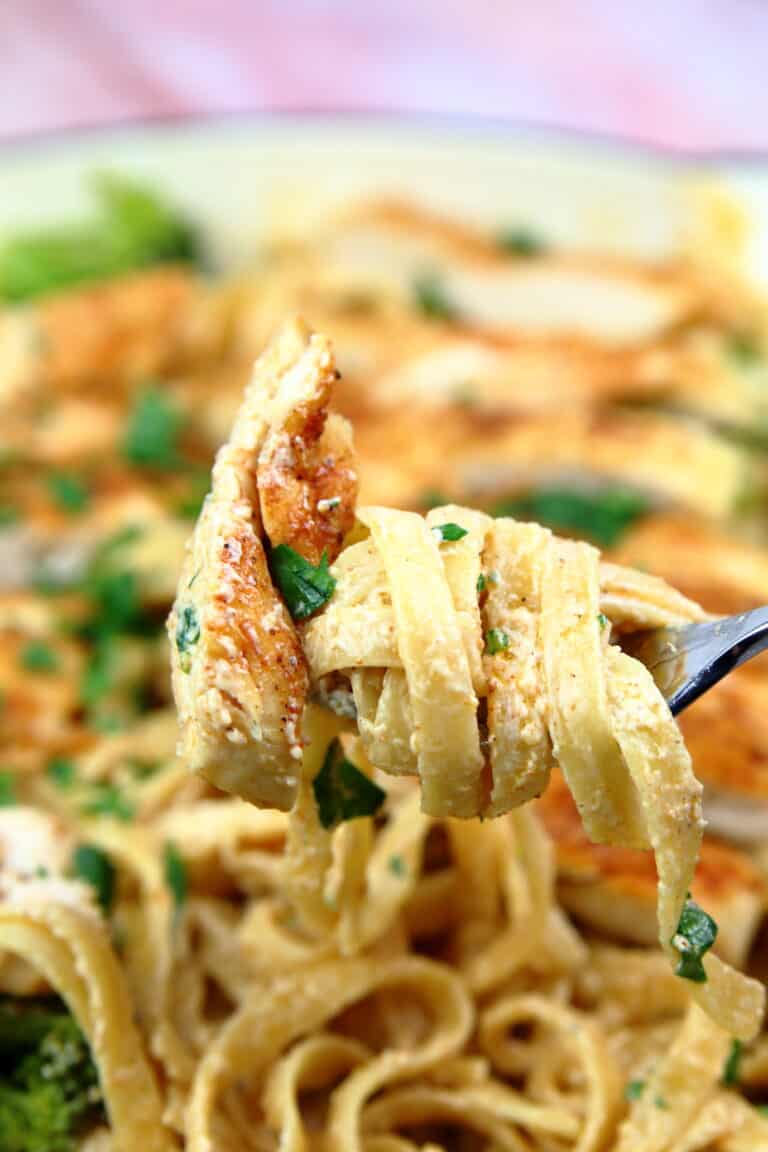 After you've cooked your chicken, melt some butter in the pan and saute some minced garlic. Once the buttery, garlicky aroma is add the milk and cream. Heat over medium heat. When the milk is warm, melt in the cream cheese.
At first, it will seem a little thin. Let it cook a few minutes and it will thicken. I just whisked it every few moments to make sure everything was melted and mixed. Add your spices, taste, and adjust accordingly.
You might notice I didn't make a roux (flour+butter base). Nope, sure didn't. It really wasn't necessary. I really don't love making a roux if I don't have to. It can make your cream sauce a little grainy, plus, the cream cheese, milk, and heavy cream thickened right up and was deliciously smooth.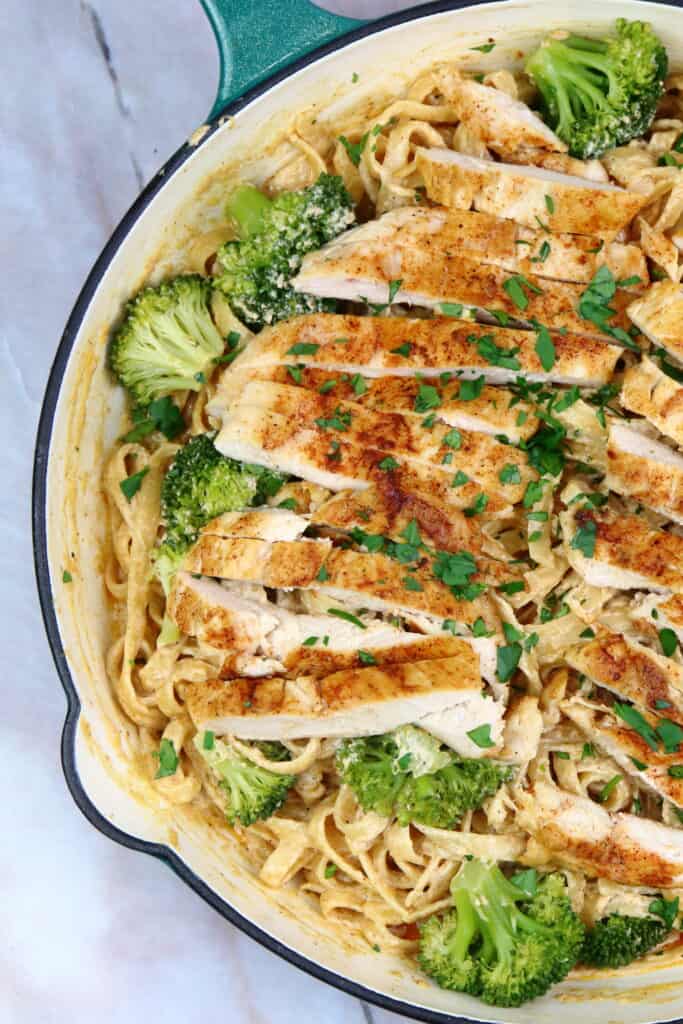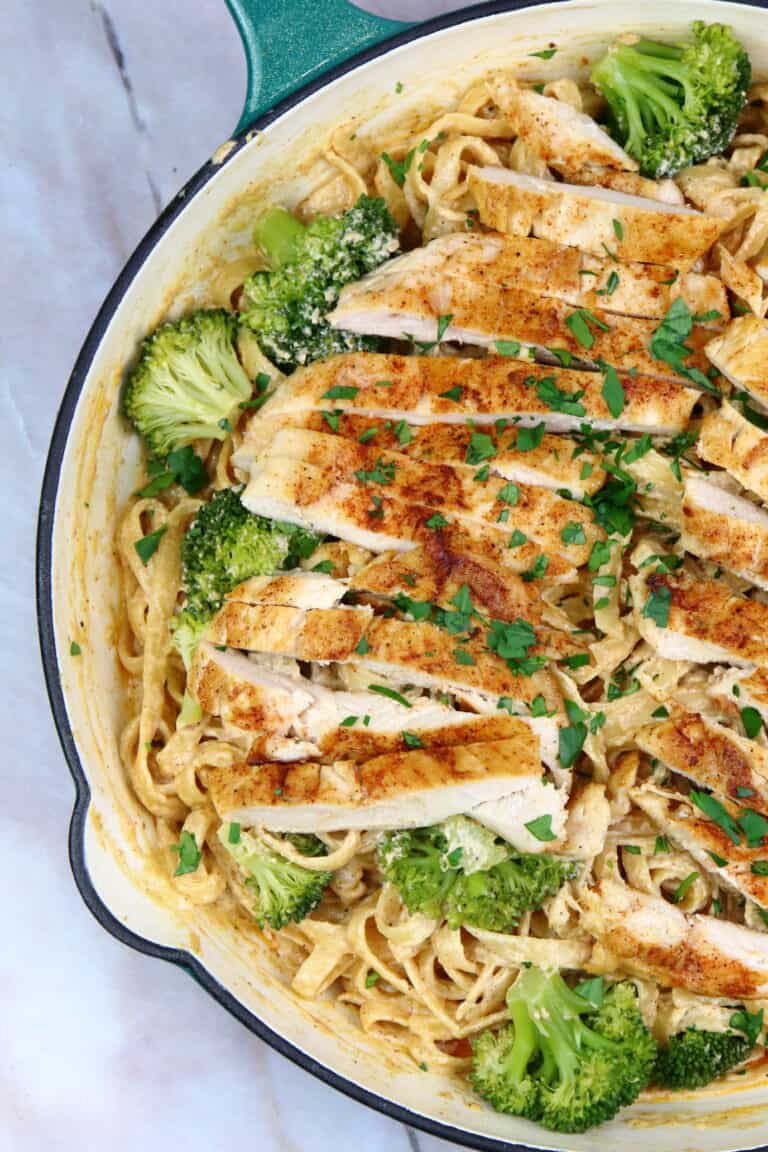 When you finish your sauce, toss in your cooked pasta. I would add a little at a time. I cooked a full box, but I didn't use it because I didn't want too much pasta for the amount of sauce.
You can use whatever veggies you like, or none at all. I opted for a bag of broccoli florets that I steamed in the oven and tossed in at the end.
That's pretty much it! This Cajun Chicken Pasta is going to certainly be a repeat offender in my house. It's really quite easy, but if I left something out, I'm always open to questions below!
Enjoy!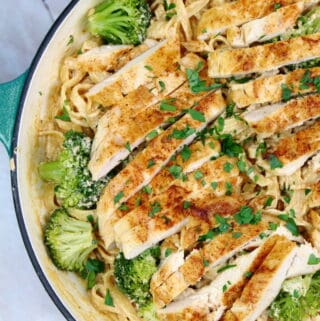 Cajun Chicken Pasta
Tender, cajun spiced sautéed chicken and steamed broccoli over a bed of fettuccine tossed in a creamy, spicy pasta sauce.
Print
Pin
Share on Facebook
Rate
Ingredients
For the Chicken
1

lb

chicken breast

2

tsp

Tony Chachere's Bold Seasoning

2

tbsp

olive oil
For the Pasta and Sauce
2

tbsp

butter

4-6

cloves

garlic

1

cup

milk

1

cup

heavy cream

8

ounce

block cream cheese

2

tsp

Tony Chachere's Bold Seasoning

½

tsp

chipotle chili powder

½

tsp

paprika

1

lb

fettuccine

1-2

cup

steamed broccoli
Instructions
For the Pasta
Boil according to package directions. I used fettuccine. Don't forget to salt the water! While the water is coming to a boil and the pasta is boiling, etc., work on the other things.
For the Chicken
Place the chicken breasts in between two pieces of plastic cling wrap. Using a meat mallet, pound the chicken down until there is a uniformed thickness, about ½ inch thick or so.

Remove plastic wrap. Sprinkle both sides with Tony Chachere's Bold Creole Seasoning

In a large saute pan on medium heat, heat olive oil. Saute chicken for about 4 minutes per side.

Remove from heat. Cover in foil or place in warm (not hot) oven to reserve for later.
For the Sauce
Melt butter over medium/low heat.

Microplane garlic (or mince very finely) and saute in butter for about 1 minute. Be careful to not let it get hot because it will burn FAST.

Turn heat up to medium plus. Pour in milk and cream. Heat and stir. Add cream cheese, Tony's, paprika, and chipotle chili powder.

When the fettuccini is finished, drain (do not rinse) and toss in sauce. Add a little at a time until you like the amount. I ended up not using the entire amount. Toss in steamed broccoli.

Slice chicken and put on top or mix in.