You know those boxes of rice and pasta roni? Yeah those are delicious. Guilty pleasure, I admit. I definitely resort to those when I need a quick and easy side dish. But this side of Creamy Spinach and Parmesan Orzo with chopped mushrooms and feta cheese blows the pants off those. This is the first time I've ever cooked with orzo, and it was SO darn good, I will certainly be exploring more orzo recipes in the future.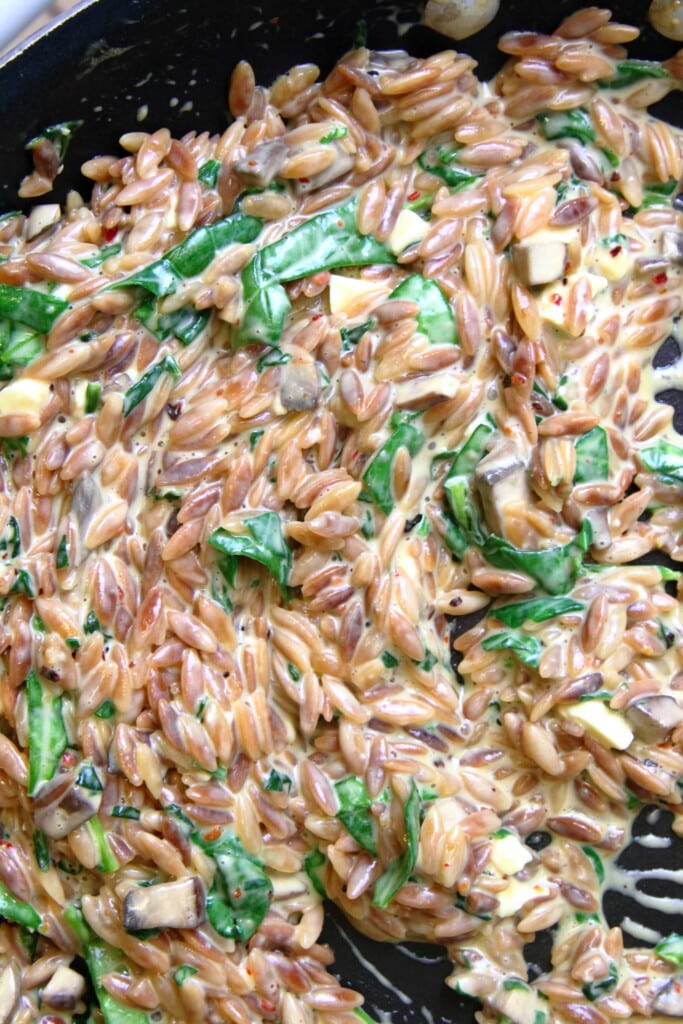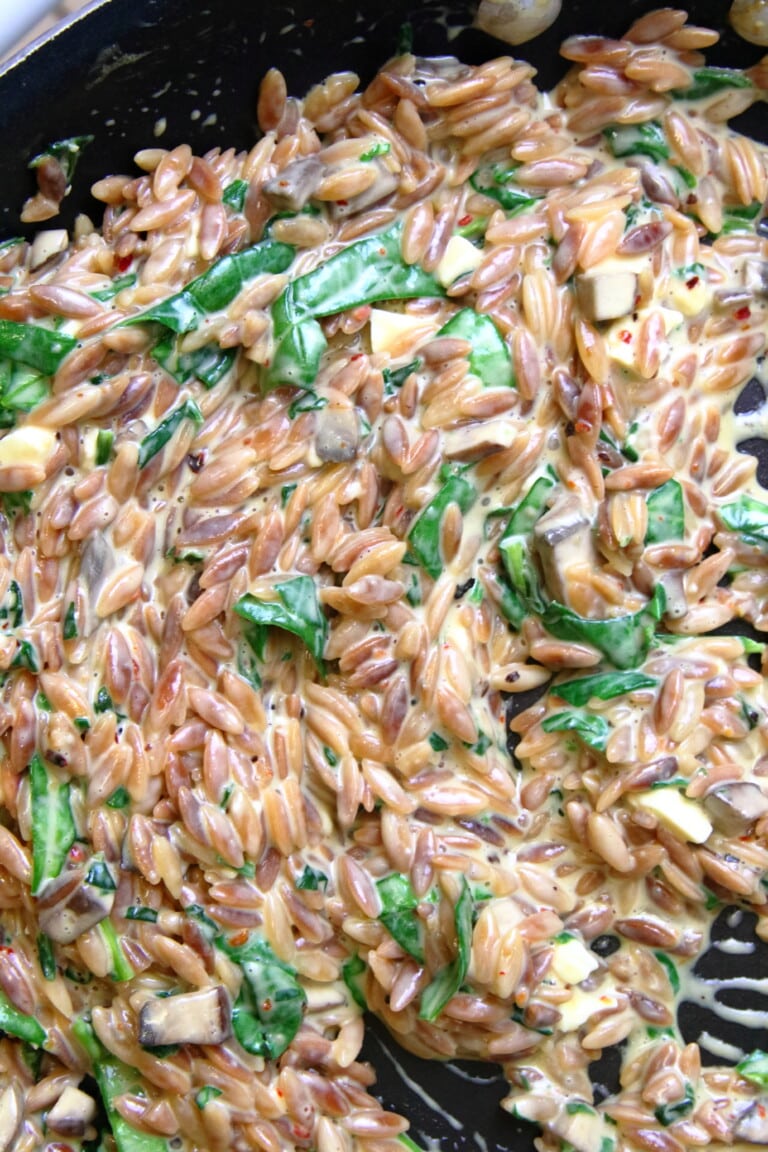 First of all, what is Orzo?
Orzo is a tiny pasta that resembles rice. It's usually a white pasta, but not always. On its own, Orzo does not have much flavor, just as most other white pastas, so it will take on the flavor you give it. So with this orzo recipe, between the stock, garlic, cheeses, and veggies, it definitely packs a flavorful punch! You can use orzo in many different ways, including but not limited to soups, side dishes, salads, and pilafs.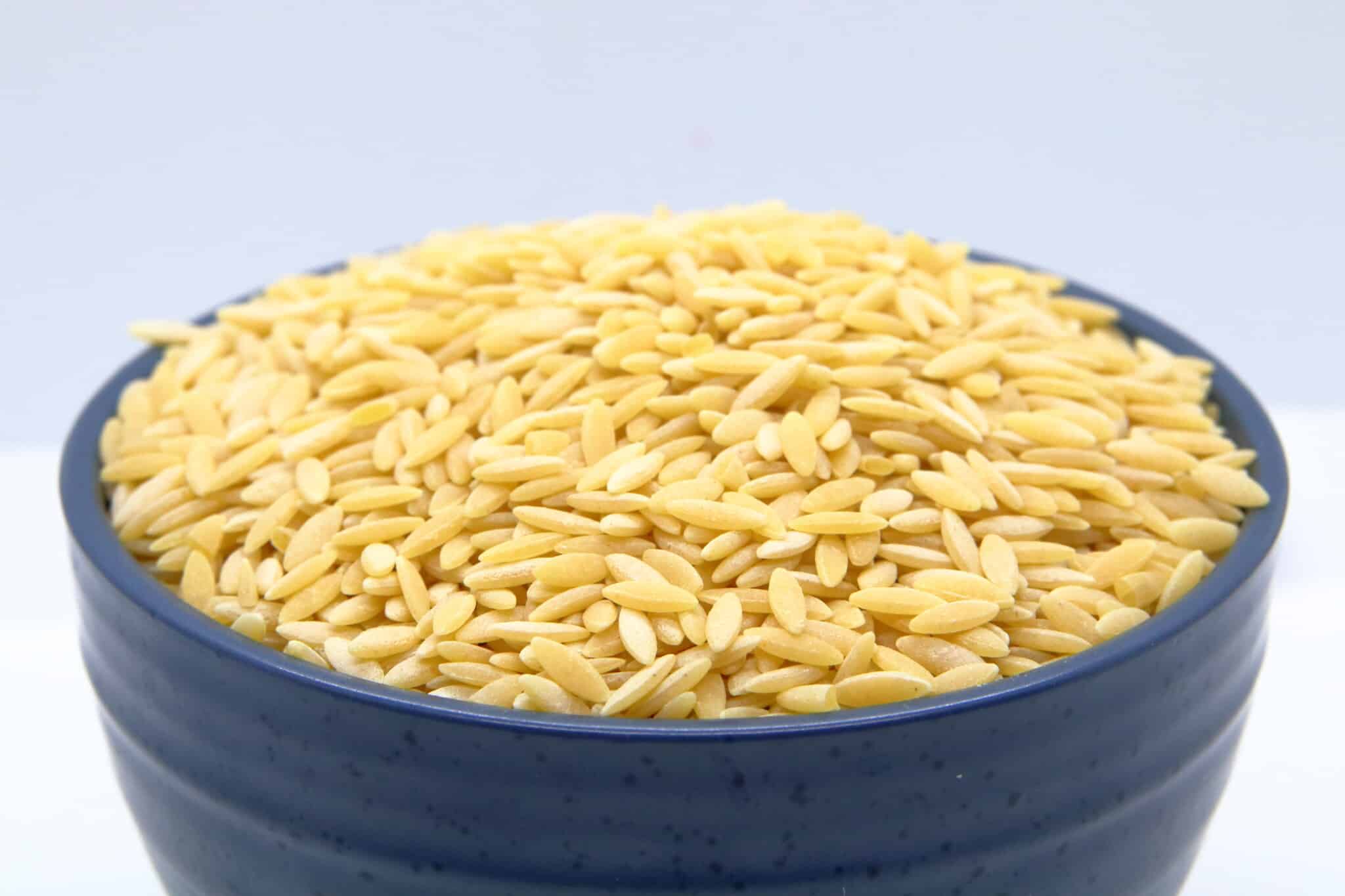 How do you cook orzo?
The most basic was of cooking orzo is to boil in water and drain like any other pasta. You can also simmer the orzo in a flavored liquid of your choice so that it absorbs more flavor than just using water. I wanted to maximize the flavor in this spinach and parmesan orzo, so i chose to cook it in chicken stock and heavy cream.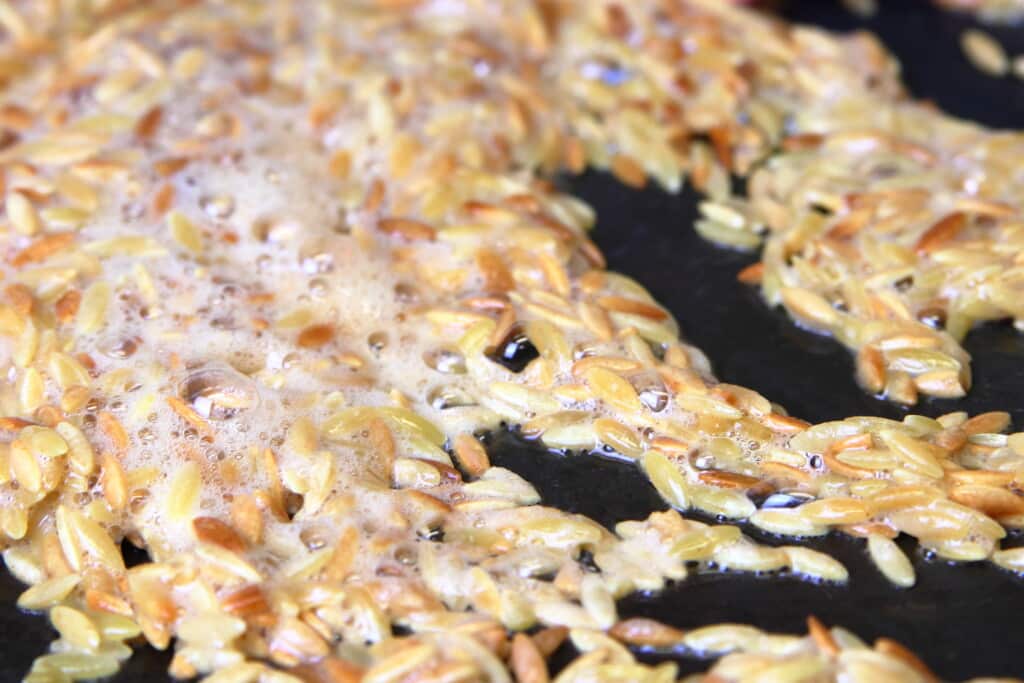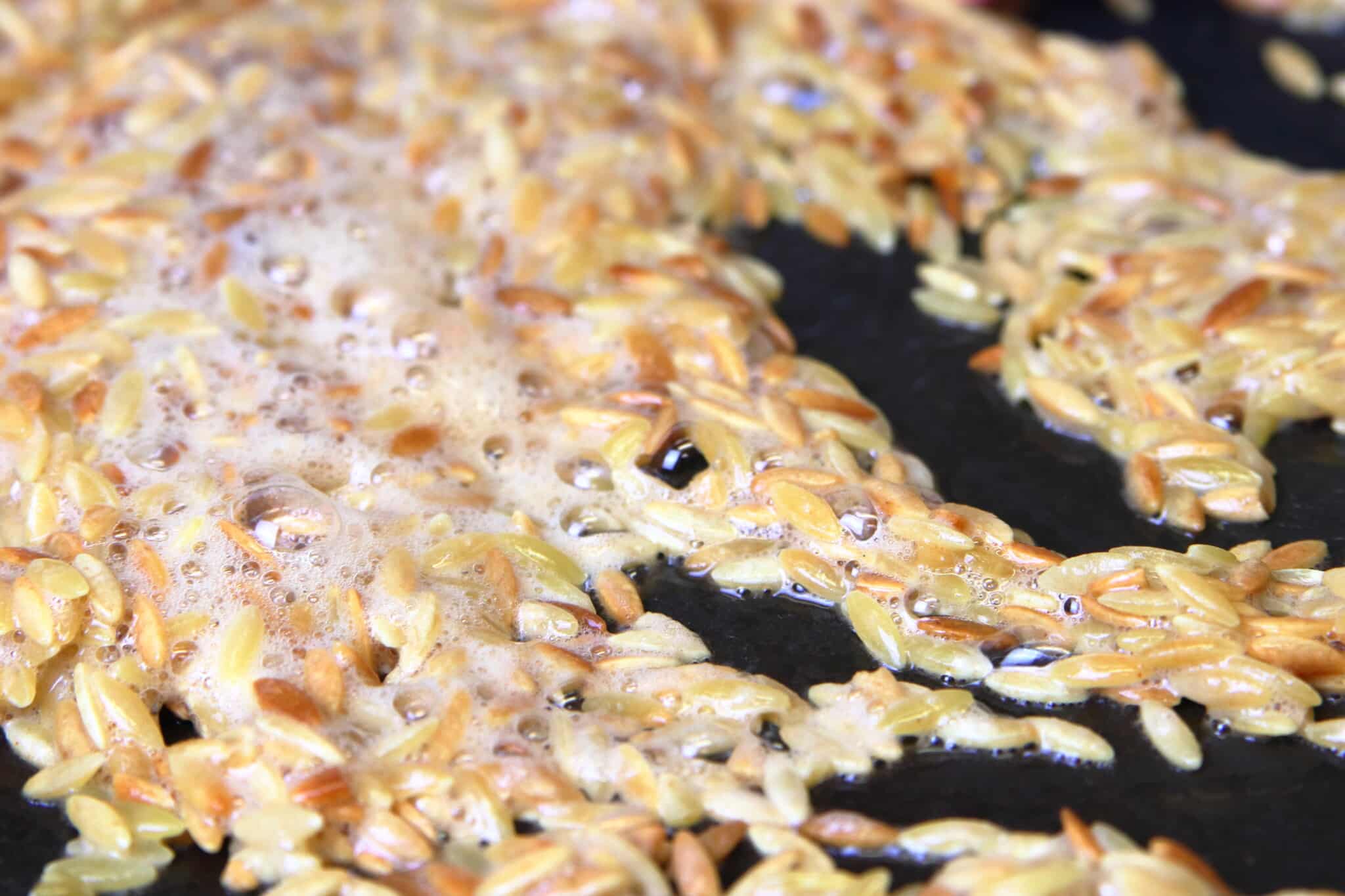 For this particular dish, I chose to toast the orzo in butter prior to simmering in the cooking liquid. It gives it such a nice, rich nutty flavor and a beautiful color.
What kind of vegetables can I use with this orzo recipe?
I chose to use spinach and mushrooms in this orzo recipe, but you can really use whatever are your favorites! Here are some alternatives:
broccoli
asparagus
bell peppers
kale
eggplant
zucchini
Just to name a few! I loved the combination of flavors with the spinach, mushrooms, and cheeses that I used in this orzo recipe.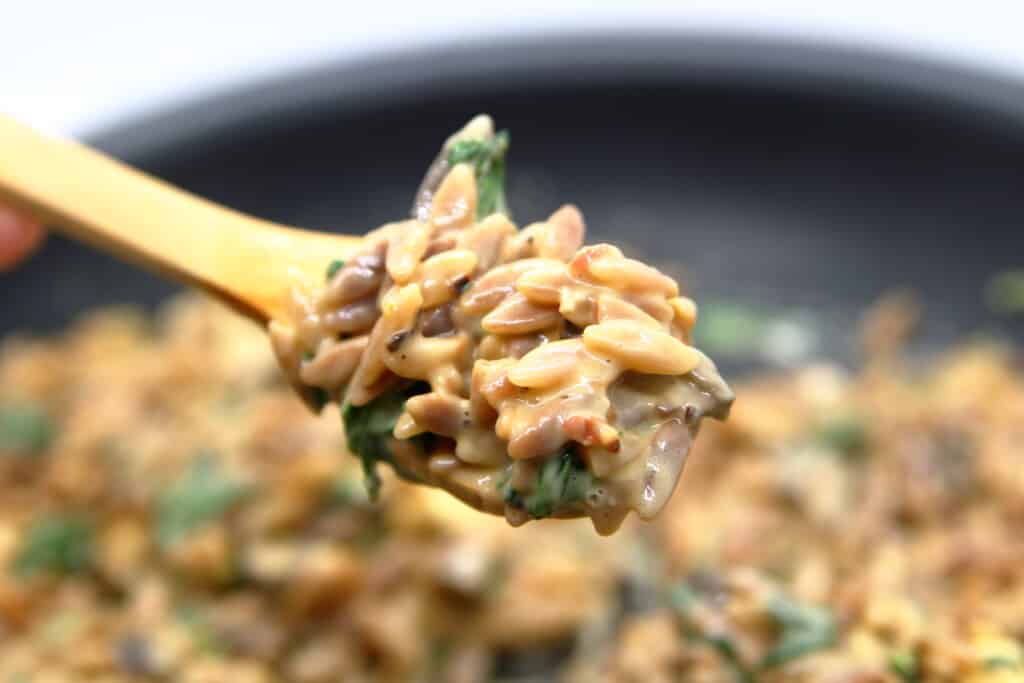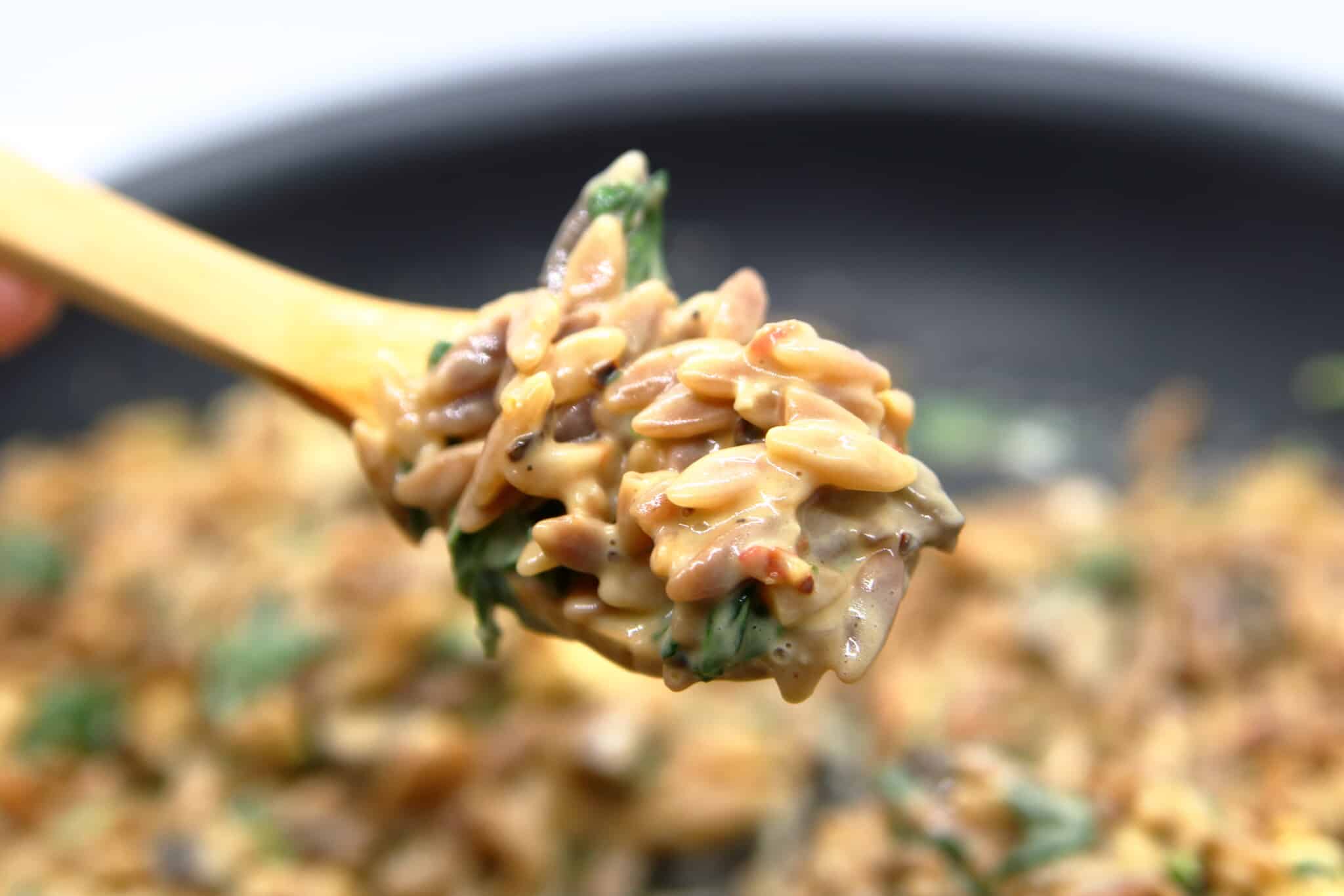 What other substitutions can I make in this Spinach and Parmesan Orzo?
I chose to use chicken stock, but if you would like to replace the chicken stock with vegetable stock and make it a vegetarian spinach and parmesan orzo, then that would be delicious too!
You can also opt for half and half or milk if the heavy cream is a little too rich for you.
What is that Flatiron Pepper Co. stuff that you are talking about?
So my husband came across the Flatiron Pepper Co. and decided to try their pepper flakes, and MAN are they super tasty! They look like regular old crushed red pepper but they aren't. There are a few different blends that create different flavor profiles and different levels of spice based on the pepper combinations.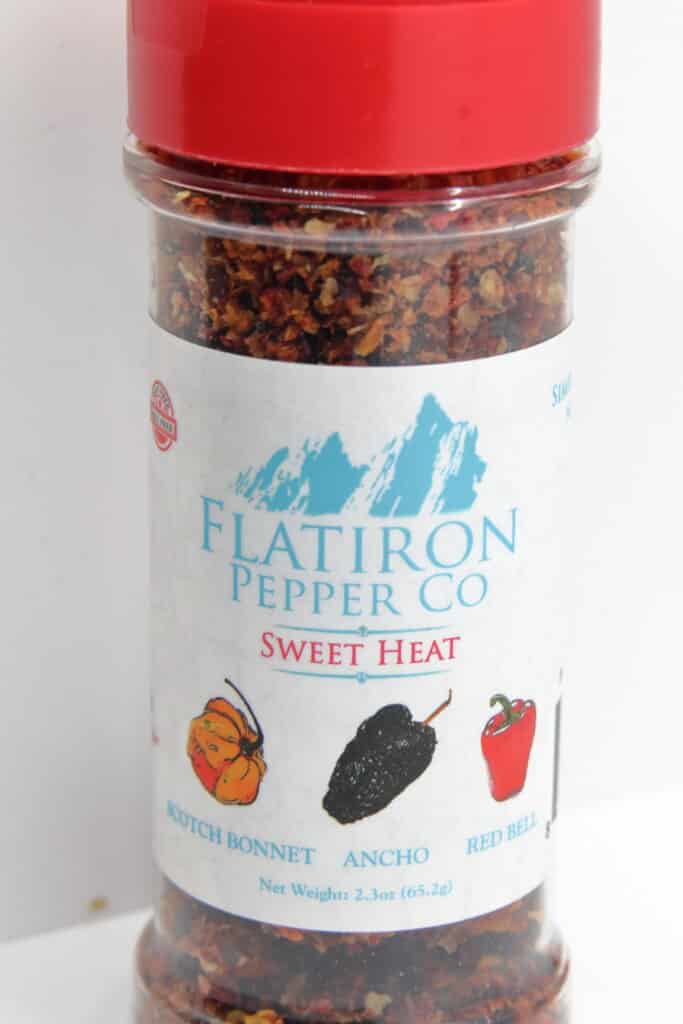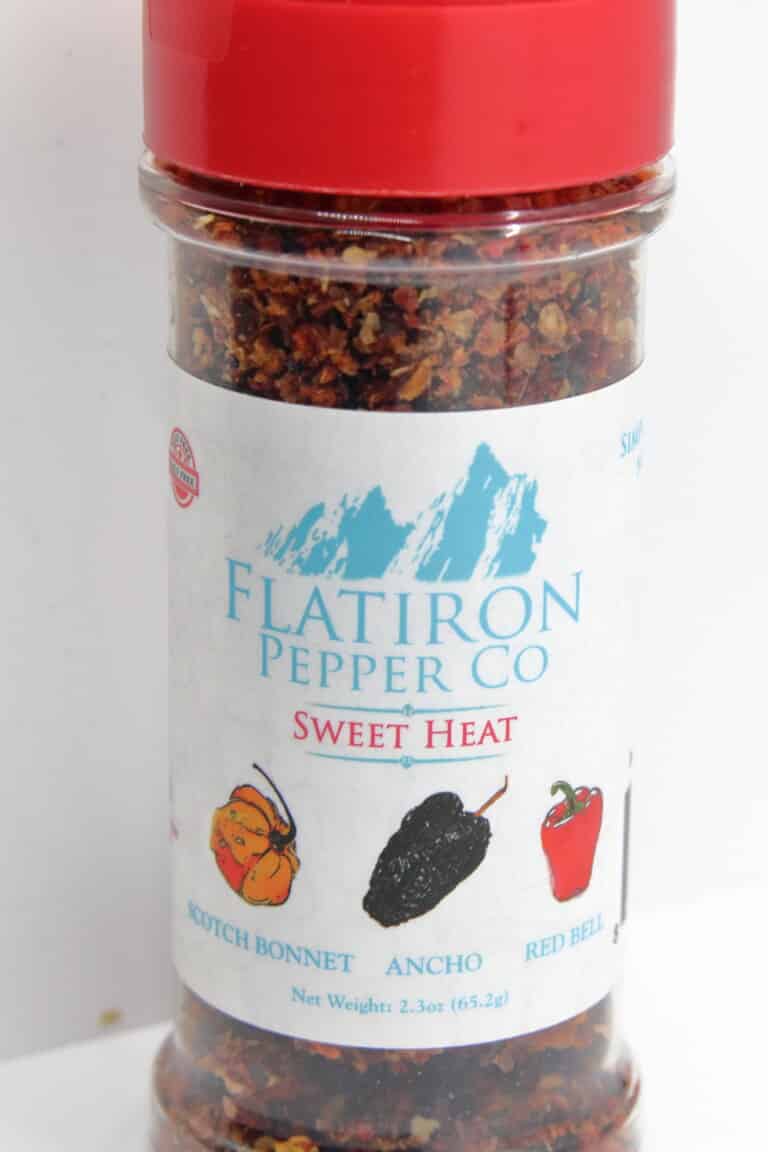 This particular blend was their Sweet Heat. Not too spicy, but just enough for a little kick and another layer of really delicious flavor. We have all of their pepper blends and will DEFINITELY be reporting back next time I try one.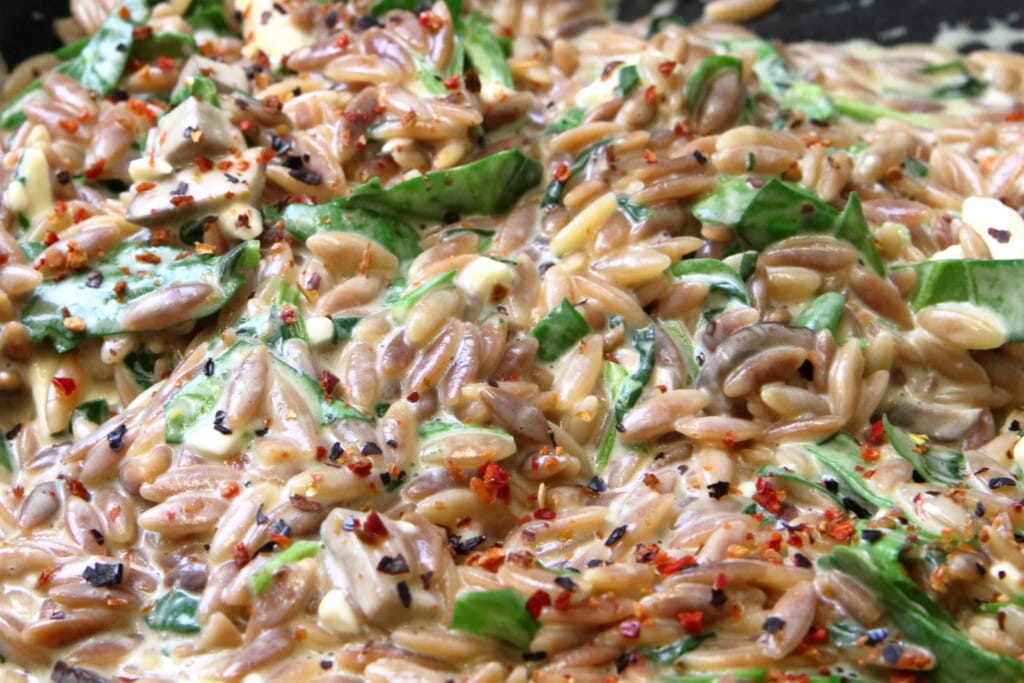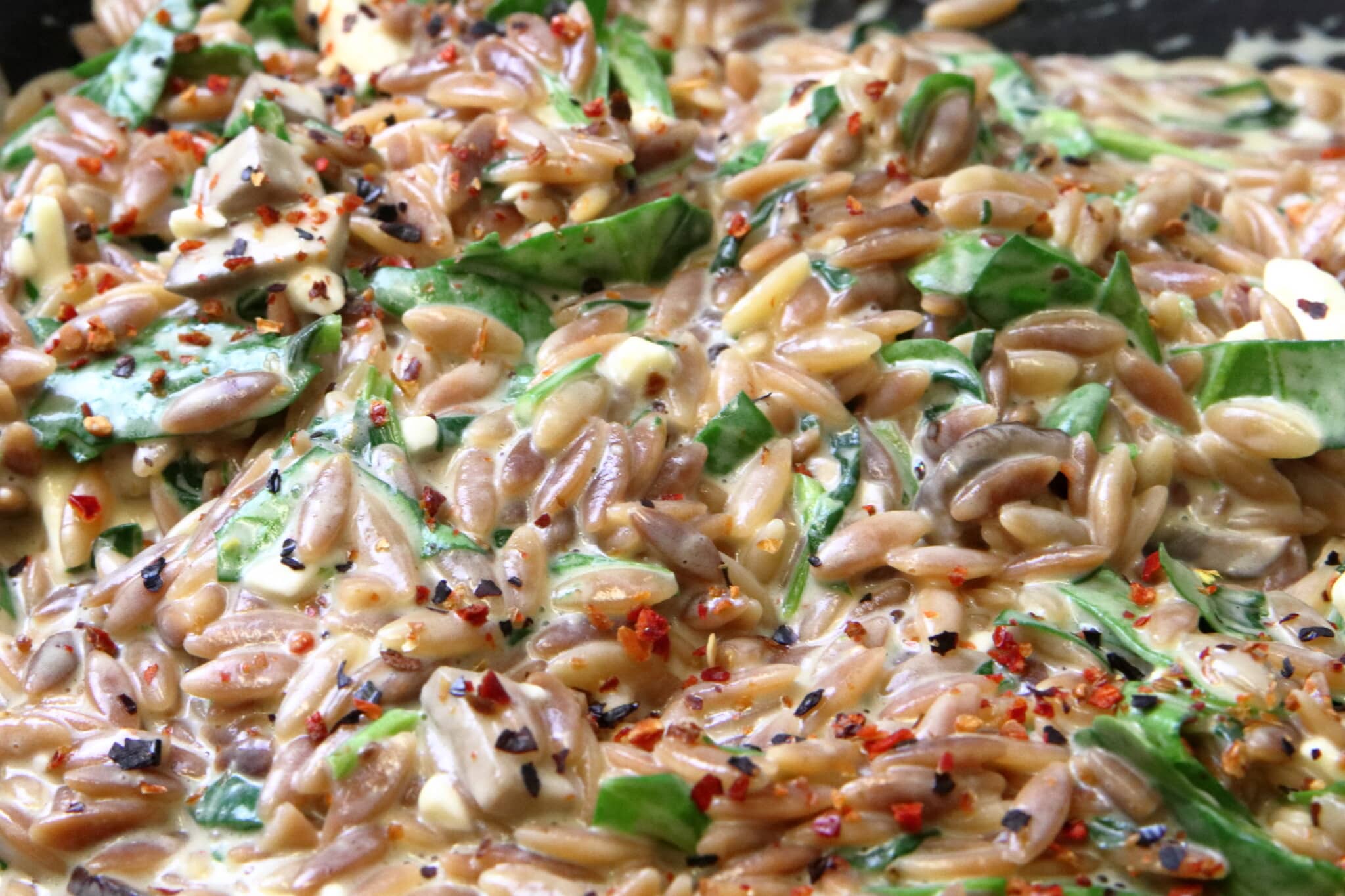 That's pretty much it! I could not BELIEVE how tasty this spinach and parmesan orzo recipe came out to be, but my husband immediately put it in the top three. SO stinkin' good.
Enjoy!
If you're in need of another side dish option, but perhaps with fewer carbs, try this Honey Sriracha Roasted Broccoli.
Creamy Spinach and Parmesan Orzo
This Creamy Spinach and Parmesan Orzo is a PERFECT side dish to any meal and is made with fresh spinach, parmesan cheese, chopped mushrooms and feta cheese.
Ingredients
2

tbsp

Butter

1

cup

uncooked orzo

1

tsp

minced garlic

1 ¼

cup

chicken broth

or vegetable broth to make it vegetarian

½

cup

heavy cream

1

cup

chopped spinach

½

cup

chopped mushrooms

½

cup

fresh shredded parmesan cheese

¼

cup

crumbled feta cheese

½

tsp

Flatiron Pepper Co. Sweet Heat crushed pepper
Instructions
Melt butter in large saute pan over medium heat. When butter is melted, add uncooked orzo. Toast until brown, stirring constantly. Be careful to not burn.

Add minced garlic and stir for about a minute.

Add chicken stock and heavy cream. Stir well.

Add spinach and mushrooms. Bring to boil.

Immediately reduce to low and cover. Simmer for 5 minutes.

Add parmesan cheese and feta. Cover and continue to simmer for another 5-7 minutes, or until liquid is absorbed and orzo is soft.

Add salt and pepper to taste. The cheese adds a bit of saltiness so be careful not to oversalt. Add a teaspoon of the Sweet Heat from Flat Iron Pepper Co for a little extra pop.

Serve and enjoy!
Nutrition
Serving:
0.5
cup
|
Calories:
340
kcal