This Raspberry Lemonade Vodka Spritzer is the perfect cocktail for a warm summer day, or if you want a cute pink cocktail for a Valentine's date! Light and refreshing with just a little kiss of sweetness, this pink lemonade vodka cocktail is going to be a hit!
And how cute is this blush pink color?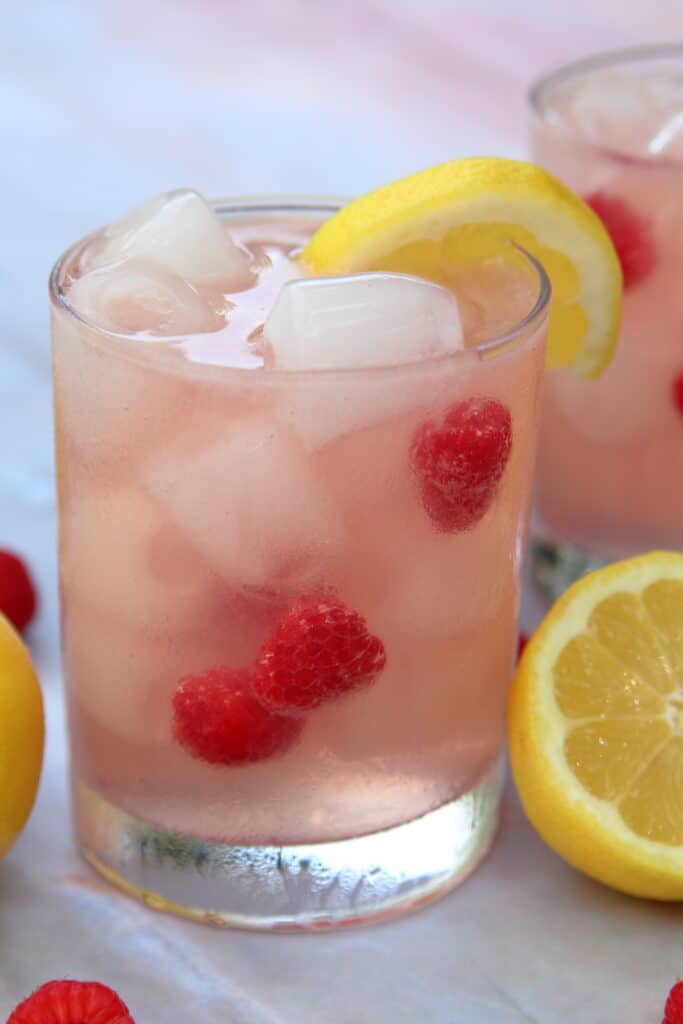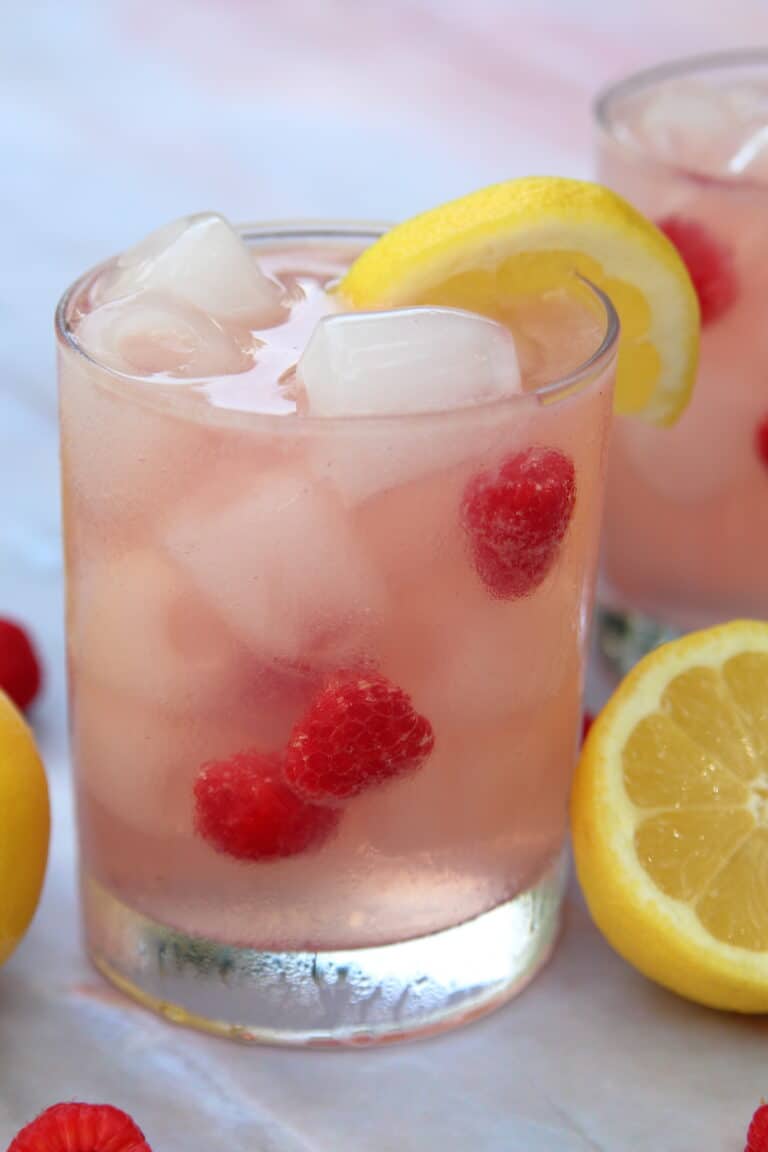 This isn't my first vodka cocktail to post here. It's also not my second. I just really love a good vodka cocktail, and lately I've been mildly obsessed with trying different flavor combinations. This is perhaps the sweetest of the three that I've done so far. If you want some other flavor options, check out my Electric Lemonade Vodka Cocktail and Vodka Lemonade Spritzer.
What do I need for this Raspberry Lemonade?
This variety of Vodka Spritzer requires four ingredients:
Raspberry Vodka: I prefer Raspberry Absolut. Smirnoff also works well. It doesn't have to be super expensive, but I would avoid the extra cheap stuff as well.
Prosecco: My favorite is La Marca, but you can certainly use whatever kind you like.
Lemonade: I used the Simply Lemonade for this drink. It has some sugar, but if you need less, there is also a light version with less sugar.
Raspberry Syrup: You can usually find this in the grocery store with other alcohol mixers or in any liquor store.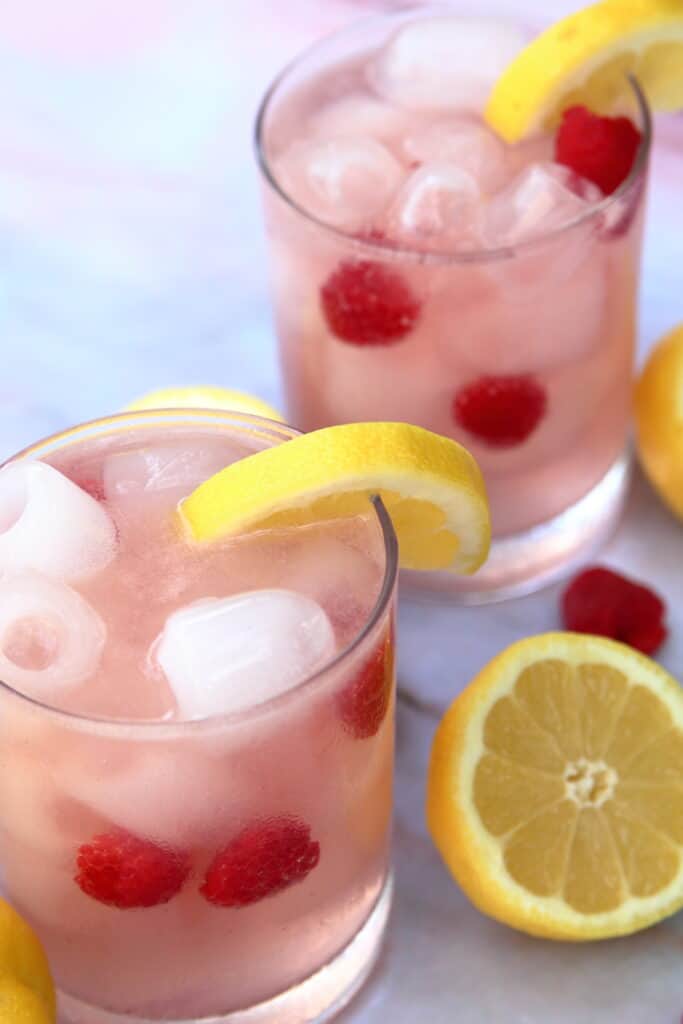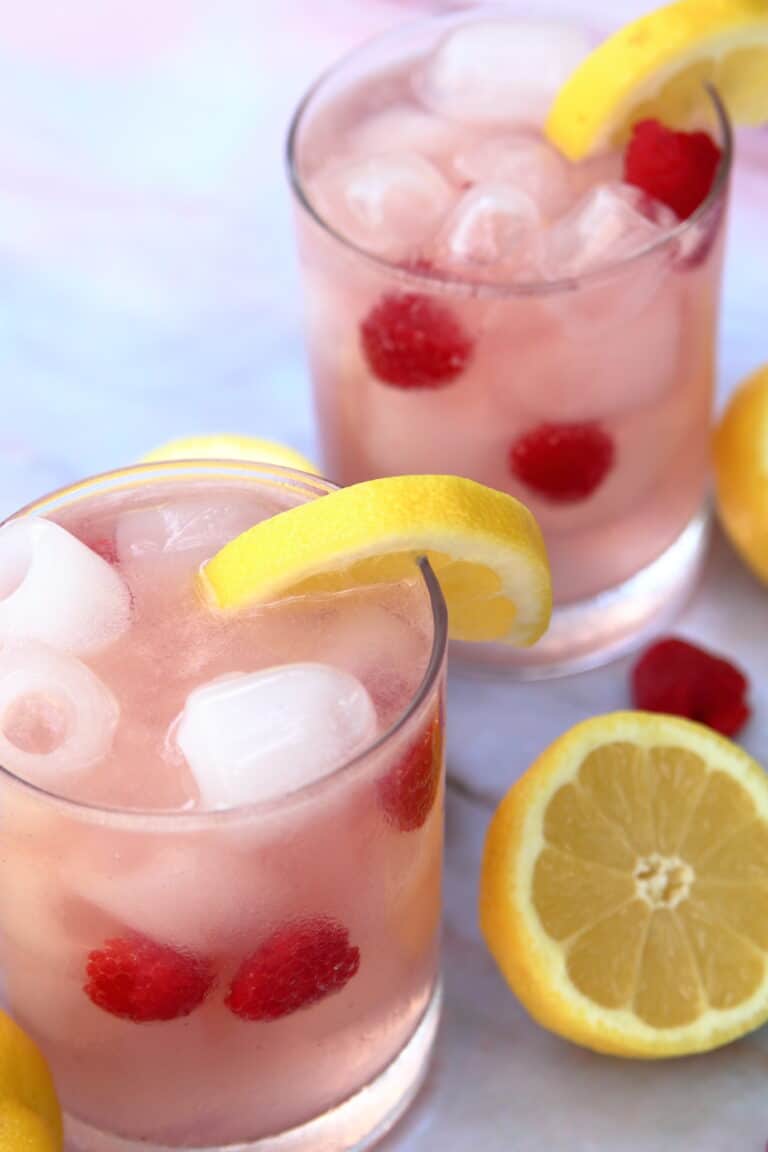 Do I have to use these exact ingredients for this Vodka Spritzer?
One of the great things about these Lemonade Vodka Cocktails that I've made is that they are incredibly versatile. It all just depends on the flavors you like. At the end of the day, if you like the taste, then you're not wrong.
These drinks are all about balance.
Sweet, tart, sour, bubbly.. these are all elements of this raspberry lemonade (and the other lemonade vodka spritzers) that just need to be balanced. Some like more tart, others like more sugar. If you decide to substitute ingredients, consider how the balance changes and how you need to compensate elsewhere.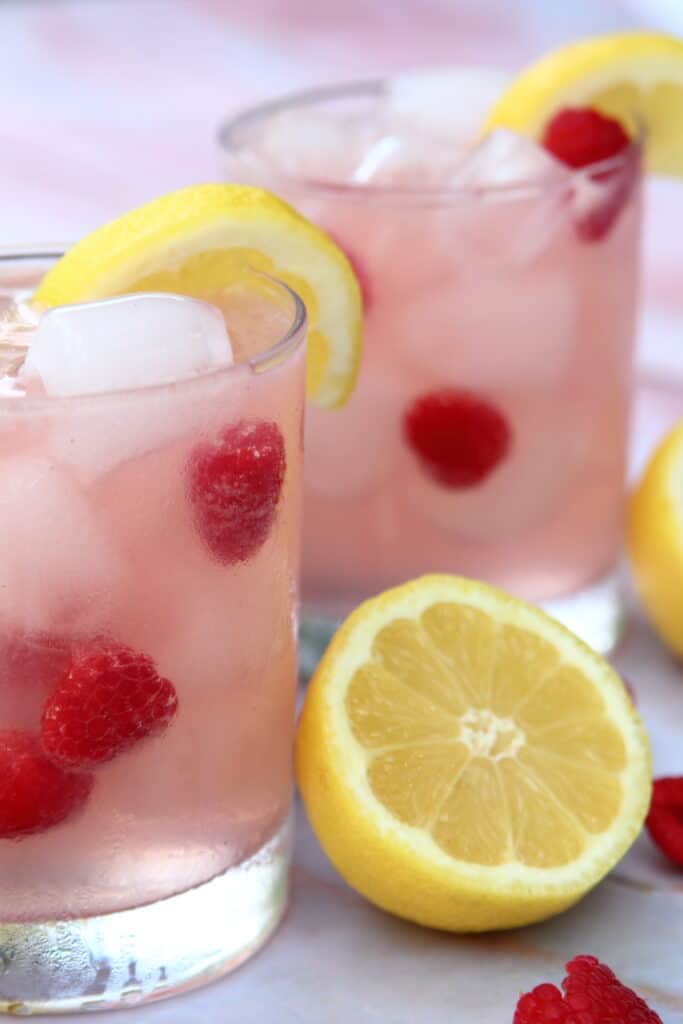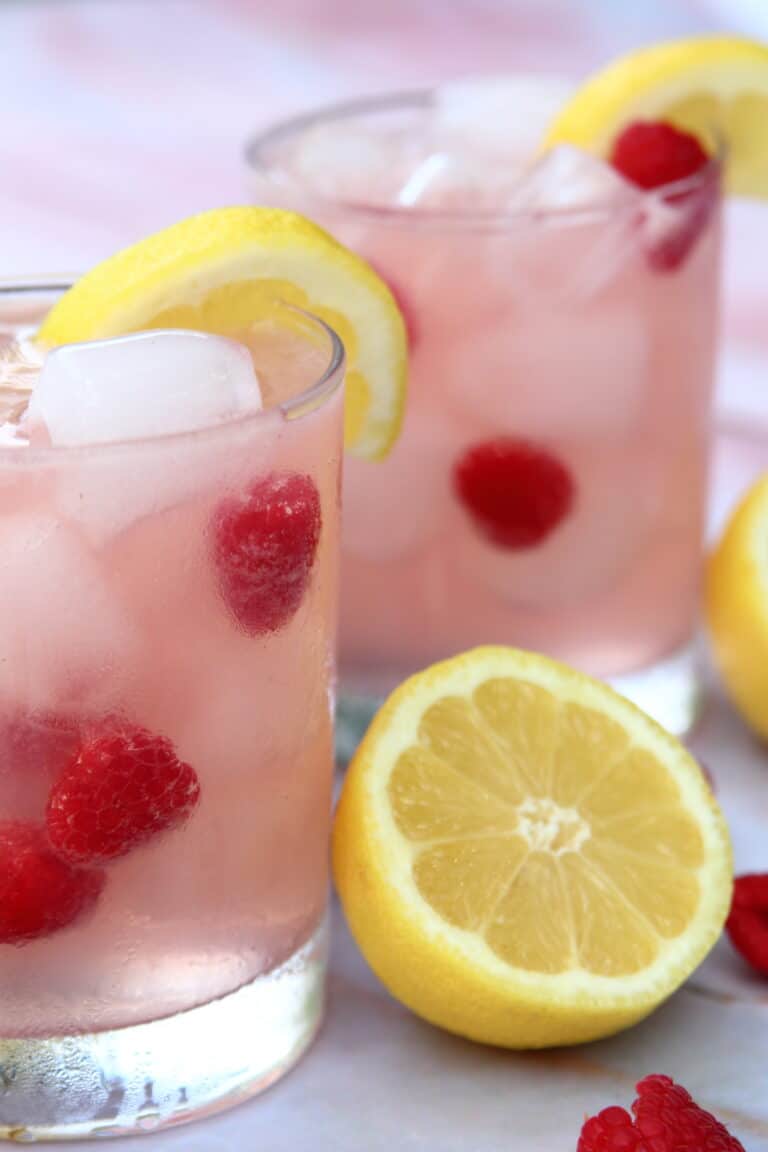 For example, if you don't want to use pre-mixed lemonade and opt for fresh squeezed lemons, you might want to add more raspberry syrup or mix in a simple syrup (equal parts sugar/water) because you will be removing most of the source of sugar.
Too much alcohol between the prosecco and the vodka? Consider subbing the prosecco for another source of bubbly. Sparkling water, topo chico, club soda are all options. You'll still get that crisp, bubbly profile but with less intense alcohol percentage.
All that being said, I think this Raspberry Lemonade Vodka Spritzer is a great place to start. It's well balanced already, but you can EASILY make minor adjustments and make it PERFECT for you.
Mixing your spritzer… carefully!
This is a super simple cocktail to make. There are no bells and whistles or fancy techniques.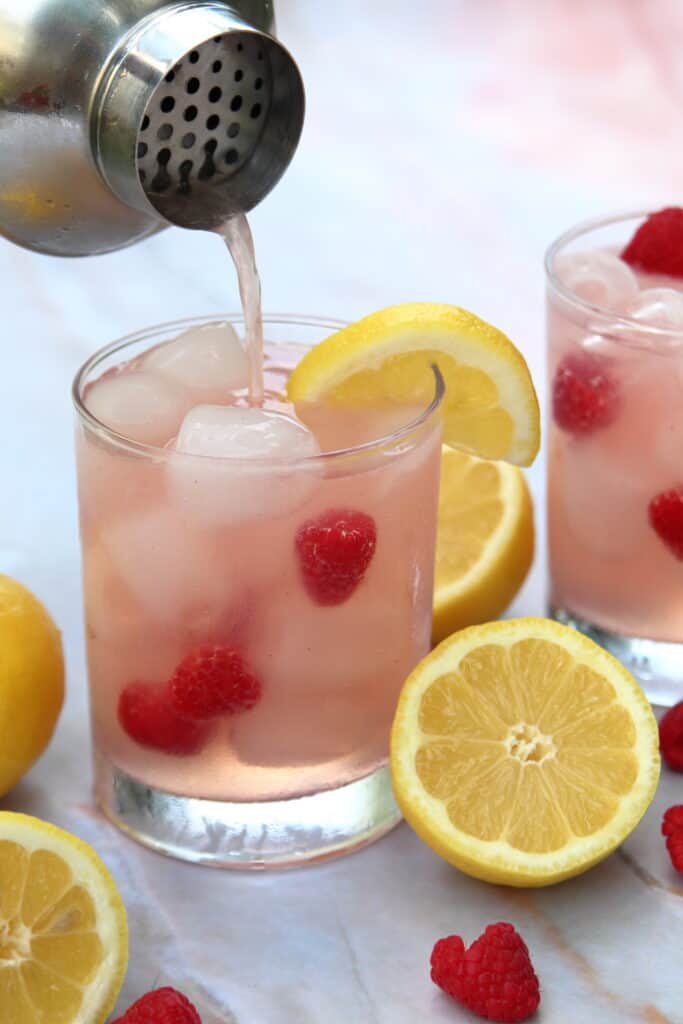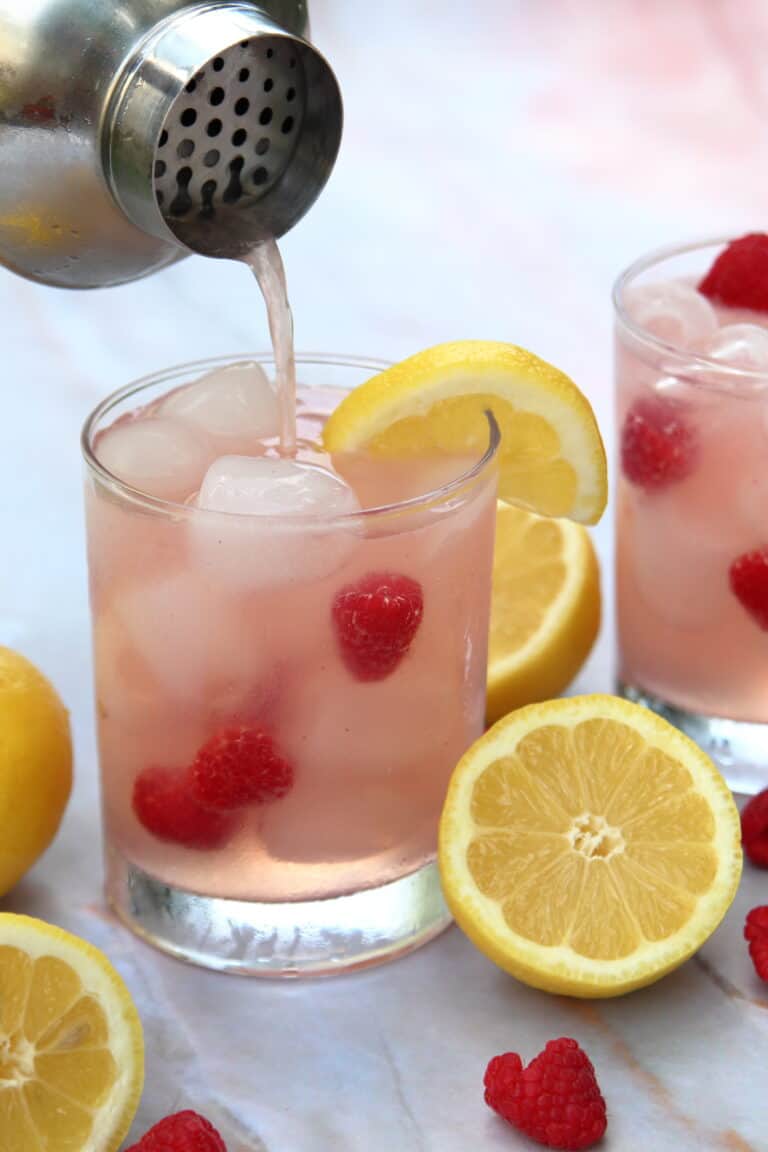 I do like to mix the non-carbonated ingredients in my cocktail shaker (affiliate link). Add some ice and then pour in the lemonade, vodka, and syrup. Cover and shake vigorously.
Next, pour in the prosecco but DO NOT SHAKE! I did it once before not thinking. It did not end well. Just give it a gentle stir or a single pour back and forth from one glass to another.
Pour your Raspberry lemonade over a glass of ice. For an added visual treat, throw in a couple of fresh raspberries and a slice of lemon.
As always, give it a taste and adjust as needed. Too tart? Add some more syrup. Too sweet? Give it a squeeze of fresh lemon.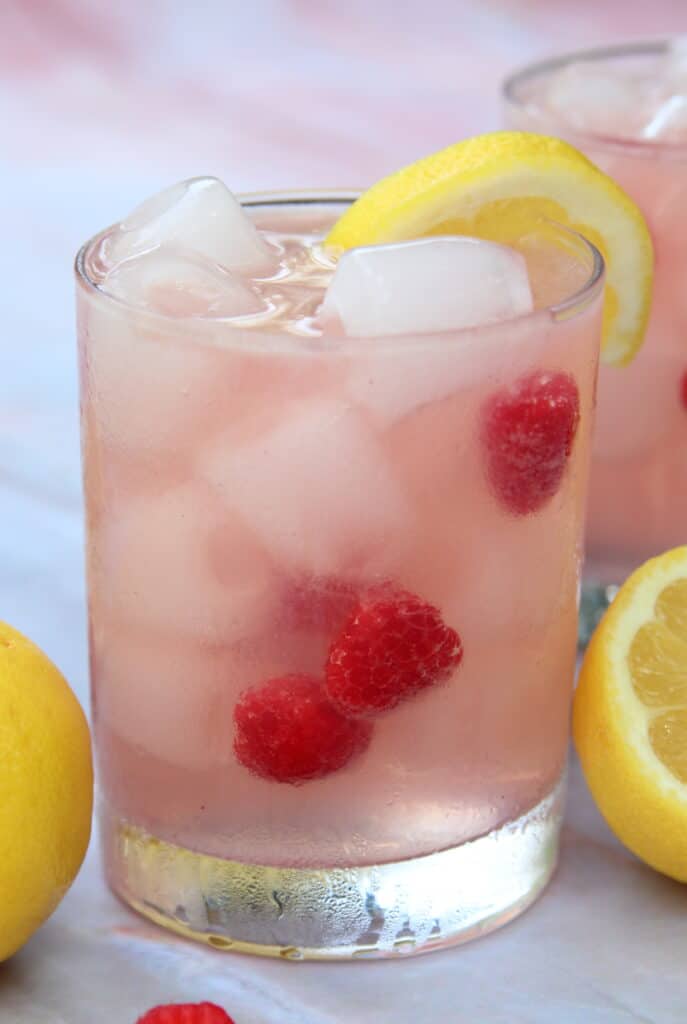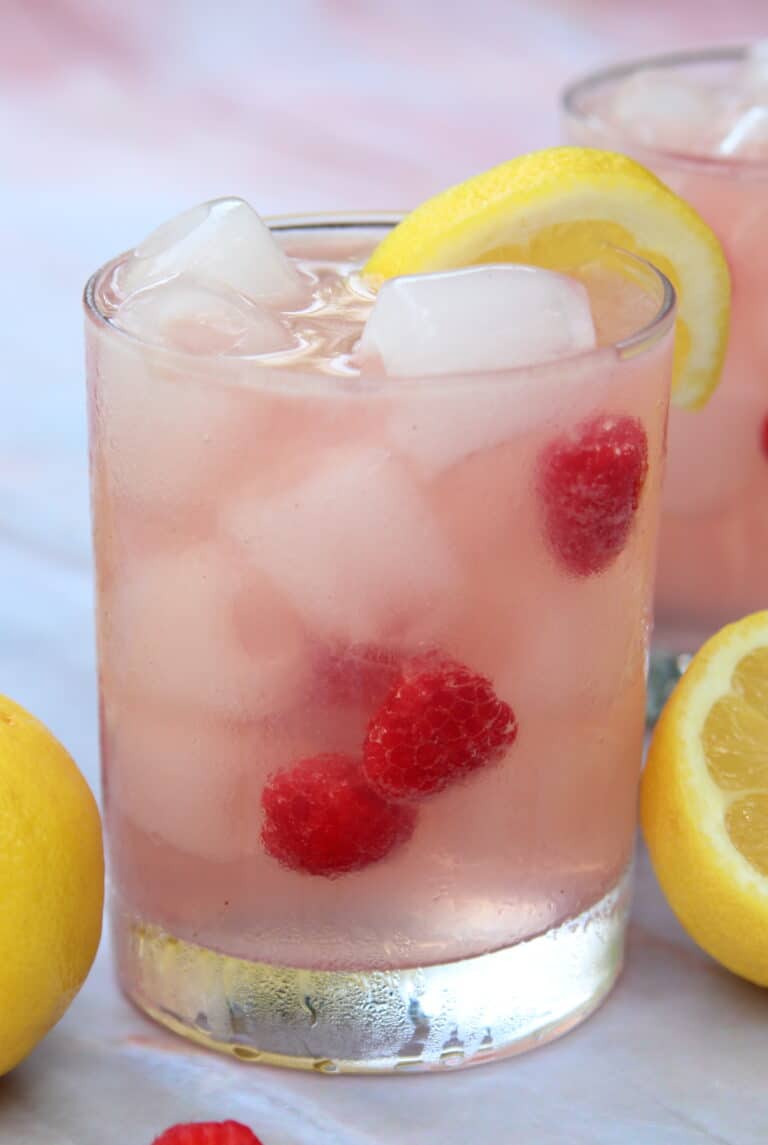 And that's pretty much it! A lightly sweet, yet still refreshingly delicious Raspberry Lemonade Vodka Spritzer that is going to be PERFECT this season!
Enjoy! (responsibly!)
Need some summertime grilling yummies to accompany your drink? Check out these Bacon Wrapped Jalapeno Peppers or Bacon Wrapped BBQ Chicken.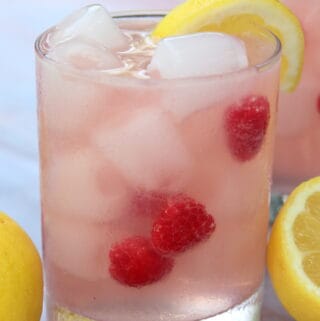 Raspberry Lemonade Vodka Spritzer
This Raspberry Lemonade Vodka Spritzer is the perfect cocktail for a warm summer day, or if you want a cute pink cocktail for a Valentine's date! Light and refreshing with just a little kiss of sweetness.
Print
Pin
Share on Facebook
Rate
Ingredients
4

ounces

raspberry vodka

I used Absolut

6

ounces

prosecco

I used La Marca

6

ounces

Lemonade

I used Simply Lemonade

3-4

tsp

raspberry syrup
Instructions
In a cocktail shaker, add a handful of ice. Pour in vodka, lemonade, and syrup. Cover and shake well to mix.

Add Prosecco to shaker. DO NOT SHAKE. Gently stir or pour back and forth ONCE just for a light mix.

Pour over ice. Garnish with fresh raspberry and lemon.