Cream cheese and jalapeño stuffed bacon wrapped BBQ chicken. Easy and delicious, perfect for your summertime grilling. One of my favorite BBQ chicken recipes!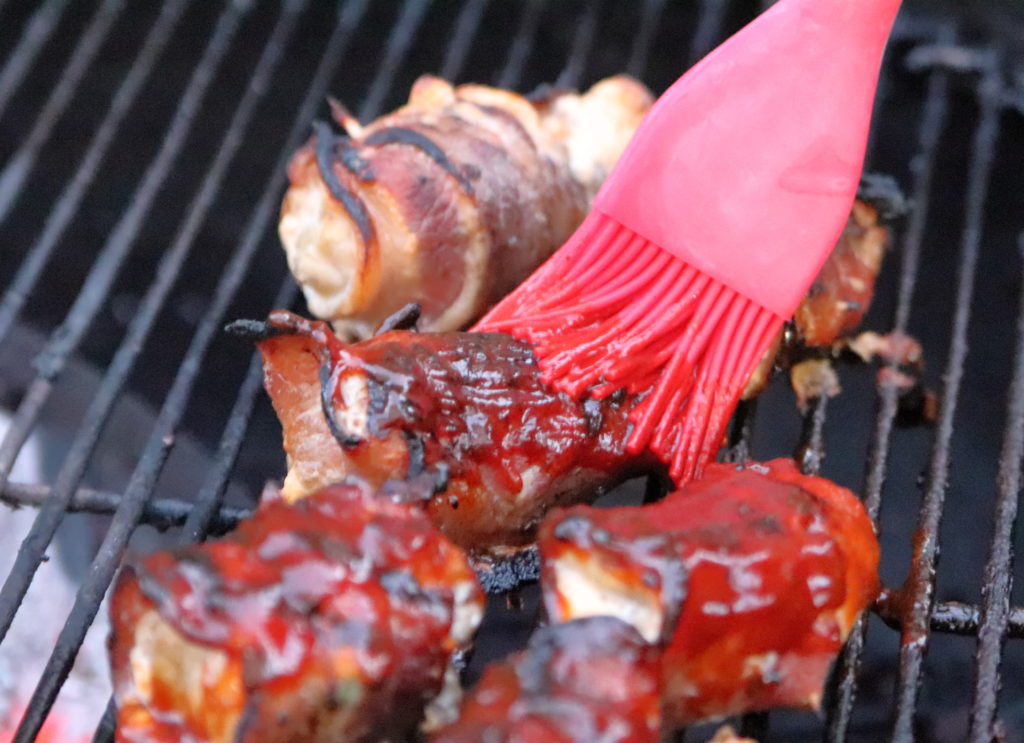 I think our grill gets as much use as our stove. I really do. And for this recipe, we've got bacon, cream cheese, jalapeños, and chicken. You pretty much can't go wrong with that combination! Whether you are having a backyard party or just making dinner for yourself, this bacon wrapped BBQ chicken recipe is perfect and delicious.
*We did these at the same time as our bacon wrapped jalapeño peppers, since they use the same type of filling. Delish!*
One of the great things I find about these is that you can vary the size of them depending on if you want them to be a bit sized appetizer or a hit larger for a main dish. This time, I made them large enough for one of two of them (or more, I'm not judging) to be an entree.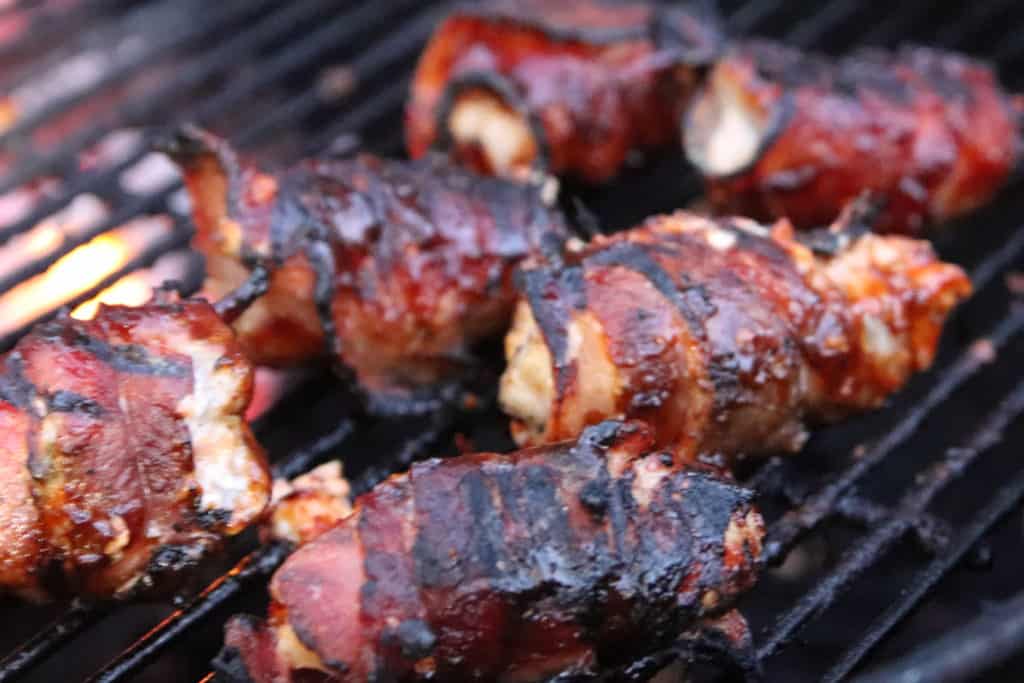 Prepping ingredients for you bacon wrapped BBQ chicken
Most of the work for this goes into the prep. The stuffing, the jalapeñoes, slicing the chicken…. that's where most of the work is, but it's still super easy!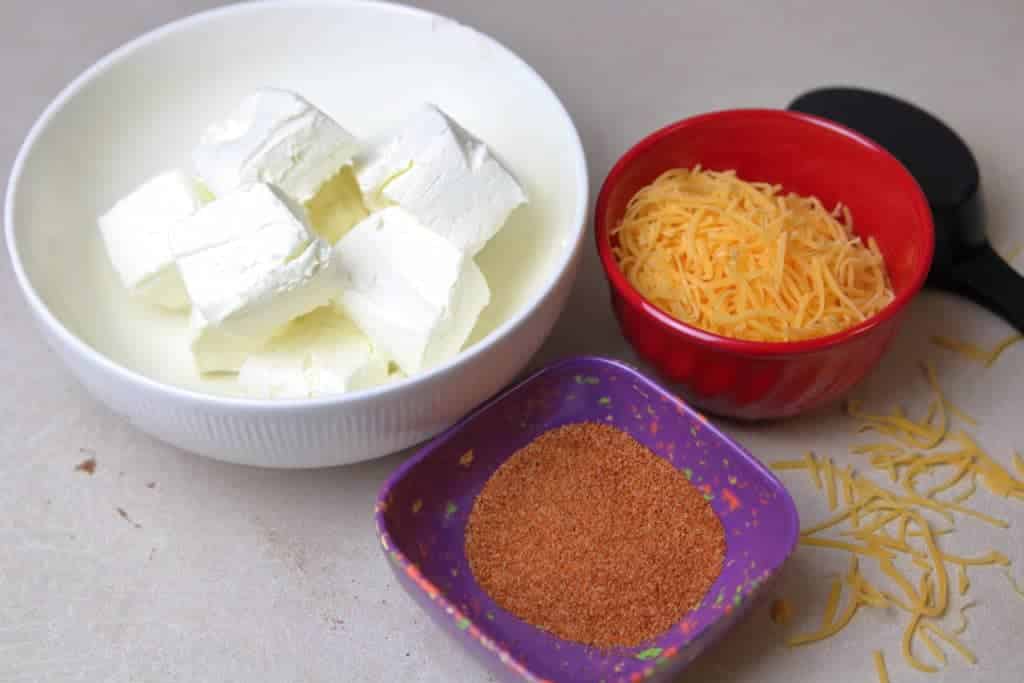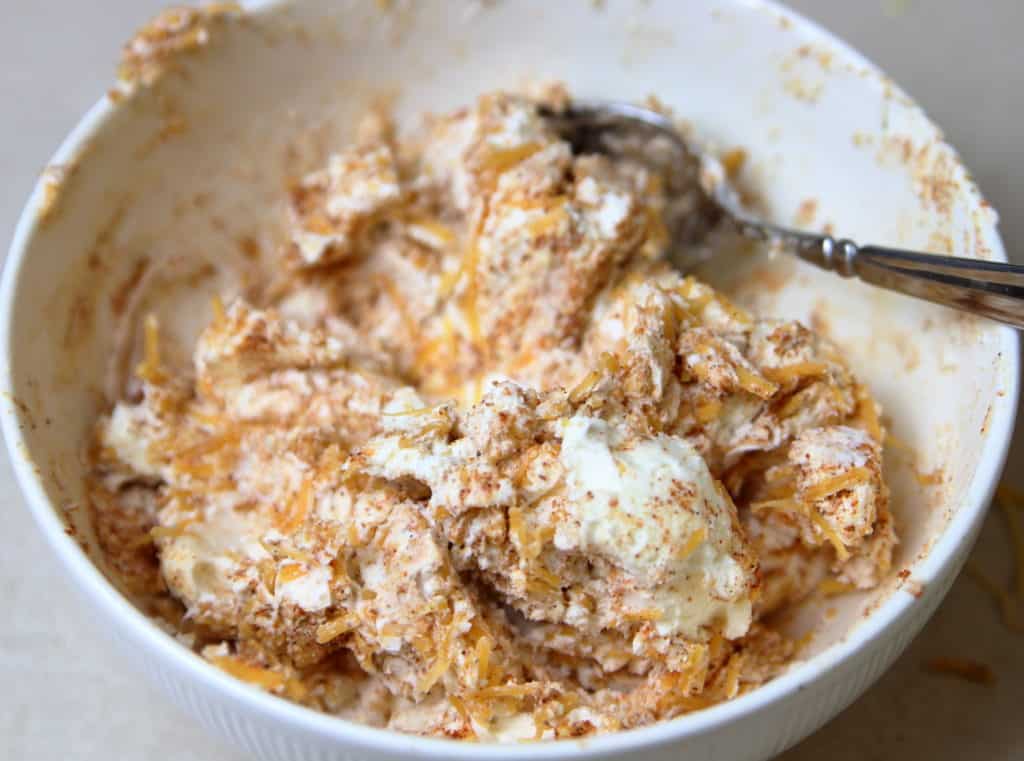 The first thing you want to do it get your cream cream, shredded cheddar, and Tony Chachere's (or whatever cajun spice you like). Smash them all up and make sure everything is completely mixed. This is a bit easier if you let your cream cheese come up to room temperature, but its not required. Next, we tackle the jalapeños and chicken breasts.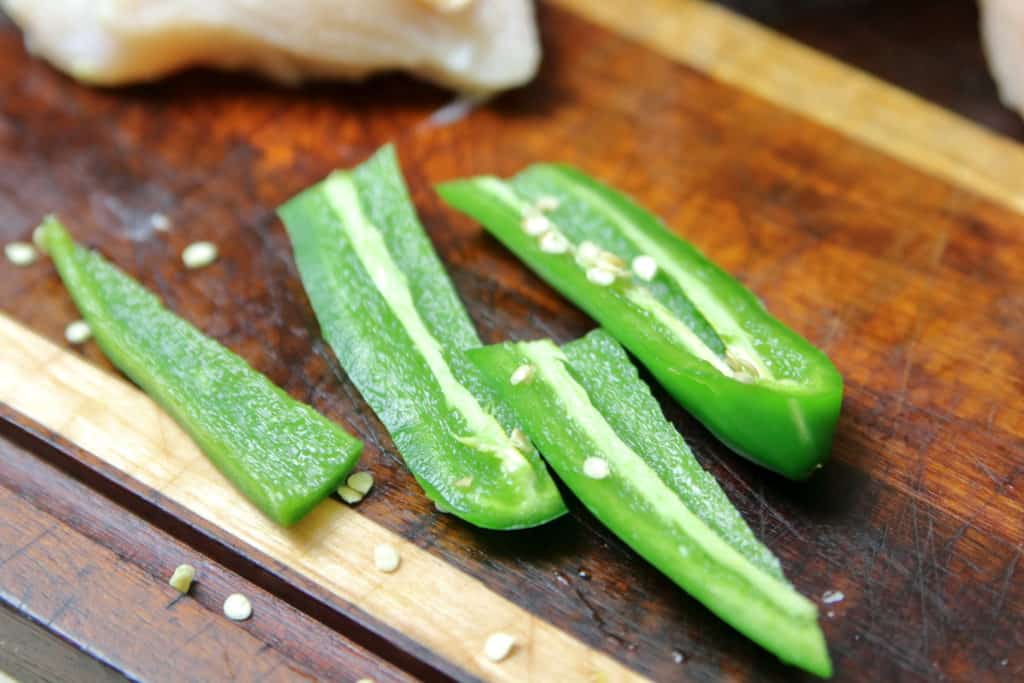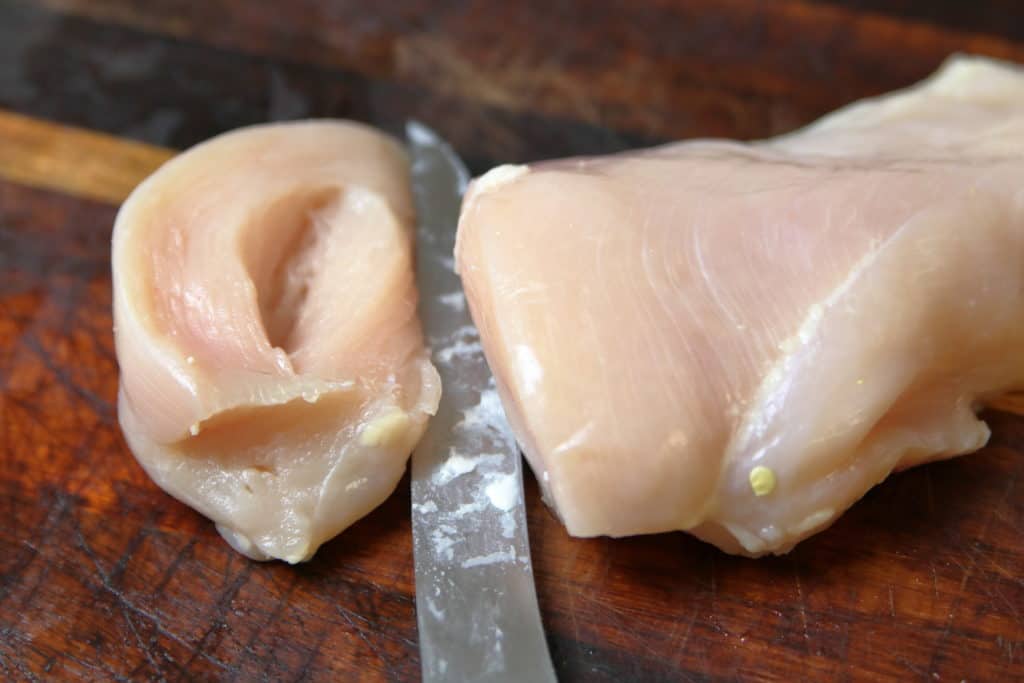 Take your jalapeños, cut the crown off, and then slice long ways from top to bottom. Don't do it in halves. You want each piece to be flat, so you can probably get 3-4 out of each one depending on the size of the jalapeño. Make sure to remove all of the insides!
Slicing and stuffing the chicken
Next, grab your chicken breasts. For this, you want the regular boneless, skinless, chicken breasts. They need to be thick enough to slice a cavity in them to stuff, so you don't want the tenderloins or the thin cut. SO. Here we go. Slice each breast crossway, about 1.5 to 2 inches wide. Lay it on its side (see photo above) and slice through the center, almost all the way through, creating a little bowl ready to be stuffed with all that cheesy goodness. You should be able to get about 3 pieces off of each breast. That's how many I got from my two chicken breasts.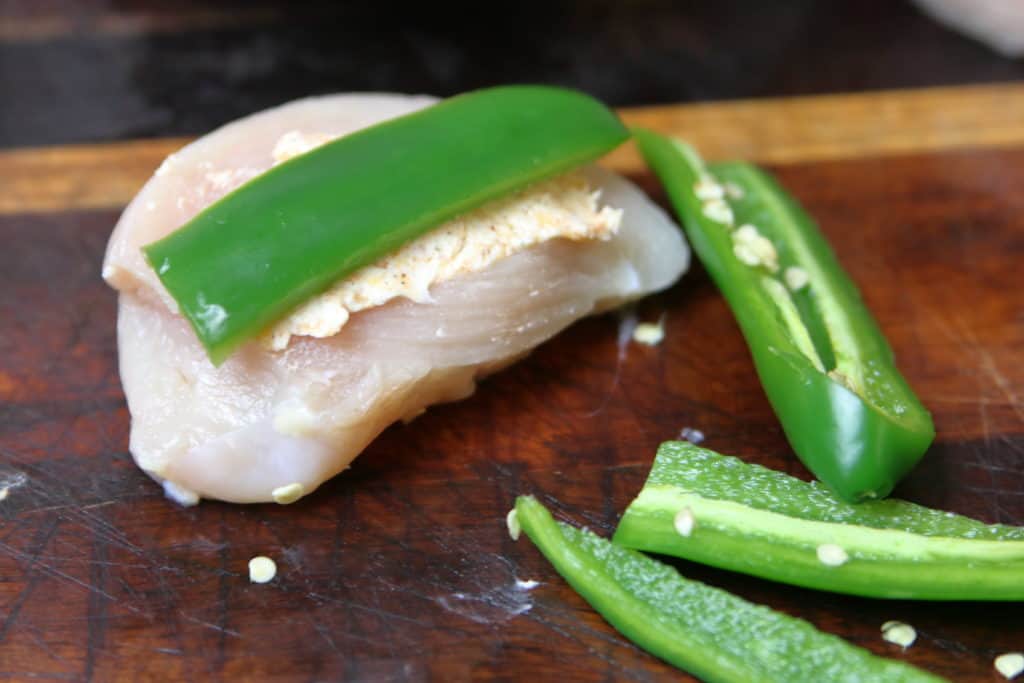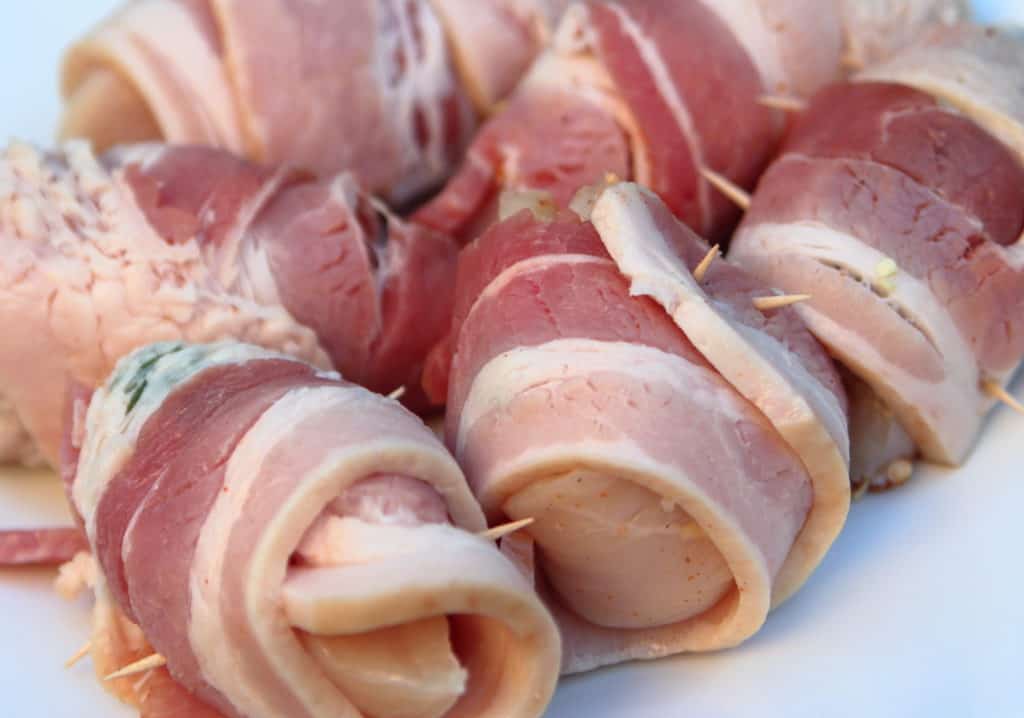 And now, it's time to stuff! Take a spoonful of the creamy, delicious filling and stuff it into a piece of the chicken. Don't skimp! You want a lot of this. Smooth it out nice and flat and then cover it with one of your jalapeño slices. Next, take a whole slice of bacon (I love the Wright's thick cut applewood smoked bacon) and wrap the entire piece of chicken. Secure the bacon with a toothpick or two.
Grilling the bacon wrapped BBQ chicken
I'm not going to go into the details of prepping and lighting the grill. If you've got this, awesome! Let's go! Just make sure you have a place for direct and indirect heat. If you need some guidance, this is how we like to prep and light the grill.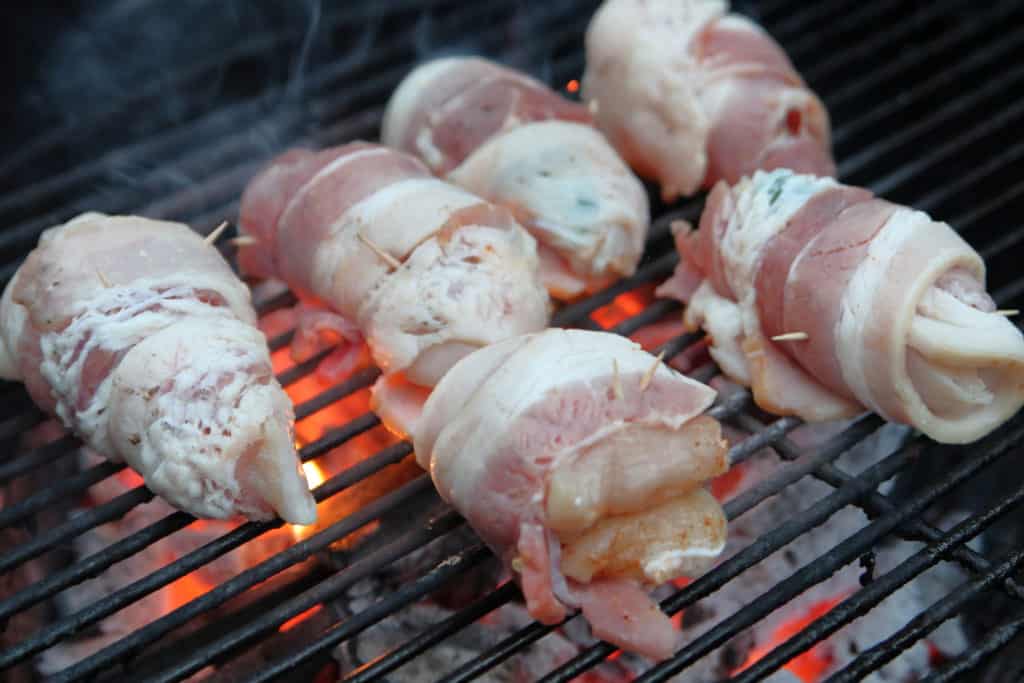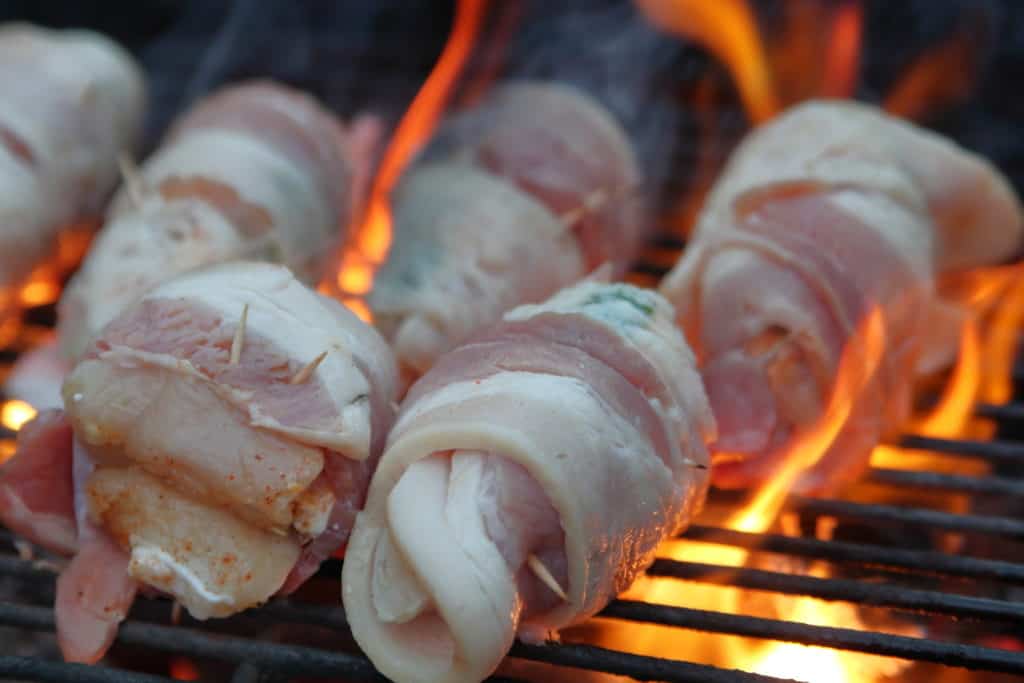 When your coals are super hot, put your bacon wrapped chicken directly over the heat. Before long, the fire will flare up. Let it! It's not going to char the bacon right away. The melting fat will provide a protective layer as the bacon renders. But do be careful, because you can't leave it unattended! Let it flare for about 30 seconds, and rotate each piece around making sure every side gets some flame time. You may need to switch the pieces around so they don't cook at different rates. Use your best judgement!
Brushing and finishing the bacon wrapped BBQ chicken
We're almost there! All you need to do now is baste your chicken in some BBQ sauce and let it cook!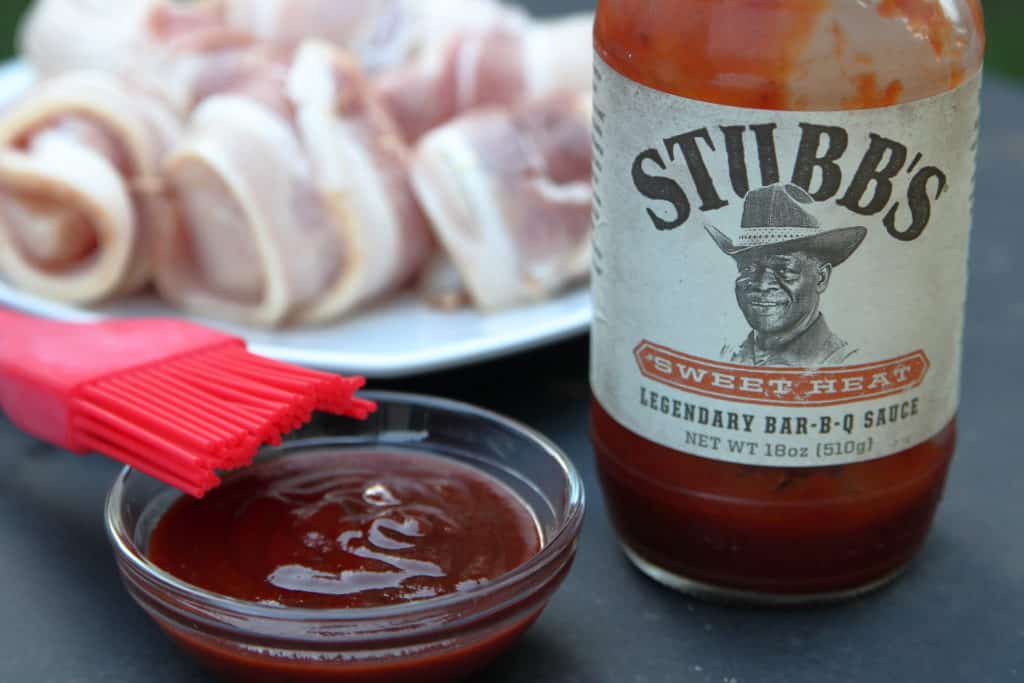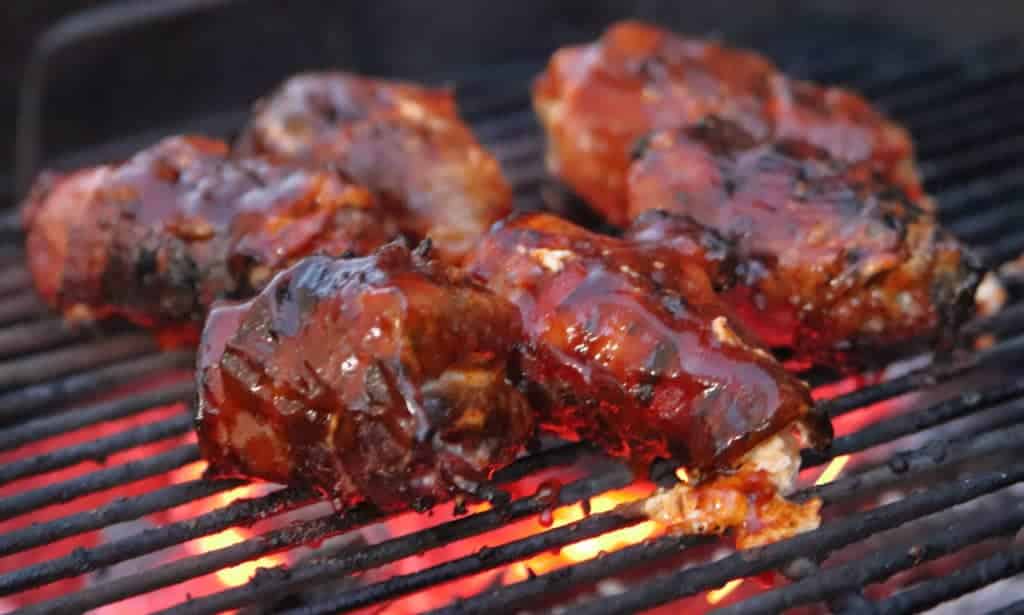 Before you move the chicken off the flame, brush each piece generously with your favorite BBQ sauce. My favorite by far is Stubb's Sweet Heat. I use it for just about everything, as evidence by the nearly empty bottle in the photo. Seriously, it's fantastic.
After you drench each piece, give it another minute or so on the fire, still rotating. This will let the BBQ caramelize and get even more scrumptious. Be careful though! The sugar content could cause it to burn quickly, so it doesn't take long.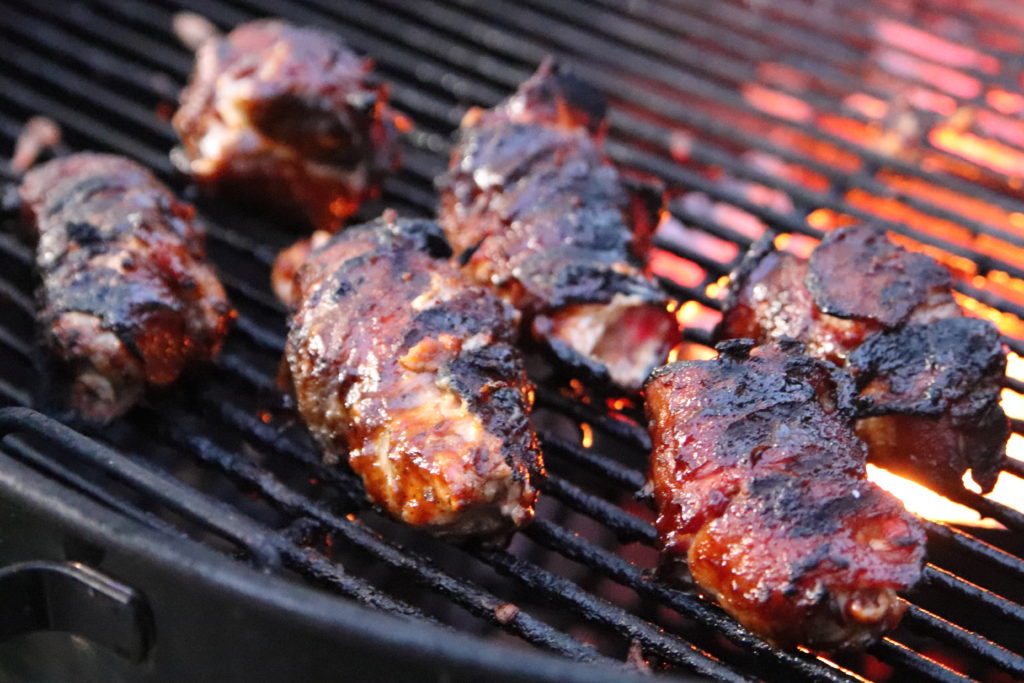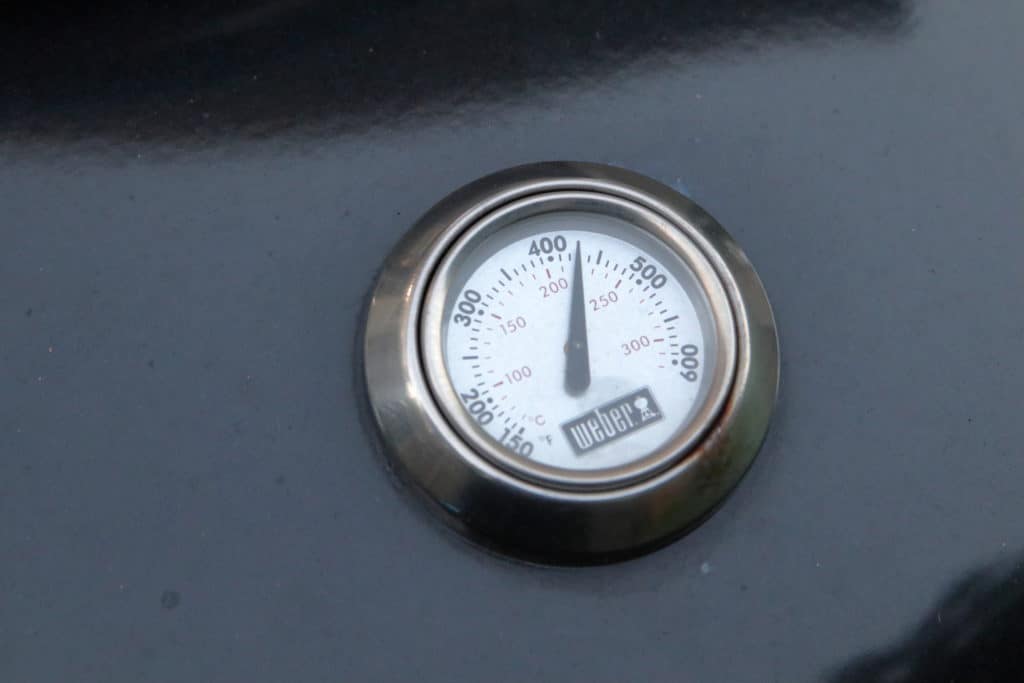 After the last little dose of direct heat, move the bacon wrapped BBQ chicken to the other side of the grill, off of the direct heat, cover and let cook. Our grill sat comfortably right at 425°F. There will definitely be some variance in cook times due to chicken thickness, grill temperature, etc., but our took about 25 minutes. It's always a good thing to check the internal temperature with a meat thermometer. Make sure your chicken reaches 165°F.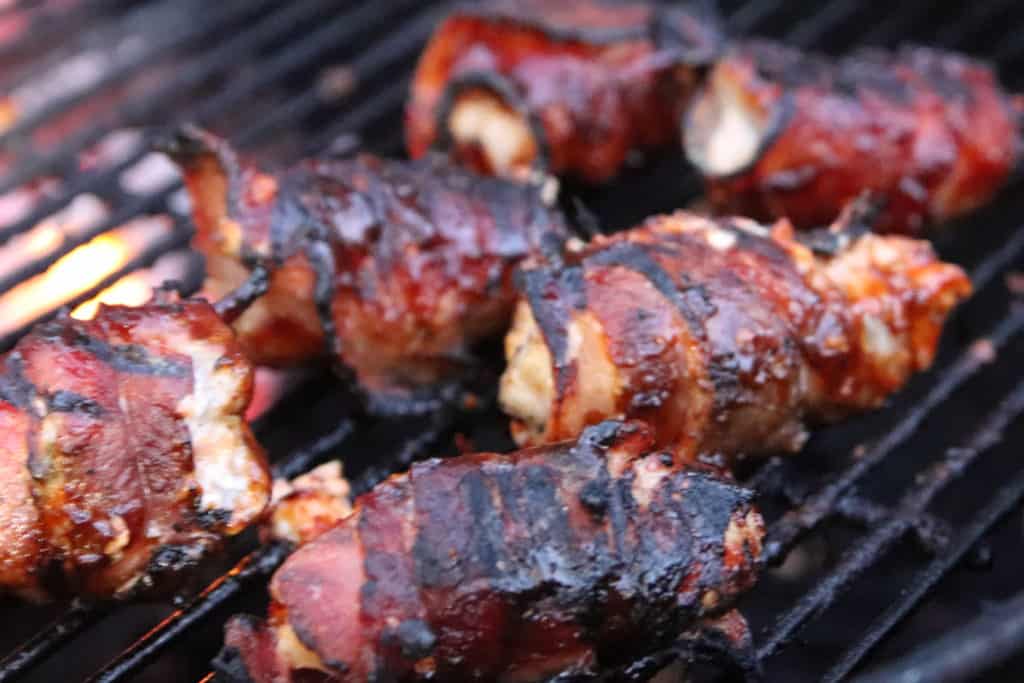 And that's all there is to it! A little time consuming, especially if you are still trying to get your system down, but it super easy and insanely delicious! Enjoy!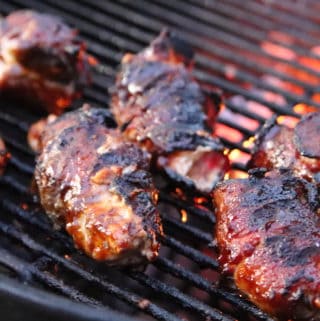 Bacon Wrapped BBQ Chicken
Cream cheese and jalapeño stuffed bacon wrapped BBQ chicken. Easy and delicious, perfect for your summertime grilling.
Print
Pin
Share on Facebook
Rate
Ingredients
2

Boneless, skinless chicken breasts.

Whole, not butterflied or thin sliced

6

slices

Applewood smoked bacon

or whatever variety you like

3-4

Fresh Jalapeño peppers

8

oz

Cream Cheese

½

cup

shredded sharp cheddar cheese

pre-shredded is fine

1

tbsp

cajun spice

I love Tony Chachere's

½

cup

your favorite BBQ sauce

I use Stubb's Sweet Heat
Instructions
Prepare the grill (light charcoal, etc). See my post on tips to light a grill if you need suggestions!
Preparing the chicken
Mix cream cheese, cajun spice, and cheddar until thoroughly blended. Slice the jalapeños longways, the entire length of the pepper. Each piece should be about a half an inch wide.

Take each piece, lay it on it's broad side, and slice down the middle, almost all the way through. This is creating the cavity to stuff with cream cheese.

Stuff a spoonfull of the cream cheese mixture into the chicken. lay a piece of the jalapeño over the cream cheese.

Wrap in once slice of bacon an secure with 1-2 toothpicks.
Grilling the BBQ Chicken
Place the chicken pieces directly over the coals. The fire will flare up. This is ok!

Turning every couple of minutes, render the bacon on all sides of the chicken. It is ok to let the flames engulf the chicken, but not for the whole time. Rotate them around so they don't sit in the flames the whole time.

Once the bacon is rendered on all sides, brush the chicken with BBQ sauce on all sides with a silicon brush. Keep them over the fire, about 60 seconds on each side giving the BBQ sauce time to carmelize.

Move chicken pieces to the other side of the grill, completely away from the fire. Cover the grill and let cook at 425°F for about 25 minutes, or until the internal temperature reaches 165°F.
Nutrition
Serving:
1
4 ounce piece
|
Calories:
400
kcal