Do you need a delicious appetizer for you next backyard BBQ? These bacon wrapped jalapeño peppers are a MUST. They consist of cream cheese and cheddar stuffed into a jalapeno pepper, wrapped in bacon, and then cooked on the grill. Easily one of my favorite summertime grilling recipes!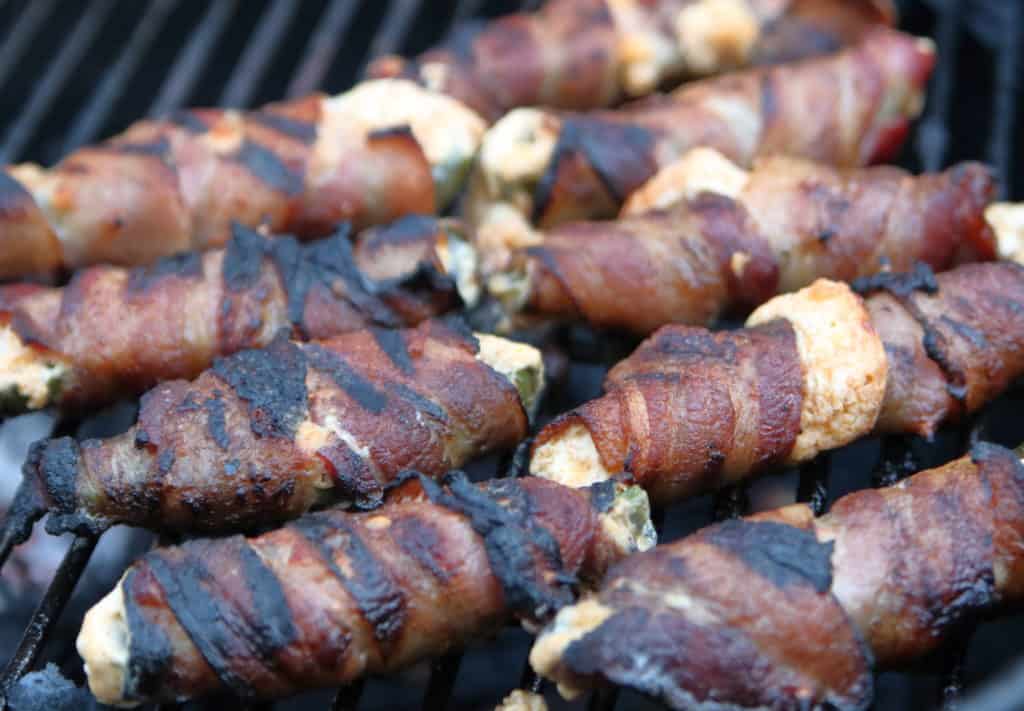 I'll admit, at first they might seem a little intimidating because there are so many steps, but they're really quite easy. There aren't many ingredients, and once you get the hang of actually wrapping the bacon tightly, you're good to go. We made these in the same batch as our Bacon Wrapped BBQ Chicken and had one delicious night.

Note: You need to have an already hot, charcoal grill going for this particular method of grilling peppers. The grill basin should have one concentrated hot spot with coals under the grate and the rest should be for indirect heat.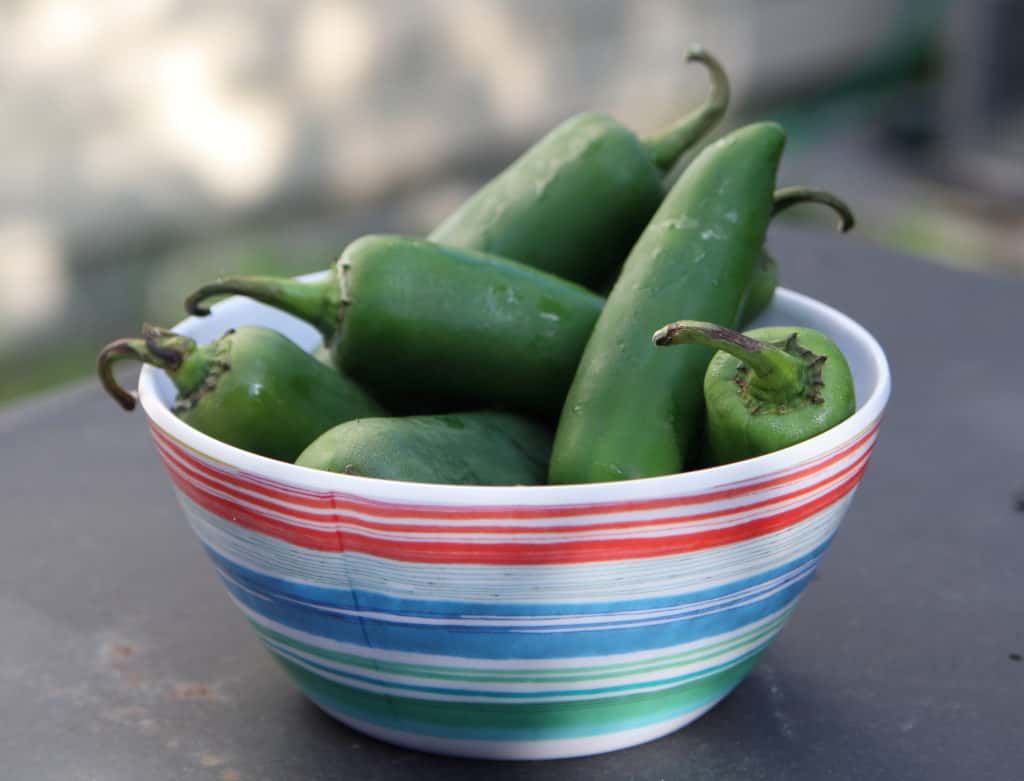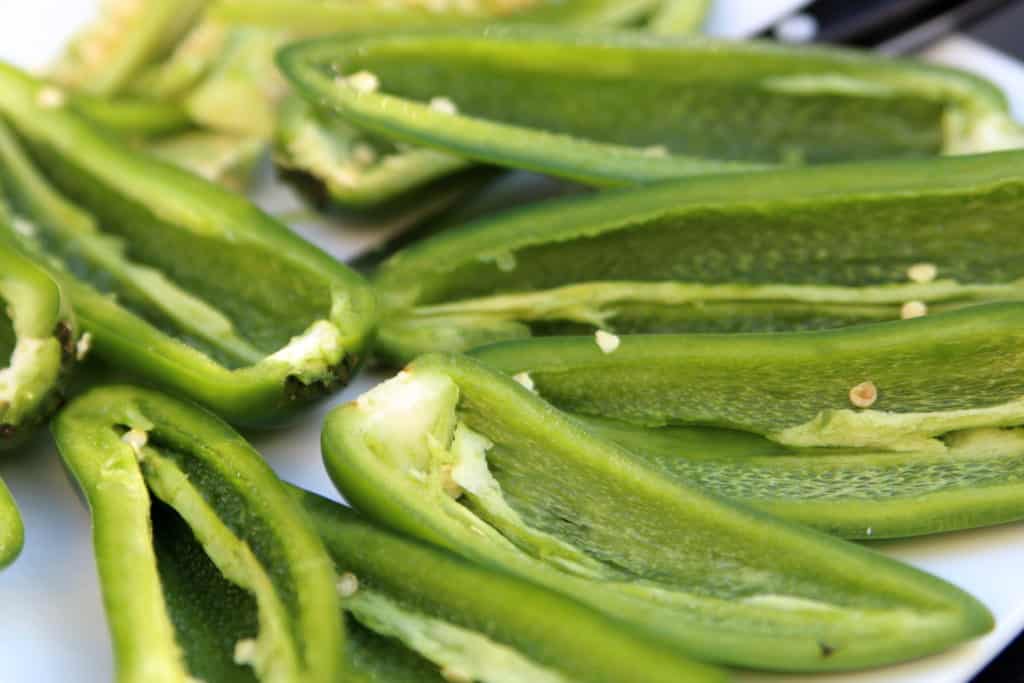 How do I prepare the bacon wrapped jalapenos?
The first thing you need to do to prepare your jalapeno peppers is cut them exactly in half. I always try to make sure they are straight and fat when I'm selecting them to make it easier. If there is a curve, just cut it symmetrically. Lay it on it's side with the curve going up and slice.

It is very important that you do NOT remove the top! Some people completely slice the crown off in effort to remove the stems. If you do that, its VERY difficult to keep your stuffing in, so you want sides all the way around the half pepper.

Once you have all of your jalapeno peppers cut, then hollow them out. Completely remove everything leaving just the shell. Set those aside while you make the filling (or you can make the filling first. Either way).
The Filling
It's a pretty standard practice to fill bacon wrapped jalapenos with cream cheese and wrap them. But for me, that's just not enough! Cream cheese by itself doesn't have enough flavor. For this you'll need cream cheese, shredded cheddar (sharp packs some punch), and Tony Chachere's Creole Seasoning.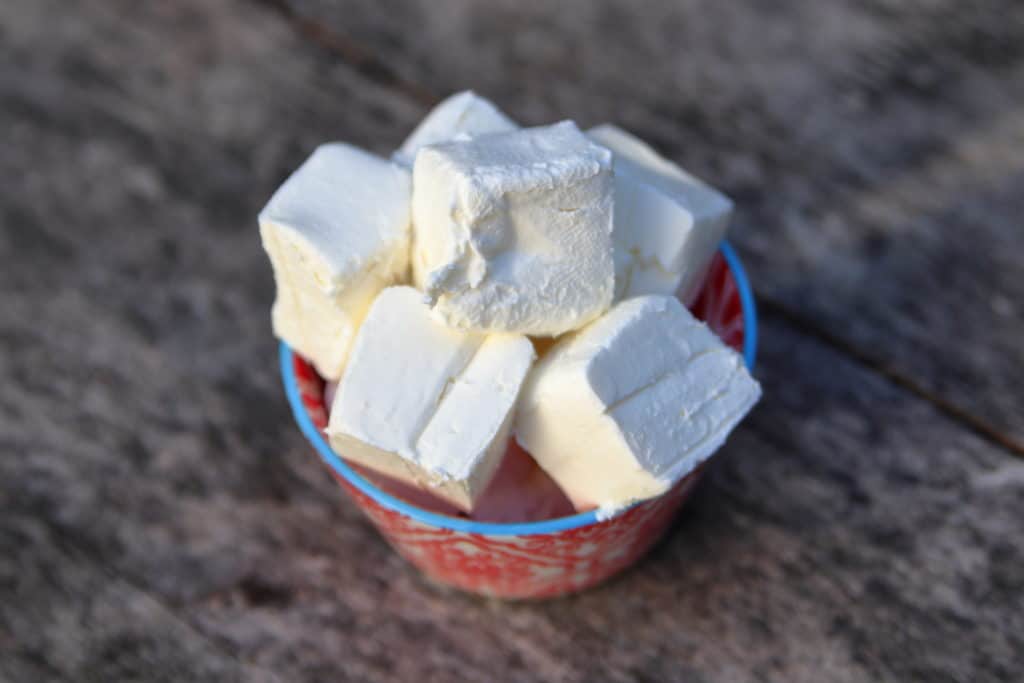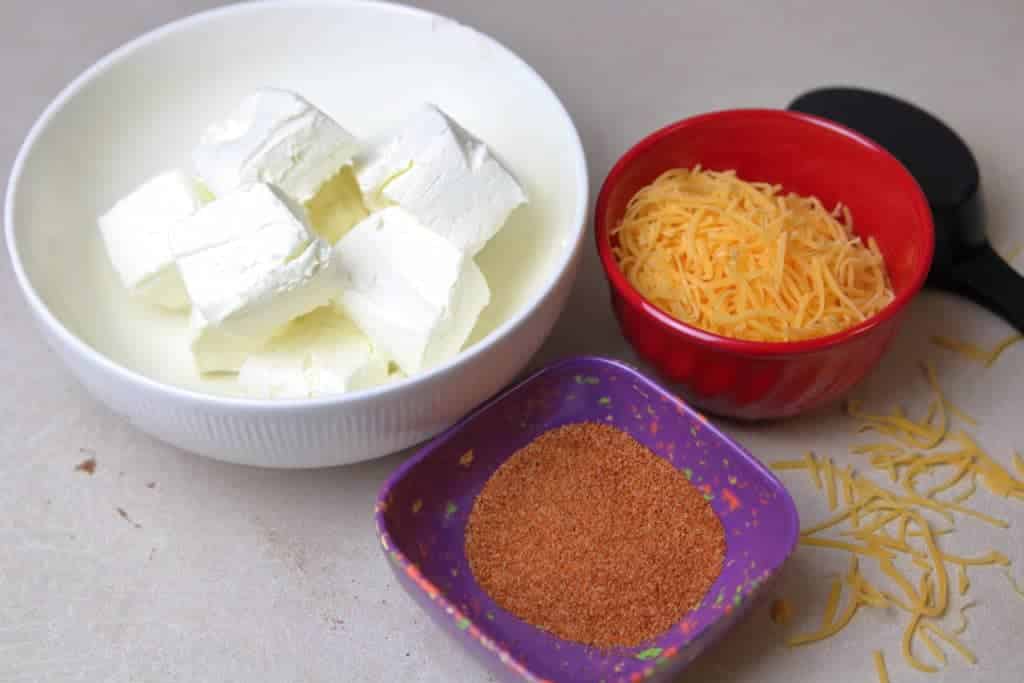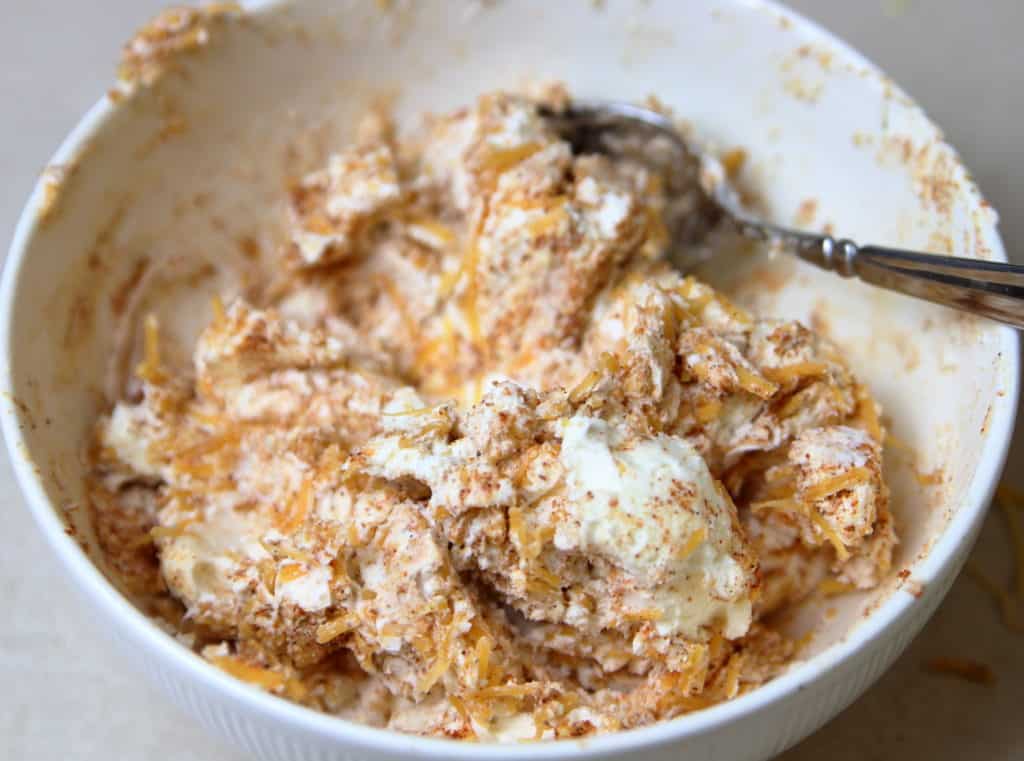 Combine everything in a medium bowl and *mix mix mix.* Now you're ready to STUFF.

Note: If you let your cream cheese come up to room temperature first, this is all MUCH easier.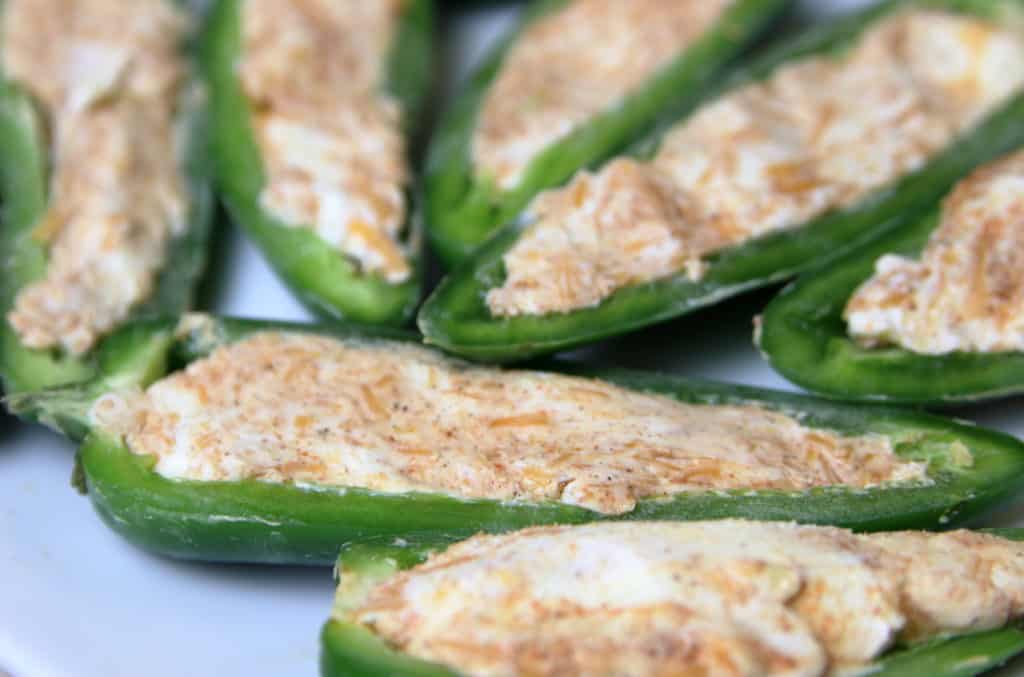 Now for this, you can use a spoon if you like, but honestly, it's easier with your hands. Be ready to get messy!
I find it easy if I grab a little chunk, roll it into a skinny tube (like play-doh, but this kind you can eat!) and lay it right into the pepper. Fill in the whole cavity, but make sure it's flat on top. You don't want it too domed because it will just all leak out. Then, we wrap!
How do you get the bacon to stay wrapped around the jalapenos?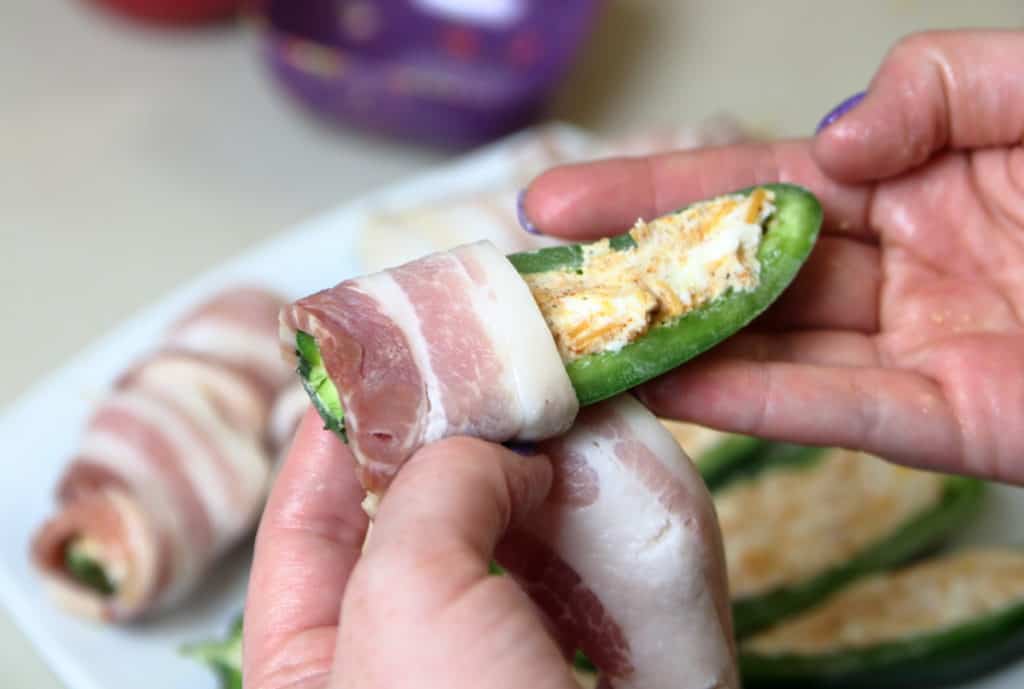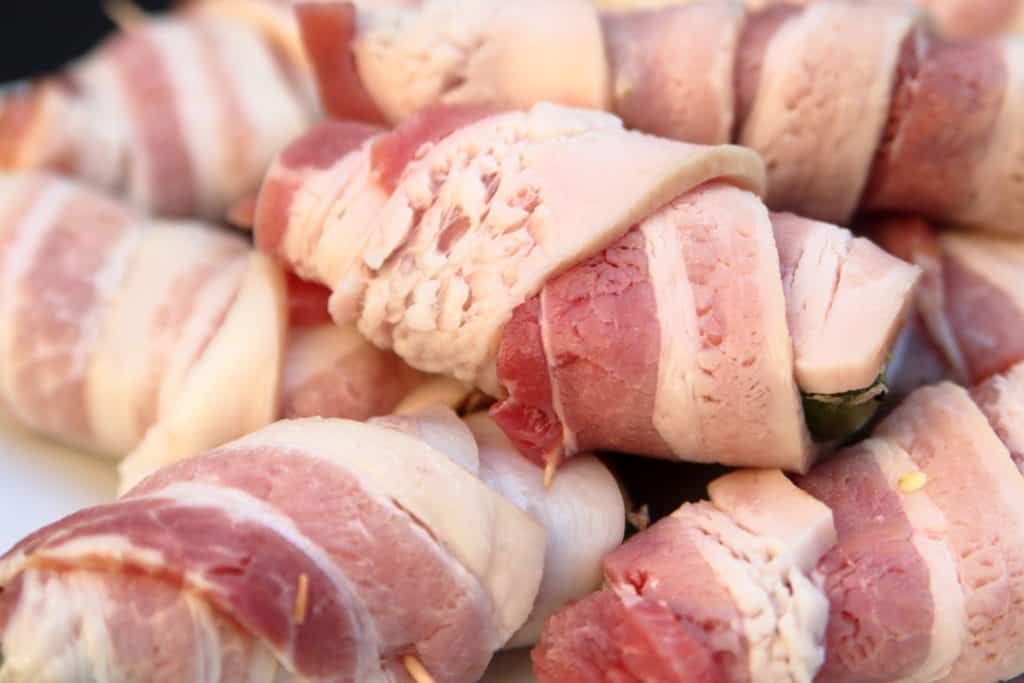 I'll be honest, this is the hardest part, just because the bacon can vary. We use thick cut, applewood smoke bacon, but thinner bacon works too. In fact, it can be easier to work with just because it's easier to wrap.

For this, each pepper will probably use a whole slice. Start on the stem end and wrap across, all the way down, overlapping each pass just slightly. You want to make sure you create a good seal so it doesn't leak out later.

When you get to the end, you'll probably have some extra bacon. Just take this little bacon tail and pull it toward the center of the jalapeño. See photo below. This is where we want to seal the bacon wrapped jalapeño pepper.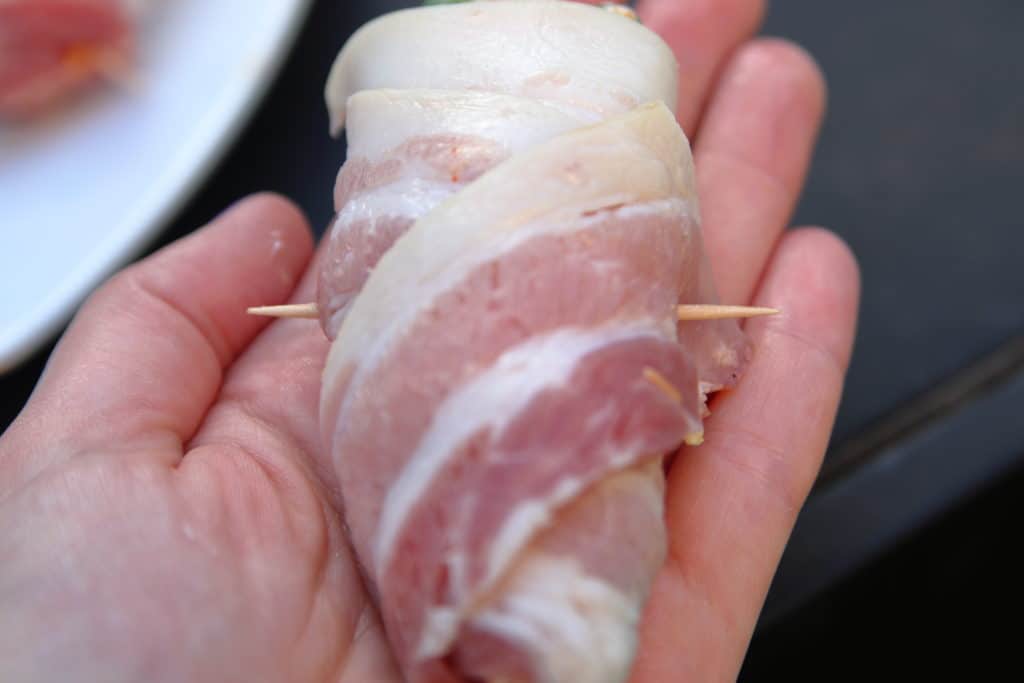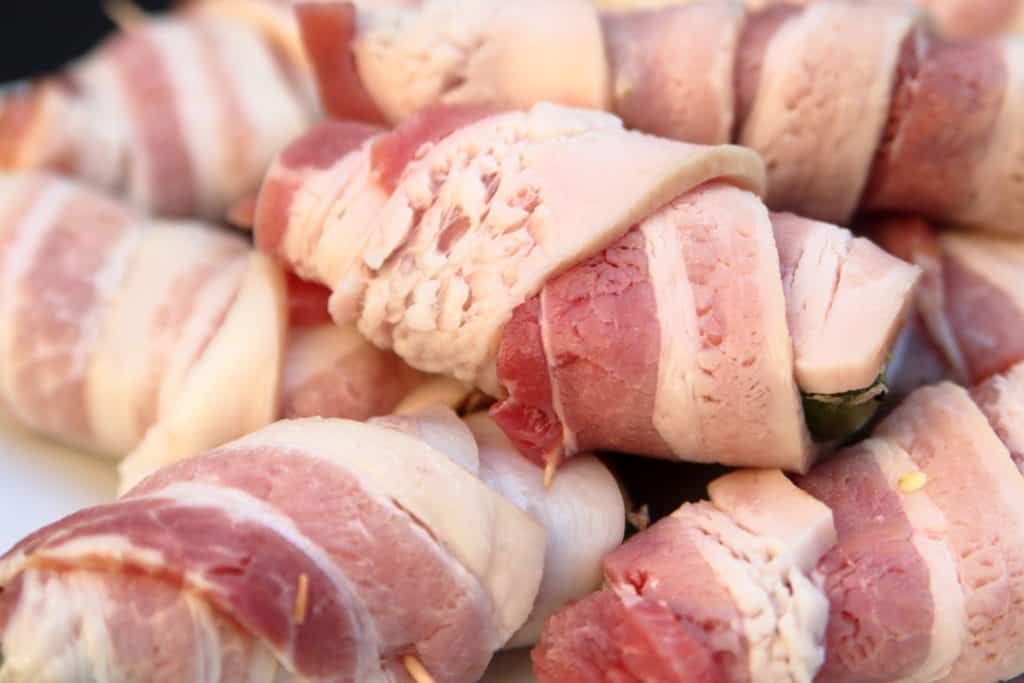 Pierce the end of the bacon, go through the side of the pepper. Continue crossway through the cheese and out of the other side. This should hold the whole thing together. You can always use as many toothpicks as you need. Now that we have some bacon wrapped jalapeño peppers, let's get to grilling!

Toothpick Tip: Try to use the same amount of toothpicks for each pepper. They can be reeeeeeally hard to find after you cook them because they'll burn all the way down, so if they all have the same amount you know how many to look for. Seems silly, but I've thought before that I had them all only to take a big ole bite out of one. Ouch.
Time to grill the peppers
Now, I said before but it's very important that your grill is ready to go, as that can take a while. Here's how we set ours up.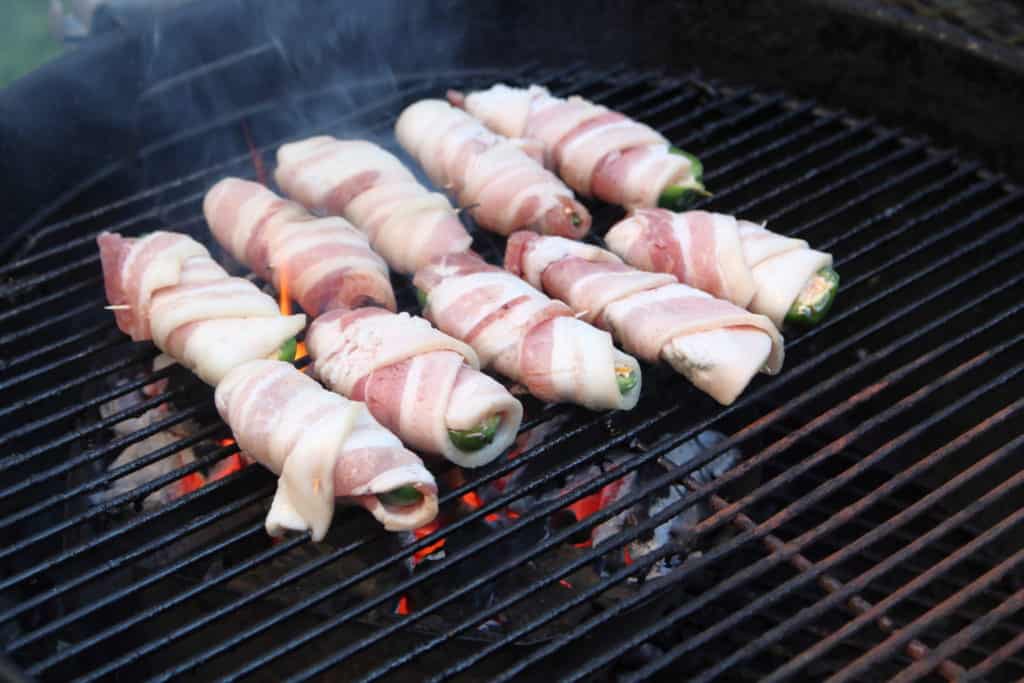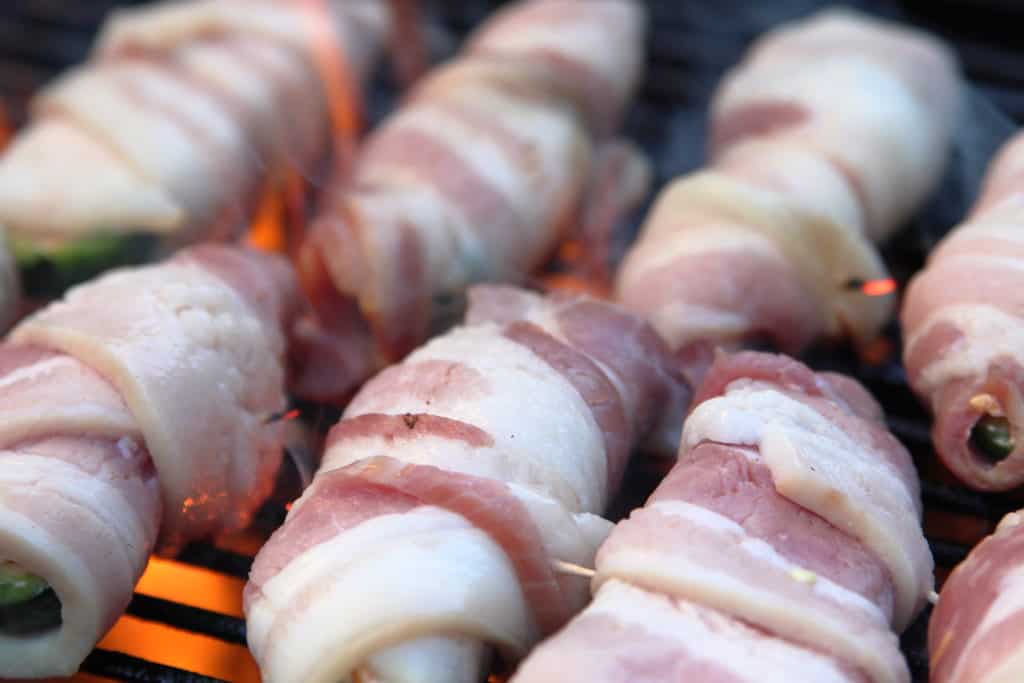 Place all of your bacon wrapped jalapenos directly over the hot spot on your grill (right over the coals). Shortly, the fire will start to flare up- a lot- because of all the bacon drippings. THIS IS OK! Let that fire cook up the bacon a little bit so it get give it a little jump start. This will also give it a bit of crisp and char. How much crisp and char you like is up to you.

Let it flare up over your peppers for a couple of minutes. You might want to rotate them around so they all get fire equally. When you are happy with the cook on the bacon, flip.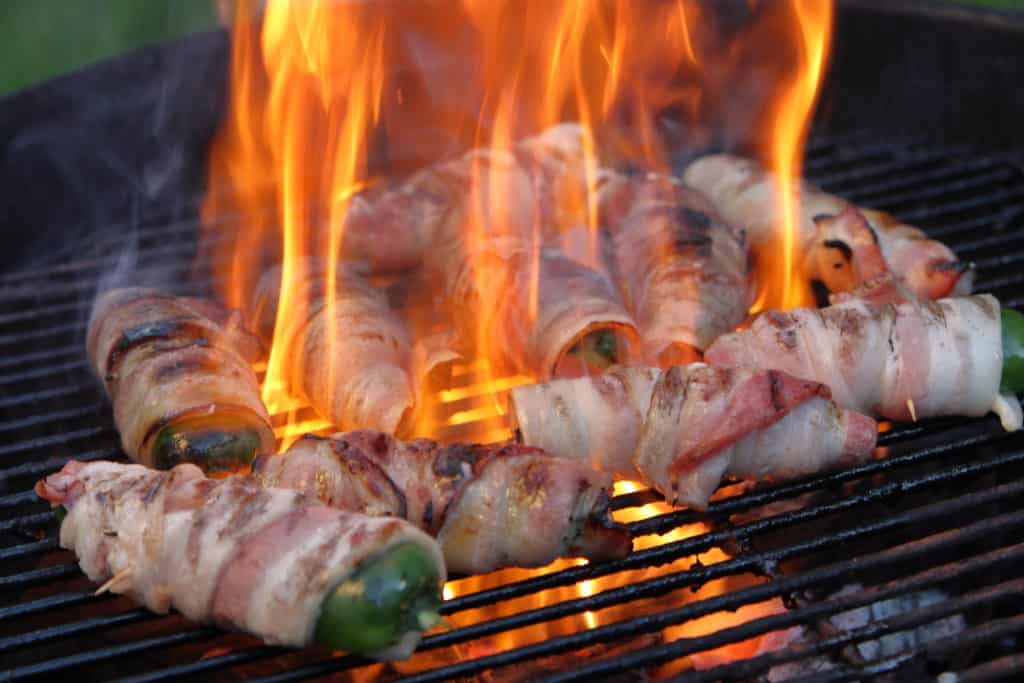 After you flip, it'll flare up all over again. Keep rotating them around so everything gets fire. We want to be fair! The fire will look like it is absolutely destroying your peppers. Rest easy, it is not. The grease an moisture leaving the peppers is creating a bit of a barrier between the fire and the meat itself.

Note: Whenever the peppers are cheese side down, it may leak a little. Don't panic! As long as it is sealed well, you won't lose all the cheesy goodness.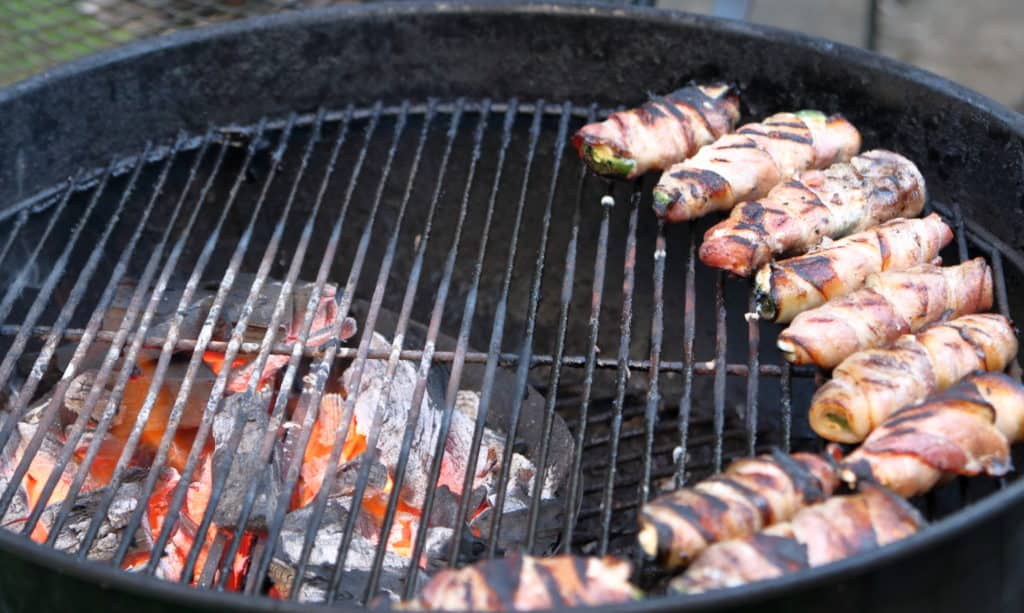 After you are satisfied with the cook on the bacon, move them all the way off the heat to the other side of the grill where there are no coals. Cover and cook for about 20 minutes, depending on how hot your grill is (ours was at about 400F).
During this time, the bacon will continue to render and the peppers will soften. The longer they cook, the more heat they lose, but fear not! They'll still have spice! But if you don't cook them long enough, they'll be crunchier and have a LOT of heat. Now, I love hot peppers, but i made the mistake of taking them off too soon once and they were unbearable! But if you like them with some bite, have at it!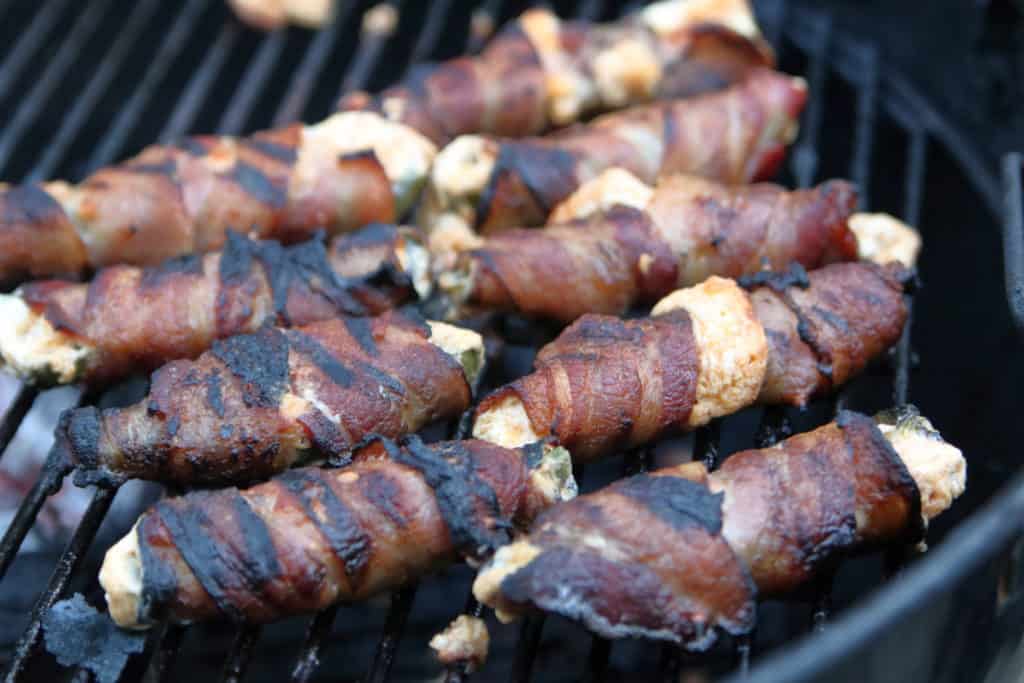 And there you have it! This is EASILY one of my favorite grilling recipes for the summertime! Scrumptious, spicy, cheese stuffed bacon wrapped jalapenos that will DEFINITELY be a hit at your next get-together!
Need a refreshing cocktail to go it with? Check out my electric lemonade vodka cocktail recipe. DELISH!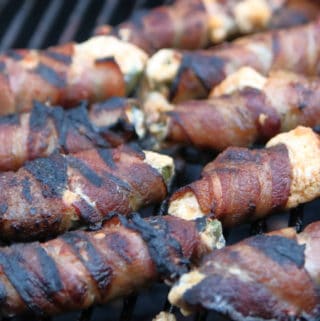 Bacon Wrapped Jalapeño Peppers
Spicy, creamy, and delicious bacon wrapped jalapeño peppers perfect for summertime grilling!
Print
Pin
Share on Facebook
Rate
Ingredients
Fresh Jalapeño Peppers

about 6-10

8

oz

Cream Cheese

room temperature

1

pack

thick cut bacon

We love Applewood smoked

½

cup

shredded sharp cheddar cheese

pre-shredded is fine

1

tbsp

cajun spice
Instructions
Preparing the peppers
Cut each jalapeño pepper exactly in half, as symmetrically as possible. DO NOT CHOP TOP OFF! You can remove the stem, but so not remove the whole top.

Using a small knife, carefully carve out all of the insides, leaving only the shell of the pepper.
Mixin' and Stuffin' and Wrappin'
Rough chop cream cheese into large cubes, just to make the mixing process a little easier. Room temperature cream cheese makes this process a LOT easier.

In a medium bowl, add your cream cheese, shredded cheddar, and cajun spices. Mix until thoroughly incorporated.

Fill each pepper shell with the mixed stuffing. Just use enough to completely fill the shell to the point where the stuffing if flush with the top of the pepper. No need to dome the top.

Note: I just use my hands for this. I grab a chunk, roll it like play-dough into a long skinny tube shape, and lay it right in the pepper.

Take one slice of bacon and wrap the jalapeño, beginning at the stem end. Overlap the ends of the bacon slightly with each pass to seal in the stuffing. Cover all the way to the end. You will probably have a little left over at the end. Use this piece to wrap it back toward the middle. This is the best place to pin it. Using a toothpick, skewer the pepper laterally. Stick the end of the bacon, through one side of the pepper, through the cheese, and out the other side. This will give you the most secure hold. You should only need one toothpick, but you can certainly add more if you feel like it it not secure.
Cooking your peppers
On your already hot grill, add your peppers directly over the hot coals for the most heat. The fire will start to render the bacon and you will get some pretty big flare ups. This is ok! Let it fire your bacon for a couple minutes. Some char is great, but watch carefully, as you don't want it too burned. You might want to rotate them around so they all get so direct fire. This will jump start cooking the bacon on the surface level.

Note: Your cream cheese may leak a little during this part. That's ok, don't panic. If you sealed it well with the bacon, you will still have plenty of filling.

Once you get some good heat and fire on the first side, flip and repeat the process. You will continue to get more flare ups as this side of the bacon begins to render.

Note: You will not completely cook the bacon during this part. This is to just get it started.

When you are satisfied with the initial bacon sear (usually just a couple minutes per side), move the peppers onto the other side of the grill far away from the fire.

Cover the grill and let cook (grill will be at about 400°) for 20-25 minutes, or to desired level of doneness. The longer it cooks, the softer and less spicy the peppers become.

Remove from the grill and enjoy! Be careful, that cream cheese can be like a lava bomb when it first comes off (but a delicious lava bomb).
Nutrition
Serving:
1
half pepper
|
Calories:
200
kcal