This Electric Lemonade recipe is made with Citron Vodka, blue curacao, sparkling water and fresh lemons. It's smooth, it's crisp, it's light and refreshing.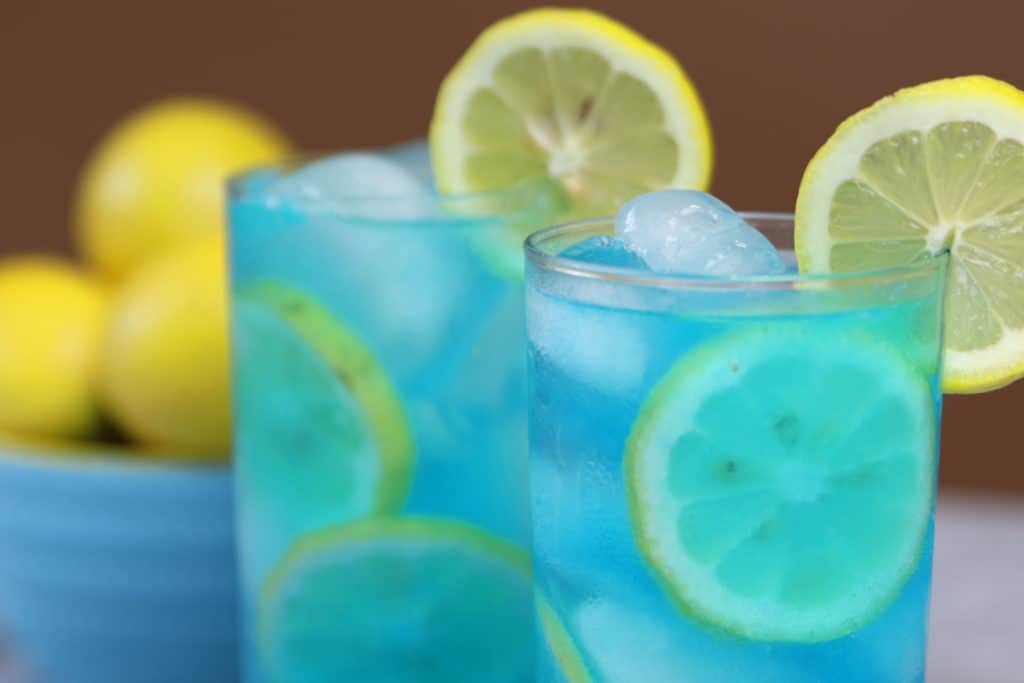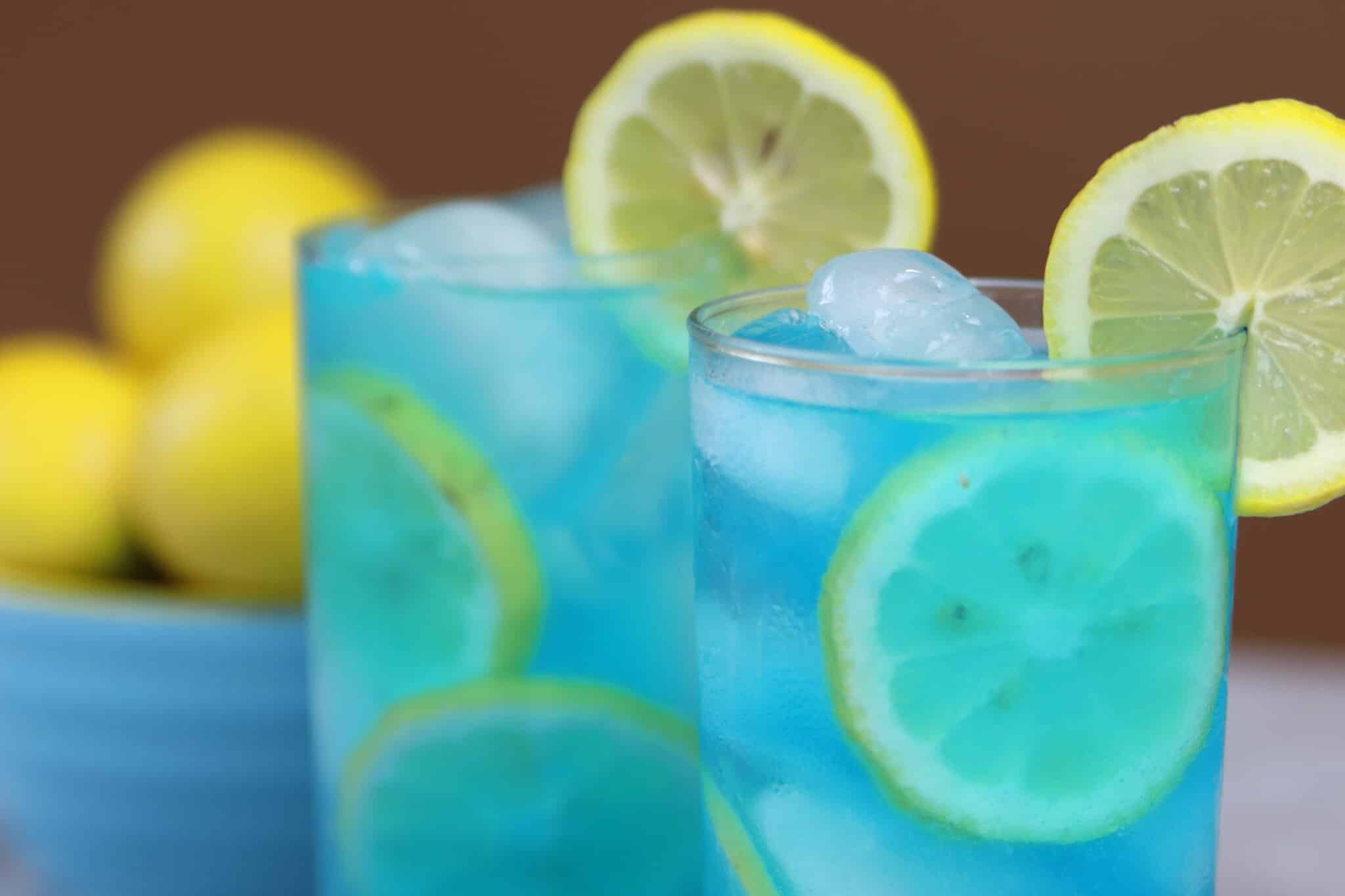 Summer is finally here, and what is more summertime than a good ice cold lemonade? But if you're like me (especially if you're on your summer hiatus, *wink wink*), then you want a little somethin' extra in that lemonade. This is a perfectly crisp and refreshing summer afternoon drink.

Does this Electric Lemonade Recipe have a lot of alcohol?
Now for me, I want my alcoholic beverage to be just that. Alcoholic. So I use a 1:2 ratio with citron vodka to sparkling water. Trust me though, it's so smooth and easy to drink. It still doesn't even taste like it has liquor in it, and it's still strong. Just how I like it.
But if you want your electric lemonade to be a little less strong, by all means, use less vodka!
What is in this Electric Lemonade?
There are probably a thousand variations on electric lemonade vodka cocktail, but I love this one because it's not overly sweet and heavy. No one wants a heavy, syrupy, sugary drink in the summer heat.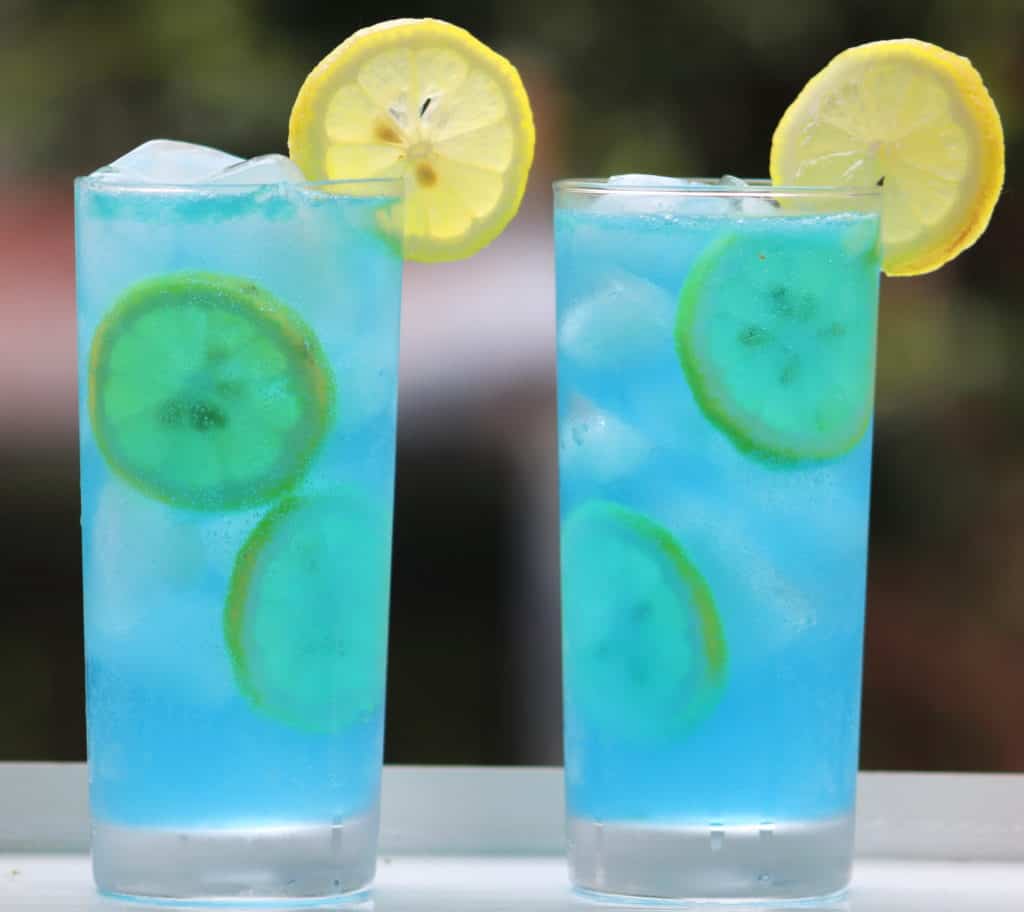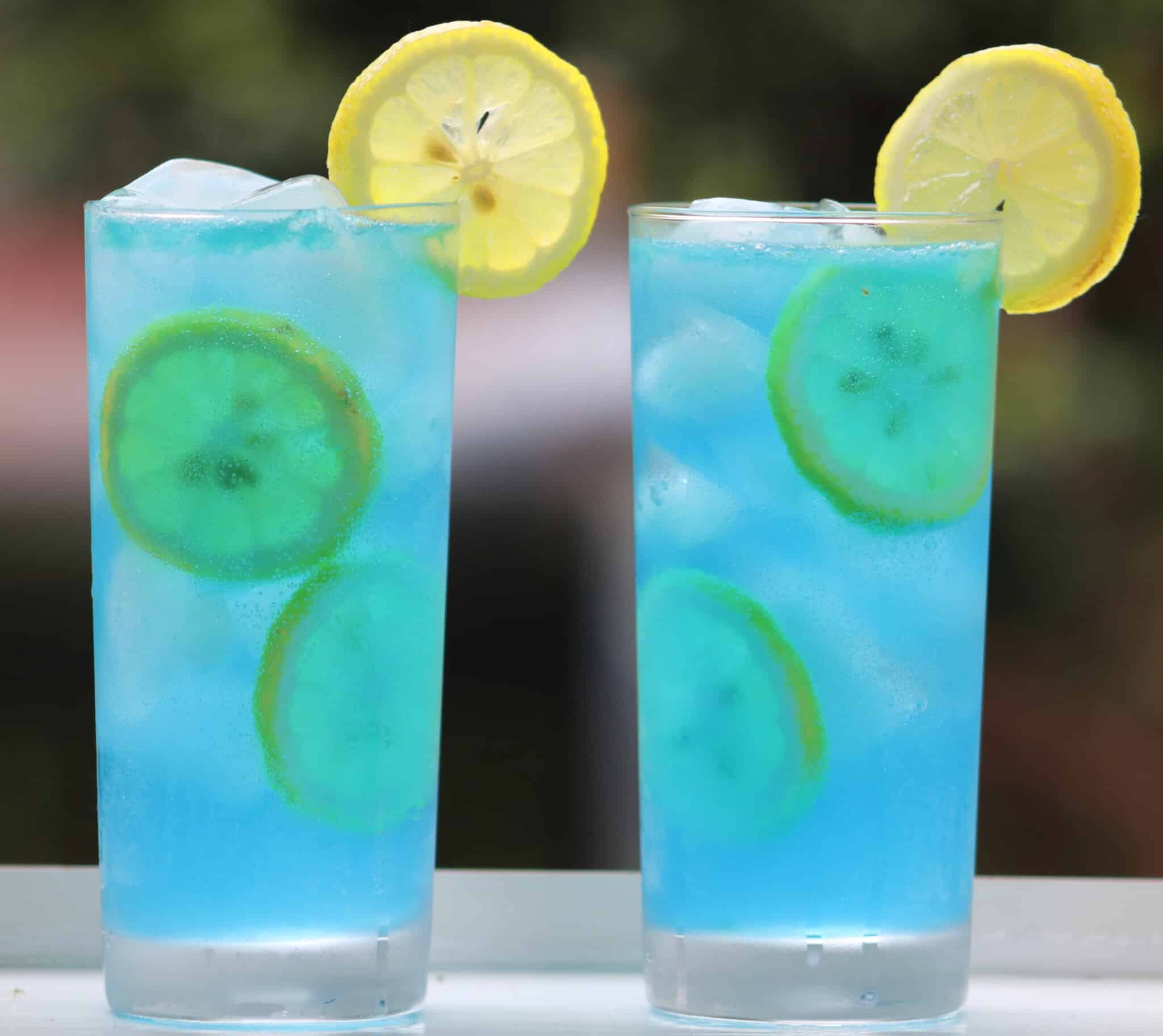 This is a super easy vodka cocktail that doesn't require many ingredients. I use:
Citron Vodka
Blue curaçao
Sparkling Water
Fresh lemon juice
simple syrup if you find it too tart (1:1 ratio of sugar and water)
Before you mix all your ingredients, you need to juice one lemon. You can either hand squeeze or use a juicer. I prefer a small hand juicer like this one to maximize the amount of juice. You should get about 3-4 ounces.
As an Amazon Affiliate, I earn a small commission at no extra cost to you.
Tip: Roll the lemon on the counter with plenty of pressure prior to cutting to get the most juice.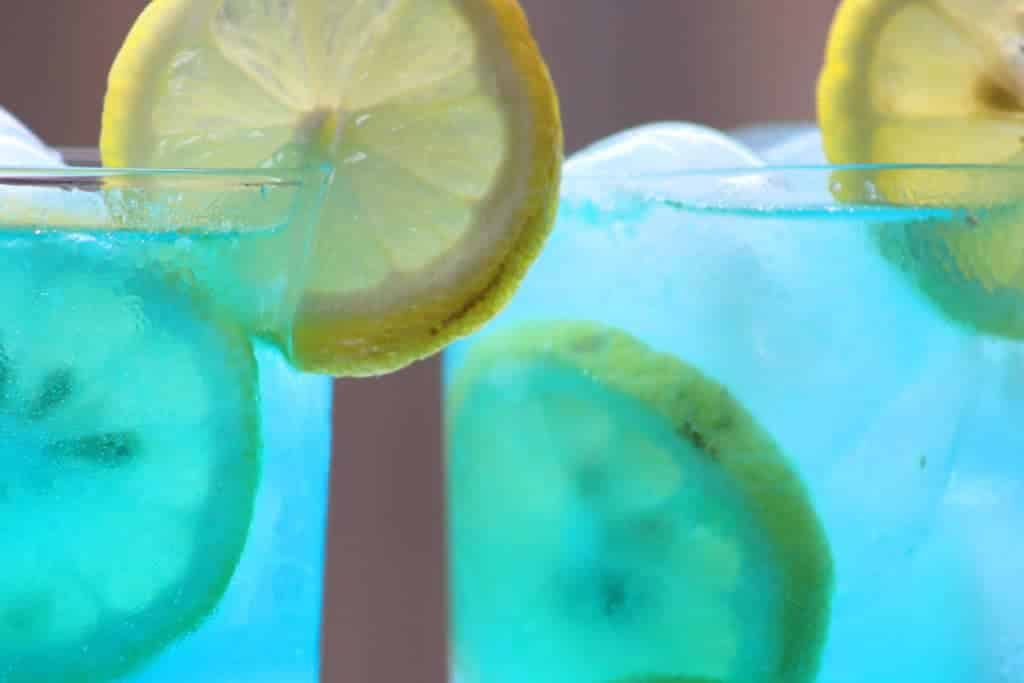 Start with a little ice in your cocktail shaker and add your citron vodka (I keep my vodka in the freezer so it stays ICE cold). After that, splash in the blue curaçao followed by the lemon juice. Give it a little *shake shake shake* to mix it all up.
DO NOT ADD THE SPARKLING WATER BEFORE YOU SHAKE THE SHAKER!
What changes can I made to this recipe?
If you don't love or don't have sparkling water you can alternatively use:
Club Soda
Sprite/Sprite Zero
Any lemon/lime soda variety
Topo Chico
I prefer sparkling water because I really want the carbonation, but it doesn't have a strong taste like club soda, and it also doesn't have all the sugary sweetness of sprite. But those substitutes will work splendidly depending on how sweet you want it to be. I like my electric lemonade (and most other cocktails) on the less-sweet side, but I normally add a tiny topper (less than a tablespoon) of simple syrup just to take a little of the overly tart edge off without making it sweet.
Note: Simple syrup is just dissolved sugar in water with a 1:1 water:sugar ratio.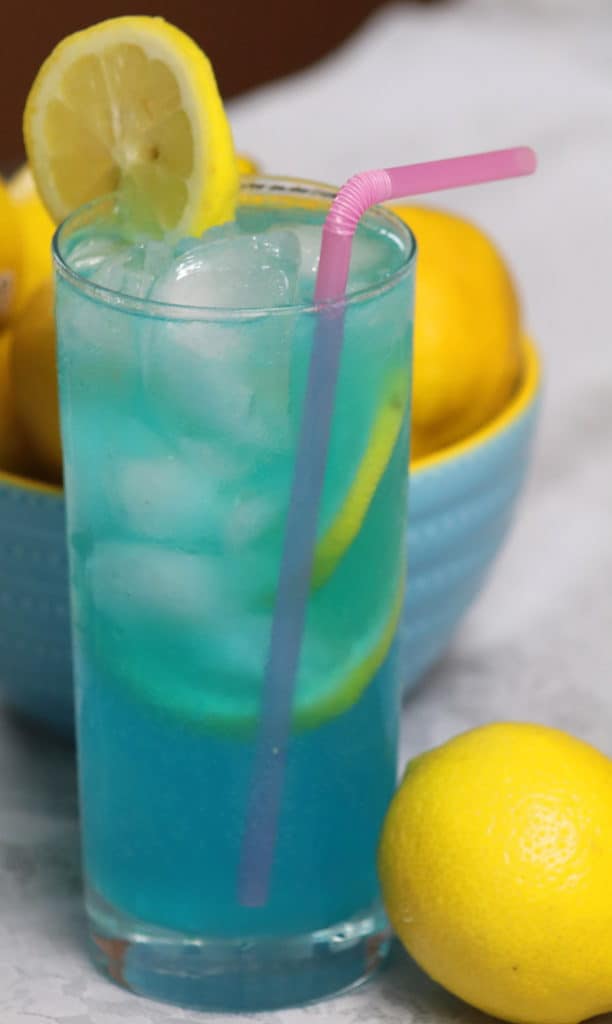 After you pour the sparkling water (or other desired mixer) into the shaker, use the strainer to pour it straight back over a glass of ice and voila! You're ready to really enjoy yourself. This Electric Lemonade Vodka Cocktail is definitely a summer staple.
Don't forget about a cocktail for brunch too! This classic mimosa recipe will be perfect for getting your summer weekends going!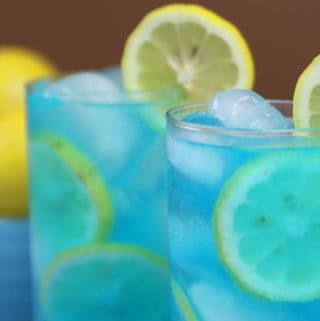 Ingredients
2

fl. ounce

Citron Vodka

½

fl. ounce

Blue Curaçao

4

fl. ounce

Sparkling water

sub. club soda, sprite if desired

Juice of one lemon

approx. 3-4 fl. ounces

simple syrup topper

if desired
Instructions
Pour citron vodka, Blue Curaçao, and the fresh juice of one lemon over ice in a cocktail shaker. Shake well to chill ingredients.

Add sparkling water to cocktail skaker (Do not shake.)

Using strainer, pour over glass of ice. Garnish with a lemon if desired. Enjoy!
Nutrition
Serving:
1
cocktail
|
Calories:
250
kcal