These Sweet and Spicy Bourbon Glazed Chicken Drumettes are crispy fried and glazed with a sweet and spicy bourbon and cola wing sauce. This is a really tasty and easy chicken wings recipe that will keep you going back for more!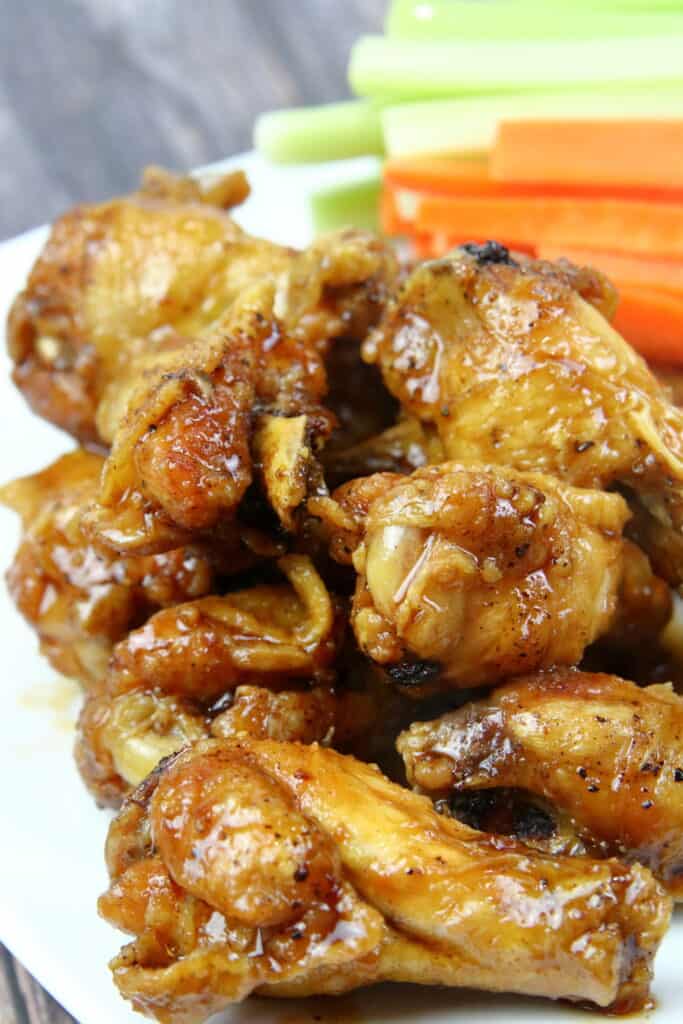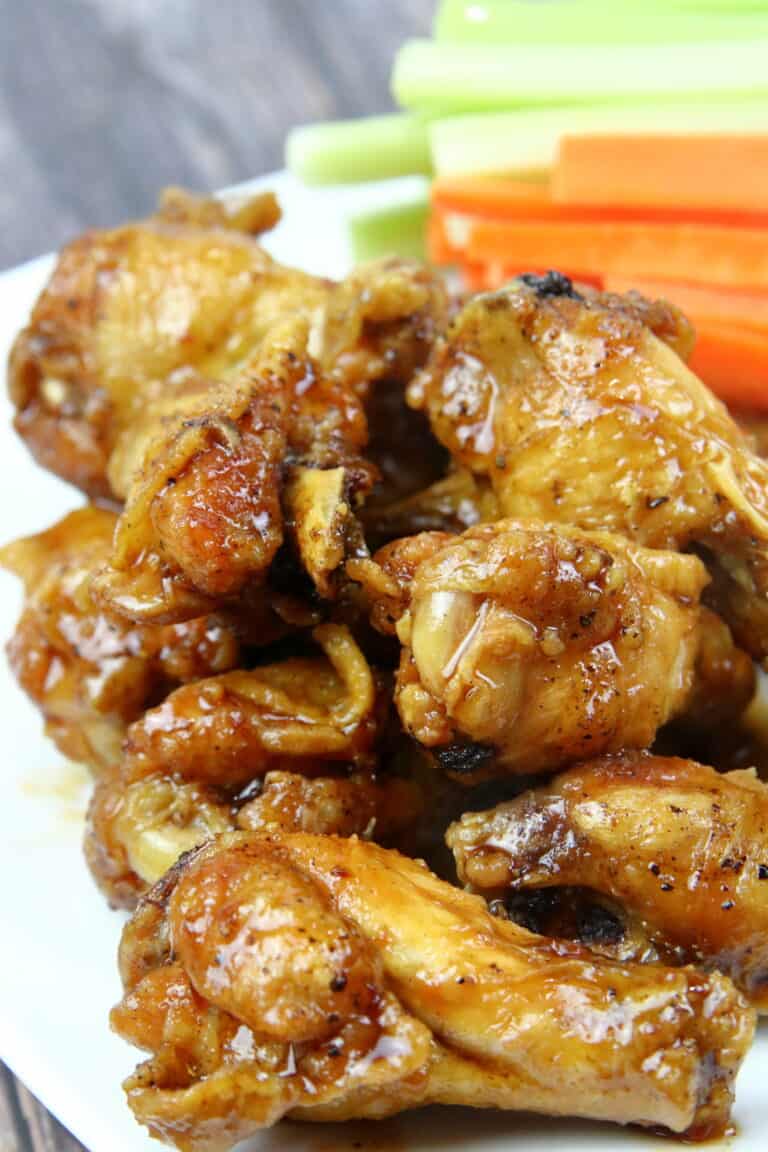 I used to be exclusively be a boneless wings type of person. I always felt like bone-in wings were too much work. However, I've become a huge fan of chicken drumettes though. The flats, however.. I'm still not working that hard for some chicken. But no matter what the type of chicken, I LOVE a good wing sauce that is a great mix of sweet and spicy, and this wing sauce recipe is exactly that.
What do I need for my wing sauce?
Chicken drumettes are nothing without a delicious wing sauce! No matter what I'm eating, I always gravitate to things that are sweet and spicy. We layered in several different sources of heat and sweet into the wing sauce for maximum punch.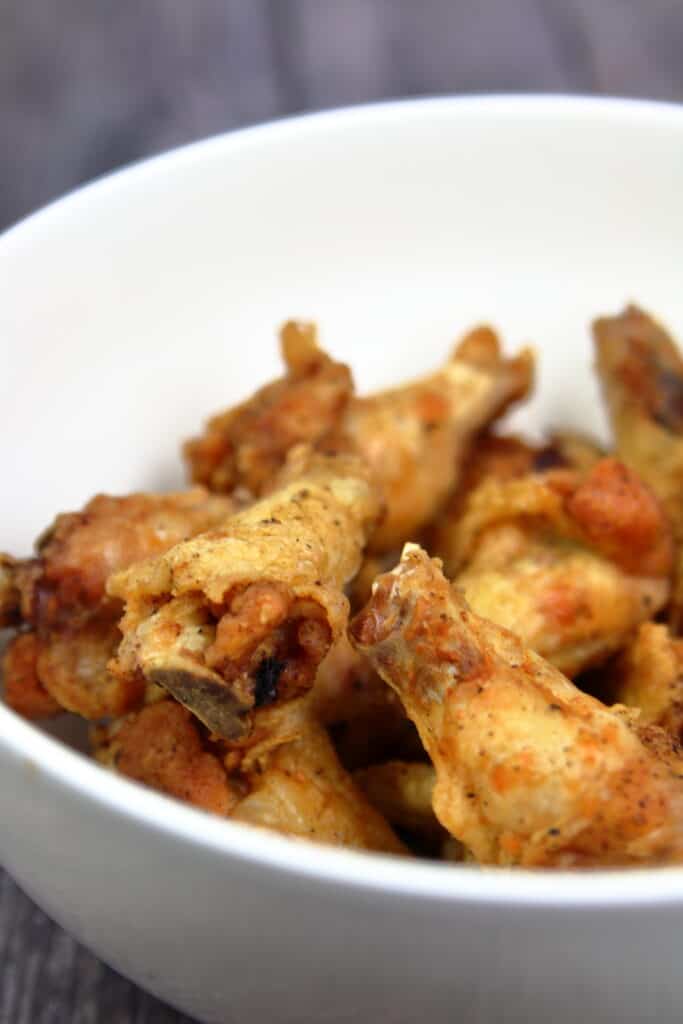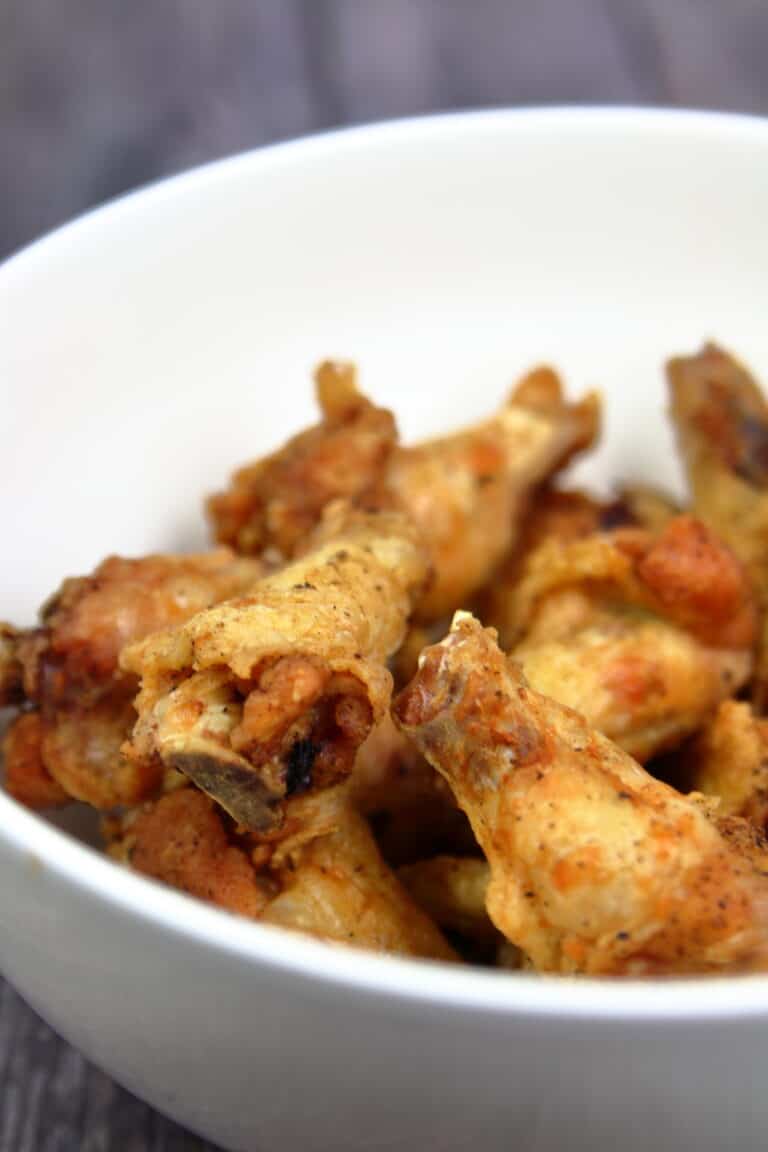 You're going to start your wing sauce with sliced garlic sauteed in butter. You will also need:
Cola- We used regular coca cola. Use whatever brand you like, but make sure it's not any kind of diet or sugar free variety.
Bourbon– Doesn't need to be fancy, but should be a decent one.
Dark Brown Sugar- Love that deep molasses-y sweet goodness
Chili Paste- Spicy with a HUGE pop of flavor
Thai Sweet Chili Sauce- For a little extra sweet and spicy kick.
Corn starch- For thickening.
To start your wing sauce, in a medium saucepan, melt the butter and saute the sliced garlic. After about 3 minutes, add your cola, bourbon, brown sugar, chili paste, and Thai sweet chili sauce. Bring it to a boil, and then reduce to a simmer for about 30 minutes.
You may not actually need to cook your wing sauce for that long, but it ends up being around that amount of time because of how long it takes for the actual chicken drumettes.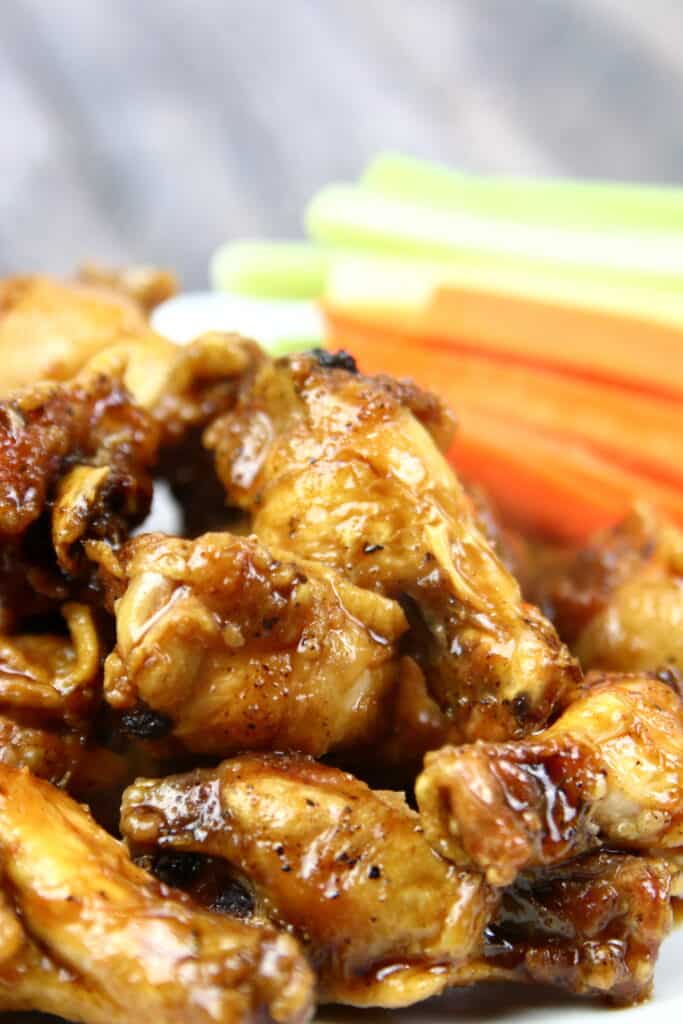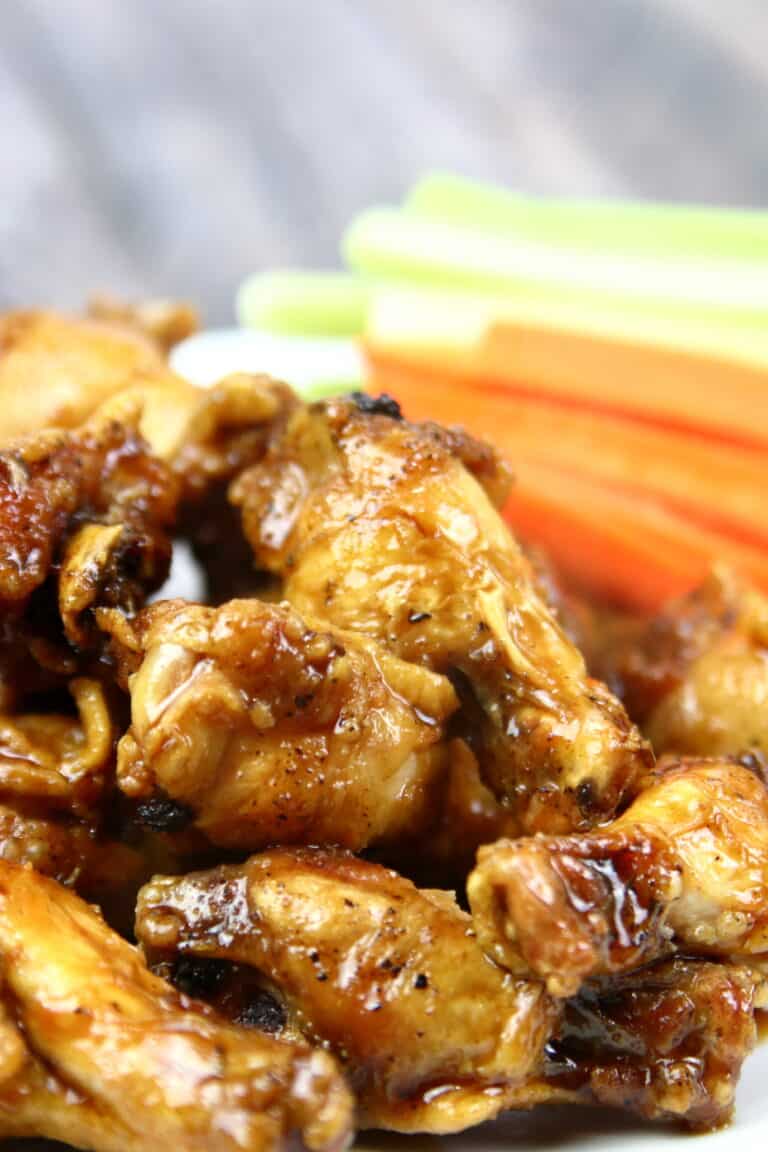 Tip: ALWAYS taste as you go! It's definitely not fun to get to the very end of making.a dish and then hate it because you didn't taste it! Making wing sauce is an EXTREMELY versatile thing. If you find it's too salty, sweet, spicy, etc., it's SUPER easy to add something else to counteract that and get it JUST how you like it!
Frying your chicken drumettes
This part is super straight forward. All you have to do to prep your chicken drumettes is sprinkle some salt and pepper (generously) and fry them. You don't even have to bread them. The skin will crisp up nicely.
Make sure you heat your oil to 375F and fry them a small batch a time. You definitely don't want to overcrowd the pan so your chicken drumettes cook evenly and thoroughly.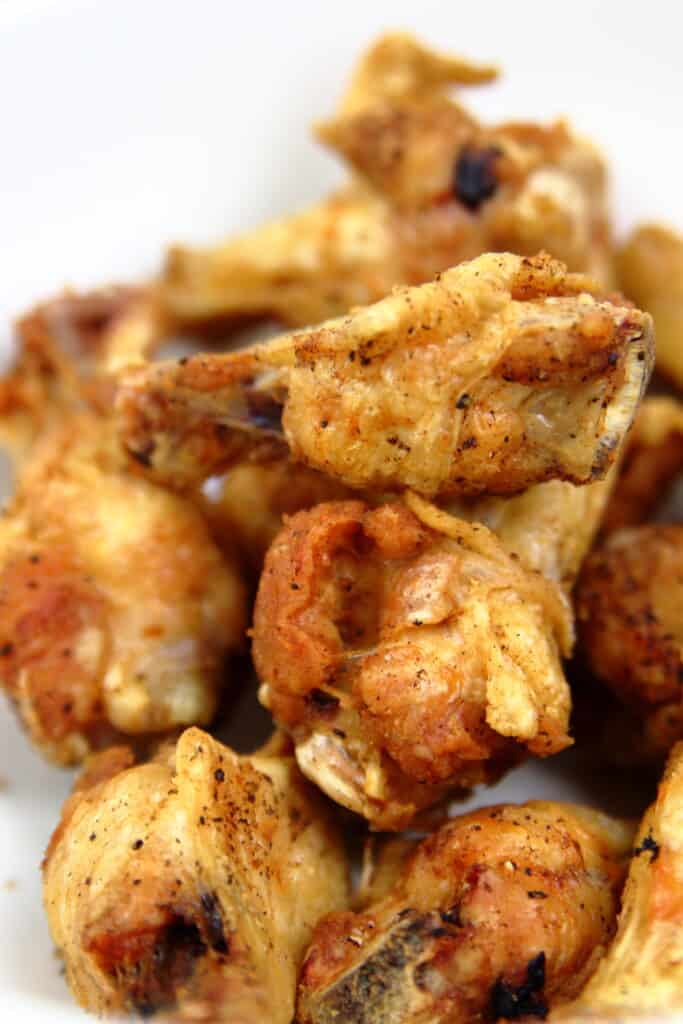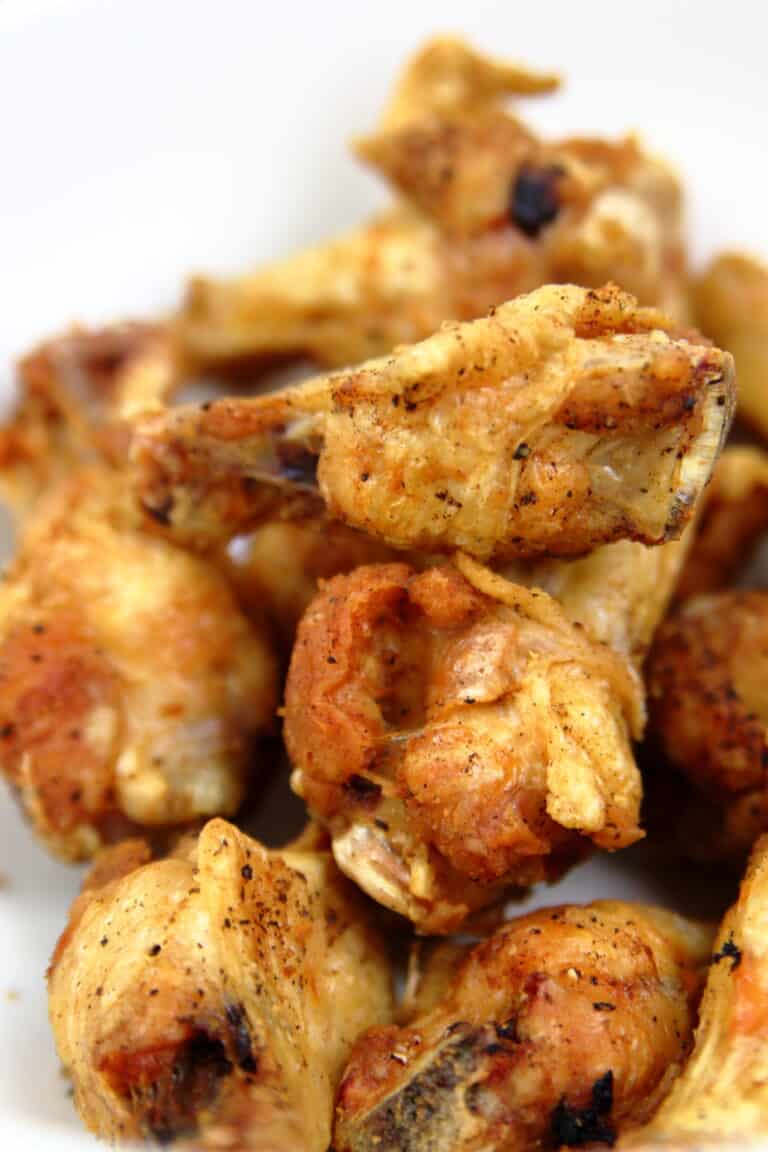 I normally do about 8-10 at a time and set them aside in a bowl while the others are frying. Cover the bowl with some foil and they'll retain their heat pretty well.
Fry your drumettes for about 10 minutes. They'll be a nice golden brown with crispy ends (this is my favorite part!). If you're unsure, just crack one open. You don't want ANY pink in there!
The final step: the glaze
By them time all of your chicken drumettes have beed fried, your wing sauce is probably at a pretty good flavor and consistency. It's going to be pretty thin, so thicken it how you like.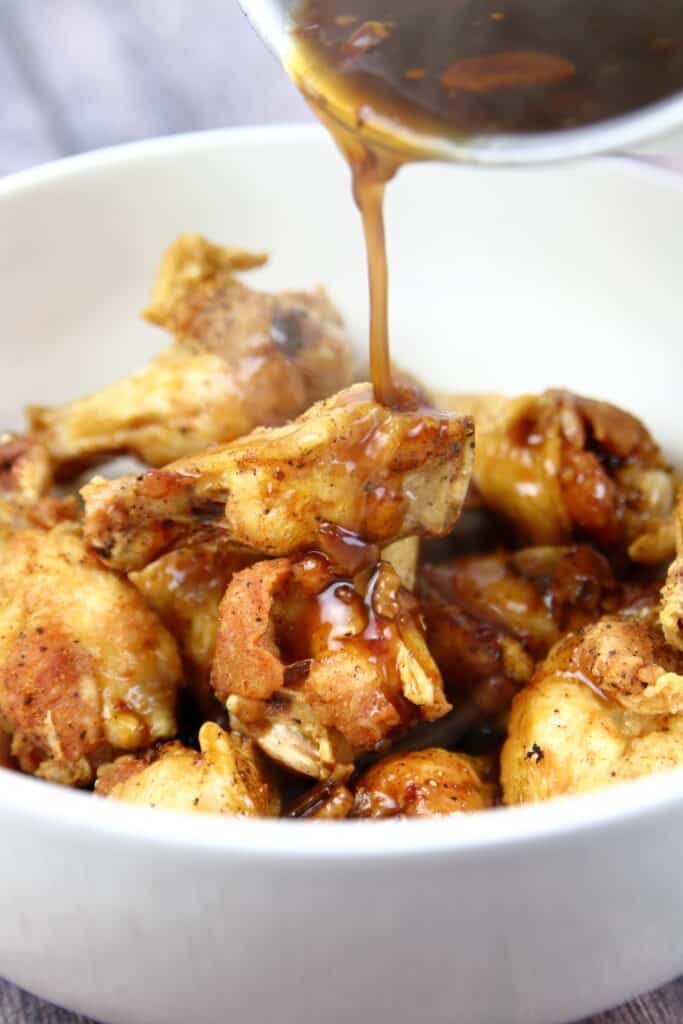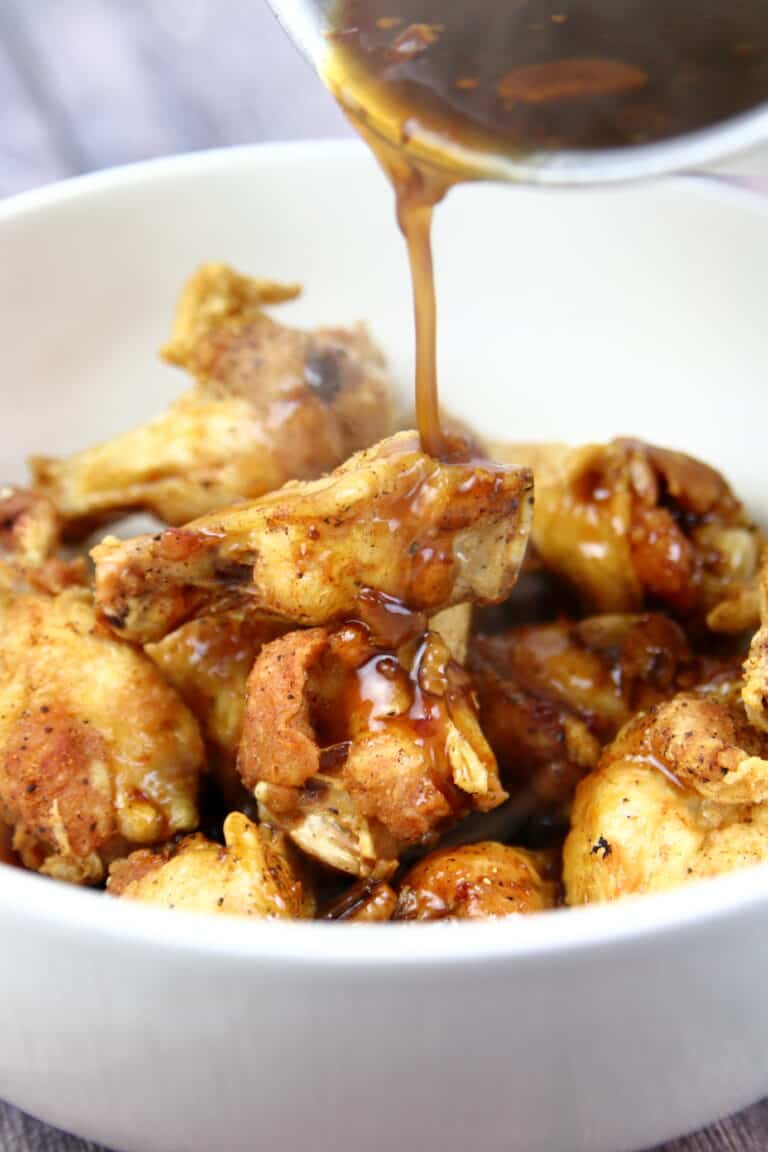 I added a mixture of 2 tsp cornstarch with just a touch of water. Dissolve the cornstarch in water first and then add it to the wing sauce. Bring the heat up to medium so it will come to a boil and thicken.
If you want it thicker, add another round of cornstarch. How much you thicken your wing sauce is all up to you. Some people like it on the thin side while others like it sticky and syrupy. I like mine somewhere in the middle!
Once you have your wing sauce how you like it, pour it over your chicken drumettes and toss.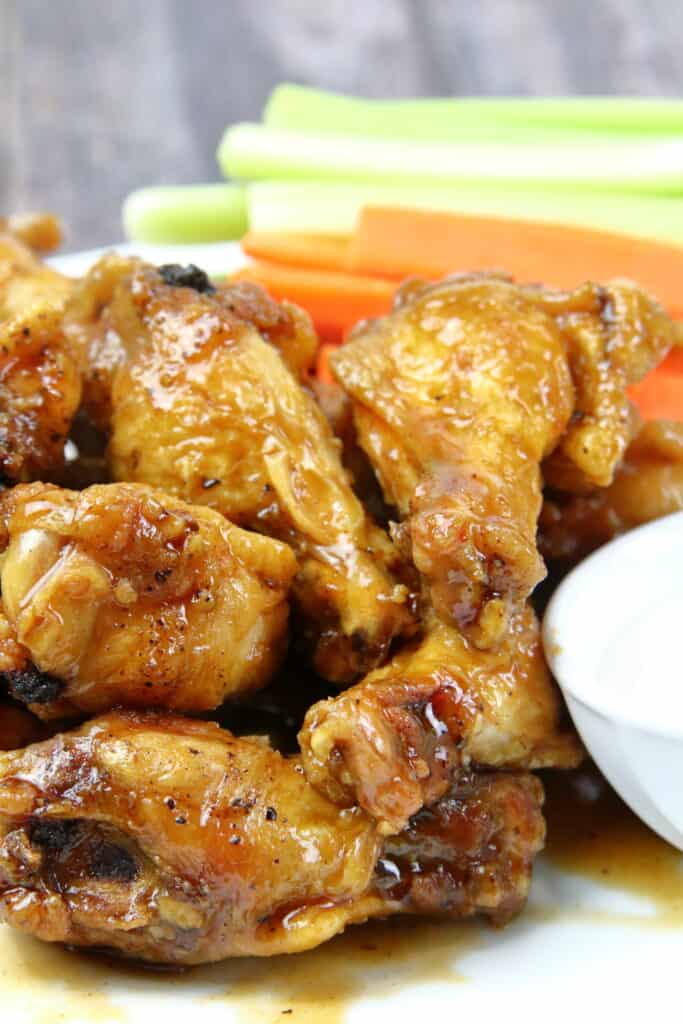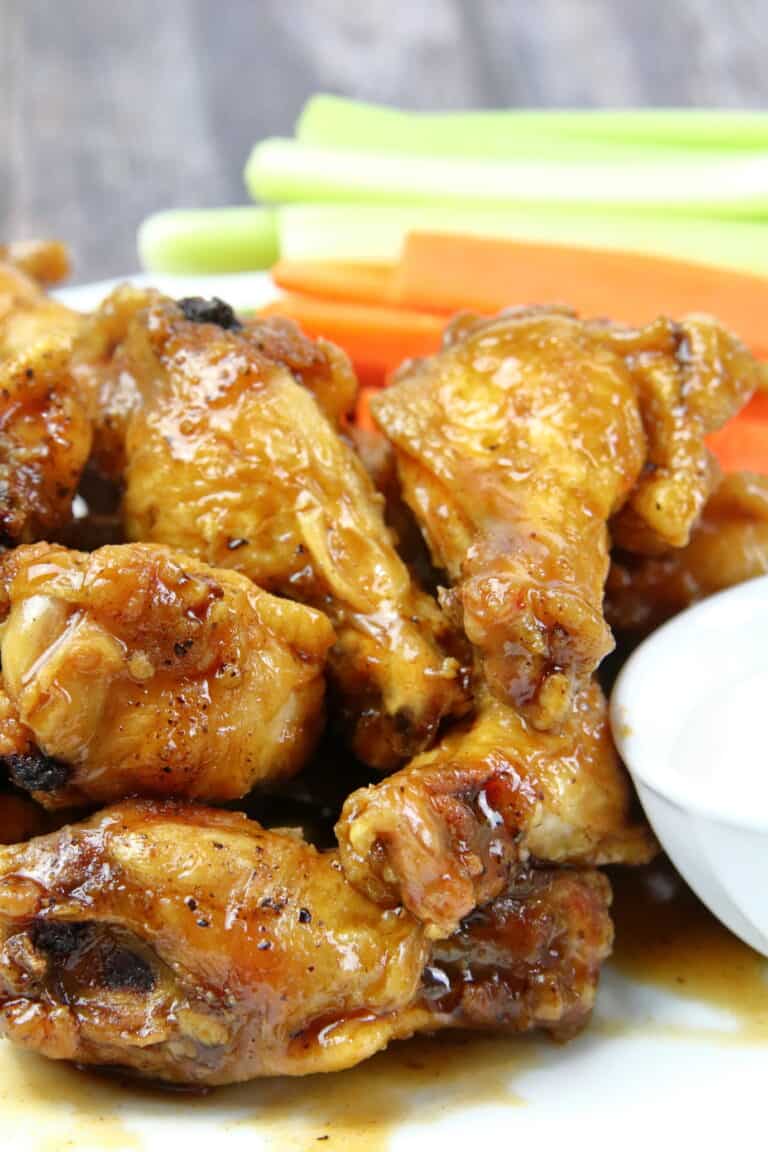 And that's pretty much it! Grab your favorite dipping sauce for your chicken drumettes, some extra napkins, and enjoy!
If you like this type of finger type bar food that can be dunked in ranch dressing, these Cajun Crispy Fried Onion Strings and Panko Crusted Fried Zucchini are both delicious!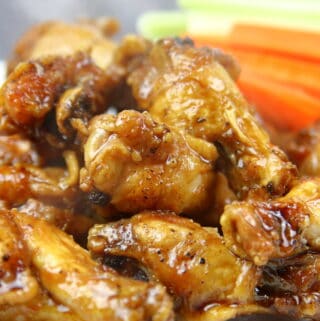 Chicken Drumettes in Sweet and Spicy Bourbon Wing Sauce
These Sweet and Spicy Bourbon Glazed Chicken Drumettes are crispy fried and glazed with a sweet and spicy bourbon and cola wing sauce.
Print
Pin
Share on Facebook
Rate
Ingredients
4

lbs

chicken drumettes

(about 24 pieces)

1

tbsp

butter

3

cloves

garlic

sliced or minced

1

20 oz

bottle cola

100

ml

bourbon

between ⅓ and ½ cup

2

tbsp

brown sugar

2

tbsp

chili paste

1

tbsp

sweet thai chili sauce

2

tsp

corn starch

mixed with a tiny bit of water
Instructions
For the Wing Sauce
Slice garlic. Melt butter over medium heat in a small saucepan and saute sliced butter for a couple minutes until fragrant.

Add cola, bourbon, brown sugar, chili paste, and sweet thai chili sauce. Bring to a boil.

Reduce heat to low and let simmer for about 30 minutes, or while you prepare the chicken drums.
For the Chicken
Salt and pepper the chicken drums.

Fry Chicken Drums in a few different batches for 10 minutes each, depending on the size of your oil pan. Don't overcrowd.

Note: Let the oil come back to 375° in between batches.

Remove from oil, set aside while you finish all the batches.
Glazing the Chicken Drums
Before you pour the sauce over the wings, evaluate the thickness of the sauce. Before you add cornstarch, it will still be pretty thin. Add your cornstarch mixture to your wing sauce while it's on a low boil. It will thicken pretty quickly. The more cornstarch you add, the thicker and more syrupy your sauce will be. This is all a matter of personal preference.

Once you are happy with consistency of the sauce pour over your chicken drums, dip in your favorite dipping sauce, and enjoy!