Put a spin on basic quesadillas by jazzing them up with some leftover smoked ribs dripping with melted cheese and smothered in sauteed onions and peppers. These cheesy smoked ribs quesadillas can also be made with just about any of your other BBQ leftovers!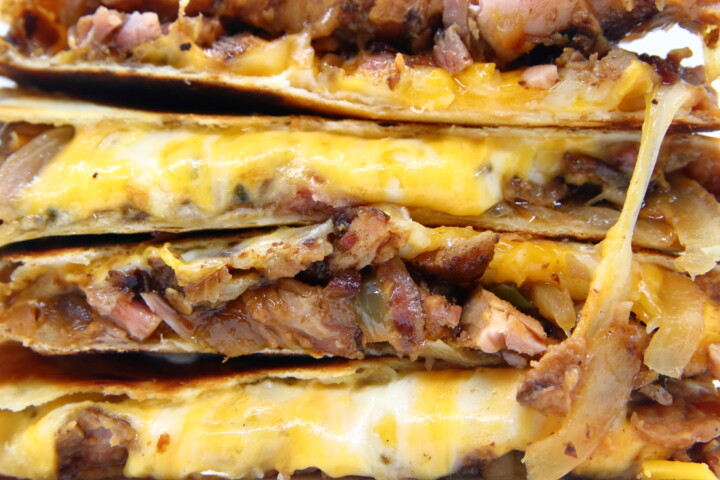 Cheese? Yes, please! Smother anything with oozy, stretchy cheese and I'm in. These Cheesy Smoked Rib Quesadillas are certainly no exception. I made these with leftovers from the Smoked Baby Back Pork Ribs my husband smoked for dinner last night. But these are so delicious and indulgent and really easy!
Most of the work comes in the prep. Just get your peppers and onions sliced, your cheese shredded, your beans heated and seasoned, and you ribs deboned and chopped and that's about 75% of it right there.
Now, there are a TON of ways to vary this:
Beans or no beans (and how to season them)
types of cheese
types of meat
Peppers or no peppers
I decided on ribs because we wanted a little variety in our leftovers. These are also delicious with chicken or steak as well! I also have a recipe for Leftover Smoked Brisket Taquitos. You could take some leftover ribs and put them in those taquitos, or you could take the leftover brisket and put it in these quesadillas. Those would BOTH be delicious!
Assembling your cheesy smoked rib quesadillas
Now, once you have all your ingredients prepped, it's time to assemble!
Tips:
Heat the tortillas. After about 10-15 seconds in the microwave and they'll be much more pliable and less likely to break.
Use block cheese. Pre-shredded cheese may save some time with the prep, but it never melts quiiiite as well as block cheese (however, if it's all you have, it'll do).
Soften the butter. Get that butter super soft, just before the melting point. That way it will smear over the tortilla effortlessly.
Go easy on the butter. You really only need a really thin layer. It doesn't take much to get a crispy golden brown.
Only butter half at first. You can butter the other half while it's in the pan.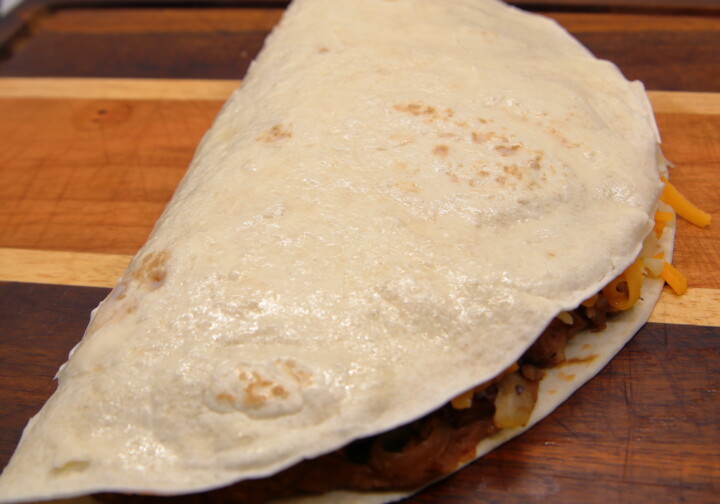 Once you have your stuffing layered up and half of the quesadilla buttered, carefully use both hands and hold the quesadilla closed while you put it in a warm pan. It should only take about 3 minutes to cook.
Be careful that it's not too hot! You don't want the tortilla to burn before the cheese has had time to melt!
Flip, and cook for about another 3 minutes.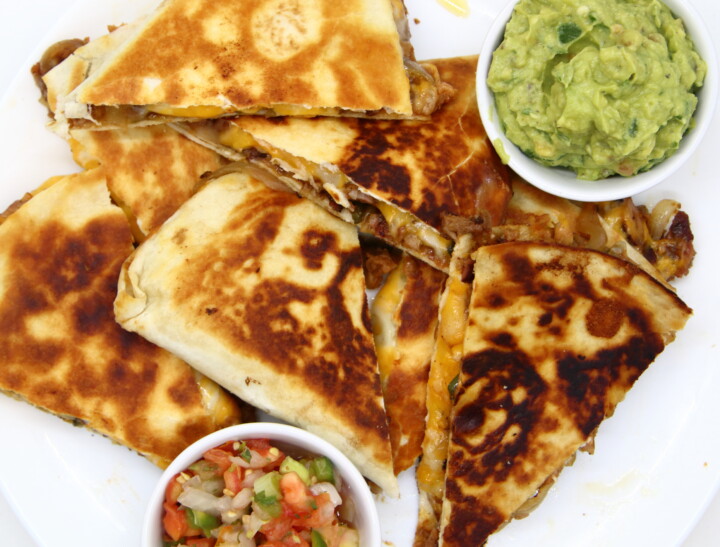 When both sides are golden brown and the cheese is melted, remove your quesadilla and cut it! I like to use a pizza cutter, but a big sharp knife will work too.
These Cheesy Smoked Rib Quesadillas are fantastic with guacamole, sour cream, pico de gallo, salsa, or queso. Pick your dipper and get going!
Enjoy!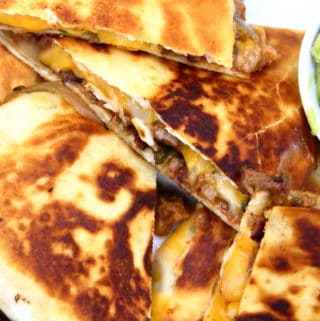 Cheesy Smoked Rib Quesadillas
Put a spin on basic quesadillas by jazzing them up with some leftover smoked ribs dripping with melted cheese and smothered in sauteed onions and peppers.
Print
Pin
Share on Facebook
Rate
Ingredients
2

large, burrito flour tortillas

5-6

leftover ribs, chopped

about 1 cup

4

ounces

mild cheddar cheese, shredded

4

ounces

jalapeño jack cheese, shredded

1

tbsp

olive oil

½

medium onion, sliced

3

fresh jalapeños, cored and sliced

½

Can

Refried Beans

1

tsp

ground cumin

2

tbsp

salsa or hot sauce

2

tbsp

butter

softened, but not melted.
Instructions
In a small saucepan, heat refried beans over medium heat. Stir in cumin and hot sauce/salsa. Reduce heat to low.

In a medium saute pan, heat olive oil over medium heat. Add onions and peppers. Saute until completely soft (about 10 minutes). To speed up the process, periodically add a tablespoon of water and cover. The water will steam up right away allowing the peppers and onions to soften.

When the onions and peppers are soft, add chopped rib meat. Saute for about 4-5 minutes. Remove from heat.

Heat a large flour tortilla in the microwave for about 10 seconds to soften. Remove from microwave and smear about 2-3 tablespoons of beans on half of the tortilla. Layer on about ⅓-1/2 cup of rib meat and peppers. Add a layer of shredded cheese.

Fold the other half of the tortilla over. Smear a thing layer of butter on half.

Heat a large saute pan over medium heat. When the pan is hot, add the folded quesadilla buttered side down. While the quesadilla is cooking, butter the other side.

After about 3 minutes, flip and cook for about another 3 minutes. Tortilla should reach a nice golden brown.

Repeat the process for the other tortilla unless your pan is large enough to fit two. Mine isn't!

Serve with your favorite dippers (sour cream, guacamole, salsa, queso) and enjoy!