If you have lots of leftover smoked brisket from your latest BBQ, then this Leftover Smoked Brisket Taquitos recipe is perfect for you!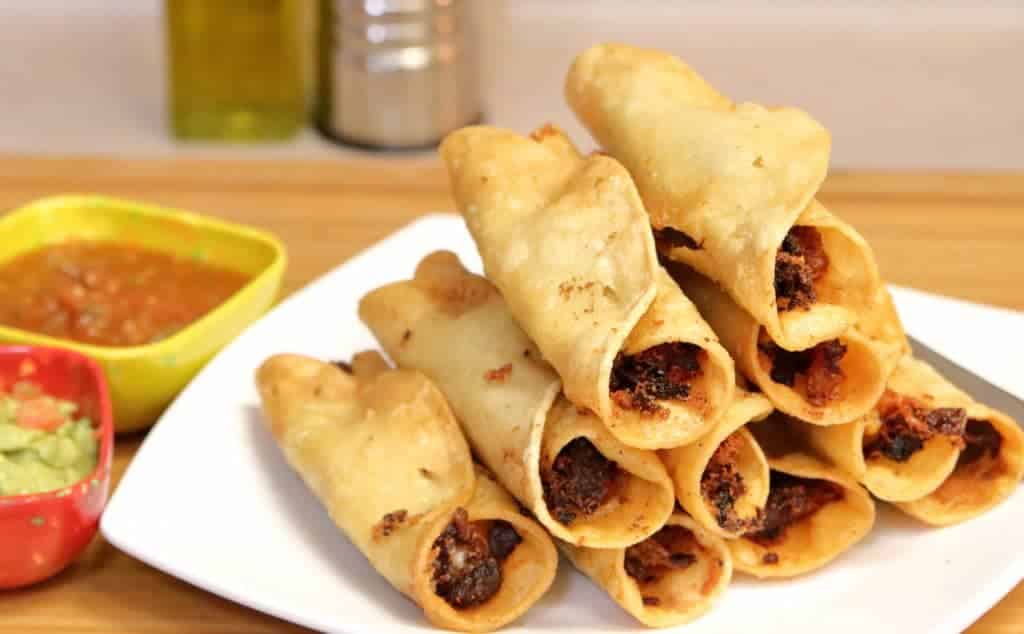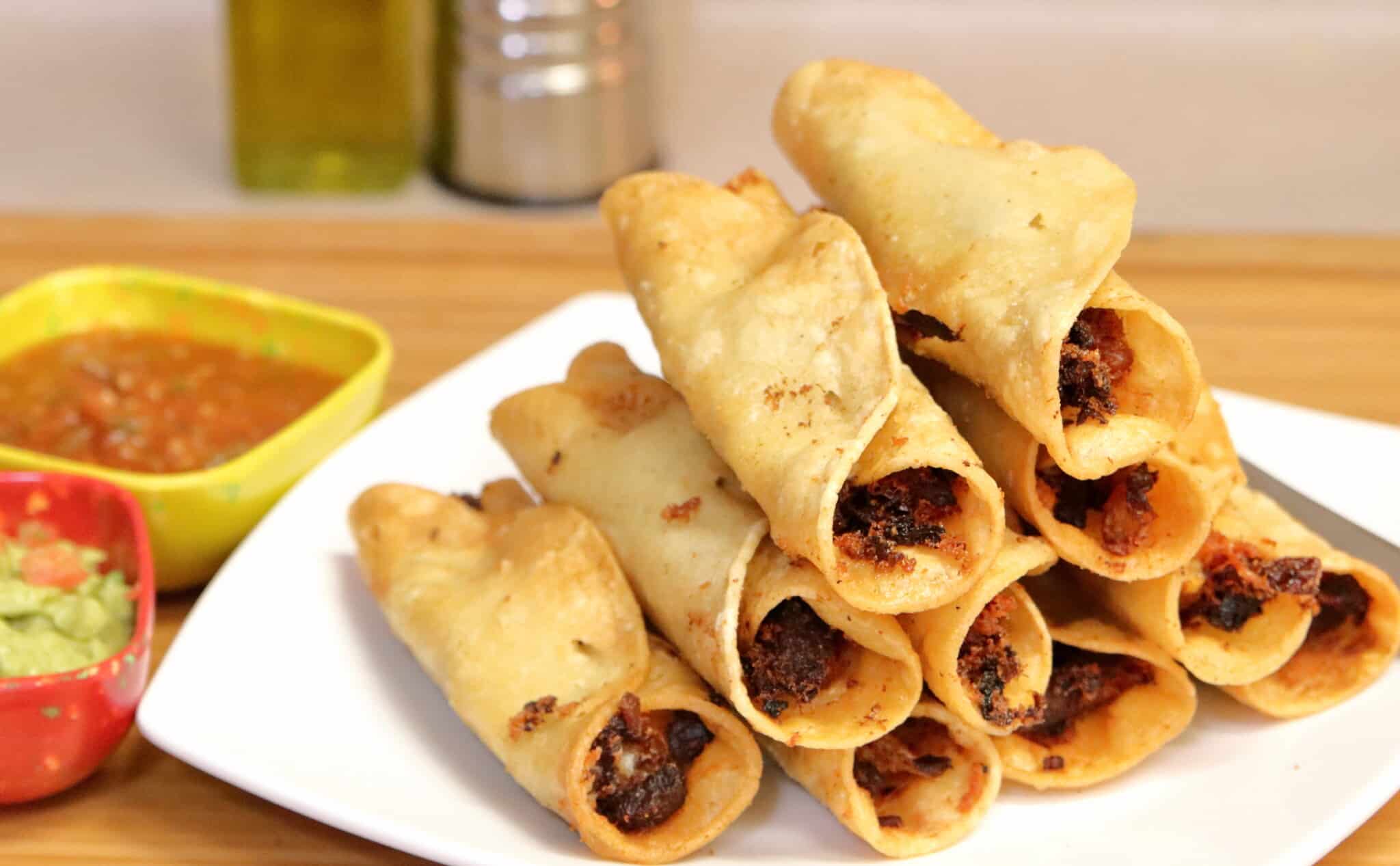 Smoked brisket isn't just a meal, it's an event. It includes a lot of prep work and takes all day to smoke, but it's worth every second. Through much practice, we've become pretty happy with our smoked brisket process. The problem is, there are always soooo much left in leftovers (a very tasty problem though). I like to try to get a little creative with ways to enjoy it for the following days. I'm always needing more leftover brisket recipes, and this recipe for leftover smoked brisket taquitos is one of my favorites.
Prepping the Brisket Taquitos
Making the brisket taquitos is pretty simple, but the most work goes into the prep. Prepping all the ingredients is important because when you are in the thick of making everything, you don't want to need something and it hasn't been chopped or heated!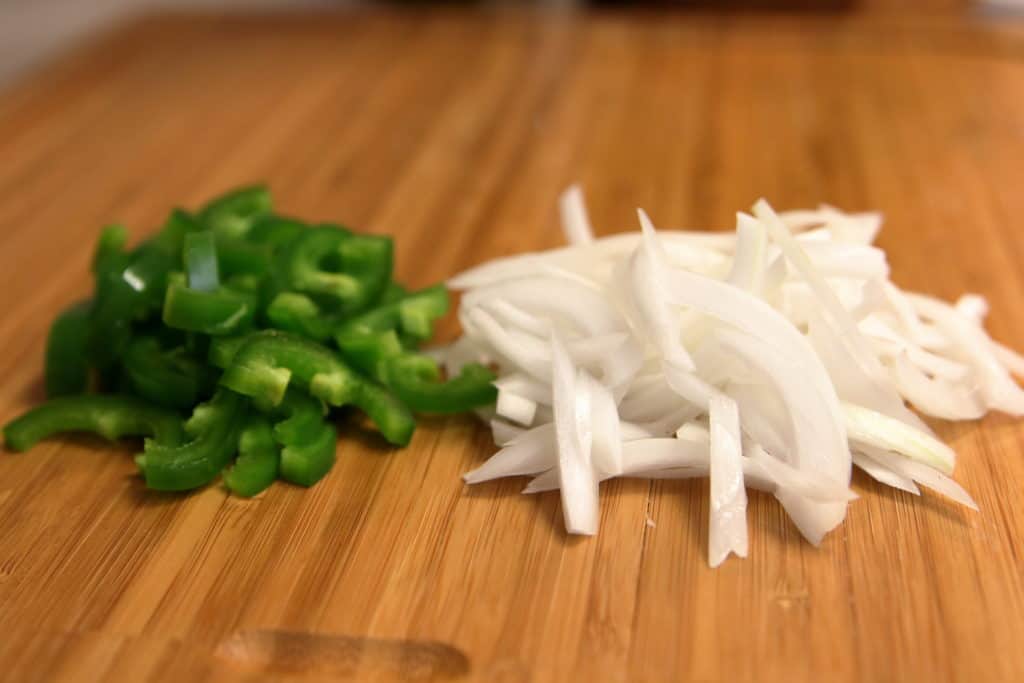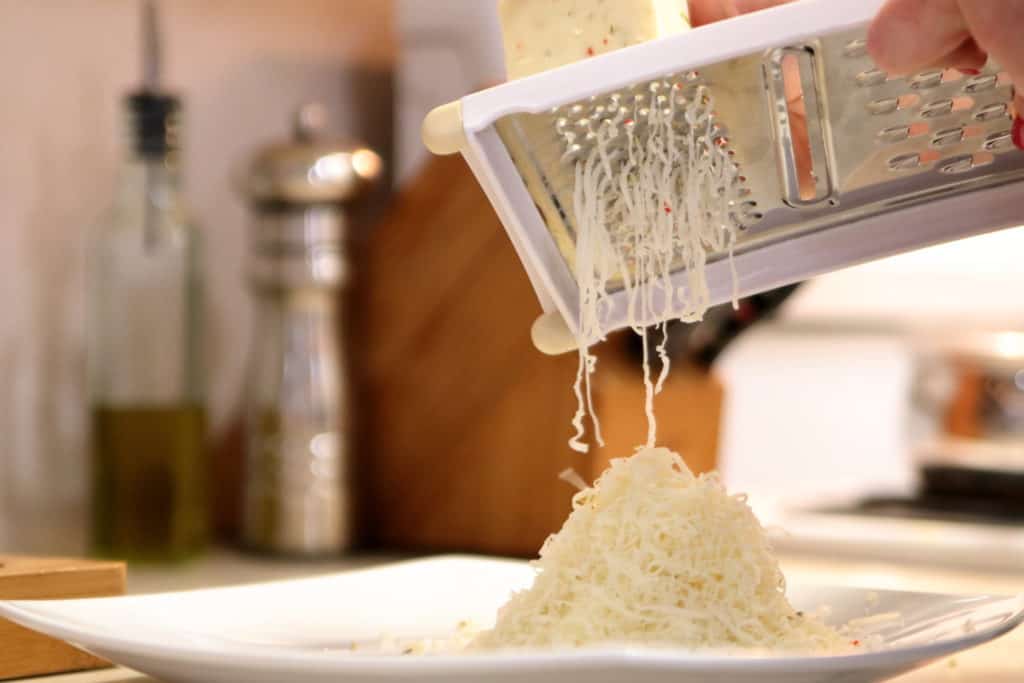 Start by getting a pre-heat on your oil. Fill a heavy duty pot (about 6-8 quarts) with about 3-4 quarts of oil. Most kinds are fine: Canola, vegetable, corn, peanut- whatever. They'll all work just fine. Turn the heat on medium-low so the oil will heat, but not get to full frying temperature. I do this so when you ARE ready to fry your brisket taquitos, you can turn the heat up and it is much quicker getting it to full heat.
While your oil is preheating, get the filling ready:
Empty the can of beans into a small saucepan and heat (season with cumin and salsa if you like).
Slice the onion (about ¼-1/2 an onion).
Core and slice 1-2 jalapeños
Finely chop brisket (about a cup)
Grate cheese (on the smaller setting)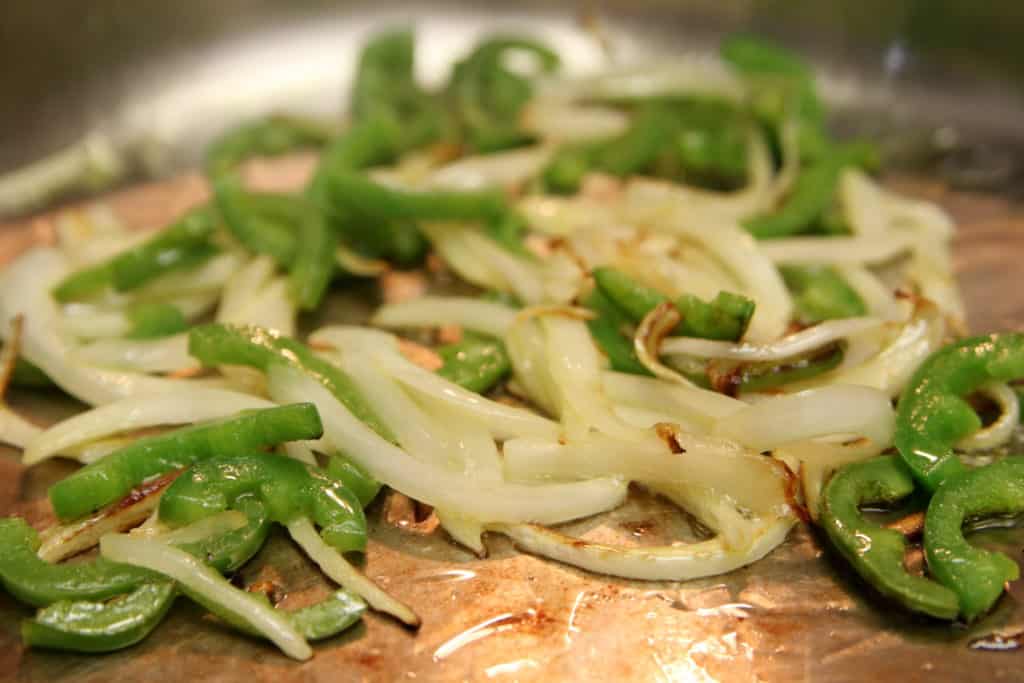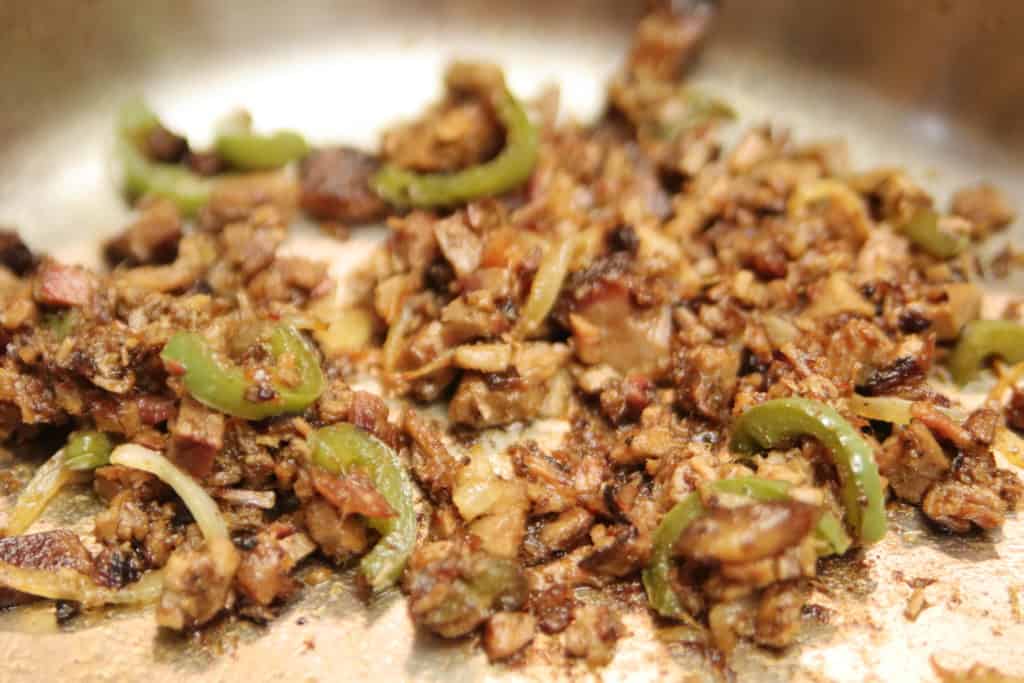 Preparing your leftover brisket
After everything is chopped and grated, let's heat things up! Heat about a tablespoon of olive oil over medium-high heat. Sauté the onions and peppers until soft and translucent (about a couple of minutes). After those are heated, add the leftover brisket. Heat the leftover brisket for about 2-3 minutes, mixing well with all the onions and peppers.
How do I stop my corn tortillas from cracking?
Once you have all your ingredients sliced, grated, and heated, you're ready to start rolling brisket taquitos! You'll need about 10 or so corn tortillas (I just fill a bunch until I run out of filling). Now…. here's the most important part:
HEAT YOUR CORN TORTILLAS!!
Yeah. It's a must. If you don't heat each tortilla, it will break when you roll it. Immediately. And it's so frustrating. It works best when you heat each one individually right before you roll it. Yeah, it's annoying and high maintenance, but it works well.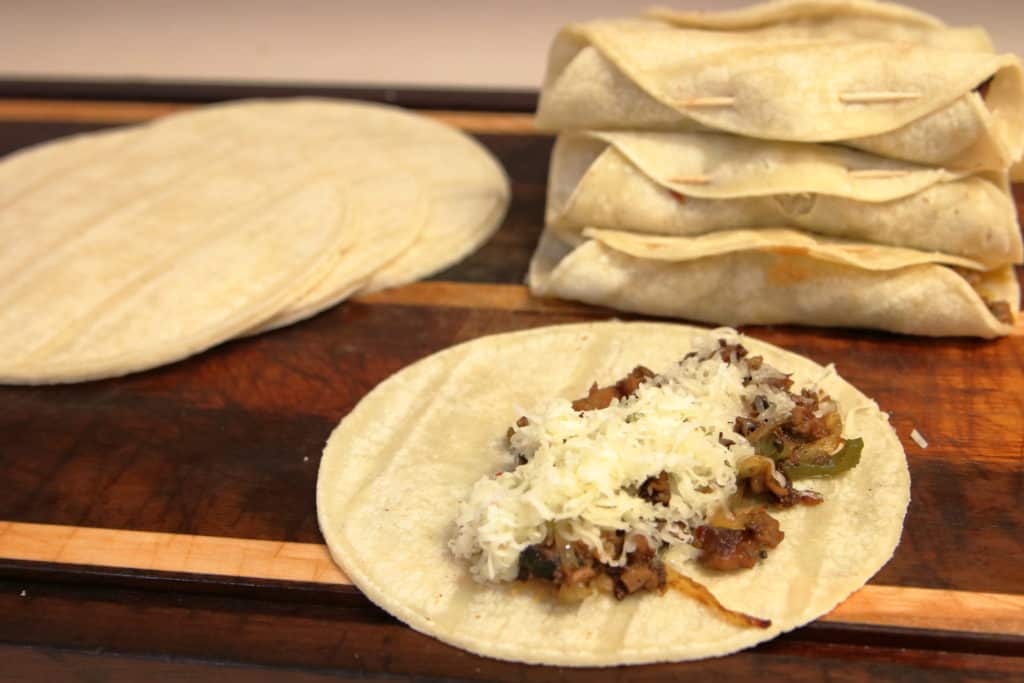 After heating one tortilla in the microwave for about 15 seconds (you want it to be hot enough to almost be uncomfortable to hold), hold it in your hand, take a small spoonful of beans and smear it in one strip across the tortilla. It works well if it's sliiiightly off center because it makes it a little easier to roll. After the beans, add a small spoonful of the leftover brisket and peppers mixture. Don't put too many or you won't be able to close it. Top that off with a strip of that grated cheesy goodness.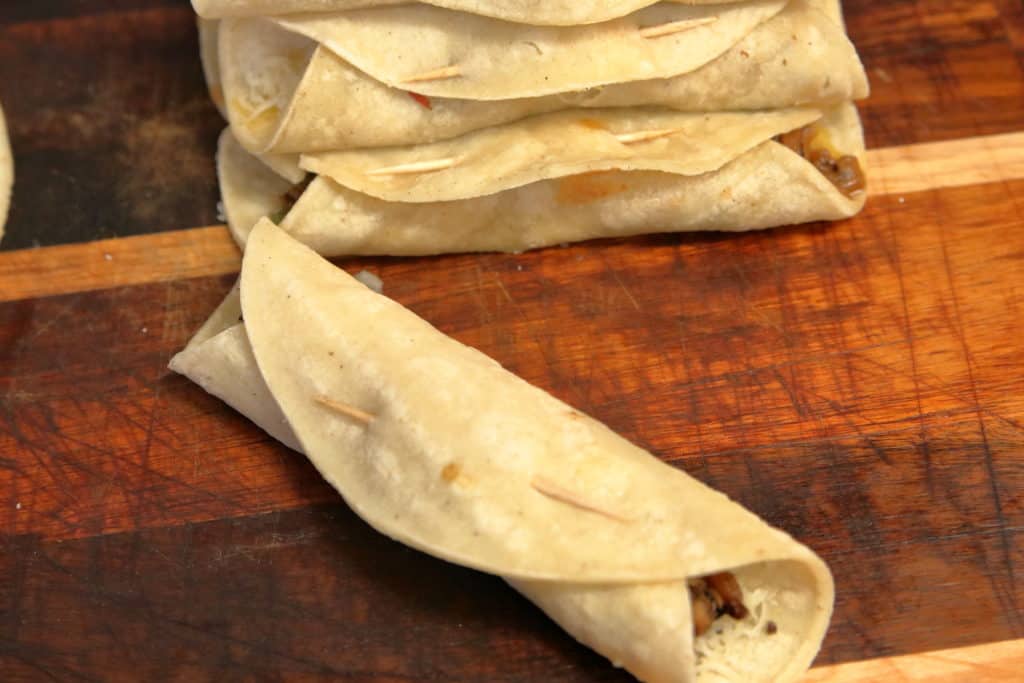 Before the tortilla cools, start wrapping! If you put the ingredients off center, start on that side. Wrap tightly and roll all the way up. Take a toothpick and it lengthwise up the taquito. It should go in and back out, exposing both ends of the toothpick. Keep on rolling until you run out of ingredients! I got about 10 out of this batch.
Time to fry!
Turn the heat up on the oil and heat until it reaches 375°F. You want the oil good and hot so it crisps up fast and doesn't soak up oil.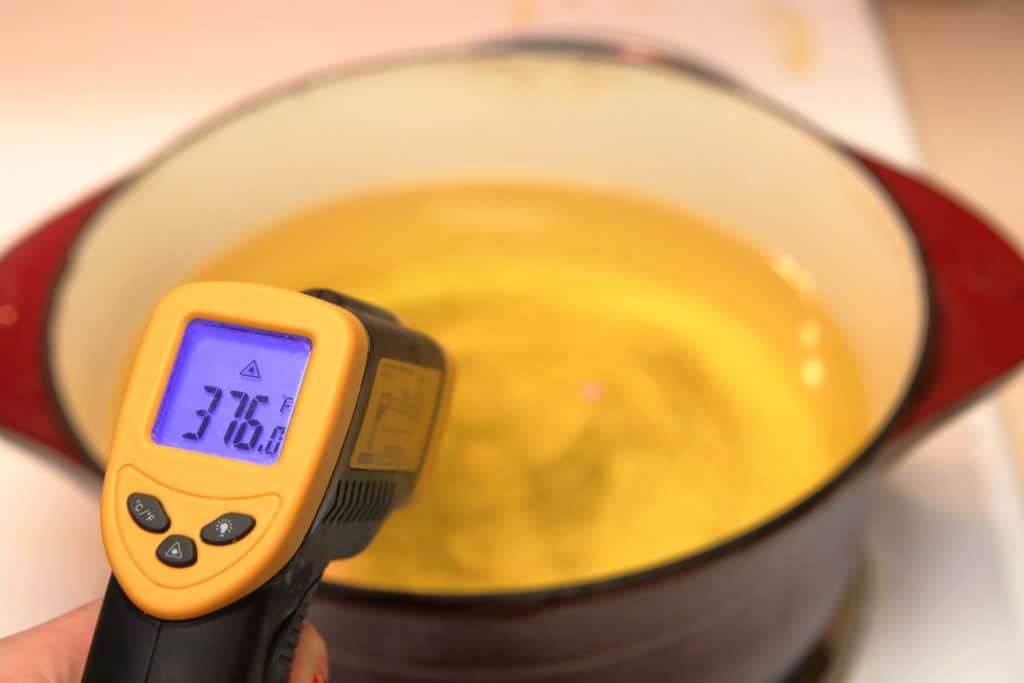 If you don't have one of these infrared thermometers (affiliate link), stop what you're doing and GET ONE. Once you have one, you'll wonder how you ever functioned without it. All you have to do is point and shoot, so you know the exact temperature of EVERYTHING! Oil, pans, surfaces, water… ANYTHING! It's a lifesaver. The days of tossing in a random fry to test the oil temperature are gone.
When your oil is at 375, carefully put in about 4-5 depending on the size of the pot. Don't overcrowd so the oil temperature doesn't drop too much. There will probably be a few leaky ingredients, but that's ok. It won't be a lot.
Fry for about 4-5 minutes, or until golden brown. I like mine EXTRA crunchy, so I let mine go for a little longer. I usually know it's ready when most of the oil bubbling is gone.
When they're finished, remove your brisket taquitos and let sit on paper towels to soak up excess oil. Let the temperature of the oil come back up before you do the next batch.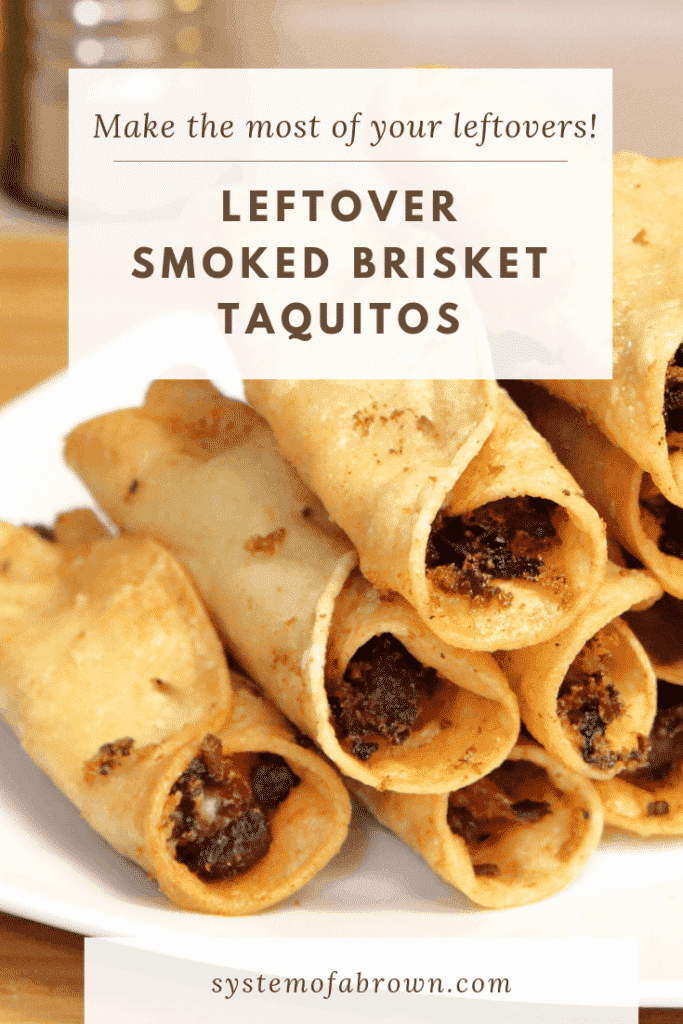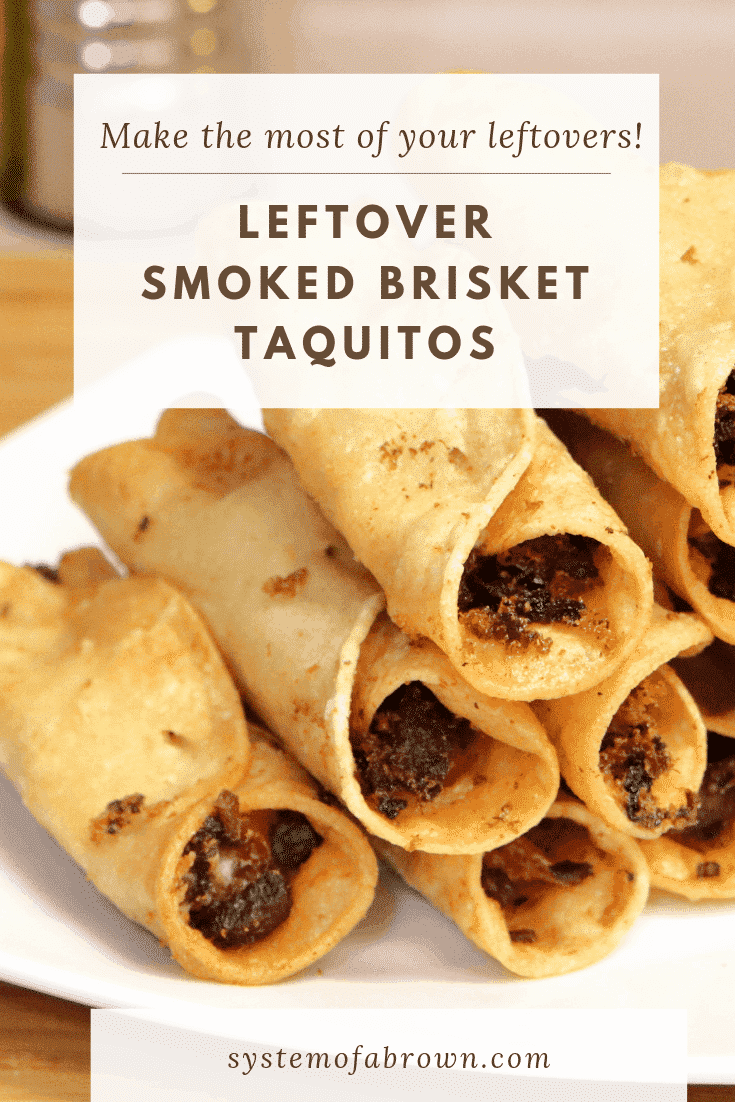 And that's it! Dip in guacamole, salsa, queso, or enjoy as is! A super delicious and different way to use your leftover brisket! There are lots of things you can do with brisket, but for me, leftover smoked brisket taquitos are absolutely perfect!
More smoked meat leftovers? Check out this recipe for Cheesy Smoked Rib Quesadillas! You could also use your leftover brisket in this recipe too!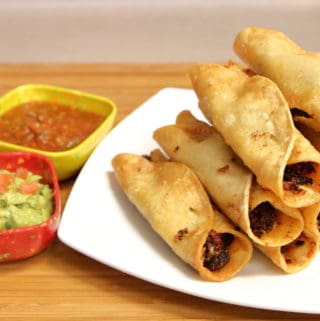 Leftover Smoked Brisket Taquitos
Make the most of your leftover 4th of July smoked brisket by mixing it up with these delicious brisket taquitos!
Print
Pin
Share on Facebook
Rate
Ingredients
2

tbsp

olive oil

extra virgin

1

Onion

sliced into strips

2

Fresh Jalapeños

cored and sliced

10-12

Corn tortillas

1

cup

leftover smoked brisket

finely chopped

1

can

refried beans

I like traditional Rosarita

4

oz

pepper jack cheese

finely shredded

canola oil

about 3-4 quarts for deep frying
Instructions
In a 6-8 quart heavy pot, pre-heat about 3-4 quarts of oil. Keep heat on medium heat while you are prepping ingredients so it doesn't overheat.
Prepping Filling
Empty the can of refried beans into a small sauce pan and heat over medium heat. When beans have heated thoroughly, turn heat down to low and let simmer while the other ingredients are being prepped. Season with cumin, salsa, chipotle pepper, or whatever else you like.

Finely chop brisket until you have about a cup. (this amount is flexible). Set aside.

Slice onion and jalapeños into about strips about 1-2 inches in length.

Heat olive oil in a medium sauté pan. Sauté peppers and onions until soft and translucent (about 3 minutes).

Add chopped brisket. Sauté until fully heated and moistened, about 2-3 minutes.
Wrapping taquitos
Take one small spoonful (about a teaspoon) of heated refried beans and smear in one strip across a heated corn tortilla. It should be slightly off center (this helps with wrapping later).

Add about a tablespoon of the brisket/onion mixture on top of the beans. It should be arranged in a straight, narrow strip on top of the beans. Top this off with a pinch of cheese.

Roll taquito tightly, beginning on the side where you placed the ingredients off center. Make sure that first wrap is tightly secure over all the ingredients.

When the taquito is fully rolled, secure with a toothpick. The toothpick should run the length of the taquito, not across. The toothpick should go in and out of the same side of the taquito, laying flat.

Repeat this process until you run out of filling. I made about 10 with this amount.
Frying the taquitos
Raise heat on oil to medium-high (Do not bring it all the way to high). When your frying oil reaches 375°F, carefully place the taquitos in the oil. Don't overload the oil. I normally comfortably fry 4-5. Fry for about 5-6 minutes, or until the tortilla has reached a crispy, golden brown. Remove from oil and set on paper towels to soak up excess oil.

Let the oil reheat to 375°F. Repeat until all taquitos are cooked.

Serve immediately. Dip in salsa, queso, or guacamole. Serve extra refried beans as a side if you like. Enjoy!
Nutrition
Serving:
1
taquito
|
Calories:
200
kcal