These fall off the bone sweet and spicy smoked baby back pork ribs are easy, flavorful, and DELICIOUS! This is a go-to BBQ ribs recipe in our house!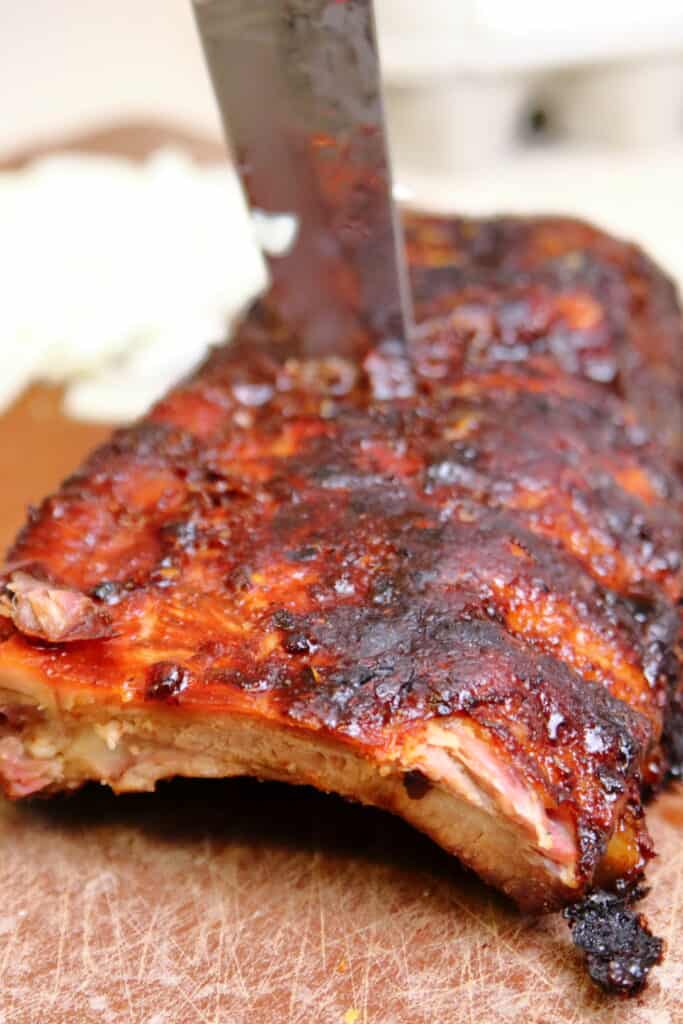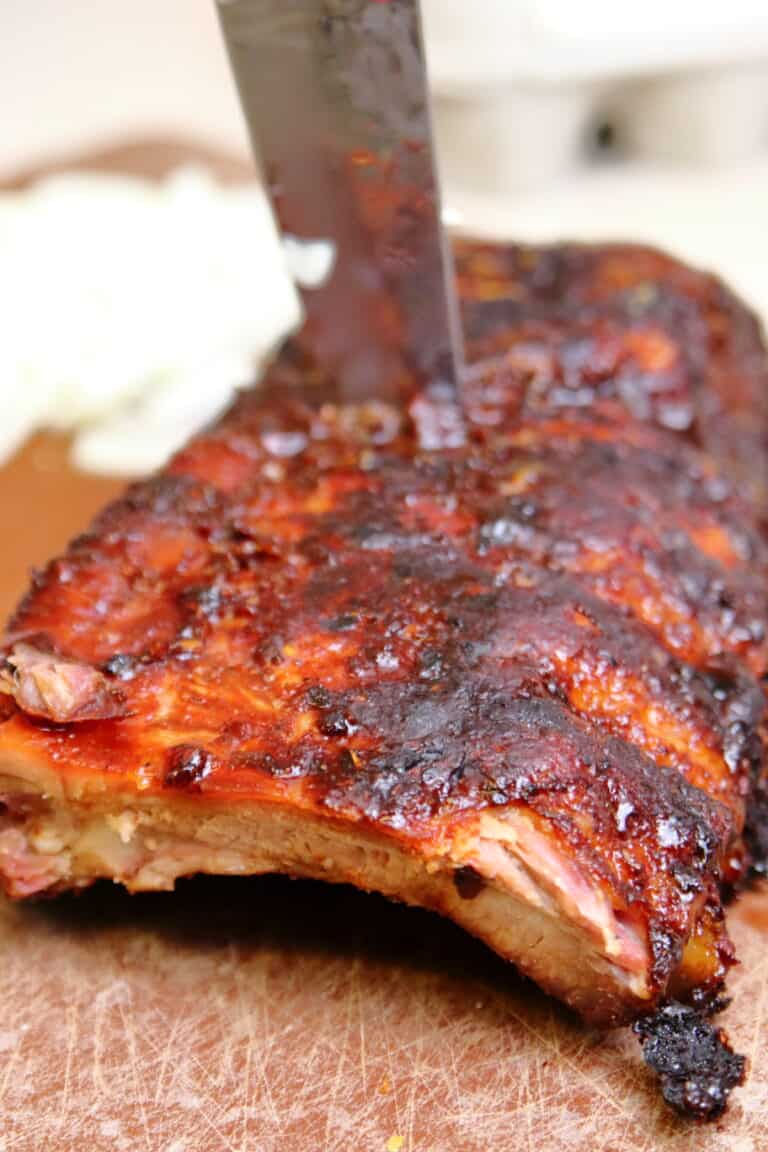 Oh man. Get ready for a Brown household favorite. We certainly cook a lot, both indoors and out. Our smoker and grill both get a lot of action, and these Smoked Baby Back Pork Ribs provide a lot of it! It really is one of our go-tos when we don't feel much like doing a whole lot (or just don't have time). Once you get the hang of lighting the grill, they are so super easy and low maintenance, you can pretty much almost ignore them until they are ready. And the result you are left with is extremely tender fall off the bone ribs that you are going to absolutely inhale.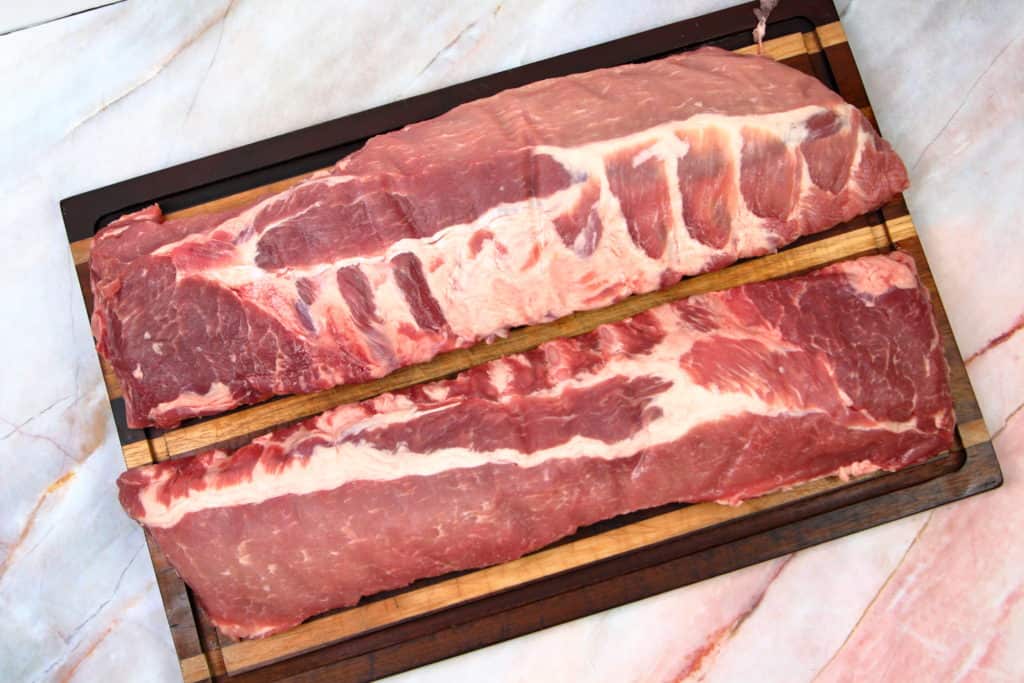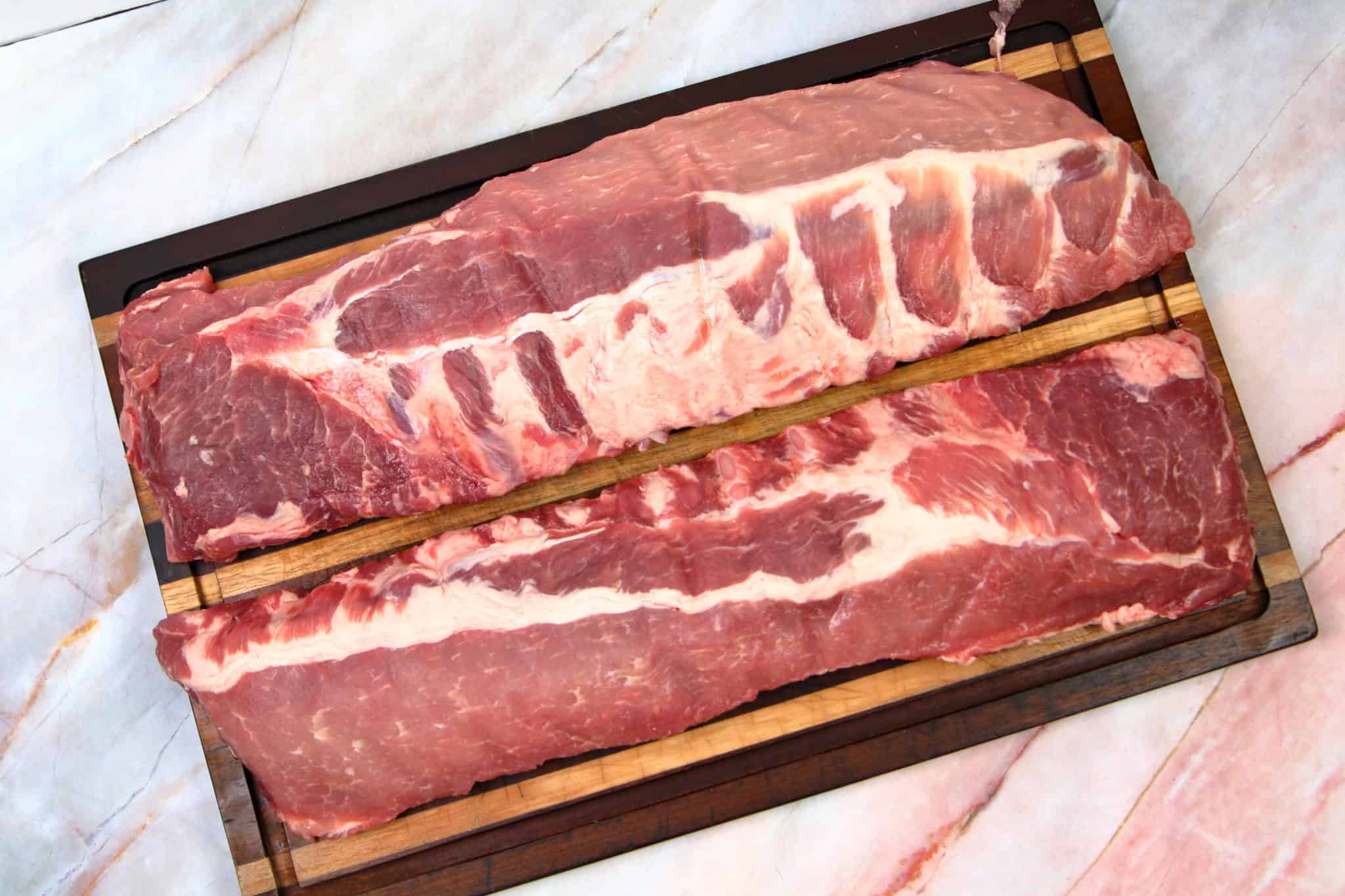 Lighting the fire
Lighting a charcoal grill is a hotly (ba dum tss) debated topic . But we keep it pretty simple, and our food comes out pretty dern good. I won't go into too much detail here since I have a whole post dedicated to lighting a charcoal grill, but basically, we are fans of the basket method.
It's pretty much exactly how it sounds. Start with a little fatwood, light it in and around a pile of coals in the basket, and let it burn. The fatwood will burn for quite a while so the coals will catch nicely. You don't have to keep them contained in a basket. Just so long as you keep the coals in a pile off to the side it will be fine. You want to make sure the heat is concentrated to one location and away from the meat.
As far as wood goes, for this batch, we just used lump charcoal. But we have a collection between the applewood, cherry, pecan, mesquite (don't use this for a long period of time), hickory, etc. I'll get more into wood choice application later.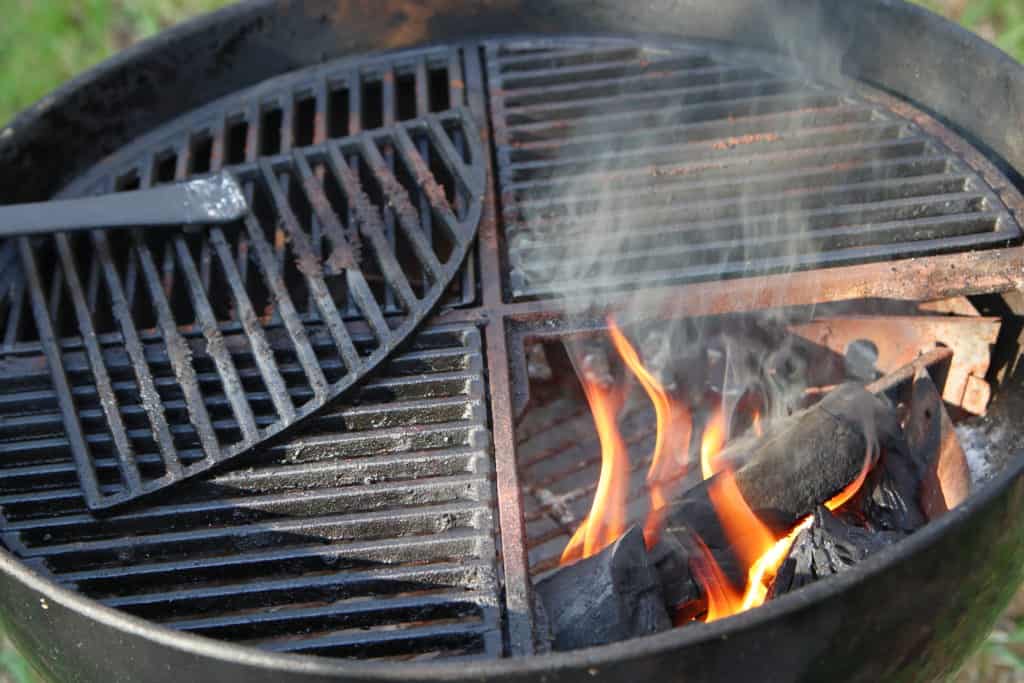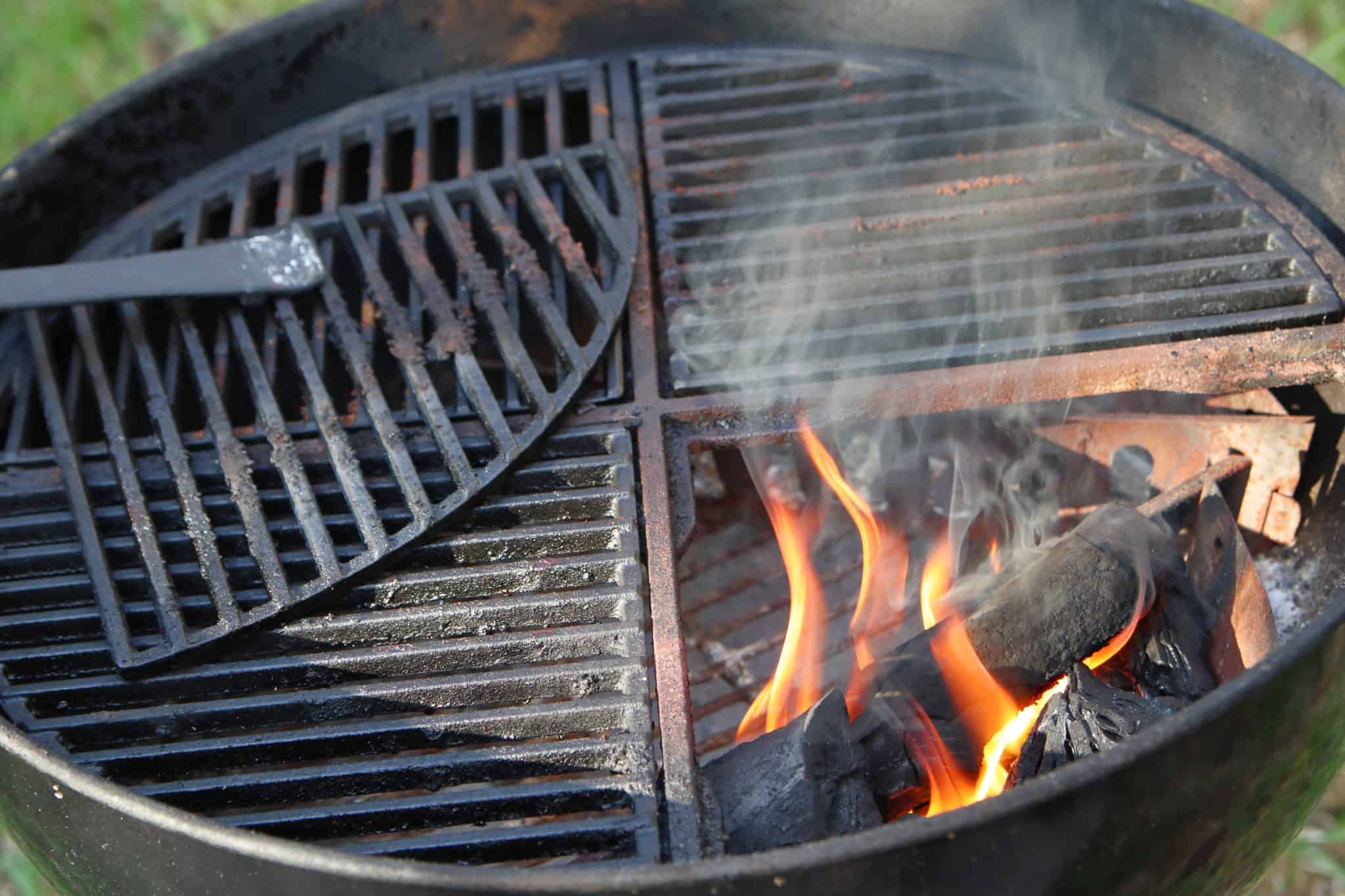 We have a Weber Original Kettle Premium Charcoal Grill (paid link) that we use for almost EVERYTHING. Steaks, ribs, pork shoulder, brisket, you name it. It's great. Ours has been upgrades with some cast iron grates, but those are new. The original setup is awesome.
Preparing and Seasoning your Baby Back Pork Ribs
There really isn't all that much prep work involved here. But there is one thing you must remember: REMOVE THE MEMBRANE. The membrane is chewy and tough. Definitely not a pleasurable eating experience! You also want to make sure the seasoning gets RIGHT on the meat, so get rid of that thing! Sometimes it can be tricky to get started, but we've had much success scraping it off with a spoon. Scrape the edge until at least a small portion pulls up and then you can do the rest with your hand.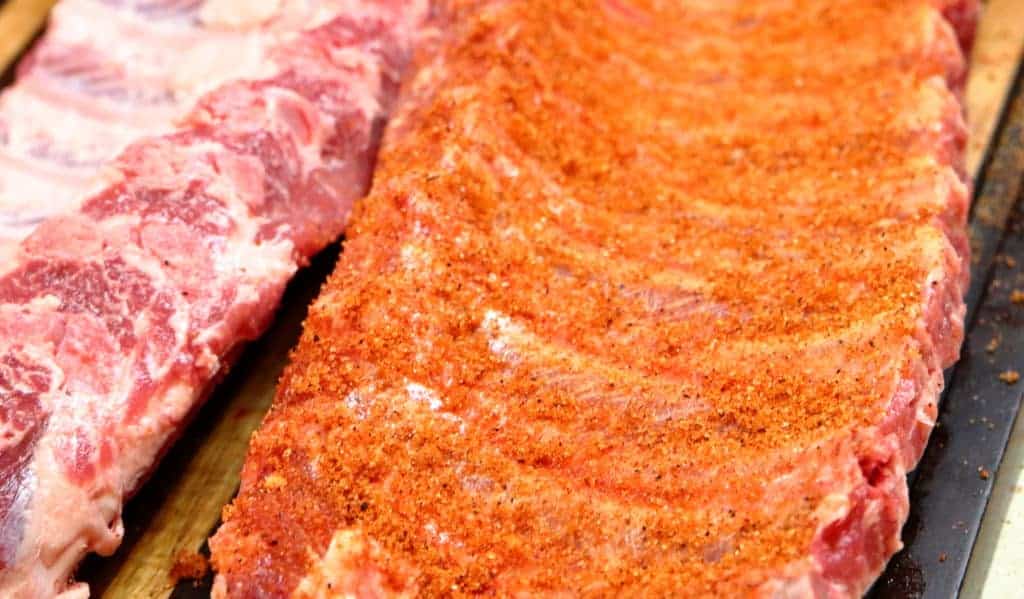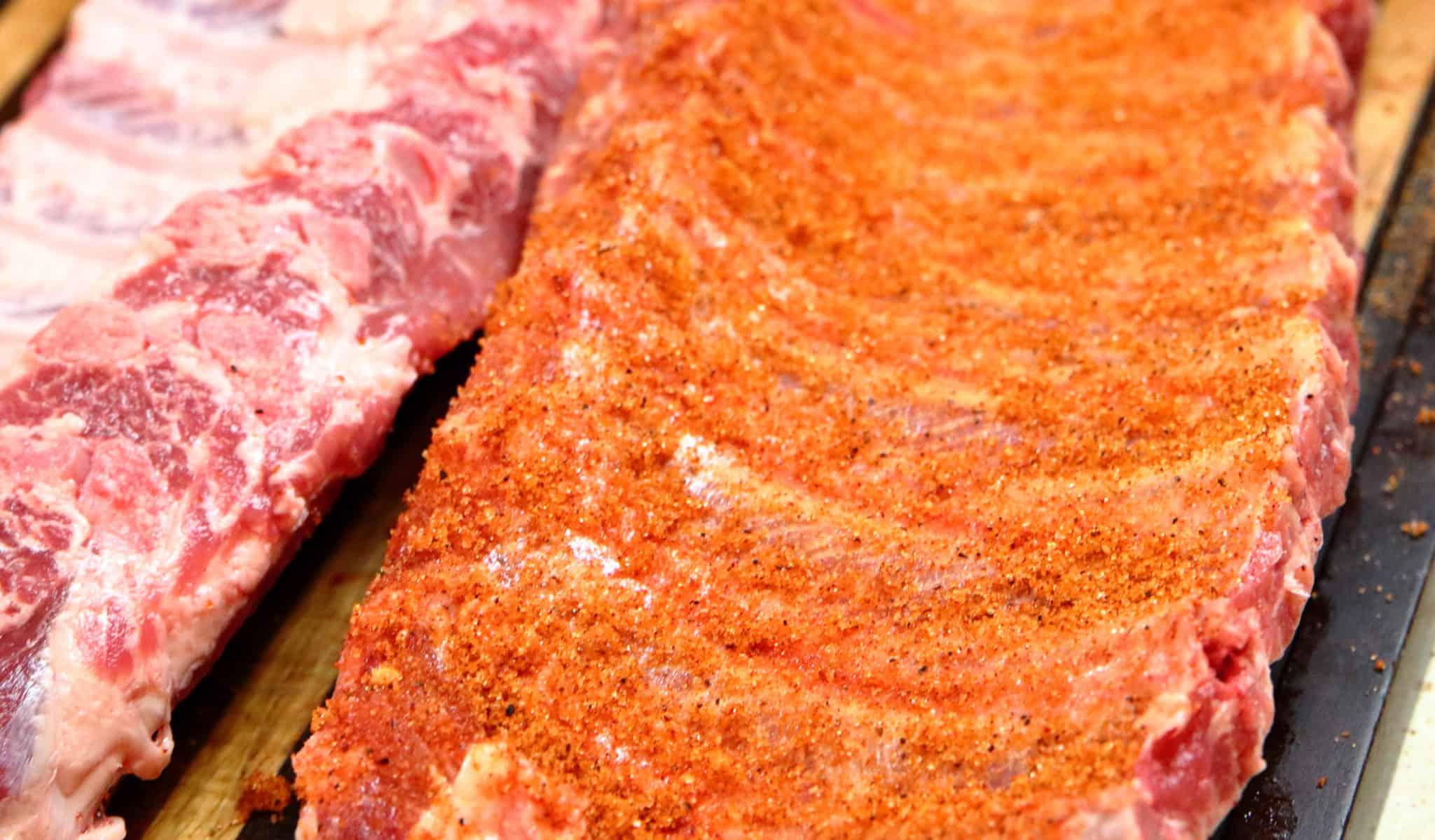 Now. Let's talk dry rub.
First of all, we live in Texas, so it's what we go. Second, of all the dry rubs we've used (and we've used a LOT), my all time, hands down, no competition, first place, gold star dry rub is the John Henry's Pecan Rub (paid link). Yes I like it that much. My husband doesn't even ask anymore which seasoning I want on my ribs (or pork shoulder, or brisket, or chicken). It's good on EVERYTHING.
Now, obviously you can use whatever rub you like, but seriously. Try this Pecan Rub. You can order it on Amazon from the link above, or if you happen to live in the Houston area, there are several places that sell it (as well as the rest of the John Henry rubs.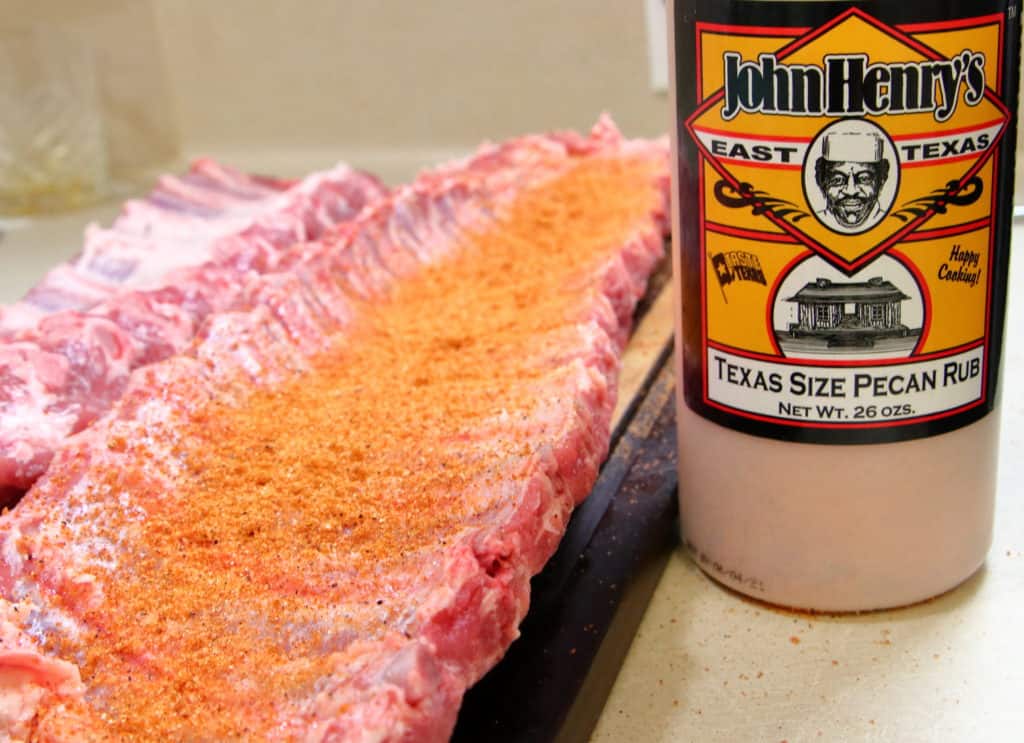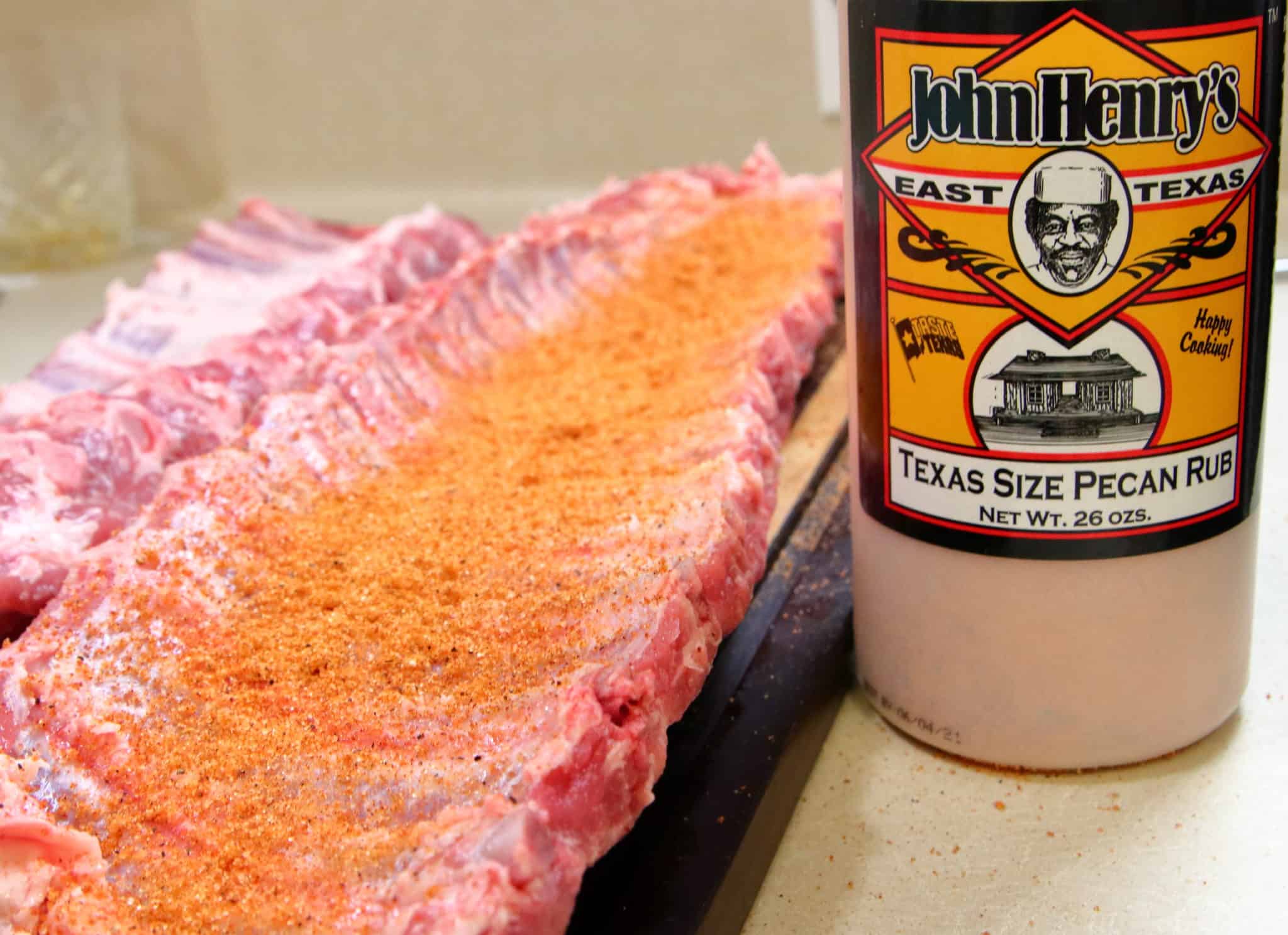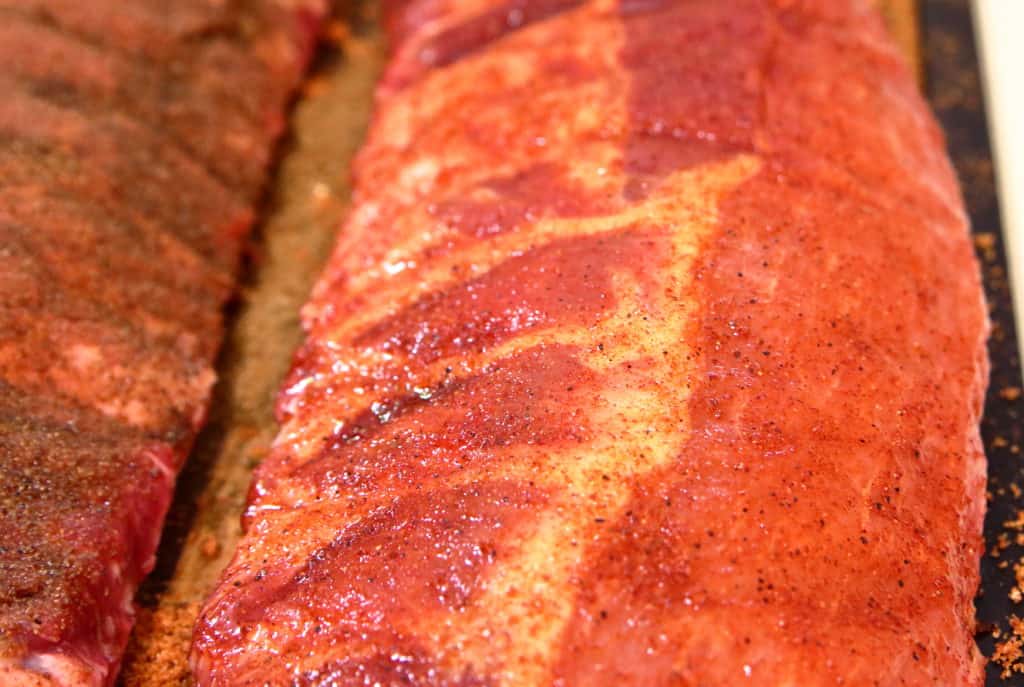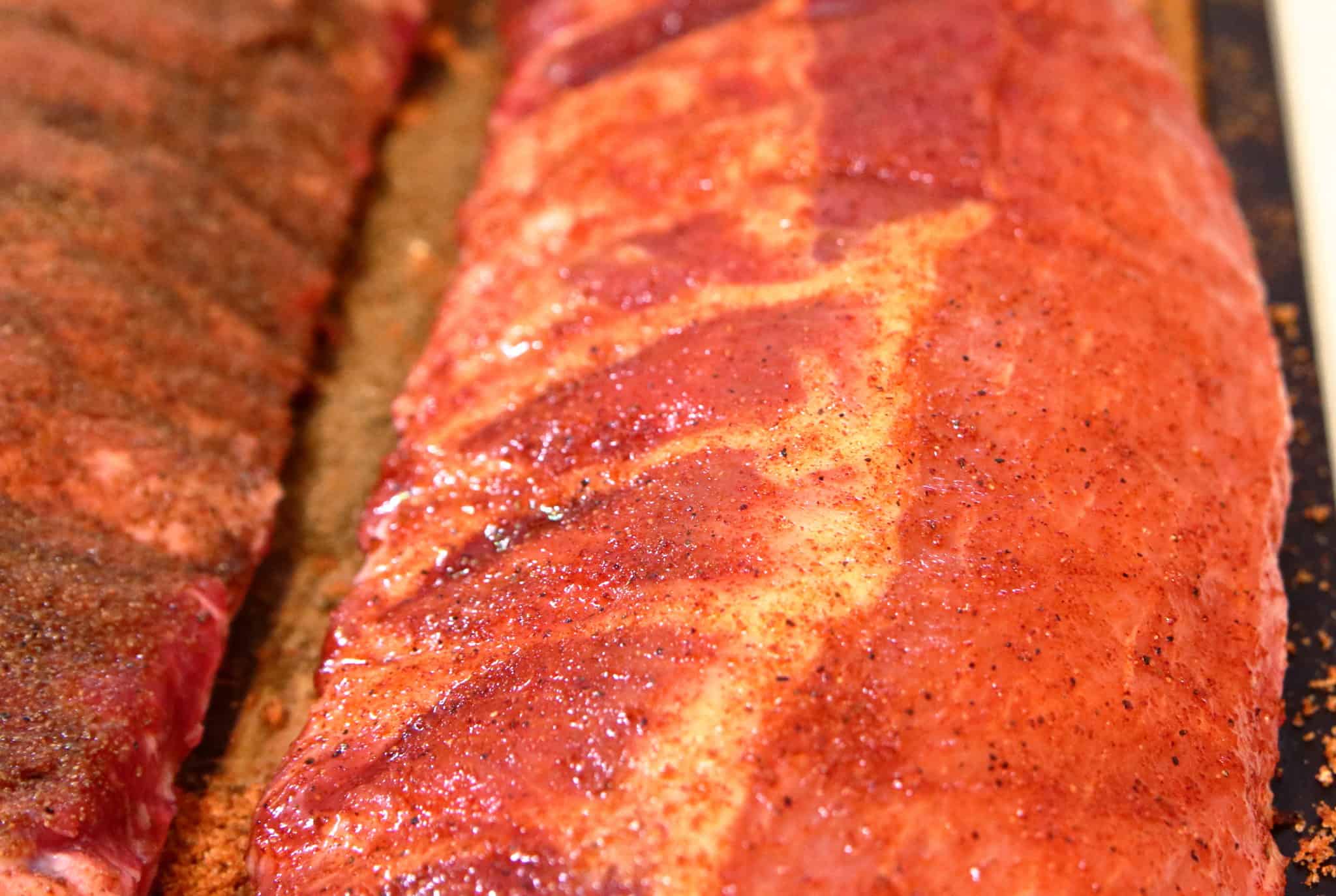 Slather that stuff on GENEROUSLY. I like to coat the ribs, let it melt (the sugar content is going to cause it to melt), and slather on some more. You can't have too much.
And that's all you need to put on it. No salt, no other spice. This alone is perfection. There is a perfect balance of sweet and spice.
Ribs, John Henry's Pecan, and smoke. That's all you need.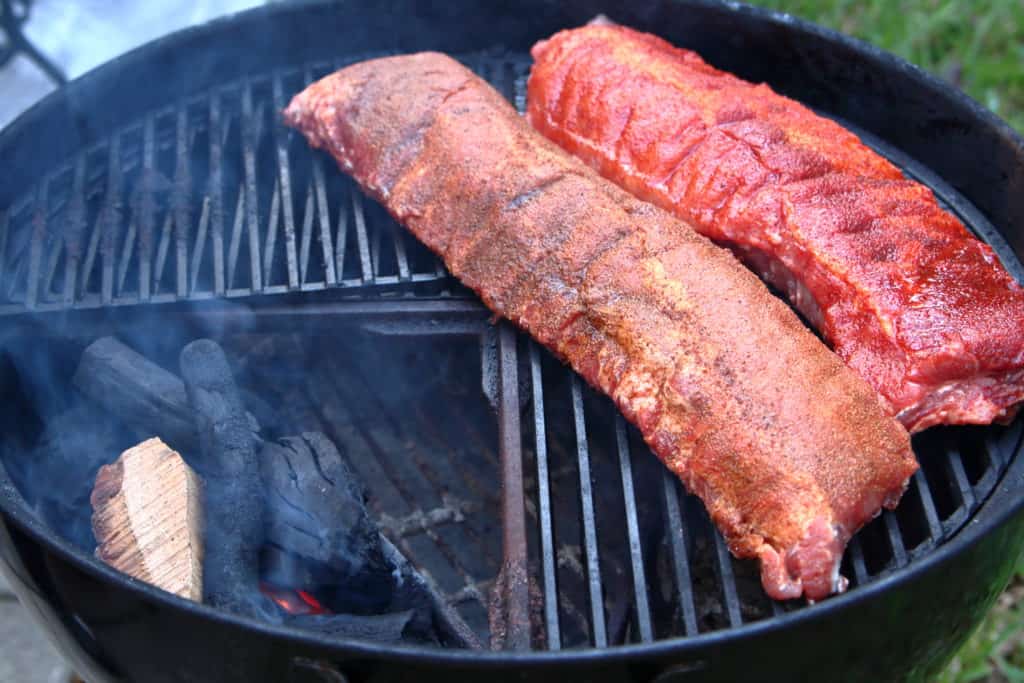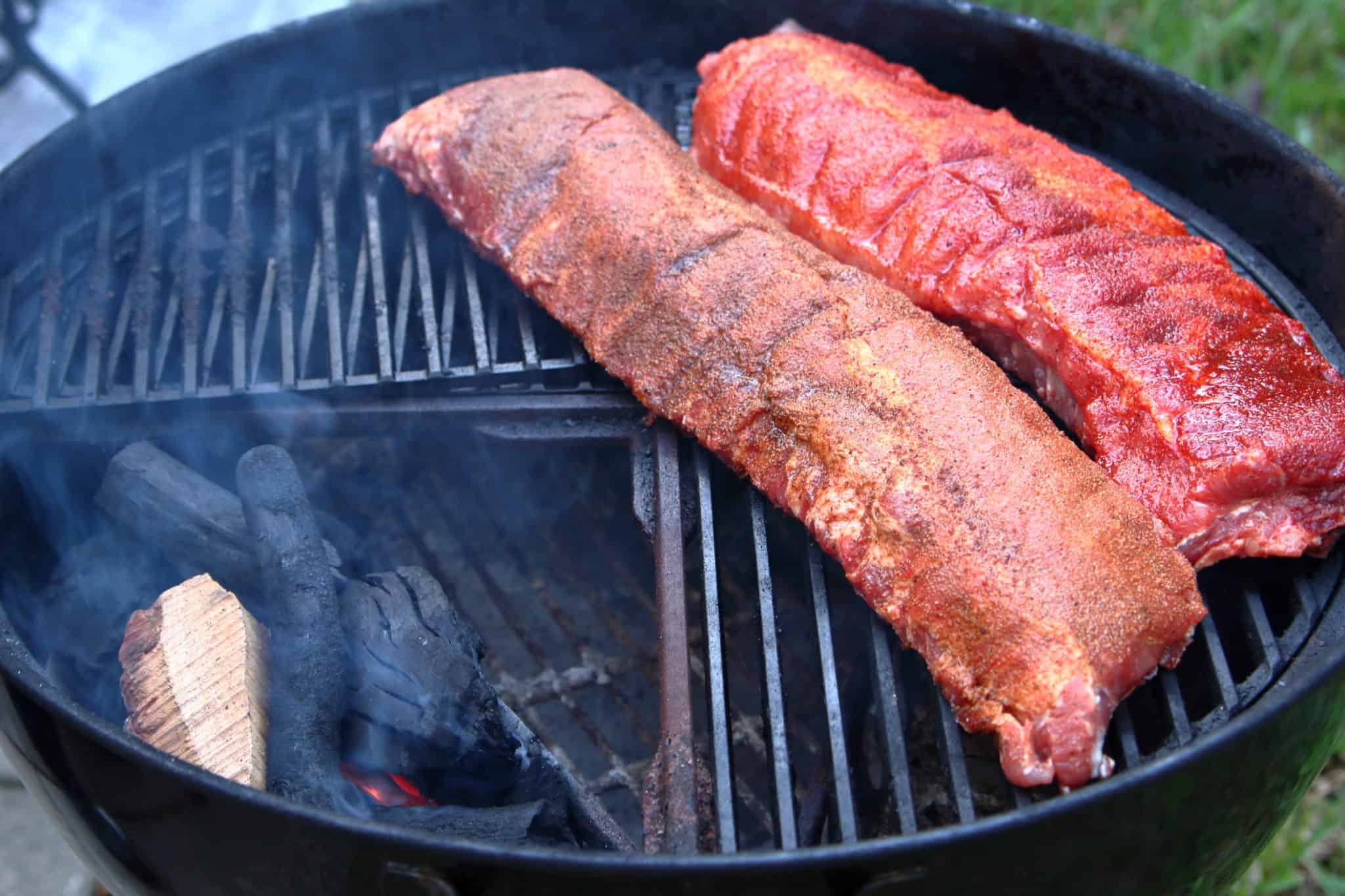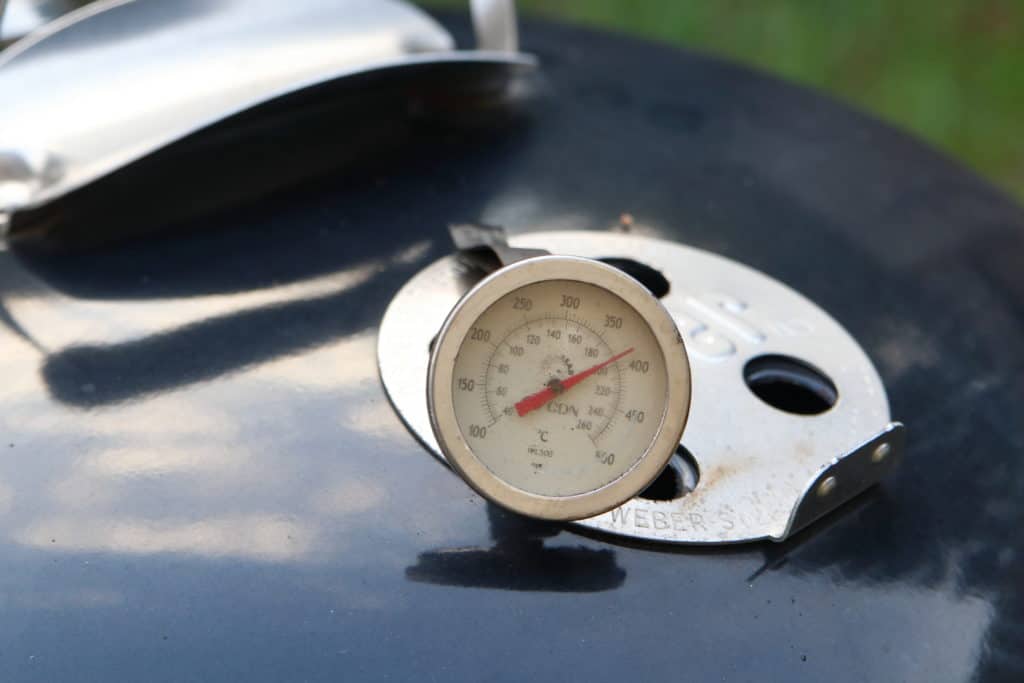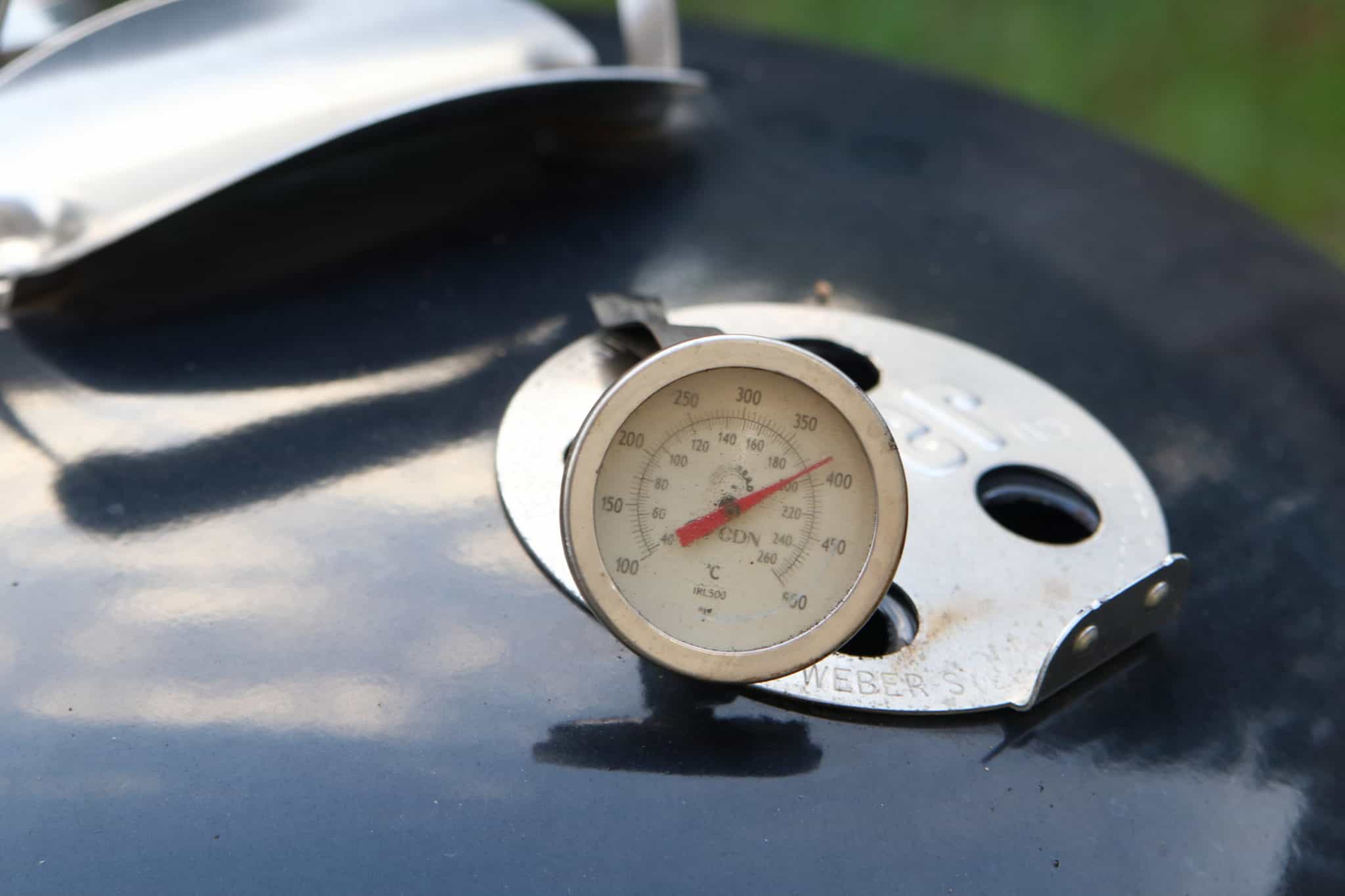 Finishing your Smoked Baby Back Pork Ribs
Once your ribs are rubbed and your coals are hot, you're ready to go! Put those babies on the grate on the side opposite the fire, cover, and let them go! The temperature gauge on the grill will depend on placement of the probe and such, but generally speaking, you want to aim for a temperature of 325F-375F. As long as the temperature stays in that range, you're in good shape. When it starts to dip, you need to keep an eye out. Once it drops below 250F, it's time to add some coals.
As far as timing goes, four hours is a pretty safe range. We've gone as little as 3 hours, but as long as 6 hours. What you are really looking for here is the meat pulling away from the bone. Once that happens, you're going to have some tender and delicious ribs that are going to fall right off the bone.
Sometimes we can't even cut them because they're so tender. Yeah. Look at that.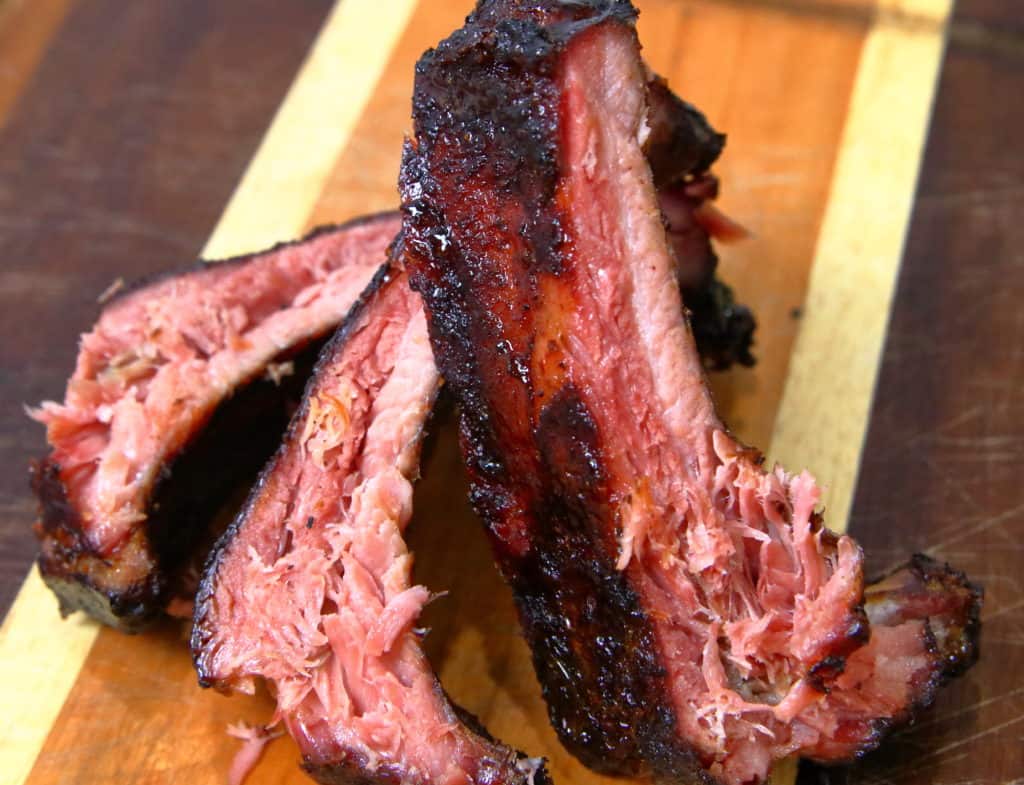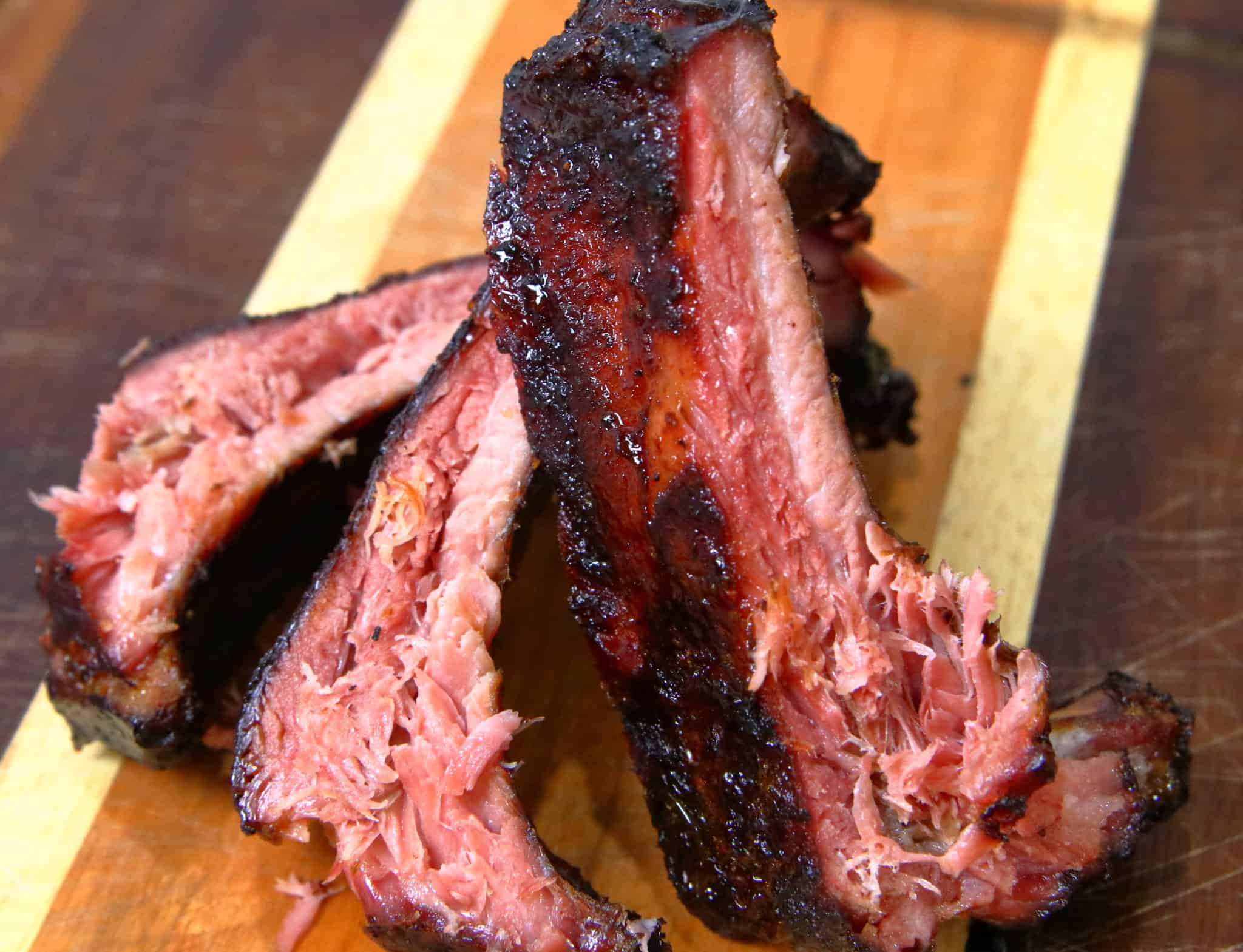 And that's pretty much it! It's not as difficult as it seems. I know smoking meat is a bit of an art and there is certainly some trial and error, but this one is actually pretty simple!
Let me know below if you have any questions! I'm happy to clarify or offer suggestions!
Enjoy!
P.S. Use your leftover smoked baby back pork ribs for these Cheesy Smoked Rib Quesadillas. These Leftover Smoked Brisket Taquitos can also be done with ribs!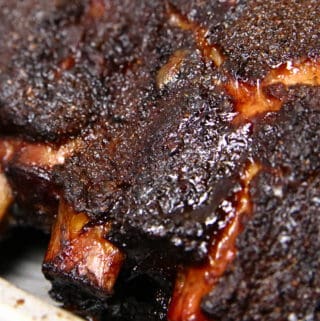 Smoked Baby Back Ribs
These fall off the bone sweet and spicy smoked baby back pork ribs are easy, flavorful, and DELICIOUS!
Print
Pin
Share on Facebook
Rate
Ingredients
½

cup

John Henry Pecan dry rub

1

rack

baby back pork ribs

3-4 lbs or so
Instructions
Prepare Grill. Light coals in a pile or basket on one side and heat to about 325°F

While the grill is heating, Remove ribs from package. Dry off and remove membrane from the back. Do NOT skip this!

GENEROUSLY completely cover both side of the ribs with dry rub. Let sit until rub glazes over. Add more dry rub. I normally use about ½ cup but not necessarily exact. You just want to make sure the meat is generously covered.

When the coals are lit and grill is hot, place ribs on the grill away from the coals.

Cover and let smoke until meat pulls away from the bones. Approximately 4 hours. The longer the better. Monitor grill temperature throughout. As long as the heat above 250°F, let them smoke. When/if the heat drops (sometimes it never gets below that point), add more coals. Monitor until finished.