These Crispy Cajun Fried Onion Strings are breaded with flour and Tony Chachere's Bold Creole Seasoning and are a perfect snack, appetizer, or topper for a burger or salad.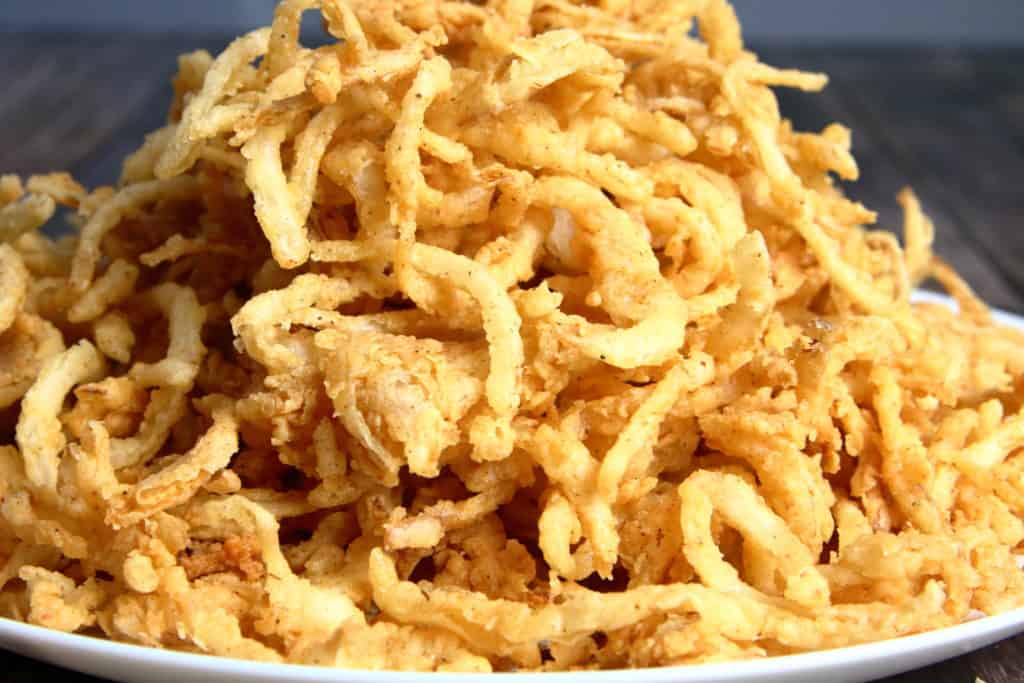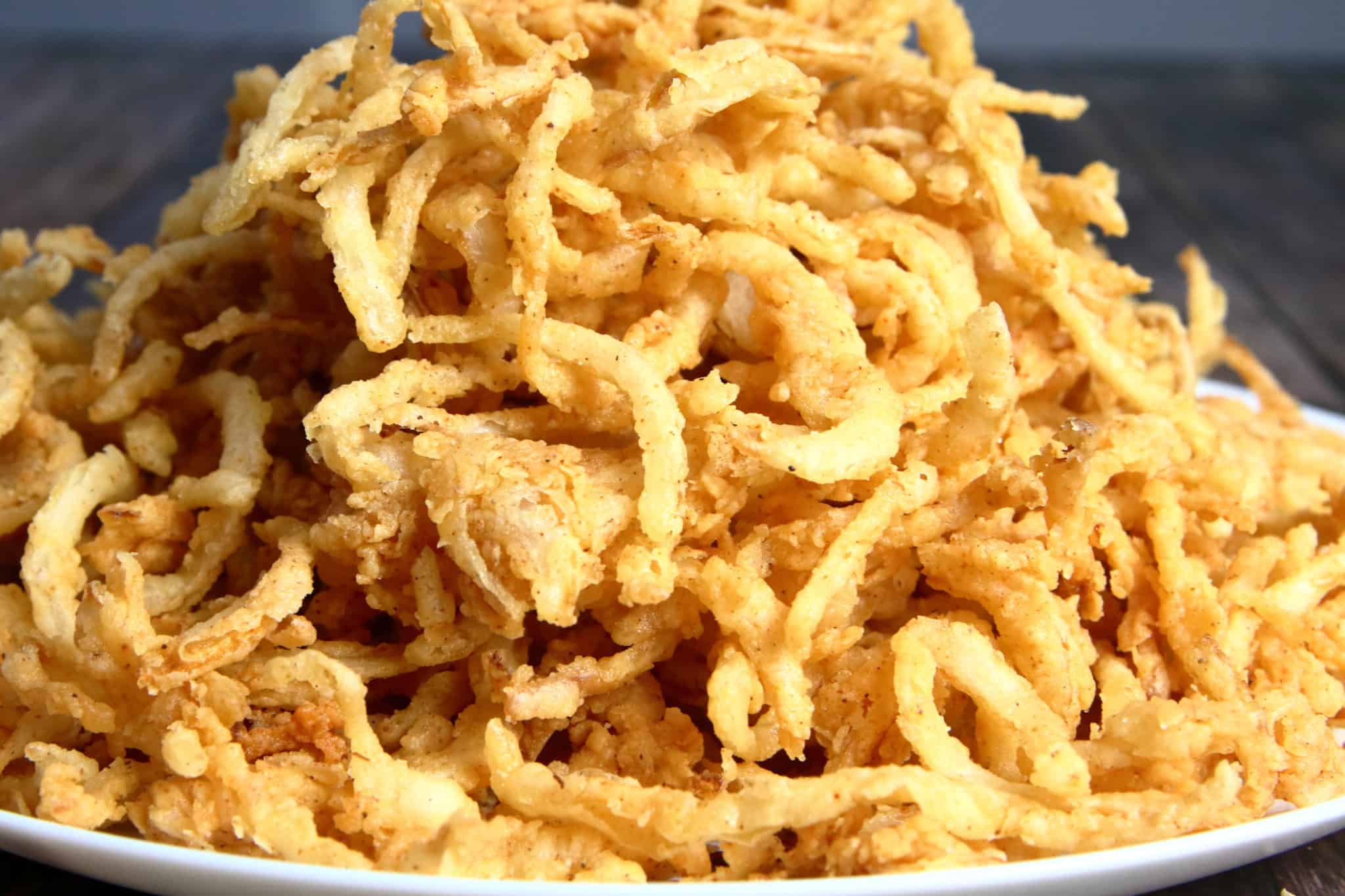 I have a major weakness for fried onions. When we make green bean casserole during the holiday season, I get an extra pack just to eat. They are such a tasty snack on their own and they are absolutely DELICIOUS as a burger or salad topper. As much as I like the kind you buy at the store, making them from scratch at home was extremely easy! I kicked it up a notch with some spice, and boom! Crispy Cajun Fried Onion Strings that are absolutely irresistible. And since we're in playoff season, these are absolutely PERFECT!
Preparing your onions
These fried onions are pretty easy to make, but there are a few things you need to keep in mind. First, cut the onions super thin (I had my mandolin on 3mm) and keep it consistent! I highly recommend using a mandolin slicer (affiliate link) for absolute consistency.
I suppose you can do it by hand, but if you can get ultra thin, consistent cuts, then you're better than me!
It's easiest to leave the furry end on the onion, cut off the other end and peel. The furry end will hold the onion together and create a good grip for the mandolin guard.
Why do you need buttermilk to make onion strings?
Don't skip the buttermilk! The acid in the buttermilk with soften the onions as well as removing their potency.
Put the onions in a large bowl and pour the buttermilk over them. Stir them around to get them coated well. Give them a toss every so often just to make sure they all stay coated. You don't want the buttermilk doesn't just slide to the bottom leaving the top exposed.
Let them soak for about 20-30 minutes.
No buttermilk? It's super easy to make! Try this recipe from Tastes Better from Scratch.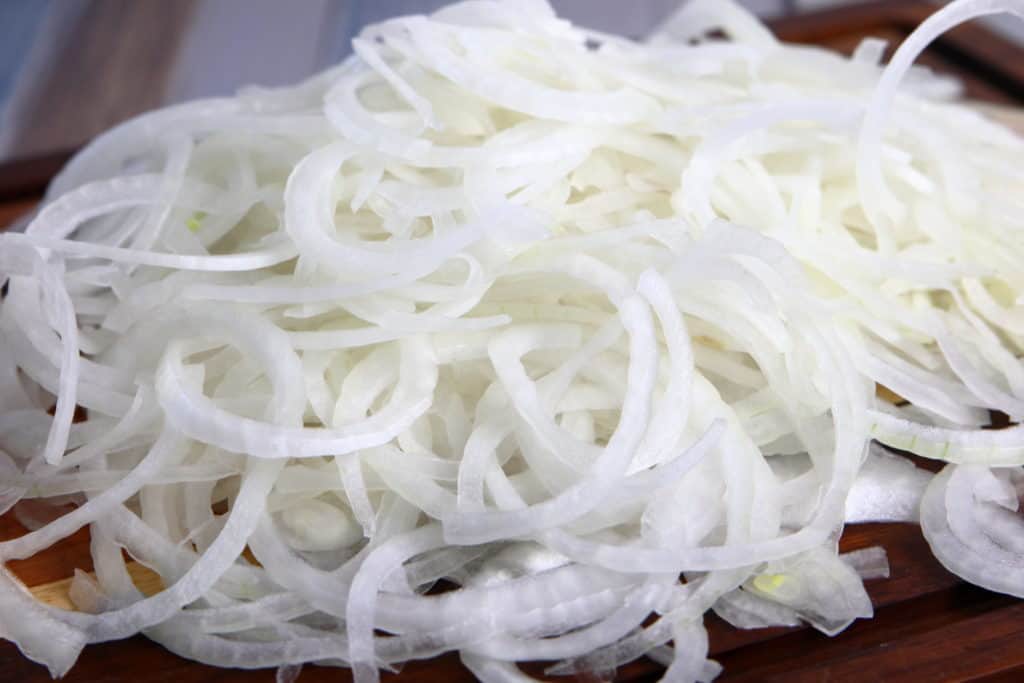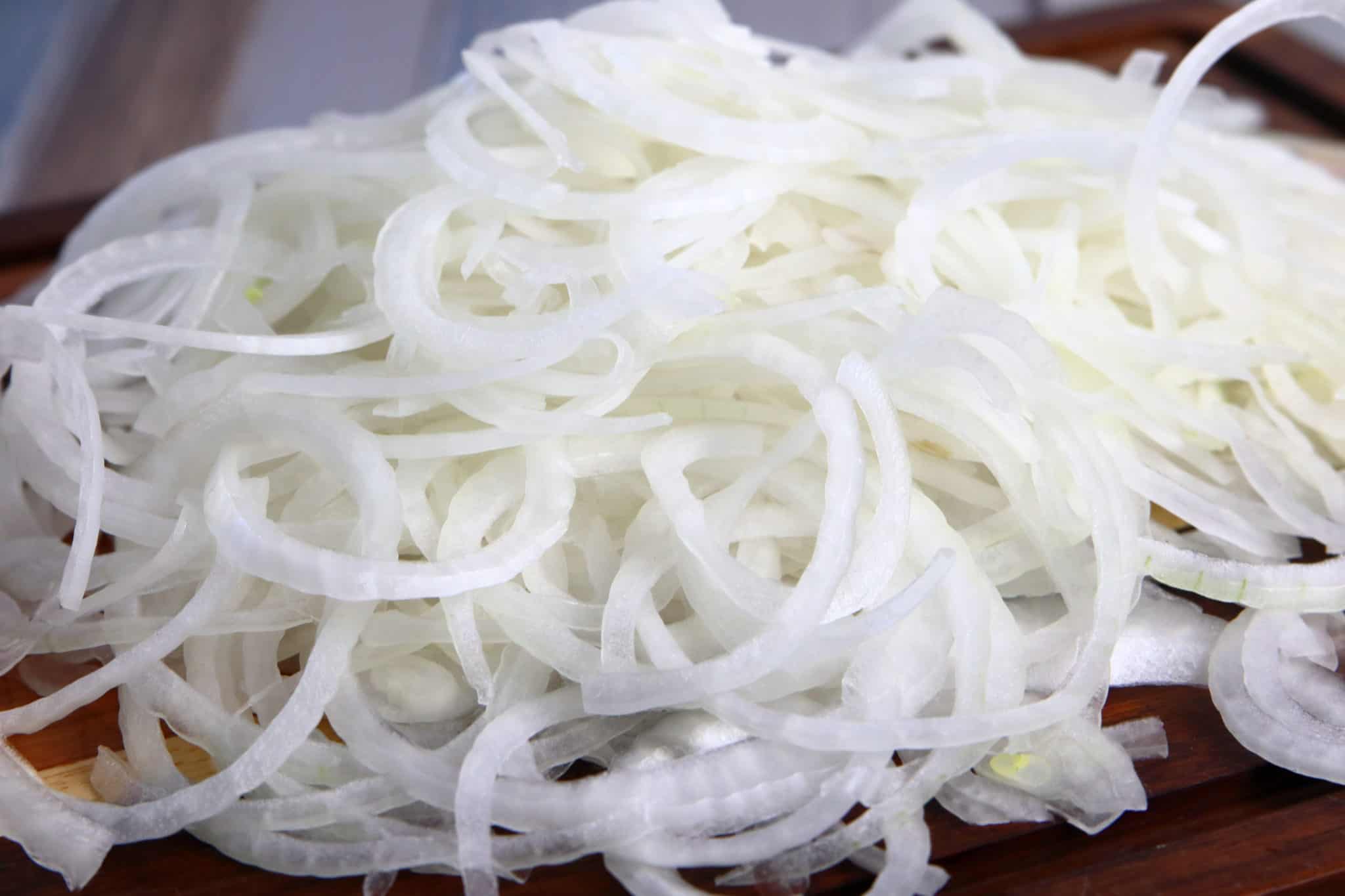 Making the breading for your fried onions
Make sure you coat in flour and fry your onion strings in small batches. If you dump the whole bunch of onions in the flour, it's going to be a big slimy mess. Also, grab a handful of onions and wring them out (just put them between both hands and squeeze) before breading. Too much milk will make things difficult when breading.
Give them a good shake shake shake to get the excess breading off before putting them in the oil (365F-375F). In about 2 minutes, your fried onion strings are ready to go! Transfer to a paper towel to drain while you fry up the rest. Then and salt and pepper if you like.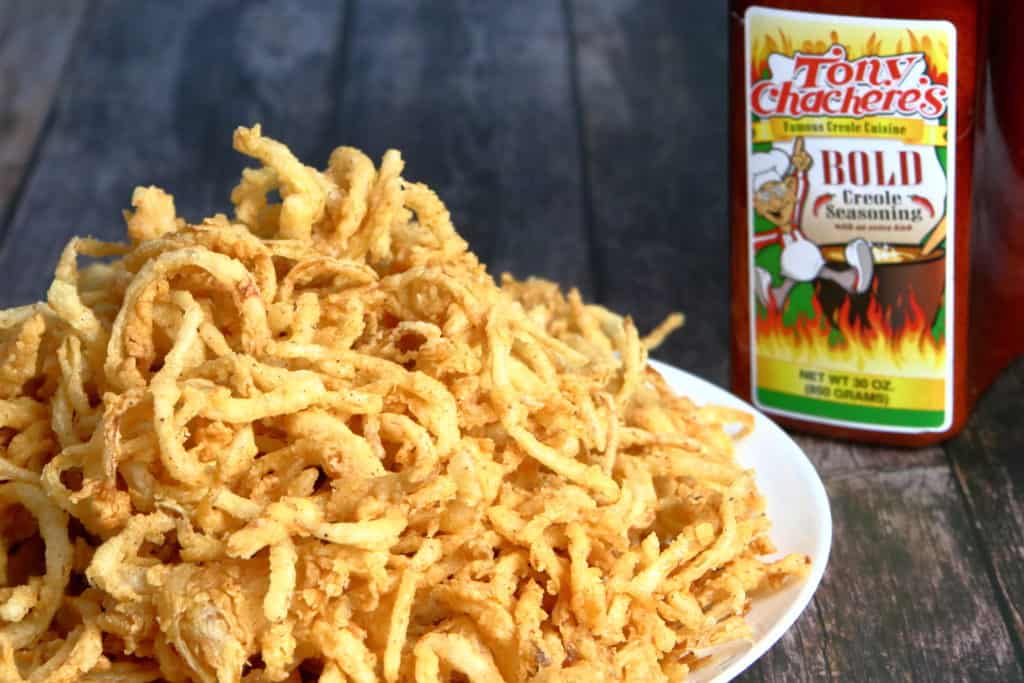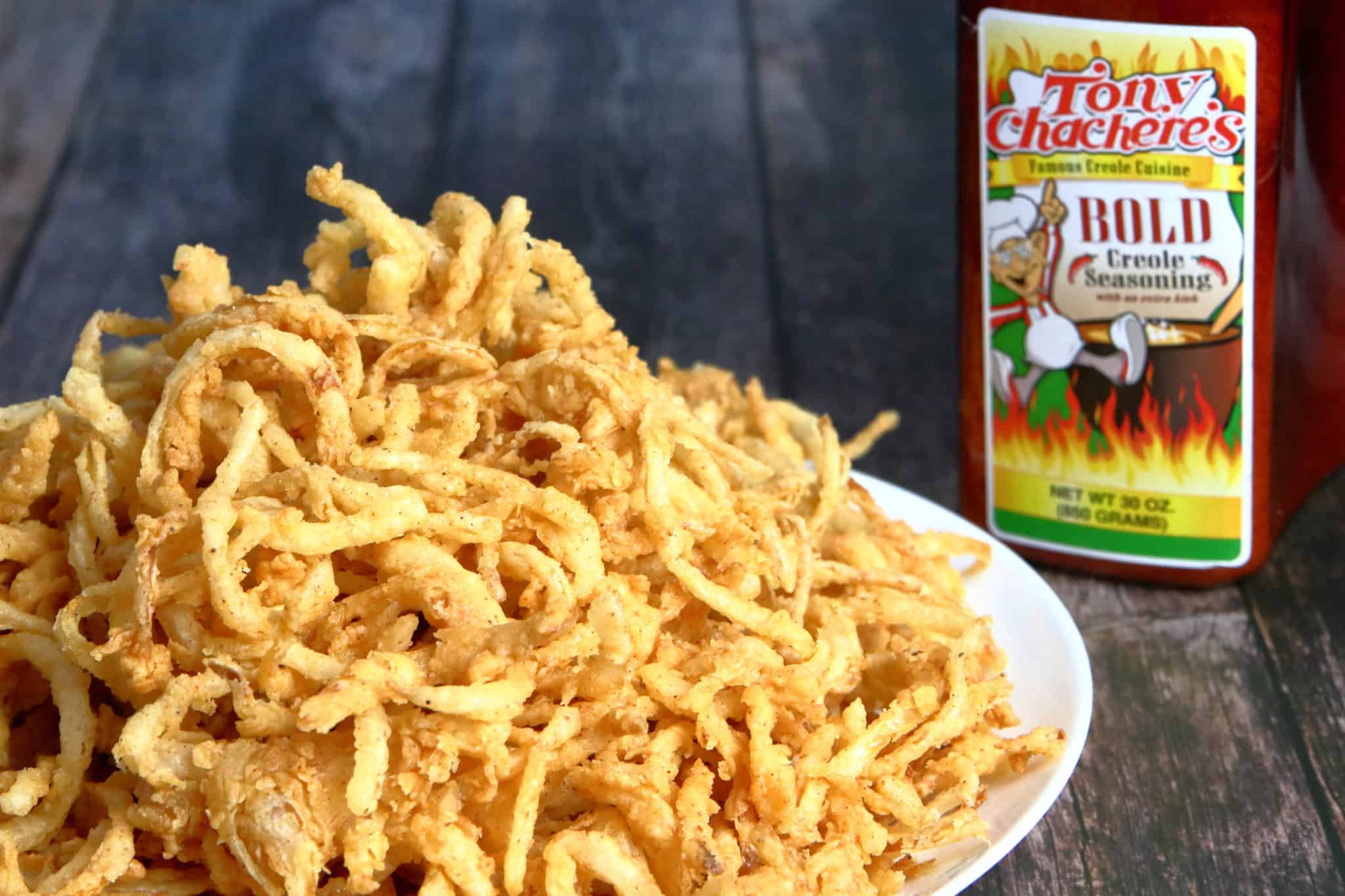 Now, if you've been to System of a Brown before, you know of my incessant and probably borderline obsessive love for Tony Chachere's (paid link) and if you've never been here, WELCOME! So it should be no surprise that the breading of these fried onion strings is spiked with Tony's. Gotta have that spice! Feel free to adjust this according to how spicy you like things!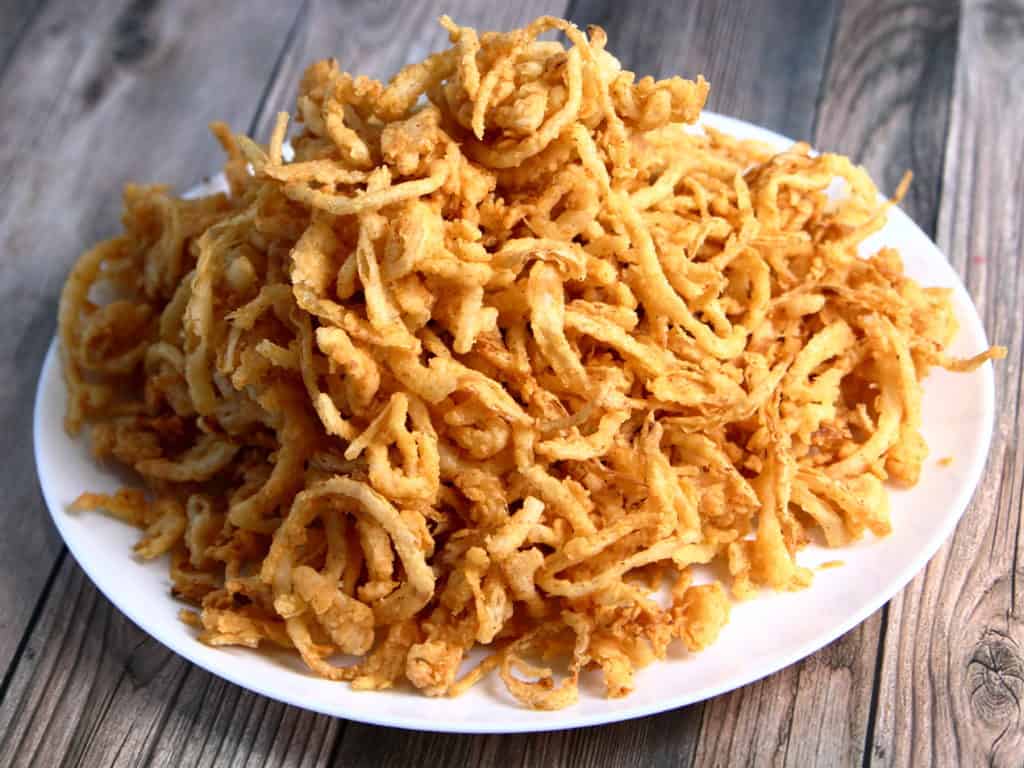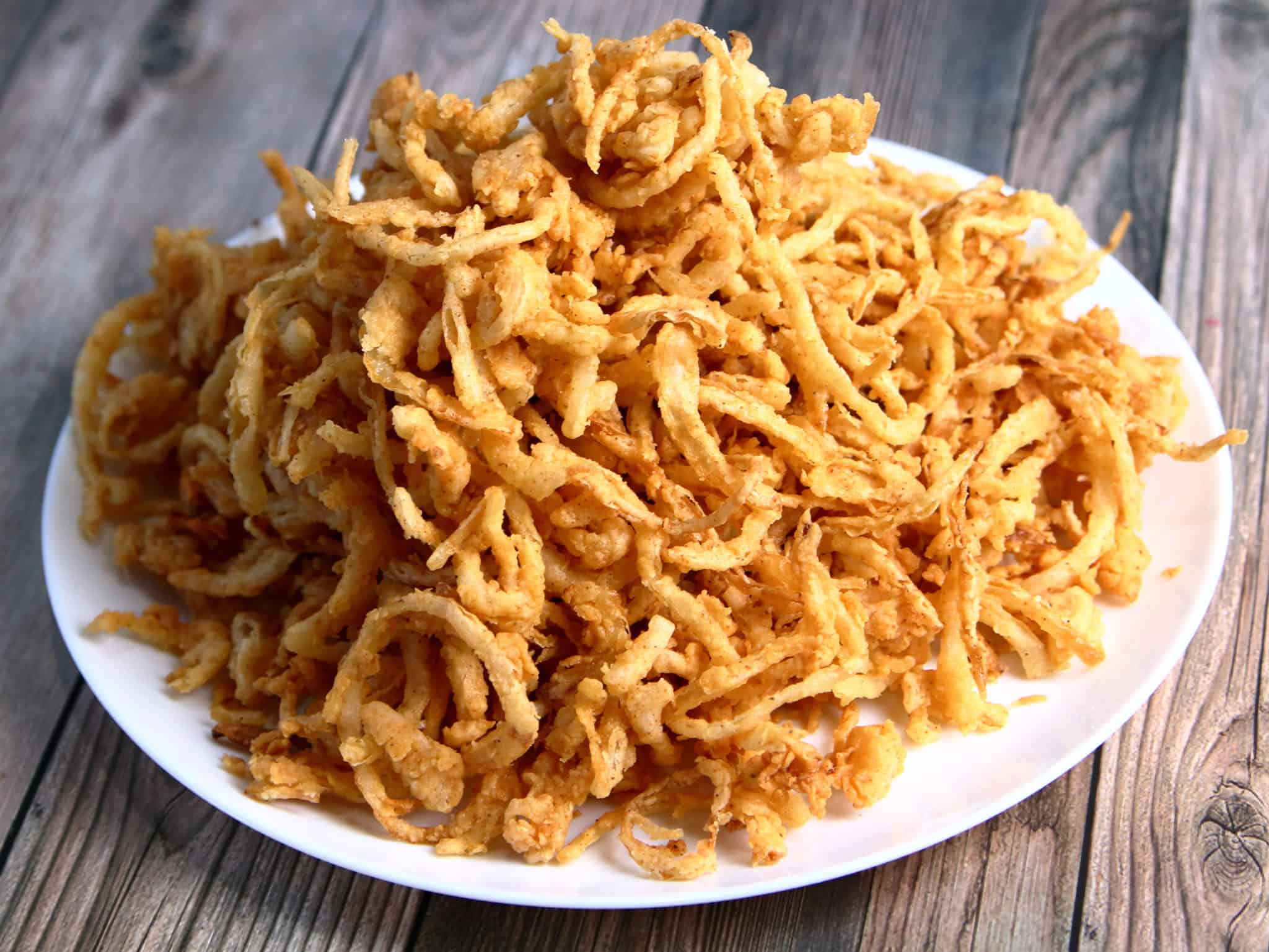 That's pretty much it! Easy! Now grab your favorite dipping sauce and get to chomping! OR! Add your Fried Onion Strings to a tasty burger like this to die for 60/40 Beef Bacon Burger.
Enjoy!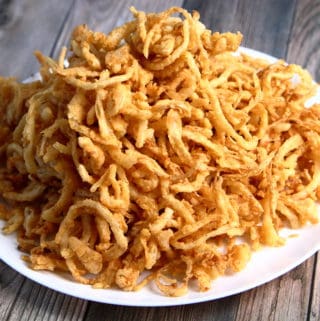 Crispy Cajun Fried Onion Strings
These Crispy Cajun Fried Onion Strings are breaded with flour and Tony Chachere's and are a perfect snack, appetizer, or topper for a burger or salad!
Print
Pin
Share on Facebook
Rate
Ingredients
2

medium yellow onions

2

cups

buttermilk

4

cups

all purpose flour

¼

cup

Tony Chachere's

2

quarts

oil

salt and pepper
Instructions
Cut non furry end off the onions and peel. (leave the furry end to hold the onion together and grip the mandolin guard. Using a mandolin slicer on a very thin setting (3mm), slice your onions.

Soak raw onions in buttermilk for about 30 minutes. Stir occasionally to make sure buttermilk coats all onions.

Mix flour and Tony Chachere's.

Grab a handful of onions from the buttermilk. Squeeze off excess milk. Toss in flour mixture and coat thoroughly.

Shake off excess flour mixture. Fry in oil for about 2-3 minutes. Remove from oil and salt if you desire.

Repeat until all onions are fried. Serve with your favorite dipping sauce.