Oh yes. Here we go. Fresh ground lean beef. Fatty, delicious, thick cut bacon. What do you get when you smoosh them together? A juicy, flavorful 60/40 beef bacon burger that'll make you wonder why you ever put bacon ON your burger instead of IN your burgers.
Now, this may seem obvious, but this is NOT a healthy burger recipe. Quite the opposite: this is a rich, indulgent, calorie fest. But if you ask me, it's worth every single tasty bite. Moderation, right?!?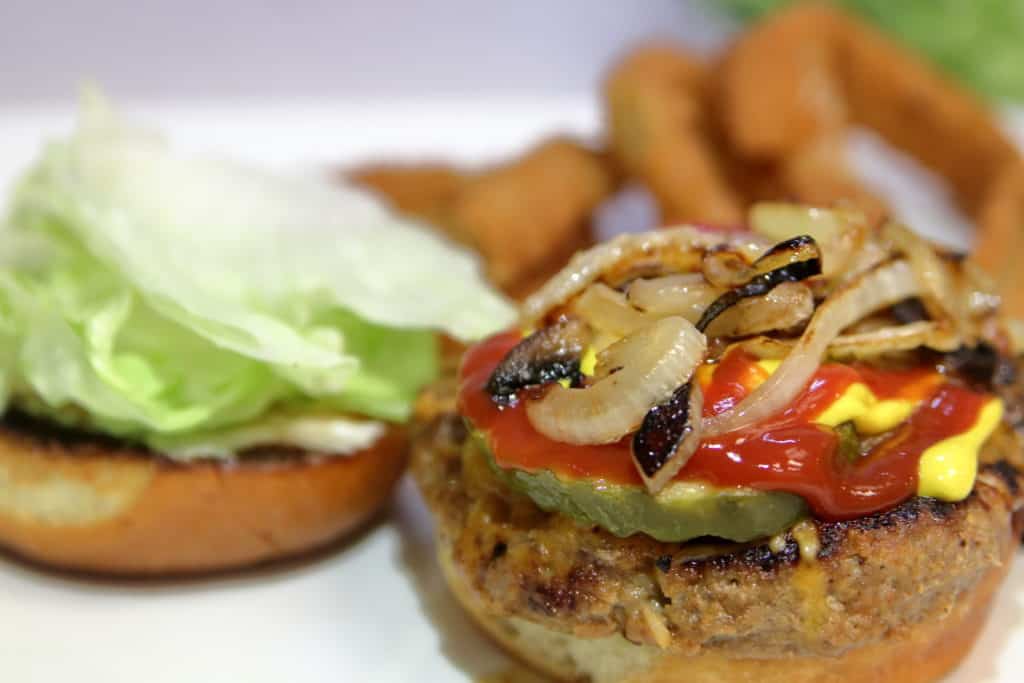 Speaking of moderation, try these Crispy Cajun Fried Onion Strings on top of your burger. Perfection.
Getting started on your 60/40 burger
There isn't a whole lot of fancy things required to make this deliciousness happen, but you do need a meat grinder. I have an attachment to my CuisineArt stand mixer that does an excellent job, but any kind will do.
Before we get down to the nitty gritty of the ingredients, let me tell you a little secret. I don't do a true 60/40 ratio. I know that's the standard ratio for this burger, and I have done it in the past, but I found it to be a bit too much bacon. Blasphemy, I know.
I actually prefer a 2:1 beef to bacon ratio, or a 67/33. You still get all that bacon-y goodness. It's still rich, flavorful, and delicious- it's just a liiiiittle more beef forward. In this case, I used 18oz of sirloin and 9oz of bacon.
Speaking of beef. When I buy regular old ground beef, I'll get some that's got fat in it. I don't go for the super lean. Why? Because the fat has delicious flavor! BUT, when it comes to this particular burger, I get a slab of lean sirloin and let all the fatty goodness come from the bacon itself. I prefer the Wright brand thick cut applewood bacon. Ever time. It's just so darn good. But then again, all bacon is good, amirite?!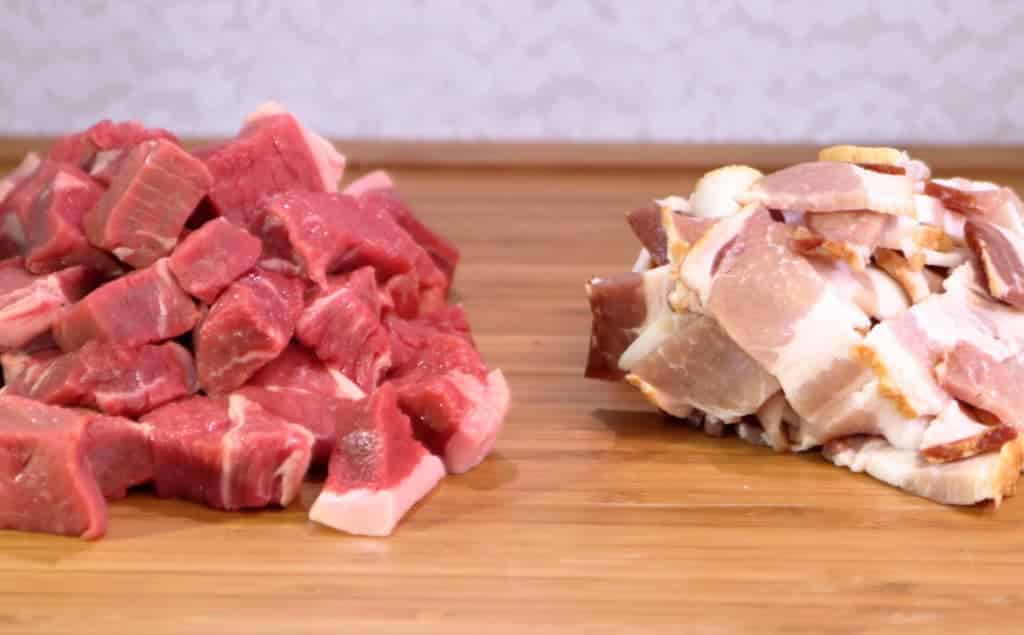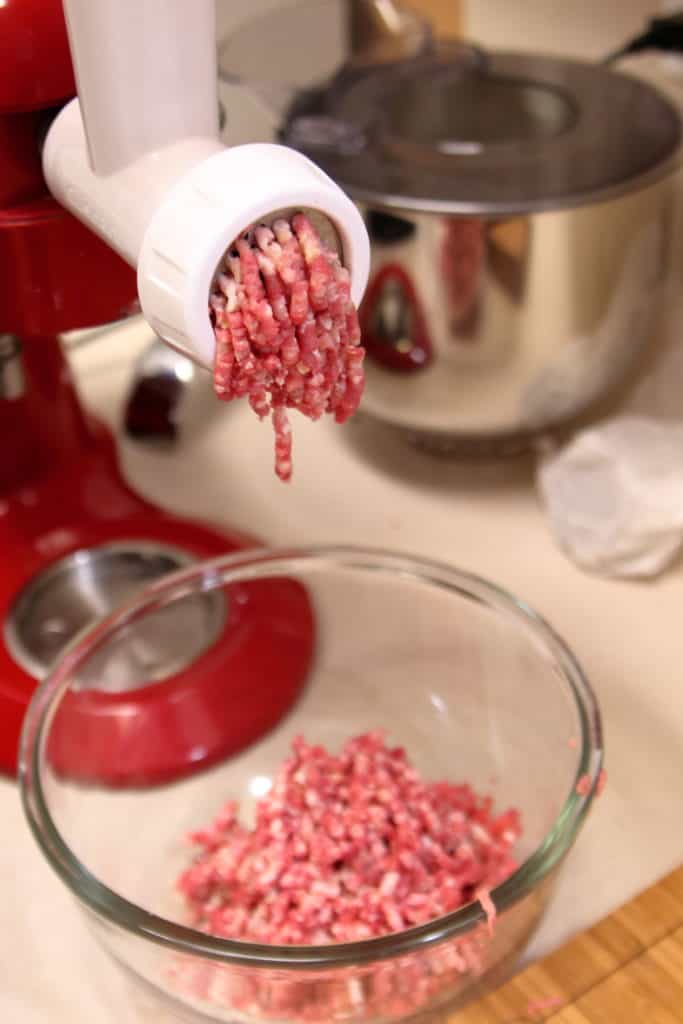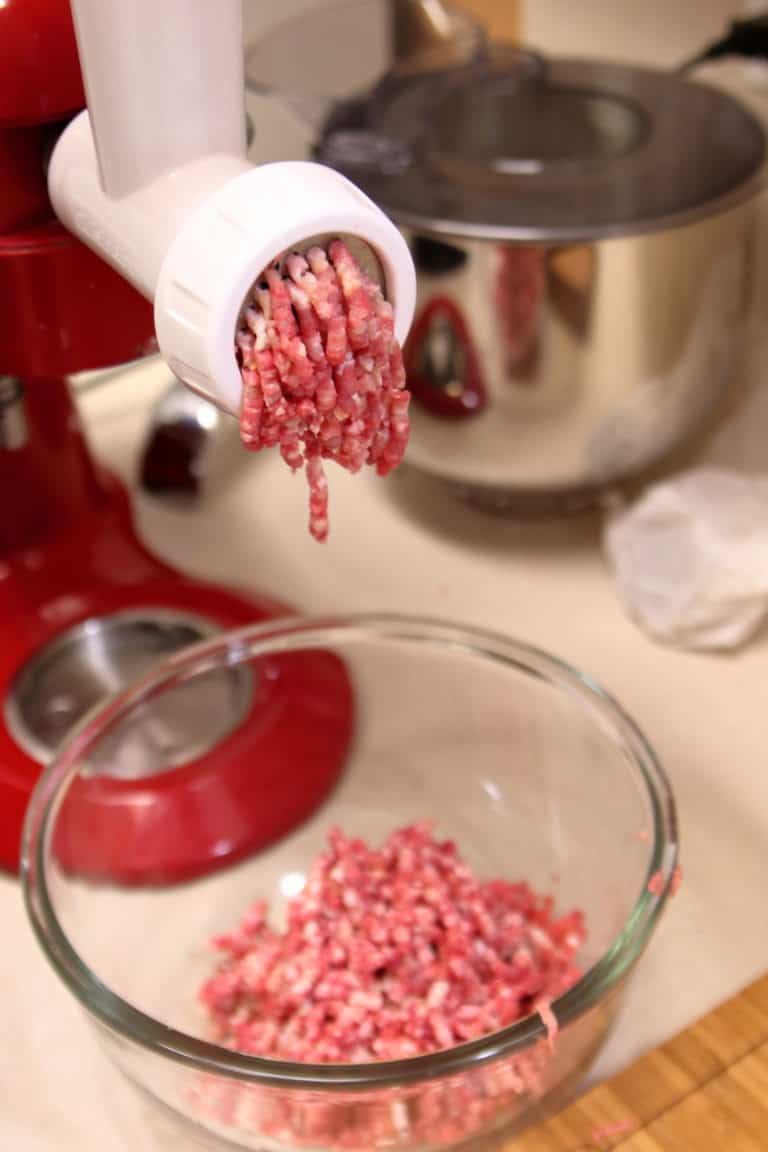 Preparing the meat
Getting the meat ready to form into patties is really quite simple. The first thing you need to do it chop the meat into cubes- about 1 inch. It just needs to be small enough to feed it through your grinder. When you have the meat chopped up, start grinding!
When you begin grinding the meat, you don't have to perfectly mix your meats prior to feeding it through. It works just fine to alternate until you run out. I normally do a small handful of each one, however, here's the trick:
After you run all the meat through the grinder, run in through again. This will cause the beef and the bacon to incorporate even better together. On the second pass through, you'll notice the color of the ground meat becomes much more even in color and consistency. It doesn't necessarily grind it any smaller, it just mixes it very effectively.
To season, or not to season?
And here is we get a little controversial. In all my years of making burgers, I've learned that this is a very polarizing topic. Of course you want to add salt and pepper. That's always a given. Many people leave it at that, and vehemently defend that position. It allows the meat to do all the talking. THAT'S TOTALLY FINE! If you stopped at salt and pepper, this burger will still be delicious. It's just not how I do it.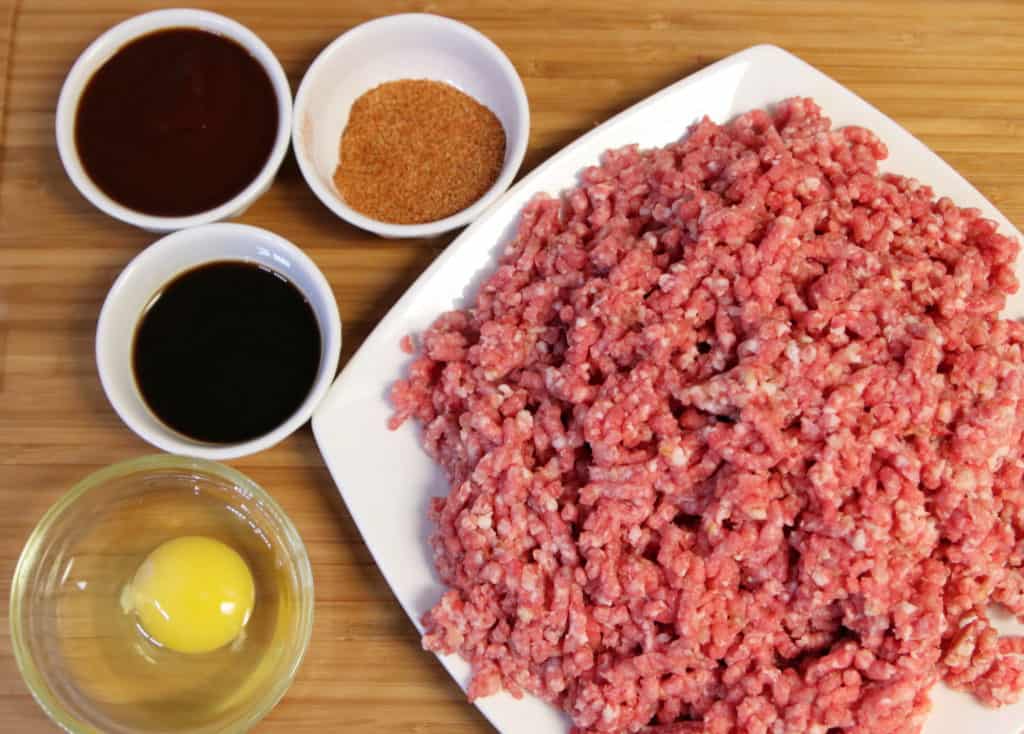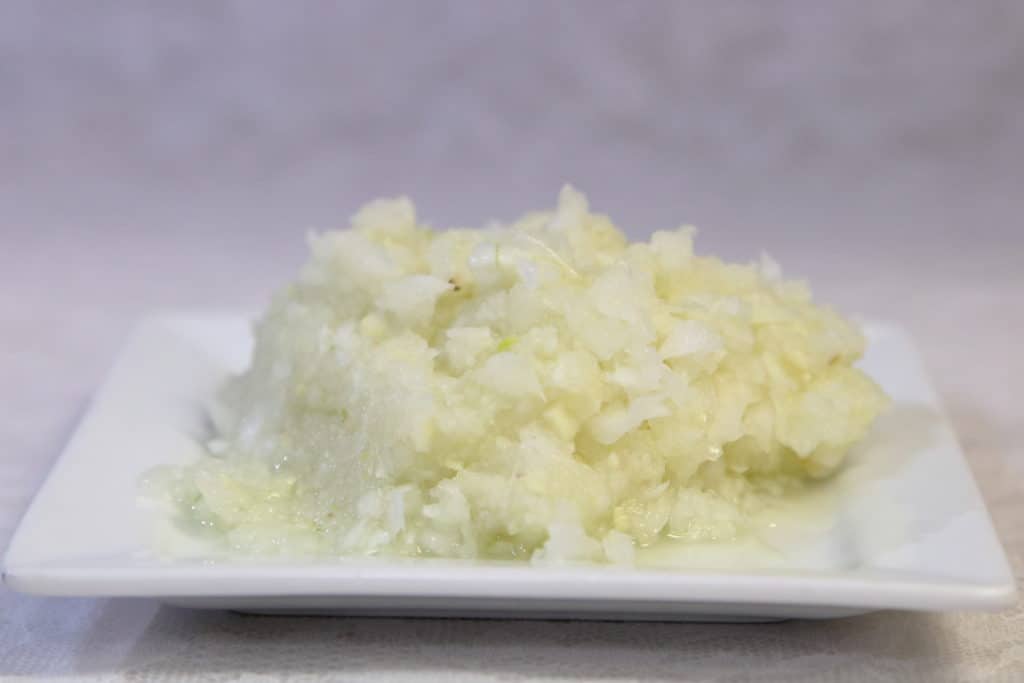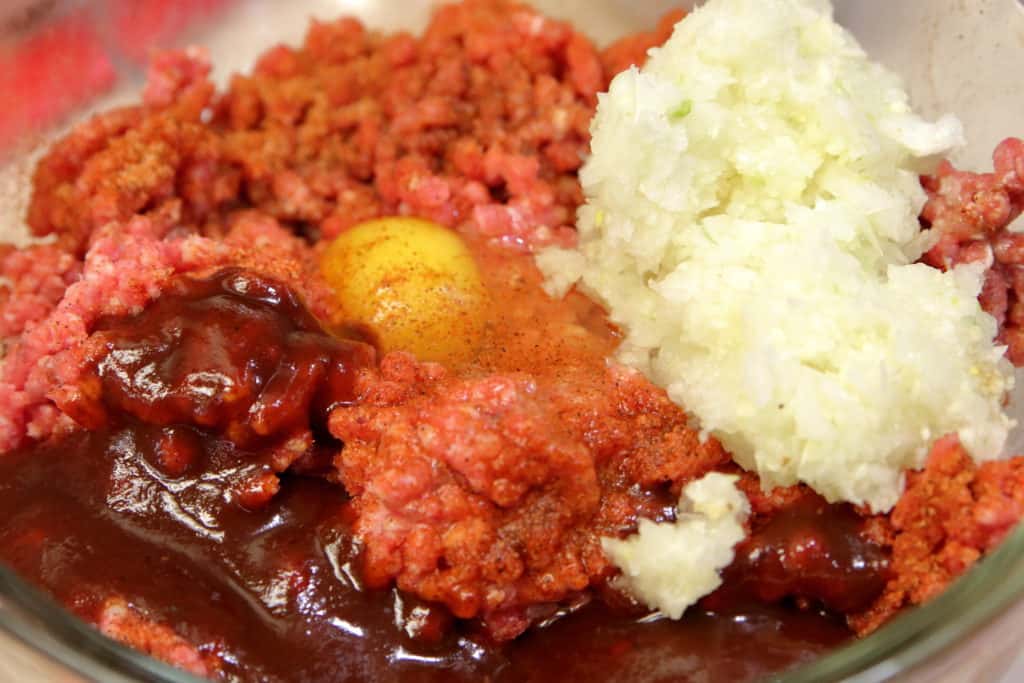 I've done many combinations of ingredients I like to add to my burger meat, but here is my typical base:
Put it all in a bowl, and mush it all together. Warning: this can make for a bit of a wet mixture of meat. It worked just fine for me, but if you find that it is just too wet and loose, add a few breadcrumbs, but you really shouldn't need any.
After you've got everything all mixed up, form your patties! I like to start with a chuck a little bit larger than my first, ball it up, and flatten it out a little wider that the bun I'm going to use. These are super fatty so they will shrink up a bit. After you've got all your patties formed, you're ready to get cookin'!
Cooking and finishing your 60/40 beef bacon burger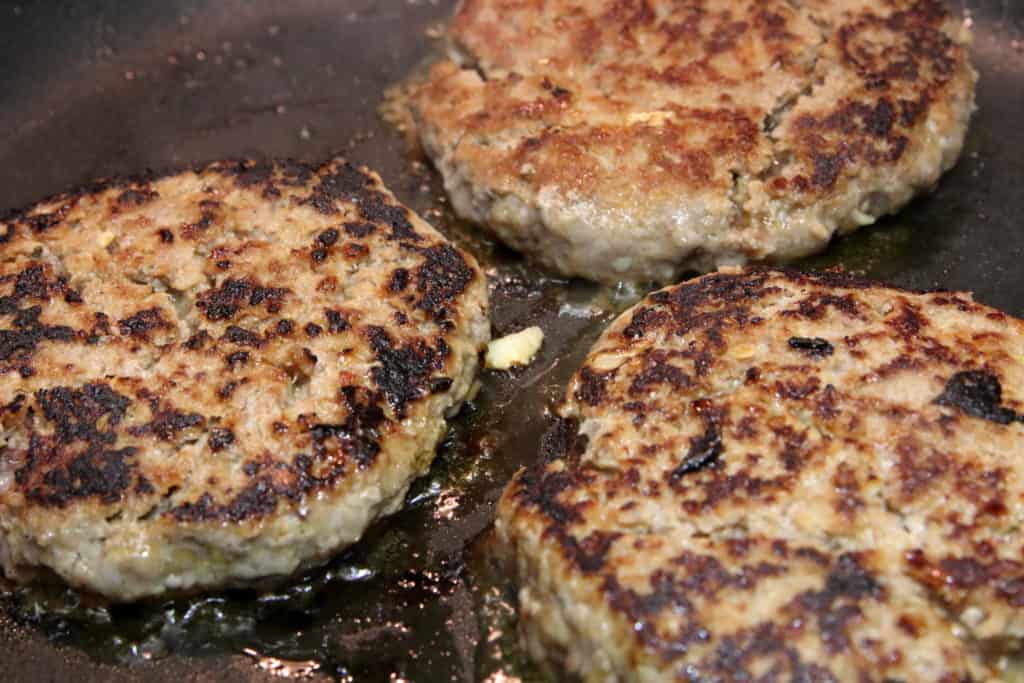 Heat a large skillet over medium high heat, and after it's nice and hot, put in a few burgers. Don't overcrowd the pan, it'll probably take a few rounds. Make sure the first side gets nice and cooked (about 5-6 minutes depending on the thickness) before you flip. Avoid flipping these burgers more than just once. Reminder: The meat may be a little softer than normal. If it begins to break in the pan (like the one on top of the picture above), that's totally ok. When you add cheese on top, it'll almost act like a glue and hold the pieces together.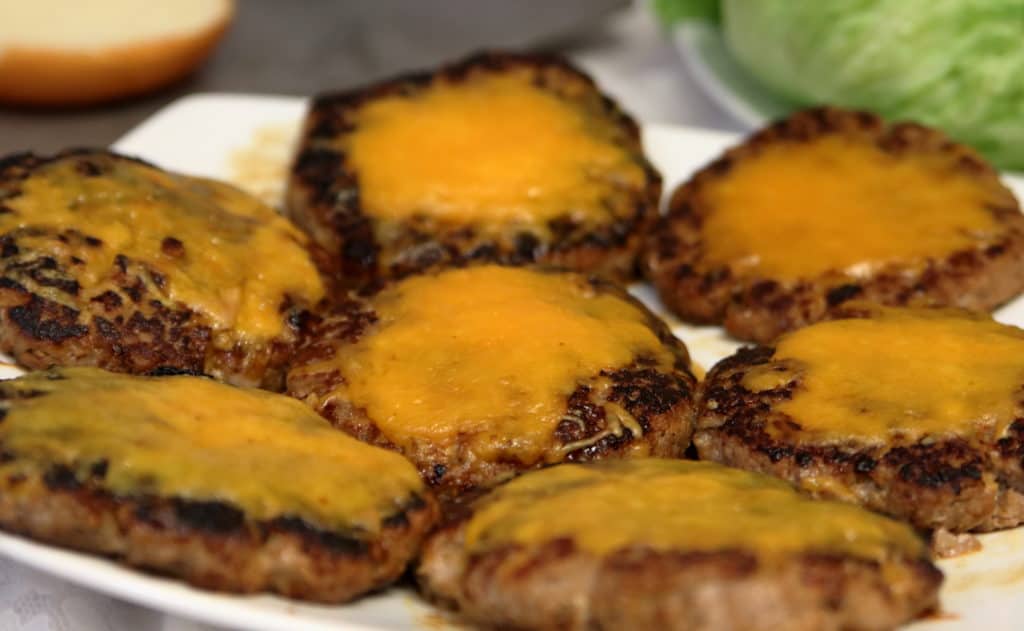 I chose to top these with cheddar because I like the sharpness, but you can use whatever kind you like! I frequently use Swiss or pepper jack as well.
Toppings for a 60/40 beef bacon burger
The possibilities are nearly endless when it comes to how to top a burger. You can carefully and thoughtfully plan a flavor profile for your burger… OR… you can take all your favorite things and pile it high! That was my method here. I'm not making a high end, fancy burger. This is just juicy indulgent magic here.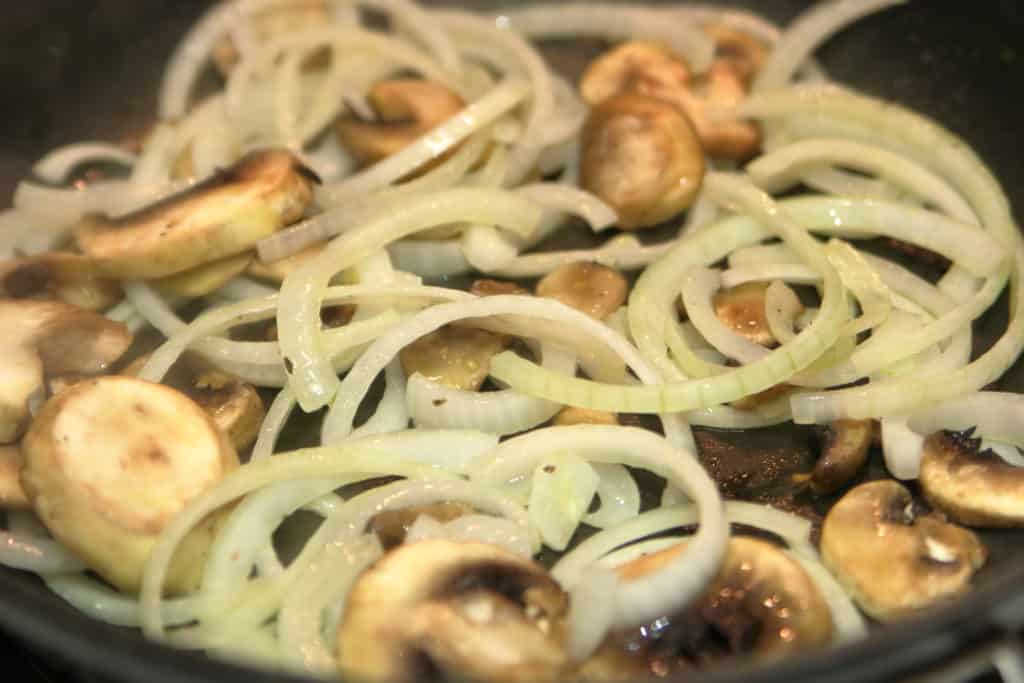 Here are some ideas (one, all, or any combination of):
Sauteed mushrooms
Sauteed onions and peppers
lettuce
tomato
pickles
The classic mayo, mustand, ketchup
Brown/spicy mustard
BBQ sauce
Crispy onion strings
Now, for the proverbial cherry on top: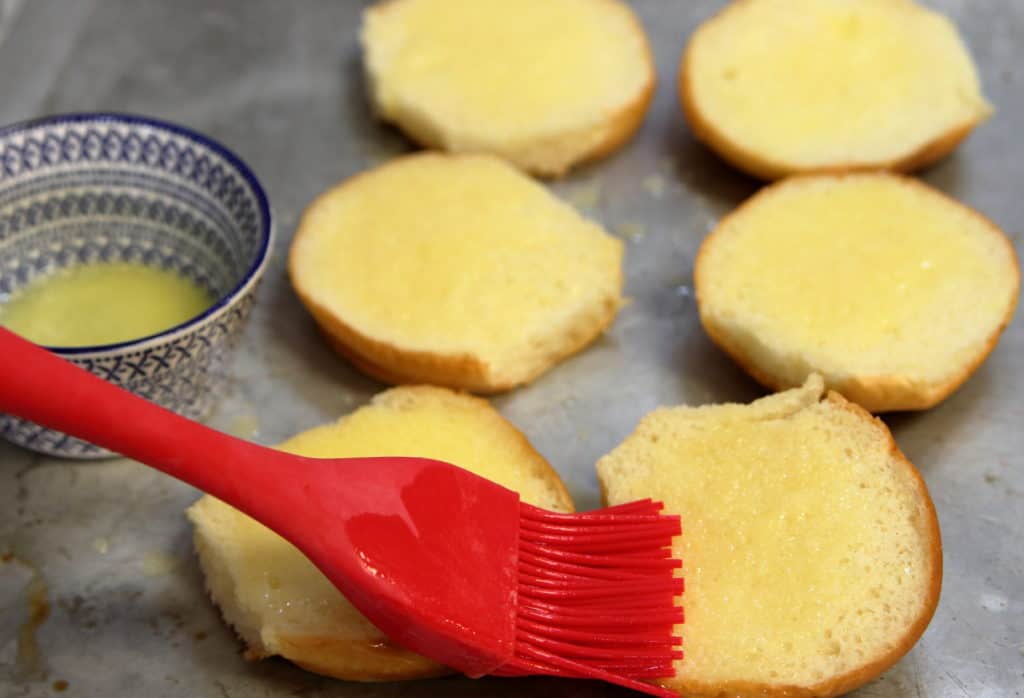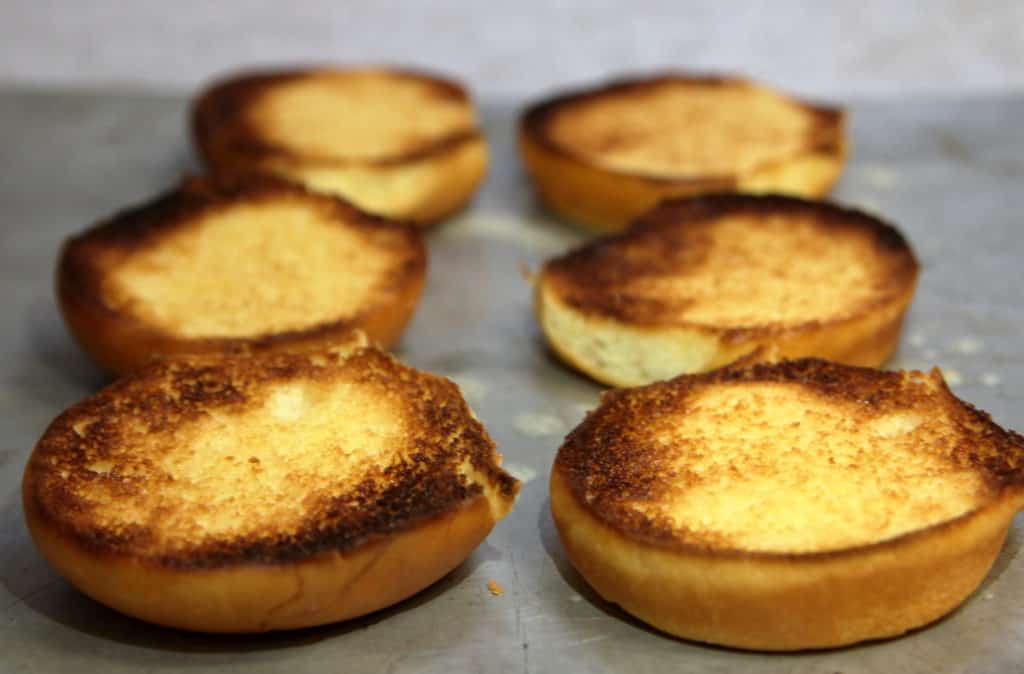 TOAST YOUR BUNS! No matter WHAT you choose to dress your burger with, toasted buns are a MUST. Take some melted butter, brush the top and bottom buns, and pop them in the oven on the top rack on a baking sheet and turn the oven on broil (we have an electric oven). You can also accomplish this in a toaster oven. Just make sure you watch it CLOSELY. They can go from nothing to charcoal in no time flat. I normally put them on the top rack and leave the door cracked so I can see them and I won't forget about them. How many times have you said "I'll just heat this in the oven for a few minutes" and then completely burned the bread? Just me? Didn't think so.
Seriously. There is nothing better than a buttery toasted hamburger bun. If you haven't tried this, DO IT. You won't regret it.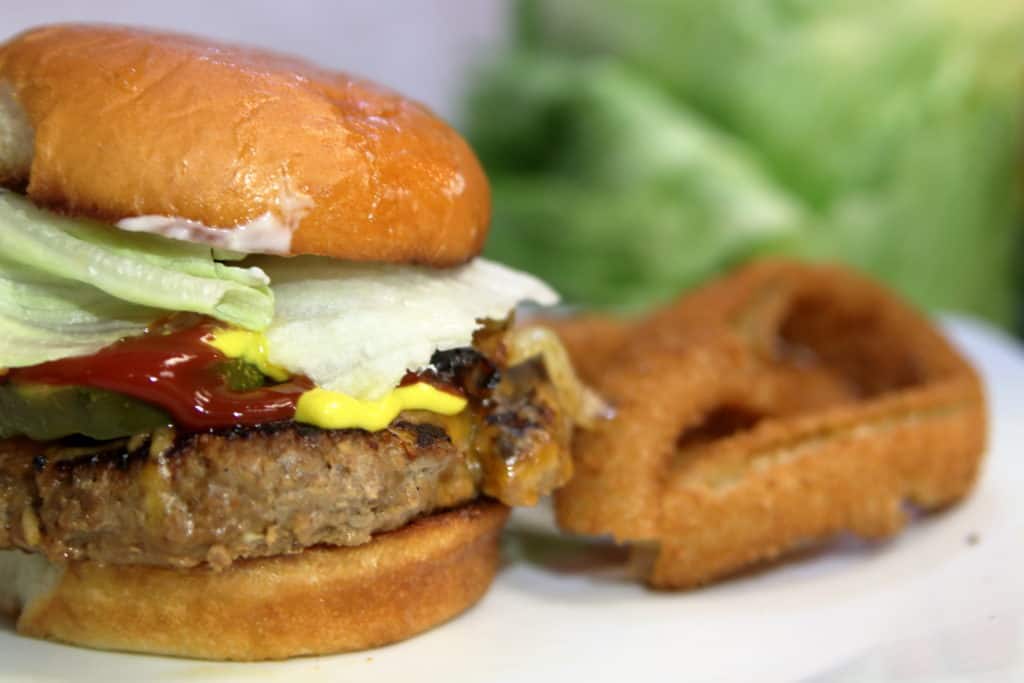 And that's all folks! Not much to it. One of the juiciest, most delicious burgers you will ever have. Once you try this heavenly combination and find out how easy it is to mix and match meat combinations in a grinder, you'll never go back to a regular old beef burger. This 60/40 Beef Bacon Burger is going to be a hit with everyone. Enjoy!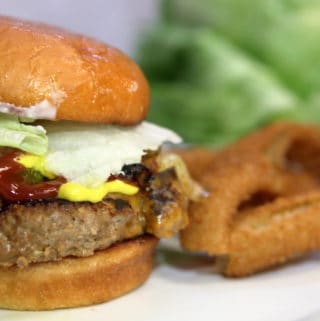 60/40 Beef and Bacon Burger
This is the juiciest, most delicious burger you'll have. While it's not truly 60/40 (more like 67/33) You'll love the intense bacon flavor infused into the delicious beef.
Print
Pin
Share on Facebook
Rate
Ingredients
16

ounces

Top Sirloin

8

ounces

Bacon

I use applewood smoked

1

egg

½

white onion

chopped very small

4

cloves

garlic

minced

¼

cup

BBQ Sauce

I use Stubb's Sweet Heat

1

tbsp

Cajun Spice

I use Tony Chacere's

1

tbsp

Worcestershire sauce

bread crumbs

as needed

Cheese, grilled peppers and onions, and whatever else you love on a burger! Pile it high!
Instructions
Grinding the meat
Prior to grinding, chop bacon and sirloin into 1 inch cubes

Run meat through the grinder a few pieces at a time. After it has all been ground, mix it around and run the meat through again so the bacon and sirloin thoroughly mix.
Seasoning the meat
Put freshly ground meat into a large bowl. Add egg, BBQ sauce, diced onion, minced garlic, cajun spice, and Worcestershire sauce and mix thoroughly.

If the meat is too wet, add breadcrumbs as needed.

Form into patties. You should have enough for at least 6.
Cooking the meat
In a large saute pan over medium/high heat, cook the patties 3-4 at a time

Cook for approximately 5-6 minutes on each side. Flip carefully, as the fat and moisture in the burgers may cause it to break apart.

Top with cheese, if desired, and cover pan so the cheese melts.

Tasty Tip: Butter and broil buns in the oven to toast, and top with lettuce, pickles, grilled peppers and onions, etc. Enjoy!
Nutrition
Serving:
1
patty
|
Calories:
450
kcal