This Vodka Lemonade Spritzer is an incredibly easy, yet refreshingly light cocktail. Made with lemon vodka, lemonade, and prosecco, it's perfect for those spring or summer days.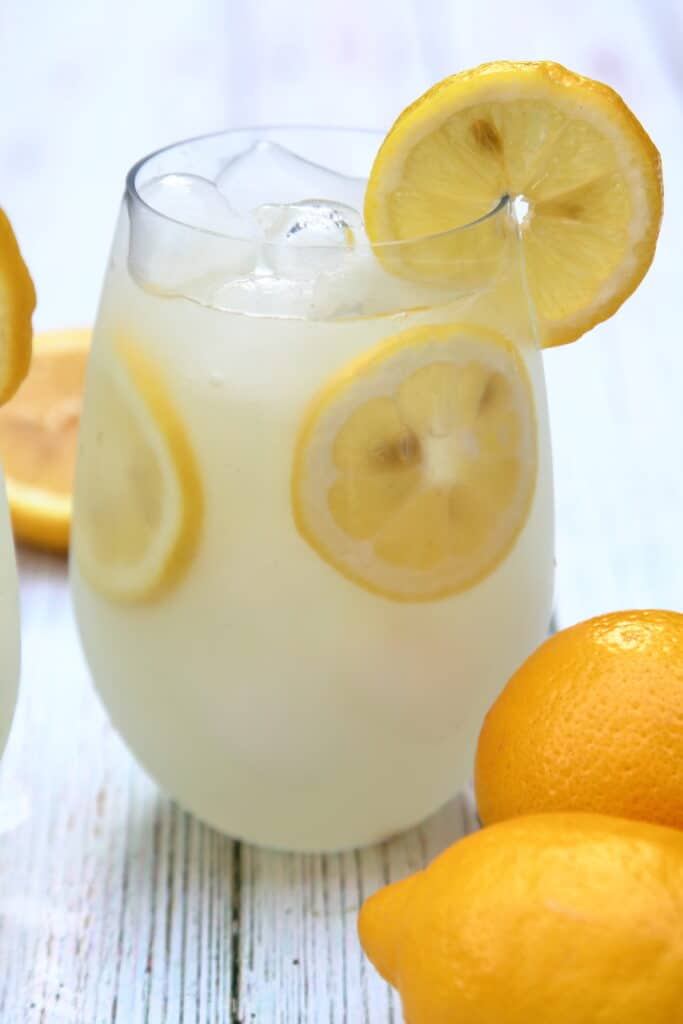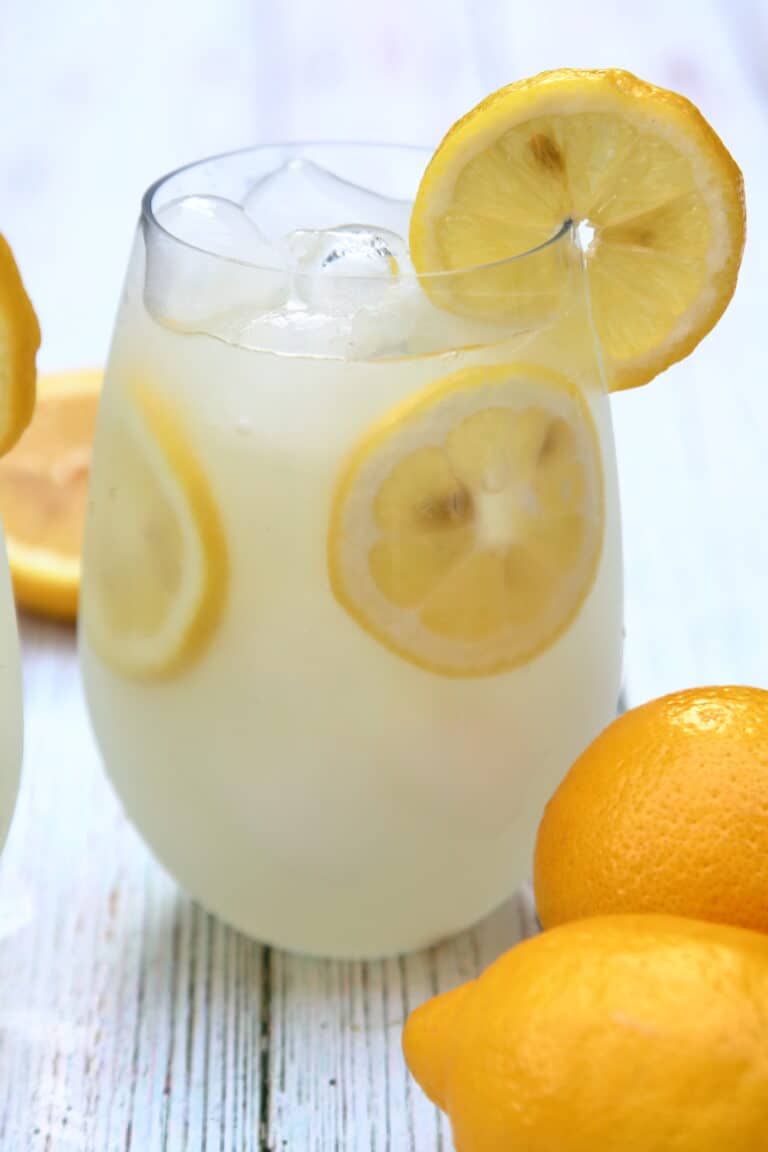 Few things make a lovely spring or summer day better quite like a refreshing lemonade, but some of us certainly like our lemonade with a little more "kick," am I right? For me, personally, this Vodka Lemonade Spritzer combines three of my very favorite things: vodka, lemon, and prosecco and the result does not disappoint. And bonus, it's so incredibly easy and perfectly delicious.
What exactly is a Spritzer, anyway?
You can consult the interwebs right now and find at least a handful of variants for what a spritzer is. However, the general definition is that a spritzer is basically a mixed drink consisting of wine and some kind of carbonation, usually club soda or sparkling water, served very cold.
Now with any other classic recipe or cocktail, there are going to be several spinoffs and varieties. Red wine, white wine, aperol, vodka… all have tons of spritzer varieties. Enter my Vodka Lemonade Spritzer.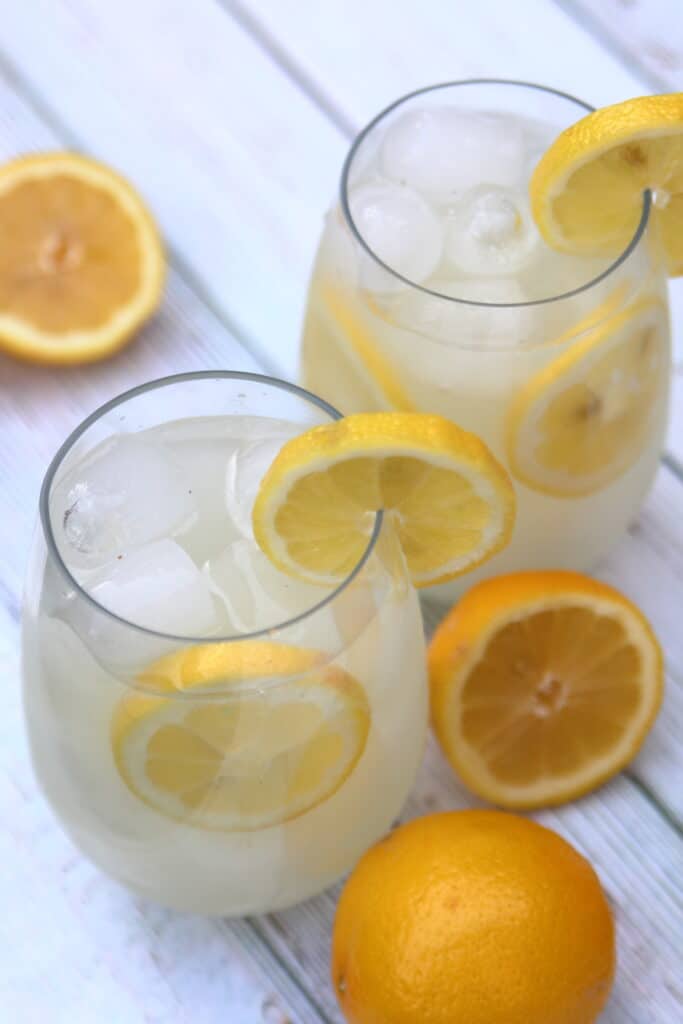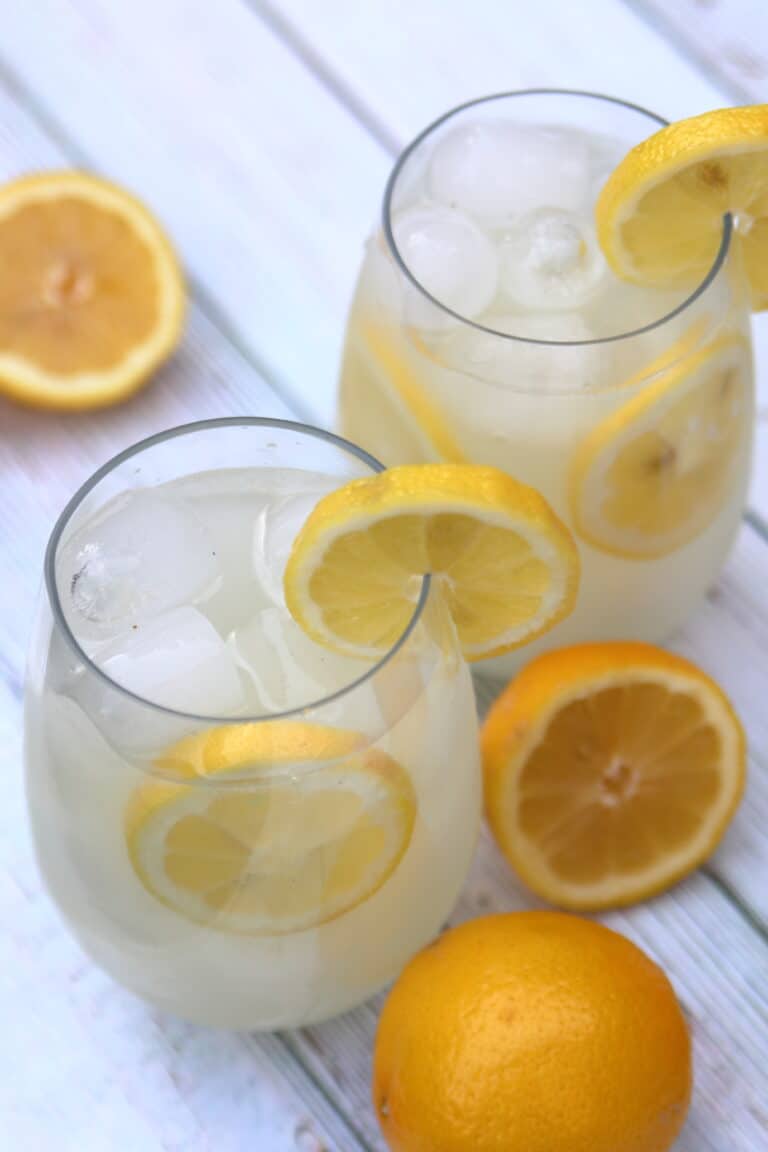 What goes into this Vodka Spritzer?
This particular lemonade vodka spritzer uses just three igredients:
Deep Eddy Lemon Vodka– I HIGHLY recommend this exact brand and variety. I tried this same recipe with other lemon flavored vodkas. They didn't quite have that authentic lemonade flavor. Deep Eddy is made with real lemon juice and lightly sweetened.
Prosecco– I'm a full time La Marca fan girl, but use what you like.
Lemonade– I used the Simply Lemonade brand.
No sponsored content here, just tasty goodness.
Now, let's talk about the lemonade mixer.
Lemonade can run from tart to sugary sweet and every thing in between. And like with anything else, we all have our preferences. I prefer mine to be right up the middle to the tart side most of the time, and that's where this particular drink falls.
The sugar content of the standard Simply Lemonade will contribute about 11 grams (a little less than a tablespoon) of sugar PER cocktail with this recipe. Between the vodka, the lemonade, and the prosecco, which is very dry, I didn't feel like it was a sugar bomb. It was just enough to kiss away the tartness. Combined with the bubbly prosecco, I find it crisp and delicious.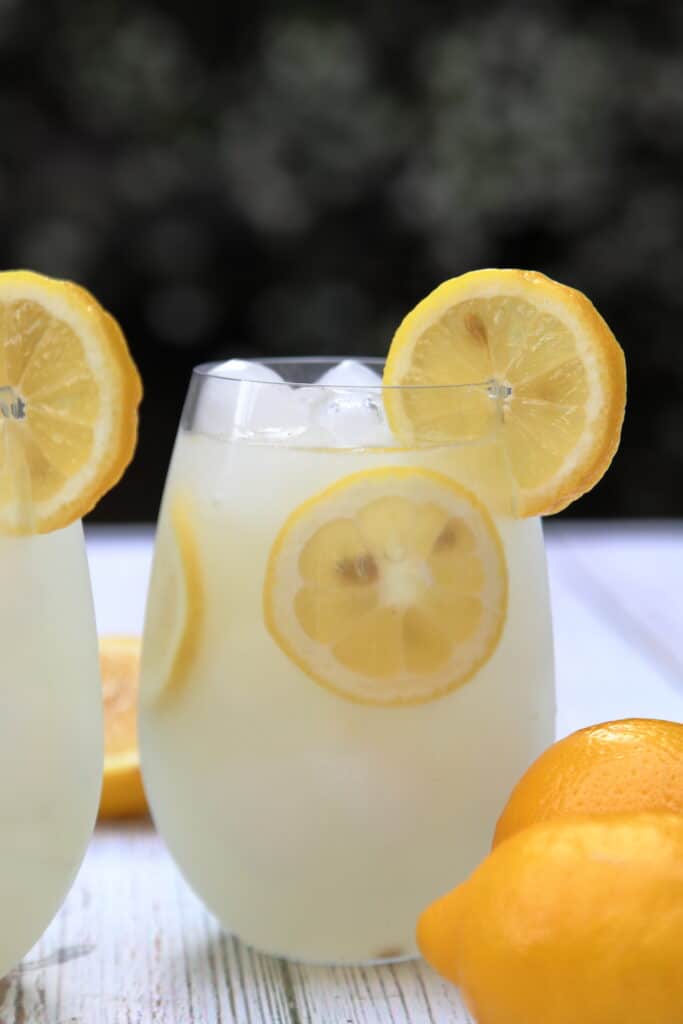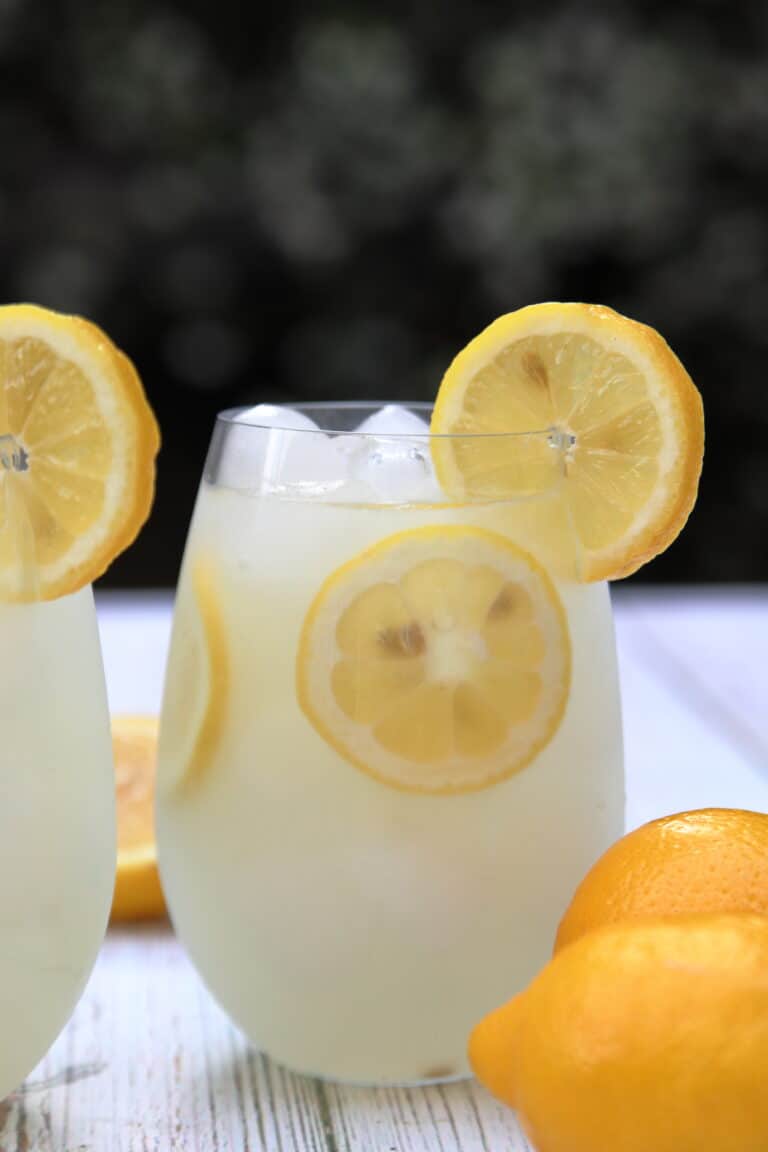 That's too much sugar for me. What can I do to lighten this vodka lemonade?
If that's more sugar than you like or can have, Simply Lemonade does make a light version with less sugar.
If you want to be able to control EXACTLY how much sugar you want, or if you like your lemonade extra tart, then omit the pre-fab lemonade all together and stick to straight lemon juice squeezed from fresh lemons. This way, you can sweeten it to you exact liking, if at all, with simple syrup (a super easy 1:1 mixture of sugar and water, perfect for lightly sweetening cocktails).
The best way to mix your vodka lemonade
The easy short answer to this is measure and mix. Simple enough. And that works too. The only thing that makes it a teensy bit more complicated is you are working with a carbonated beverage, and you don't want to go messing up those beautiful bubbles.
If you have one, a cocktail shaker (affiliate link) is perfect. I don't know why, but there's something about using a cocktail shaker that makes me feel like my drink is better. It's not, but I feel fancy anyway.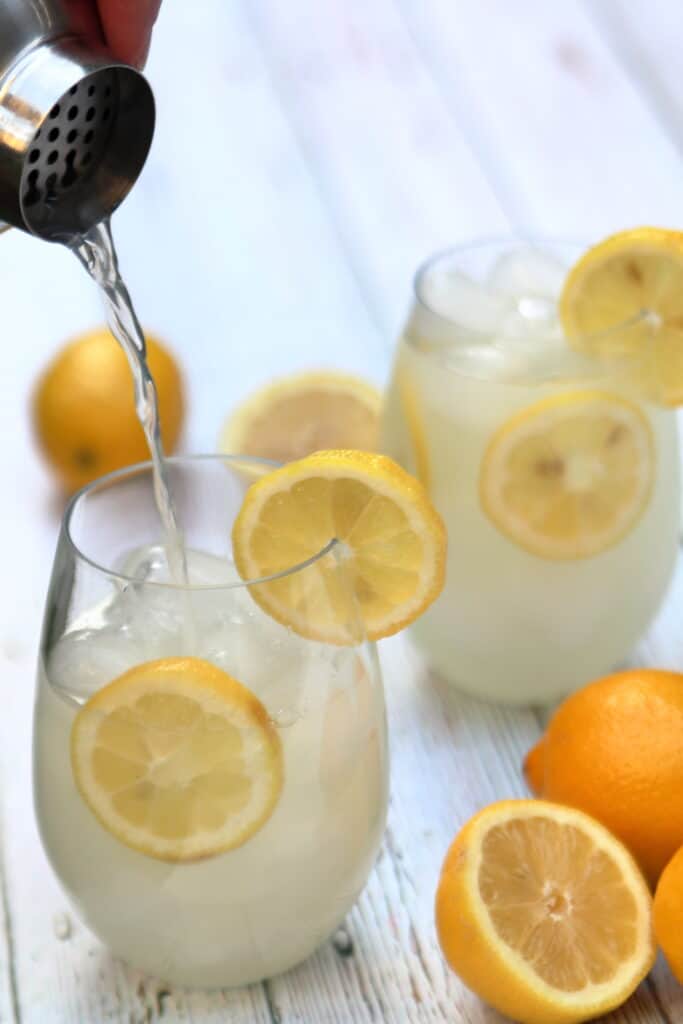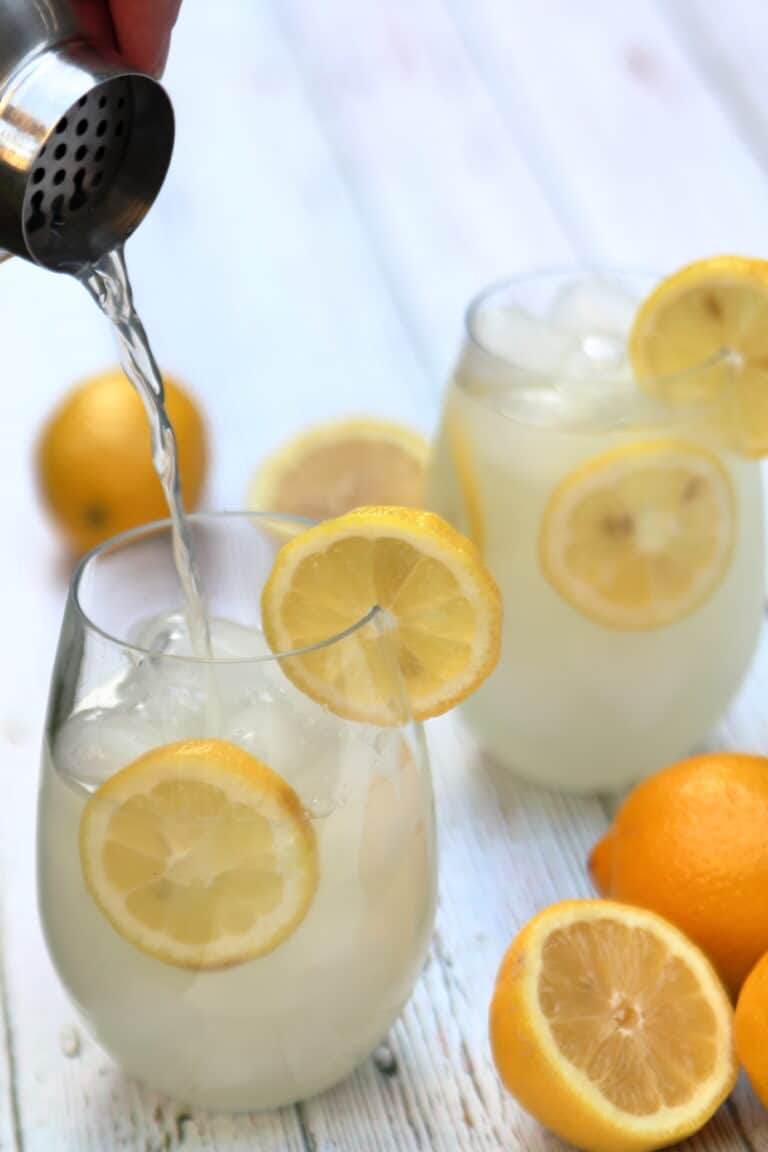 After you prep your glasses (fill to the brim with ice and put in some lemon wheels), add a bit more ice to the cocktail shaker. Pour in your lemonade and vodka. Cover tightly and shake it like crazy. This will mix it thoroughly, but will also chill it significantly.
After your vodka and lemonade are mixed, pour in the prosecco and give it a gentle stir.
Read my words: DO NOT SHAKE THE PROSECCO IN THE MIXER. Obviously, I know. But I did it once not really paying attention or thinking about what i was doing. It didn't end well.
Put the strainer on (mostly to strain out excess ice), and pour it over your cup of ice. Give it a taste and adjust any flavors you need, but this is a pretty good starting ratio. I felt like this vodka lemonade spritzer was incredibly smooth. I'm a total wuss with straight liquor. I don't want to taste it. To me, this just tasted like a really classic lemonade with a touch of extra zhuzh.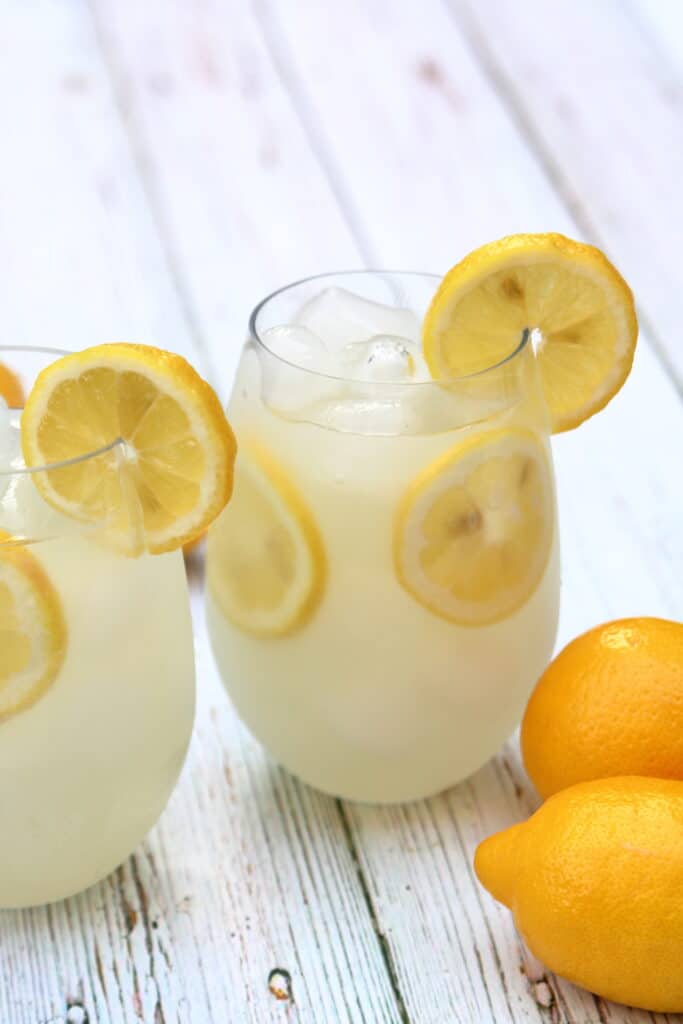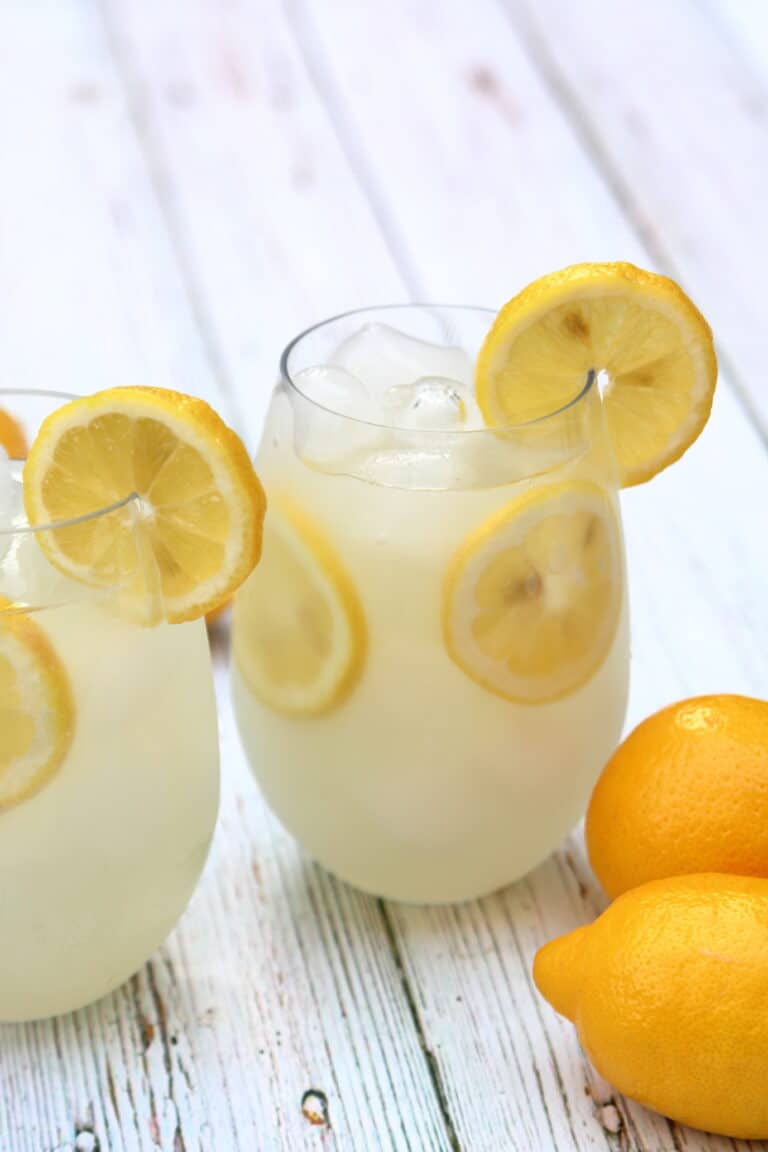 That's pretty much it! I think you're going to like it. It's good stuff. Enjoy! (responsibly)!
Be sure to check out my Electric Lemonade Vodka Cocktail. This one is quite a bit more tart with a little bite! Also delicious!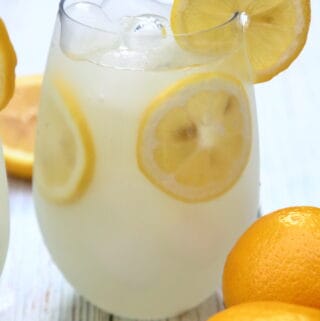 Vodka Lemonade Spritzer
This Vodka Lemonade Spritzer is an incredibly easy, yet refreshingly light cocktail. Made with lemon vodka, lemonade, and prosecco, it's perfect for those spring or summer days.
Print
Pin
Share on Facebook
Rate
Ingredients
4

ounces

Deep Eddy Lemon Vodka

Citron and limoncello wasn't quite the same

6

ounces

Prosecco

LaMarca is my fave

6

ounces

lemonade

I used Simply Lemonade
Instructions
Fill cups with ice and lemon wheels.

In a cocktail shaker, pour in 4 ounces of Deep Eddy Lemon Vodka and 6 ounces of lemonade with some ice. Cover and shake vigorously.

Pour in prosecco. DO NOT SHAKE. Stir extremely lightly, just enough to mix in slightly. Most of the mixing will finish when you pour.

Using the strainer, pour over the two cups of ice.