Let's start with stating the obvious. I love pasta. Duh. How can you not? The possibilities with what you can do with it are endless so it's hard to get bored with it and bonus- it's very inexpensive. I'll admit, I used to be a slave to jarred sauces and premixed things to cook pasta, but that was until I figured how how much more delicious and surprisingly quite easy it is to whip up a sauce from scratch. The list of ingredients might be a little long for some and it may feel like it's super complicated, but it's totally not. As long as you prep your ingredients before you start, it's a piece of cake. Follow the order of events and this Shrimp and Scallop Pasta in White Wine Cream Sauce will be done before you know it.
If you are looking for some other pasta varieties, check out my Cajun Chicken Pasta, Cheese Stuffed Manicotti Florentine, or Creamy Spinach and Mushroom Orzo.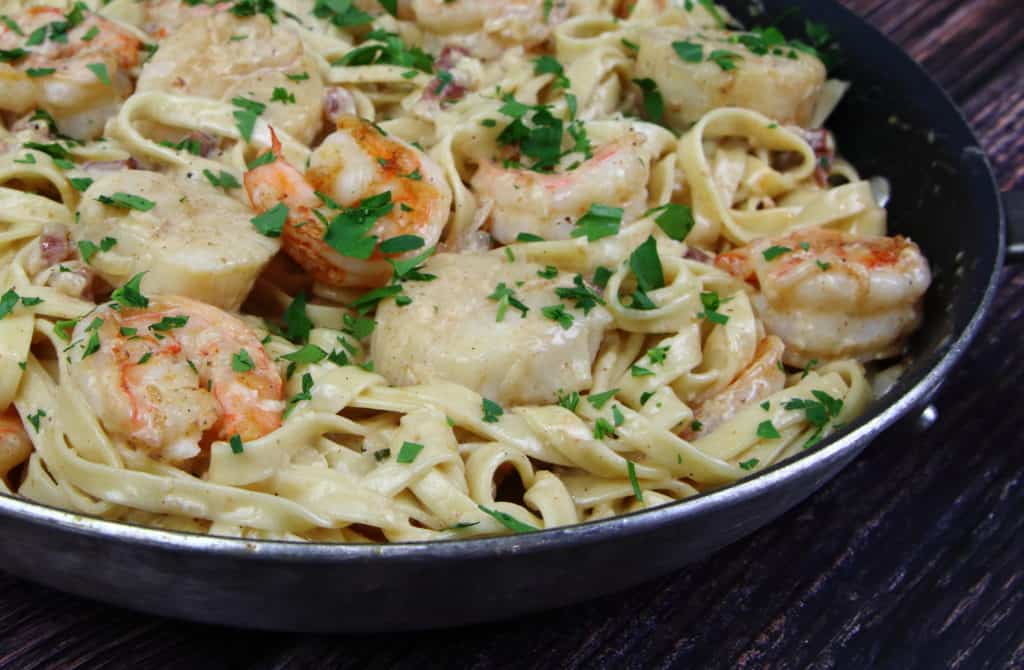 Breaking down the ingredient prep!
The best thing you can do when cooking anything, especially when there are a lot of ingredients involved, is prep. And there are quite a few ingredients in this particular shrimp and scallop pasta recipe. Chop, zest, grate, slice, etc. everything needed and put each one in a separate prep bowl. For this, before I even made it to the stove I:
peeled and deveined the shrimp (if you got some already done, bonus!)
patted dry and placed scallops and shrimp in two bowls sprinkled with Tony Chachere's Creole Seasoning.
portioned out the butter
diced the shallot
grated the garlic
chopped the pancetta
zested the lemon
chopped the parsley
poured the wine and cream into separate measuring cups ready to pour
microplaned the parmesan (use block parmesan and a microplaner (paid link). Nooooooo pre-shredded or that powdery stuff!)
measured out the Tony's and chipotle chili pepper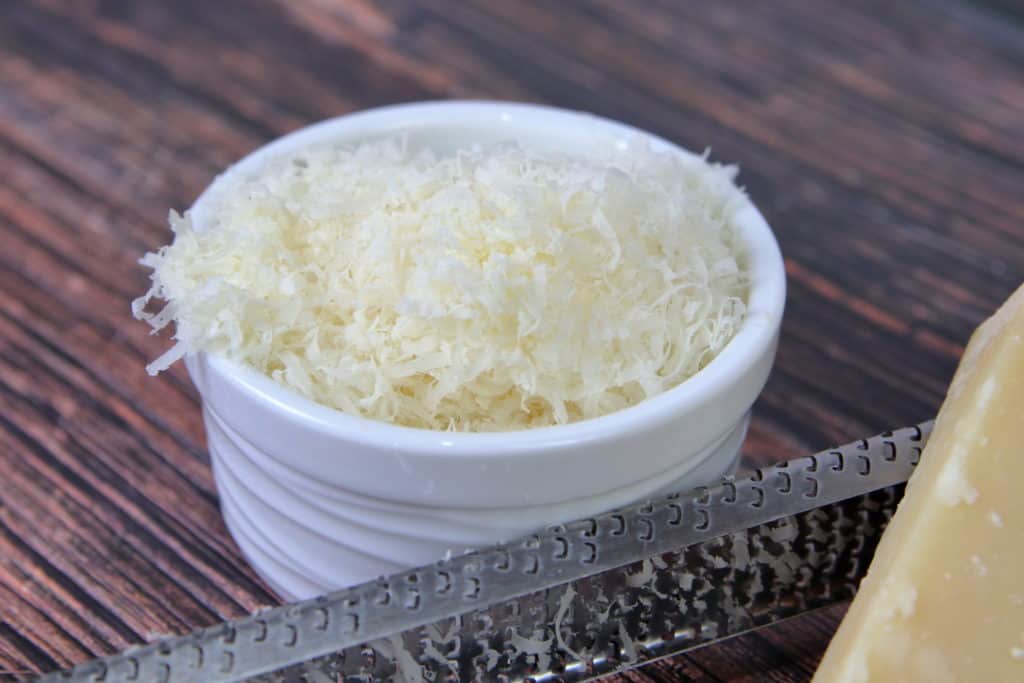 Note: Using block parmesan cheese and a microplaner is the very best way to use parmesan cheese here. It's just not the same to use the powder or the pre-shredded!!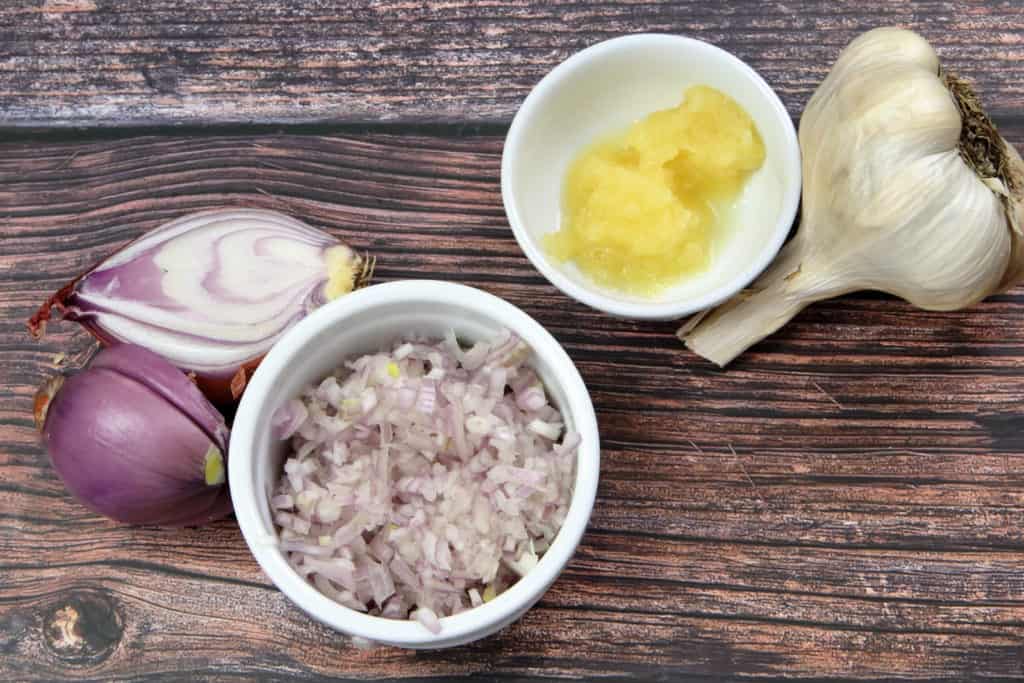 It really depends on the dish, but more often that not, I microplane the garlic as well. You get teeny tiny pieces that are basically garlic paste as opposed to larger pieces when you mince it. It is way more effective (in my experience) than a garlic press. I get EVERY single morsel of the garlic, whereas in a garlic press, I'm always left with at least half of it smashed on the inside.
For zesting the lemon? Ding! You guessed it. Microplaner.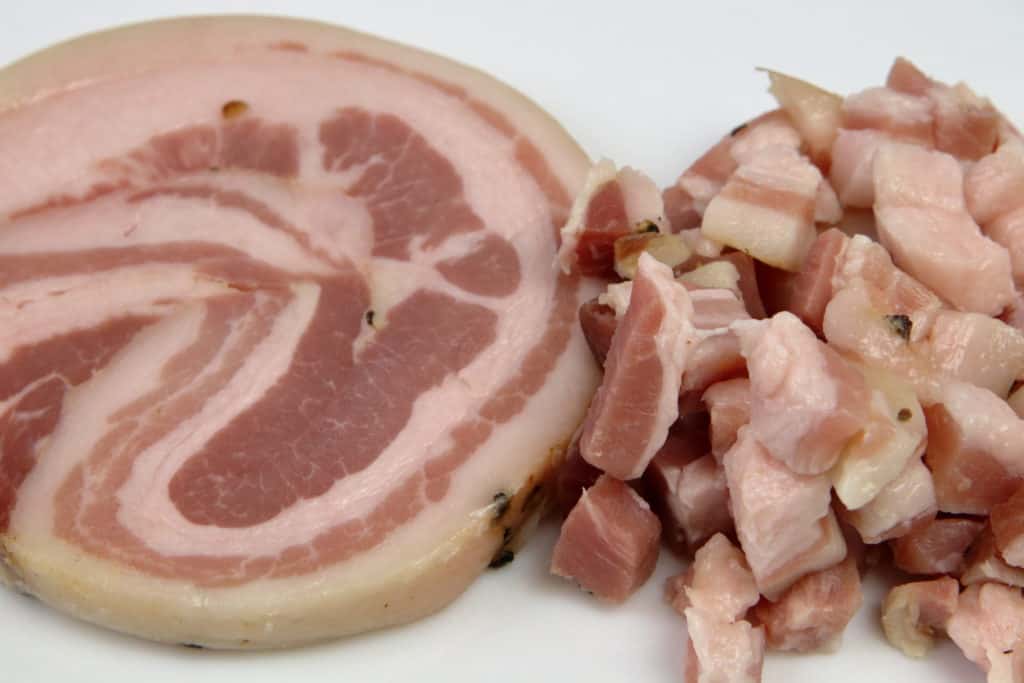 The rest I just chopped the old fashioned way. Teeny pieces for the shallot and small cubes for the pancetta. You can most likely find pancetta at your regular grocery store. Sometimes it's with the fancy meats and cheeses, sometimes you can find it packaged with the lunch meat. What's important though is that you get a larger chunk. Don't get that paper thin stuff. You want there to be some substance to the meat. We found this in the deli and had them chop of two thick chunks. It came out to be about ⅓ of a pound.
What kind of pasta should I use?
Before we move on to the actual cooking, let's talk about the pasta. Generally speaking, you want to use thicker, bigger pastas for heavier, meatier sauces and smaller pastas for lighter, creamy, buttery pastas.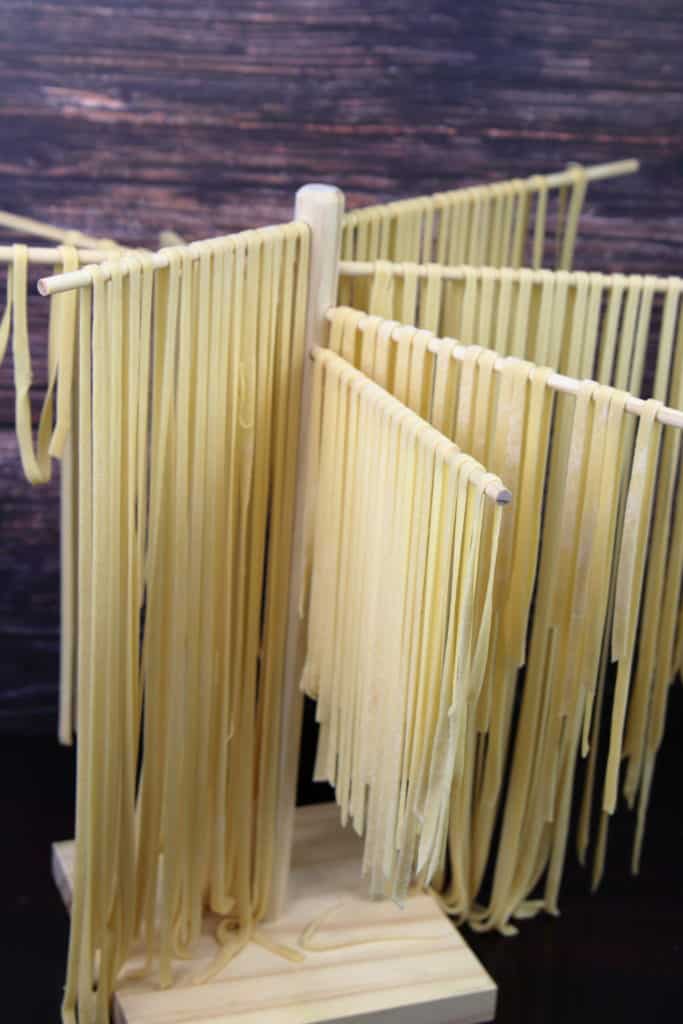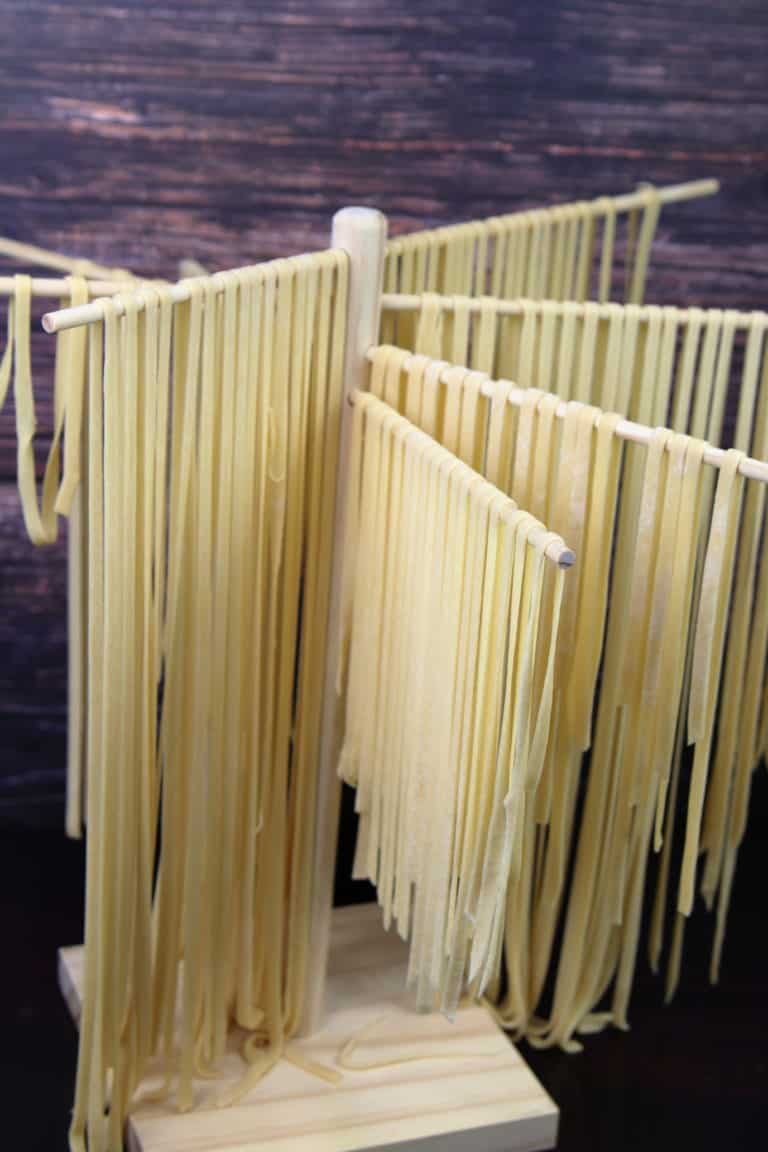 For this dish, I was feeling fancy and decided to make fettuccini from scratch. Ever since I got a pasta maker (paid link) for Christmas, I'm addicted. But choose what kind you like. Don't feel like you have to pick the perfect pairing based on the rules I discussed above. Some people love angel hair for everything. We grew up using spaghetti like it was the only pasta that existed. I chose to do fettuccine. Yes there are "rules" in cooking, but at the end of the day, you're eating it. So if it tastes good and you like it, it's not wrong. That's how we operate here at System of a Brown.
When it comes to starting the water, depending on how long the prep takes, I normally start the water right away. If it is going to take a long time, I'll turn it on a lower temperature so it can at least be heated. That way, it will boil much quicker when you are ready to turn it up.
Let's cook some shrimp and scallop pasta!
Ok I've rambled enough. Your ingredients are prepped, your water is heating, and everything is ready to go.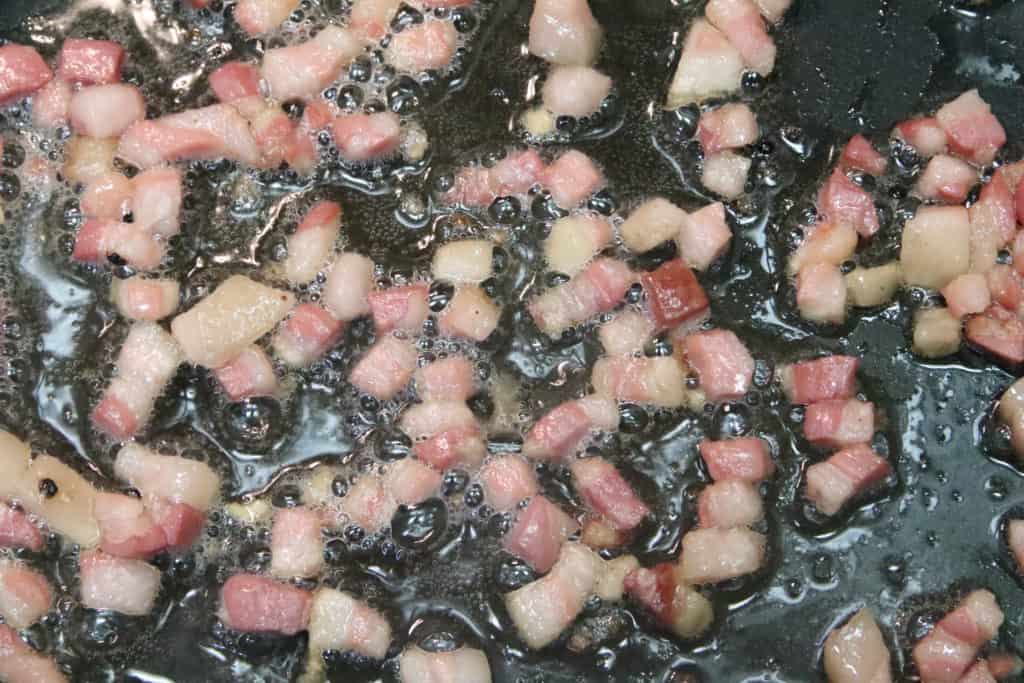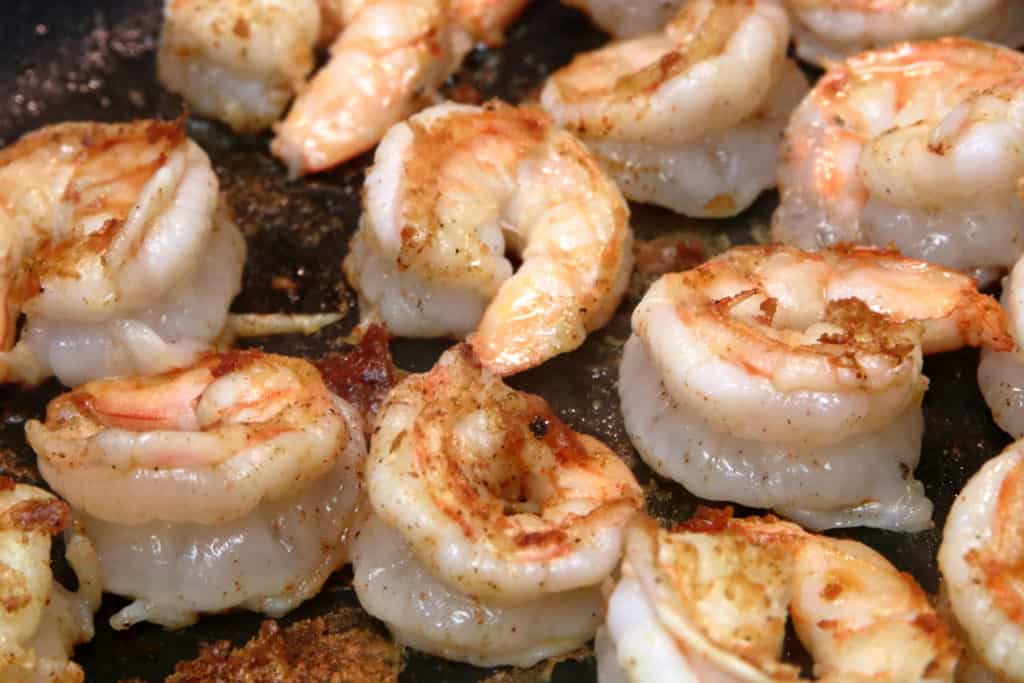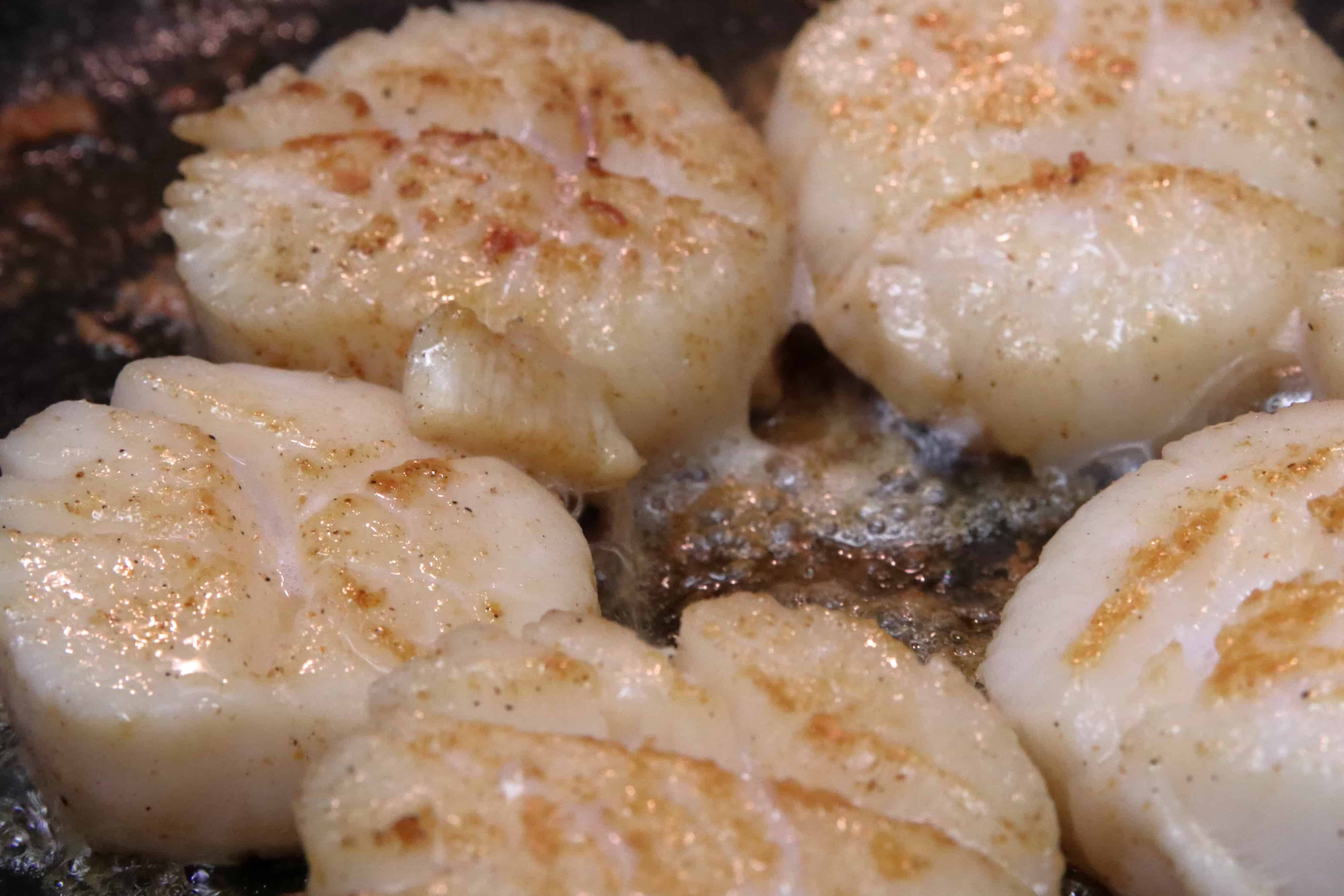 To get it all started, cook the pancetta. In a hot pan, cook the pancetta until golden brown and all of the fat has rendered out. This oil is what we're going to use as the base for everything. It will make quite a bit. When it's all rendered, remove the pancetta (set aside for later) and remove all but 1 tablespoon of the pancetta oil (also set this aside for later).
Searing the shrimp and scallops
There are a couple of things to remember here:
Do not use too much oil or butter. The first time I made scallops I used butter, and I was thinking "aw yeah, look at all this buttery goodness." but I used too much and I couldn't get a good sear on the scallops. Honestly, if you look at my photo above, this one wasn't great. But it's because I forgot to remove most of the oil before I started. Learn from my mistake.
Do not overcook! Nothing's worse than rubbery, overcooked shellfish. It cooks way faster than you think, so as soon as it is opaque throughout, just a couple minutes per side, take it out and set it aside.
As your seafood cooks, there will be brown bits stuck to the pan, even if it is a non stick pan. Leave them! We'll use these in a few minutes. I cooked the scallops first and the shrimp second. Set them aside in a bowl and cover it with foil. They'll stay warm, don't worry.
The white wine cream sauce
Before we even start- quick note about the wine: Don't cook with wine you won't drink. Now, I don't drink white wine because I don't like it. But I do like it in food. The point is it needs to be a quality ingredient to deliver the best flavor. It doesn't have to be expensive. I used a Pinot Grigio that was about $10.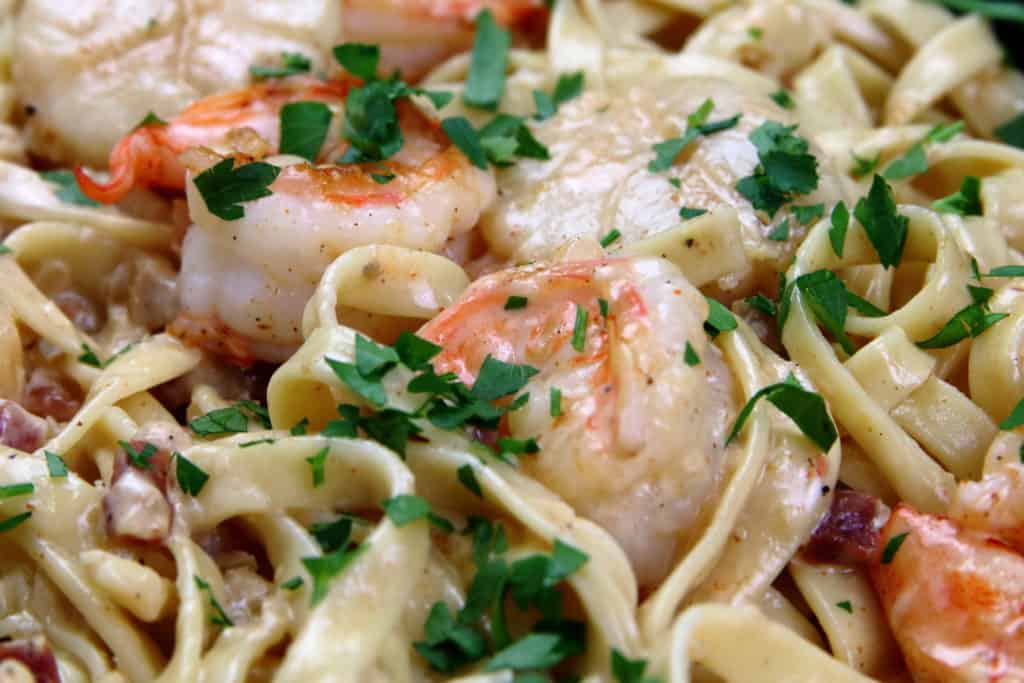 When the seafood is out, pour whatever pancetta oil you have left and your two tablespoons of butter into the pan. Let it melt and get hot! Add the shallots and garlic, then cook down for about 3-4 minutes. Be careful: garlic can burn FAST if the pan is too hot. Last, Add the lemon zest.
When all those ingredients are cooked, now we deglaze. Remember those stuck brown bits I talked about earlier? Pour the wine into your hot pan, and it'll bubble up right away, picking up all those stuck on pieces and working it into the sauce. This is deglazing a pan, and it is your best friend.
Let the wine boil and cook down for about 3-4 minutes. You want it to reduce some, but not evaporate all the way. After a few minutes of reducing, pour in your cream, and mix thoroughly. Then finish off by pouring in the parmesan cheese, cooked pancetta, Tony Chachere's (paid link), and chipotle chili pepper (more or less depending on how spicy you want it). Squeeze the juice of half a lemon over the sauce (watch out for seeds!), let it boil for a just a few minutes to thicken, and then turn it down to low. Be sure to taste as you go! Add salt and pepper if you feel you need it.
Putting it all together: Shrimp and Scallop Pasta with White Wine Cream Sauce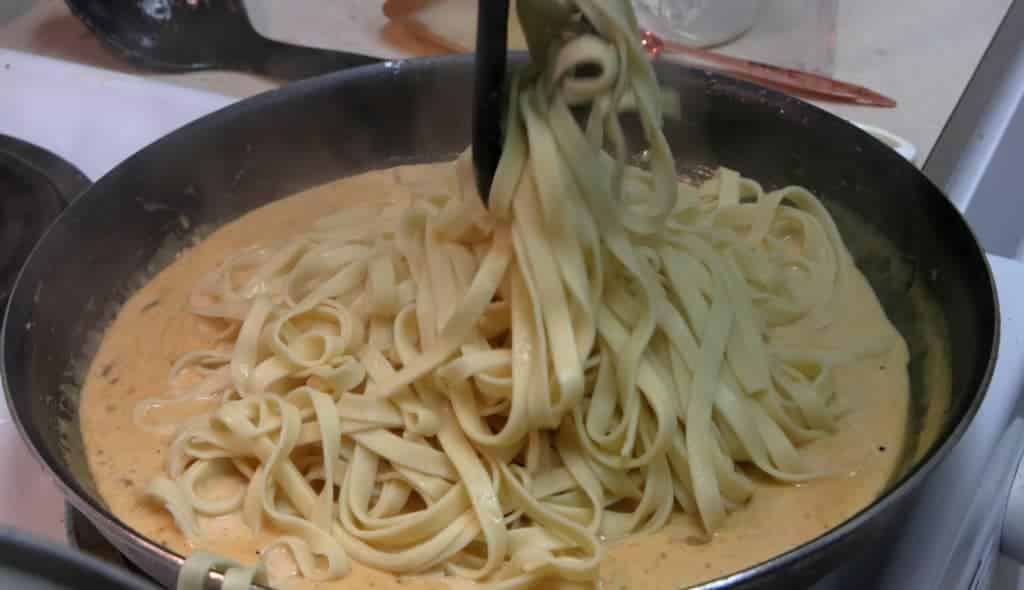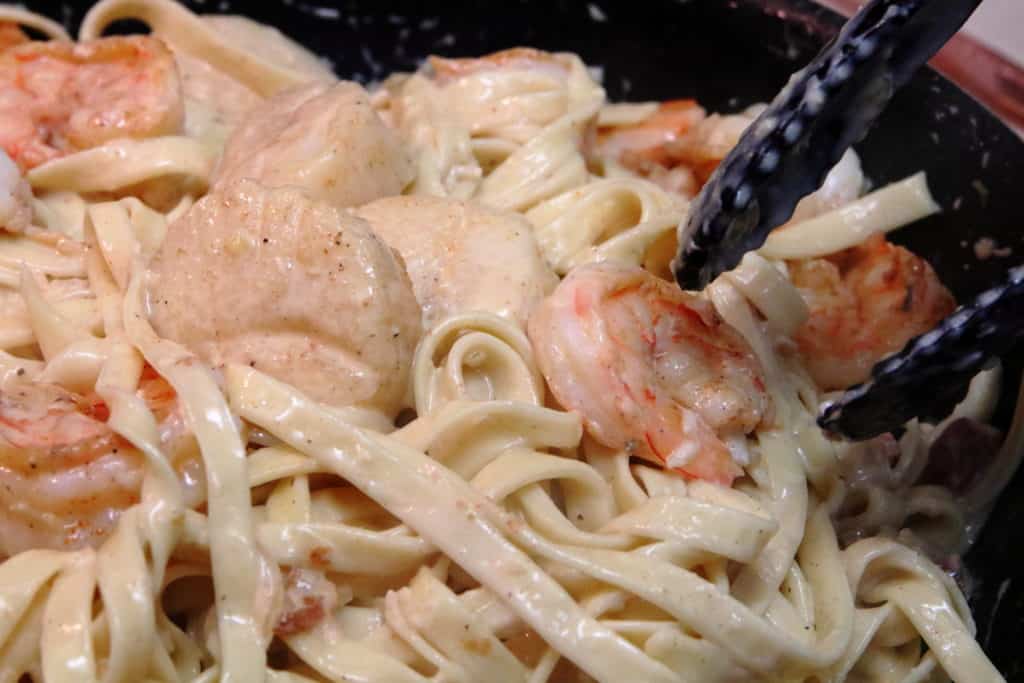 By this time, your water is surely boiling. If you haven't already, add the pasta to the (salted!) water. Follow the package directions as far as how long to cook it. I used fresh pasta so it only took a few minutes. If you leave the sauce on low, it'll be fine while your pasta cooks. It'll just sit and get more delicious!
Drain the pasta, but DO NOT RINSE. If you rinse, it'll wash all that starchy goodness off and then your sauce won't stick to the pasta as well. I rinsed pasta every time I made spaghetti growing up, and when I learned you shouldn't, I felt like my whole life was a lie.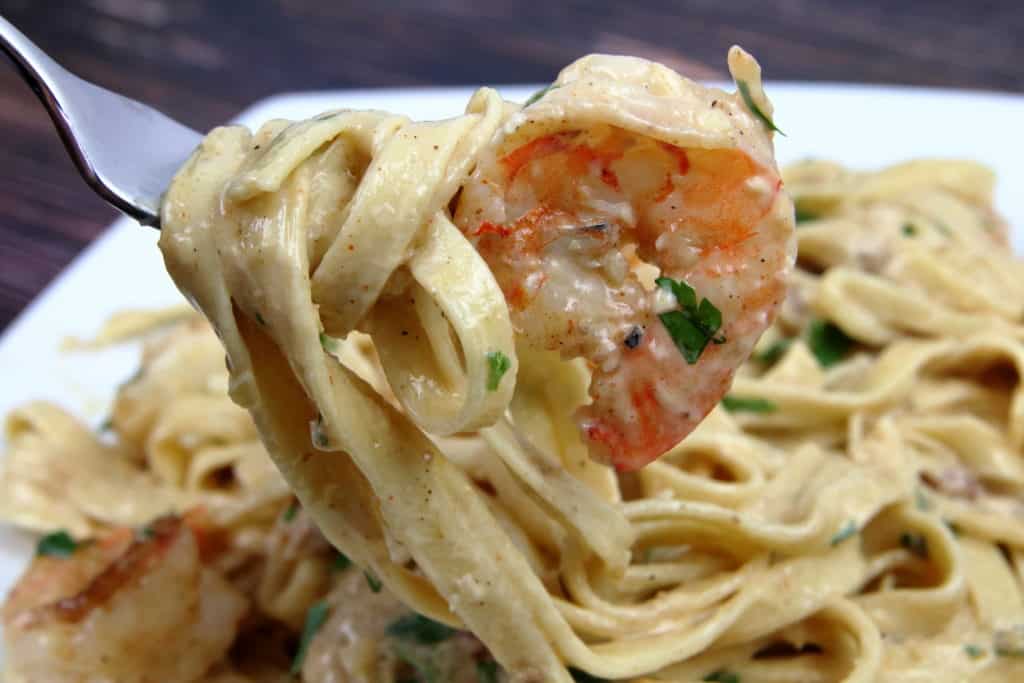 Put the pasta a little at a time straight into the pan of sauce. You don't have to use the whole pot you made, just eyeball it how you like it. I think I used about 16 ounces of pasta, maybe more. You'll be able to tell. Too much and there isn't enough sauce to go around. Too little and it's soupy. Just add a little at a time, tossing as you go, until it looks good to you. Add the seafood, toss, give it another squeeze of lemon, finish off with some parsley, and boom! Finished.
Whew! That was a lot. But there was a lot to talk about. It seems like a lot, but it's really not hard. It's more time consuming than difficult, but MAN is it delicious. It's worth it to get this scrumptious bowl of shrimp and scallop pasta with white wine cream sauce. So go ahead! Indulge!
Enjoy!
Too rich for you? This Vegetarian Spaghetti Squash Pasta Bake is a GREAT lighter option!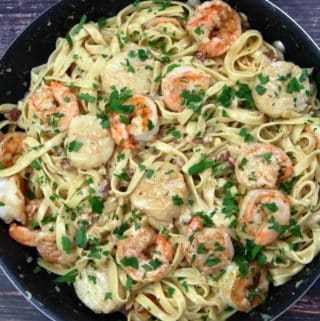 Shrimp and Scallop Pasta in White Wine Cream Sauce
Shrimp and Scallop pasta in a white wine cream sauce with pancetta. Delish!
Print
Pin
Share on Facebook
Rate
Ingredients
16

ounces

Pasta

fettuccine or linguine

1

lb

16/20 sized shrimp, peeled and deveined

(extra jumbo)

.5

lb

Sea Scallops

About 6 pieces

⅓

lb

Pancetta

2

tsp

butter

1

whole shallot

4

cloves

garlic

zest of one lemon

1

cup

white wine

drinkable wine, not "cooking" wine

1.5

cups

heavy cream

⅔

cup

microplaned parmesan cheese

¼

tsp

chipotle chili pepper

½

tsp

Tony Chachere's

Juice of one lemon

Salt and pepper

to taste

fresh parsley

for garnish
Instructions
Peel and devein shrimp if not already done so.

Place shrimp and scallops in a bowl. Sprinkle with Tony Chachere's (just enough to give it some good flavor), salt, and pepper. Set aside.

Prep all the rest of your ingredients: Get a large pot of water started for boiling pasta, microplane the parmesan, finely dice the shallot, and microplane the garlic (mince if you prefer), zest the lemon, chop the pancetta into small cubes.

On medium high heat, cook the pancetta until golden brown and crispy. It will render a lot of fat. When the pancetta is finished, removed meat and set aside. Remove all but one tablespoon of the rendered pancetta fat. Set the remaining aside.

Place scallops in the same pan with the heated pancetta oil. Sear scallops, about 3 minutes per side, or until cooked all the way through- depending on the side of the scallops. Set aside and cover.

Add another tablespoon of the pancetta oil. Place the shrimp in the hot oil and cook for about 1-2 minutes per side, or until white and opaque throughout. Remove from pan and set aside with the scallops and cover.

If you have any pancetta oil left (I did, there was a lot), place it back in the pan and heat, along with the two tablespoons of butter. Add the shallot and garlic to the hot pan and sauté until translucent, about 3-4 minutes. Add the lemon zest and stir around.

Pour in the white wine into the pan to deglaze, and scrape up all the brown bits into the sauce.

Bring the wine to a boil and let it reduce for about 3-4 minutes. Pour in cream and mix well. Stir in parmesan cheese, cooked pancetta, chipotle chili pepper, and Tony Chachere's. Squeeze the juice of half a lemon into the sauce. Let boil for about 3-5 minutes, or until slightly thickened. Reduce heat to low.

When water is boiling, add pasta to water and cook according to package directions. (For this, I used fresh fettuccine, so it only took about 3-4 minutes.)

When pasta is finished, drained well (do not rinse!) and add the pasta straight into the pan with sauce. Toss well. Add shrimp and scallops. Squeeze the juice of the other half of the lemon over the top. Sprinkle fresh topped parsley over the pan.

And thats it! Top with more parmesan if desired or crushed red pepper for some more spice.