This Vegetarian Spaghetti Squash Pasta Bake is an easy and delicious low carb, vegetarian meal. Made with meatless ground, tomato sauce and melted cheese, it is a great alternative to your traditional pasta bake with regular pasta and meat sauce!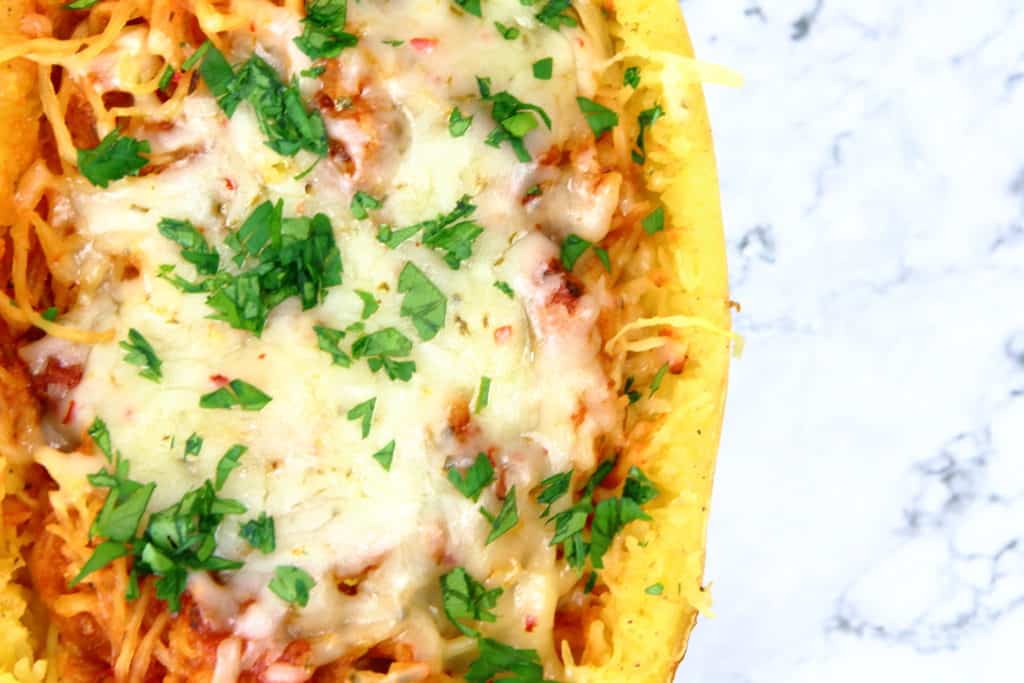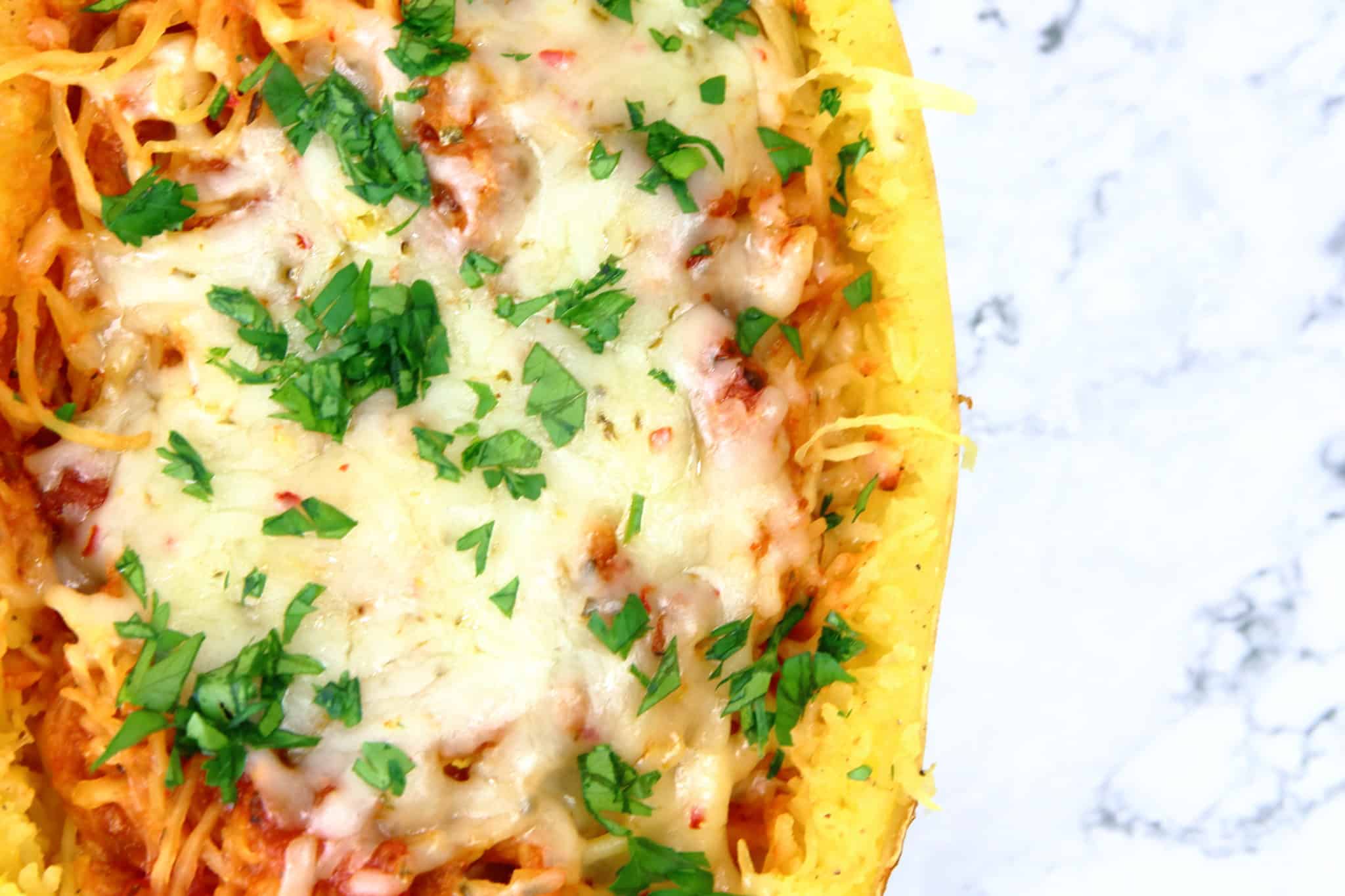 No matter how much I try to eat healthy, I just can't stay away from pasta. It's one of my weaknesses. But honestly, this Vegetarian Spaghetti Squash Pasta Bake really does hit the spot if you are trying to cut the carbs but really need some cheesy pasta goodness. And Spaghetti Squash is a lovely fall/winter vegetable so it should be really easy to find right now! Another bonus is that it is vegetarian. This recipe is made with a meatless ground that will fool you into thinking you are eating a meaty tomato sauce. It's a great, mostly guilt free, imposter meal! But fear not. If you just CAN'T do the meatless ground (but really, try it), it will be delicious and still low carb with actual ground beef.
Assembling the ingredients for your pasta Bake
It took me a while to get on board with dressing up a spaghetti squash. I've also just enjoyed it baked and seasoned as a mostly plain side dish. But I bought a ready-to-go meal once at the grocery store and it was delicious. So I'm a believer.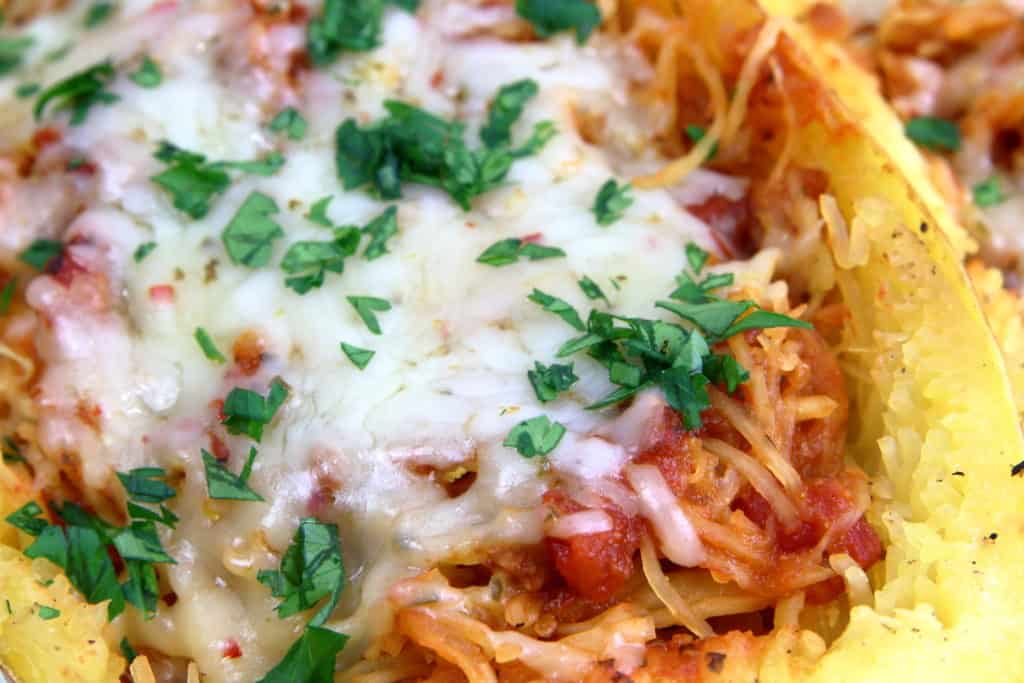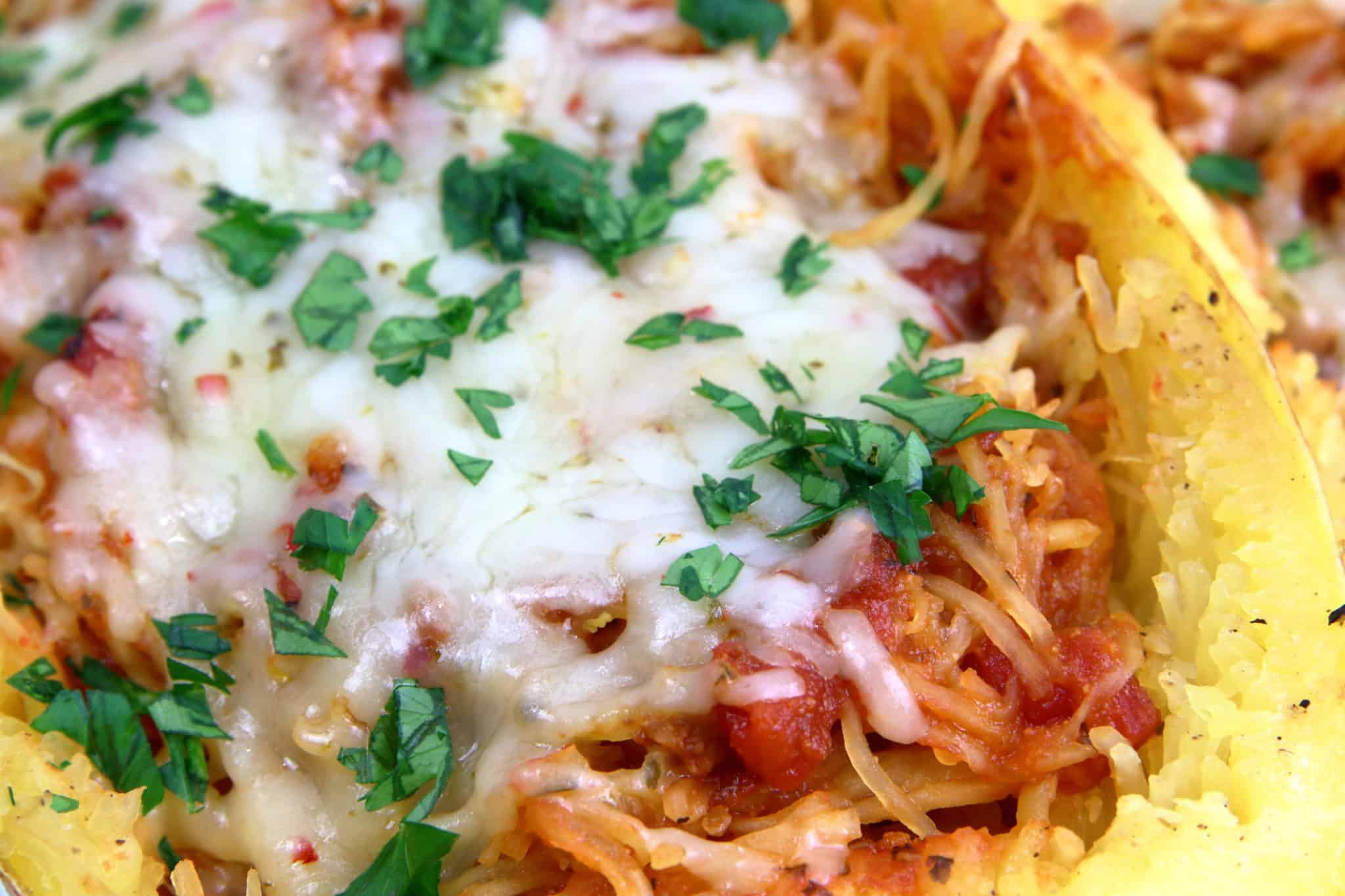 One great thing about spaghetti squash pasta is that the flavor is pretty mild, so it will taste great with whatever you add to it. There are TONS of ways to dress it up. For this one, I did a pretty traditional spaghetti type dish with a few modifications.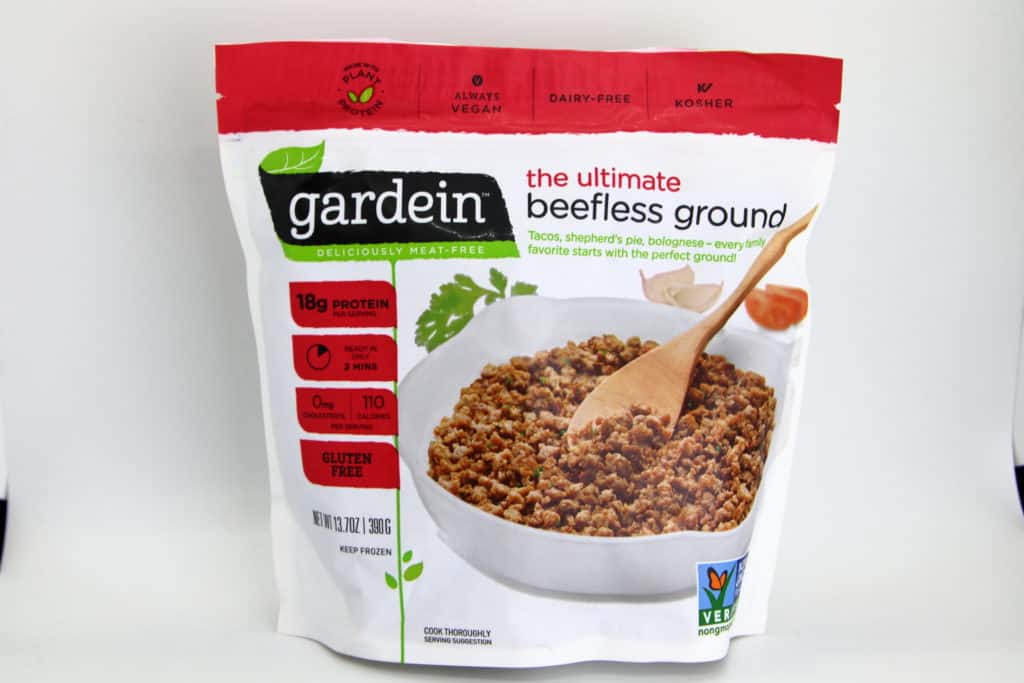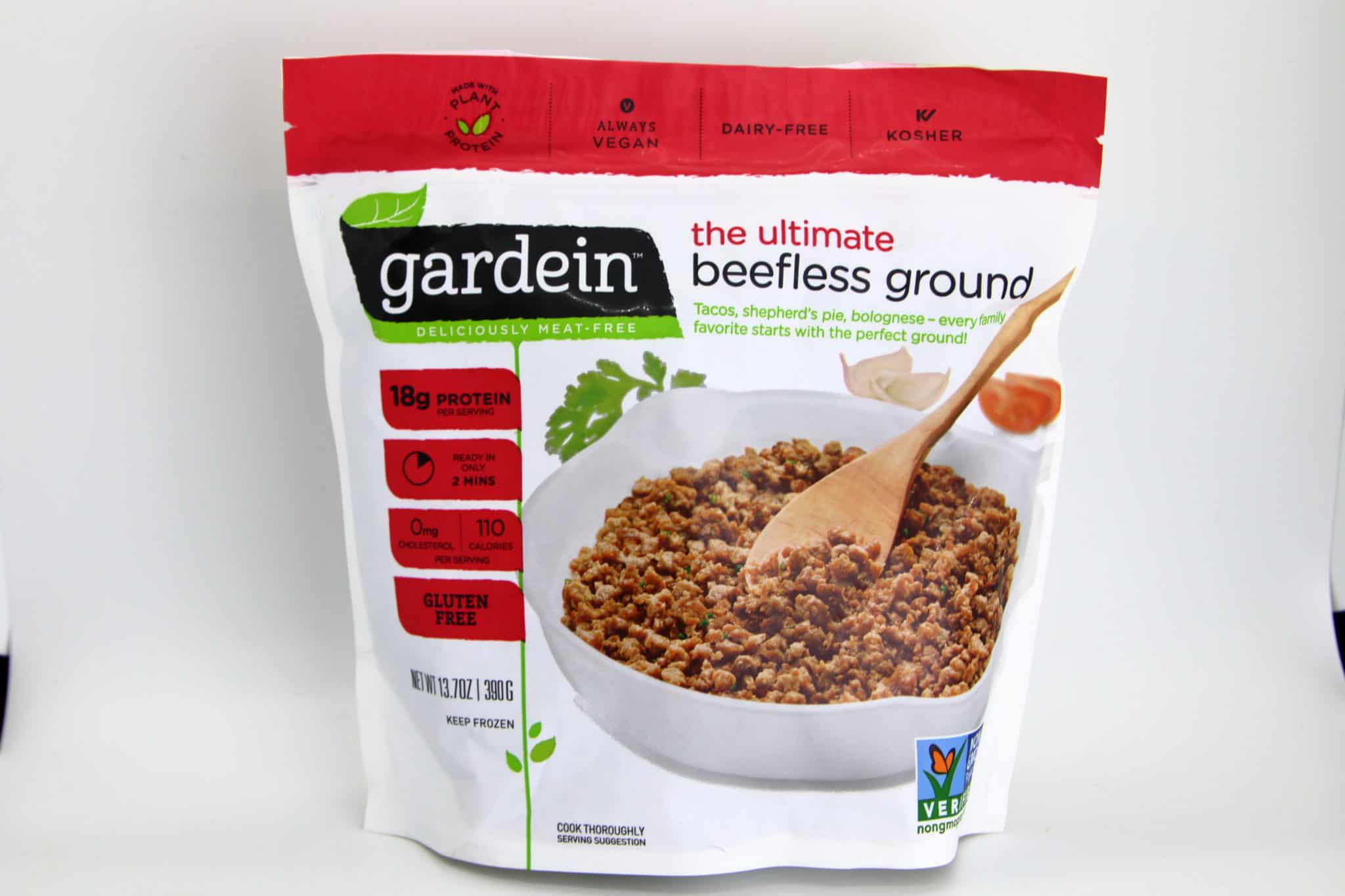 It is completely vegetarian (not vegan, as I added cheese, but you can use vegan cheese if you want to make it vegan). I used Gardein Beefless Ground and my favorite recipe for Easy Tomato Sauce for Cheaters.
About the beefless ground: I'll be honest. I do not enjoy the taste alone. Even after it is seasoned and heated, I don't like it. BUT. When you use it as an ingredient such as this, in the tomato sauce, you lose that weirdness and it's really good. It's a great imposter meat for this imposter pasta. Most people wouldn't even be able to tell. My carnivore husband who sneers at anything meat imposter really liked it.
Baking your Spaghetti Squash
Preparing the actual spaghetti squash portion is pretty easy. You just have to do a few prep steps:
Cut the stem off. Just the stem. Don't go far enough to get to where the guts are.
Cut in half lengthwise.
Coat with a little olive oil, salt, and pepper.
Bake face down for about 30-40 minutes.
Remove from oven and scrape out the noodles with a fork. Start on the long sides and go in to the middle with the grain of the noodle. They'll break less.
Just make sure that you don't bake it for TOO long, otherwise, you won't get noodles. You'll get mush. Spaghetti squash pasta should have a little bite to it. You should be able to poke through the shell with a knife easily, similar to how you would a baked potato. I have a more in depth oven baked spaghetti squash recipe here.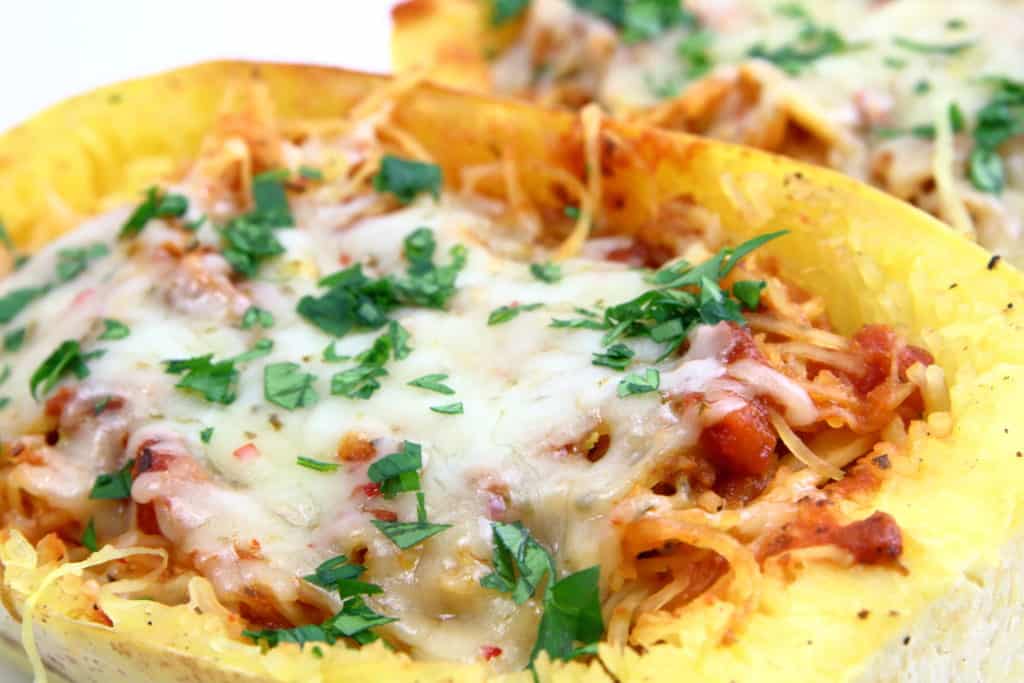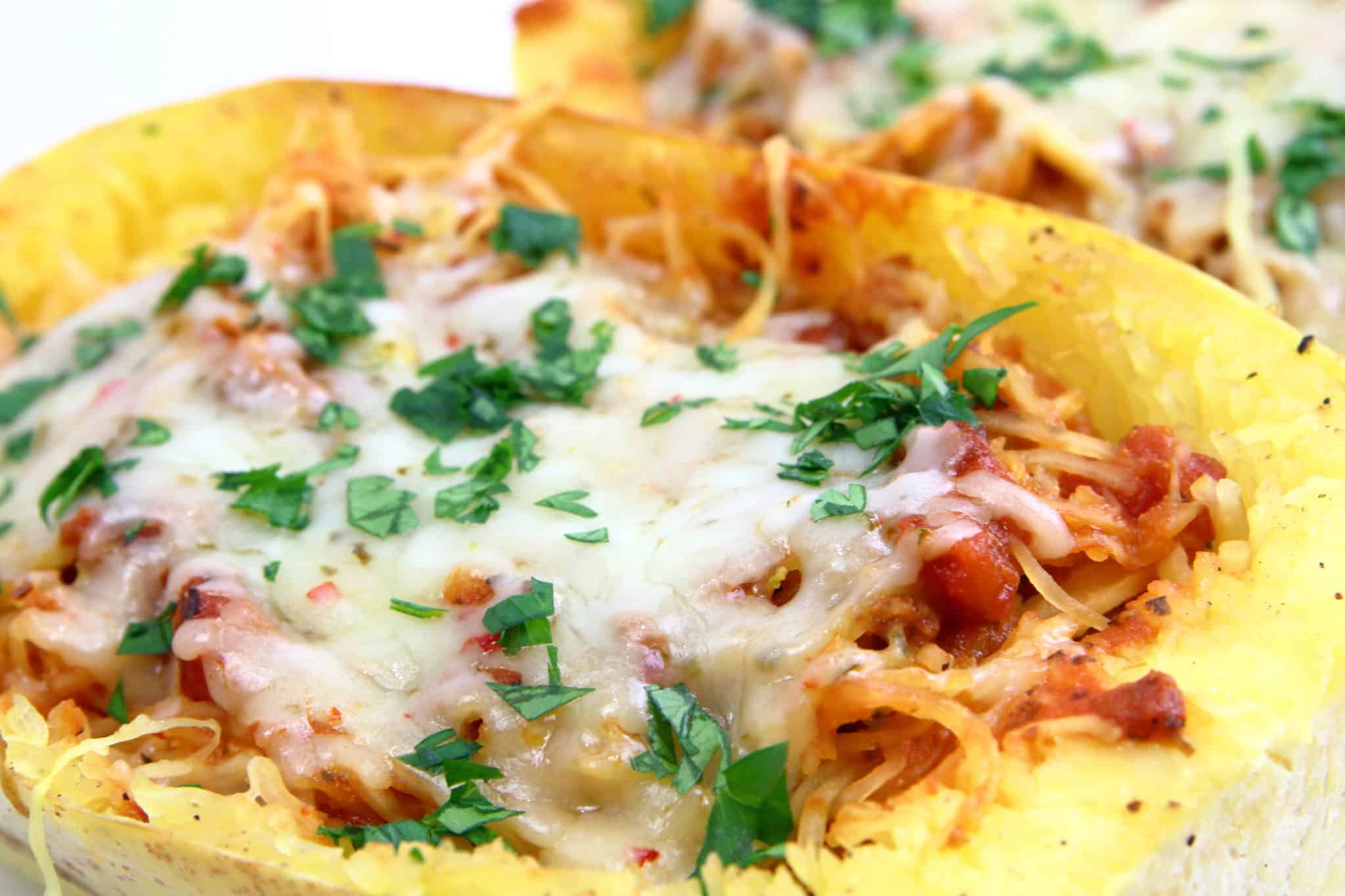 When you have scraped out the spaghetti squash pasta noodles from the center, leave them in there and you can use the shell as a baking and serving vessel. So fewer dishes, bonus!
Spoon the tomato sauce and "meat" mixture into the pasta bowl. Then stir around and coat well. Use as much or as little as you like. I like a good, saucy pasta. When you have the sauce desired, sprinkle with shredded cheese and return to oven to bake until the cheese is melted.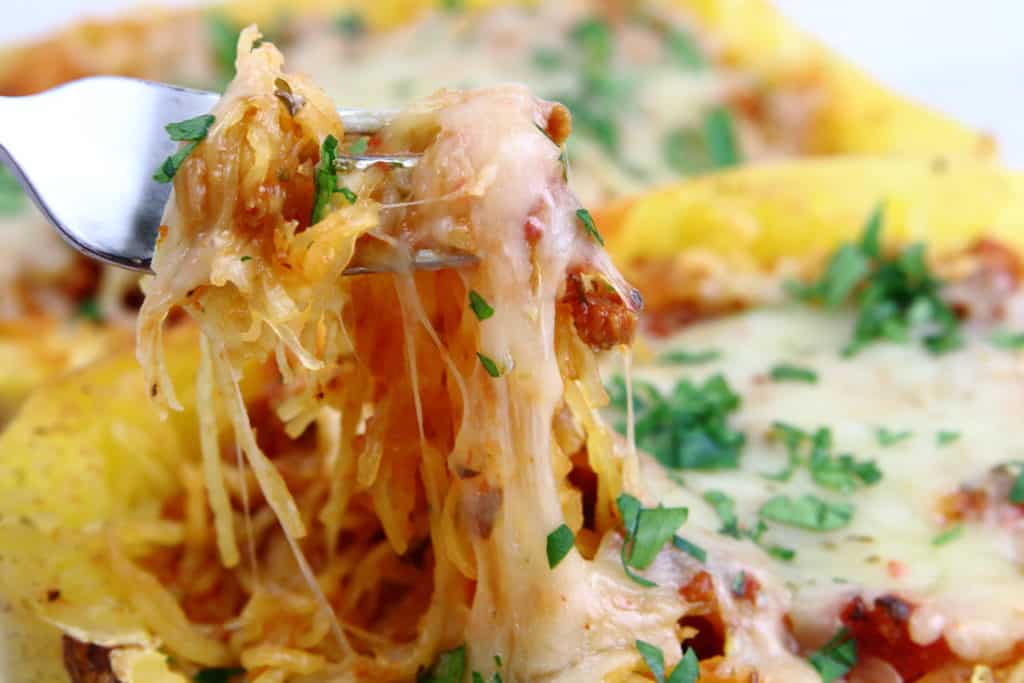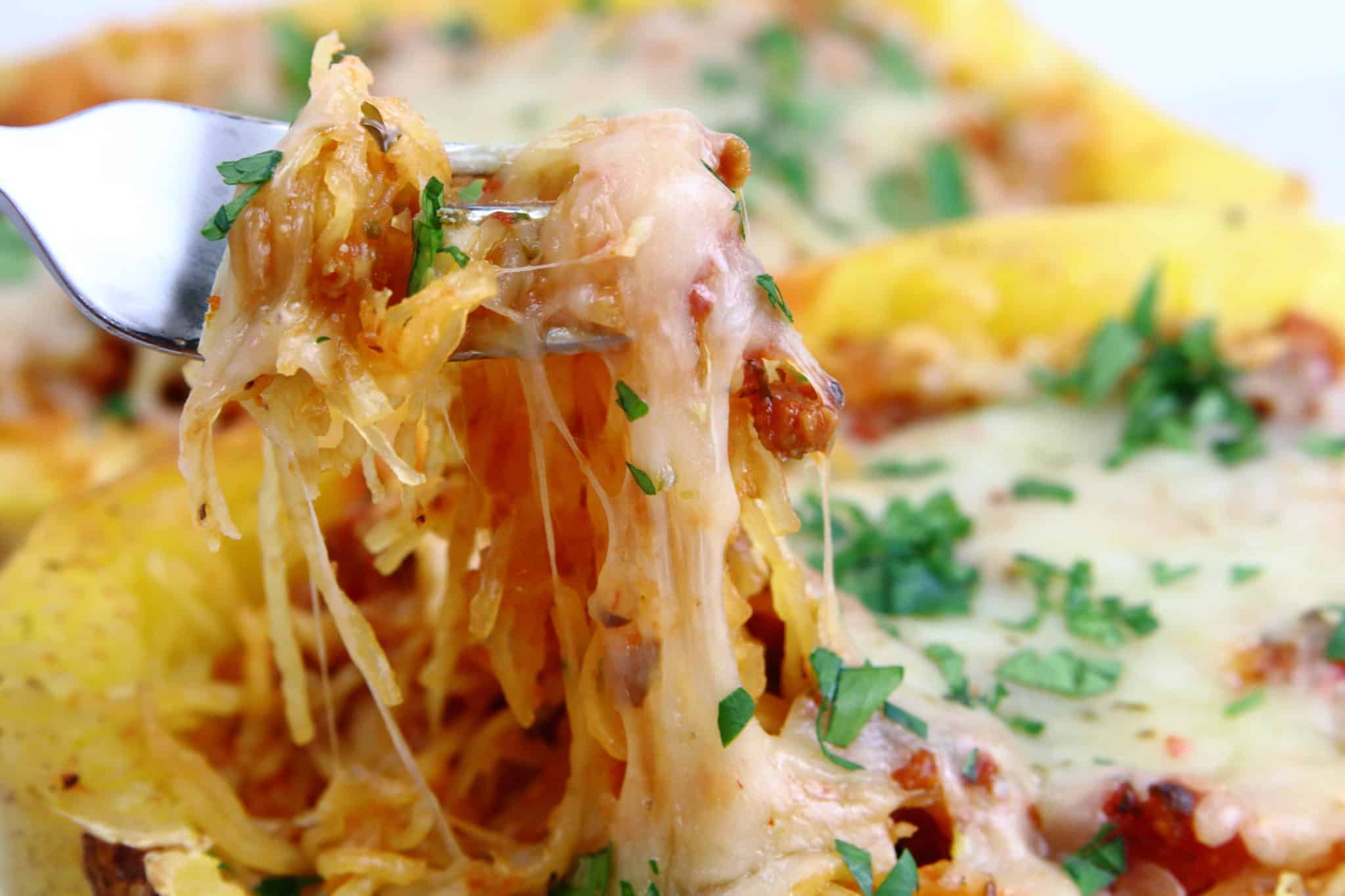 What kind of cheese should I use?
In my opinion, mozzarella is the best topper for this spaghetti squash pasta. But you can really use whatever you want here. Also, topping it with some extra crushed red pepper or parmesan cheese would also be DELICIOUS! Make you sure use fresh, block, parmesan. It really does taste best. All you need is a microplaner! These things are GREAT for hard cheese, citrus zest, fresh nutmeg, garlic, etc. I can't live without mine.
As an Amazon Affiliate, I earn a small commission at no extra cost to you.
And that's pretty much it! A healthy, low carb, vegetarian spaghetti squash pasta bake that any pasta lover (me) or carnivore (my husband) will love!
Enjoy!
Need some "real" pasta? Check out: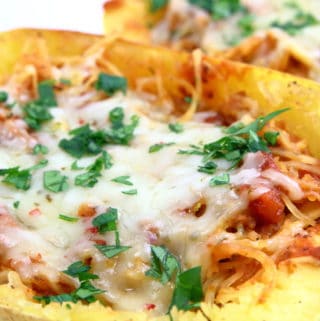 Vegetarian Spaghetti Squash Pasta Bake
This cheesy Vegetarian Spaghetti Squash Pasta Bake with meatless ground, melted cheese, and tomato sauce is a healthy low carb alternative to a traditional pasta bake.
Print
Pin
Share on Facebook
Rate
Ingredients
1

spaghetti squash

salt & pepper

1

tbsp

olive oil

2

cup

tomato sauce

½

cup

shredded mozzarella cheese

1 ½

cup

meatless ground

or ground beef if you prefer actual meat

½

tsp

garlic powder

½

tsp

onion powder

½

tsp

italian seasoning

Fresh Parsley

for garnish
Instructions
Cut the stem off the Spaghetti Squash. Just the edge. You do not want to cut into the cuts because you want to retain the bowl shape. Then cut in half lengthwise. Remove seeds and guts.

Drizzle olive oil across the the inside of both halve. Sprinkle with salt and pepper.

Place inside down on a baking sheet. Bake for about 30-40 minutes, or just until you can poke it fairly easily with a knife. Do not overbake.

While the spaghetti squash is baking, prepare the tomato sauce. Use any kind you like. (I use prego seasoned with garlic, onion, italian seasoning, red pepper, and sugar). Keep warm on the stove.

In a small saute pan, combine meatless ground, garlic powder, onion powder, and italian seasoning with about ¼ cup water. Heat over medium heat until hot and al ingredients are combined. When meat is hot, add to tomato sauce. Keep warm.

When spaghetti squash is baked, remove from oven. Using a fork, scrape the "noodles" off of the shells. You can leave them in the squash bowl. Just make sure you have scraped them all from the side.

Add sauce and meat mixture to each squash pasta bowl. Mix until noodles are coated. Use as much as desired.

Sprinkle mozzarella cheese on top. Return to oven, and bake until melted (about 5-10 minutes).

Remove from oven, garnish with parsley, serve, and enjoy!