This Mushroom Cream Sauce is a flavorful, creamy pasta sauce with white wine, tender sauteed chicken, and wilted spinach tossed in bow tie pasta spiced up with a little cayenne pepper. Super easy, creamy, and delicious!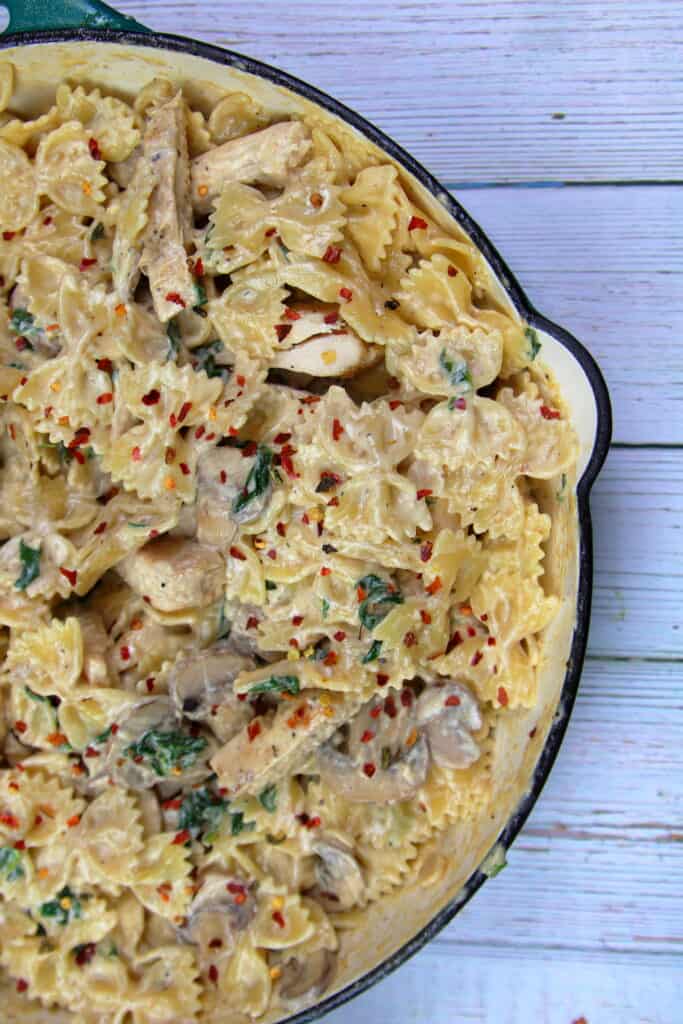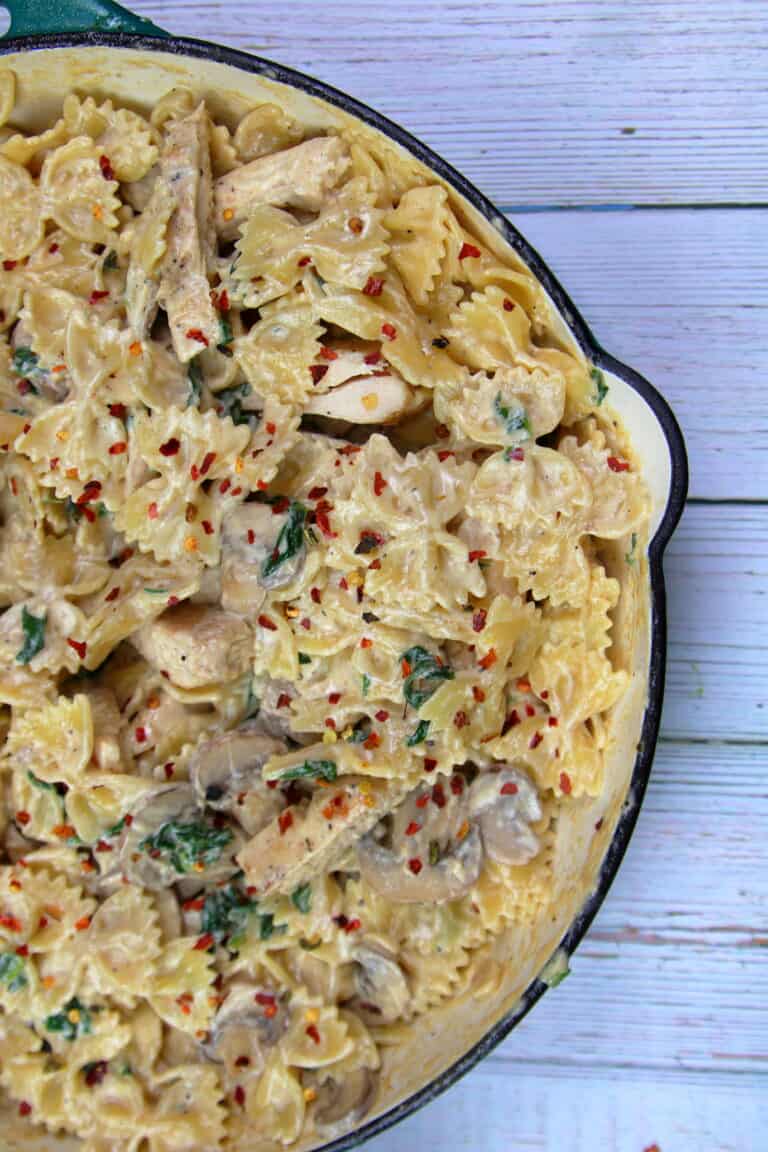 One of the things I love best about pasta (other than it's just insanely delicious in general), is how easy it is to whip up a big ole pot of it. On top of that, using similar base ingredients with a few tweaks, you can really change the flavor profile and have a whole new dish. Between this Bowtie Pasta with Mushroom Cream Sauce, my Cajun Chicken Pasta, and Shrimp and Scallop Pasta in White Wine Cream Sauce, there are several similarities between the processes and ingredients, with a few changes, a whole new dish is created!
What do I need for this Mushroom Cream Sauce?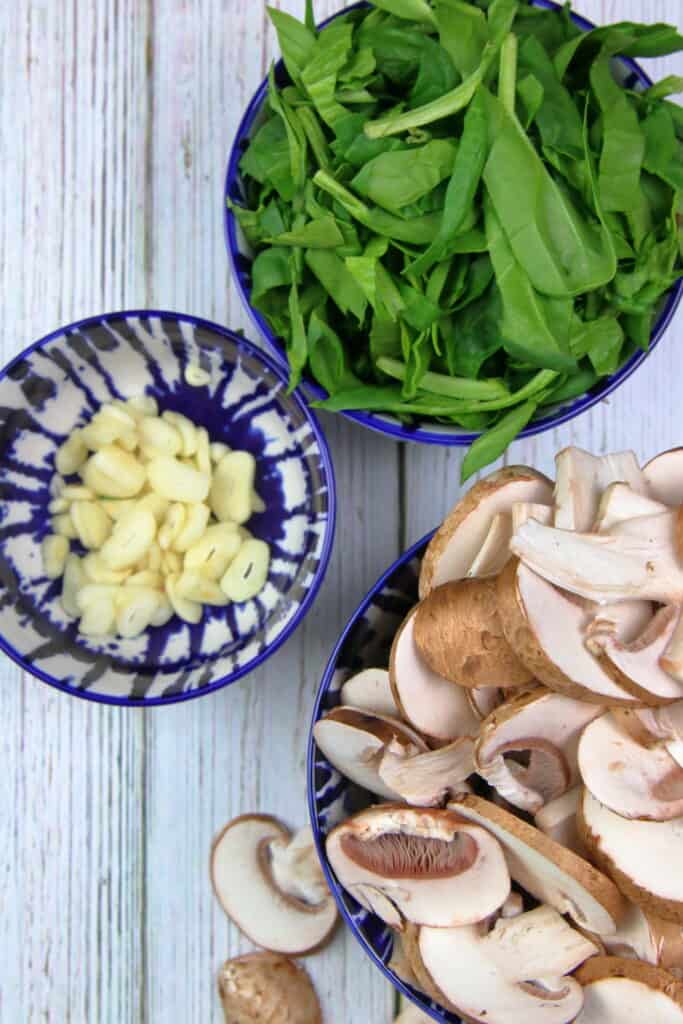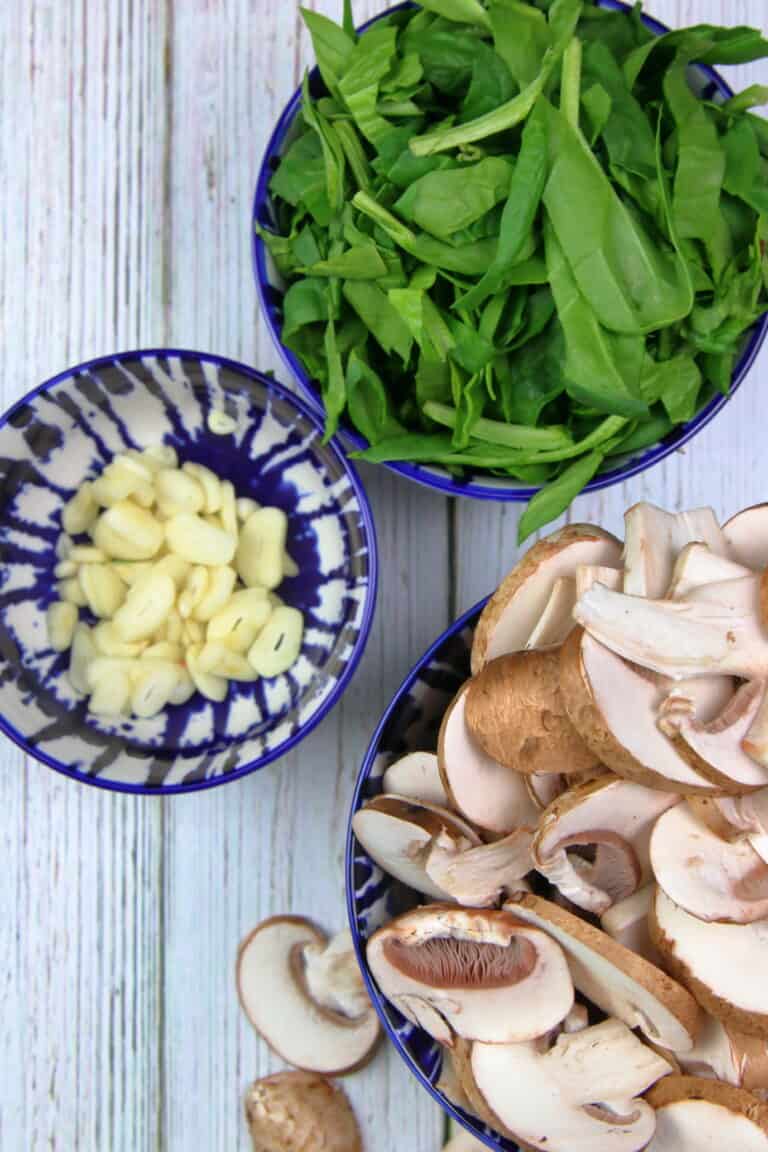 This is a great pasta sauce recipe because outside of the normal oil/butter/garlic/spice, there really aren't too many ingredients. In addition to those things, you will need:
1 lb bowtie pasta
1 lb chicken breasts
¾ cup white wine
10 ounces sliced mushrooms
2 cups heavy cream
½ cup fresh shredded parmesan
1 ½ cups chopped spinach
2-3 tsp cayenne pepper
How to prepare the chicken?
I'm going to show you how I prepare almost ANY chicken breasts I make for anything. I've mentioned this in other chicken dishes I've done. Because chicken breasts are usually sho uneven in shape and thickness, I always find it beneficial to use a meat tenderizer (paid link) and hammer it out to a uniformed thickness.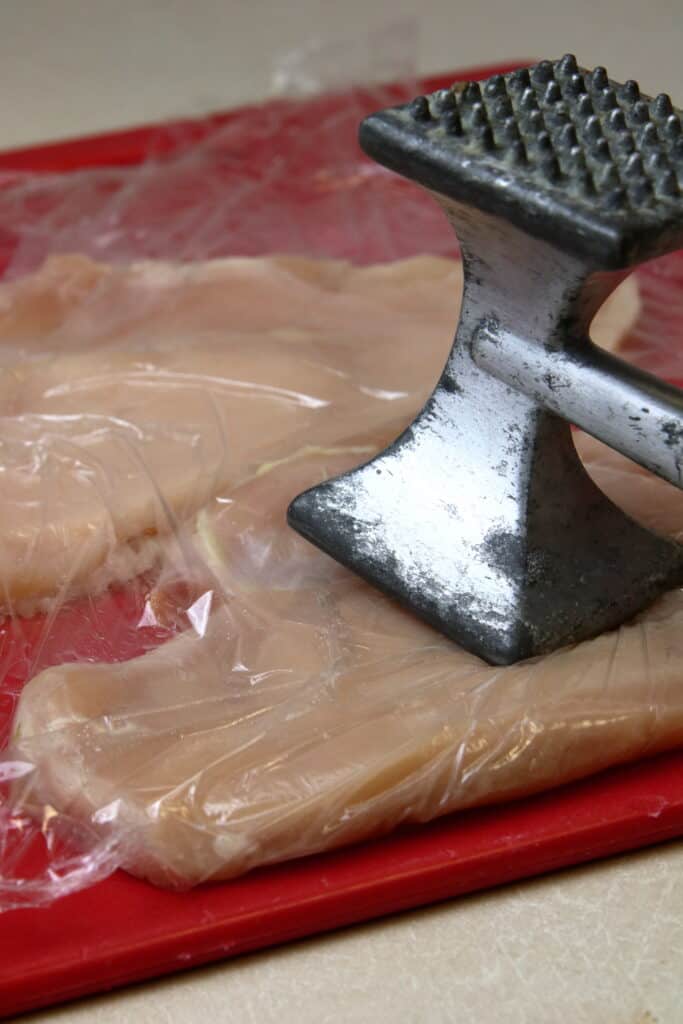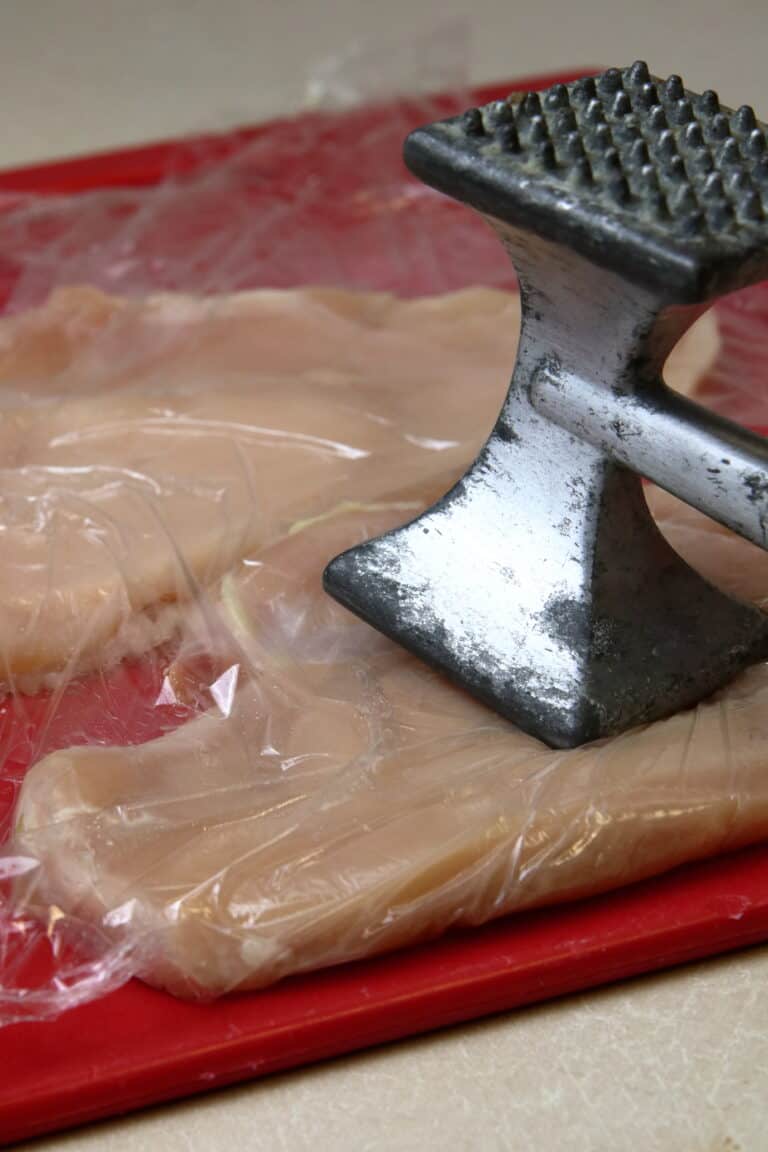 All you need to do is put your chicken between two piece of plastic wrap and hammer it out until it is thin all around. This chicken will be so tender and juicy, plus it cooks evenly because it's all the same thickness. You won't have any dry overcooked tips.
After you've sprinkled your chicken with some salt and pepper, saute your chicken over medium heat with a little olive oil. I use a large enamel cast iron so everything will fit.
Don't worry about anything that sticks to the pan. We'll get to that.
After the chicken is done, set it aside and cover in foil to preserve some heat.
Making your mushroom cream sauce
Now it's time to work on the main attraction.. the mushroom cream sauce!
In the same pan you cooked with chicken, melt in some butter. Saute the sliced garlic until it's soft and your kitchen smells delicious- about 2-3 minutes.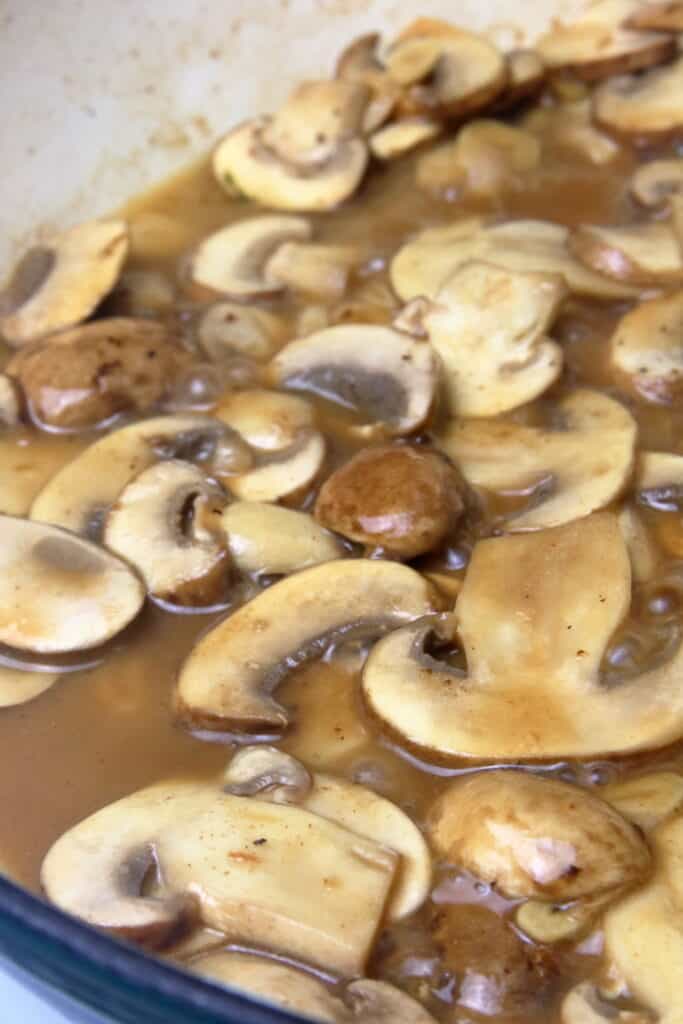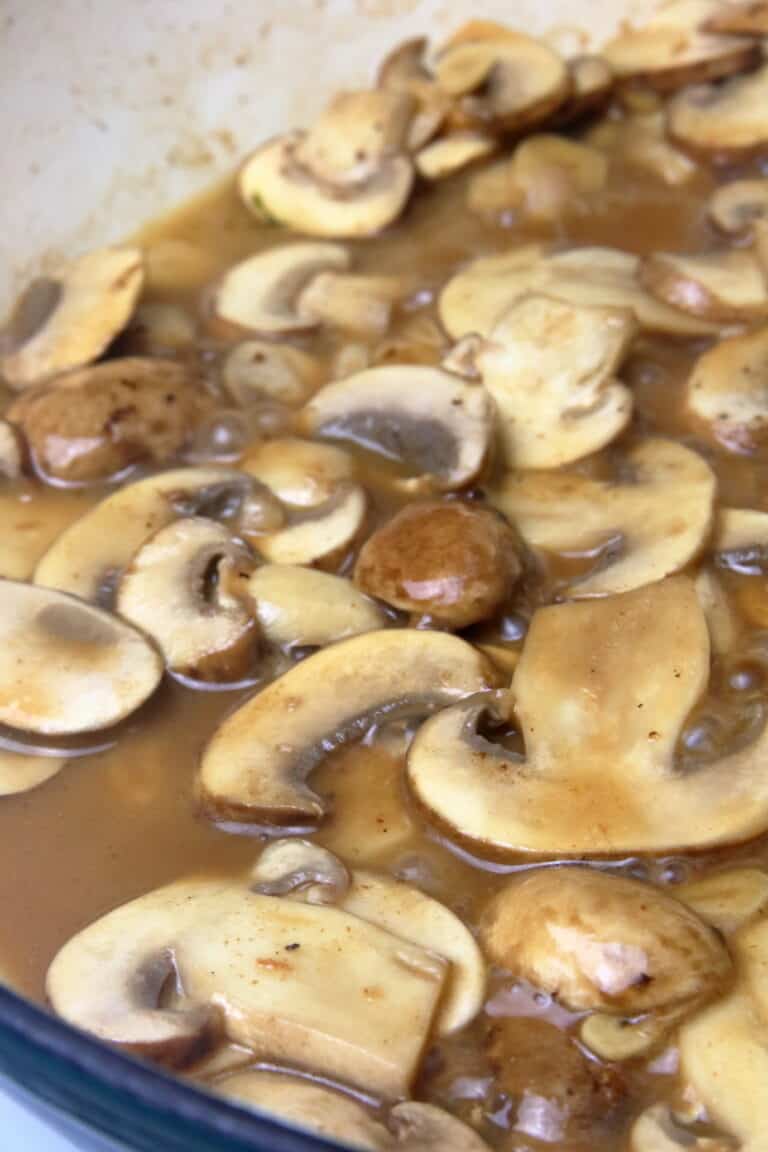 Next you want to deglaze the pan with white wine.
What does it mean to deglaze a pan?
You hear this term all the time, but you may not know exactly what it means.

Basically, to deglaze a pan means to get up all those stuck on brown bits of food from the bottom of the pan. In this case, between the sautéing the chicken and then cooking the garlic right after it, you are bound to have some stuck on food. While the pan is still hot, pouring some kind of liquid (broth, water, wine), will cause those stuck on bits to release and mix into your liquid creating a really delicious base for whatever you are making next.
Finishing your Mushroom Cream Sauce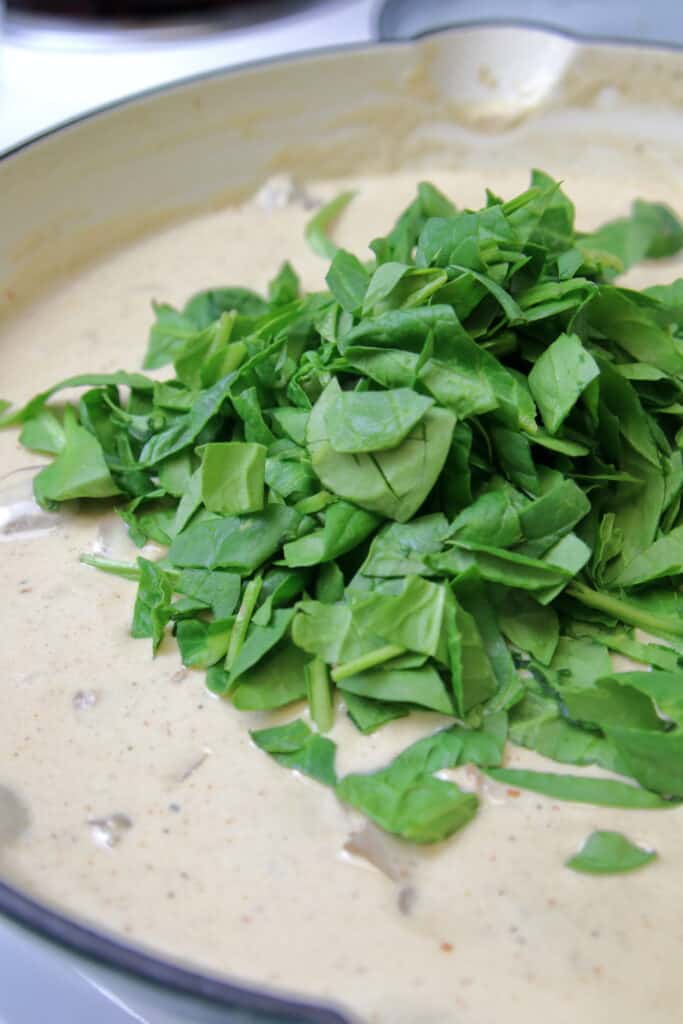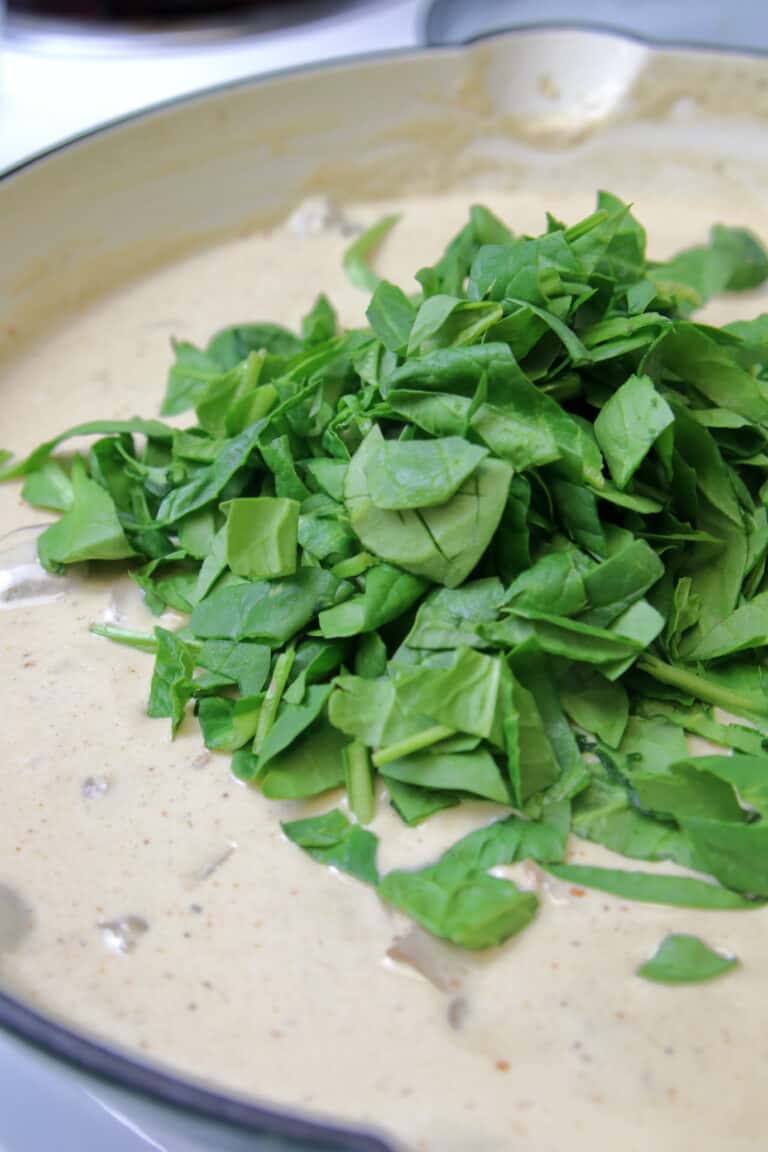 So we've deglazed. Now it's time to add it all together. When you have added the wine to the pan and scraped all the stuck on goodness, add your sliced mushrooms. Let them simmer in the white until it reduces by about half.

When your mushrooms have softened and sopped up some of that garlicky wine tastiness, pour in the heavy cream and whisk around. Add your cayenne pepper.

Note about the cayenne: This really isn't enough Cayenne to make it spicy spicy, just enough to give it some flavor and flair.
Melt in your parmesan cheese and finally, the chopped spinach.
Cook over medium/low heat until spinach is wilted and sauce has thickened.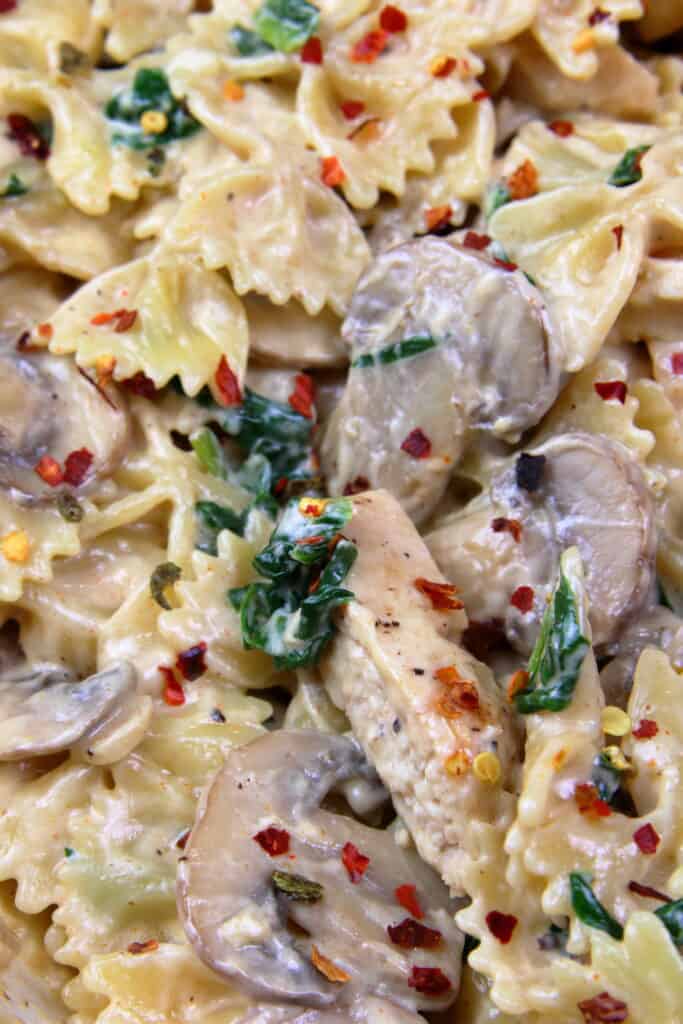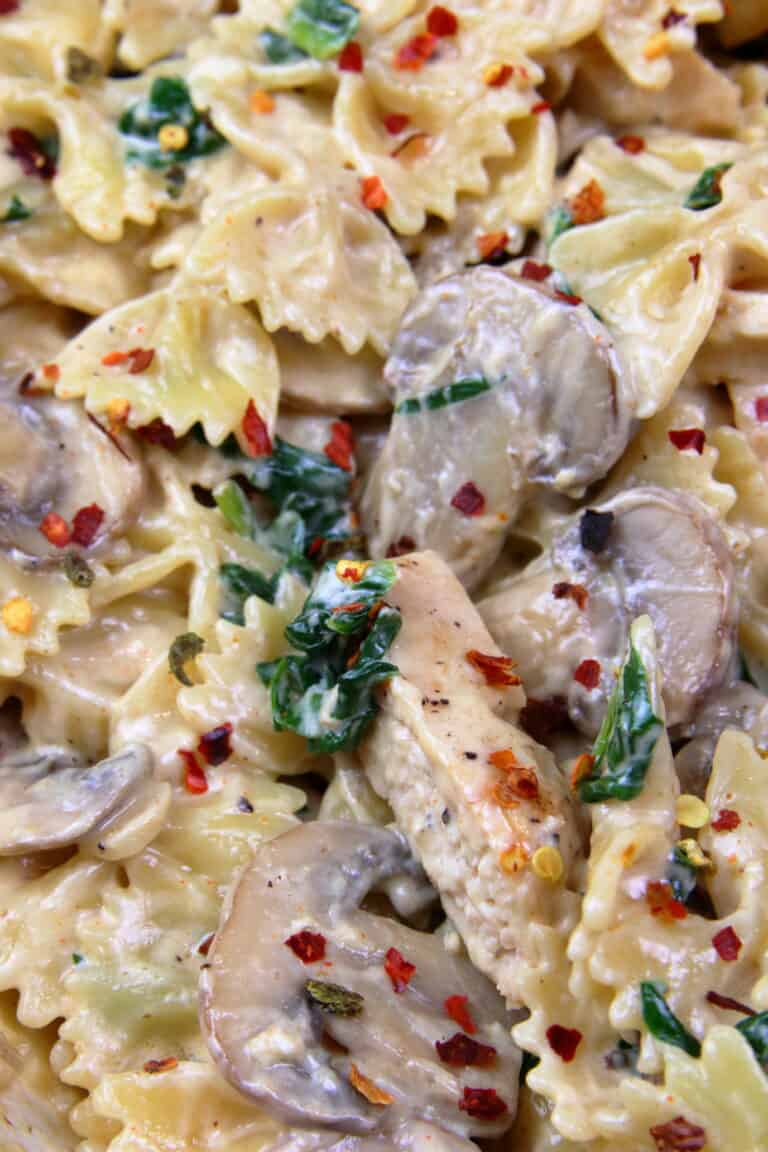 Finishing up your bowtie pasta recipe
Before you add in your chicken and pasta, make sure you taste your sauce! Always always always taste as you go! If it isn't spicy enough, add some more cayenne! And don't forget the salt and pepper.
Too spicy? Cool it off with a little cream, milk, pasta water, or butter depending on how much tempering it needs.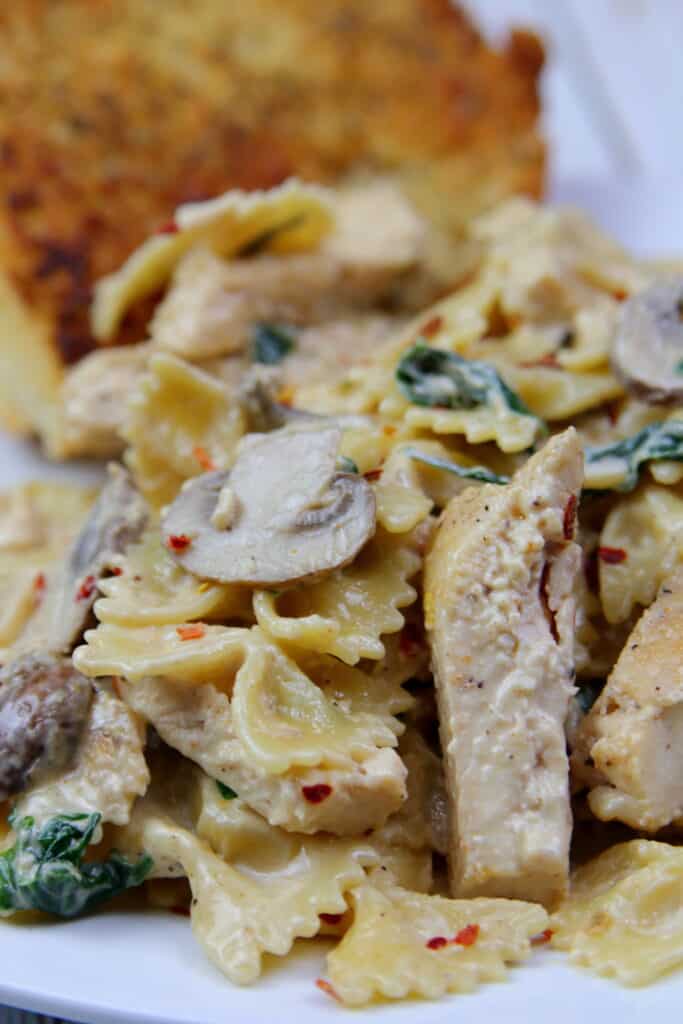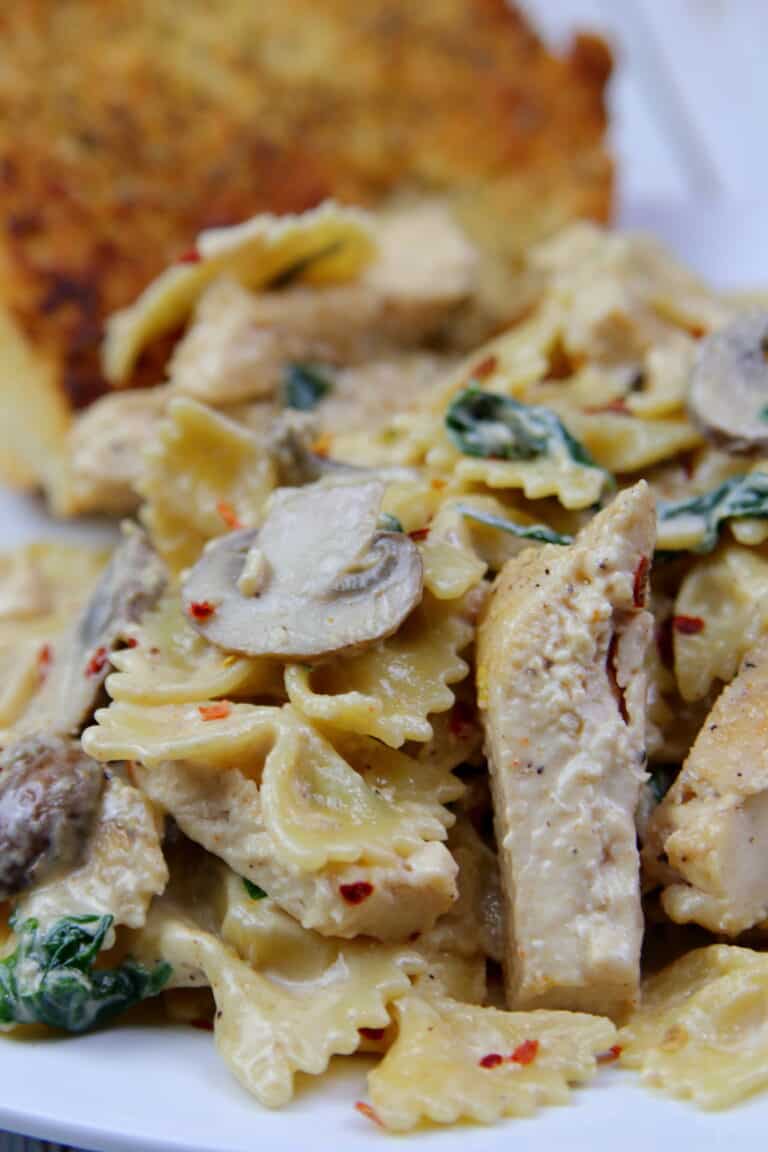 Once the sauce is how you like it, now you can pour in your sliced chicken and cooked bowtie pasta and mix it all up.
Be careful when adding the pasta. I ended up using the whole bag, but you don't want to add TOO much because then you won't have enough pasta to go around. It all depends on how 'saucy' you like things.
Need an added kick to your mushroom cream sauce?
I like food spicy. Like, SPICY. So I added some red pepper flakes to the top of mine.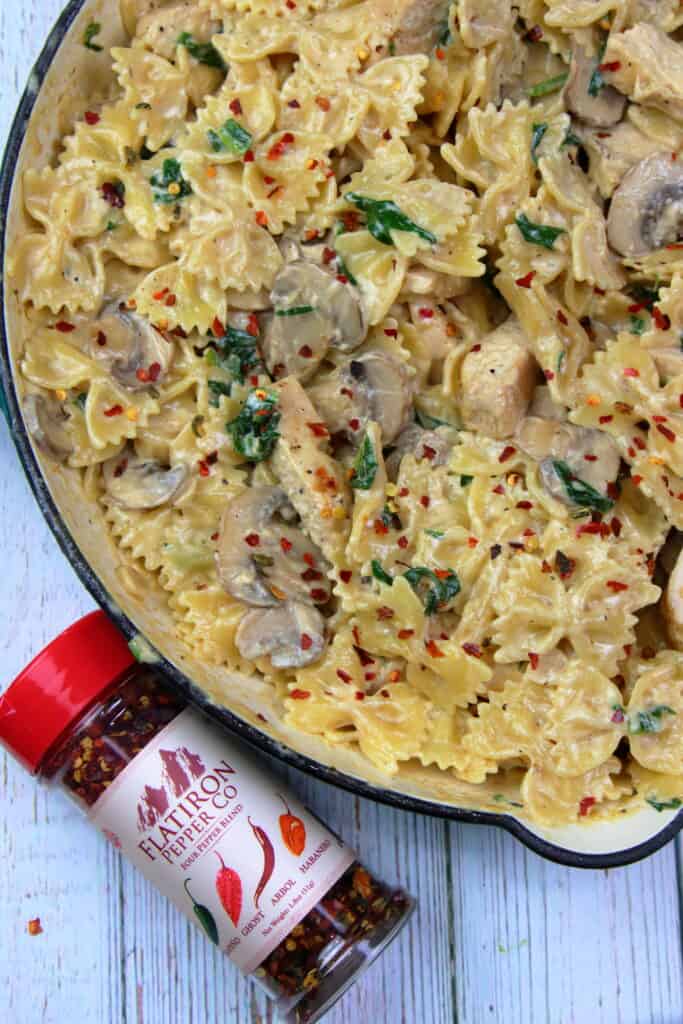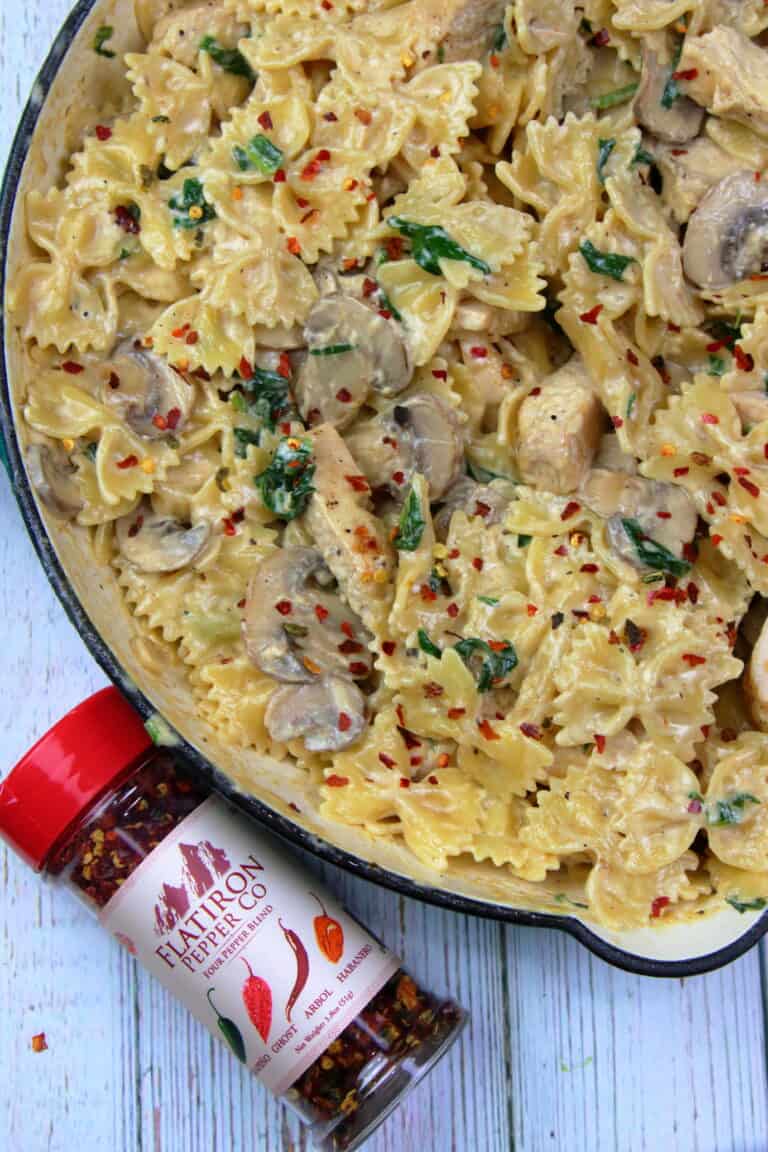 Optional of course, but it did give me that hit of heat that I needed. You can get whatever kid of pepper flakes you like, but these red pepper flakes from Flatiron Pepper Co. are great! And they have all different kinds and blends.
We have them all. We love them all.
Not sponsored, just good stuff.
That's pretty much it! As always, feel free to ask me anything in the comment section! I love hearing from people!
Grab a big piece of delicious, buttery garlic bread and enjoy!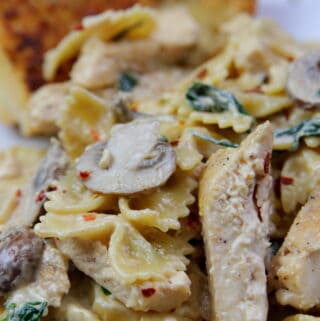 Bow Tie Pasta with Mushroom Cream Sauce and Chicken
This Mushroom Cream Sauce is a flavorful, creamy sauce with white wine, tender sauteed chicken, and wilted spinach tossed in bow tie pasta spiced up with a little cayenne pepper.
Print
Pin
Share on Facebook
Rate
Ingredients
1

lb

bowtie pasta

2

tbsp

olive oil

1

lb

chicken breasts

2

tbsp

butter

2

tbsp

sliced garlic

¾

cup

white wine

10

ounces

sliced mushrooms

2

cups

heavy cream

½

cup

fresh shredded parmesan

1 ½

cups

chopped spinach

2-3

tsp

cayenne pepper

salt and pepper

Red pepper flakes, if desired.
Instructions
In a large pot, boil dried bowtie pasta according to package directions. This can be done while the other ingredients are being worked on.

Place chicken breasts between two pieces of plastic wrap. Hammer flat with the flat side of meat tenderizer until chicken is one uniformed thickness, about ½ inch. Sprinkle with a little salt and pepper.

Heat oil in large saute pan over medium heat. I used a large enamel cast iron. Cook chicken for about 5-6 minutes per side, or until chicken is done all the way through. Remove from pan, cover, and set aside.

In the same pan, melt butter. Saute sliced garlic for about 2 minutes.

Add white wine and deglaze the pan. Let simmer for a few moments while you scrape up any bits stuck to the pan and mix the contents.

Add sliced mushrooms. Reduce heat and let simmer in the sauce for about 8 minutes or until the wine reduces down by at least half. Add heavy cream and cayenne pepper. Bring to low boil, stirring frequently with a whisk. Simmer for about 5 minutes, or until sauce is thickened. Mix in parmesan. Add chopped spinach and continue cooking for about 5 minutes, or until spinach is wilted.

Monitor sauce by tasting frequently. Add salt, pepper, and cayenne as your tastes prefer.

Chop chicken into little strips about 1 inch long, ½ in wide, or whatever size you prefer.

Toss cooked bowtie pasta into sauce. Coat well. Add chicken.

Top with red pepper flakes if preferred. Serve with a side of garlic bread and enjoy!
Nutrition
Calories:
1140
kcal
|
Carbohydrates:
95
g
|
Protein:
49
g
|
Fat:
60
g
|
Saturated Fat:
32
g
|
Cholesterol:
245
mg
|
Sodium:
407
mg
|
Potassium:
1140
mg
|
Fiber:
5
g
|
Sugar:
6
g
|
Vitamin A:
3352
IU
|
Vitamin C:
9
mg
|
Calcium:
286
mg
|
Iron:
3
mg