This Cheese Stuffed Manicotti Florentine is stuffed with ricotta, mozzarella, and sauteed spinach, topped with tomato sauce and fresh mozzarella. A rich, flavorful, and indulgent vegetarian pasta dish!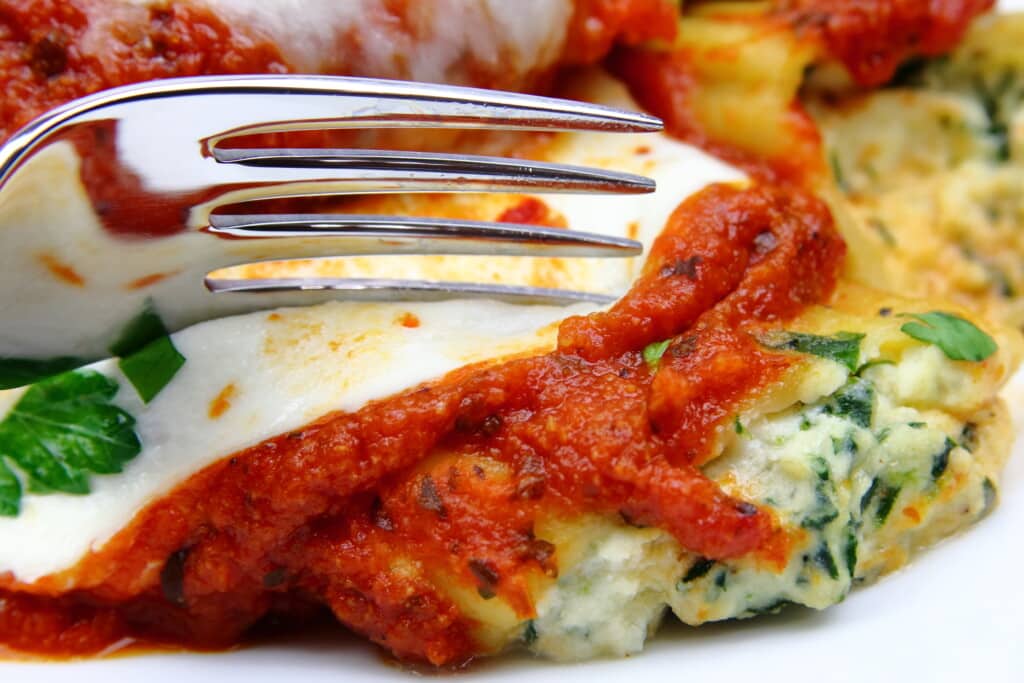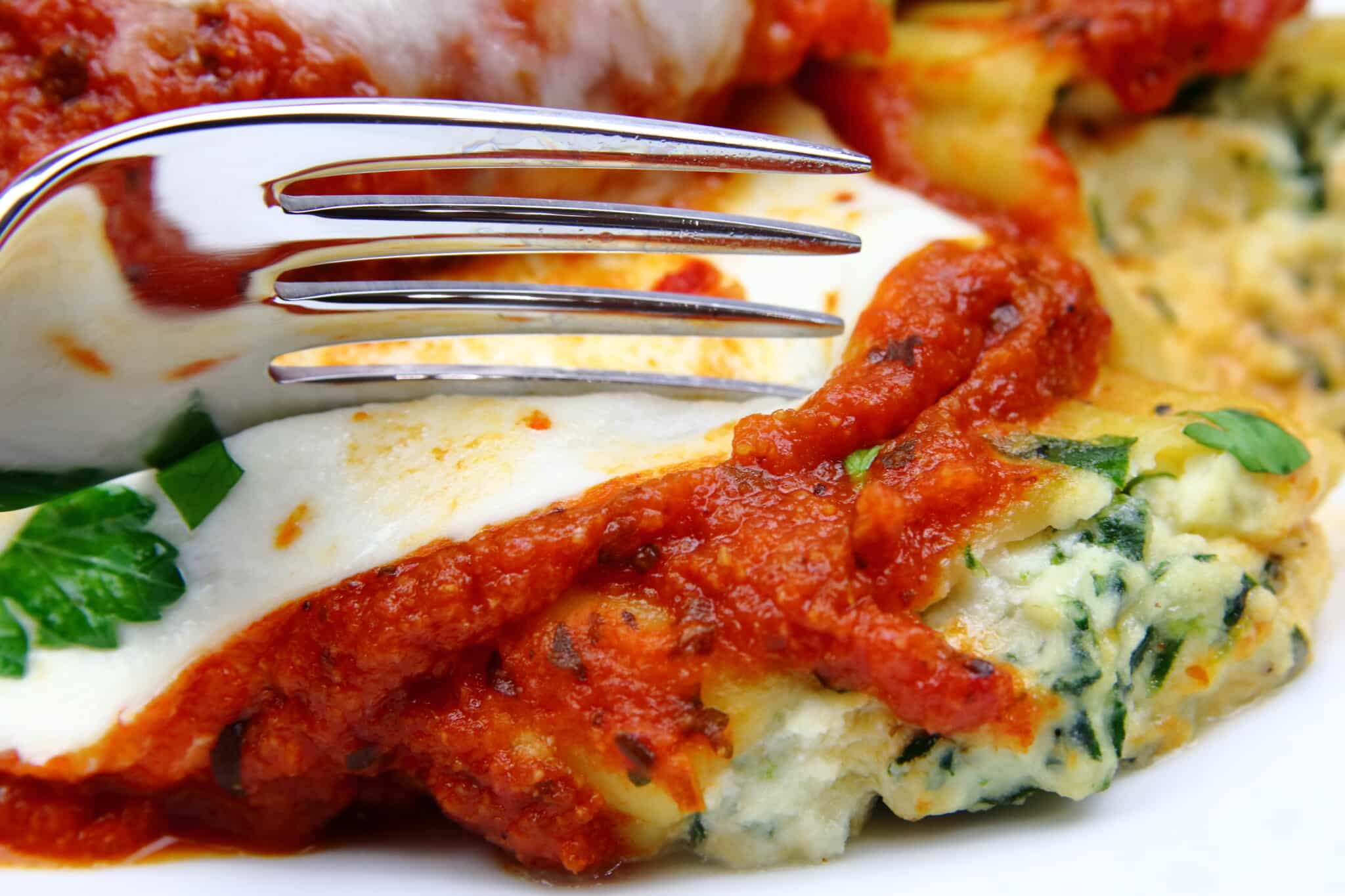 Cheesy pasta? Say no more. I'm in. Cheesy pasta is seriously one of my weaknesses and this Cheese Stuffed Manicotti Florentine is no exception. This dish is made of creamy ricotta and sautéed spinach stuffed into manicotti pasta shells and is covered in tomato sauce with melted fresh mozzarella cheese. YUM. The spinach makes it healthy, right? Riiiiiight.
This delicious cheesy pasta can be served on its own, but we chose to add a little more to it by topping it with some Crispy Chicken Parmesan and holy moly, was it fabulous.
What is manicotti?
Manicotti is a big, ridged, tubular pasta that is perfect for stuffing and then baking. It reminds me of penne, just much bigger. You boil it like all the other dried pastas and stuff it with whatever you like. Me? Cheese cheese cheese!
How do I prepare the cheese manicotti filling?
The filling for cheese stuffed manicotti is really quite easy to put together. For the most past, all you have to do it mix the ricotta, mozzarella, italian seasoning, and eggs (for binders) together in a small bowl. Now, this recipe includes spinach. I love the taste, and as indulgent as this recipe is, it does provide nutrients! but if you don't love spinach, you can absolutely leave it out. I make cheese manicotti all the time without it.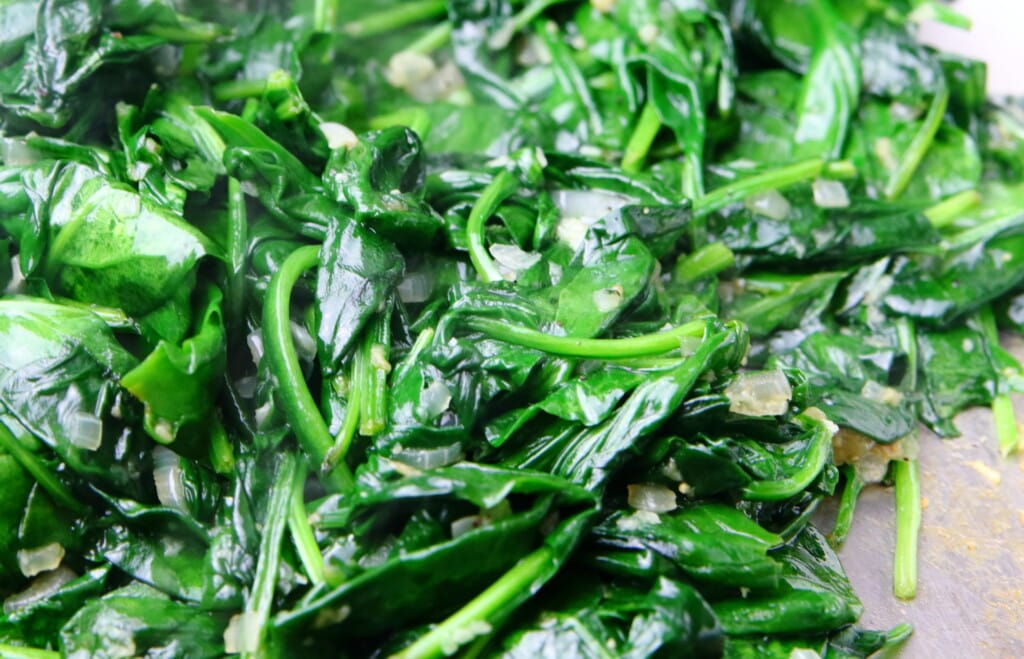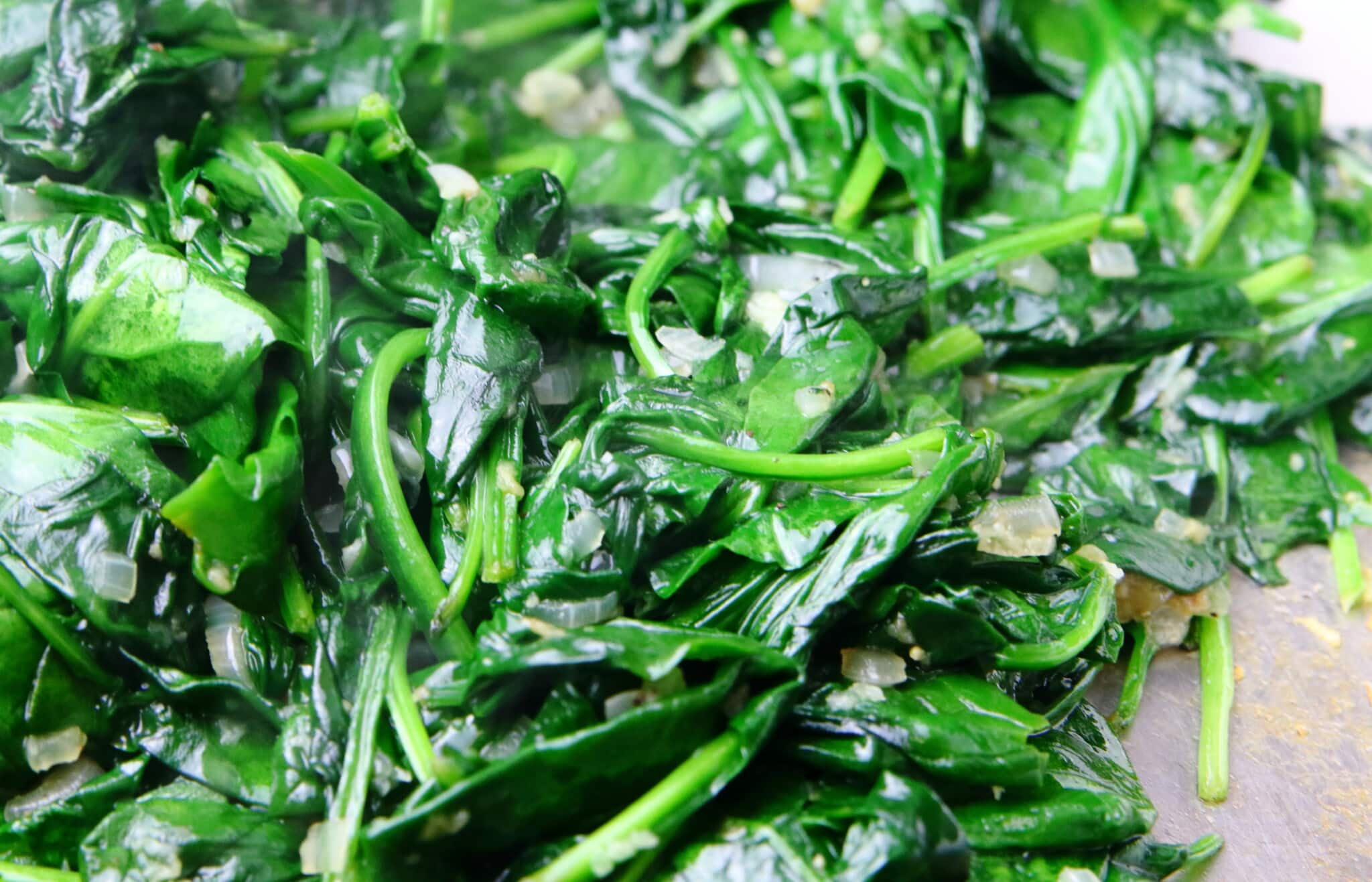 Can I use frozen or canned spinach?
I always say here at System of a Brown, we do what we like how we like it. However, I would encourage you to use fresh spinach. It just has a much better taste! If you can't or don't want to, frozen spinach would be a better back up than canned.
To cook fresh spinach, simply melt some butter in a saute pan over medium heat. Before you add the spinach, saute some garlic and shallot. You can mince the garlic if you like, but if you've never used a microplaner (affiliate link), I highly encourage it. It's sort of like using a garlic press, but you get way more out of it.
If you don't have shallots, you can substitute a milder onion. I love shallots because they have milder sweeter taste, but I've also used onions in this case too. The flavor of the shallot is perfect for a dish like cheese stuffed manicotti.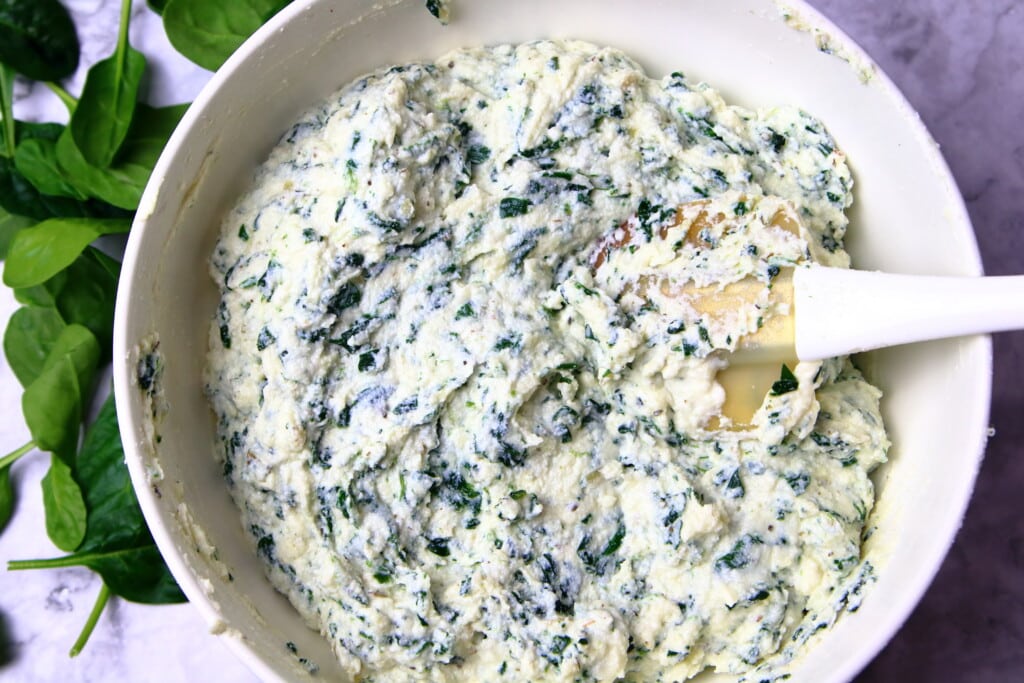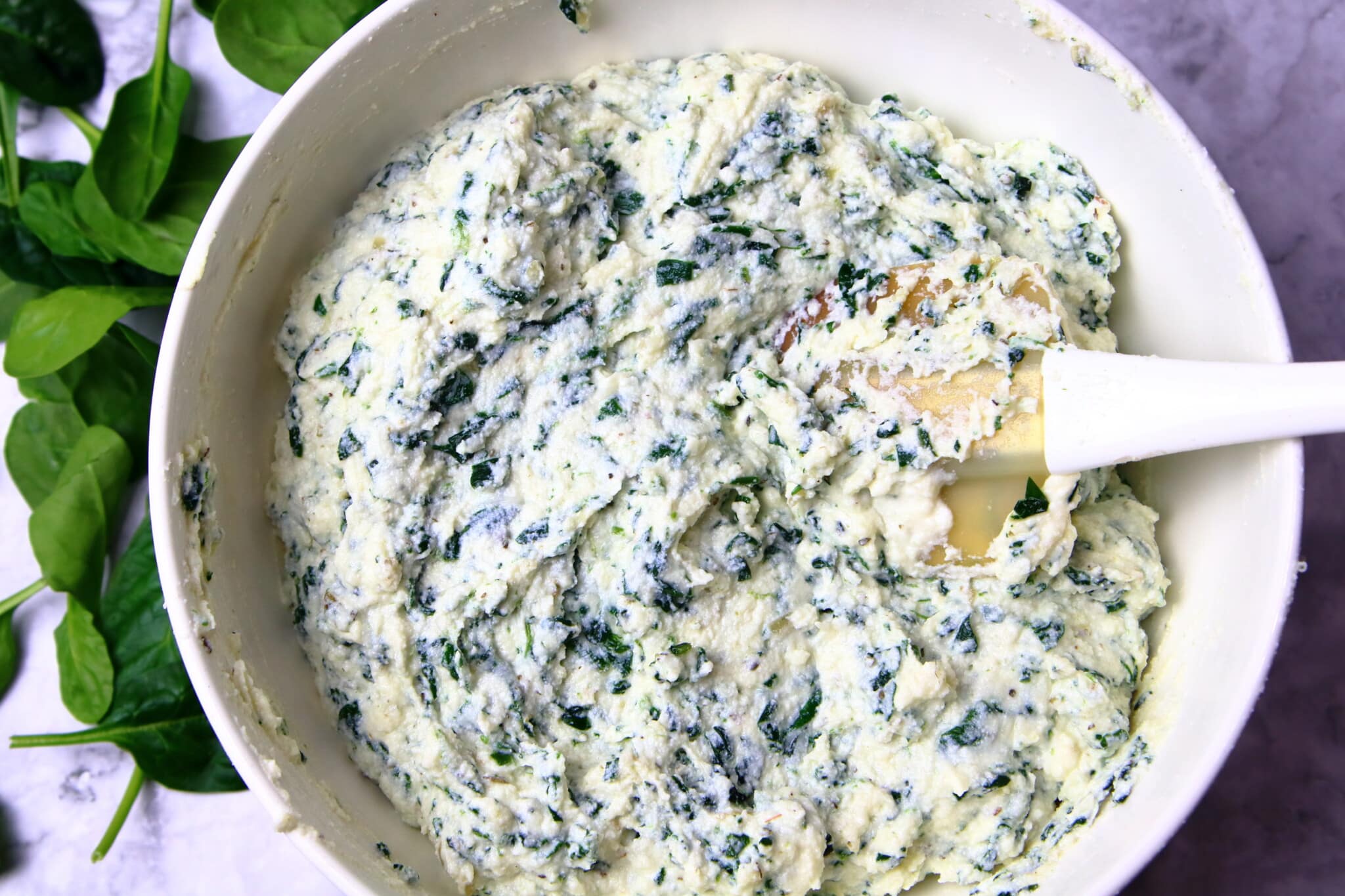 After you've sauteed the garlic and shallots, add the spinach a little bit at a time. It probably won't all fit in the pan at once. Just add a fistful, stir it around in the garlic butter mixture and let it reduce. Continue doing that until all your spinach is cooked. It will probably take about 6-8 minutes depending on how much you use.
I used about 5 ounces, but you can use more or less depending on your tastes. Once it's finished, transfer the contents of the pan to a cutting board and chop the pieces very small so it will mix well.
After you've chopped your spinach, mix it in with the ricotta and mozzarella. You're almost there! You'll be enjoying some decadent cheesy pasta before you know it. I had a little extra for one box of manicotti, but if you have extra pasta, keep stuffing!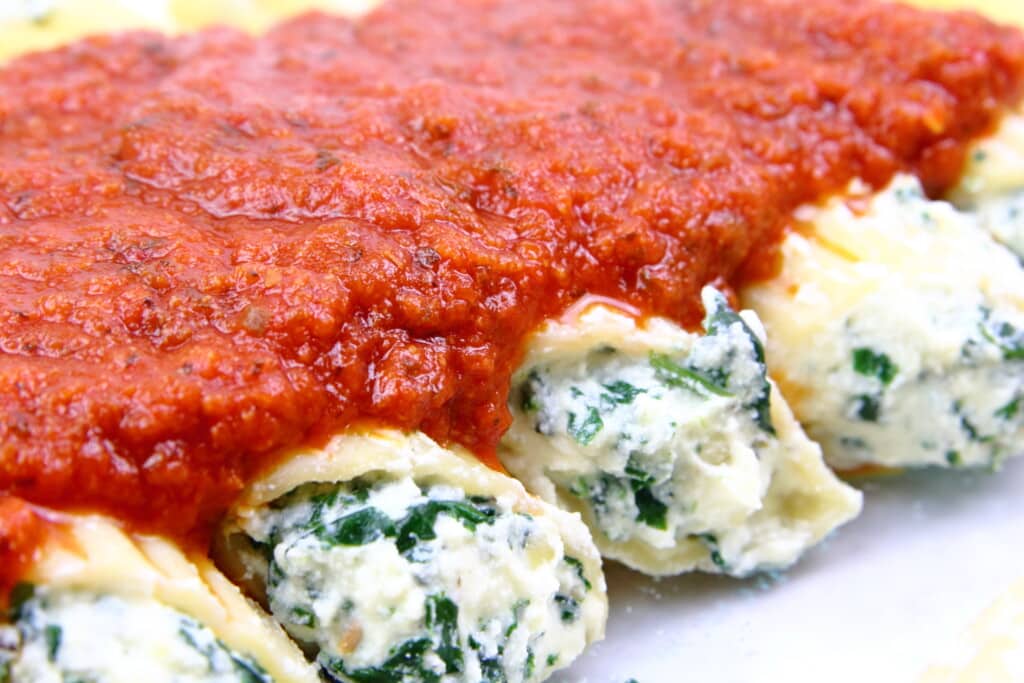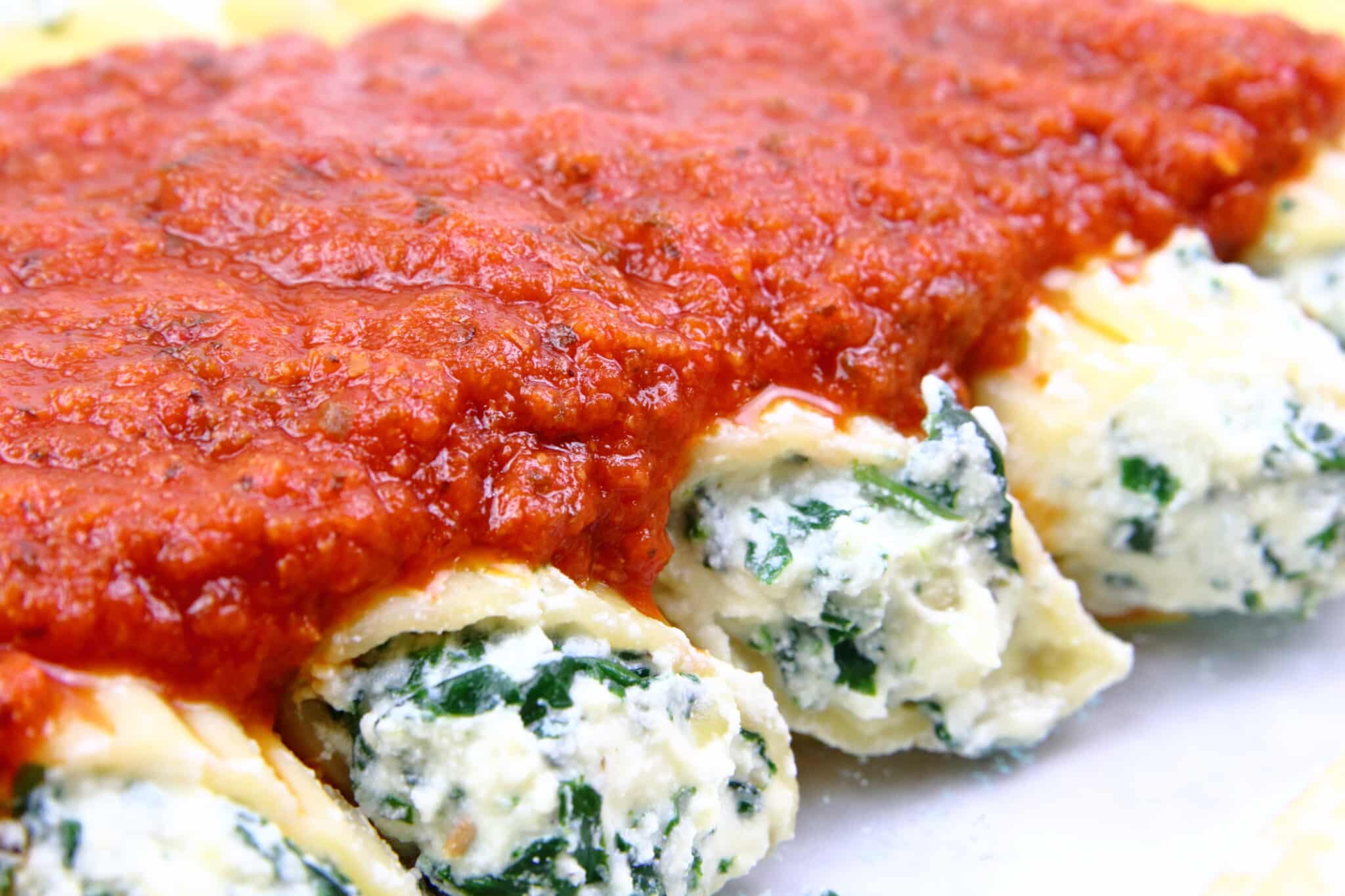 How do I stuff the manicotti shells?
After you've mixed the spinach and cheese, boil the pasta according to package directions. You can even short it by a minute, but you definitely don't want to overcook it. If it gets too soft, it is likely to tear when stuffing.
When the pasta is ready, drain and let cool for a few minutes. I like to lay out the pasta shells so they can cool rather than letting them sit in whatever strainer they were poured into.
After they've cooled, I just stuff them with my hands. Manicotti in one, cheese in the other, and go! If you want to get fancy, you can use a piping bad with a large top cut out, but it's kinda fun to get in there like play-doh. Stuff as much cheese into the pasta as you can fit.
Once they're stuffed, line them up in a 13×9 inch pan. I was able to fit a whole box in one.
What can I use to top the Cheese Stuffed Manicotti?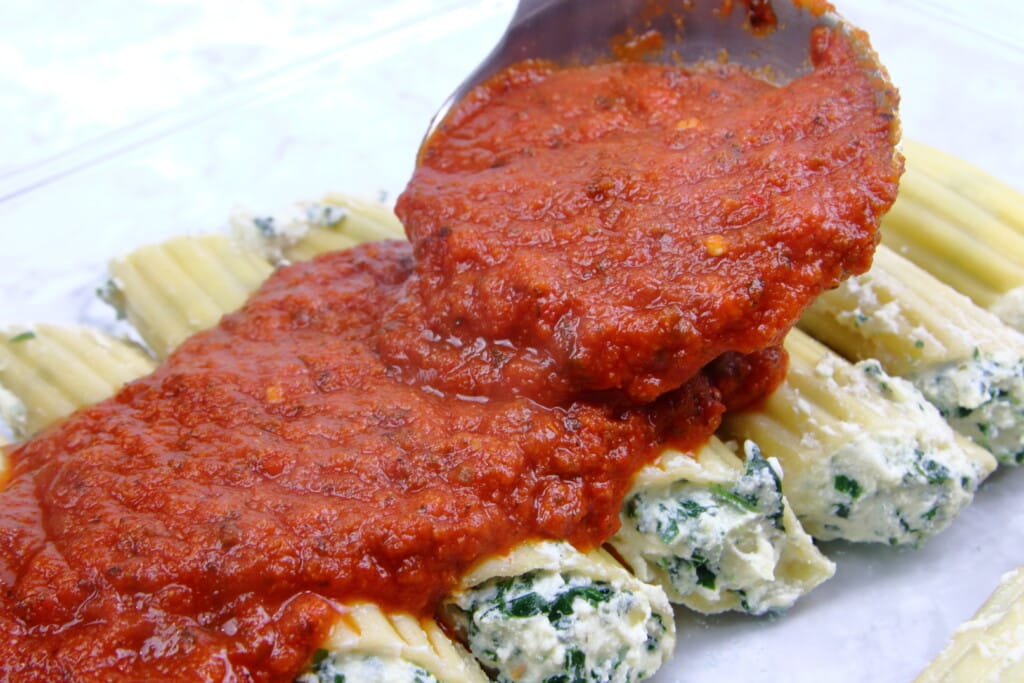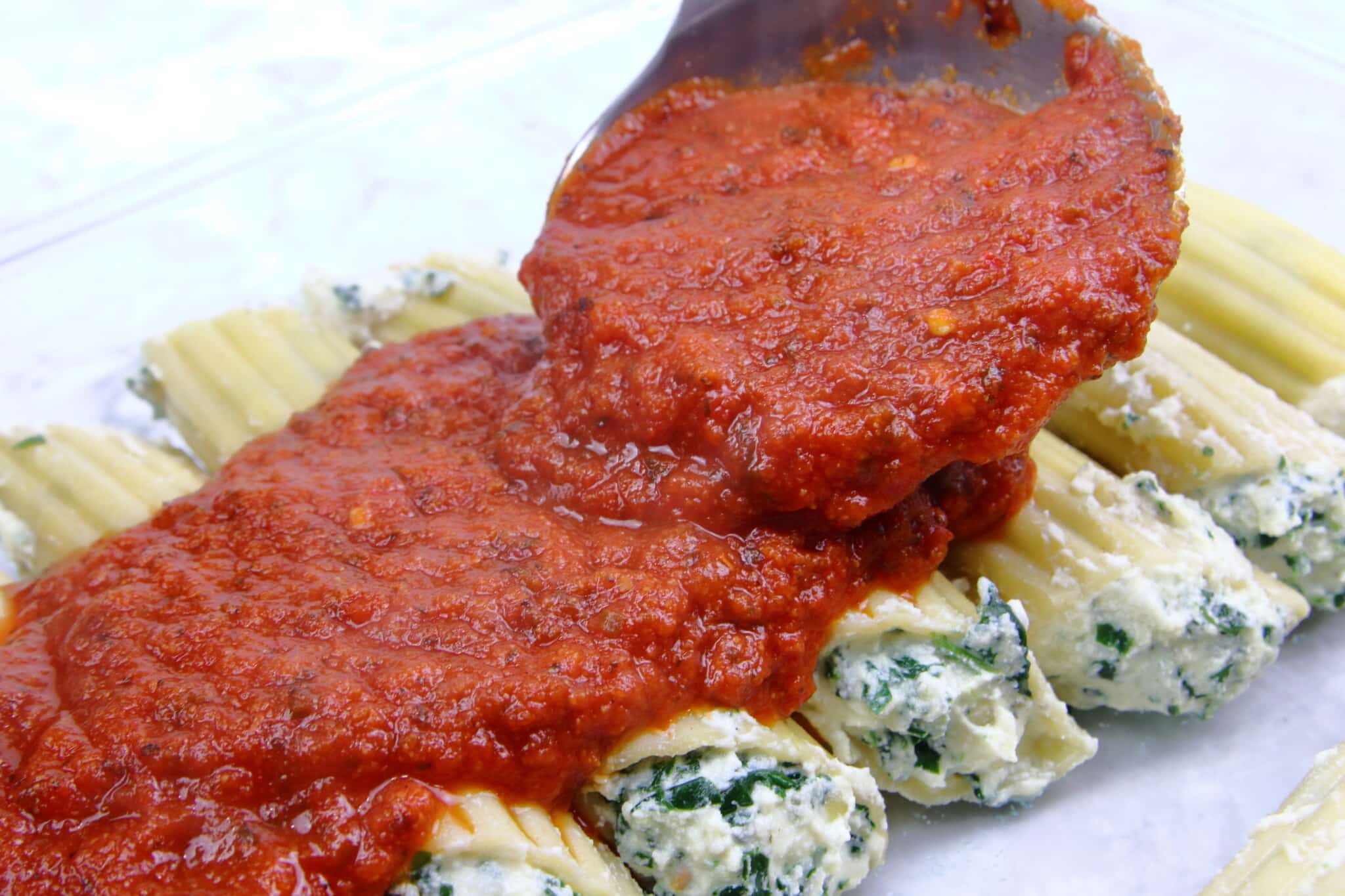 You can use whatever tomato sauce you like. Tomato sauce can be polarizing, as we all have very different tastes. I prefer mine to be a bit sweeter than some. If you already have a recipe you love, great! If you need a little inspiration, check out my Easy Tomato Sauce for Cheaters (I say for cheaters because it's not from scratch, but it tastes like it!
After you've decided on a sauce and have stuffed your shells, put a generous amount of mozzarella on top. If you want to use the regular block mozzarella, then that is perfect! But if you want to amp up the fancy factor or your cheese stuffed manicotti, try some fresh mozzarella. It's got a bit of a wetter texture and a delicious creamy taste. You can normally find it closer to the deli where the "fancy" cheeses are. It usually looks like a ball. slice it up (grating won't work), and lay the slices on top.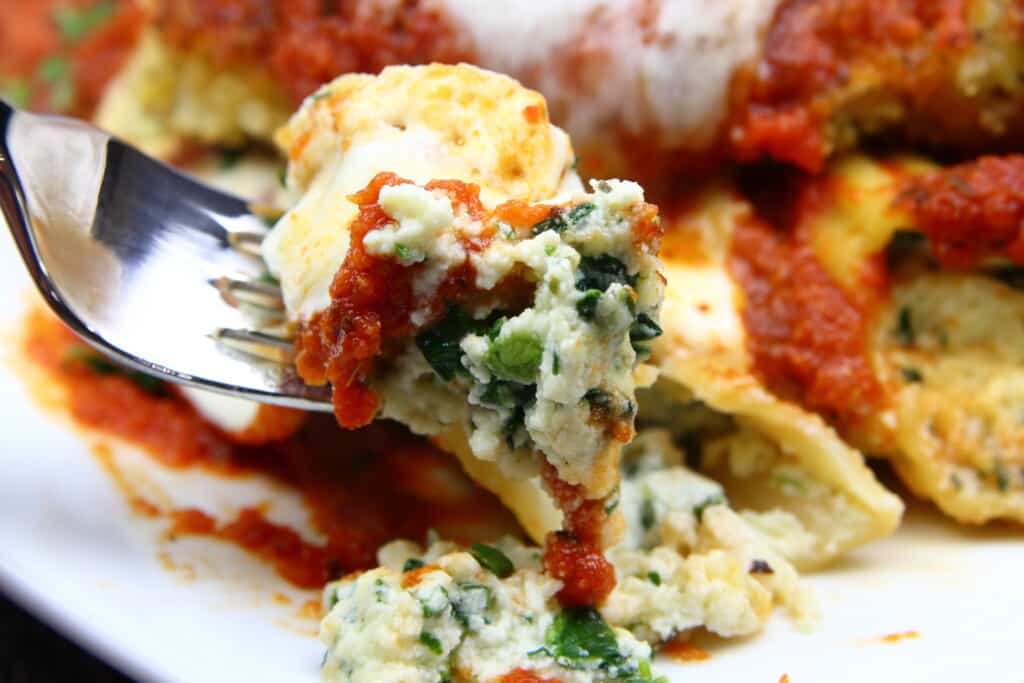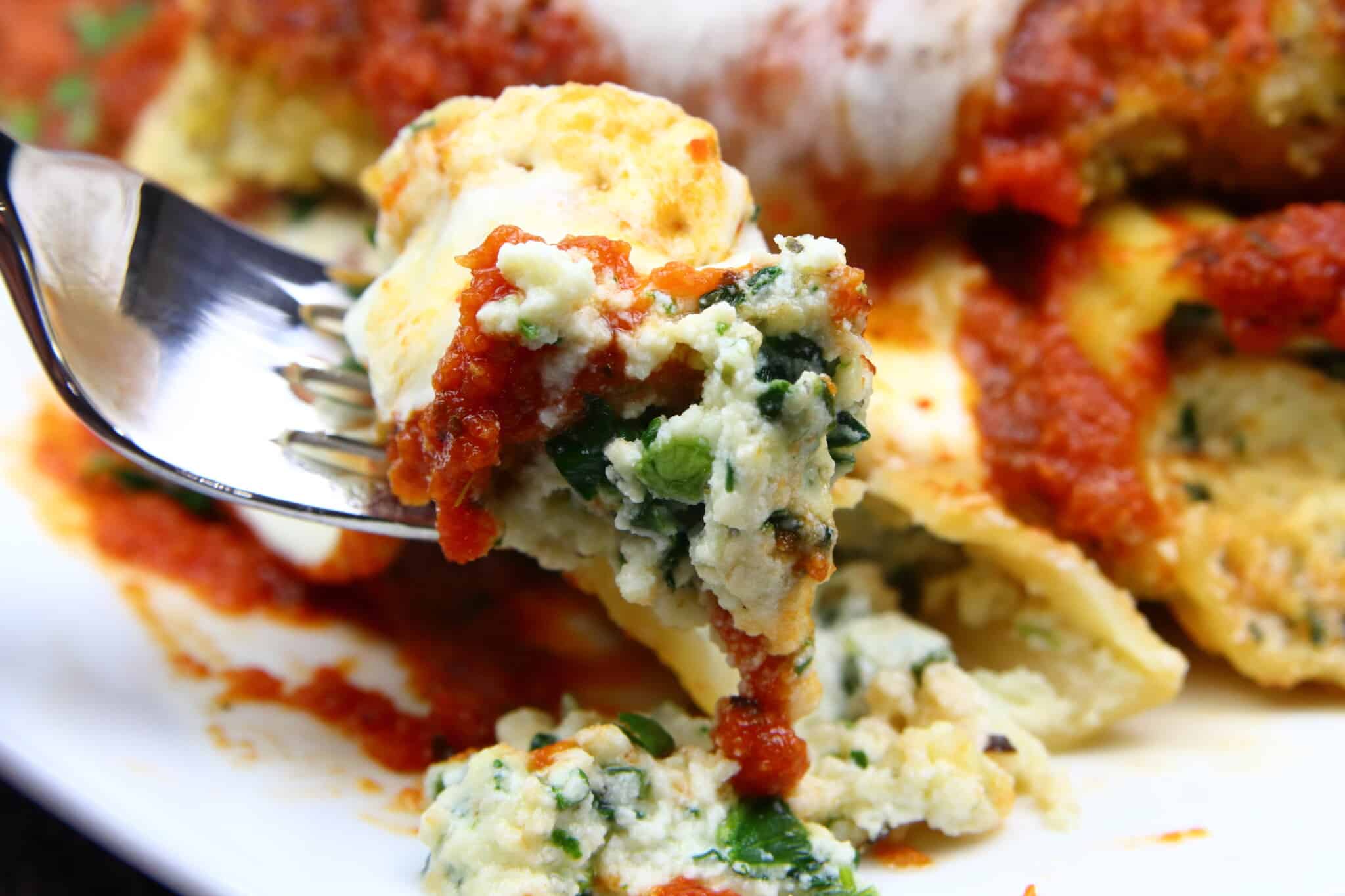 After you've stuffed your pasta, lined it up in a pan and topped it with tomato sauce and cheese, pop it into the oven for about 20-25 minutes or until the cheese is melted and the center is warm. No need to cover it.
When you take it out of the oven, use a big flat spatula to serve.
That's pretty much it! I know you're going to love this cheese stuffed manicotti florentine. It is SO stinking good. Stretchy cheese, yummy tomato sauce and delicious pasta. What's not to love?!
Enjoy!
Looking for more pasta? Try: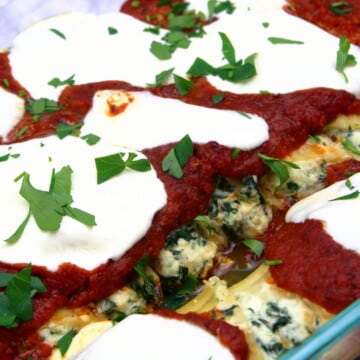 Cheese Stuffed Manicotti Florentine
This Cheese Stuffed Manicotti Florentine is filled with ricotta, mozzarella, and spinach sauteed in garlic and shallot, topped with tomato sauce and fresh mozzarella!
Print
Pin
Share on Facebook
Rate
Ingredients
1

box

Barilla dried manicotti

2 boxes if you want extra or a large pan

4-6

cups

Your favorite marinara sauce

3

cups

Ricotta Cheese

4

ounces

shredded mozzarella

1

egg

2

tso

italian seasoning

4-5

ounces

fresh spinach

2

tbsp

butter

3-4

cloves of garlic, minced

½

shallot, finely chopped

salt and pepper

6-8

ounces

Shredded mozarella for topping

fresh if possible
Instructions
Boil manicotti according to package directions (approx. 6 minutes).

While the manicotti is boiling,

Prepare marinara sauce of your choice (my favorite recipe coming soon!)

Mix ricotta cheese, shredded mozzarella, egg, and italian seasoning.

In a large saute pan, melt butter. Saute shallot and garlic until tender and fragrant, about 3 minutes. Add spinach and cook until reduced and withered. Salt and pepper your spinach!

Turn spinach, garlic, and shallots out onto a large cutting board. Chop spinach into very fine pieces. Add to cheese mixture.

When manicotti is al dente (do not over boil!) drain and let cool. If possible, spread them out on a plate or baking sheet so they can air cool instead of cooling by running water.

Using your hands, grab fingers full of cheese mixture and stuff shells bit by bit until they are completely cool. Line in a 13×9 or similar sized baking pan.

When all manicotti is stuffed and in the pan, generously top the pasta with your marinara sauce. I like it saucy, but you can pour what you like. Top with slices of fresh mozarella (or regular block mozzarella if that's what you have.

Bake for 20 minutes, or until cheese in melted and center of manicotti is hot.

Top with parsley if desired. Serve and enjoy!