Meat lovers pizza pasta bake is a fun and delicious way to combine two delicious family friendly dinners: Cheesy pasta and pizza! This pizza pasta casserole is baked with pepperoni, sopressata, italian sausage, and tossed in red sauce and plenty of melty cheese!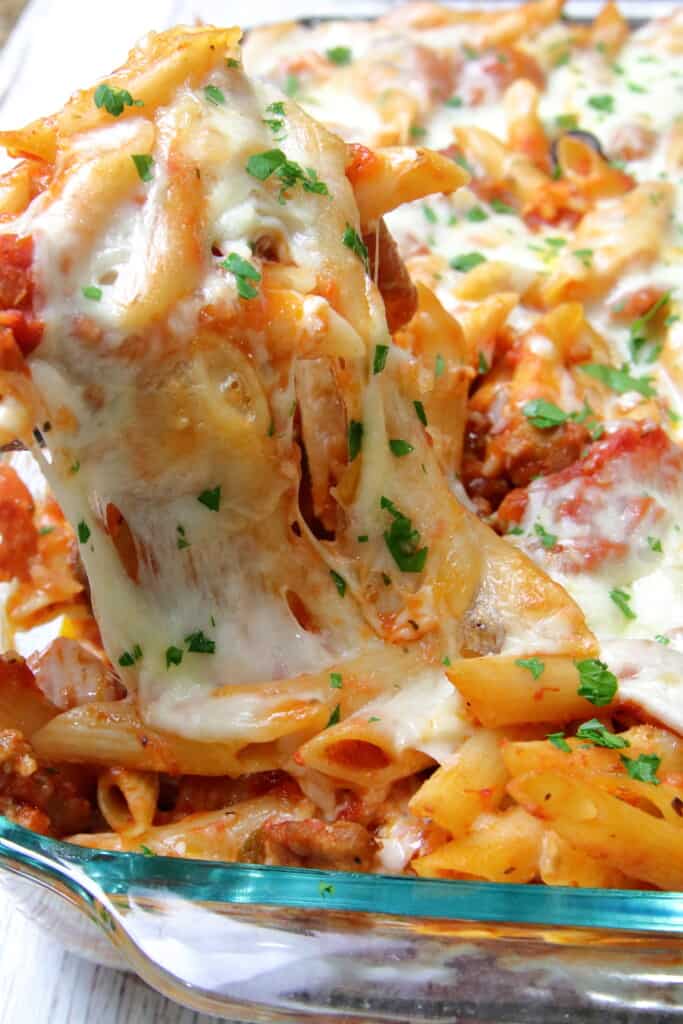 What's in Pizza Pasta Bake?
When I was making this pasta bake, I was really going for a meat lovers pizza type feel (with maybe a couple of veggies). But when you are making your pizza pasta, you really can dress it up like any pizza with your favorite pizza toppings.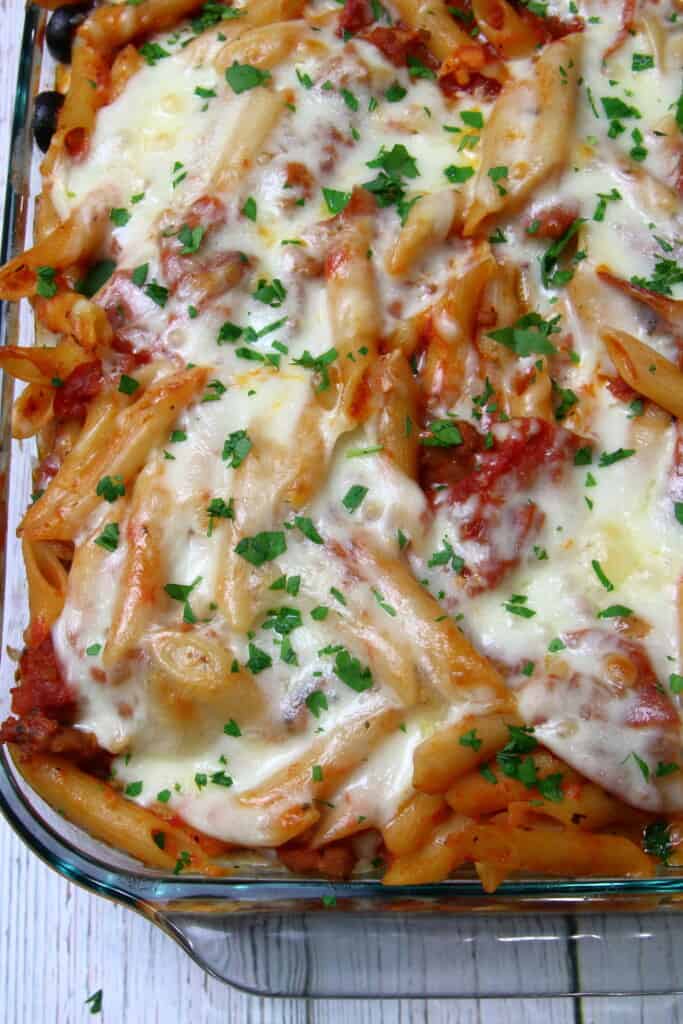 This pizza pasta includes:
Pepperoni
sopressata
Italian sausage
black olives
mushrooms
mozzarella cheese
What is Sopressata?
Sopressata is an Italian dry aged salami. It is much more coursely ground and has a stronger flavor than your regular salami. Sopressata is a delicious addition to a meat lovers pizza or meat and cheese tray. I normally get mine in the deli or specialty meats section of the grocery store.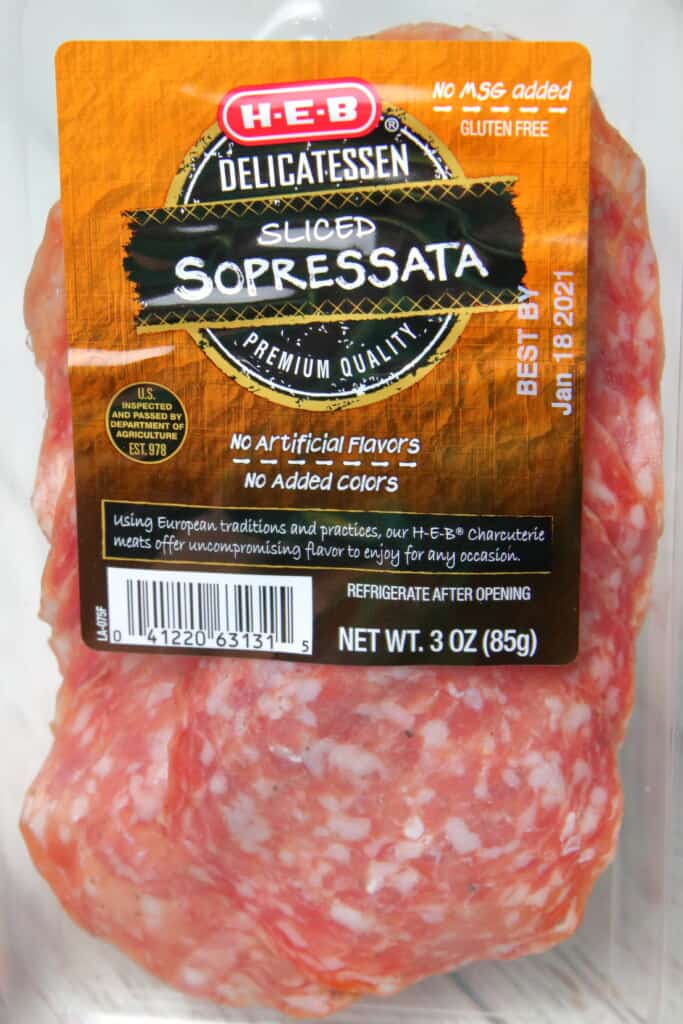 One negative thing about using sopressata is that it can be a bit more expensive, however, if you are in the position where you can get it, definitely try it! It's absolutely delicious.
Making your Pizza Pasta Sauce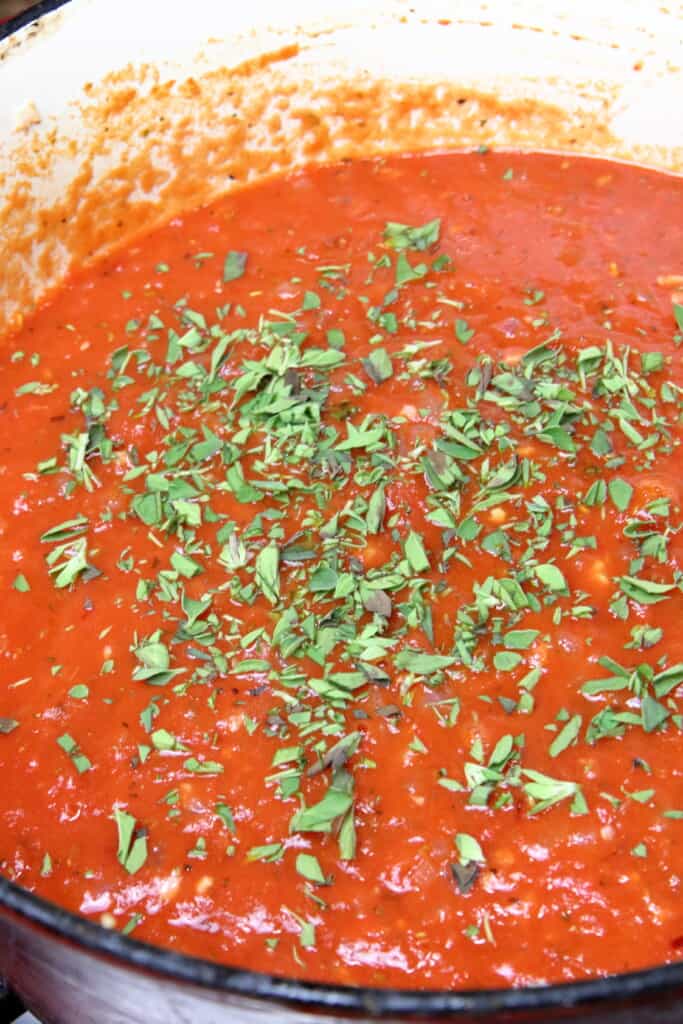 Now, we can talk about the possibilities with the meat lovers pizza toppings, but here, the secret is in the sauce! In my opinion, the sauce makes or breaks the whole recipe. You can, of course, use any pizza or pasta sauce you like for this pasta bake. If you already have a trusty sauce you love, use it! But if you need a little guidance, look no further!
Like any delicious recipe, it all starts with onions and garlic.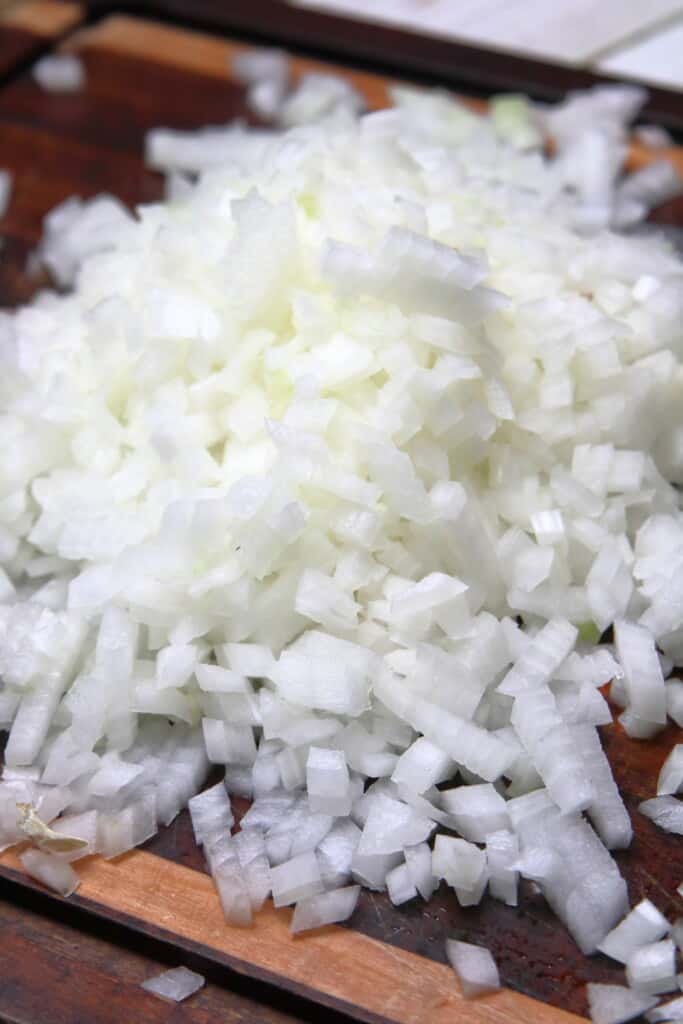 Now, here at System of a Brown, my whole purpose as a cook is doing what I like, how I like it, and encouraging you to do the same. BUT. Let's talk about the "right" way to dice an onion.
There is a "right" way to cut an onion?
In short, the answer is yes. But it's more about the ease of making evenly diced pieces very uniformed. If you just take a knife and go to town, eventually you will get small pieces of onion, but you'll likely be all over the place with the size of the pieces. There really is a "best" way to dice an onion.
First, cut the onion in half length-wise, from the furry root end to the tip. Next, cut the tip off creating a flat side. DO NOT CUT THE FURRY END OFF. Keeping that intact holds the whole onion together and allows the whole process to work. Peel off the outer layer.
After you have done all that, lay the onion flat side down. Take your knife, point the tip to the root, and cut strips vertically. Get as close to the root as you can without cutting pieces off. Continue cutting long strips vertically in the direction of the root until the whole onion is cut in strips, but still connected by the root. Then, turn the onion and cut cross ways. The pieces that fall will be perfectly diced pieces of onion ready to be sauteed.
What about those San Marzano tomatoes?
I'll be honest. I had never heard of a San Marzano tomato before my husband bought the Alex Guarnaschelli cookbooks (affiliate link) for me. But after just a couple of recipes using them, I'm a fan.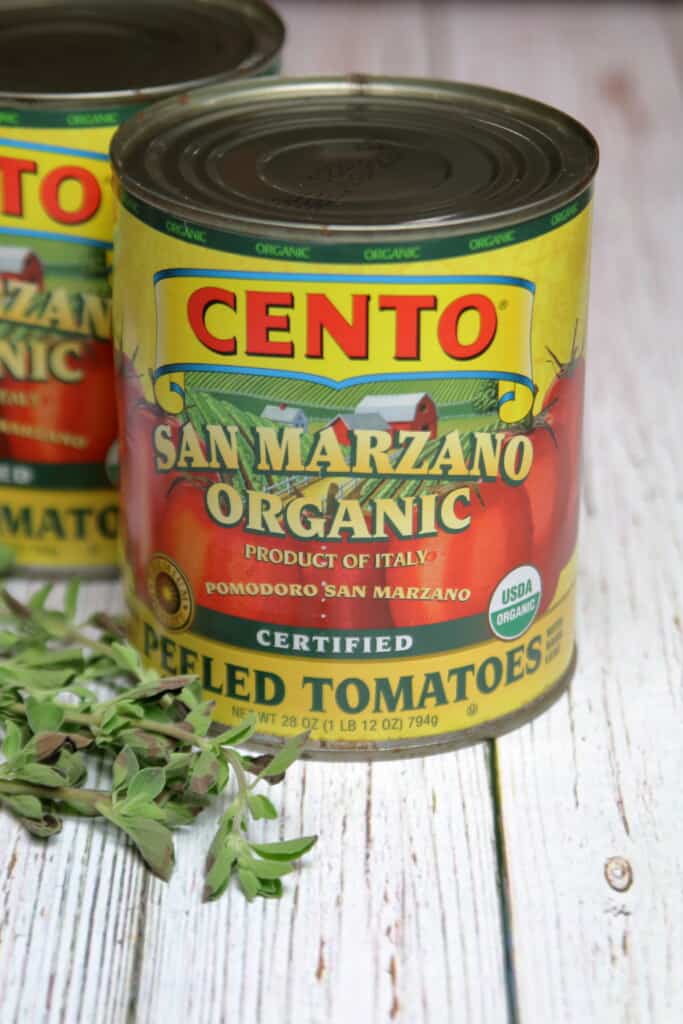 Side note, I highly recommend those book. So much goodness.
San Marzano tomatoes are a particular type of tomato grown in a particular way. They have a sweeter, less acidic taste than your average canned tomato. There is a great short article from The Kitchn if you like to learn about that kind of thing. But they are delicious and totally worth it. I've made several batches of pasta sauce from canned tomatoes and these really do make a difference.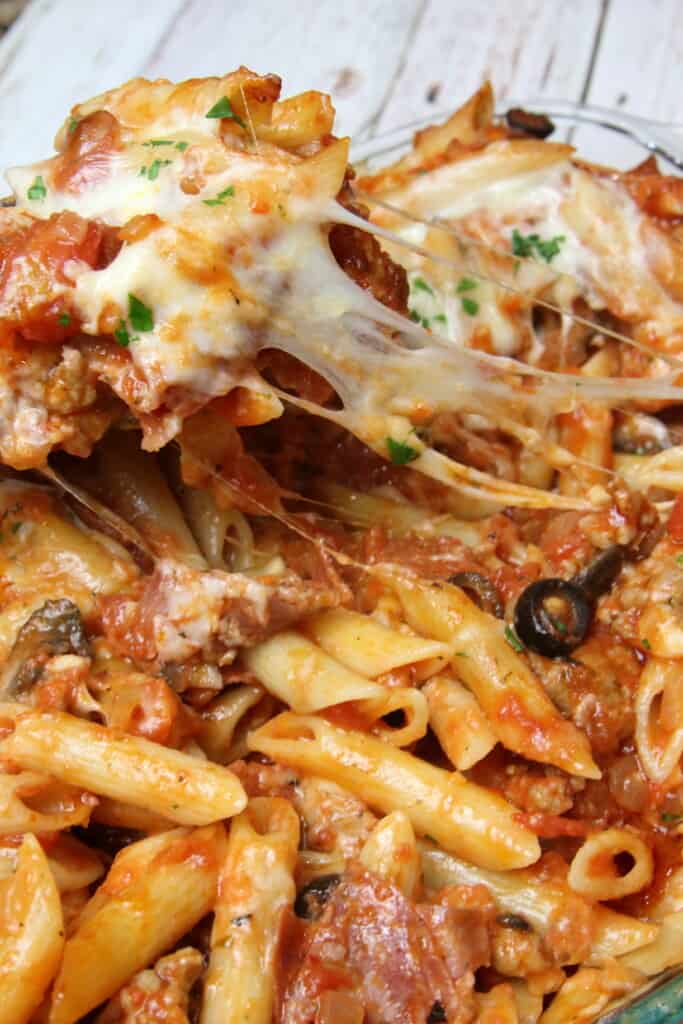 A few more tips for your pizza pasta bake
I recommend you left your sauce simmer for about an hour. If you have longer to let it simmer, good! If you have to cheat it a little short, that will be fine too.
Use shredded mozzarella from a block if you can. It melts way better than the stuff you get pre-shredded in a bag.
If you want a chunkier sauce, pour the tomatoes straight from the can and smash them up as they cook. Personally, I used my Ninja Food Processor (affiliate link) before I put them in the pan because I wanted a smoother sauce.
If you don't have the time or resources to make the sauce from scratch, try my Easy Tomato Sauce for Cheaters. It starts with jar tomato sauce as a base and requires less effort.
Salt your pasta water generously! Very generously. I lived my life too many years before I salted my pasta water. What a crime. It makes a huge difference!
If you want a less acidic sauce but don't want to add more sugar, try about a ½ teaspoon of baking soda.
For an extra pop, I added some extra fresh oregano, but basil would also be a delicious choice, in addition to the dried italian seasoning already used.
Not a fan of Penne? Try another heavy pasta. Bowtie, rotini, rigatoni. All great choices.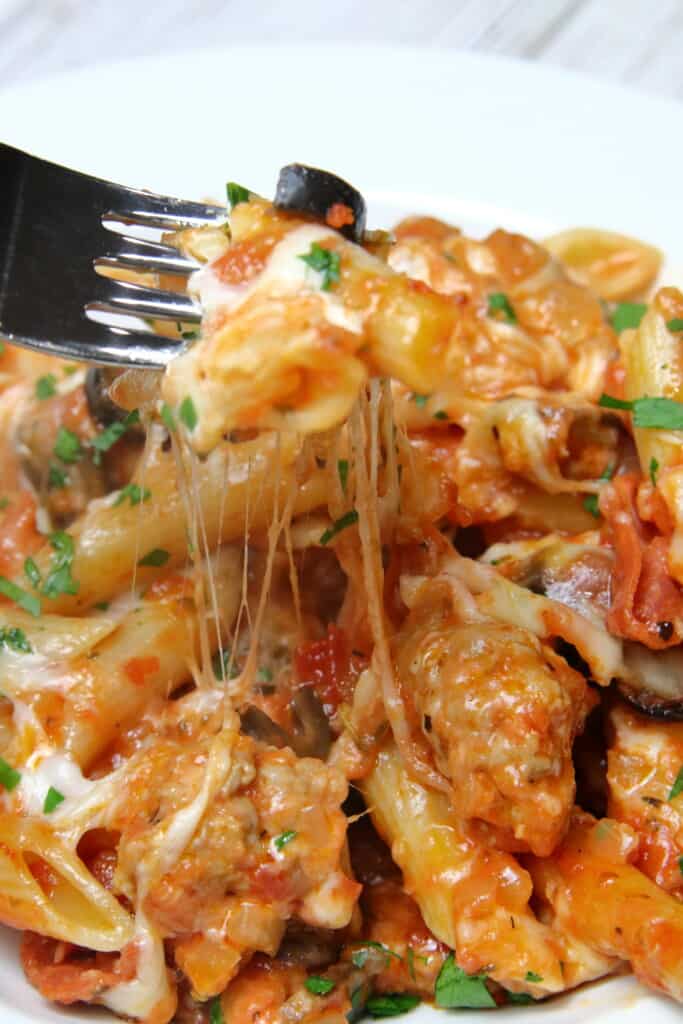 That's pretty much it! A delicious meat lovers pizza pasta bake that everyone in the family is going to love!
Enjoy!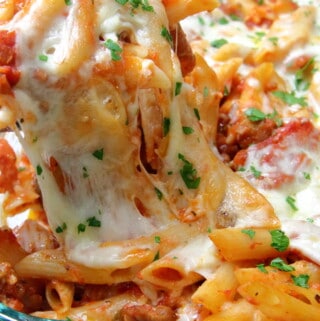 Meat Lovers Pizza Pasta Bake
This Meat Lovers Pizza Pasta bake with pepperoni, italian sausage, and sopressata is a cheesy, meaty, and delicious dinner idea the whole family with love!
Print
Pin
Share on Facebook
Rate
Ingredients
2

tbsp

Olive Oil

1

lb

Penne pasta

1

lb

Italian Sausage

8

oz

Pepperoni

cut in half if you prefer smaller pieces

3-4

oz

Sopressata

cut into smaller pieces

2

28 oz

cans of whole, peeled San Marzano tomatoes

blended or smashed, depending on how chunky you like the sauce.

¼

cup

italian seasoning

2

medium white onions, diced

1

bulb

garlic, minced

the entire bulb, yes.

4-5

oz

sliced black olives

optional

4-8

oz

mushrooms

optional

¼

cup

white sugar

2

tbsp

fresh oregano

crushed red pepper

to taste

Kosher salt

32

ounces

shredded mozzarella cheese

or more!
Instructions
Heat Olive Oil in large, heavy duty sauce pan. Saute diced onions and garlic over medium heat for 3 minutes. Sprinkle generously with salt. Add San Marzano tomatoes. *Blend them in a food processor first if you want a saucier sauce. Add them straight from the can and smash them with a wooden spoon as they cook for a chunkier sauce).

Heat sauce over medium heat and reduce to med/low for simmering.

In a separate saute pan over medium, cook italian sausage until brown, about 8 minutes or so. Add to saucepan.

Add sugar, italian seasoning, oregano, and red pepper. Mix well. Add pepperoni and sopressata. Simmer for about 45 minutes.

After about 45 minutes, taste the sauce to make sure the flavor is how you like it and adjust accordingly. (don't forget about salt!) Add sliced mushrooms and olives if you are using them. Simmer for another 15 minutes.

While your sauce is cooking, boil water for pasta. Cook penne according to package directions. Don't forget to salt the pasta water! The water should taste like sea water.

When pasta is cooked, add pasta to the sauce and mix well.

In a large baking pan (at least 13×9, the deeper the better), put down a later of pasta. Cover with cheese. Alternate pasta and cheese layers until full. Finish the top with a layer of cheese.

Cover with foil and bake at 350°F for 30 minutes.

Remove from over and let sit for about 10 minutes to rest. Serve and enjoy!

Try some extra red pepper and fresh grate parmesan cheese on top!