These super moist and fluffy peppermint chocolate cupcakes are perfect for this Christmas season! Topped with a swirl of peppermint buttercream, these rich and delicious treats will be a holiday hit!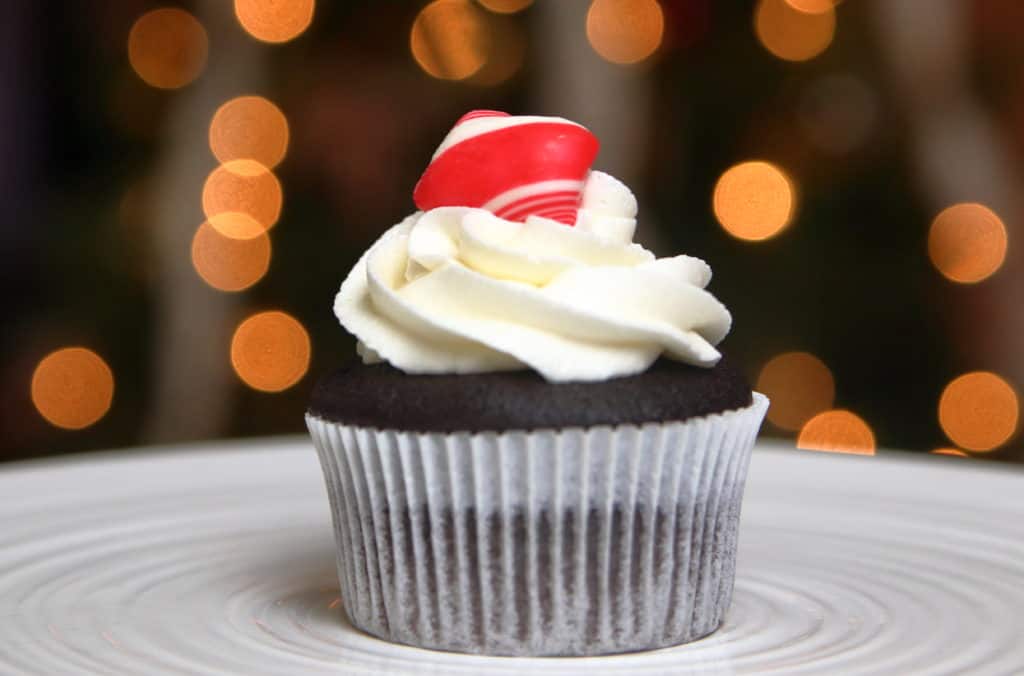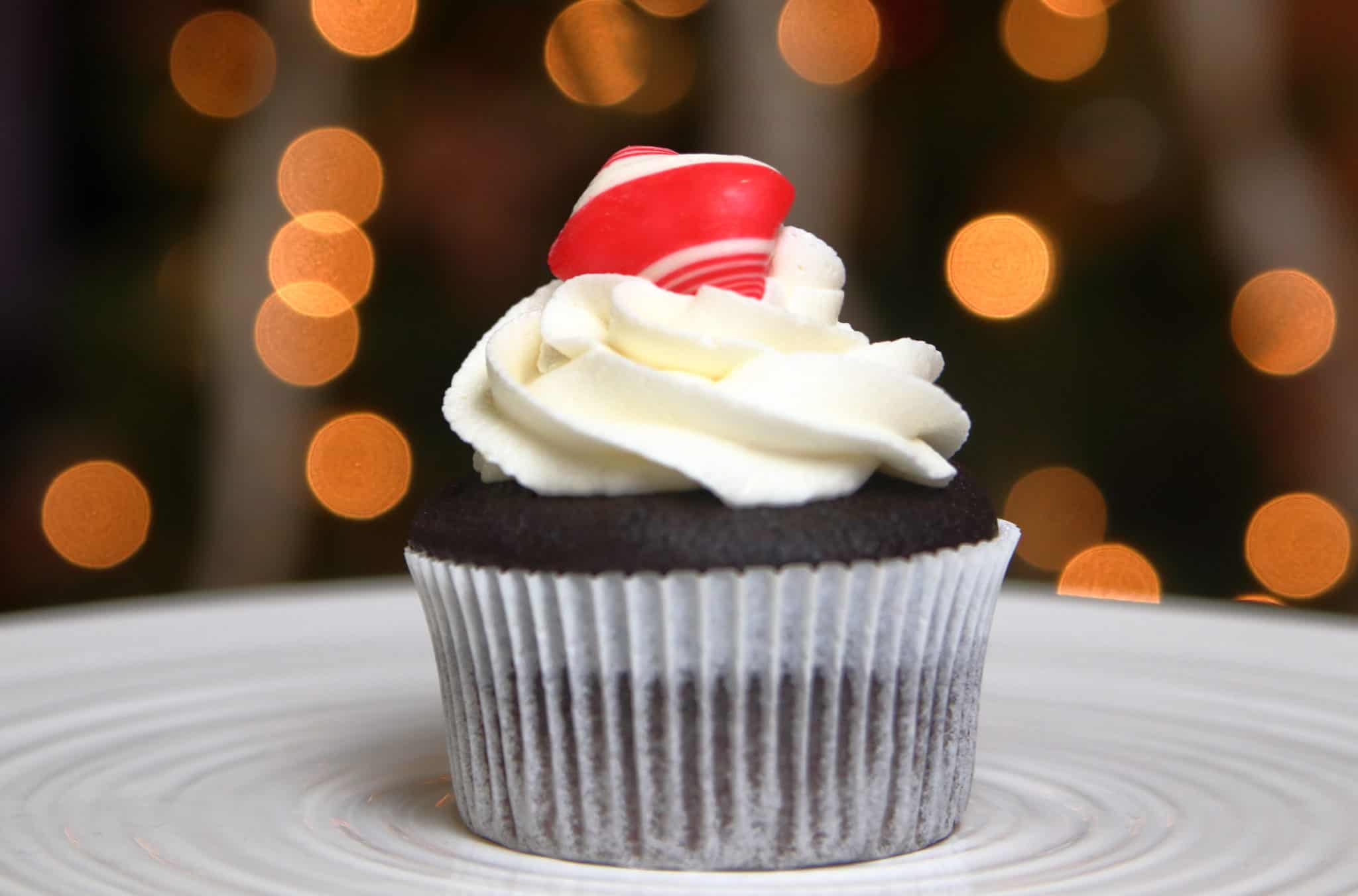 I love Christmas time! The lights, the weather, and most of all… the treats! (As if we need Christmas as an excuse to eat treats, amirite?) Anywho… I'm not usually the one to gravitate towards the chocolate cake given other options, but I do LOVE me some peppermint chocolate, and these Peppermint Chocolate Cupcakes are just DIVINE. I brought these to a party last weekend and there were at least four people who told me "I don't normally like peppermint chocolate but these are SOO good!" These are perfect for the peppermint-y season, but they are certainly delicious all year round!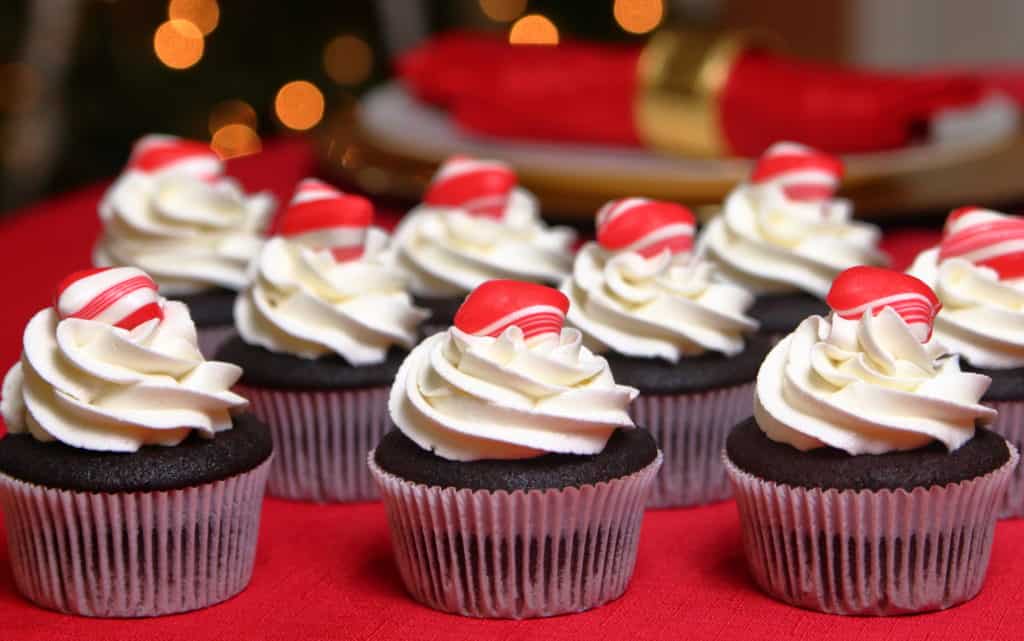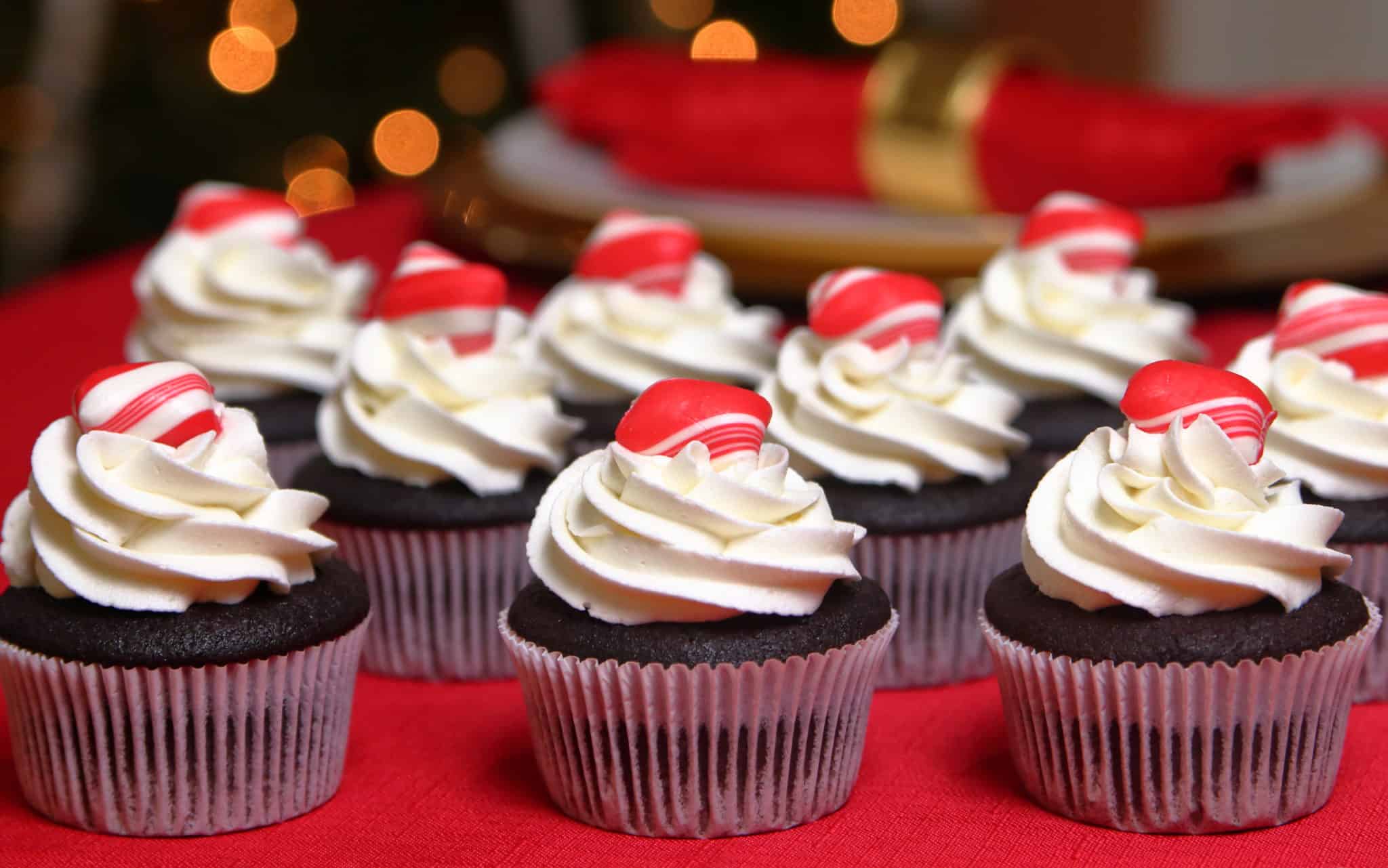 Must-haves for your Peppermint Chocolate Cupcakes
Most of the time, there are a variety of ways to do things. The bottom line is do what you like and use what you like. But for these peppermint chocolate cupcakes, there are a few ingredients that just MAKE them.
Hershey's Special Dark Cocoa. You want a rich and powerful chocolate cupcake? Use this cocoa. Even if you aren't a dark chocolate fan, this stuff is where it's at. I also used this in my Peanut Butter Chocolate Cupcakes.
LorAnn Peppermint Oil. This stuff is POTENT. Use it carefully or you will overpower the whole batter. But you really do need it because it provides a layer of peppermint punch that you just can't can't get from extract. Tip: Add the oil at the END, and only add ⅛ teaspoon first. Taste the batter. If you like it, stop there. If you think it can use more, add one more ⅛. That's probably all you need.
HEB Cafe Ole Snickernut Cookie Coffee. Fresh ground, nice and STRONG. I'm normally a Community Coffee Loyalist, but this Snickernut Cookie blend has a touch of vanilla and cinnamon. DELISH. Trust me.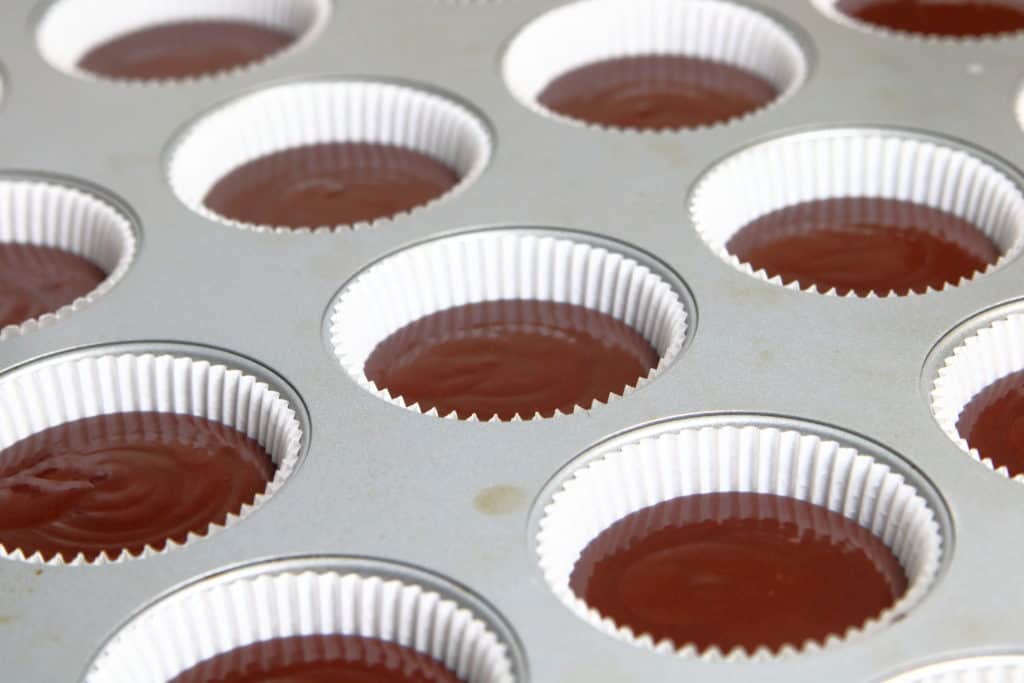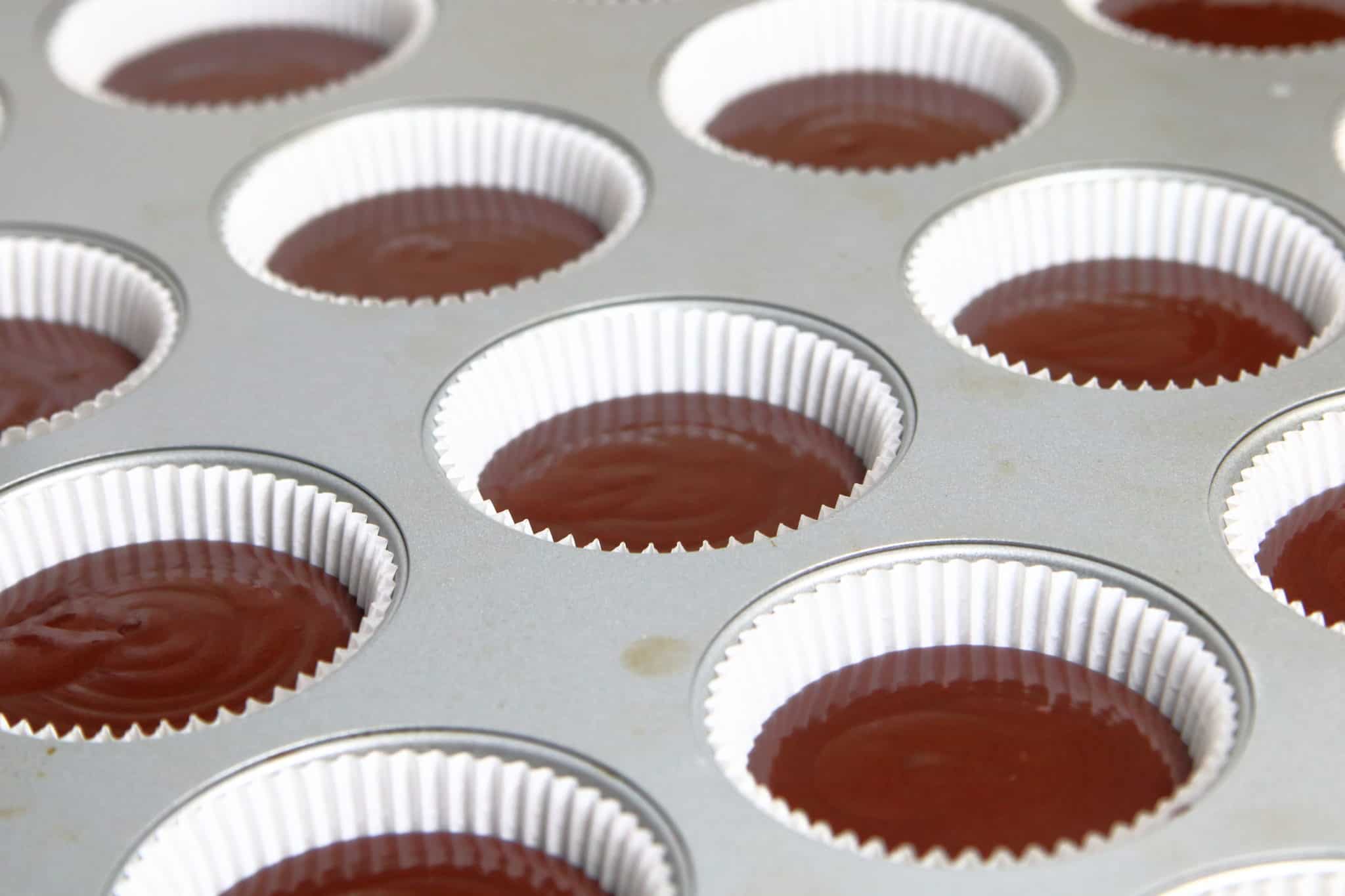 Mixing the Peppermint Chocolate Cupcake Batter
As always, there are a few rules that I follow to get consistent results. I ALWAYS sift the flour and cocoa powder for two reasons: 1. Because it makes it that much lighter and fluffier and 2. It gets allll the clumps out. Not many things are more annoying than when ending up with a bunch of wet clumps that you can't get rid of. After you sift them, mix them together and add your salt and leaveners.
I also use the whisk attachment when I'm mixing the butter, sugar, and eggs. Whisking these ingredients on high will beat more air into the batter, allowing for a lighter, fluffier cake.
After whipping the butter, sugar, eggs and extracts, switch to the paddle and turn the speed on the lowest setting. Add the dry mixture a couple of large spoonfuls at a time alternating dry mixture and milk until it's all juuuust mixed.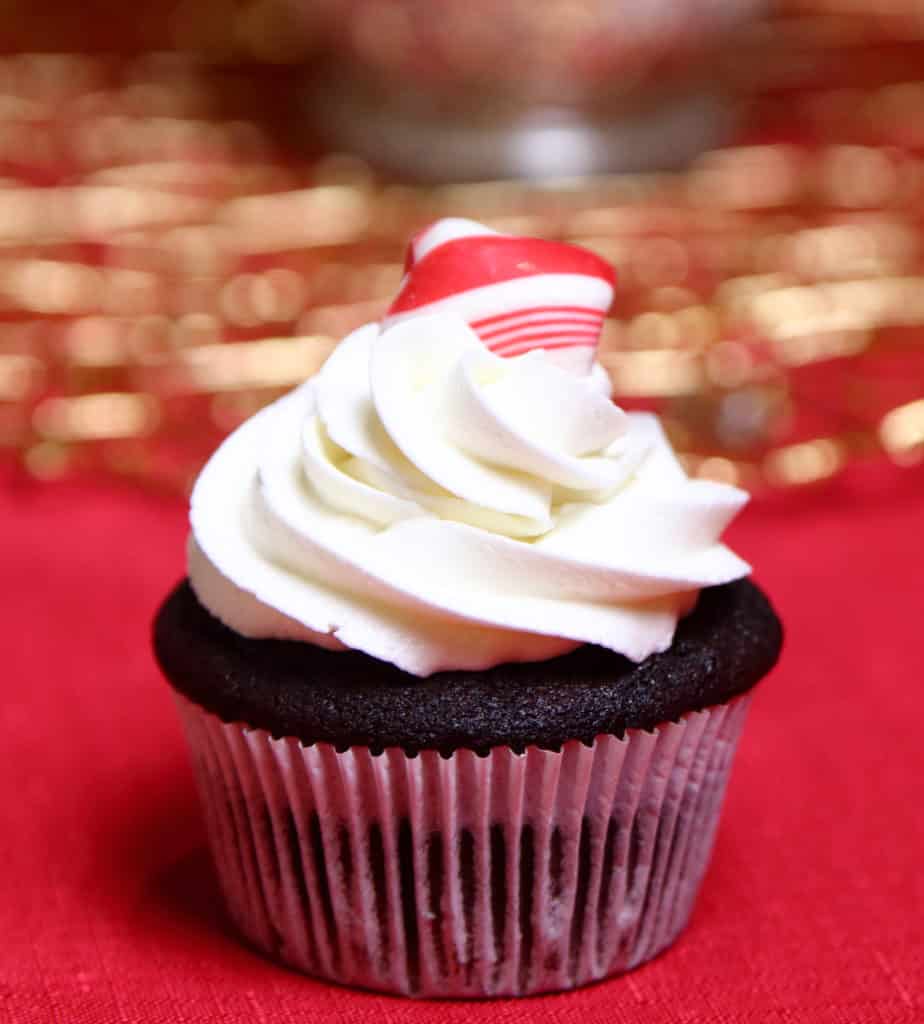 And now for the coffee
You only need 1 ¼ cup (10 ounces), but make sure it's STRONG. I probably use the same amount of coffee that I would for a full pot, but then only make 10 ounces with it. It's going to REALLY enhance the richness of you cake.
After all of the ingredients (minus the coffee) are mixed together. Sloooooowly pour in the coffee as the paddle mixer runs on low. Mix until all of the coffee has been added. At the point, I remove the bowl from the mixer and finish it by hand. The mixer doesn't do the best job of thoroughly mixing all of the ingredients, so I use a rubber spatula, scrape the sides, and mix in the rest.
Do not overmix! If you mix too much, the gluten will continue to develop and you'll end up with a touch, dense, chewy cake.
Once the coffee is all mixed in, add the oil. Scroll back up for the best way to go about adding the oil.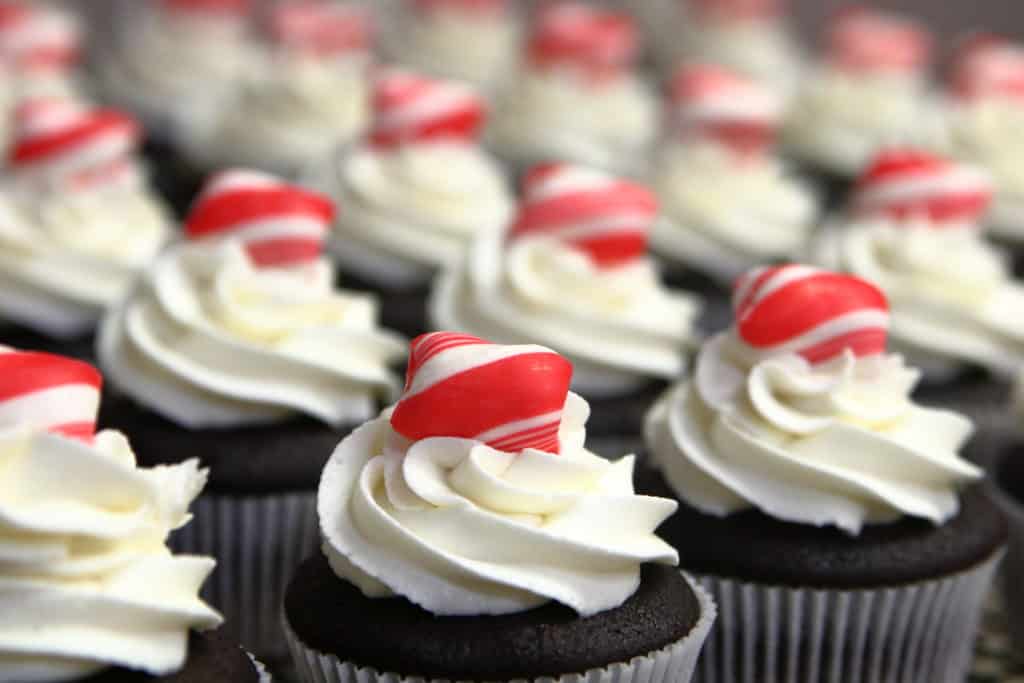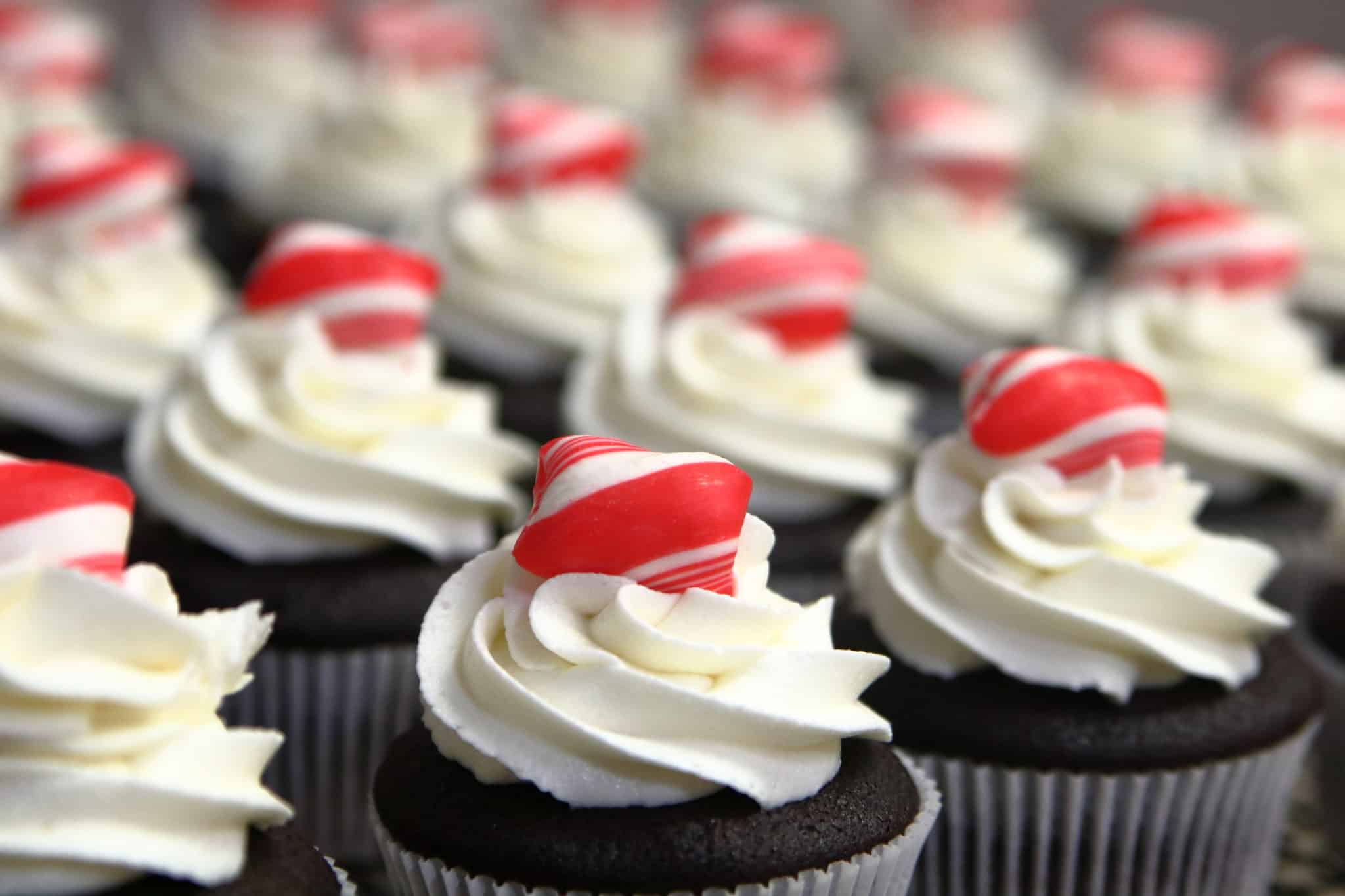 Making the Frosting is SUPER easy! For me, the peppermint addict, I opted for a peppermint flavored buttercream, but these will be just as delicious with a standard vanilla buttercream. Just use a whole teaspoon of vanilla extract and leave out the peppermint. But the peppermint in the frosting isn't super potent since I only used extract and not oil. It's a delicious complement to the peppermint cake.
Be sure to whip the frosting with the whisk attachment for a few minutes. It'll make it super light and fluffy (and will help with volume!)
That's pretty much it! You've got a perfect moist and fluffy Peppermint Chocolate Cupcake PERFECT for your holiday dessert (or any time, because… YUM) that everyone is going to love… even the peppermint haters!
Enjoy!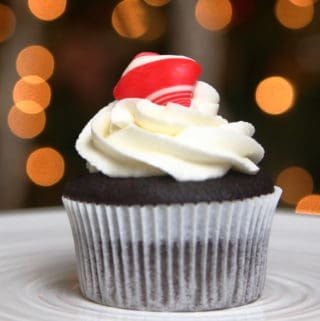 Peppermint Chocolate Cupcakes
These super moist and fluffy peppermint chocolate cupcakes are perfect for this Christmas season! Topped with a swirl of peppermint buttercream, these rich and delicious treats will be a holiday hit!
Print
Pin
Share on Facebook
Rate
Ingredients
For the Cake
2

sticks

butter

226 grams

400

grams

granulated sugar

2

large eggs

300

grams

all purpose flour

I used King Arthur unbleached

100

grams

Hershey Special Dark baking cocoa

2

tsp

baking powder

1

tsp

baking soda

1

tsp

salt

1

cup

room temperature milk

1 ¼

cup

strong, HOT coffee

I use the HEB brand Cafe Ole, Snickernut cookie roast.

1

tsp

vanilla extract

1

tsp

peppermint extract

⅛-1/4

tsp

LorAnn Peppermint Oil
For the frosting
500

grams

powdered sugar

2

sticks

butter

½

tsp

vanilla extract

½

tsp

peppermint extract

pinch of salt

2-4

tbsp

milk or cream
Instructions
Make sure all the ingredients are ROOM TEMPERATURE! Except the coffee.. that needs to be HOT!
For the Cake:
Combine all the dry ingredients in a large bowl: Flour (sifted), Cocoa (sifted), baking powder, baking soda, and salt. Mix together, set aside.

In a stand mixer using the whisk attachment, whisk the butter on high speed until smooth and creamy. Add the sugar. Continue to whisk for 2-3 minutes until butter/sugar mixture is light and fluffy.

Add eggs. Continue to whisk on high for about 1-2 minutes. The entire mixture should be creamy and fluffy.

Add the extracts and mix. Do not add the oil yet!

Switch to the paddle mixer. With the speed on low, add portions of the dry mixture and milk, alternating. Mix until just incorporated.

With the paddle attachment still on low, sloooowly pour in the coffee as it mixes the batter. Mix until just incorporated. Do not overmix!

Remove bowl from mixer. Make sure you scrape the sides with a rubber spatula and mix any ingredients that were missed.

Stir in ⅛ teaspoon of the LorAnn peppermint oil. This will add a little stronger peppermint kick. Taste the batter. If you are happy with the peppermint level, leave it be. If not, add ⅛ teaspoon. Taste again. This stuff is POTENT so that's all you should need!

Fill cupcake liners to ⅔ to ¾ full. This should yield about 30 cupcakes.

Bake for 16-18 minutes or until a toothpick test comes out clean.
For the Frosting
With the whisk attachment on high speed, whip the butter on high for 3-4 minutes. Reduce speed to medium and slowly add the powdered sugar. Mix until combined.

Add extracts and salt. Pour in milk on tablespoon at a time until desired creaminess is reached.

Return speed to high and whip for 3-5 minutes until light and fluffy.

Using your preferred piping tip, pipe onto cooled cupcakes.