If you've spent any amount of time in Louisiana at all, then you are surely familiar with this southern favorite! I'm not from Louisiana, but I spent a lot of my childhood and early adulthood there, and Red Beans and Rice is one of my favorite dishes. This red beans and rice recipe is packed with juicy sausage, spicy tasso, and the cajun trinity. It's super easy, delicious, and relatively inexpensive too!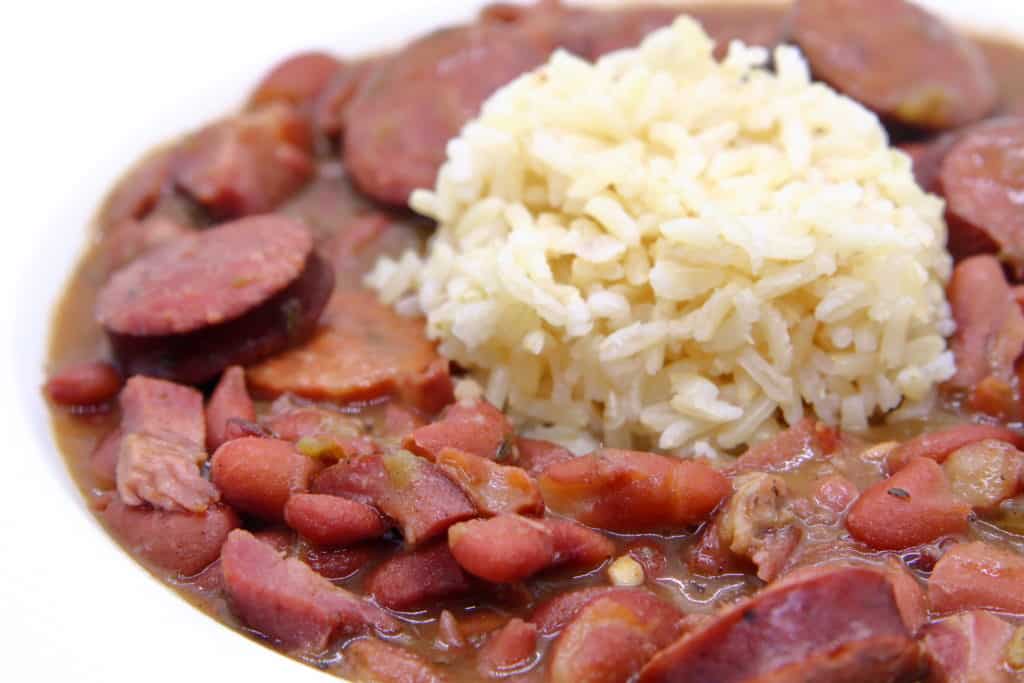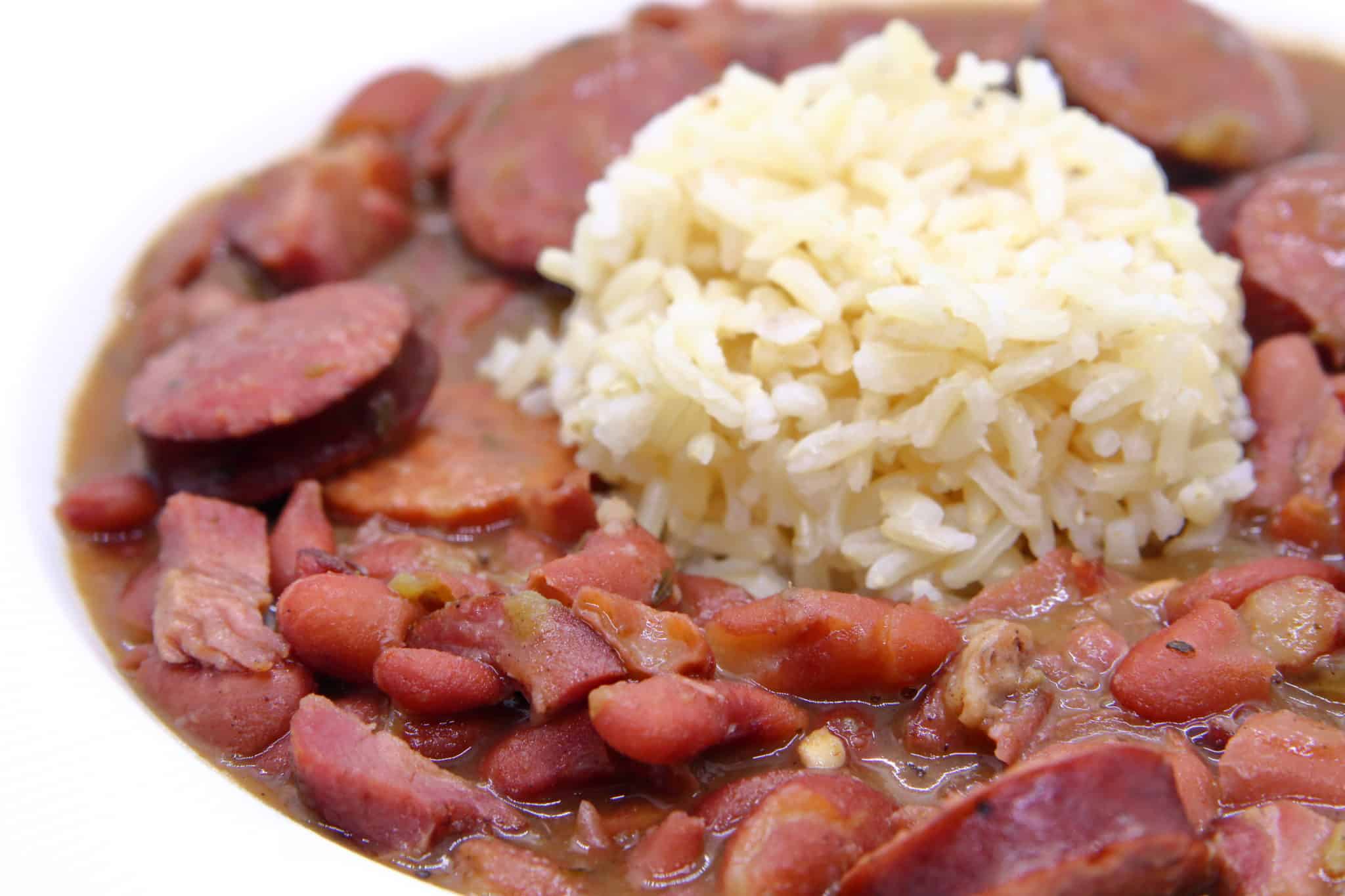 You can choose whatever kind of red beans you like, but my tried and true is the Camellia Red Beans. A lot of people soak them prior, but I don't. I've done it both ways, but I don't find that it's necessary and I honestly can't tell a difference.
Getting started with the Red Beans and Rice
Cooking red beans and rice is really easy. Most of the work goes into the prep. The best thing to do is just measure everything out and chop everything up first. Before you start chopping, put the dried red beans and water in a large pot and get it heating. While that is getting started, you get to choppin'!
As with any cajun dish, you must start with the cajun trinity: Equal parts white onion, green bell pepper, and celery. I cut mine up pretty small because I don't really want the chunky bites, but you gotta have that flavor! I use about a cup of each. It seems like a lot and that it'll take over the dish, but trust me. It won't. if you're leery about biting into chunks of celery (yuck!), you won't. By the time everything is finished, they are so cooked down you barely notice them (other than the DELICIOUS flavor!)
And personally, I always add garlic. Lots of garlic. I think the recipe on the bag of beans asks for one clove of garlic. ONE CLOVE. After I wiped my tears from laughing, I peeled the whole entire bulb, threw it in the Ninja, and added it to the trinity. Saute in some olive oil over medium heat for about 3-5 minutes, or until your kitchen smells like heaven in a pan.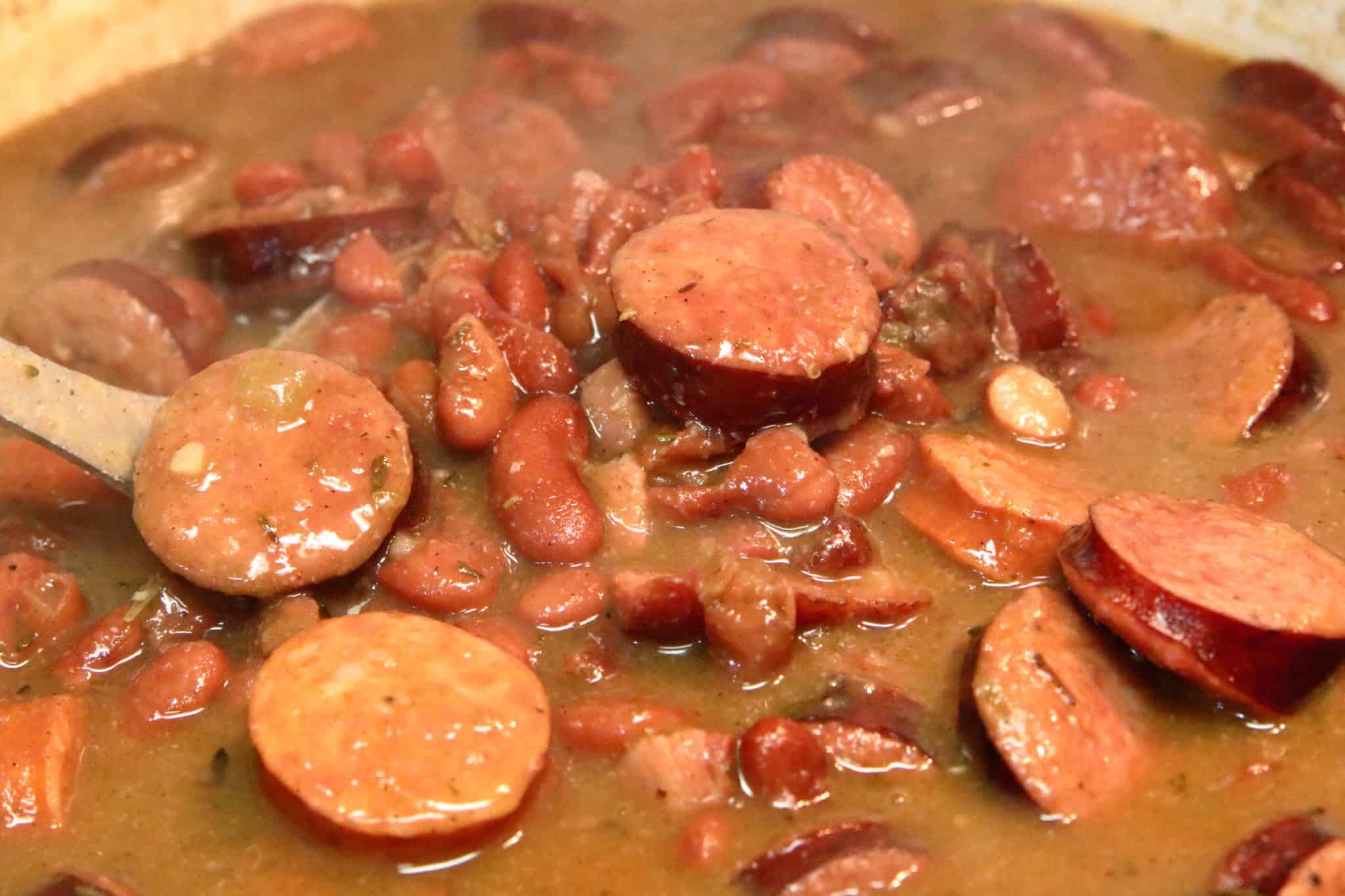 Sausage and the Secret Ingredient
Sausage is a must. Is it even red beans and rice if you don't have it? I suppose maybe, but expect the side eye if you try to serve it that way. I'm not even a huge fan of sausage, but I LOVE it in red beans. Personally, I prefer the Holmes Smokehouse brand sausage. I LOVE the Jalapeño and the Pecan Smoked, but they are all delicious. Chop them about ½ to ¾ inch wide. They will cook down some, so if you chop them too thin, they'll shrink down too much!
Now. Most people stop there. Beans, sausage, seasoning. Boom. Done.
Nope Nope Nope. If you have never added Tasso to your red beans and rice, you haven't lived. In short, Tasso is cured pork shoulder seasoned with cajun spices and smoked. It is HEAVENLY. I've tried a variety of tasso from the mass produced in the grocery store to the backwoods mom and pop meat markets (bet ya can't guess which one is better)!
Good tasso can be hard to find, especially if you don't live in the south. My husband has been wanting to try to make homemade tasso, and for this one, he finally did and man was it delicious. He followed the tasso recipe at The Sauce by All Things BBQ and it was REALLY good. 10/10, would make again.
One last thing about the Sausage and Tasso: Some people SWEAR by searing it first. Meh. I've done it both ways, and much like soaking the beans vs. not soaking the beans, I can't tell a difference.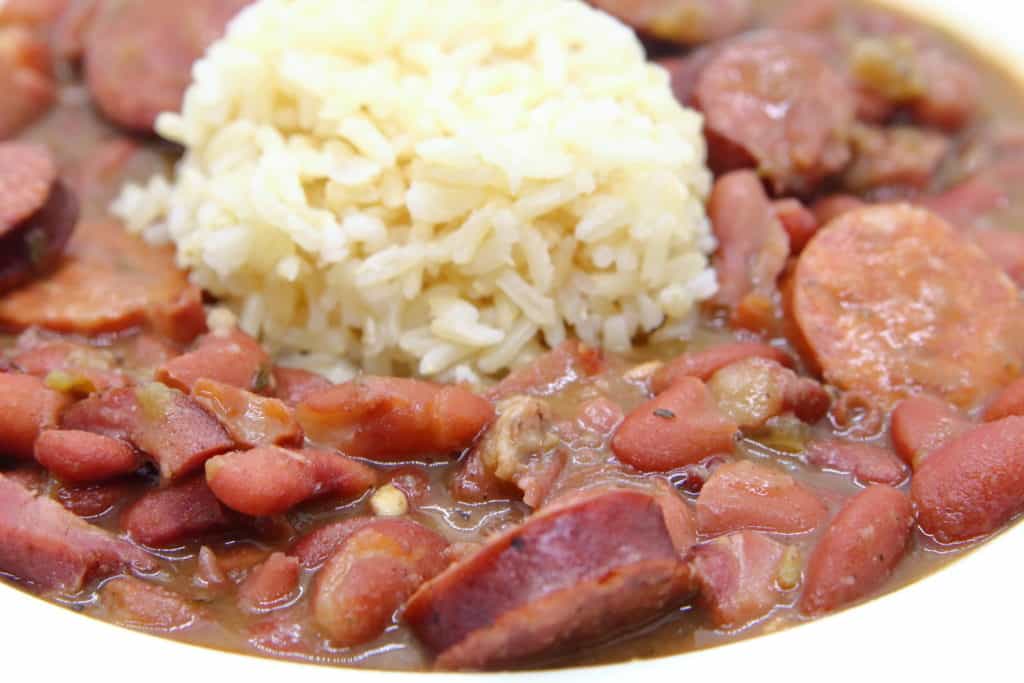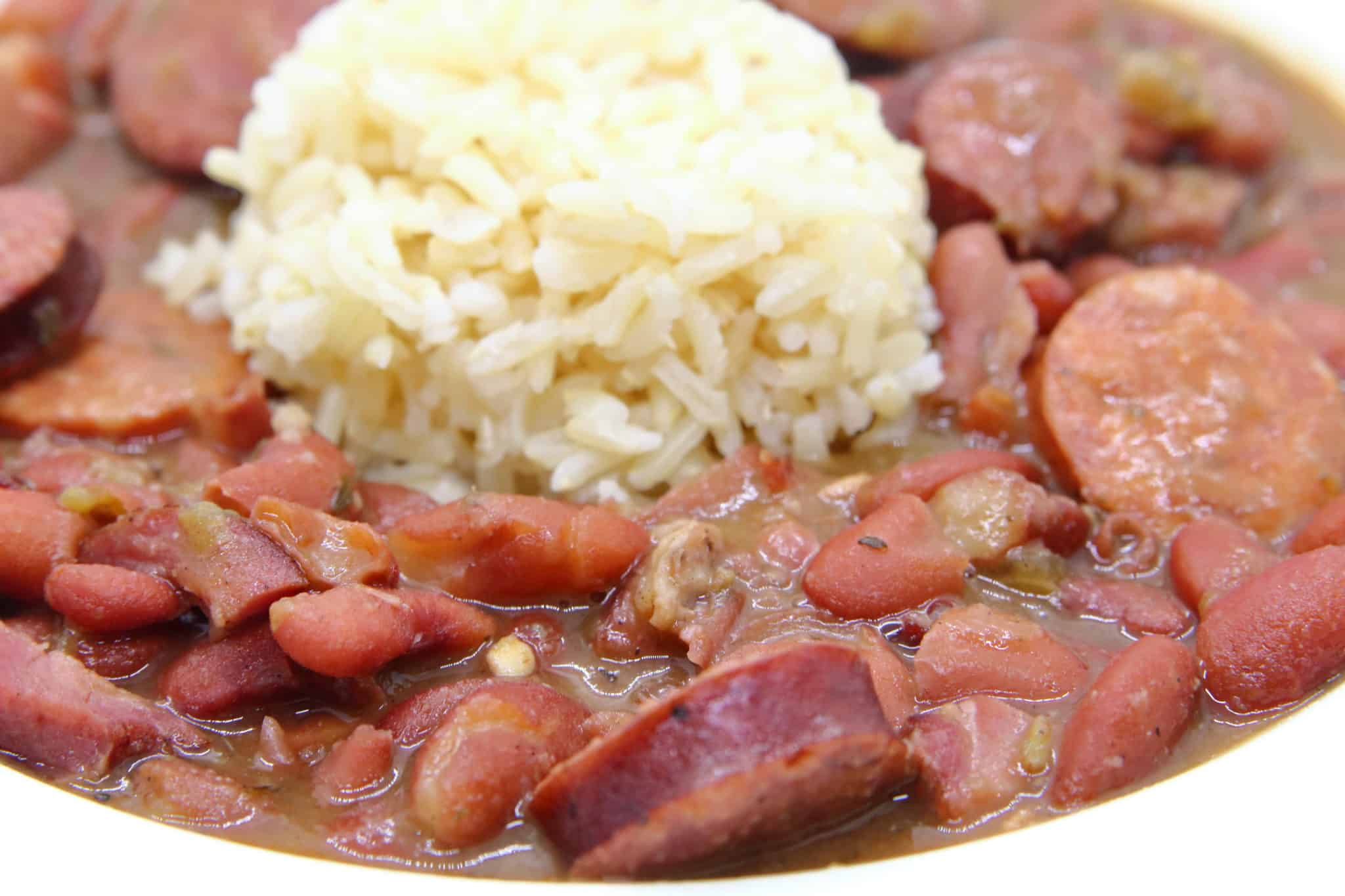 Cooking and babysitting the red beans and rice
Now that we've talked about some of the things I do to my red beans, let's talk about actually cooking them. Spoiler alert: There's not much to talk about. It's easy.
Put the beans and water into a big pot. Heat to a slow boil.
Add sautéed trinity to the pot.
Add sliced and chopped meat.
Stir in the spices (Tony Chachere's, salt, garlic powder, onion powder, thyme, and bay leaves).
Boil for 5-10 minutes until everything is thoroughly mixed. Reduce heat and simmer for 3-4 hours.
That's the majority of it! Just stir and taste test periodically and adjust the spice level accordingly. You MIGHT have to add more water if the water gets soaked up too much, but you shouldn't have to. It also shouldn't be necessary to add any thickeners or smash up some beans to add thickness either. I have always found that the liquid will thicken up on it's own close to the end of the cook time. That's one of the indicators to me that you're close!
That's pretty much it! Simple! Now, pour a big ole ladle full over some cooked rice, serve it with a side of your favorite cornbread, and dig in!
Enjoy!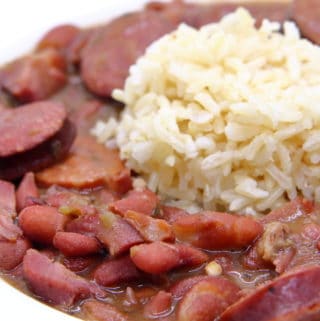 Red Beans and Rice
Flavored with the cajun trinity and seasoned with some Tony's, smoked sausage and tasso, this classic, southern red beans and rice recipe is a long time favorite!
Print
Pin
Share on Facebook
Rate
Ingredients
6-8

quarts

water

1

lb

dried red beans

I use Camellia red beans

2

tbsp

olive oil

extra virgin

1

large white onion, finely chopped

Makes a pretty good sized heaping cup

2

green bell peppers, finely chopped

About a cup

3-4

celery stalks, finely chopped

About a cup

1

bulb of garlic, minced

yes, the whole thing

8

ounces

smoked tasso, chopped into small cubes

2-3

lbs

smoked sausage of your choice, sliced about ¾ inch thick

I love the holmes brand

1

tbsp

dried thyme

1

tbsp

garlic powder

1

tbsp

onion powder

2

tbsp

Tony Chachere's

1

tsp

salt

2

Bay leaves

Cooked rice

fresh cracked pepper to taste
Instructions
Put red beans and 6 quarts of water in a large pot over med-high heat.

Heat olive oil over medium heat. Saute onions, bell pepper, celery, and garlic for 3-5 minutes, or until soft. Add to pot of beans and water. Bring to a slow boil.

Add garlic powder, onion powder, Tony Chacheres, salt, bay leaves, and dried thyme.

Chop/slice the tasso and sausage. Add to pot of beans. Continue to boil for a few minutes until all ingredients are mixed well.

Reduce heat to low and simmer for 3-4 hours. Stir occasionally and taste periodically. Adjust spices and water as needed.

The liquid in the pot will thicken on its own by the time it's ready. No need for flour thickener or smashing beans to thicken.

Pour over cooked rice and enjoy!