This creamy spiked eggnog cheesecake with a honey graham crust is an absolute MUST TRY this holiday season! Instantly one of my favorite holiday cheesecake recipes!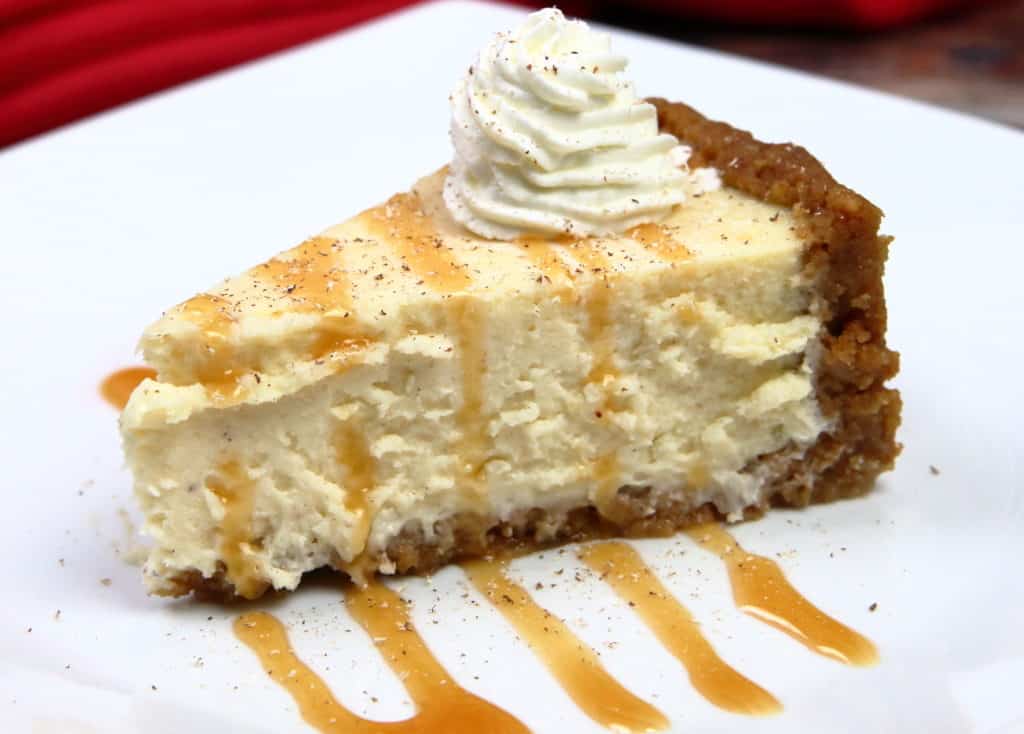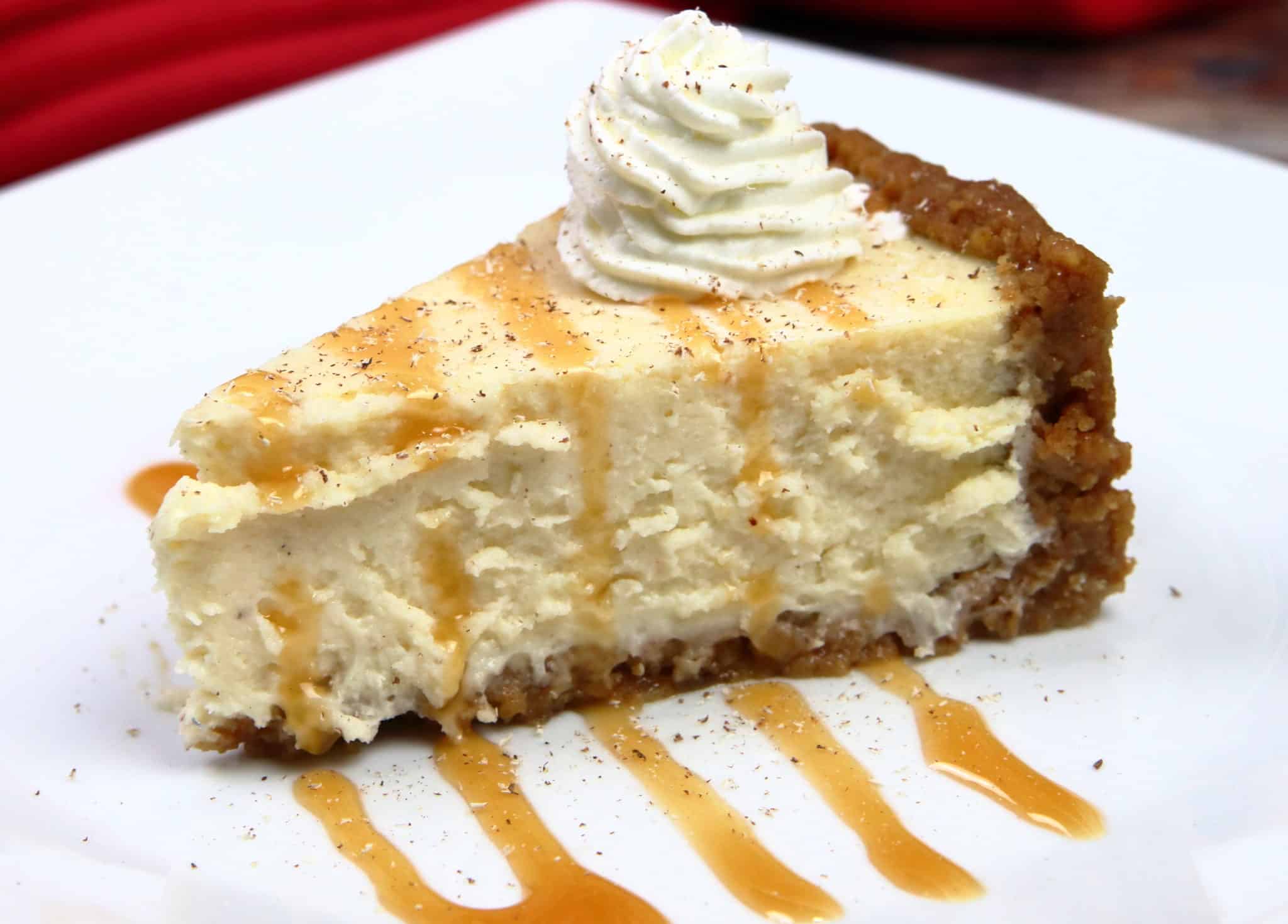 It's the holiday season and we all know what that means… scrumptious, delicious sweet treats EVERYWHERE! And for me, it doesn't get any better than cheesecake. I LOVE this time of year because it gives me a great excuse to experiment with new cheesecake flavors. Of all the indulgent holiday time treats, eggnog is one of my guilty pleasures. It only makes sense to take two luscious holiday favorites and merge them into one creating a smooth, creamy, and absolutely PHENOMENAL Spiked Eggnog Cheesecake.
First, let me start with saying that making cheesecake is REALLY not that hard! For some reason, people are scared away from it, but it's actually quite easy as long as you keep a few techniques in mind.
Making Your Cheesecake Crust
To be perfectly honest, the batter is the easy part (in my opinion). It's the crust that I don't really enjoy making (although I love to eat it)!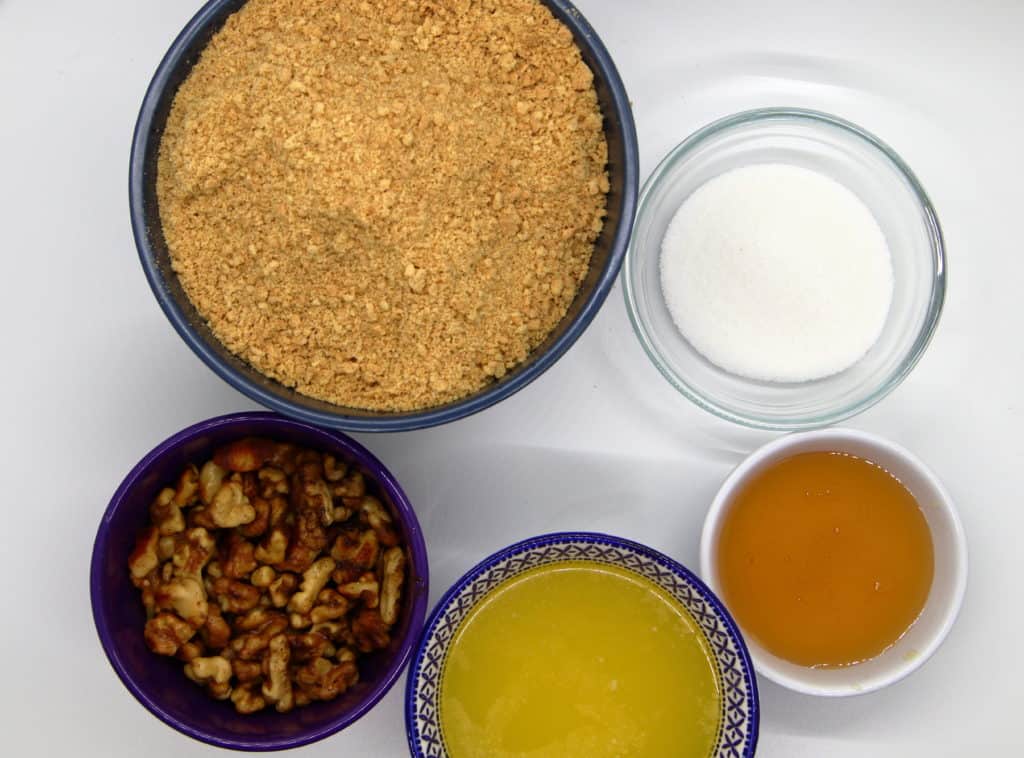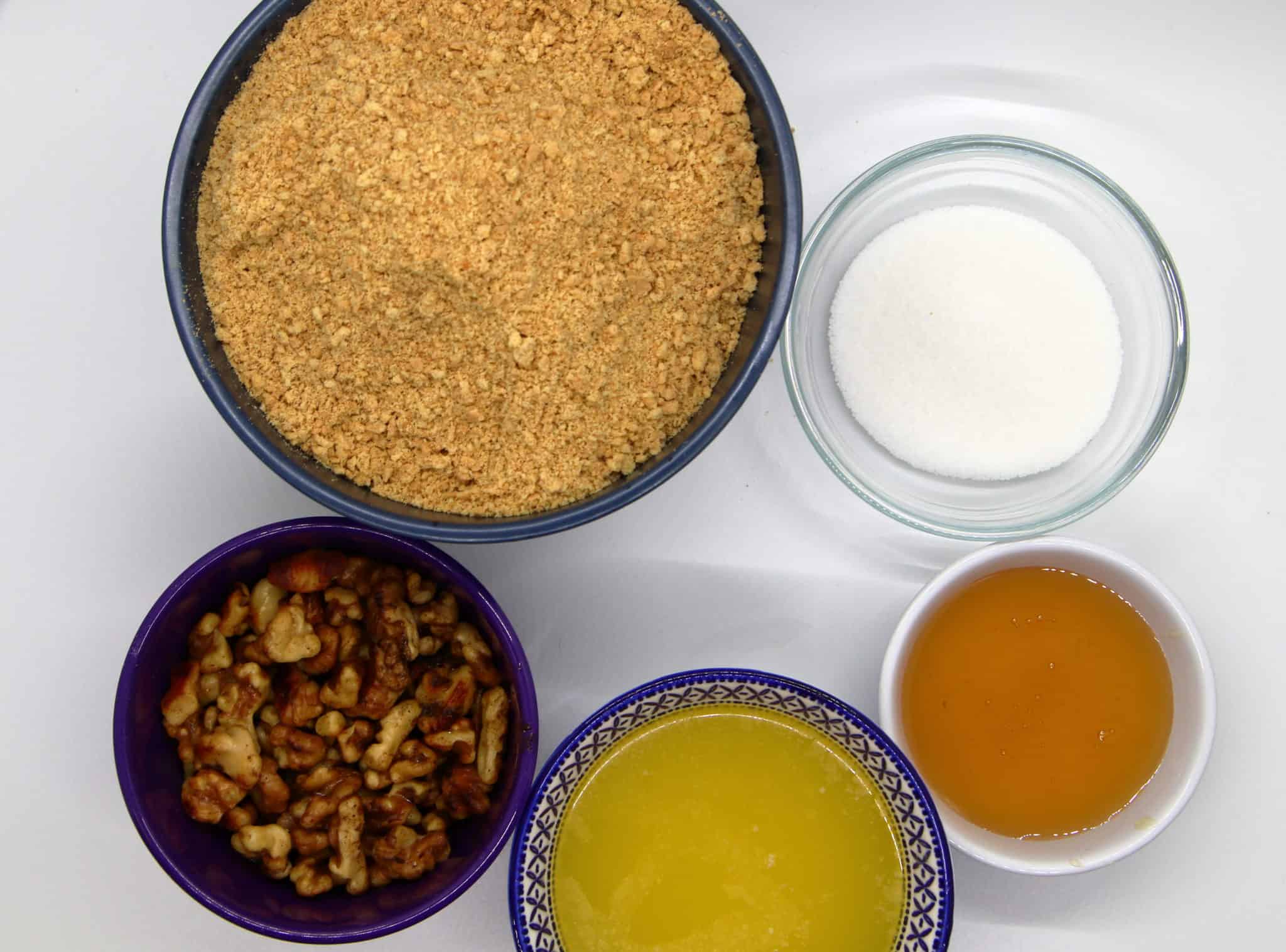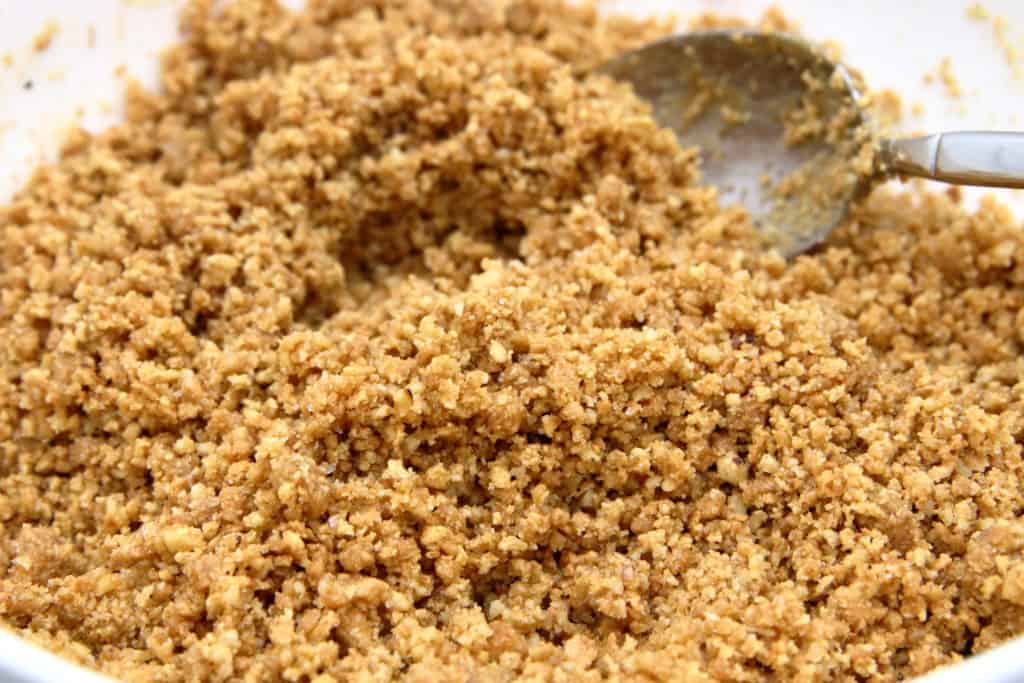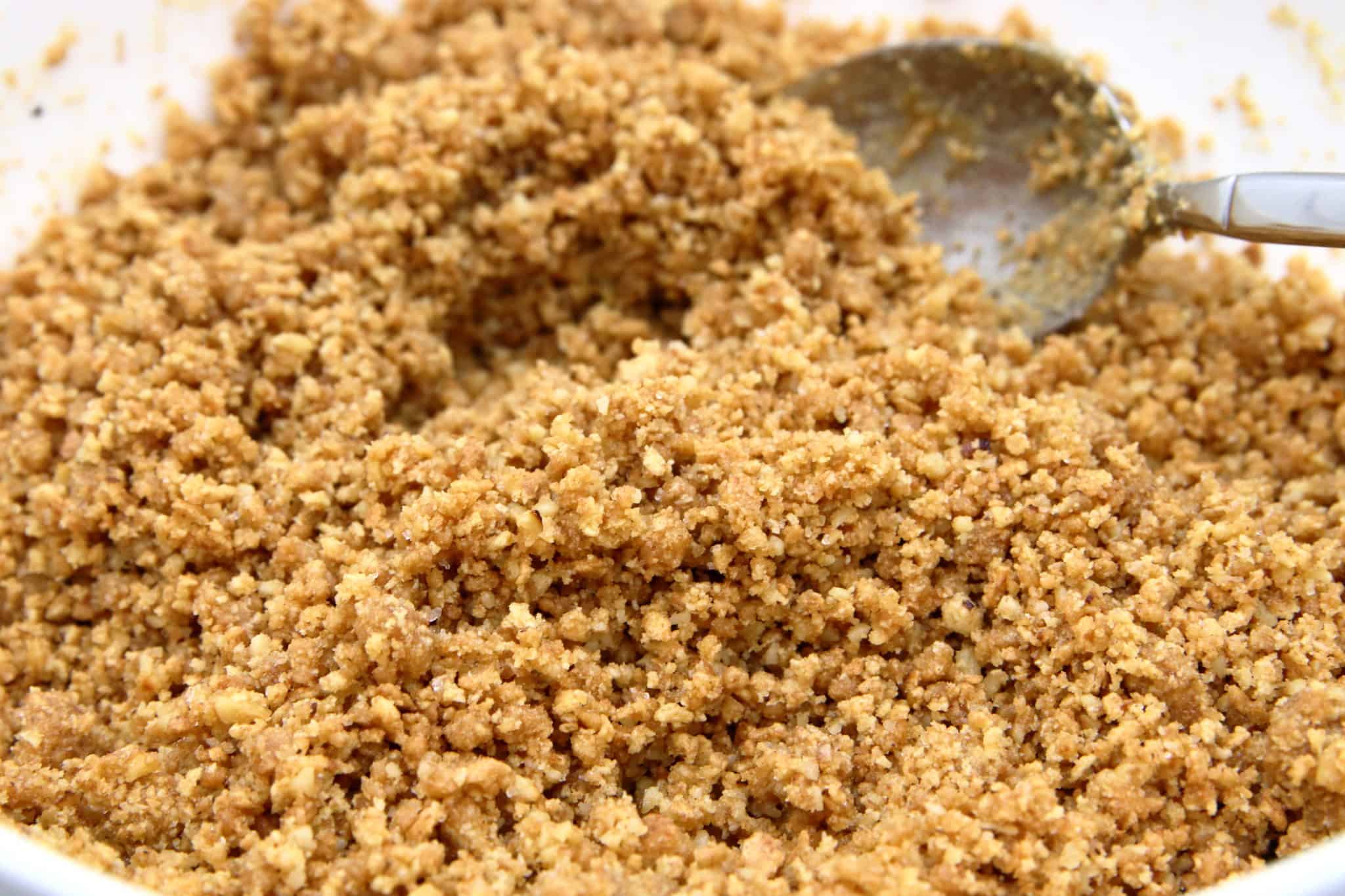 Through much trial and error with crust making, there are a few things I've learned:
Don't use too much melted butter! It might seem like you need a lot of butter to wet the cracker crumbs, but you really don't. If you put too much butter in the crust, it can cause it to get really hard while it cooks, and no one wants a crust that's going to break your teeth.
Honey is your friend. The wetness/stickiness that you don't get with a ton of butter, you will get from honey PLUS you'll get another flavor dimension as well.
Blend up your crust component well. Whether it's cookies, crackers, nuts, or all of those, make sure they are blended finely in a food processor. You really want a consistency of size, but you also want to make sure the pieces are small enough to adhere to each other.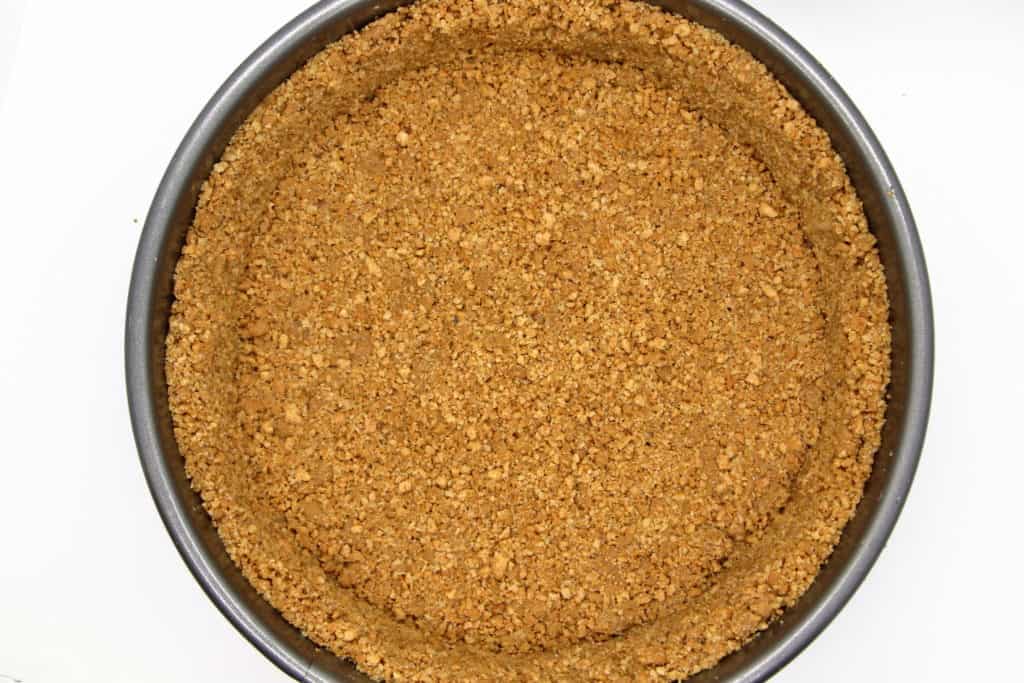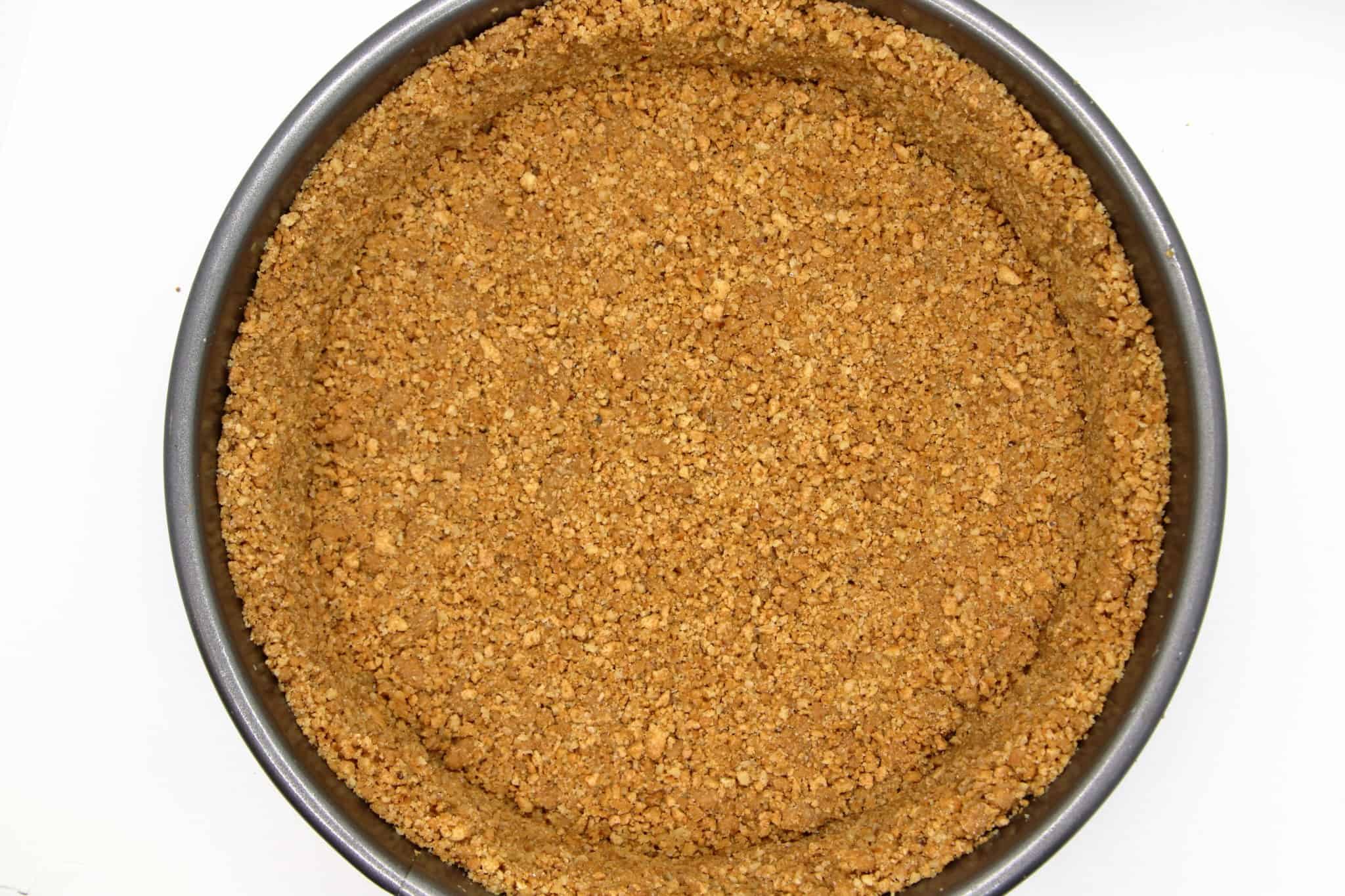 Once you have all of your crust ingredients ready to go, mix them all thoroughly in a large bowl. Make sure to bust up any clumps. The graham crackers can soak up the butter and honey, preventing it from mixing throughout. You want to make sure you mix everything as consistently as possible.
Now, how high you go up the side of the pan is up to you. Some people prefer to just line the bottom. Some go halfway up the way. Me? I go all the way up. I LOVE the crust and I really like it to surround the entire batter.
For me, I find it easiest to do the sides first. Toss in a good portion of the crumbs and start to press them up the sides as far as you desire. If you want to go all the way up the batter, press the crumbs up the side until they are about 1 inch below the top. The batter will not reach the top. When the sides are done, I fill in the bottom.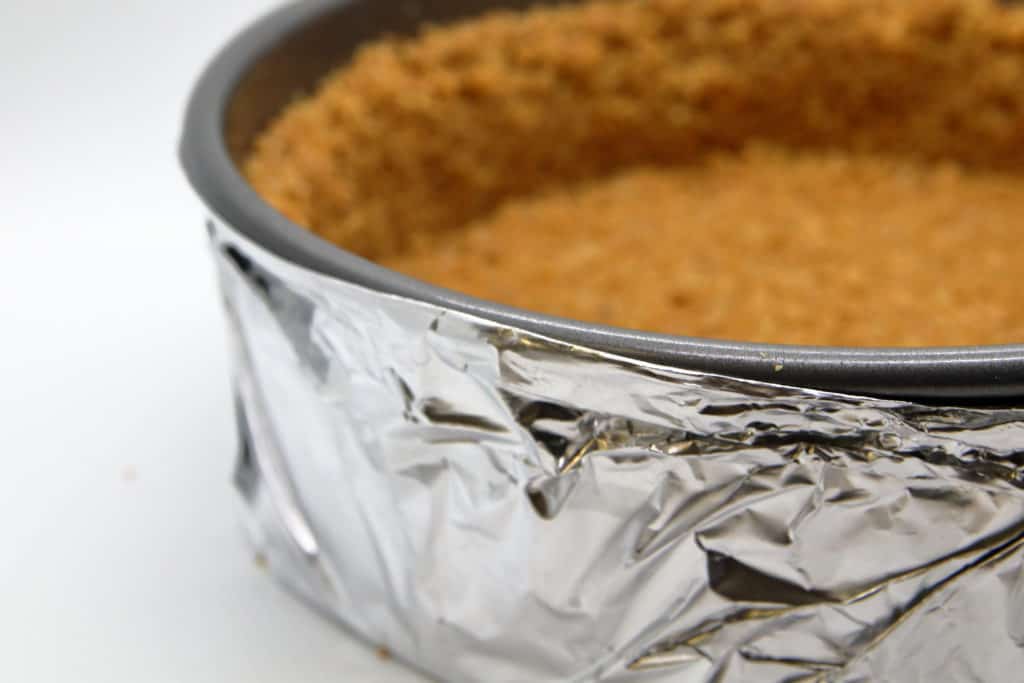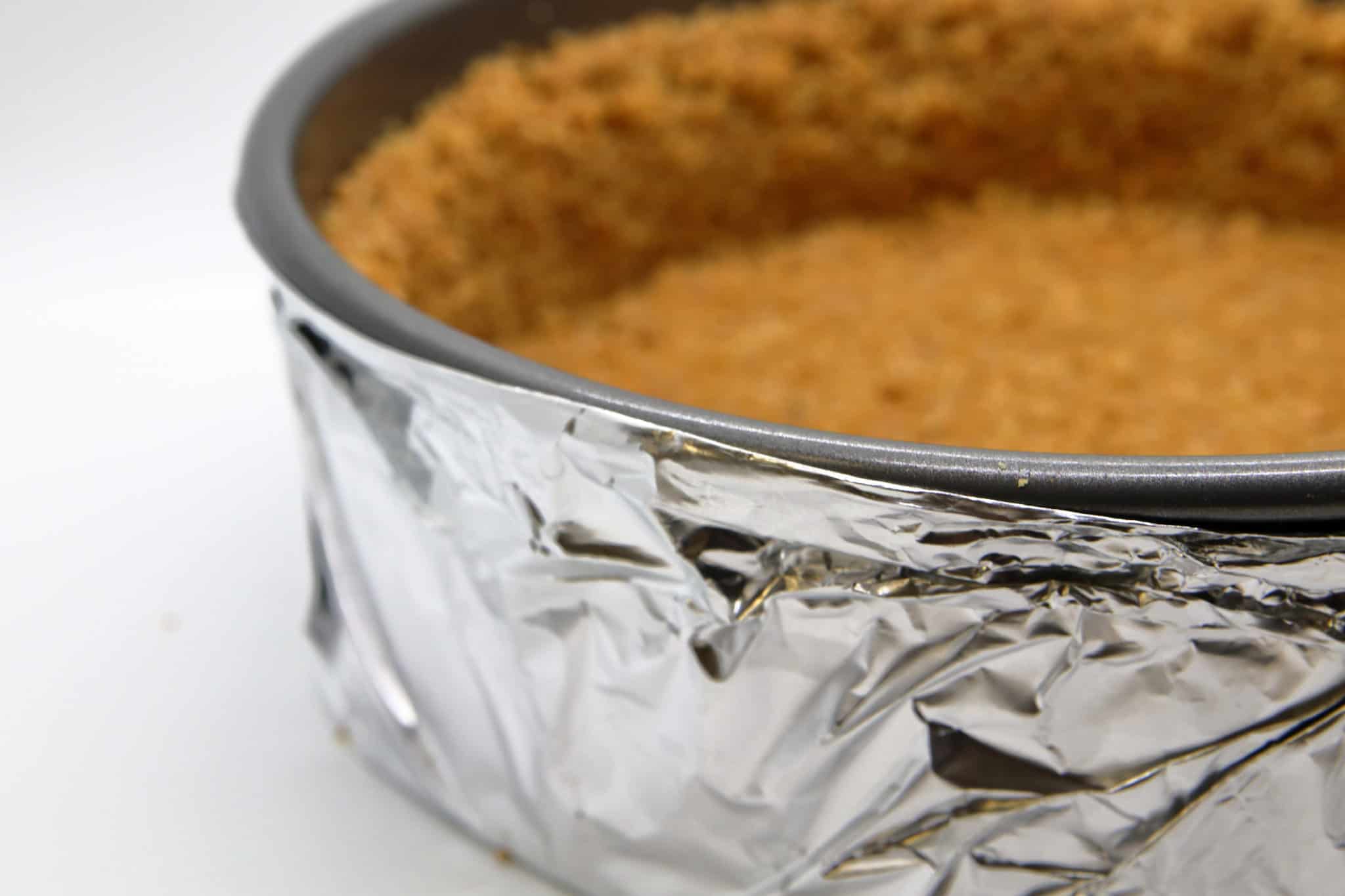 Once you have your crust in the pan, this is a good time to wrap the pan in foil. Take a large piece of foil, lay it out, and place the pan in the middle. Fold up the sides until the foil lays tight and flat against the sides.
Be careful not to allow any folds or seams to form in the foil. You need one solid piece so that it cannot be penetrated by water (More on the water bath later)! You can actually do this before or after you do the crust, but just make sure you do it before that batter.
Making your Spiked Eggnog Cheesecake Batter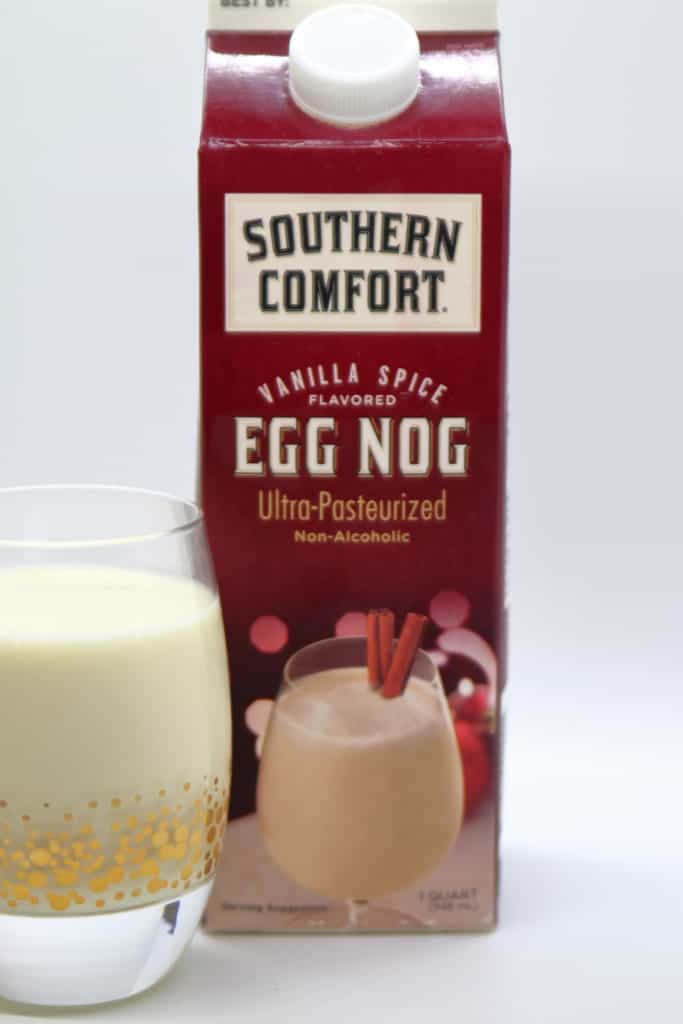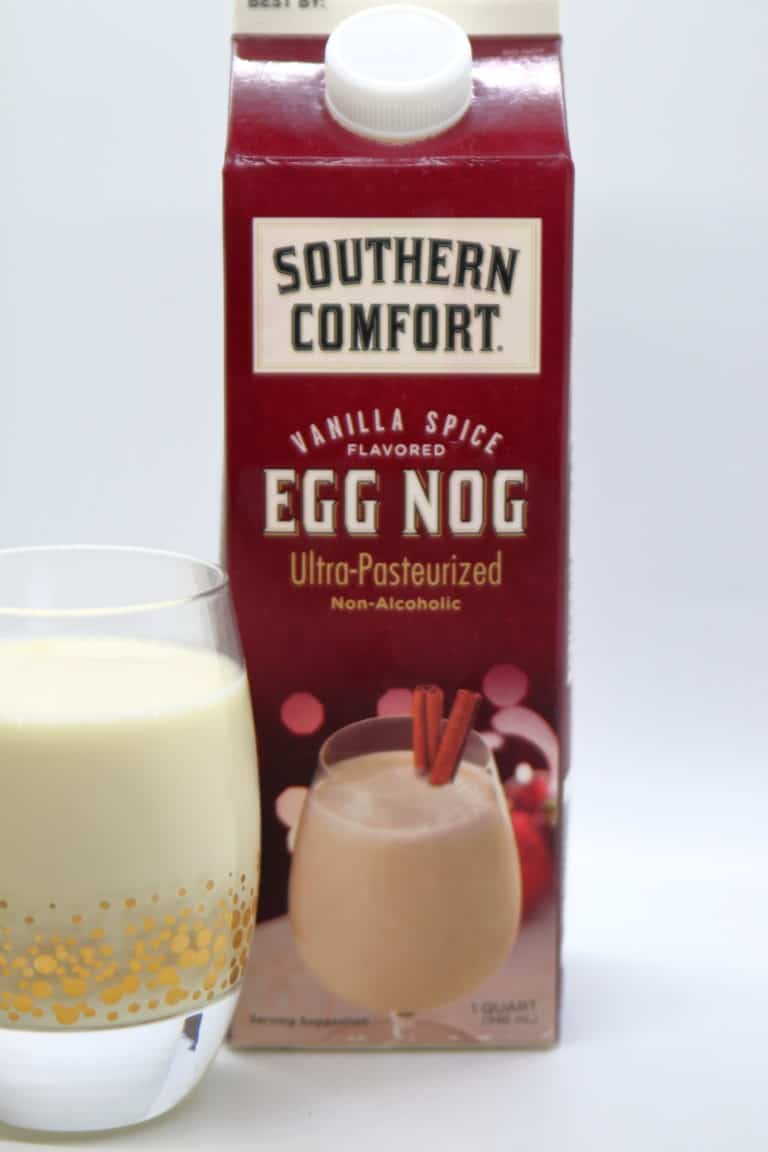 Now onto the easy part (really). Most of what you need to do here is mix all spiked eggnog batter ingredients together. There are a couple of things to note:
You don't HAVE to actually spike it (But why wouldn't you?!). It adds SUCH a nice flavor. Just make sure you use a rum you would actually drink (meaning don't use a cheapy one you don't enjoy). I would recommend against rum extract if you can avoid it. It's just not the same! As far as eggnog choice, I really like the Southern Comfort.
Mix the ingredients well, but don't whip on too high speed or for too long. If you whip too much air into the the batter, you'll get bubble in the batter. And while it doesn't affect the taste, it doesn't look great and can cause it to crack. Spoiler alert: I overwhipped this batter and it was a little bubbly. But it tasted AWESOME. So if you do this, no big deal.
This batter will be THIN. I've made a ton of batters and this is probably the thinnest one I've done. At first I was afraid it wouldn't set up. Don't worry. It will.
Don't skip the water bath. It does a multitude of things for your cheesecake: bakes evenly, adds to the creaminess, helps it to not crack. It can be a hassle, but it's worth it. All you need is a large roasting pan. Once the batter is poured into the crust, place it in a large roasting pan and fill with water until it is about halfway up the side of the cheesecake pan.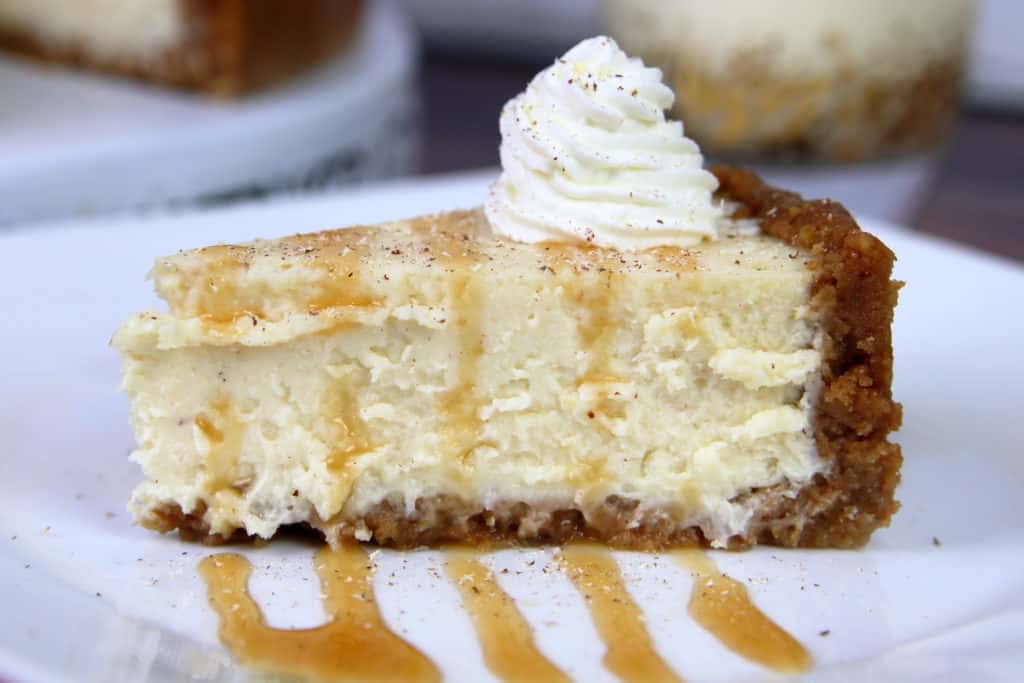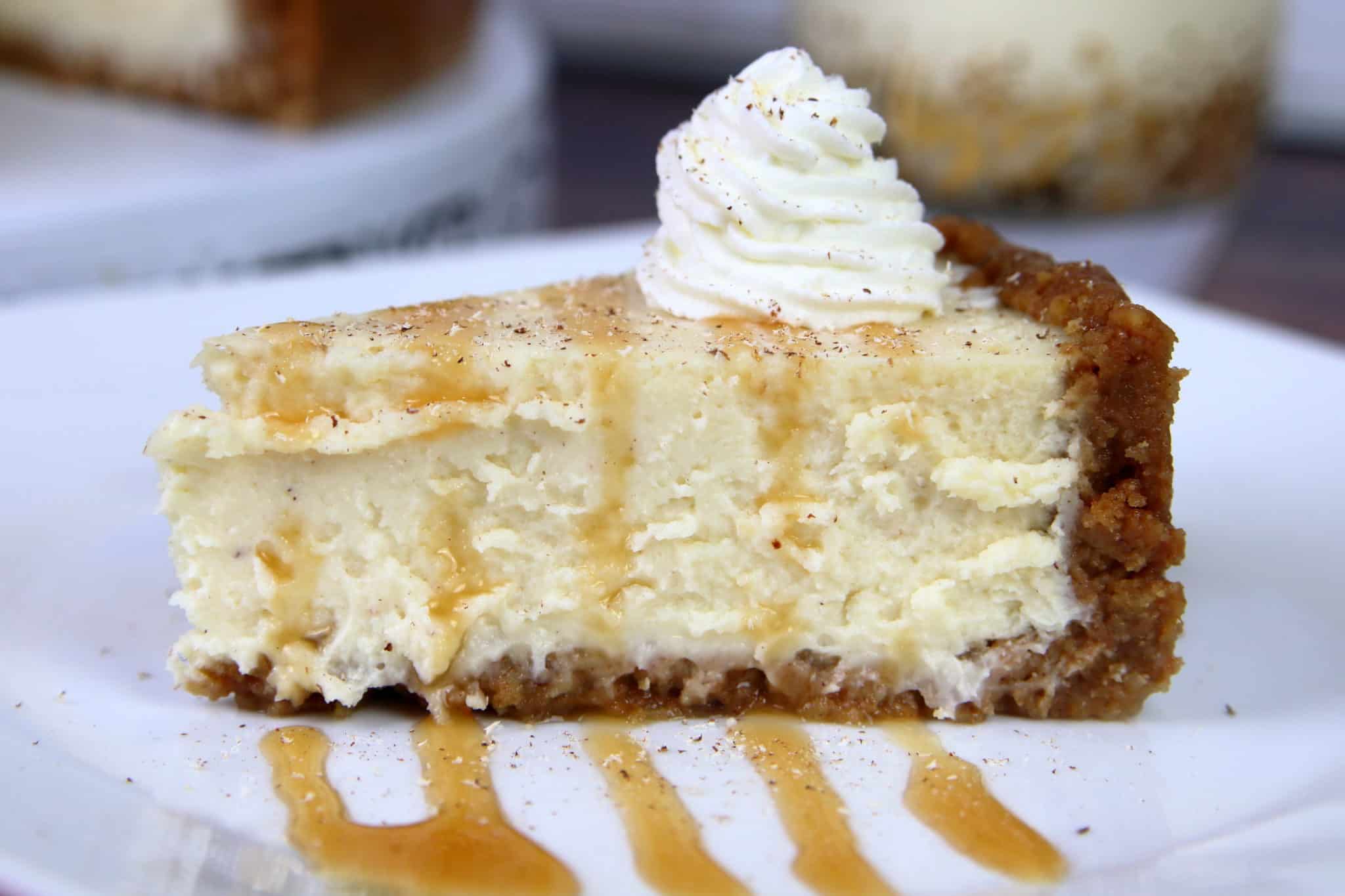 Once your spiked eggnog cheesecake is ready to bake, put it in the oven and leave it alone! Do not keep opening the door. You'll let out all the steam! Be patient, let it go. It will take quite a while at 300F. The reason we want it low and slow is so the top of the cheesecake doesn't brown and get tough. This way, you will keep that beautiful creamy color and texture.
When you've reach about 65-75 minutes in the oven, then you'll need to cheat and check on it. It will NOT be set right now. You'll get a little jiggle a few inches in the middle. If the WHOLE thing moves like a waterbed, it's not ready. It needs to be a bit firmer. Most of the movement will be inside. When you feel like it's done, turn the oven off and shut the door. By this time, you've let out some moisture, but close the door and leave it in the over for about 45 minutes to an hour so it can continue to steam in the oven and cool down over time.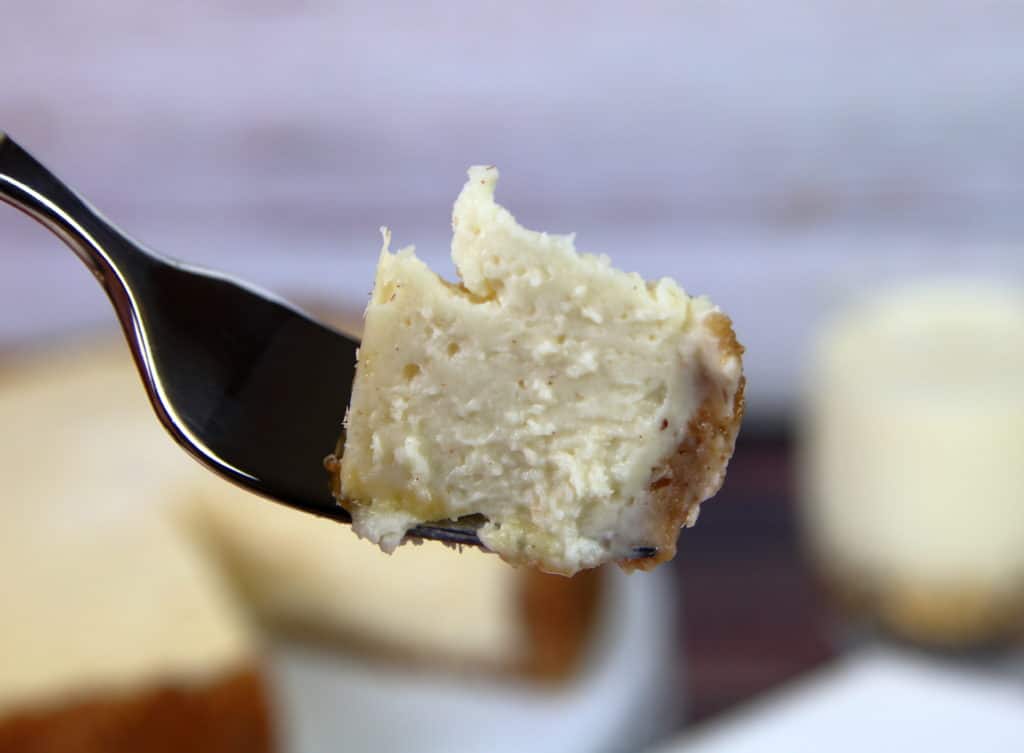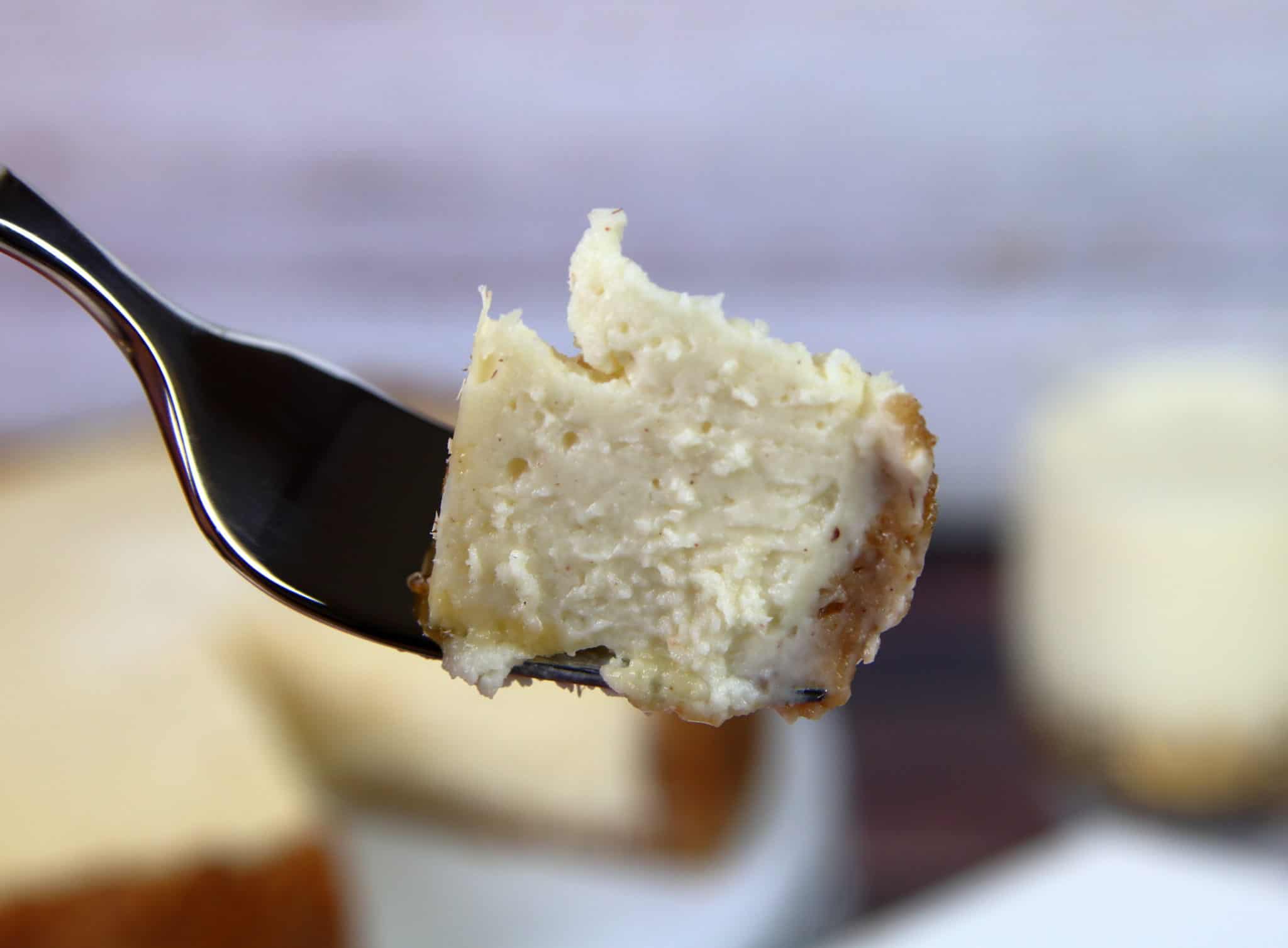 After that period of time, you can go ahead and take it out of the oven, cover, and cool in the refrigerator for at LEAST four hours. I always make mine the night before just to be safe. But it will definitely need a good handful of hours.
One last tip: When it is time to remove the sides from the springform, drag a knife in between the crust and the pan. This will release the crust from the pan, keeping it from sticking when you pull the sides off. The LAST thing you want is to have this beautiful cheesecake and then pull a crack into it because the sides stuck to the walls.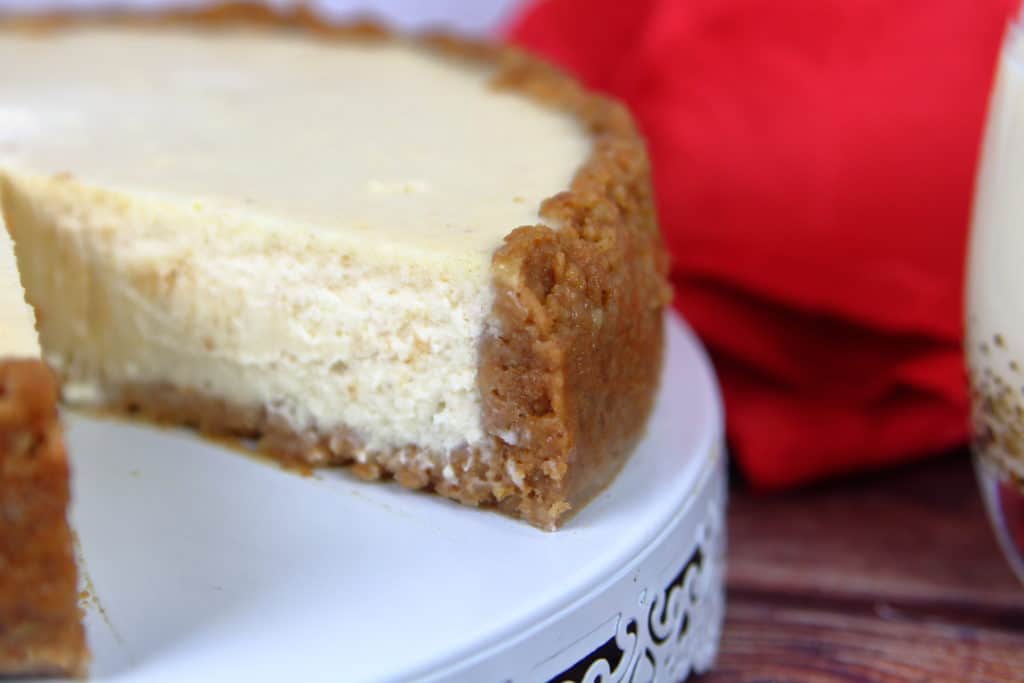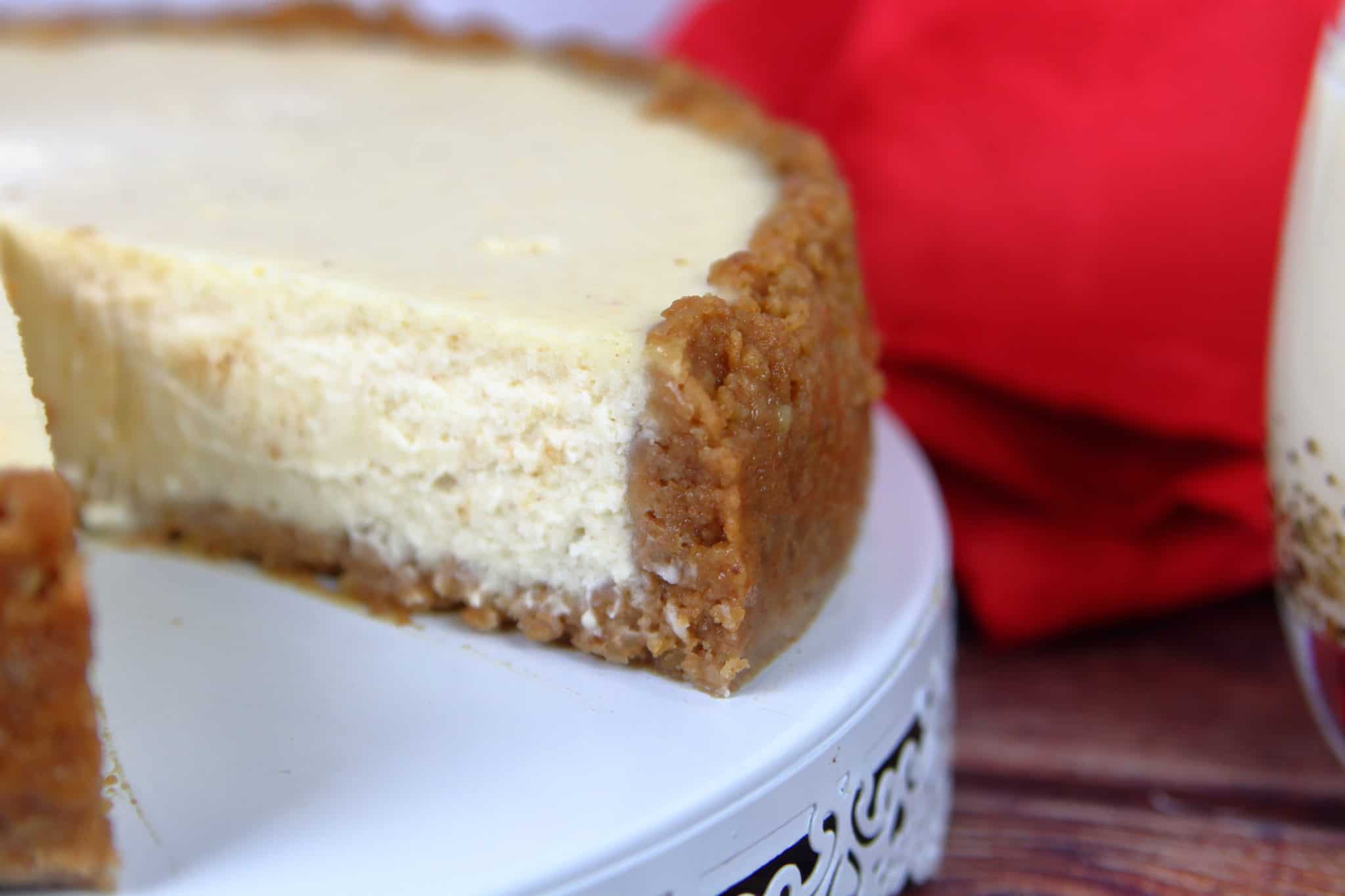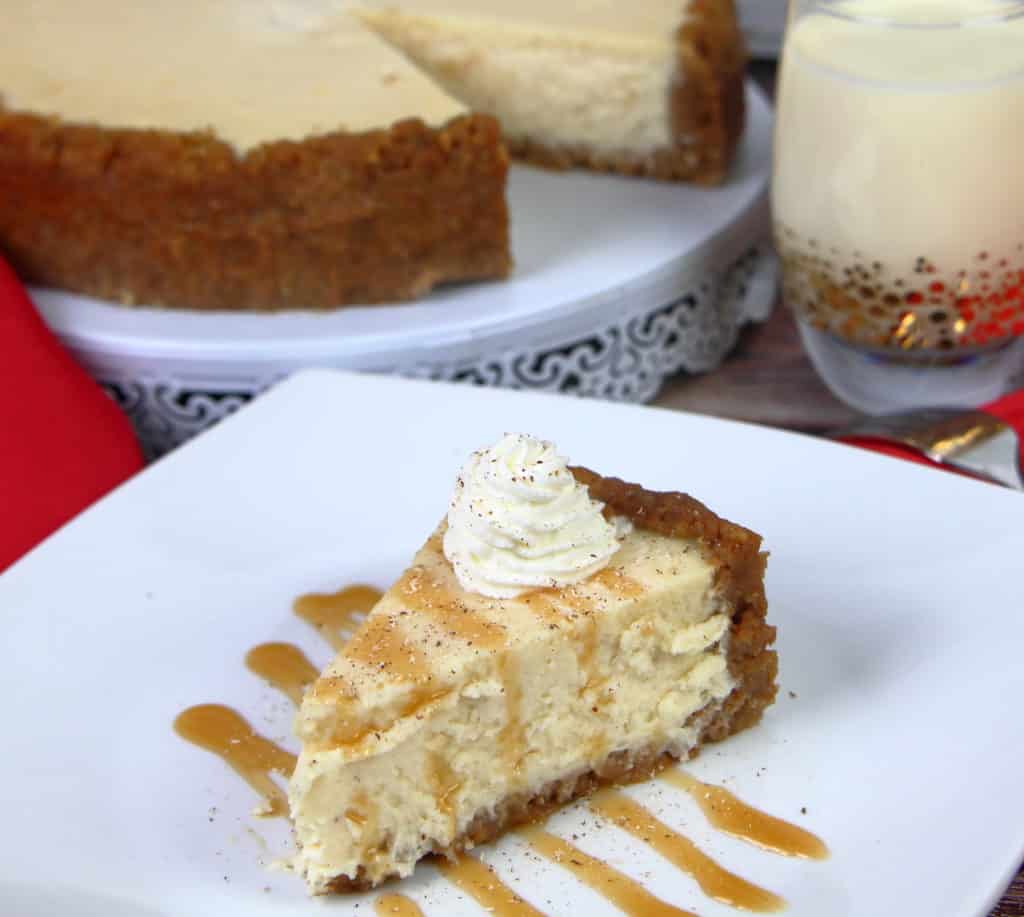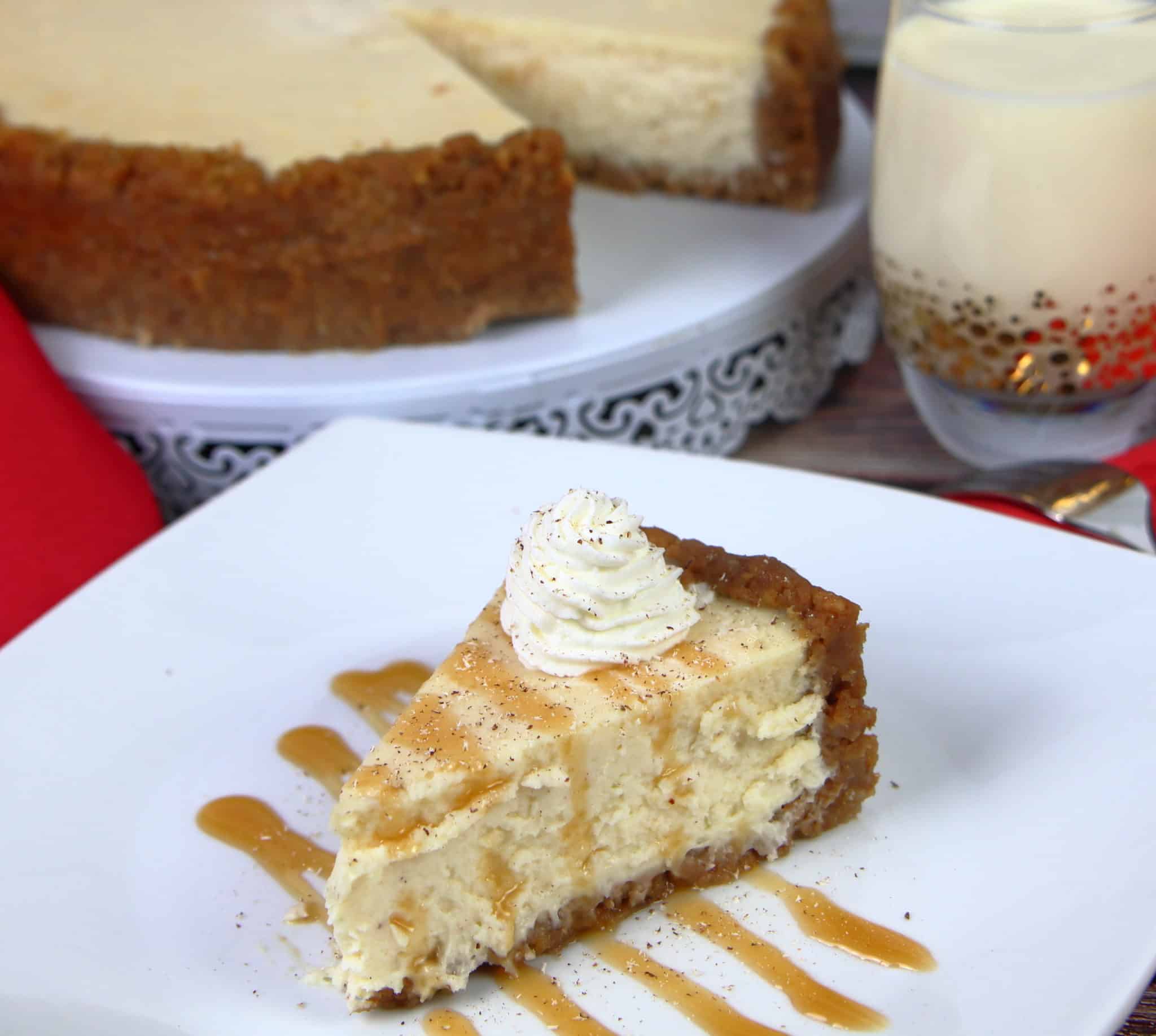 That's pretty much it! Garnish it how you like, but it was delightful with some Ghirardelli sea salt caramel drizzle, homemade whipped cream and a touch of nutmeg.
Feel free to drop me any questions you might have below! I'd be happy to help if I can!
Enjoy!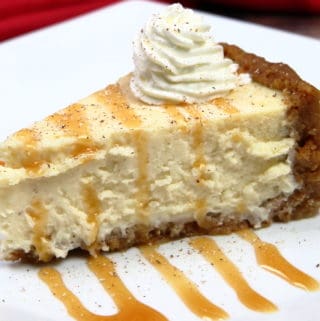 Spiked Eggnog Cheesecake
This creamy spiked eggnog cheesecake with a honey graham crust is an absolute MUST TRY this holiday season!
Print
Pin
Share on Facebook
Rate
Ingredients
For the Crust
2 ½

cups

finely crushed graham crackers

2

tbsp

white sugar

1

stick

butter

½ cup, 8 ounces

2

tbsp

honey

½

cup

walnuts

toasted and finely crushed
For the Batter
3

blocks

full fat cream cheese

3- 8 oz blocks, softened

1

cup

granulated sugar

1

cup

eggnog

3

tbsp

rum

2

tbsp

flour

1

tsp

vanilla extract

2

eggs. 1 full egg, 1 egg white
For whipped topping
1

cup

heavy whipping cream

1-4

tbsp

powdered sugar

¼

cup

eggnog

½

tsp

vanilla
Instructions
Making the crust
Wrap your springform tightly all the way up the outsides in foil. Make sure and use the large foil so it will wrap fully in one piece.

In a food processor, finely crush the graham crackers.

Toast in a saute pan and finely crush walnuts.

In a large bowl, mix graham crumbs, the 2 tablespoons of sugar, and crushed walnuts.

Mix in melted butter. Make sure to break up clumps and mix thoroughly. Pour in Honey. Continue to mix thoroughly while making sure large clumps do not form. The mixture will not be very wet.

Pour about half into a spring form. Mash the crumbs onto the sides of the pan. Once the walls are to your liking, pour and smash more crumbs on the bottom to form the bottom crust. Note: The wall crusts aren't necessary if you prefer to have less crust. If you like, only go up the walls halfway or just do the bottom. I like lots of crust, so I go all the way up.
Making the batter
In a stand mixer using the paddle mixer (you can use a hand mixer if you don't have a stand mixer), whip the cream cheese on medium until smooth and creamy. Add sugar and mix until fully incorporated. Mix in eggnog, rum, vanilla, and flour. Once incorporated, mix in egg and egg white. Note: Mixture will be THIN

Be careful not to over mix so you don't whip too much air in.

Pour batter into crust. Carefully place cheesecake into a large roasting pan. Fill with water until the water reaches about half way on the spring form.

Bake at 300°F for 75-85 minutes. Do not open the door and peek!

After cheesecake is finished baking (just a little wobbly in the center), turn the oven off and let sit in the oven for about an hour.

Remove from oven and water bath. Let sit at room temperature for about 30 minutes to an hour. Cover and transfer to the refrigerator and let chill for 5-6 hours, or until fully set. It may take more or less time depending on your refrigerator temperature.
For the whipped topping
In a stand mixer on high, whip heavy cream, eggnog, sugar (as much as desired) and vanilla for 2-3 minutes, depending on how stiff you prefer your topping.

Cut, garnish, serve, and enjoy!