Listen. I love chicken. A lot. It's easy, it's versatile, and it incorporates well into a healthy diet. But even for me and my love for chicken, if can get boring, especially when I'm really trying to eat cleaner and healthier. There's only so many times one can have regular sautéed chicken before it get old. That's why I LOVE this low carb almond crusted chicken breast recipe. It gives me that feeling of being indulgent without all the carbs that would be in fried chicken, and it's absolutely delicious. And easy (bonus)! This is easily one of my favorite low carb chicken recipes.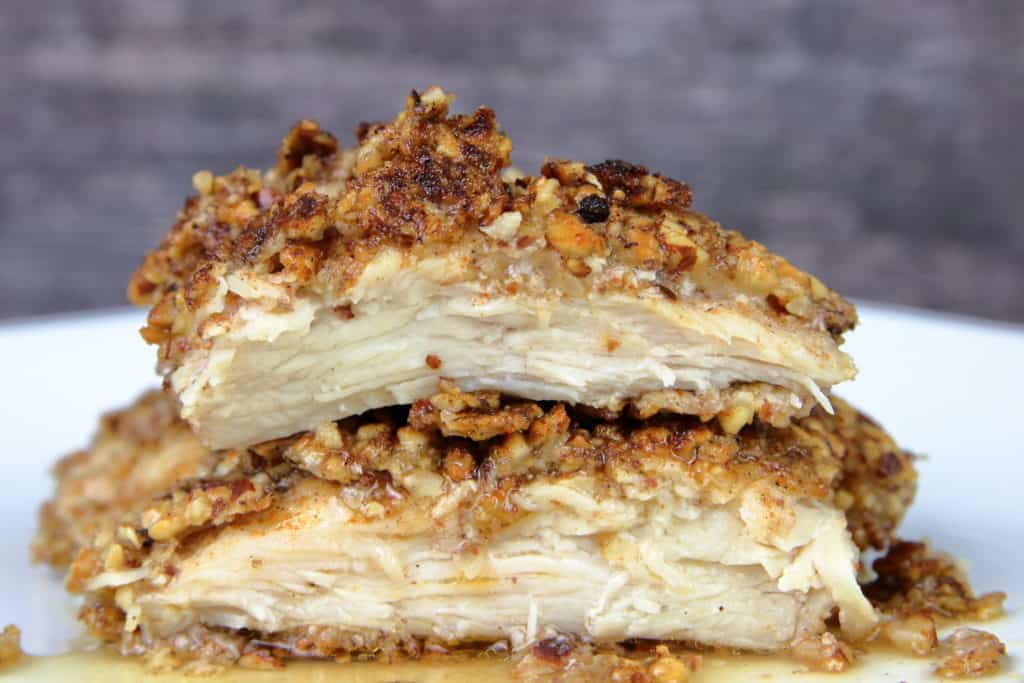 How do you make the almond crust?
One of the best things about this almond crusted chicken breast (other than its deliciousness), is that it is super easy and doesn't call for many ingredients.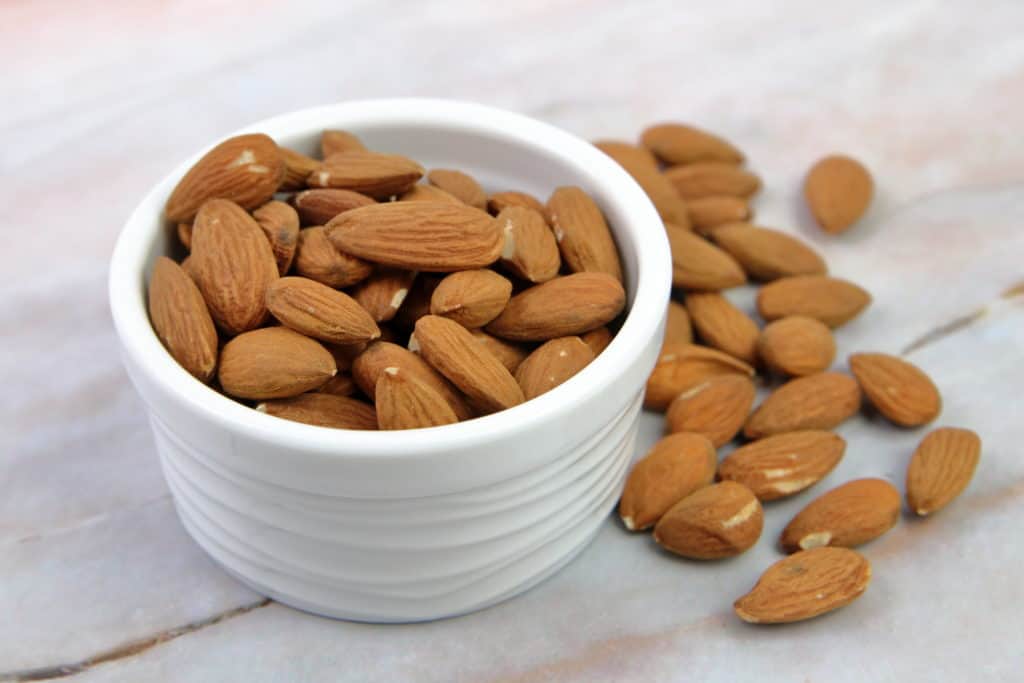 All you need for the "breading" is:
Note: Use any combination of herbs and spices for your chicken you like. This is just how I did mine.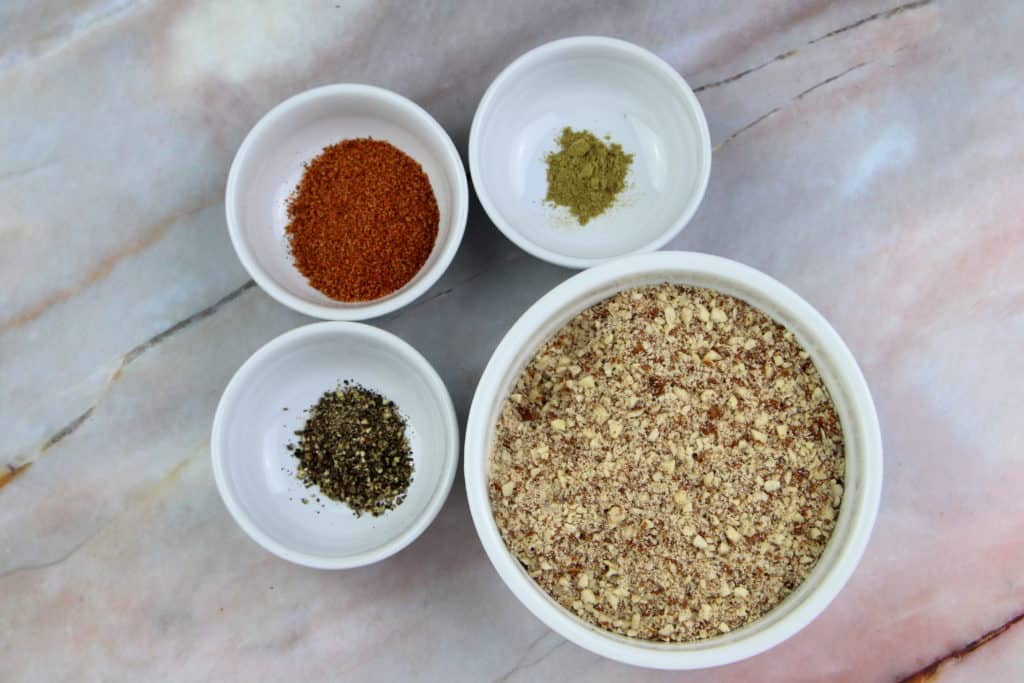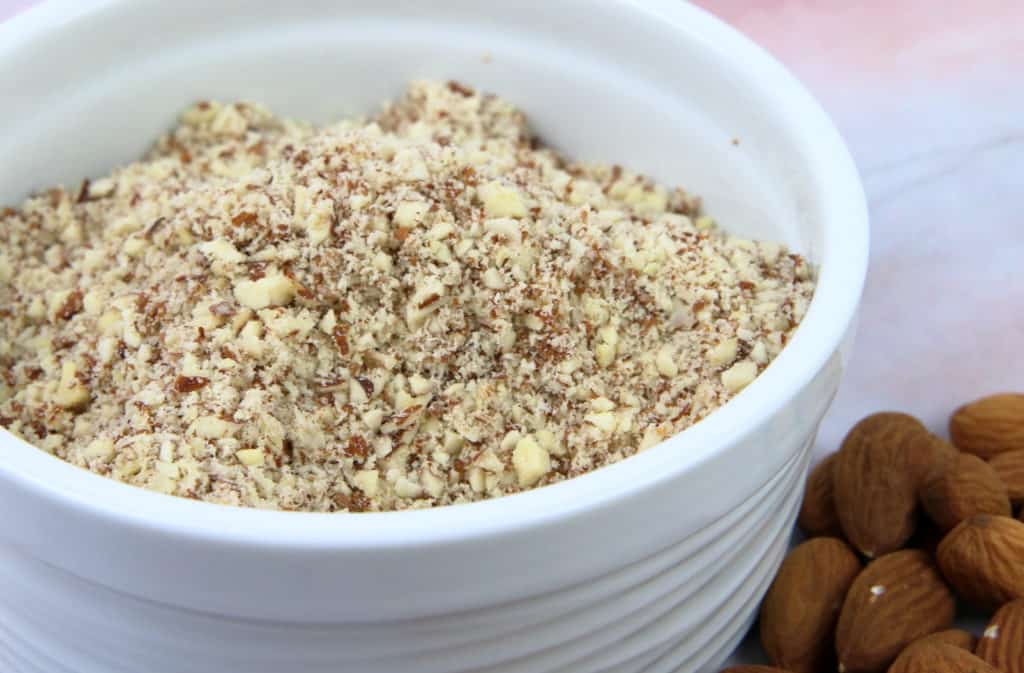 Put your almonds in a food processor (I use the ninja processor for EVERYTHING), and pulse the almonds in small bursts. DON'T hold the processor on for too long or you'll get a pasty, nut butter type consistency and that's definitely not what we're going for here. You want a mostly fine crumb. If it is too big, it won't stick to the chicken.
Note: You CAN use almond flour and get a similar effect, but I think the chunkiness of some of the nut pieces add a nice touch of texture.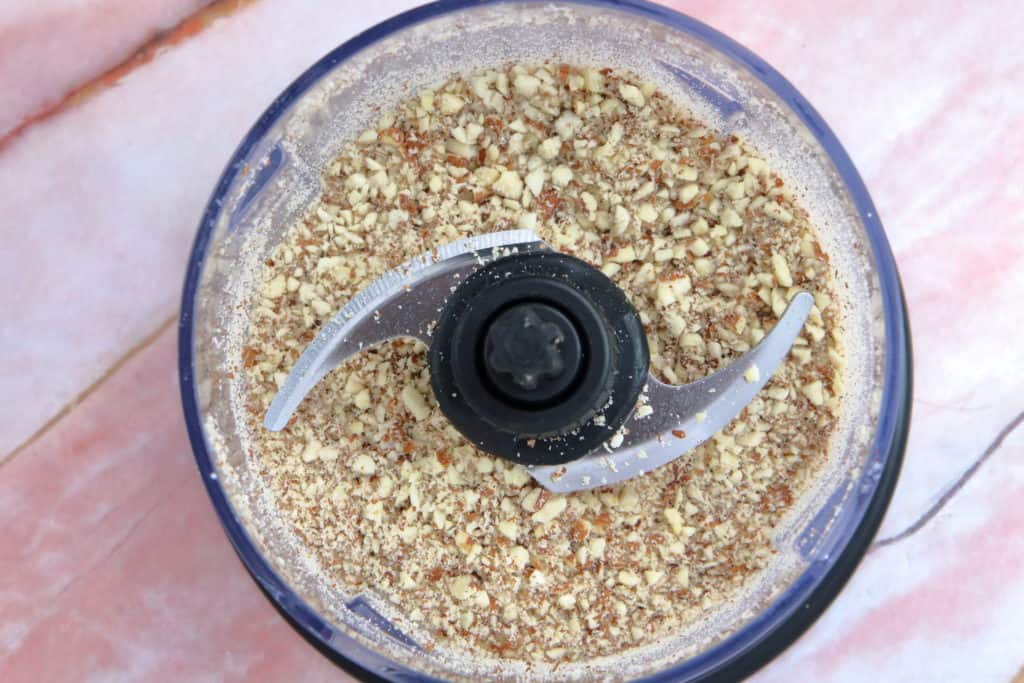 After you have a good consistency crumb on the almonds, mix in the thyme, Tony's, and pepper. Make sure it's in a large bowl so you can spread them out and bread the chicken. You can also use a small baking pan for this. You want to make sure you avoid a small container or it will be difficult to coat a piece of chicken.
Preparing your chicken breast
For the chicken breasts, I used whole, boneless, skinless chicken breasts. Now, the chicken breasts I find in the stores now are MASSIVE. Seriously, where are they getting the Godzilla chickens? So I butterflied two breasts, and then cut them all the way through so they became 4 pieces. You can skip this step by getting the thin cut breasts, but a lot of times those are twice as expensive per weight. It's simple enough to do it yourself.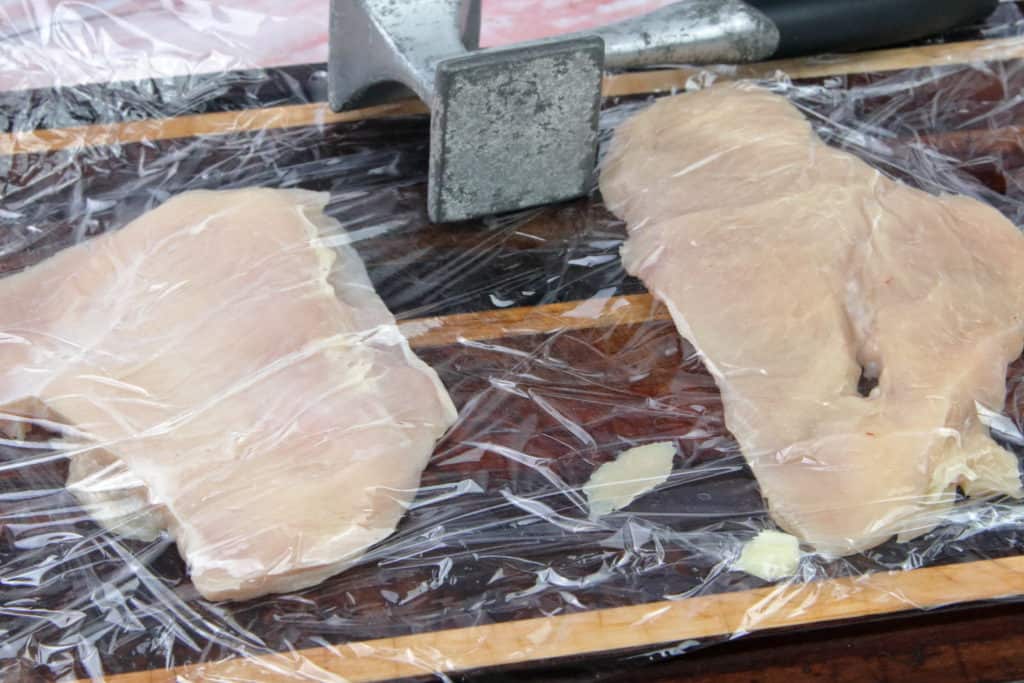 After you cut the breasts in half, place them (probably 2 at a time) in between two pieces of plastic wrap. Using the flat side of meat tenderizer, hammer all the way across the whole piece of chicken. Now, it's already sort of thin because you sliced it in half, but you still want to get all the way across the chicken. This accomplishes two things:
Evens out thickness: You want the thickness to be as uniformed as possible so it cooks evenly. If you put a whole chicken breast on the stove, the little thin corner piece is going to be jerky by the time the thick part is finished.
Tenderizes the meat: The first time I did this, I was floored by how tender the chicken was. You won't even need a knife. Seriously.
Be careful though: get too aggressive and you'll break the chicken into pieces! It doesn't need to be pancake thin. You should see a fairly noticeable difference when you are finished though.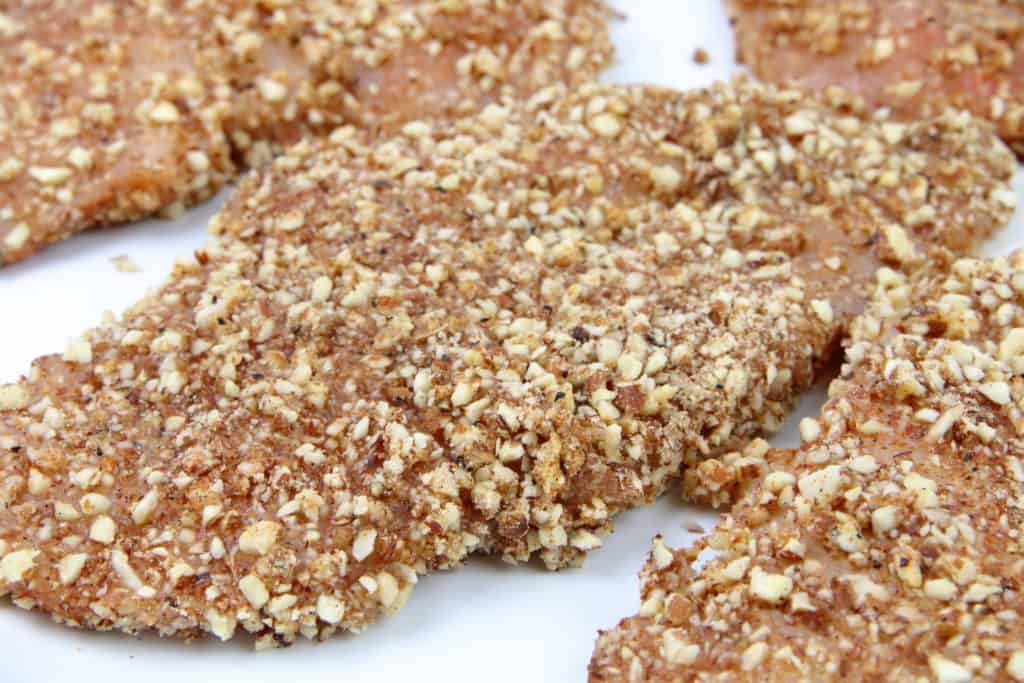 How do I get the almonds to stick to the chicken?
Take two eggs and whisk them thoroughly. Dip one piece of chicken (Side Note: I sprinkle some more tony's right on the chicken itself before I dip in the egg for a little extra punch). After you dip the chicken in the egg, transfer it to the almond mixture. Flip the chicken around, patting the almond into the breast so it sticks securely. Transfer the chicken to a baking sheet or large plate, just while you are breading the rest. Don't stack the chicken on top of one another so the almonds don't fall off.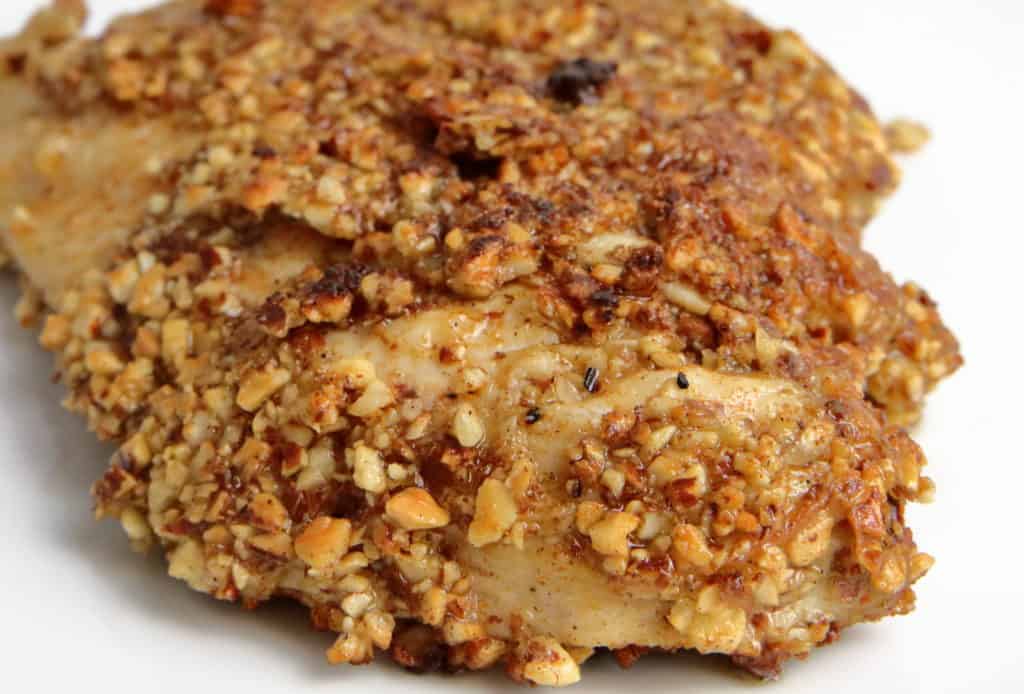 Heat 2-3 tablespoons of olive oil in a large sauté pan over medium high heat. Let the oil get pretty hot (about 350F). You want the oil to be hot so it crisps up the almonds right away rather than soaking up the oil and getting soggy.
Be careful with the heat of the oil, olive oil's smoke point is about 375, so don't let it burn! I use on of those infrared thermometers to let me know how hot the pan is. This is one of my used kitchen gadgets. It comes in SO HANDY and I don't know how I lived before it.
As an Amazon Affiliate, I earn a small commission at no extra cost to you.
How long do I cook the Almond Crusted Chicken Breast?
Cook the chicken for approximately 5 minutes per side. It's thin cut so it doesn't take too long. Try not to flip too soon or two often so you give the almonds a good chance to stick to the chicken breast. You'll know its getting close to being finished when the chicken is less "squishy" to the touch and less flimsy when you pick it up.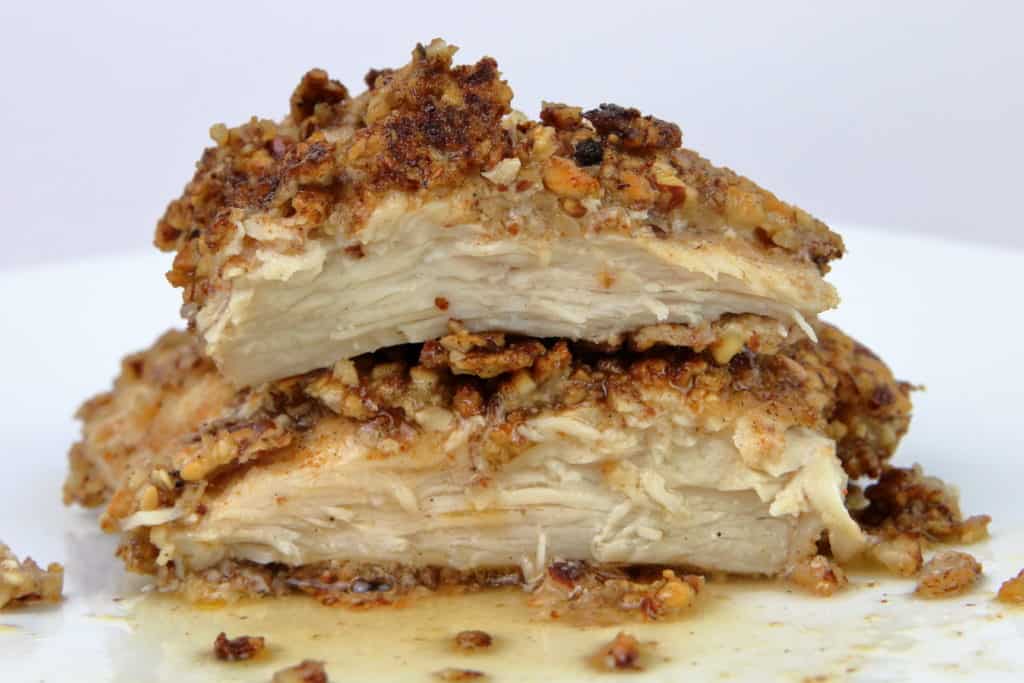 And that's it! Juicy, crispy, tasty, low carb chicken breast for dinner! This is delicious all on it's own, not just as an "alternative" to breadcrumbs. You aren't sacrificing taste to get a low carb dinner. Almonds get a nice toast and it gives the chicken a whole new dimension of flavor. Almond crusted chicken breast is perfect served with mashed cauliflower if you want to be low carb all around for dinner!
Enjoy!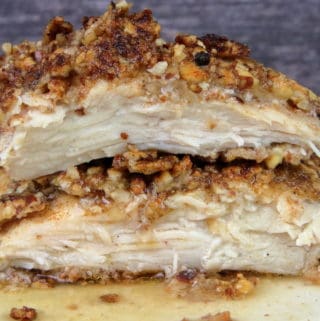 Almond Crusted Chicken Breast
Low Carb, healthy, crunchy, and easy. This juicy, almond crusted chicken is a delicious dinner option for when you want a breaded dish without the carbs!
Print
Pin
Share on Facebook
Rate
Ingredients
2

whole chicken breasts (Butterfly, then halve)

Boneless, Skinless

5

oz

Almonds

1

tbsp

Tony Chachere's

1

tsp

Course ground black pepper

¼

tsp

ground thyme

2

eggs

2

tsp

olive oil
Instructions
Prepping the ingredients
Butterfly, then halve the two chicken breasts, creating four pieces. Place each piece in between two pieces of plastic wrap and flatten with a meat tenderizer until the chicken is one consistent thickness. Sprinkle each side with a little Tony Chachere's, set aside.

Pulse almonds in a food processor until they reach a very small, even crumb.

Mix almonds, Tony's, ground thyme, and pepper in a large bowl.

Beat two eggs in a medium bowl
Breading the Chicken
Put eggs into a medium bowl and whisk until smooth.

Take one piece of chicken and dip into the egg, thoroughly coating the entire chicken.

Drip off excess, then dip chicken in almond mixture, flipping and coating the entire piece completely. Set aside. Repeat with the other three pieces.
Cooking the Chicken
Heat olive oil in a large, non-stick saute pan over medium/high heat.

When the oil reaches 350°F, add chicken to pan.

Cook for 5 minutes on each side, or until the inside is no longer pink.
Nutrition
Serving:
1
4 ounce portion
|
Calories:
456
kcal
|
Carbohydrates:
6
g