Mashed cauliflower is a healthy way to dupe mashed potatoes with all of the flavor, but a fraction of the calories. Plus, it's super easy and inexpensive too!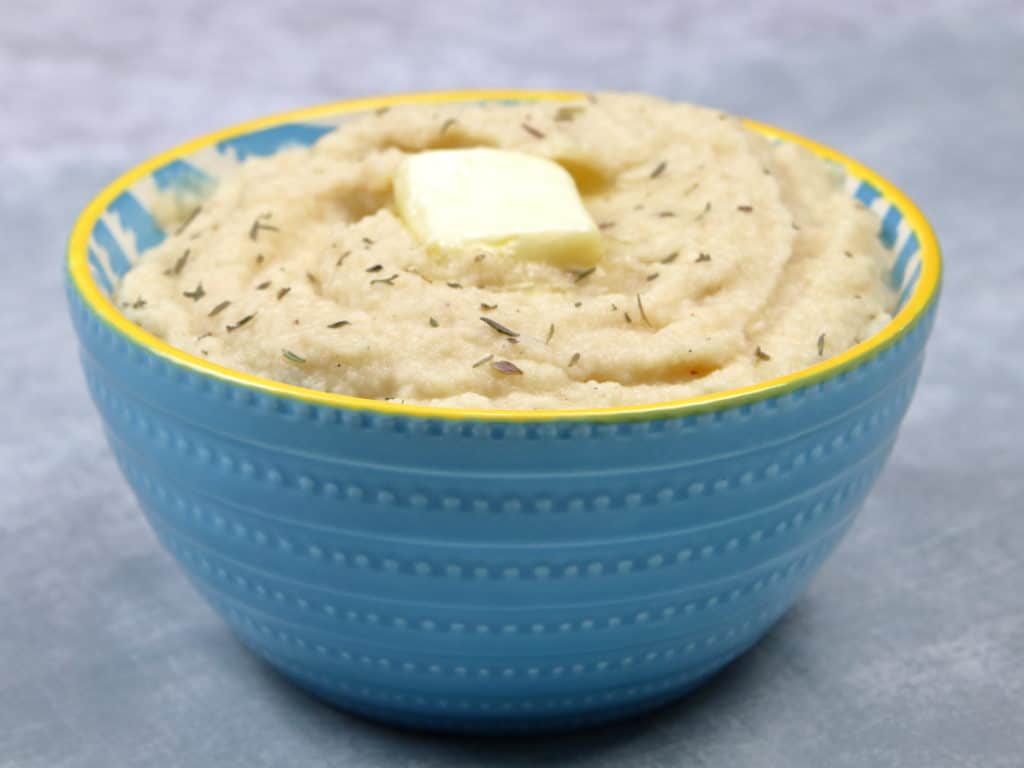 Ok, I'll be honest. Any time I say mashed cauliflower I'm usually met with a scrunched face. Be open minded! It really is good. PROMISE!! And bonus, it's super easy. I've tried a few different methods, but this is by far the best mashed cauliflower recipe I've done. But this is a REALLY good low carb vegetable recipe that really does taste just like potatoes!
If you're still not convinced and REALLY want to "real thing," you can try this garlic and thyme mashed potato recipe. Delicious AND indulgent!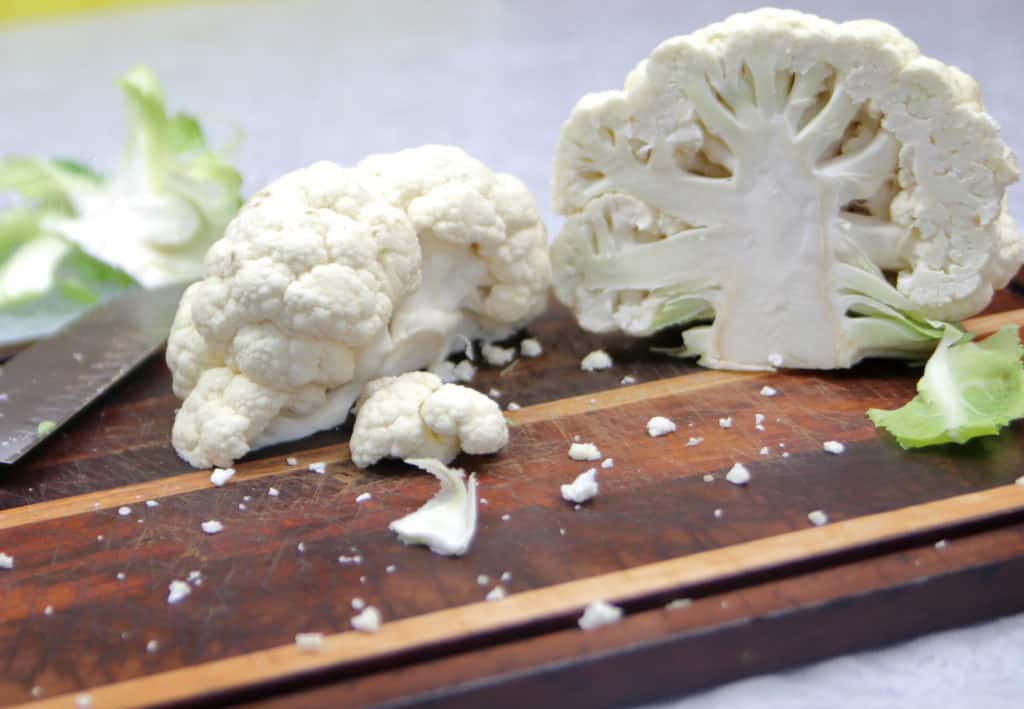 Mashed Cauliflower is one of my go-to side dishes. The process is almost identical to how you would normally make mashed potatoes. It's quick, easy, healthy, and delicious. It's inexpensive and only calls for a few ingredients:
Cauliflower
Butter
Cajun Spice (Tony Chachere's, affiliate link)
Dried Thyme
Salt/Pepper to taste (but you probably don't need it after the Tony's)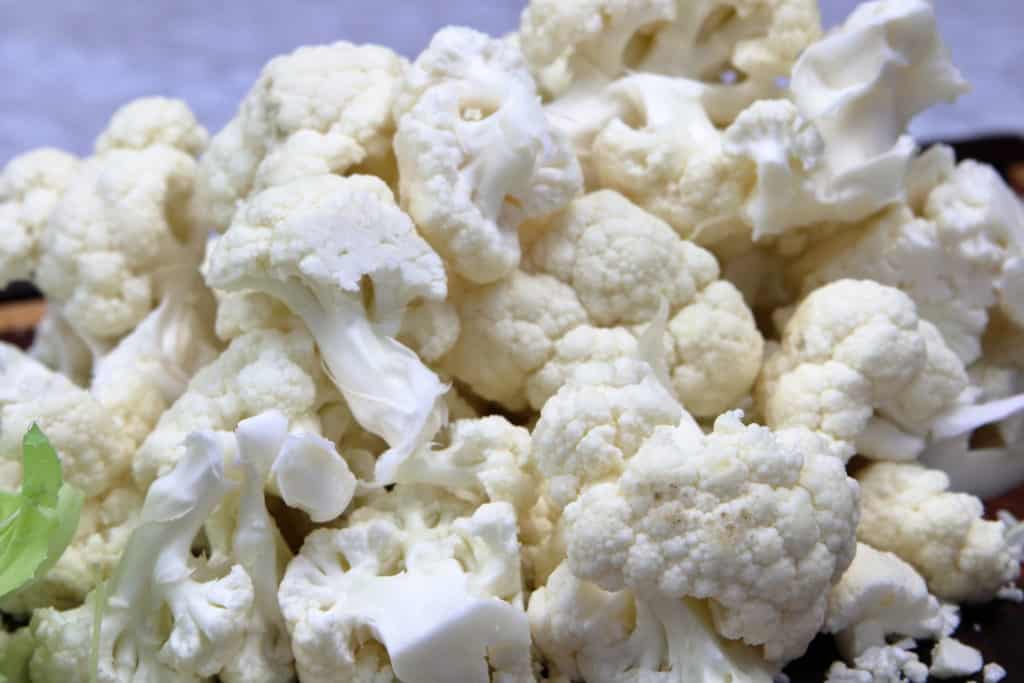 Getting started on the mashed cauliflower
The first thing you need to do for mashed cauliflower is get the water heating in a medium/large saucepan. You don't need tons of space, you really just need enough to put the cauliflower in the pan and cover it with water.
While the water heats, rough chop the cauliflower to pieces about 1-2 inches. It doesn't have to be perfectly uniformed (there's really no way to do that anyway). I usually start with cutting it in half, and popping out the stem (you can usually just break it off with your hands), and pulling off Some of it will crumble off into tiny little pieces- that's ok! Use those too. You want all that cauliflower goodness. But overall, don't chop it too small! You don't want the cauliflower to disintegrate or absorb TONS of water.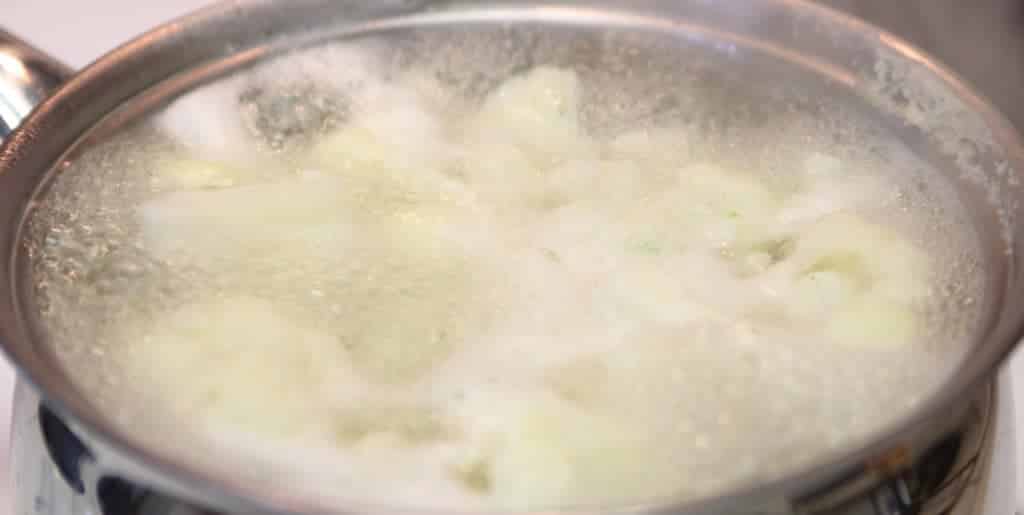 The part that makes this the BEST!
Once the cauliflower is all chopped, go ahead and add it to the water. It doesn't have to be boiling yet. Once it does start boiling, let it boil for about 3-5 minutes, or until it is soft enough to poke fairly easy with a knife. Don't over boil! You want it to be soft, but you don't want it to take on too much water, because then your final product will be a bit runny!
Now here's where is differs from potatoes: The "mashing!" I'm a huge fan of whipped potatoes. I never hand mash- I always use a hand mixer! The first time I did mashed cauliflower, I tried it that way, but it did NOT work. Now, was it tasty? Sure! But it was lumpy and chunky and you could DEFINITELY tell you were eating cauliflower.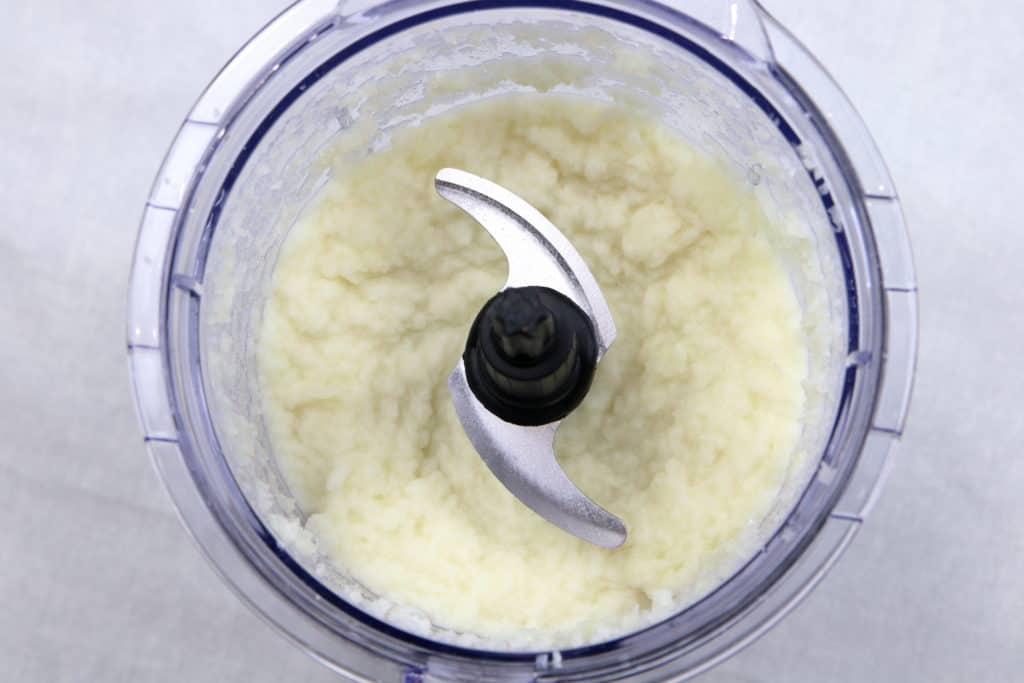 One kitchen appliance I cannot live without!
Enter the Ninja Food Processor (paid link). This is one of my kitchen utensils that I can NOT function without. It will pulverize ANYTHING, and this cauliflower is no different.
Note: If you don't have a ninja brand processor, just use whatever food processor you have. It just may take a little more time depending on how powerful it is and how many blades it uses (the Ninja has three stacked vertically).
After you drain the cauliflower, transfer it to the largest Ninja container. Start with pulses (you may have to periodically scrape the sides) and then do some longer blends by holding the button. Add the butter (it doesn't have to be a LOT, especially if you're trying to keep it light, but it can be as much as you want), Tony's, thyme (or whatever herb you love) and salt/pepper if you need it.
Tip: Do NOT add milk! the first time I made cauliflower, I tried to do it EXACTLY like I do potatoes, including adding a bit of milk. DON'T DO THIS! It's got plenty of moisture already. Milk will just make it runny, not luscious and creamy like it does potatoes.
Keep the blending/scraping going until it's all mixed. Once the texture is how I like it, I normally just pour it into a bowl and stir by hand to get all the flavor mixed all in.
If you blend it thoroughly, you will get rid of ALL of the chunks and it will be just creamy, rich, and smooth.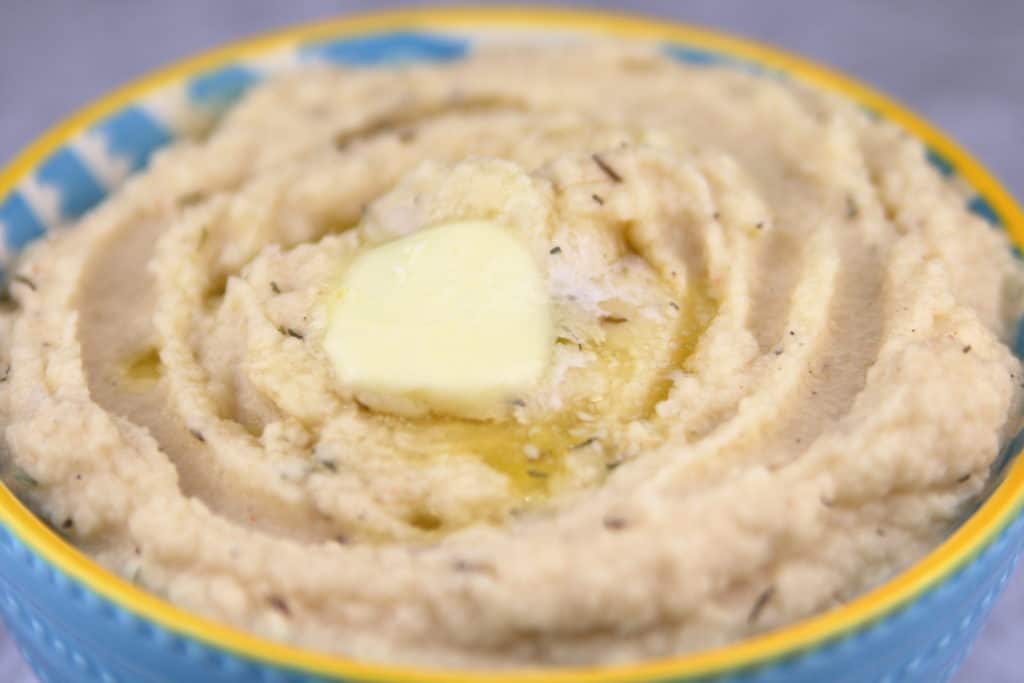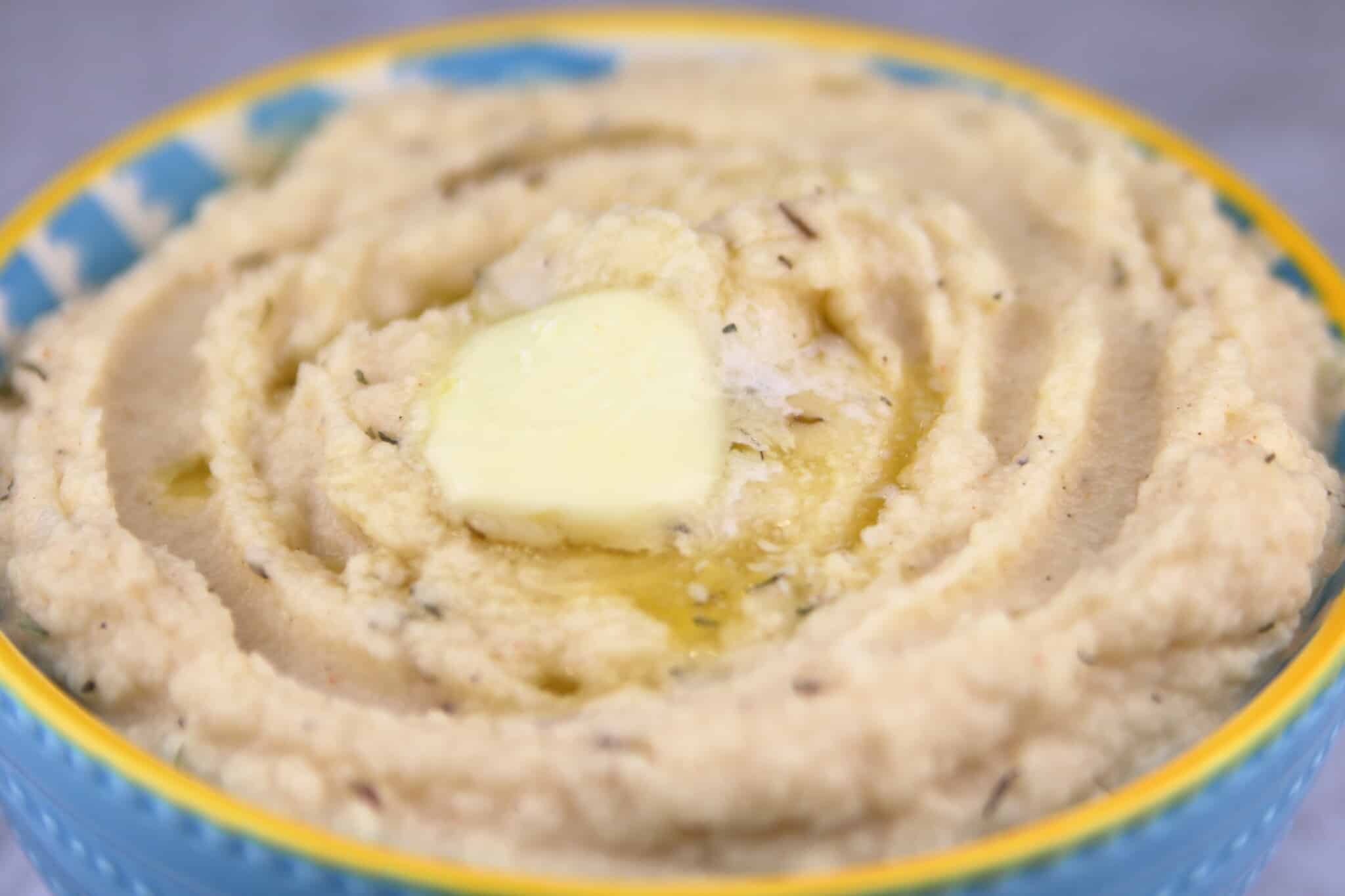 And there you have it! The BEST mashed cauliflower recipe I've done yet! I swear, you could fool someone into thinking this is potatoes if they didn't know. Nutritious, delicious, and healthy! (ok with maybe a little bit of butter). Enjoy!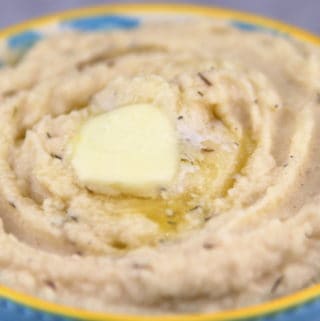 Best Mashed Cauliflower Recipe
Mashed cauliflower is a healthy way to dupe mashed potatoes with all of the flavor, but a fraction of the calories. Plus, it's super easy and inexpensive too!
Print
Pin
Share on Facebook
Rate
Servings:
4
cups (approx)
Ingredients
1

head

cauliflower

2

tbsp

butter

More or less, to taste

1

tbsp

cajun spice

My fave is Tony Chachere's

1

tsp

dried thyme

substitute any herb of choice, like rosemary

salt and pepper

to taste
Instructions
In a medium/large saucepan, begin heating water to boil while you prep the ingredients

Rough chop an entire head of cauliflower 1-2 inch pieces. Don't chop it too small!

Put chopped pieces of cauliflower into the saucepan of water. It's ok if it is not boiling yet.

Once the water starts boiling, boil cauliflower for 3-5 minutes, or until the largest piece is tender to a knife test (similar to how you test potato doneness)

When cauliflower is done boiling, pour over strainer to thoroughly drain water

Transfer cauliflower to a Ninja food processor, or another high powered food processor

Add butter, spices, herbs, and salt/pepper.

Blend until smooth and thoroughly blended! Enjoy!
Nutrition
Serving:
1
cup
|
Calories:
75
kcal