It's hard to beat a good side of creamy mashed potatoes. You can pour over a heap of gravy, load them up like a baked potato, or just enjoy them as is! If you season them just right, they are quite delicious on their own! Thyme is one of my favorite herbs, and garlic makes everything better. Put them together and you get some absolutely delicious garlic and thyme mashed potatoes.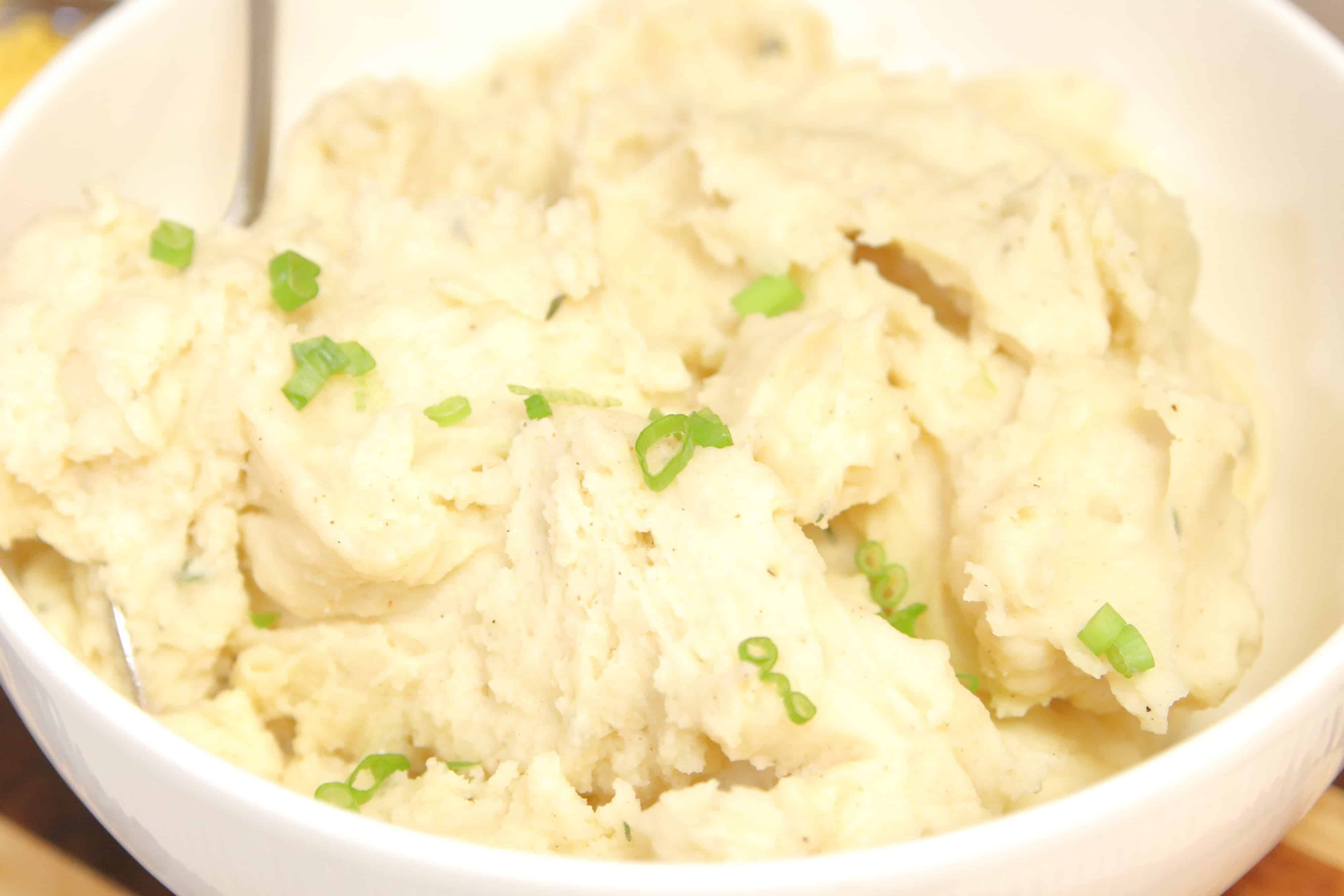 I like to use a good old fashioned russet potato. They just mash with the best texture. Yellow potatoes do pretty well also, but avoid red or white potatoes. They are much more waxy and can be quite "pastey" when mashed. To me, nothing beats the russet.
Before you start peeling, go ahead and get a big pot of water heating. I usually use a 6 quart or so and it takes a bit to get a good boil going. As far as how many potatoes, a good rule of thumb is about a half pound per person. I never actually get out my scale to measure. To be quite honest, I just grab a few until I think "eh. That's enough." I'll grab around one per person, and then an extra one or two just for plenty of extra. I normally have a lot of extra, but I like it that way. For this particular recipe, I used 4 average sized potatoes.
Once you decide on your potatoes, get them peeled. I prefer to take off all of the skins. You can choose to leave some if you like that flavor and texture, but that's not for me personally.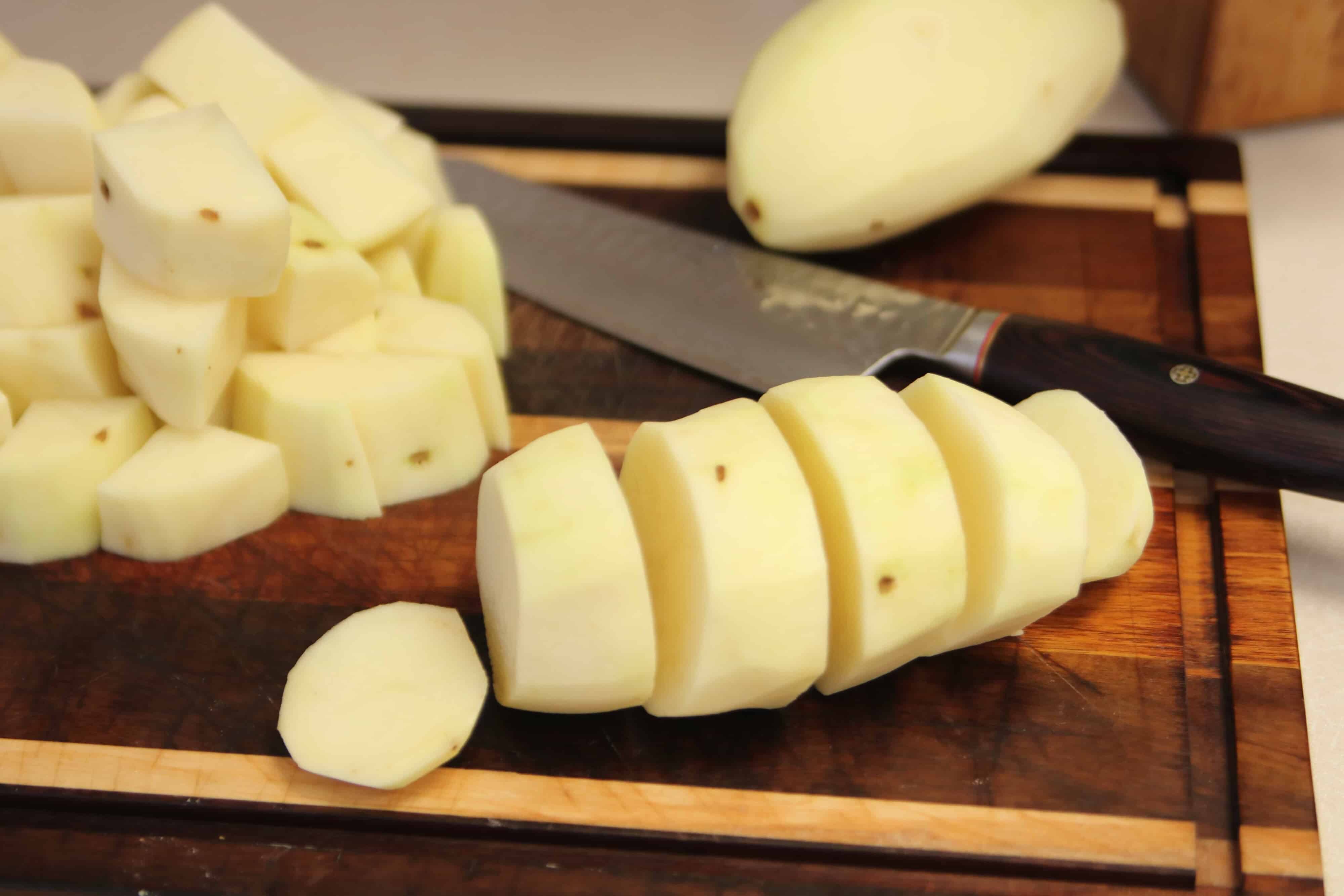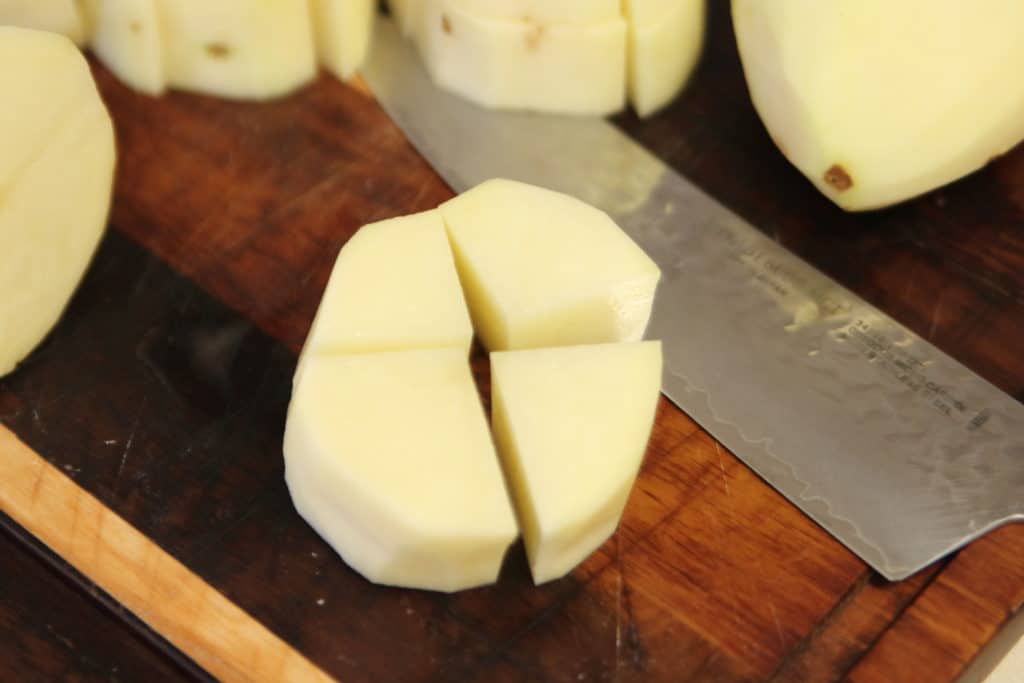 Once you get them peeled, slice them crossways into slices about an inch wide. Then I like to take those slices and then cut each one into quads. This makes a good size for boiling. You don't want them too large because they won't cook evenly, but you don't want them too small because they'll just dissolve into nothing.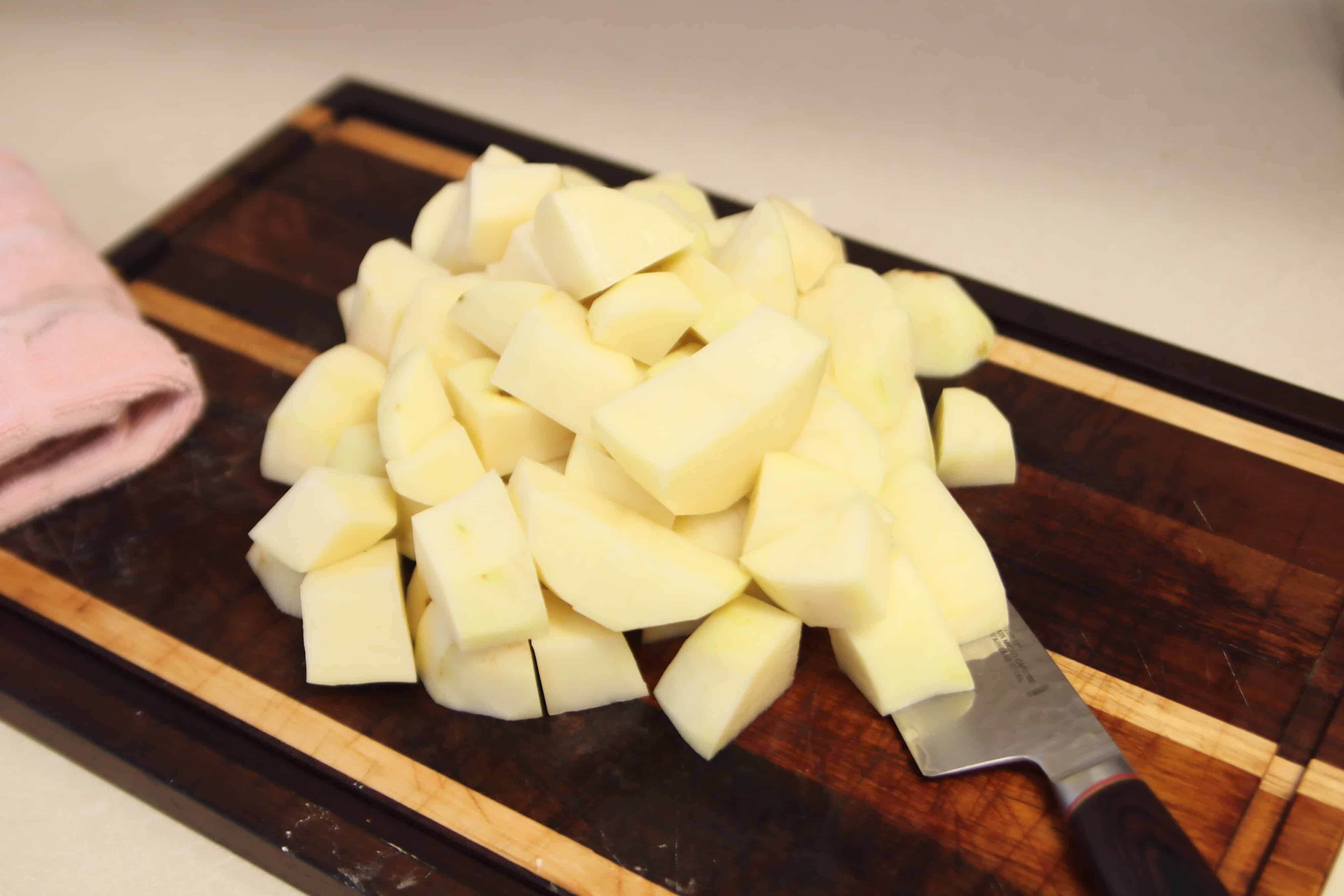 Once the water is boiling, add all of your potato chunks. Boil for about 8-10 minutes, or until you can effortlessly penetrate the largest potato piece effortlessly.
While you are waiting on the potatoes to boil, you can start making the garlic thyme butter. Take half a stick of your butter (you really can't use too much butter for mashed potatoes) and melt over medium low heat. You don't want it to get too hot and bubble all away.
As your butter slowly melts, you can get the garlic and thyme ready. Peel about 5 or 6 cloves of garlic (I use a lot of garlic. A lot.) and grate them with a microplaner. This microplaner is one of my most used kitchen items. I have 4 in total. I use them that much.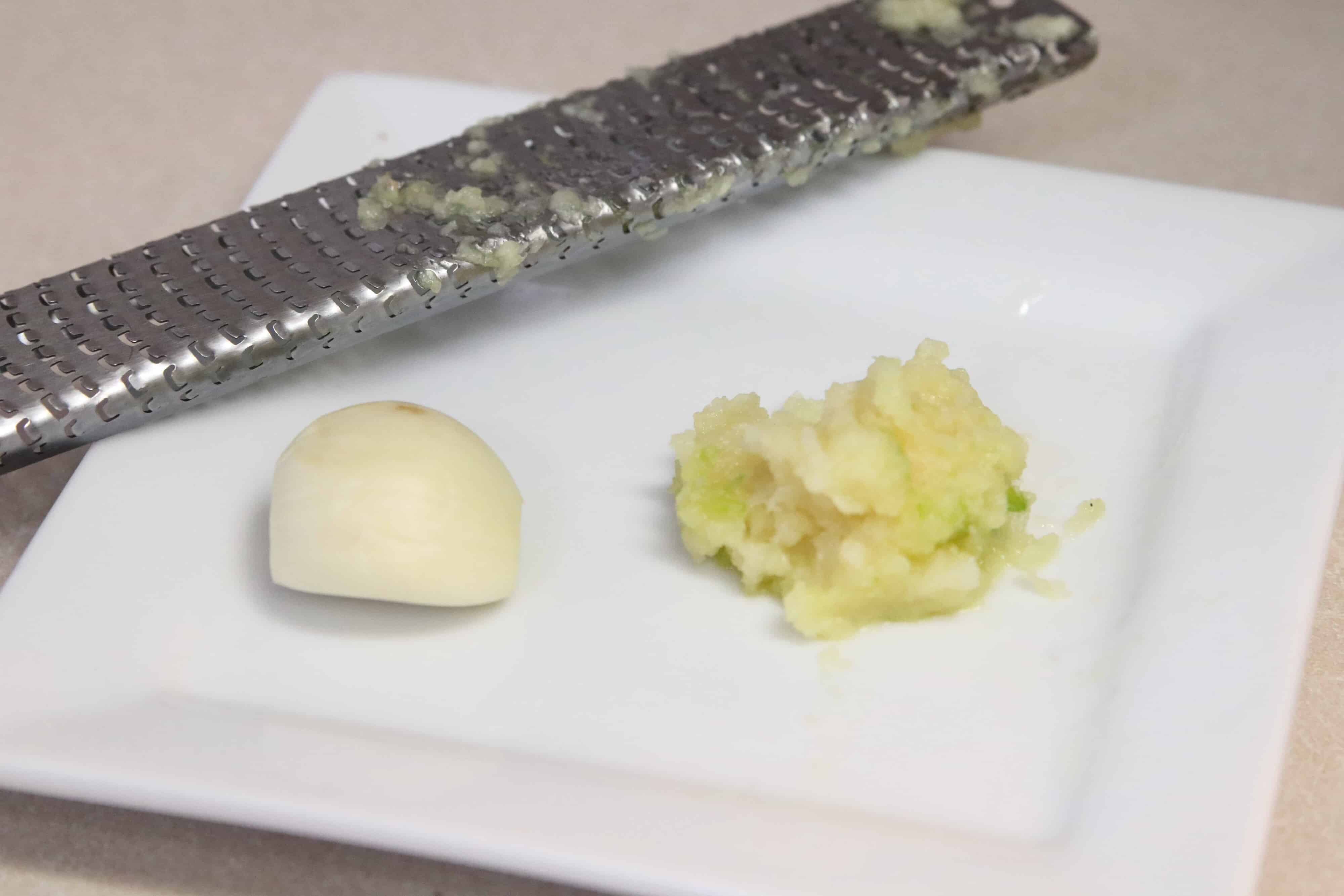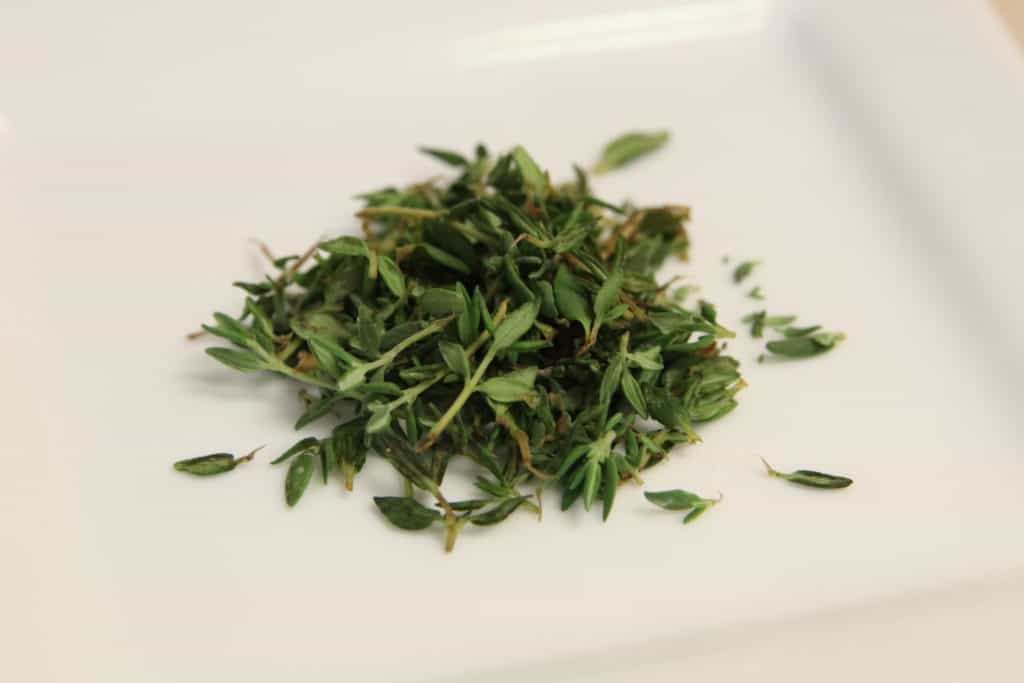 Next remove enough thyme leaves form the stems until you have about on heaping tablespoon of thyme. You can chop it up if you like, but I find that it's sufficient enough crush it up a bit and use it that way.
By now the butter should be melted. Add the grated garlic and thyme. Turn the heat up to about medium, but be careful not to turn it up too high. Garlic can burn quite easily.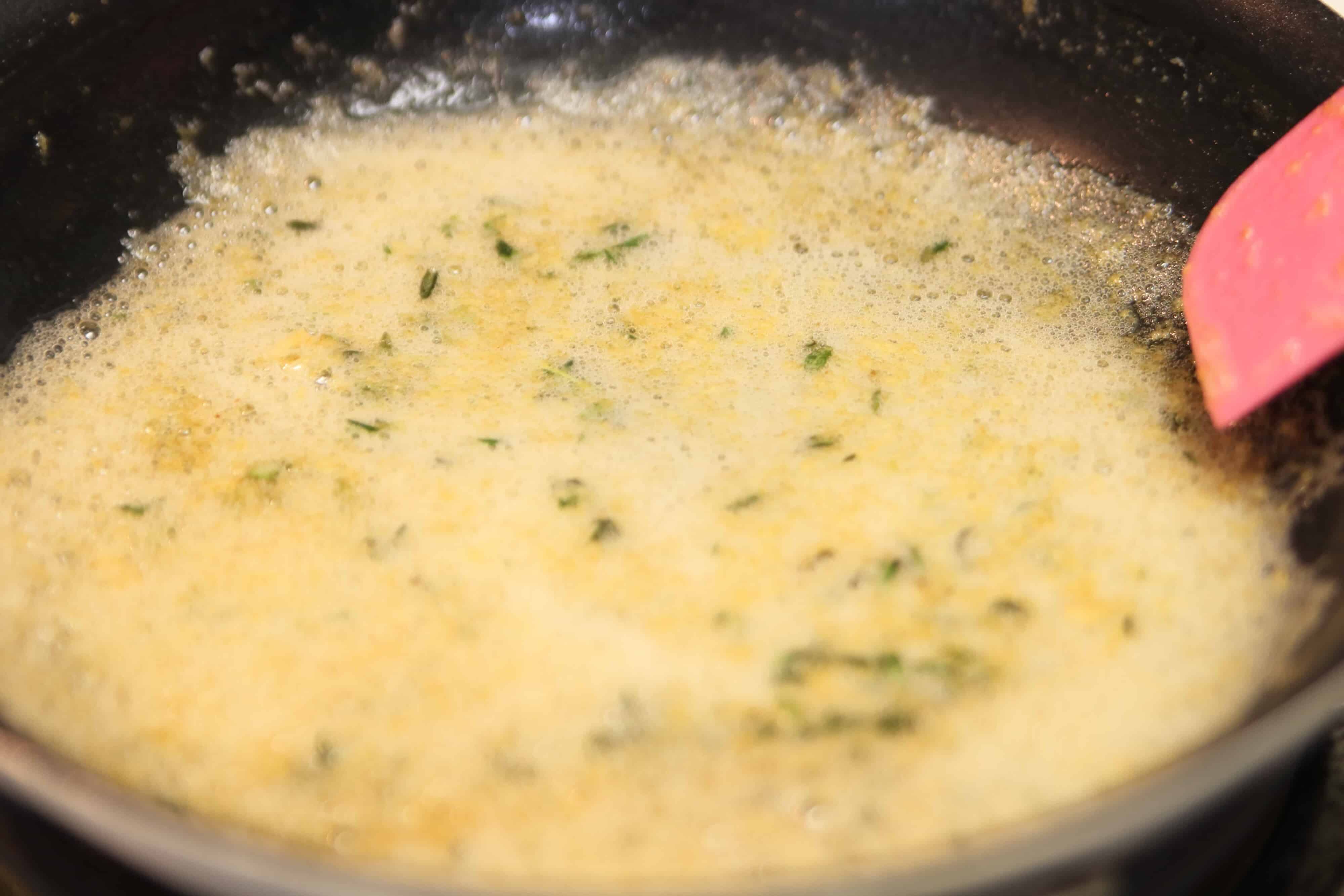 Stir the butter mixture frequently for about 2-3 minutes. It will probably bubble up. That's ok, just make sure it's not too hot and burning. You should be getting a delicious aroma of garlic butter. By that time, it done. Remove it from the heat so it doesn't burn.
By this time, the potatoes should be done. Drain them well, and put the drained potatoes into a very large bowl. You're probably still going to make a mess (at least I do, anyway).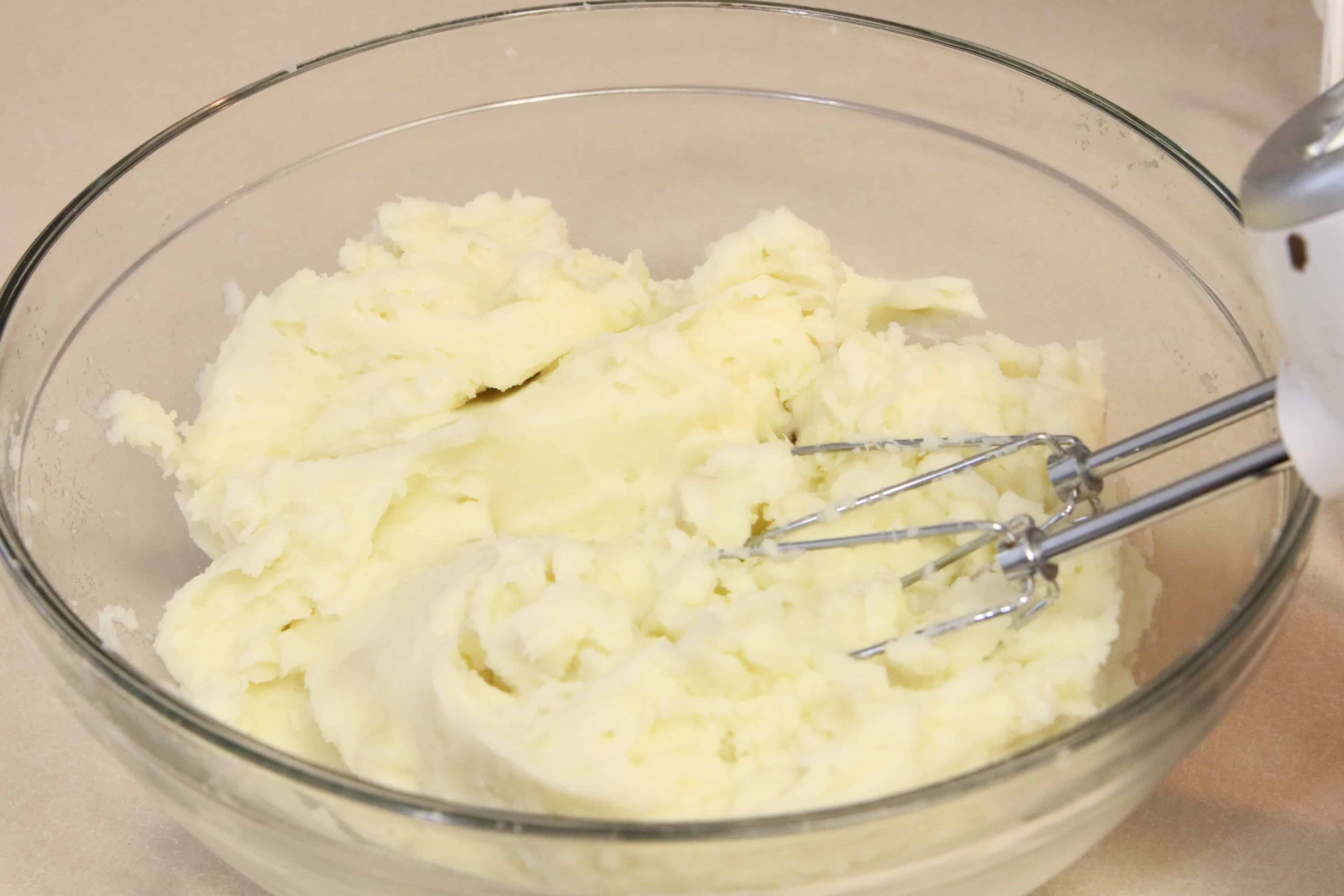 Here's a hot button issue. To hand mash or electric mix? I always choose to use the electric mixer. I like my potatoes smooooooth. I've never found mixers to make the texture of the potatoes undesirable. If you are a die hard hand masher, I'm sure they'll be just as delicious, just make sure you mix them around well enough for all the flavors to disperse throughout the potatoes. Before you add all the tasty goodness, give them a little mix to mash them up a little.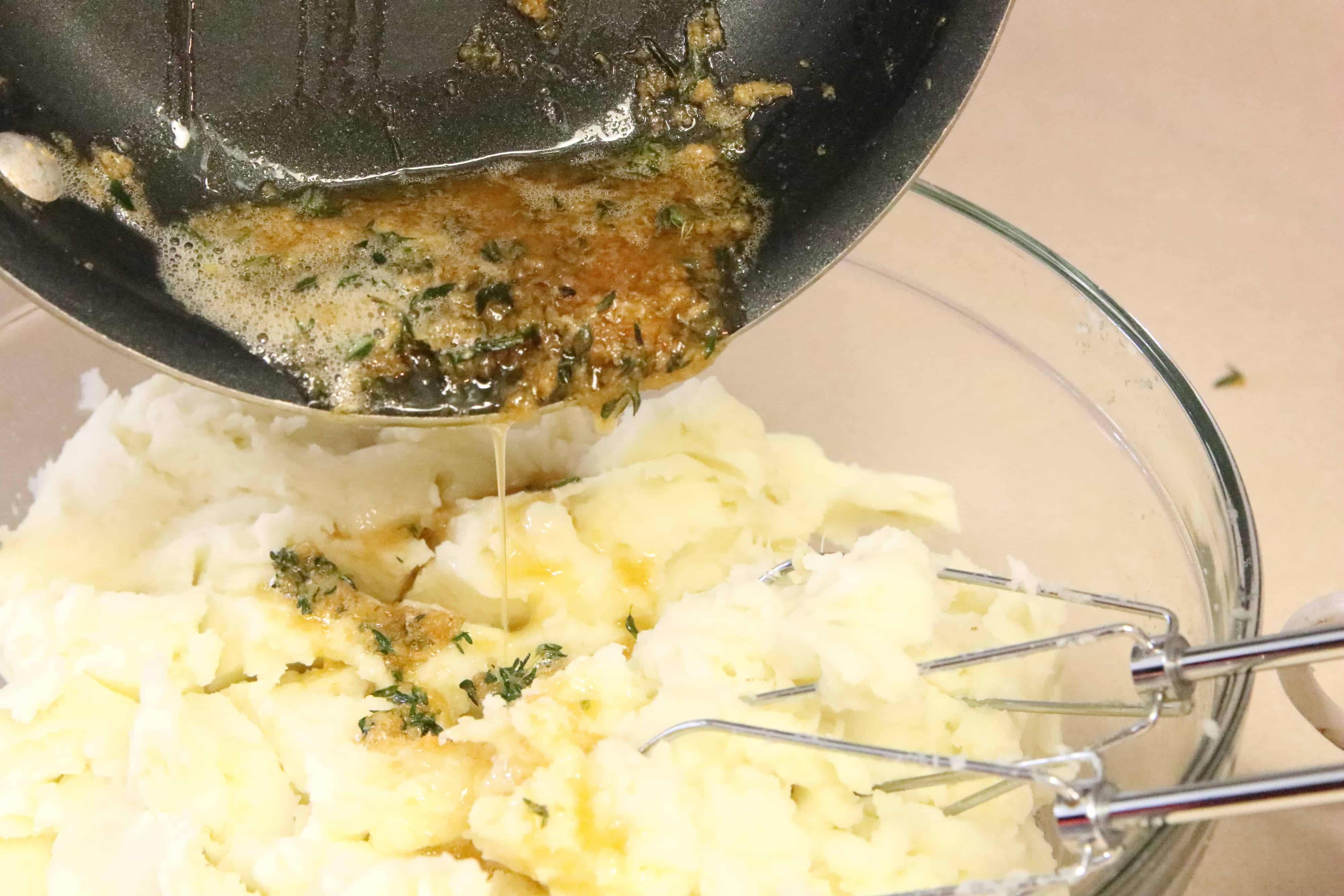 Now we can add the magic. Pour in the garlic thyme butter mixture and mix throughout. You should still have half a stick of butter left. Ass one tablespoon at a time until you've reached the buttery flavor you desire (Hint: It's probably going to be the rest of the stick. Maaaaaybe more). Again, I don't know if "too much butter" is a thing with mashed potatoes.
Now we can add the milk. If you want to maintain the heat level of the potatoes, warm up the milk a little bit. Add your milk a little at a time, taking breaks to mix a little at a time. Stop when you've reached your desired level of creaminess. Personally for this amount of potatoes, one and a quarter cup was perfect.
Now it's time for spices. Add about a tablespoon of Tony Chachere's, or whatever cajun spice you like. If you don't like the heat, salt and pepper may suffice, but nothing beats a good cajun blend. It adds so much perfection to just about everything. If you haven't tried this particular spice method before, add a little at a time. It can pack quite a punch so you don't want to overspice. Real talk: I almost never measure my spices. I just add/taste/add/taste until I think it's good. If you do find you have added too much spice, add a touch more milk to neutralize a bit. Don't forget to add salt and pepper! (salt levels in cajun blends vary, so be careful with adding more salt on top of this).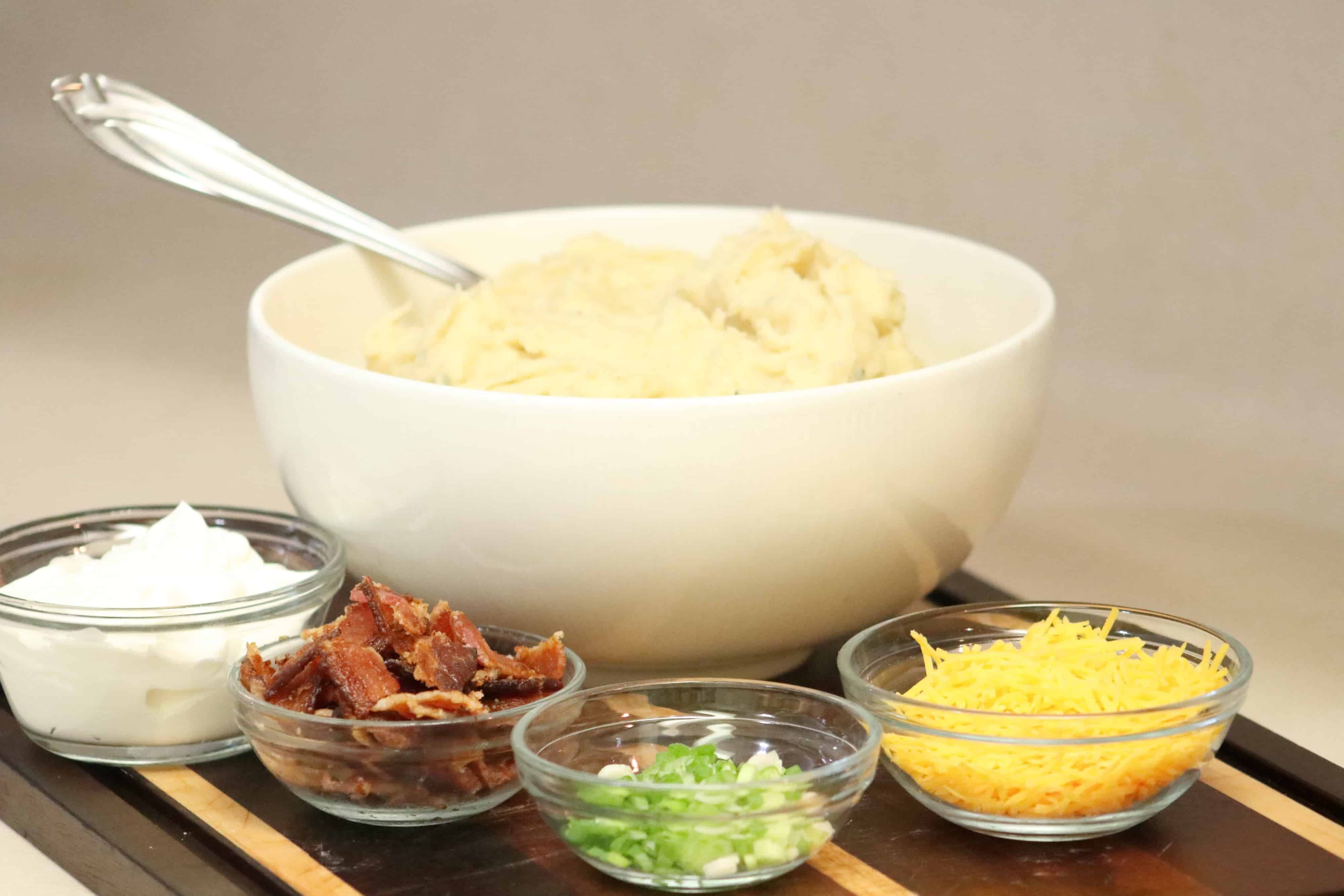 Once you've mixed everything around nice and good, that's it! You're done! Now, these are ABSOLUTELY delightful on their own, but nothing's stopping you from adding some toppers just to take it even more over the top. Cheese, sour scream, green onions, and bacon are always safe bets! You can't go wrong!
Side note: If you want to make some absolutely perfect bacon every time so you can top your taters, I can help you with that!
Enjoy! You're in for a treat!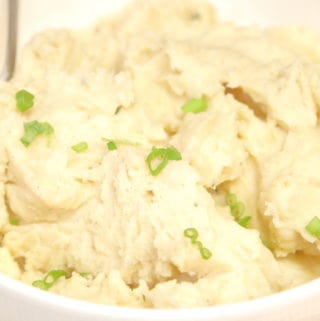 Ingredients
4

whole

Russet Potatoes

average size

1

stick

Butter

1

tbsp

Fresh Thyme

5-6

cloves

Fresh Garlic

1 ¼

cup

Milk

I use whole, but use what you like

1

tbsp

Cajun Seasoning

I love Tony Chachere's
Instructions
In a 6-8 quart pot, start a pot full of water to boil while you are prepping ingredients

Peel potatoes completely. After the potatoes are peeled, slice crossways in about 1 inch increments. Take each chunk, lay it flat, and cut across in half, and then into quarters, like slicing a pizza.

When the water is fully boiling, add all the potatoes to the pot. Boil for about 10 minutes, or until each potato piece can be pierced all the way throughout effortlessly.

While the potatoes are boiling, in a small saute pan, begin melting half a stick of butter over low heat.

While the butter is melting, using a microplaner, grate 5-6 cloves of garlic. Then pull off about 1 heaping tablespoon worth of fresh thyme leaves. You can mince them if you want, but I normally just crush them up a little.

Add the grated garlic and thyme to the melted butter. Turn up the heat to about medium, and stir frequently for about 2-3 minutes to mix around all the flavors into the butter. It may bubble up. That's fine, just be careful that it doesn't burn. Garlic can burn easily. Remove from heat and set aside.

When the potatoes are soft, drain completely. Pour drained potaoes in an extra large bowl. You need plenty of space to mix all of the ingredients.

Using an electric mixer, give the potatoes a little mix just to break them up initially. Pour butter mixture into the potatoes and mix completely.

Using the other half stick of butter, add butter one table spoon at a time until you are satisfied with the butter level. (The more, the better. I always use the rest of it).

When all the butter is mixed in, begin to add the milk and mix in between smaller increments. Mix completely.

Finish off with about a tablespoon of cajun seasoning. I normally add a little at a time and taste as a go to avoid overspicing. It usually ends up being about a tablespoon.

Top off with some salt and pepper to taste, and there you have it! Delicious, flavorful potatoes. Top with sour cream, cheese, green onions, and/or bacon, or just enjoy the way they are!
Nutrition
Serving:
0.5
cup
|
Calories:
150
kcal