These Apple Pie Cinnamon Rolls are the easiest and tastiest apple pie snack! Made with crescent rolls, diced honeycrisp and granny smith apples, and homemade apple pie spice, these are perfect for when you want a delicious cinnamon roll but no time to make them from scratch!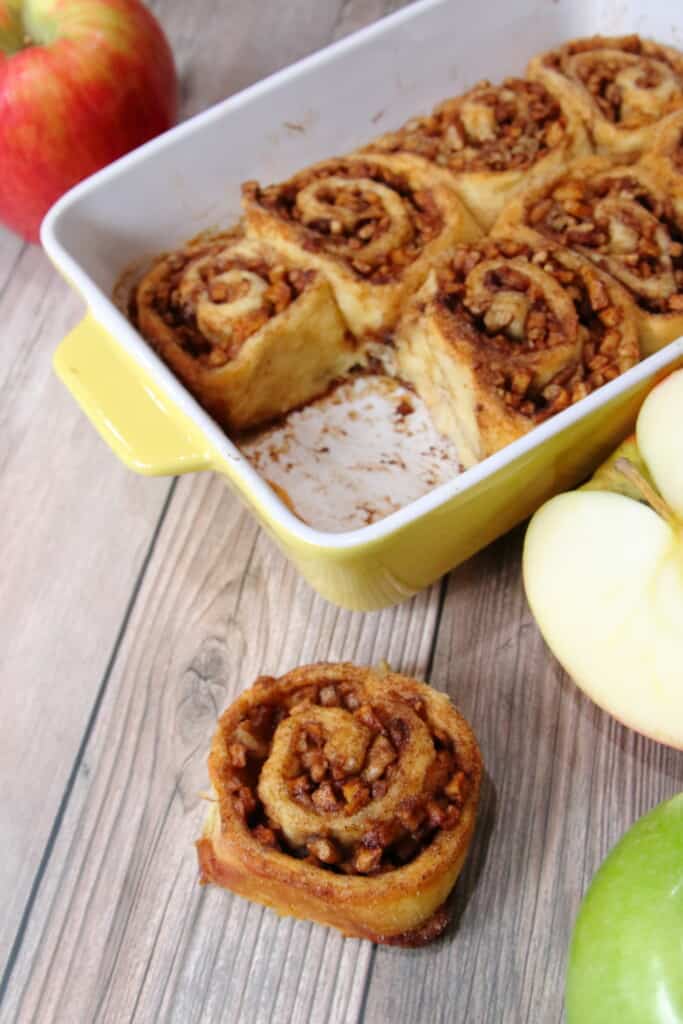 Listen. I love to cook. I love to bake. But making bread has never been anything I've learned how to do a whole lot of. If you are looking for a fresh from scratch cinnamon roll recipe, this is not it. What I made here is a cheater's shortcut way of making some cinnamon rolls dressed up with some apple pie spice and fresh, diced apples.
It doesn't take many ingredients and it is a super fun way to use a few basic ingredients for an easy tasty apple pie treat. All of the deliciousness, none of the hassle.
Apple Pie Spice: The Key Ingredient!
When it comes to the fall season's apple spice vs. pumpkin spice debate, I'm squarely in the apple pie spice corner. I do love some pumpkin, but I feel like apple is so underrated!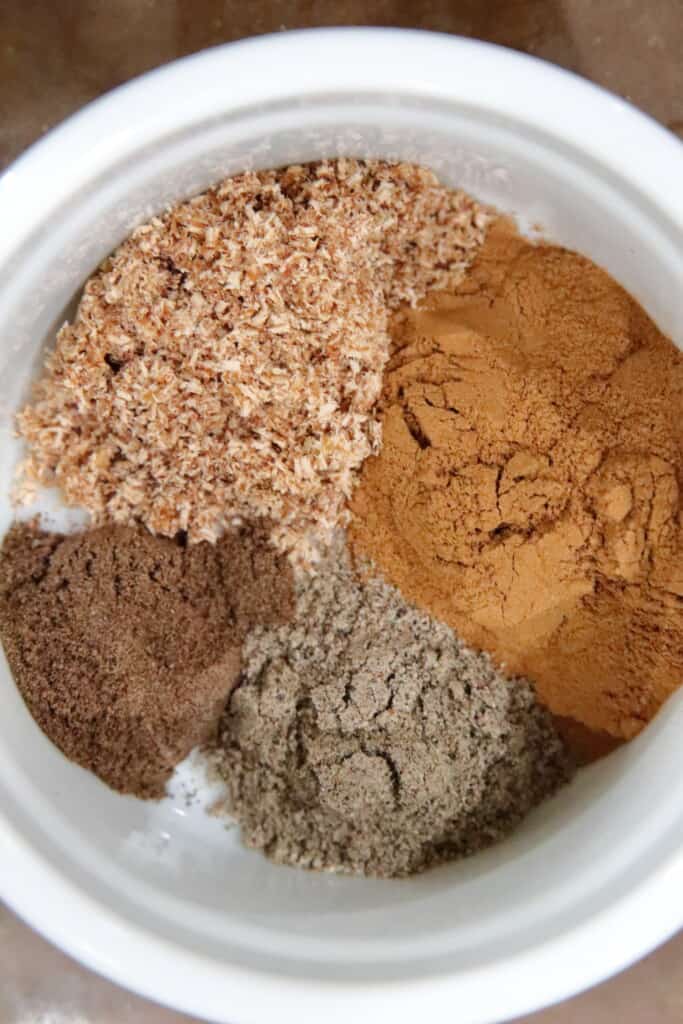 There are a lot of similarities between pumpkin spice and apple pie spice. And sometimes the flavors can be similar, almost indistinguishable if you don't get your ratios right. But today we're going to focus on the apple side of life. Now, you will almost always see cinnamon, nutmeg, and allspice involved when it comes to apple spice. And you will certainly make some tasty cinnamon rolls here if you use just that. But if you want to take your flavor profile to the next level, don't overlook the cardamom.
Cardamom is such a nice compliment to these warm spices and will really add a lovely fall spice feel. Adding the cardamom and omitting the clove and ginger that is normally in pumpkin spice will really set apart this flavor from its fall time competitor.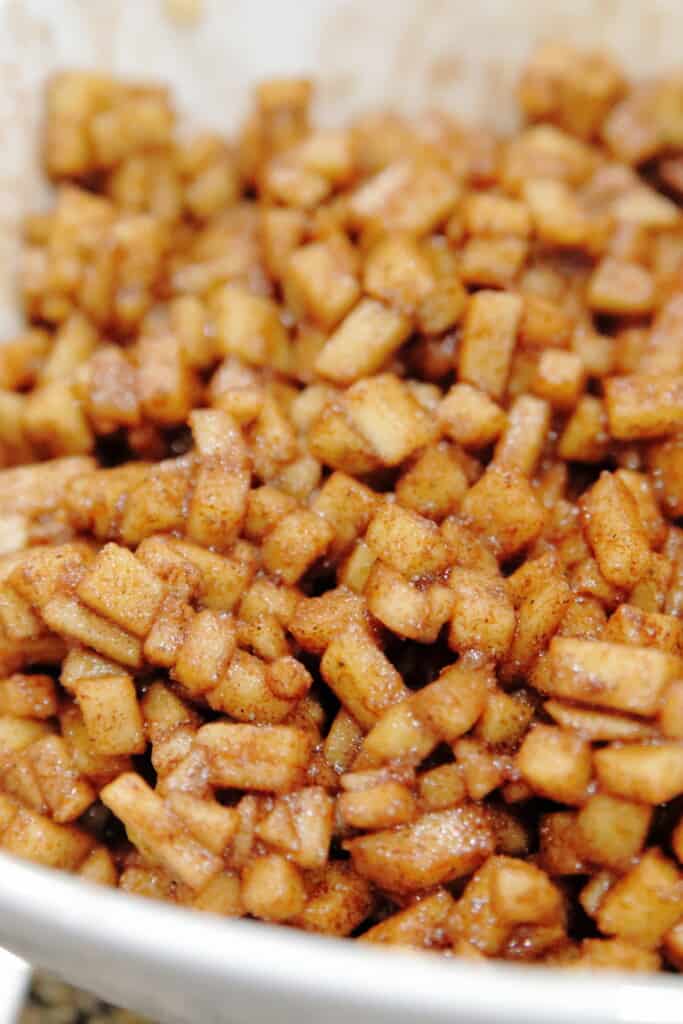 If you don't have cardamom or don't want to get it because you don't see yourself using it much, then your apple pie cinnamon rolls will still be delicious. When I made my Puff Pastry Apple Pie Bites, I didn't use any because I really made that with a bunch of leftover ingredients and didn't have any. They were still delicious!
Putting together your Apple Pie Cinnamon Rolls
The beauty of these apple pie roll ups is that they are super easy and low maintenance. You can use as much or as little of some of these ingredients as you like. You will need:
One canister of Pillsbury Crescent Rounds or sheets.
Diced apples- I use granny smith and honey crisp for some sweet and tart contrast.
Brown sugar- I like it dark!
Apple pie spice- see above!
chopped pecans- or whatever else you might like!
melted butter- for that golden brown buttery goodness
cinnamon sugar- for a little extra topper!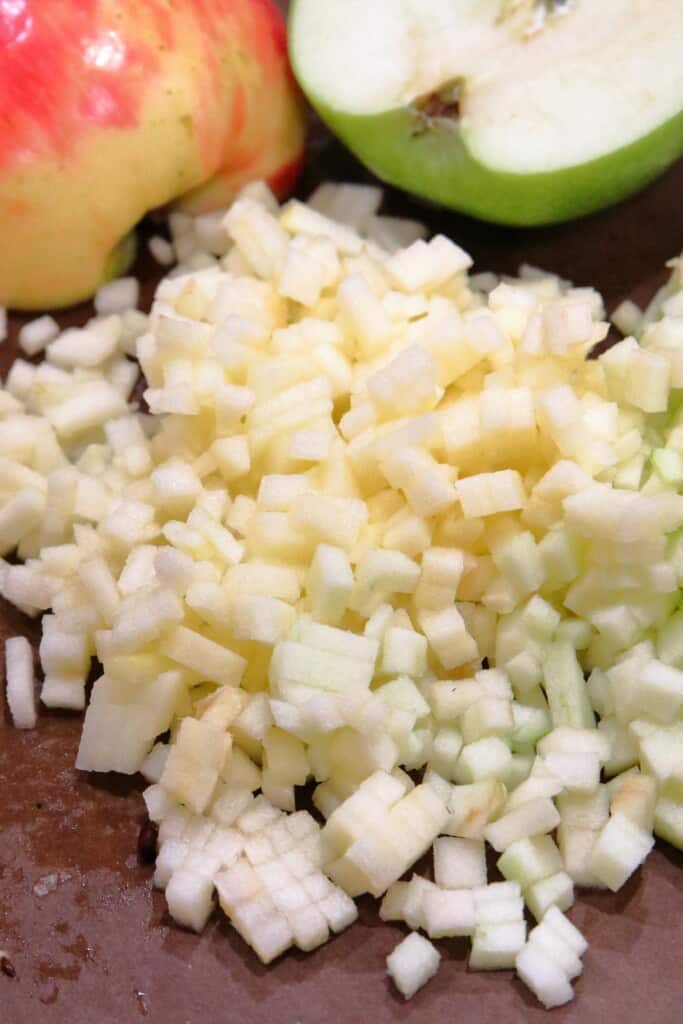 There are just a few quick steps to get your cinnamon rolls in the oven.
Roll out your dough.

If you want to skip this step, you can. But I just found it to be good to roll it out evenly, but also give it a little more surface area. It also seals any of the perforation that might already be there.

Spread out your brown sugar.

It doesn't have to be a huge coat. You can use as much or as little as you want based on how sweet you want it.
Layer on your diced apples

after coating them in the apple pie spice.

Add the chopped pecans

if you are using nuts.

Roll tightly!

Make sure you are starting from the short side and rolling long ways.

Cut in half

until you get about 8 pieces. You may have to tighten the rolls a little. I took each piece and quickly tightened the roll of the dough around the filling.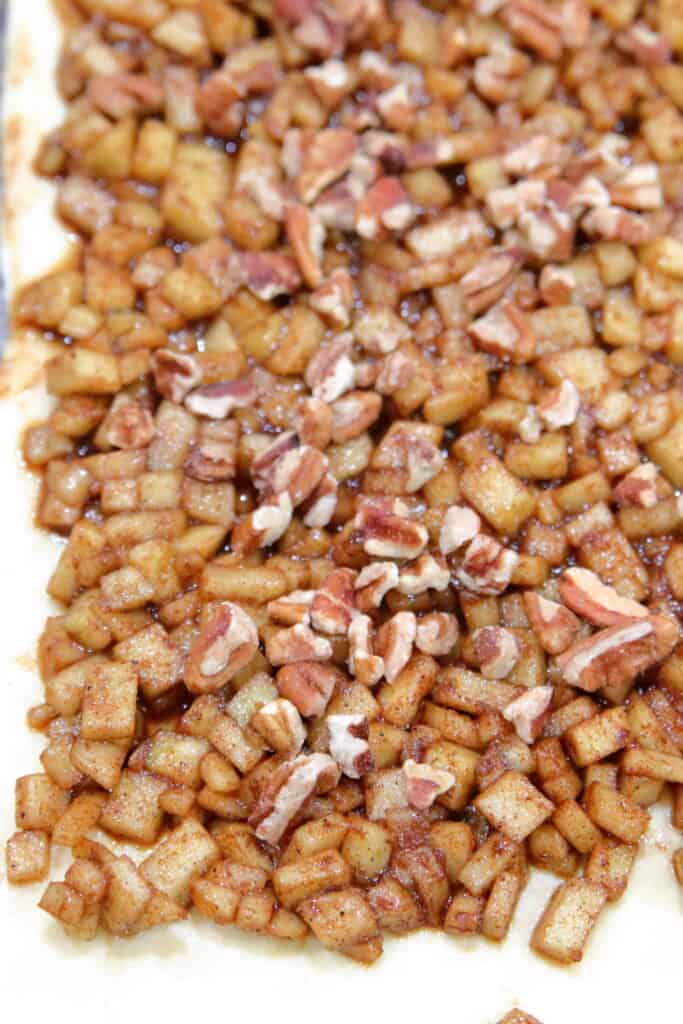 If possible, choose a smaller baking pan so that when you put all of your rolls in the pan, they will touch each other. They will rise up instead of spreading out. Plus, the filling will melt into syrupy goodness and get all in the dough as they bake.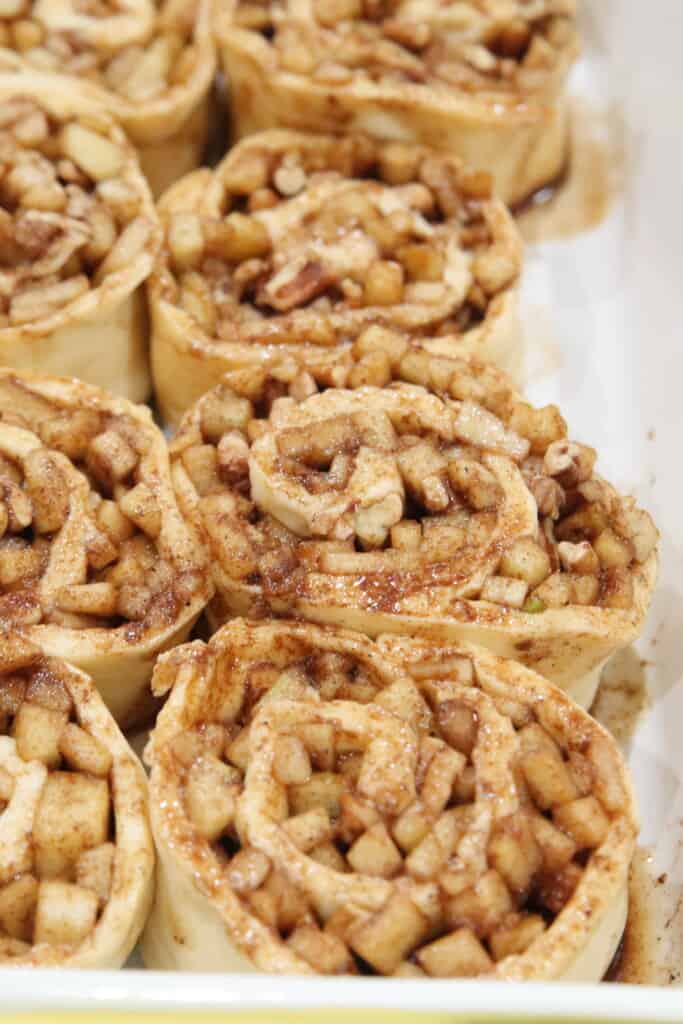 Bake at 375F for about 20-23 minutes. The package of crescents will say 10-12 or so. When you are making them this way, it will take much longer!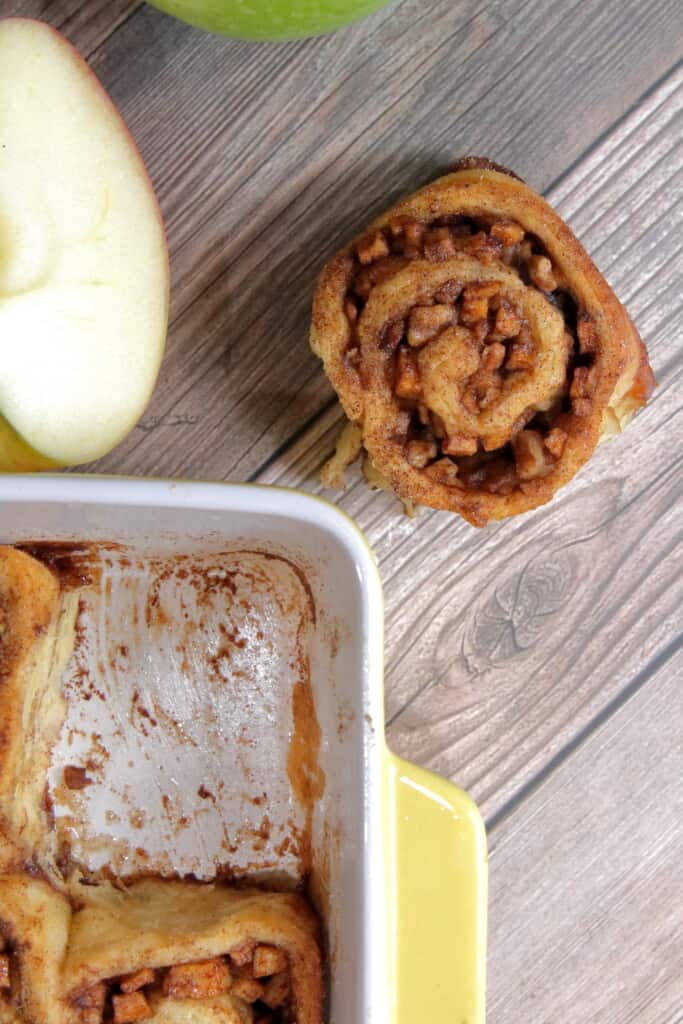 A few quick tips
Before the last few minutes, brush with melted butter and continue to let it turn golden brown
Sprinkle with a mixture of cinnamon sugar. You can make your own, or grab some from McCormick (paid link).
Let them cool for a few minutes! This seems obvious, but it's not just because they are hot. While your apple cinnamon rolls are baking, the brown sugary filling is going to melt out a little and work it's way around in between and around the dough. It's going to need a minute to thicken back up.
Frost them with some cinnamon roll icing! For the life of me as I look at these photos, I can't believe i didn't put some frosty goodness on them! About a cup of powdered sugar mixed with a couple tablespoons of milk touched with a dash of vanilla is all you need!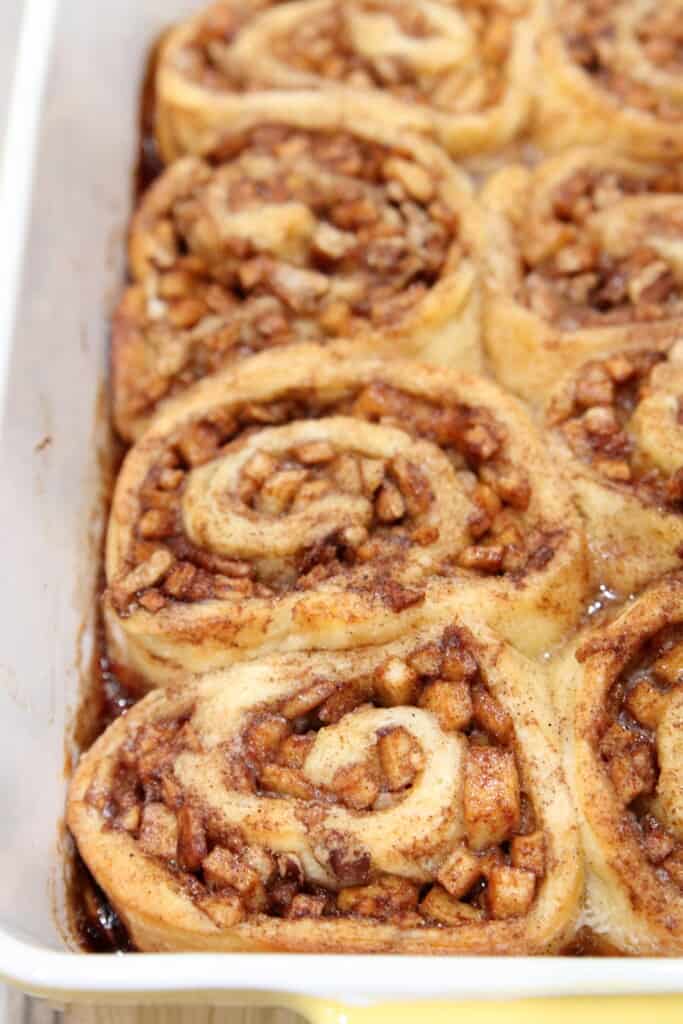 And that's about it! Quick, easy, and best of all HASSLE FREE apple pie cinnamon rolls. All of the flavor, none of the headache.
Enjoy!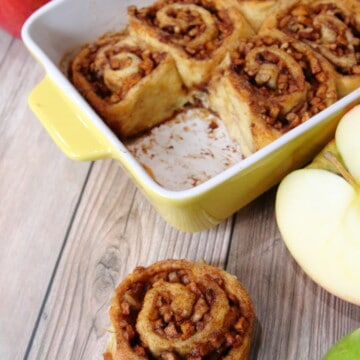 Apple Pie Cinnamon Rolls
These Apple Pie Cinnamon Rolls are the easiest and tastiest apple pie snack! Made with crescent rolls, diced honeycrisp and granny smith apples, and homemade apple pie spice, these are perfect for when you want a delicious cinnamon roll but no time to make them from scratch!
Print
Pin
Share on Facebook
Rate
Servings:
8
Cinnamon Rolls
Ingredients
1

canister

Pilsbury crescent rounds

dough sheets also work

1

granny smith apple

1

honeycrisp apple

¼

cup

brown sugar

2

tsp

ground cinnamon

1

tsp

ground nutmeg

½

tsp

cardamom

½

tsp

all spice

½

cup

pecans

2

tbsp

melted butter

cinnamon sugar for topper

(granulated sugar and cinnamon mixed)
Instructions
Peel apples and dice into tiny pieces

Mix cinnamon, nutmeg, all spice and cardamom together. Coat apple pieces.

Remove crescent rounds from container. On a lightly floured surface, use a rolling pin to spread crescent rounds just a little thinner. It doesn't need to be paper thin. Just a little thinner to get a little more surface area.

Spread brown sugar over crescent round. Layer spiced apple pieces on top of brown sugar. Spread pecans on top of the apples.

Roll tightly starting from the shorter end. Follow the original intentions of the perforated lines.

Cut the tips of the ends off to make them even.

Using a very sharp knife, slice into 8 pieces. Start in the middle and cut in half. Cut each piece in have until you have 8 so they are even.

Place each roll in a baking pan with walls. Ideally, each roll should fit in until each roll touches the other. I used a 7×9 inch pan. 8×8 would work well too.

Bake for 20-23 minutes at 375°F

With about 3 minutes to go, brush the tops with melted butter and sprinkle with cinnamon sugar. Continue to bake until golden brown.

During the course of baking, sugar and spices will have melted and dripped out and around the rolls. It will be hot! Let cool for a few minutes, remove from pan and enjoy!

For some EXTRA indulgent rolls, drizzle some icing made from powdered sugar and milk.
Nutrition
Serving:
1
roll
|
Calories:
228
kcal
|
Carbohydrates:
11
g
|
Protein:
1
g
|
Fat:
7
g
|
Saturated Fat:
1
g
|
Sodium:
35
mg
|
Potassium:
59
mg
|
Fiber:
1
g
|
Sugar:
9
g
|
Vitamin A:
137
IU
|
Vitamin C:
1
mg
|
Calcium:
16
mg
|
Iron:
1
mg