Do you ever have left over scraps from other recipes and you don't really know what to do with them? That's exactly how these Puff Pastry Apple Pie Bites happened. I was making my Beef Stew Pot Pie and had some left over puff pastry, so I dug around to see what I can stuff them with, so I grabbed an apple and a tasty snack was born!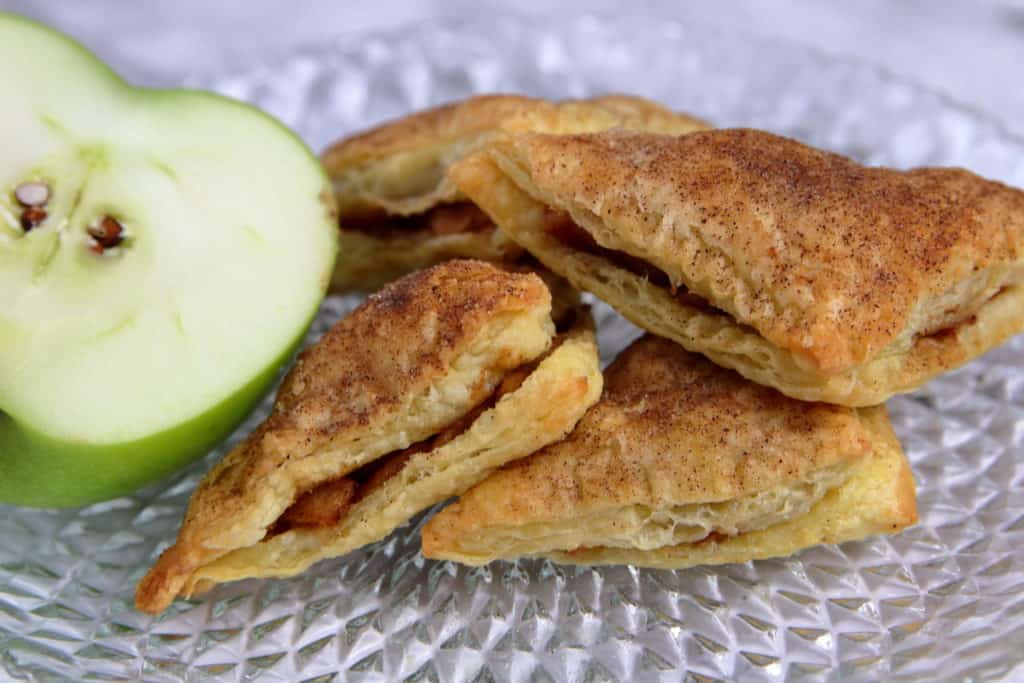 For this particular batch, it didn't make too many, but that's ok! Sometimes you only want a small snack. But if you wanted to make a ton of these things, that would also be super easy! It doesn't require a lot, and chances are you have a lot of these ingredients already. I used:
Half a granny smith apple
Brown Sugar
Cinnamon
Nutmeg
All Spice (you can use cloves or cardamon, or leave it out altogether!)
Leftover puff pastry
Apple cider or apple juice (or use butter or even just a little water for some moisture to cook)
Butter and cinnamon sugar to sprinkle at the end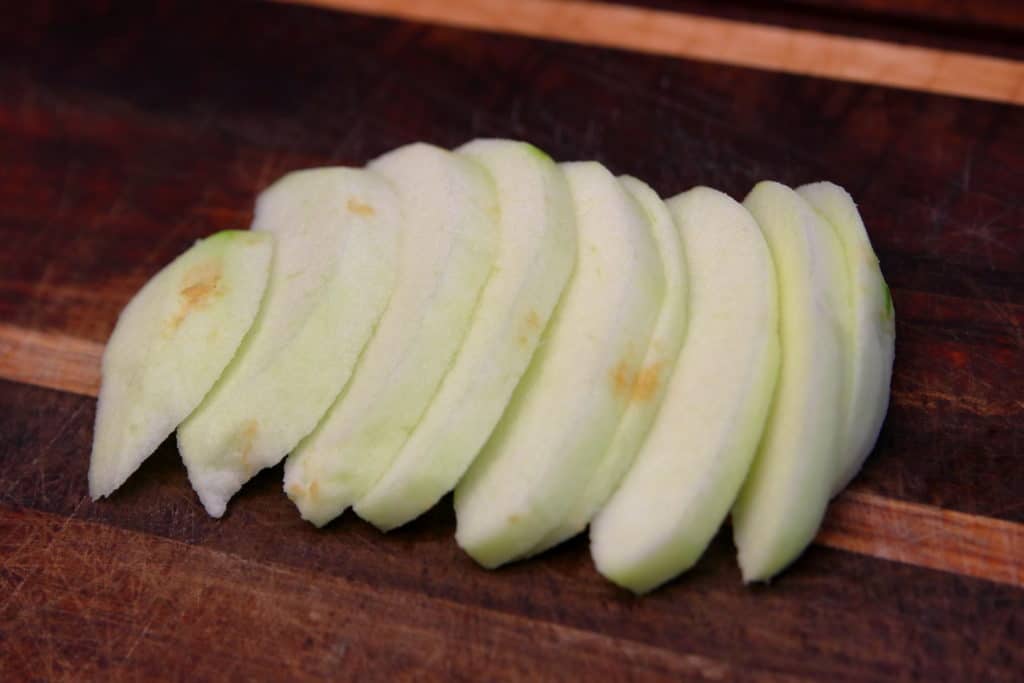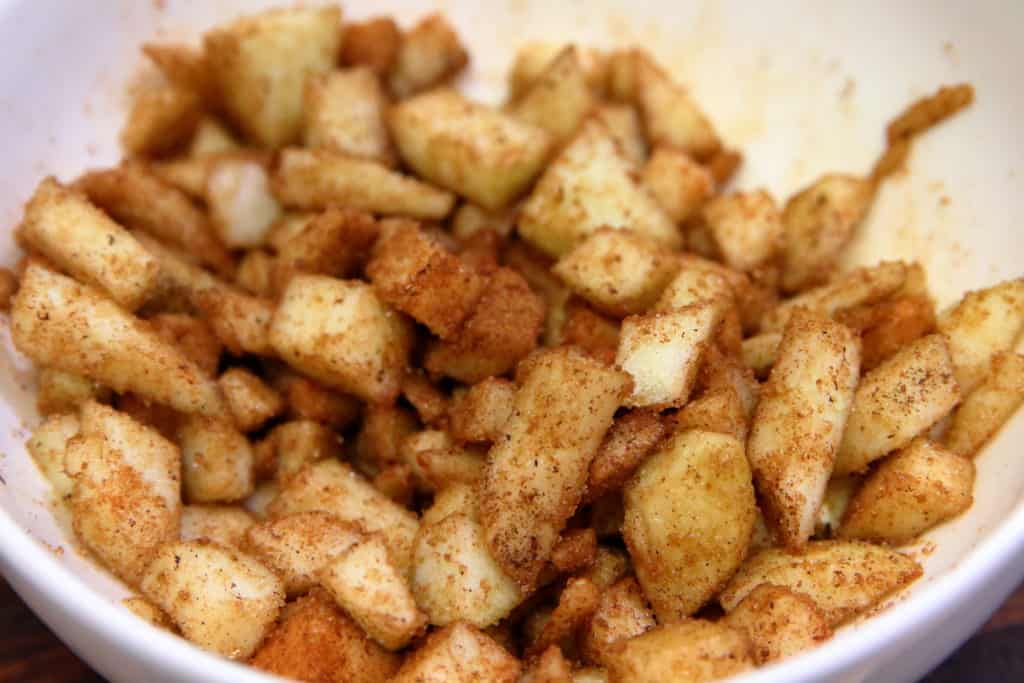 Quick Notes for the Apple Pie Bites
These puff pastry apple pie bites came out a little on the tart side due to the granny smith apples and low sugar amount. But I like them that way! If you want them a little sweeter use some more sugar or try a sweeter apple. Honeycrisp apples are WONDERFUL.
I don't normally have puff pastry on hand, I just happened to have some left over. These will totally work with regular pie crust if you have any! They just won't be as fluffy.
The pastry will probably open no matter how hard you crimp it. Don't fret. When you take it out of the over, just gently press it closed. They won't close all the way, but the contents will stay put. Plus, you'll be able to see all that apple gooeyness peaking out. Bonus!
You can make them bigger if you like. I just wanted some tiny little bites.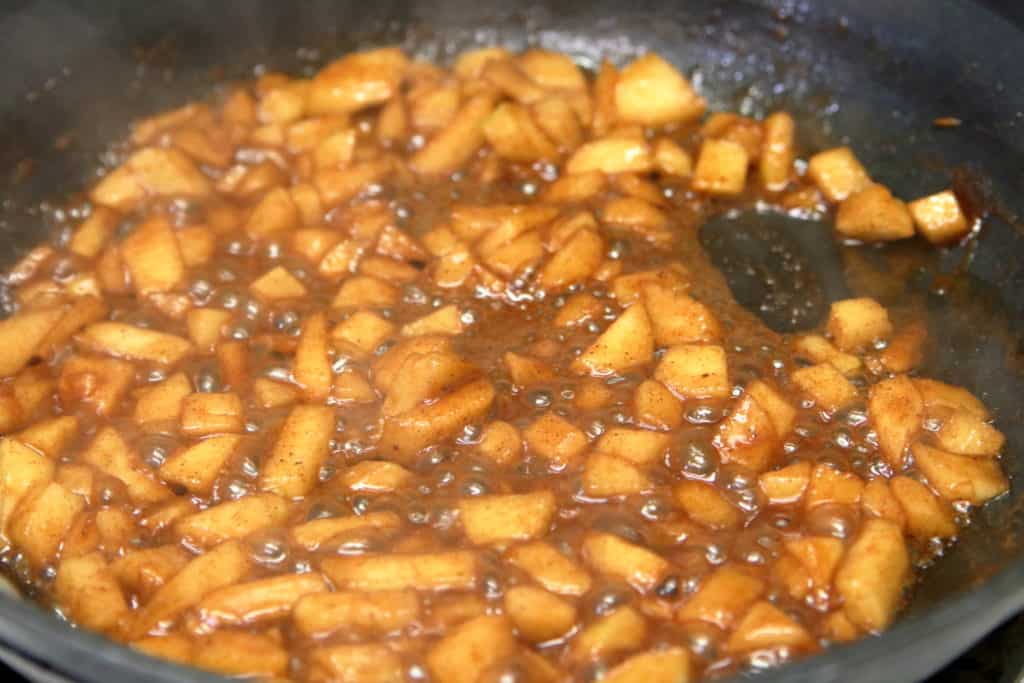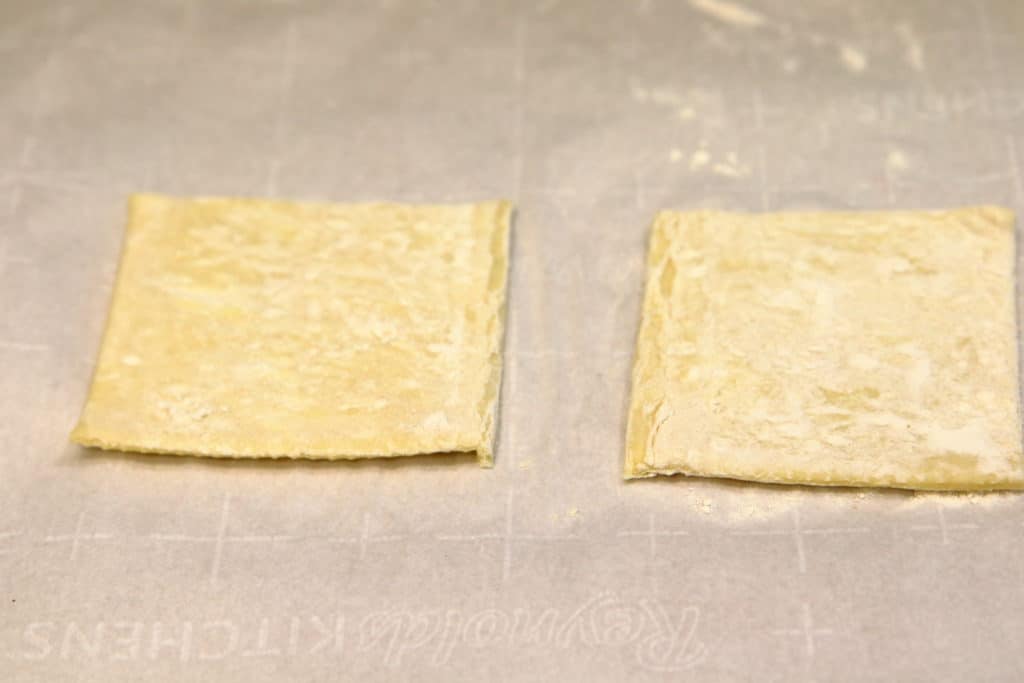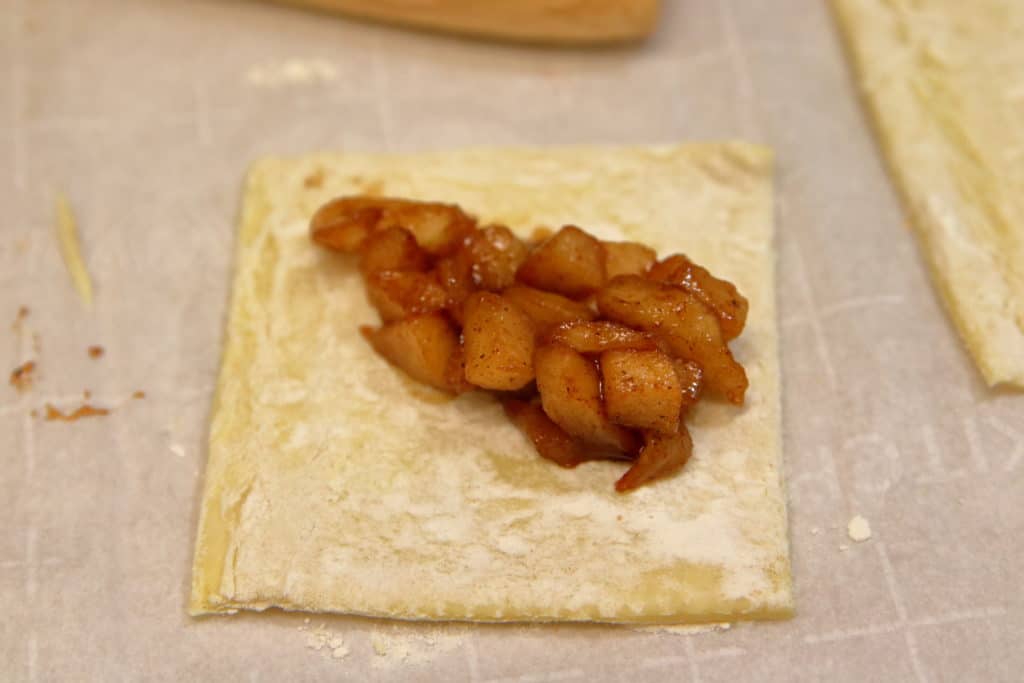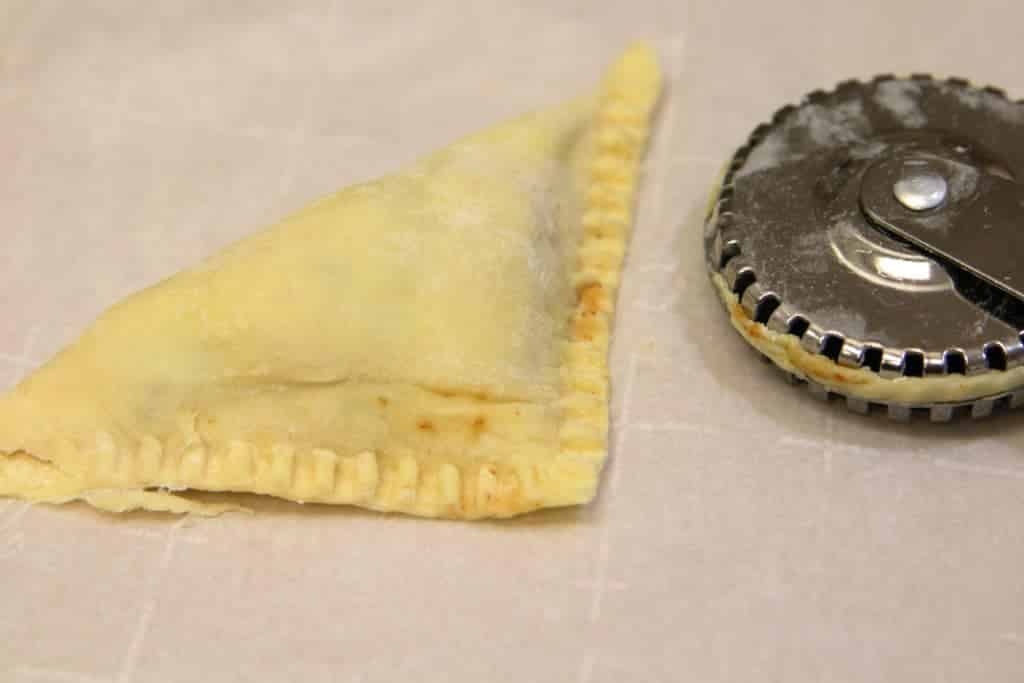 The ease and versatility is one of the appealing things about these. Make as many or as little as you like. With this particular recipe, it only made 5 little bites. But that's really all I needed! I was just trying to use up the leftover ingredients I had. If you want a lot, just multiple everything! They were incredibly easy. And SUPER tasty.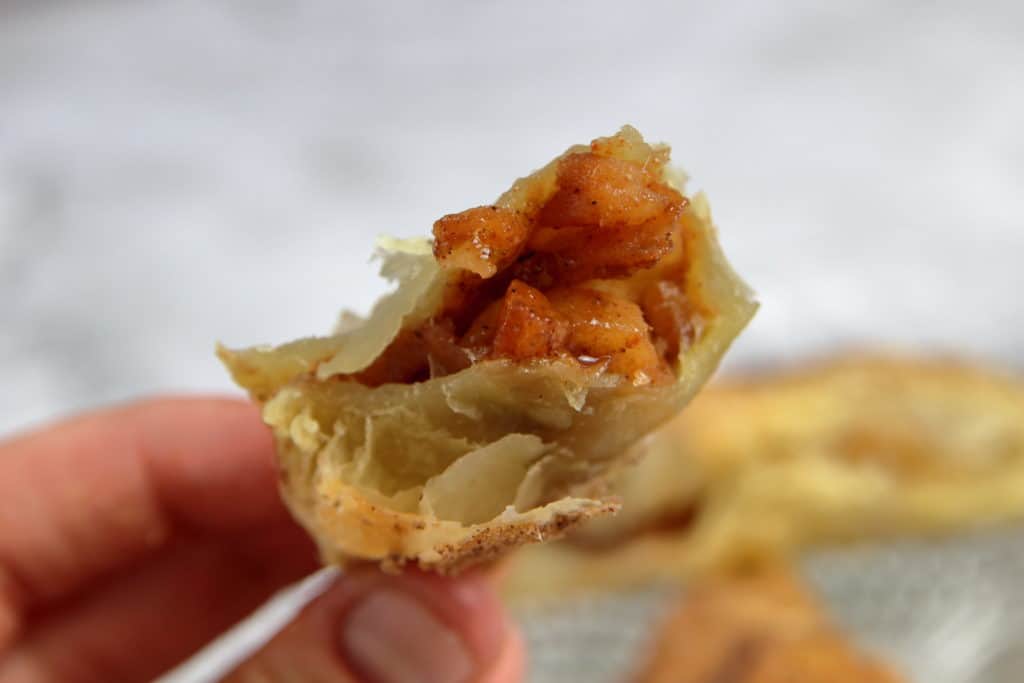 Don't forget the butter and cinnamon sugar at the end! I have a blend that I bought so I don't have to do the work, but it's only a mixture of cinnamon and granulated sugar, so just mix your own if you don't have any! It adds a little bit of sweetness and flavor to the end. And it's pretty! Gotta have that presentation, right?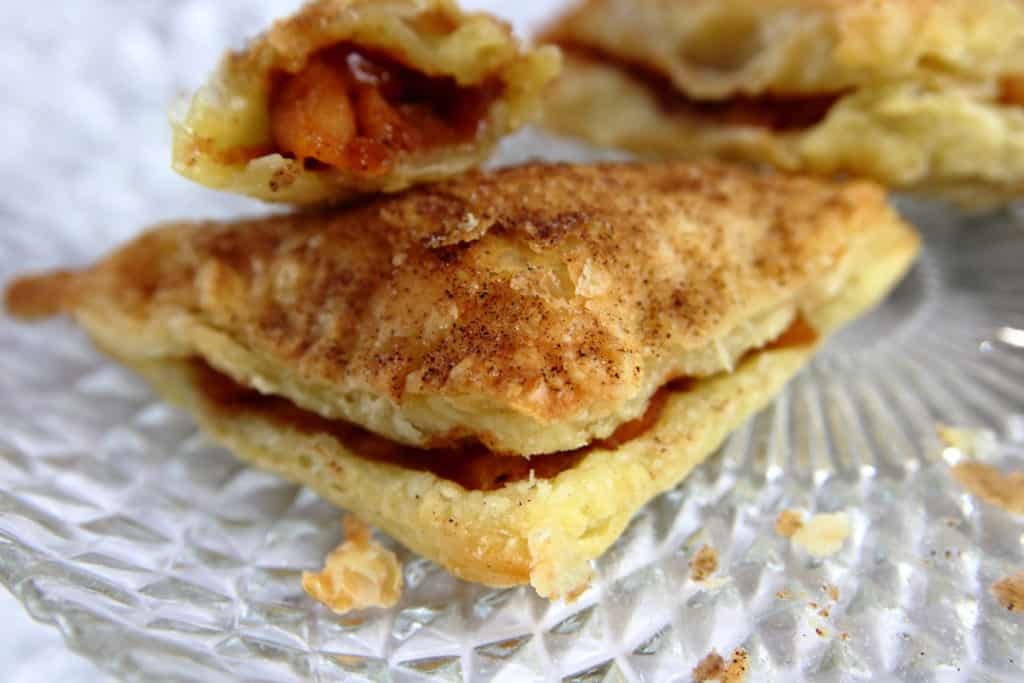 Anyway, that's it! Super easy little puff pastry apple pie bite snack.
Enjoy!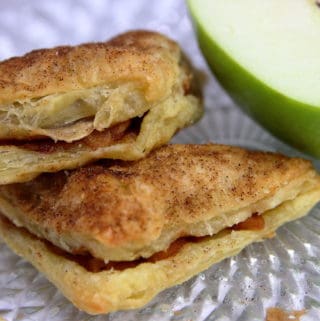 Puff Pastry Apple Pie Bites
Leftover ingredients from other recipes? Need to make a large batch? Try these puff pastry apple pie bites! It doesn't require a lot of ingredients and they are incredibly easy to throw together!
Print
Pin
Share on Facebook
Rate
Ingredients
1

half

apple

I used granny smith

½

tsp

cinnamon

¼

tsp

nutmeg

⅛

tsp

allspice

¼

cup

apple cider or apple juice

1

tbsp

brown sugar

puff pastry

I only used 5 squares 2 inches wide.

Melted butter and Cinnamon sugar

to brush and sprinkle
Instructions
Make sure puff pastry is thawed and ready. Cut into squares about 2-3 inches wide.

Dice one half of an apple into very small cubes. I like it tart, so I used granny smith. But use whatever you like!

In a small bowl, combine apple cubes, brown sugar, cinnamon, nutmeg, and all spice and mix around until coated.

Over medium heat, heat apples in a small saute pan. Pour in apple cider. Bring to a boil. Let apple simmer in the apple cider until it reduces to a gel. About 5-6 minutes.

Remove from heat. Spoon apple mixture into the center of a puff pastry square. I was able to comfortably fit about 2 teaspoons.

Fold over corner to corner and crimp the edges with a fork or a pastry crimper.

Spray a baking sheet with non stick spray. Use an elevated baking/cooling rack if you have one.

Bake at 400°F for 15 minutes. AFter 15 minutes, brush each pastry with melted butter and sprinkle cinnamon sugar generously all over (I only did one side).

Return to over and bake for 5 minutes.

Remove from oven. If the pastries have opened, just gently push them back closed. As they cool, they'll retain their shape and the contents won't leak out.

Let cool for a few minutes before you dig in!