The ultimate comfort food! Beef stew meets pot pie for a delicious and hearty dinner! Rich and flavorful, this pot pie takes a traditional beef stew recipe and adds one more layer of flavor and texture.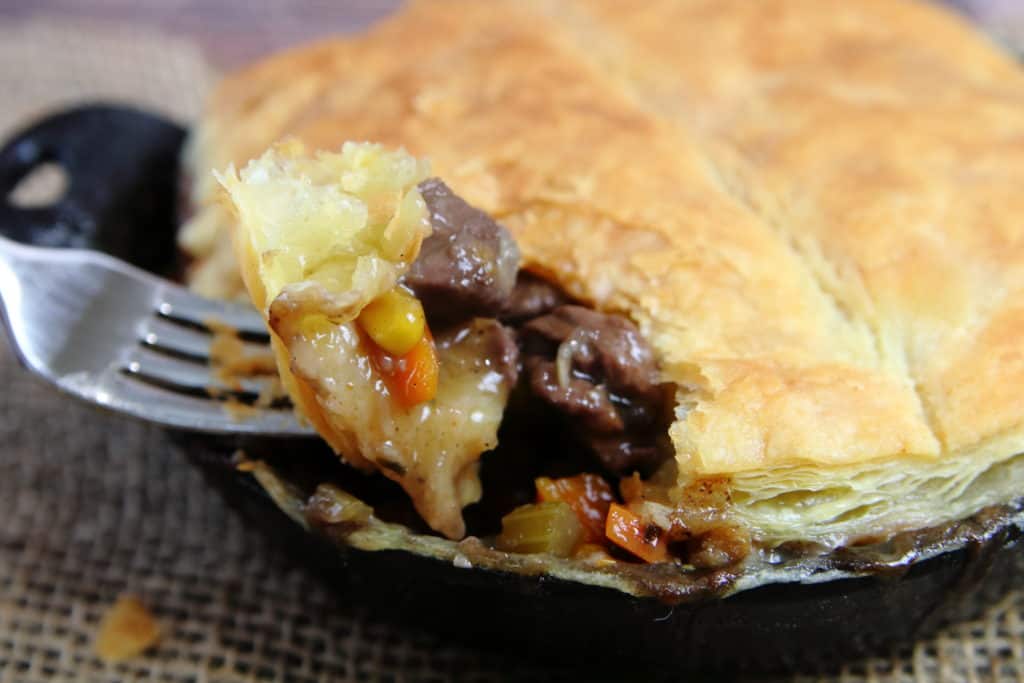 Maybe it's just me, but I feel like beef stew is the ultimate comfort food. It's hearty, flavorful, and perfect for those crispy autumn nights (ok, it's still like, 90 degrees in Houston, but I digress). As if rich and hearty beef stew isn't delicious enough, layer on some buttery, flaky puff pastry and you've created a beef stew pot pie that is JUST sublime.
One of the beautiful things about this beef stew pot pie is you can make it so personalized. If you don't like something that is in it, sub it out! It's hard to mess it up. I'll share what I used for mine, but you can pick, choose, and sub to make it juuuuust how you like it!
What are my pie filling options?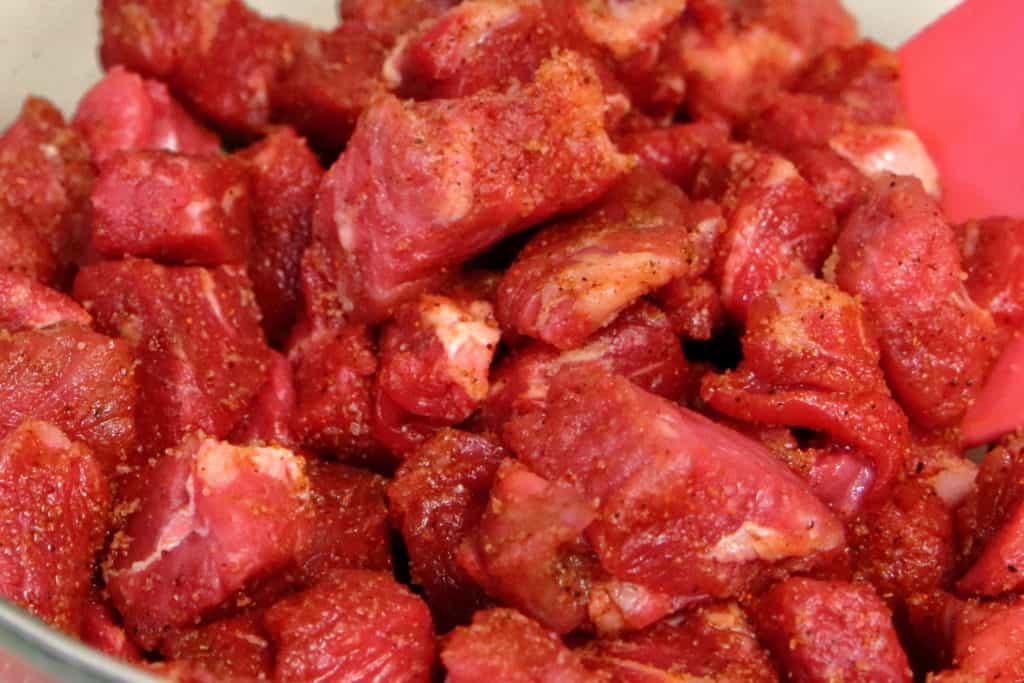 The Meat: I used sirloin chunks (for no other reason than I saw it in the store and it was exactly the amount I needed) . That may be an unpopular opinion, but it was DELISH. All you have to do to ensure that it's not tough and chewy is hammer it a little with a meat mallet. It was perfectly tender and delicious. If you prefer something else, chuck is a great choice (and often most preferred).
The Veggies: I keep my stew pretty basic. Potatoes, celery, corn, and carrots. I diced that carrots and celery pretty small and sauteed them. I didn't want them to be too big and take over. The flavor of celery is great, but I do not love the texture. I'll eat around it if I see it.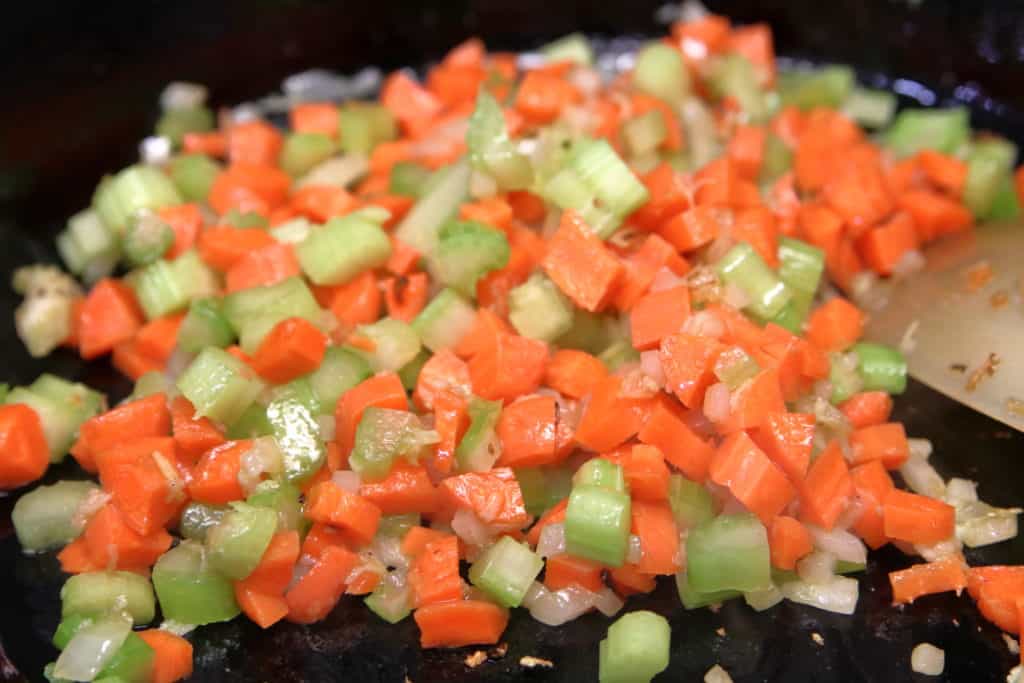 You can use all of these, or none of them! Here are a few alternatives:
Mushrooms
Sweet Potatoes
Peas
Green Beans
Turnips
You really have a ton of options here. So get creative!
Herbs and Spices: For me, it's my two favorite Ts: Thyme and Tony's. Am I even cooking if I'm not using Tony Chachere's? (paid link). No, the answer is no.
If thyme is not your style, try some rosemary! You can also experiment with some Tarragon, Parsley, Basil, or Oregano. Honestly, whatever herbs you like will work great. Just make sure you use SOMETHING so you have good depth of flavor!
If Tony's is too spicy for you, opt for some salt and pepper, garlic powder, onion powder, maybe a liiiiittle chili powder? Don't be afraid of a little heat!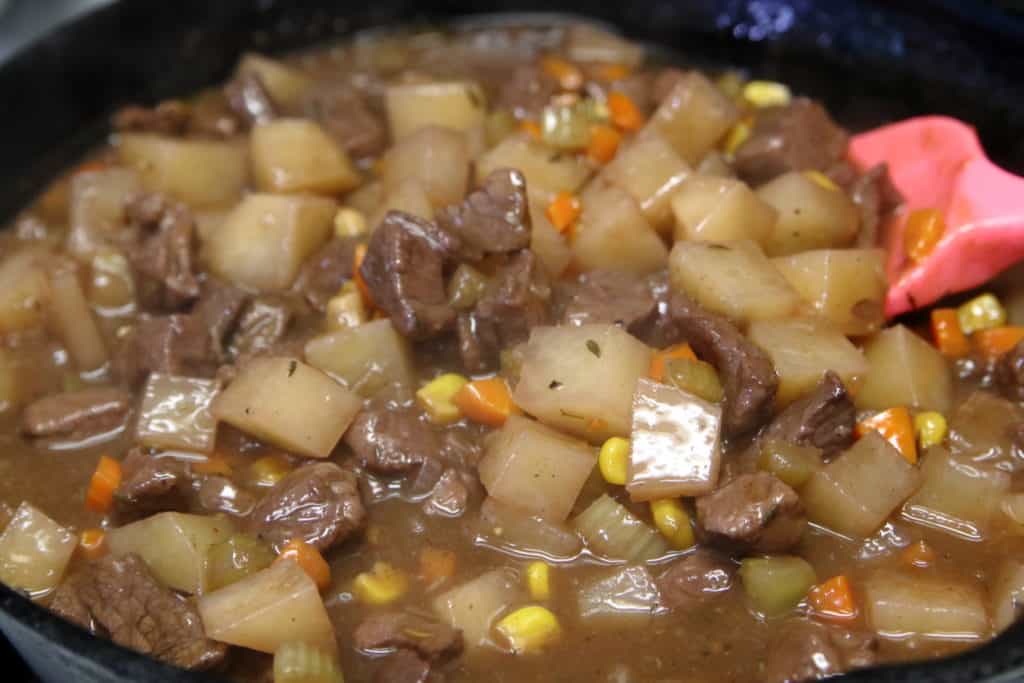 The Broth: Growing up, I only ever used beef broth in stew. But holy cow, after using red wine, I'm never going back. For this particular one, I used 1cup broth to ¾ wine. The wine flavor came through VERY well with this ratio. You can use more, less, or none at all if you like (although I do recommend using at least a little. It really adds dimension).
Tip: Don't forget the cornstarch. Put a couple tablespoons in a small bowl, combine with just a liiiiiitle cold water, and mix. Add mixture to the broth so it will thicken up. If you don't have cornstarch, flour will work too.
Turning the Beef Stew into a Pot Pie
I love puff pastry. LOVE. It's so flaky and yummy. I could just bake it and eat it plain. For this beef stew pot pie, you don't need to put a pie crust on the bottom (although you can if you want). When your filling has been put together and is ready to bake, fill up your cooking vessel. For this one, I used 6 inch cast iron pans. You can use a regular pie pan, ramekins, anything that is oven safe, really.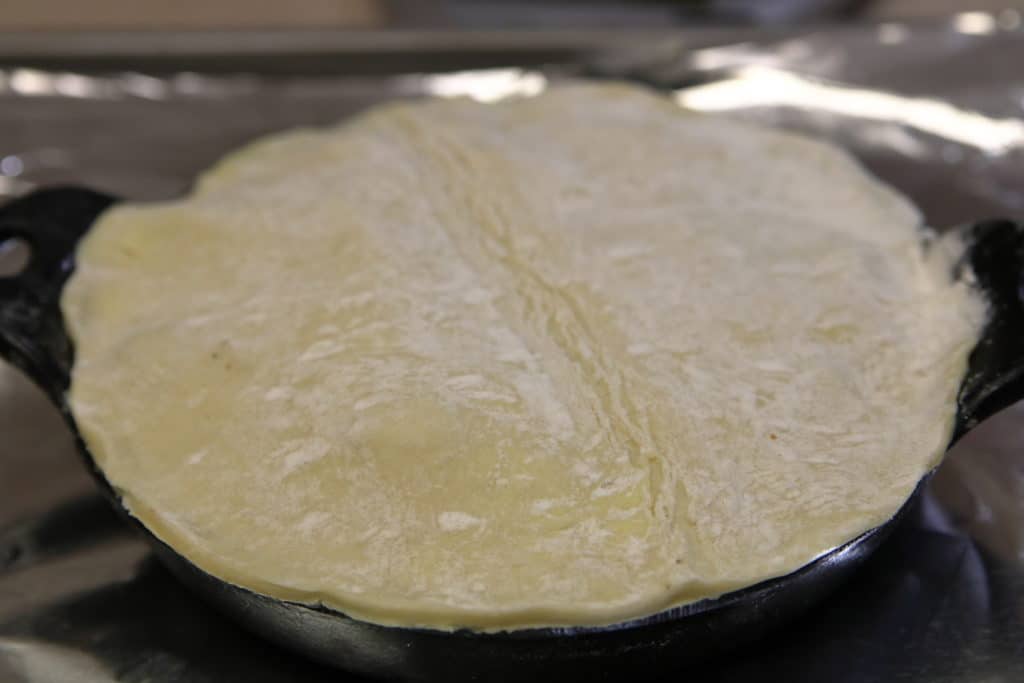 Cut the puff pastry so that it will cover the top of the pan you are baking in. Give it a liiiittle extra pastry to overlap. Press the sides so it will seal. If you don't have, or like, puff pastry, you can just use regular pie crust. I just LOVE the flaky, fluffy puff pastry.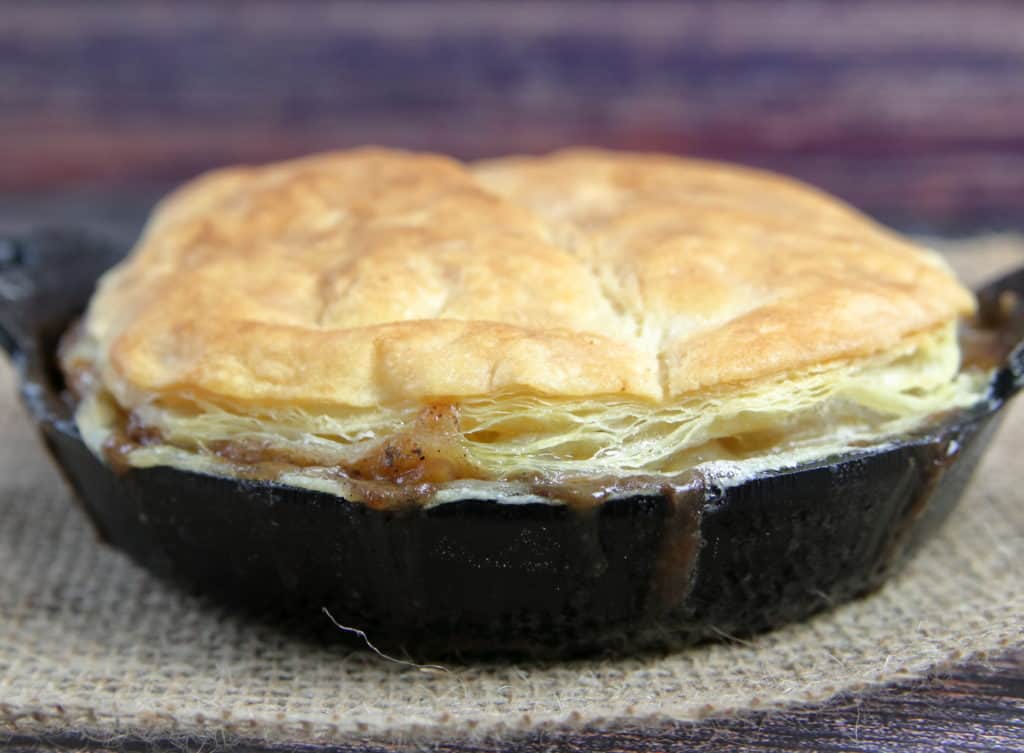 Tip: About 5 minutes before it finishes, brush with some melted butter so it gets that beautiful golden brown color and yummy buttery taste.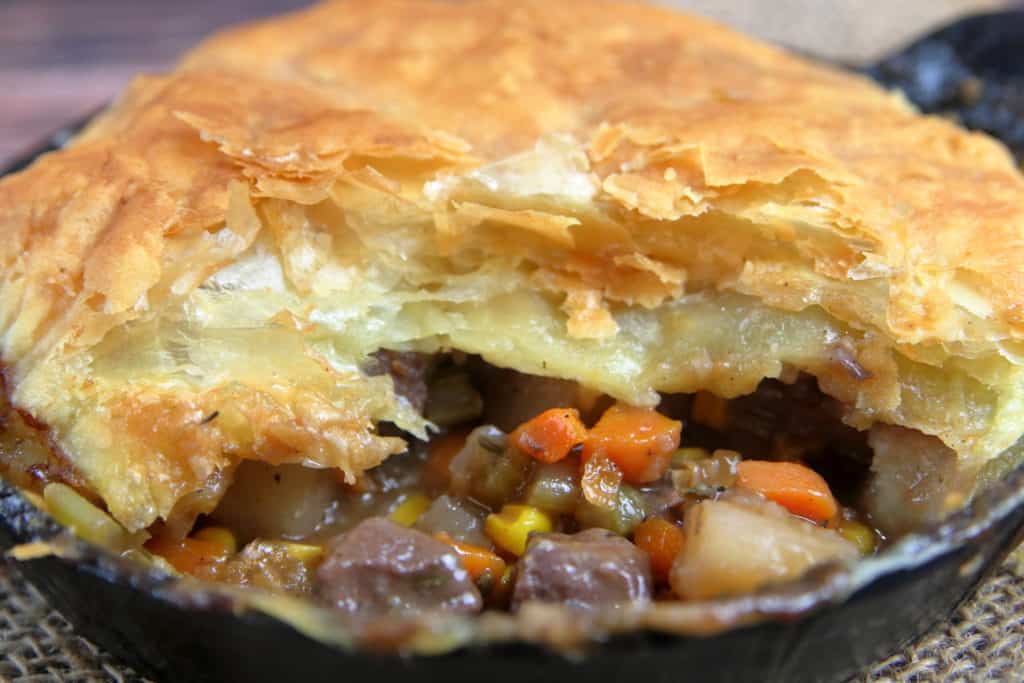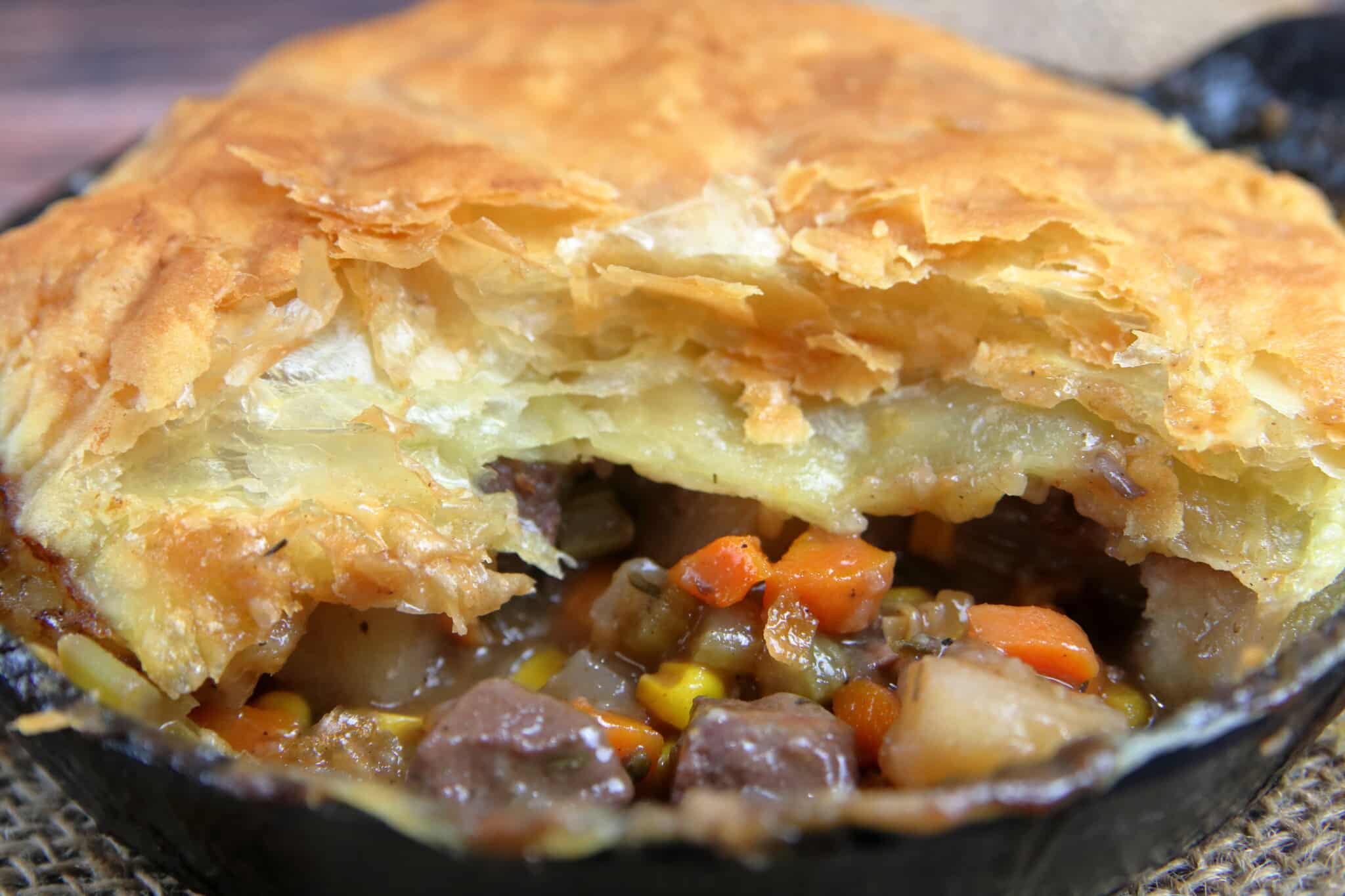 Look at that. LOOK. AT. THAT.
So that's how I like my beef stew pot pie for ME. Hopefully I gave you some good options and ideas so you can make it perfect for YOU! Feel free to leave me some comments with your variations!
Enjoy!
Note: Have some leftover puff pastry you want to use up? Try this recipe for Puff Pastry Apple Pie Bites!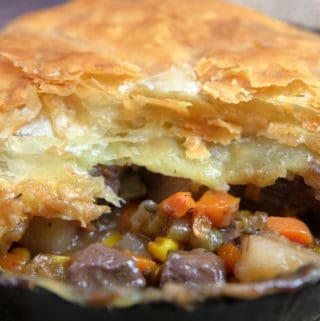 Ingredients
1

lb

beef

Sirloin, stew chunks, etc

2

tsp

Tony Chachere's Bold Creole Seasoning

2

tbsp

olive oil

¾

lb

diced potatoes

russett

½

cup

diced celery

½

cup

diced carrots

½

cup

canned corn

½

cup

diced onions

3-4

garlic cloves

minced

¾

cup

dry red wine

1

cup

beef broth

1

tsp

dried thyme

2

tbsp

corn starch

½

package of puff pastry

1

tbsp

butter
Instructions
Before chopping and seasoning, tenderize the beef with a meat tenderizing mallet (I use the spikey side for this). Cut into bit size cubes. Place in small bowl, mix with one teaspoon of Tony Chachere's, and set aside. Dice potato into small cubes. Set aside.

Heat one tablespoon of oil in a pan over medium heat (I used cast iron). Saute half of the onions and garlic in the hot oil for about 2-3 minutes. Add the diced celery and carrots. Saute for about 5 minutes. Remove from pan and set aside in a bowl.

Heat the other tablespoon of olive oil in the same pan. Add the other half of the onions and garlic. Saute for 2-3 minutes. Add seasoned beef and brown the outsides. Saute for about 5-7 minutes.

Return carrot and celery mixture to the pan with the beef. Stir well. Add corn.

Pour in wine and beef broth. Stir in diced potatoes, the other teaspoon of Tony's and the dried thyme. Bring to a boil.

Take cornstarch and mix with a tiny bit of COLD water (maybe a tablespoon). Stir until it becomes a paste. Pour into pan and stir well.

Reduce heat, cover, and let simmer for 15-20 minutes, stirring occasionally.

Cut puff pastry to the size of the oven safe pan you will use to bake pot pie. I used 6 inch cast iron pans. You can use full pie pans, larger cast irons, ramekins etc.

After the filling is finished simmering, transfer to baking dish of choice and fill it. Cover with puff pastry and press down edges to seal the sides.

Bake for at 400°F for 15 minutes. After 15 minutes, brush melted butter on top of the pastry to brown it. Continue to bake for 5 more minutes.

Remove from oven. Let cool for a few minutes, and enjoy!
Video