Breakfast Hash is incredibly easy to make. This one is done in one skillet and is made with leftover ribs, bacons, potatoes, over easy eggs and topped with melted cheddar cheese.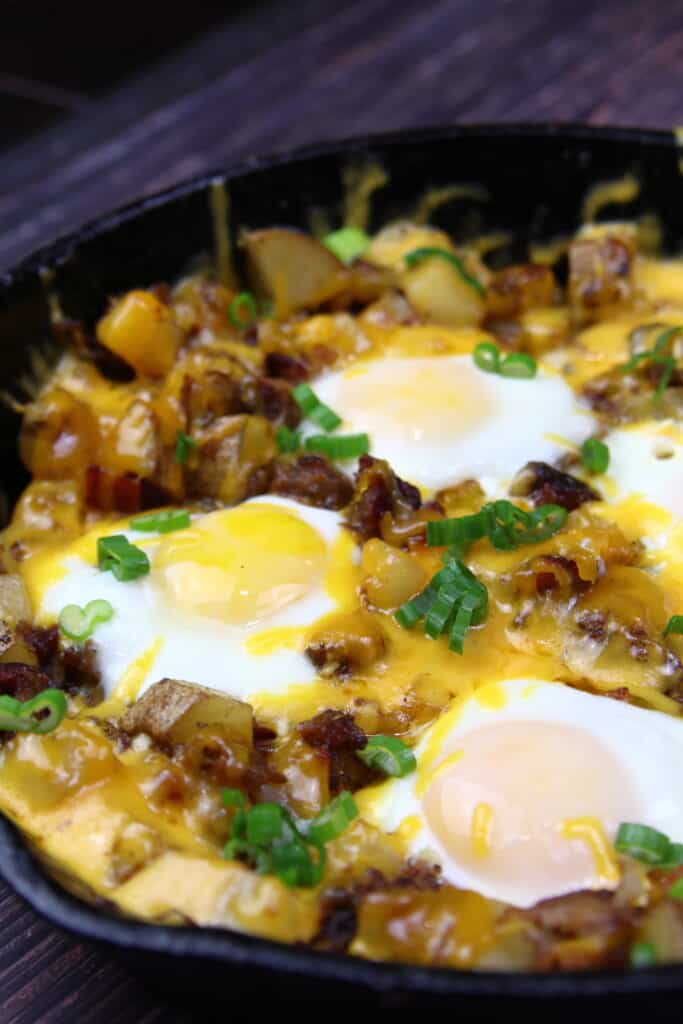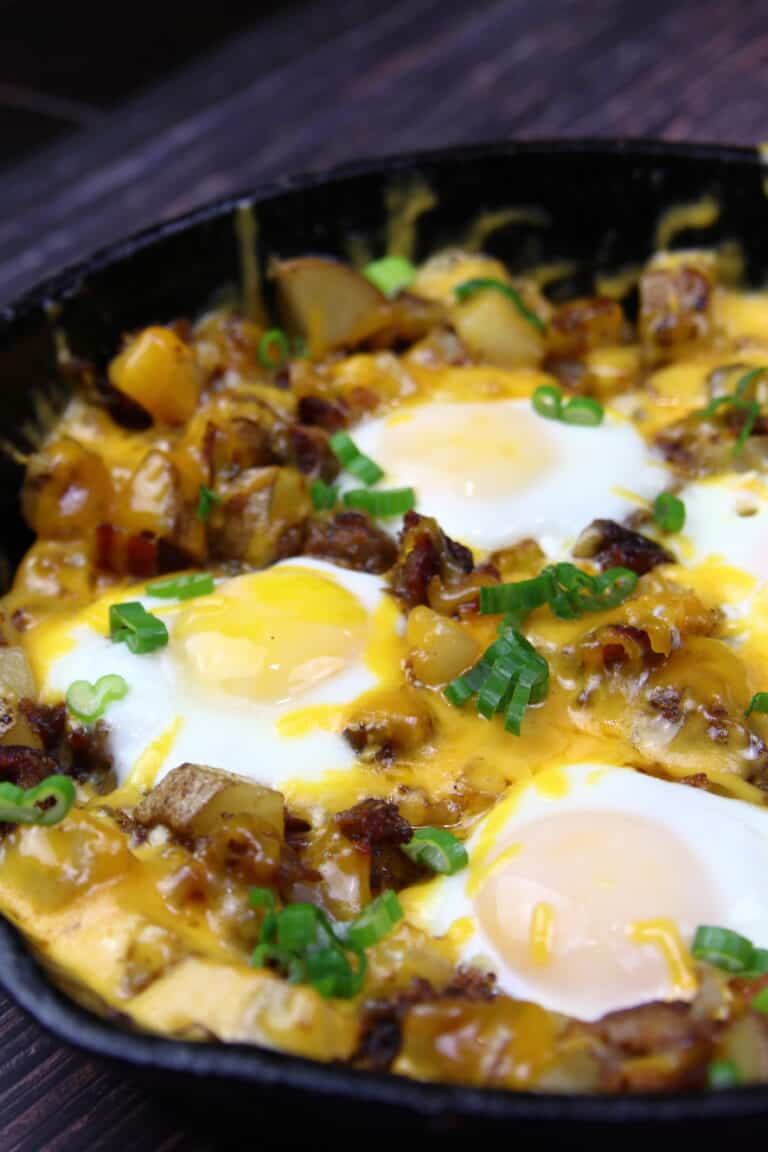 We do a lot of smoked meats in this house. A LOT. Pork ribs, brisket, pork shoulder, chicken, pork belly…You name it. I mean, I'm not complaining, however, it IS just the two of us. As a result we end up with a lot of leftovers, so I'm always trying to get creative with what to do with them. You can check out this leftover brisket recipe and this leftover ribs recipe for some more inspiration.
What is breakfast hash?
Simply put, hash is a dish that is made from chopped meat, potatoes, and onion. Now, there are plenty of variations on hash in different parts of the US and the world, but meat, potatoes, and onions are the most basic form or hash.
This breakfast hash doesn't stray from the classic definition of hash. It has all the classic ingredients and adds a runny, delicious, over easy egg on top with some melted cheese and oooo boy is it good.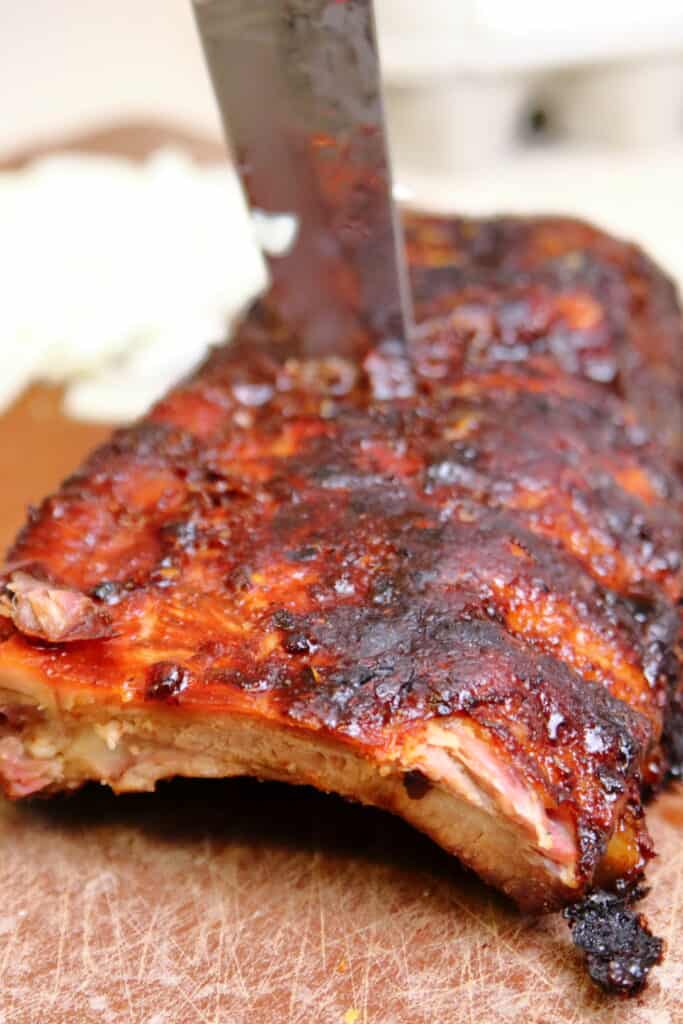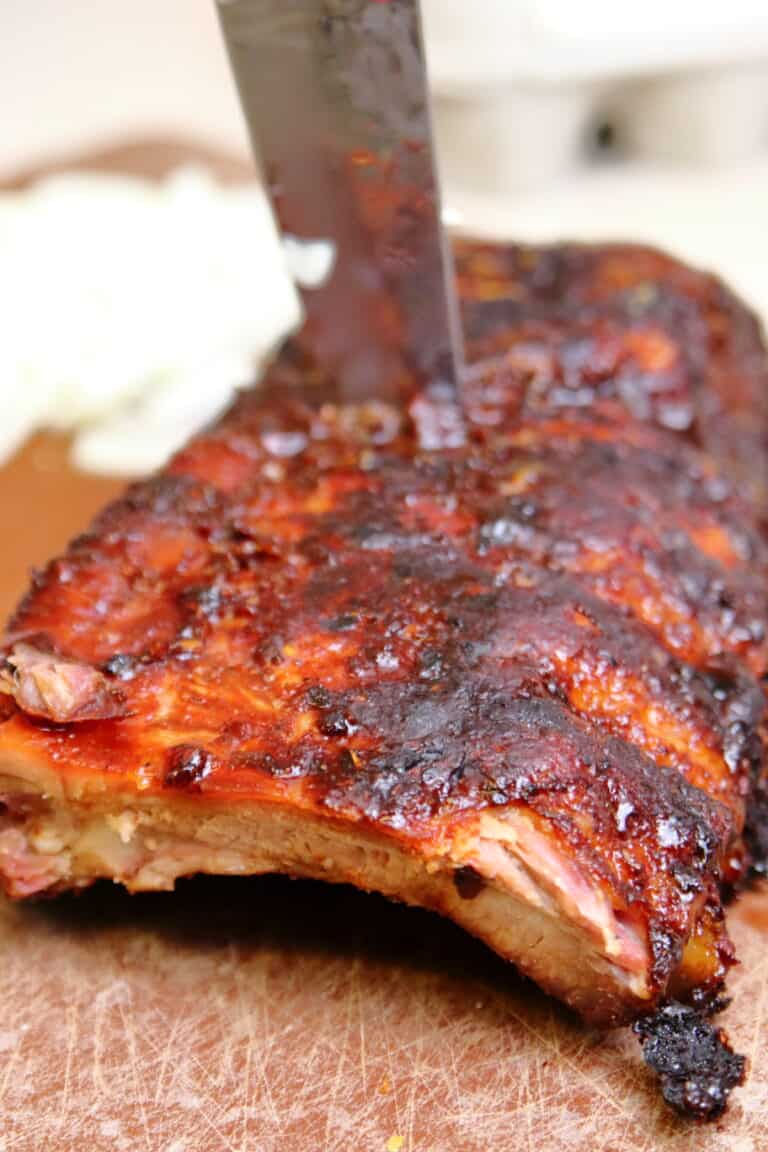 What type of meat is good for hash?
The beautiful thing about hash is it a PERFECT and easy breakfast dish for whatever type of meat you like, and it is especially good for when you need a creative leftover idea.
I love using leftover smoked meat the best (ribs, pork shoulder, brisket) because the meat is so coated in the dry rub that all of that dry rub flavor incorporates throughout the hash, thus giving it some delicious flavor.
The process for making your hash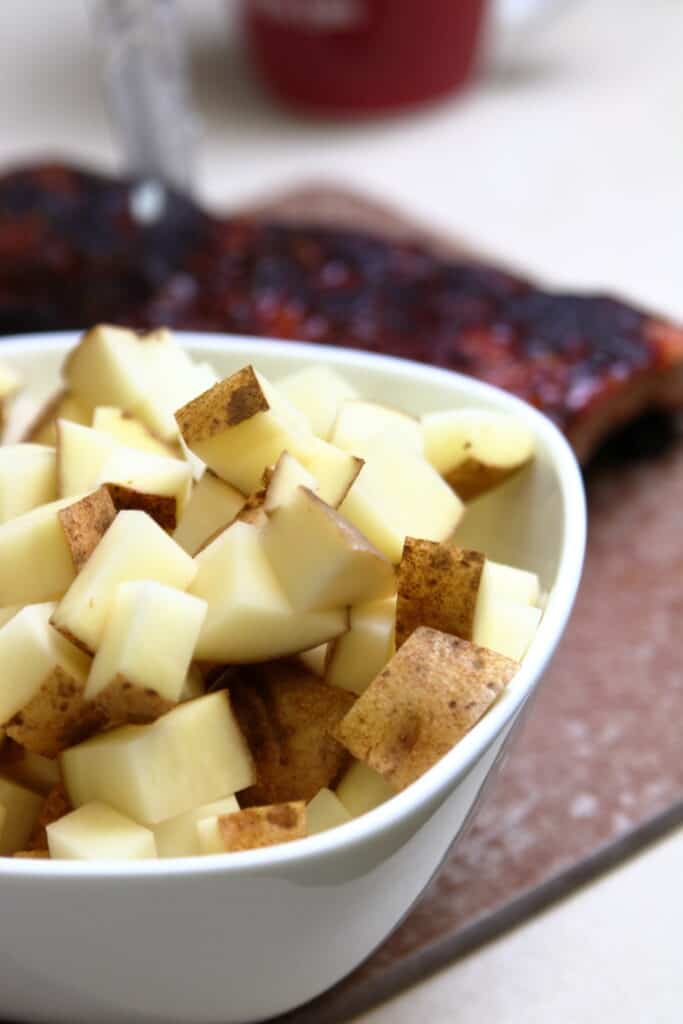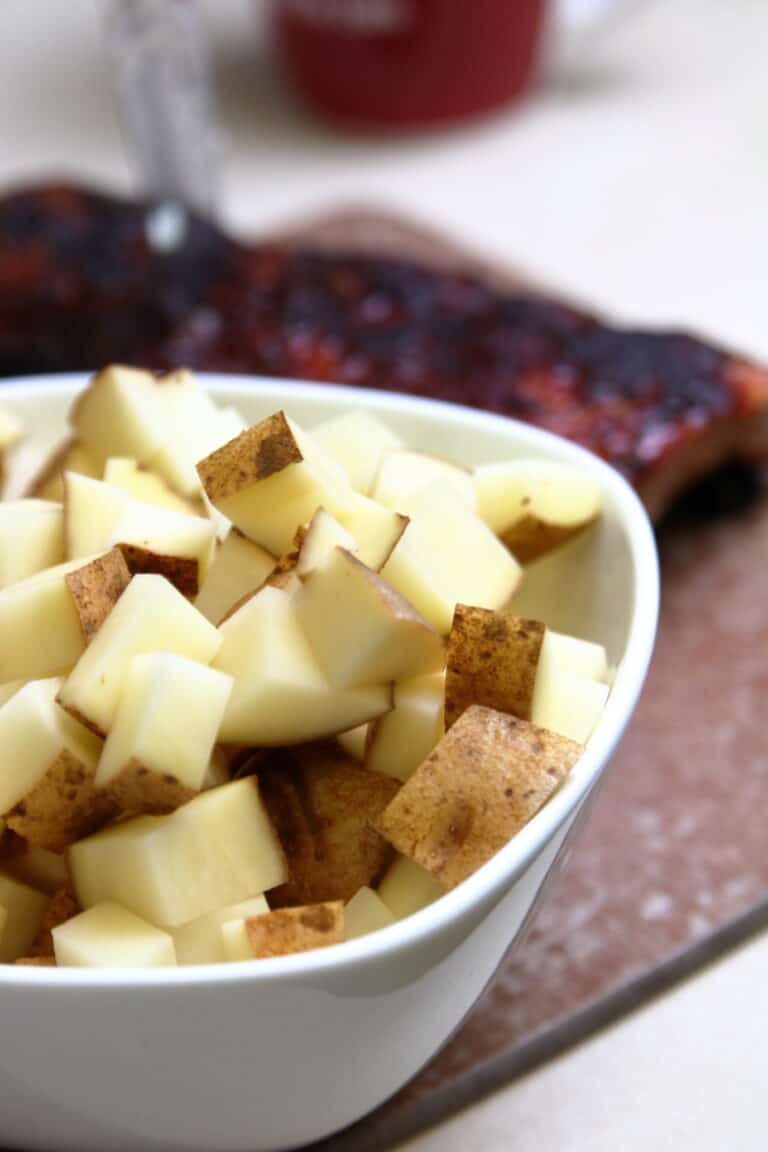 Making your breakfast hash starts the same way any delicious dish does:

With BACON.

In a good sized cast iron (about 10 inches), cook your bacon until it's crispy and all that fat is out. Once it's cooked, remove the bacon and set aside. Leave the bacon grease in the pan.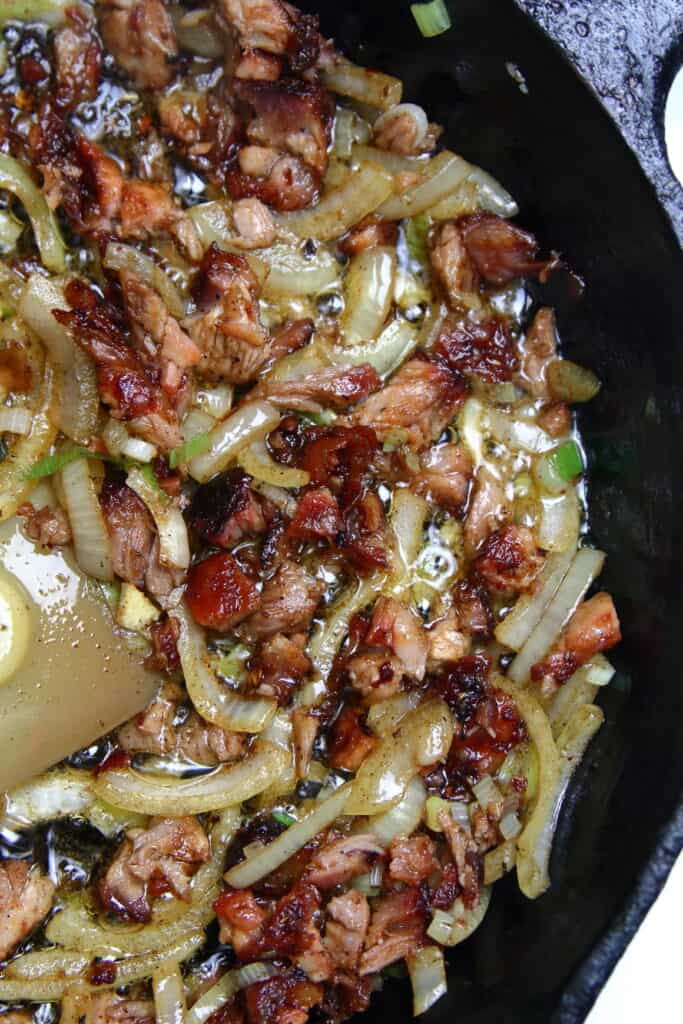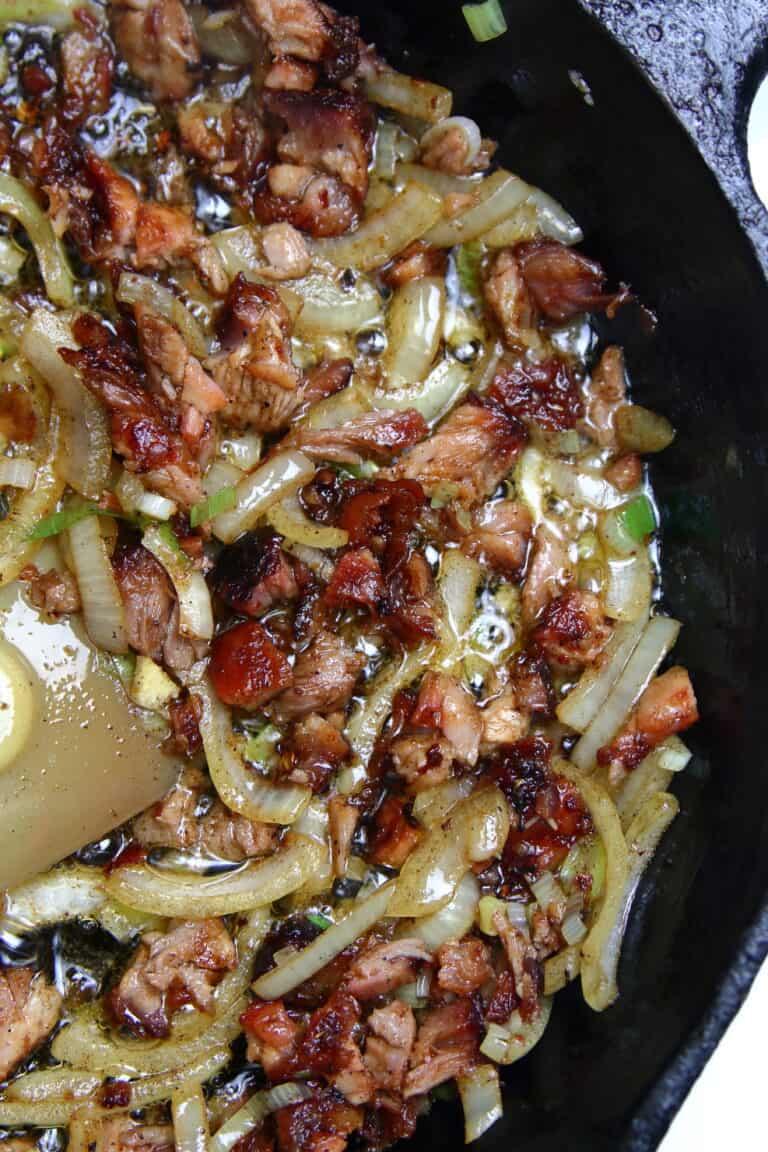 Next, add your onions and green onions and cook until soft, about 4-5 minutes. Add in the chopped rib meat. I used about ¾ cup onion and 1 cup chopped ribs, but adjust it how you like it.
Side note: Jalapeños would be a PERFECT addition to a breakfast hash, but our leftover ribs had SO much heat already on them, i skipped the additional peppers!
Next, melt some butter in the pan with the bacon fat, and add your potatoes. I left the skins on, but if you want to peel them, you certainly can.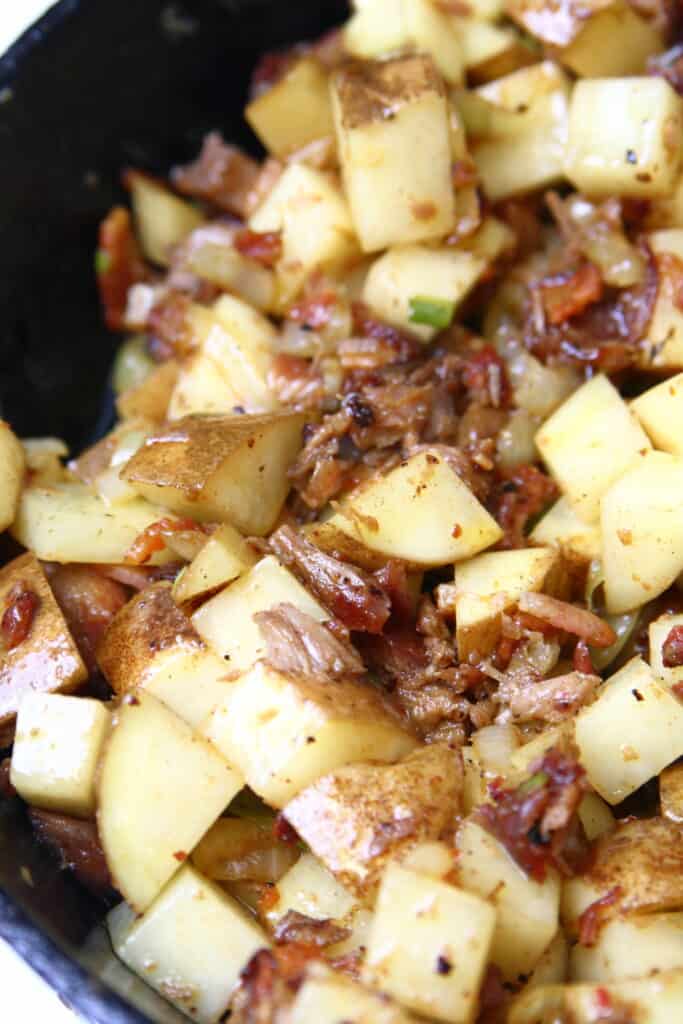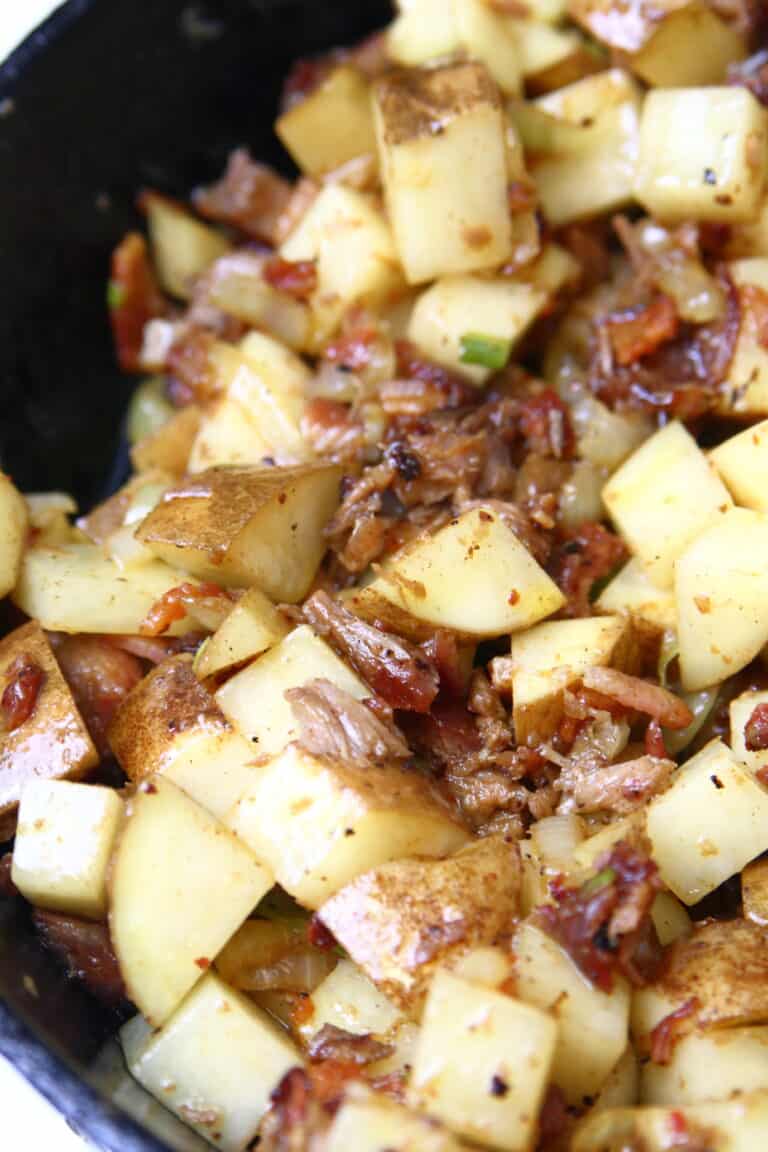 When it comes to seasoning your breakfast hash, that's all going to depend on how much spice your leftover meat has. For this, we used leftover ribs and it was COATED in a spicy dry rub, so I didn't have to add a thing. Between the leftover ribs, the bacon, butter and onions, the spice and salt level was perfect. But you can adjust yours how you like it.
After you add your potatoes, turn the heat down a little, cover, and let the simmer. Stir every few minutes to mix around the flavor and to keep them from burning. When the potatoes soften, it's time for the finishing touches.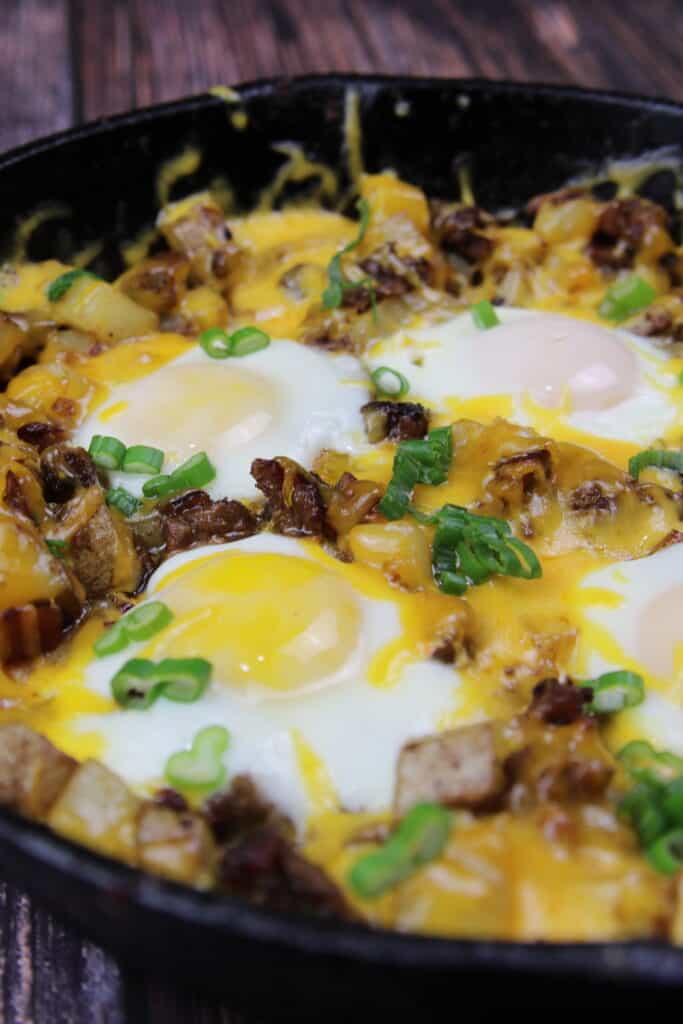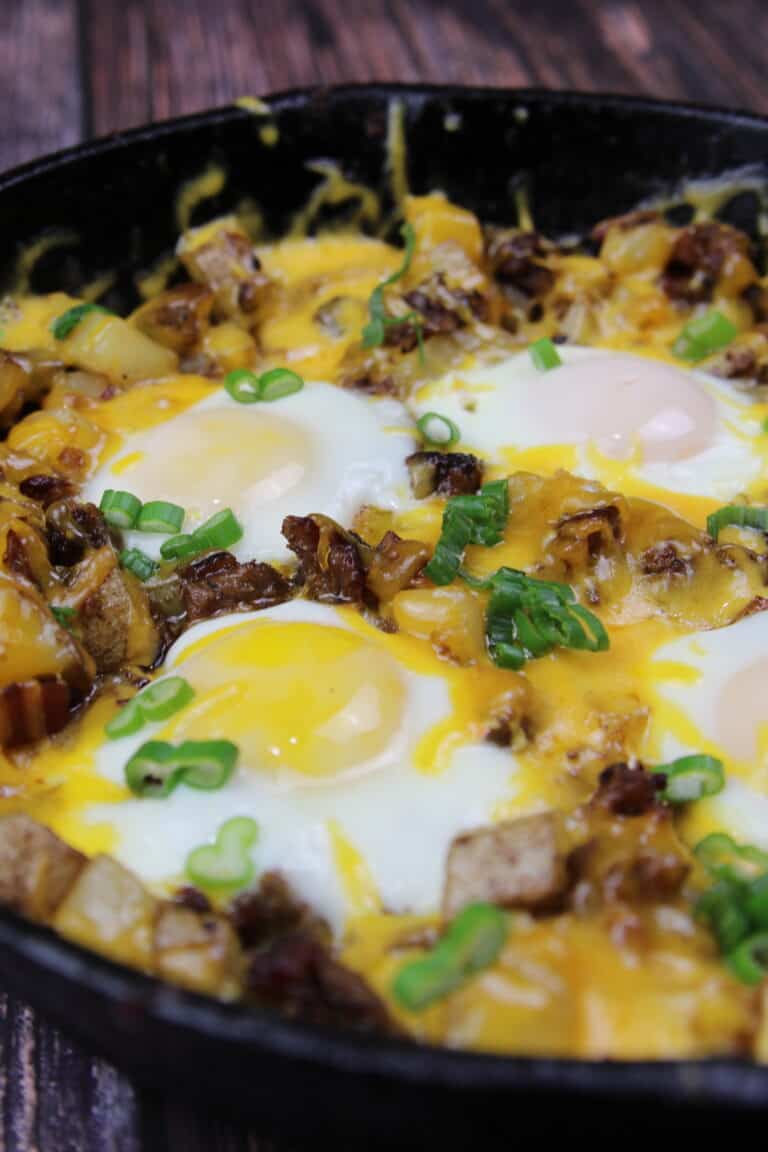 Finishing up your breakfast hash
Once you have your potatoes mostly softened, it's time to add the eggs.
Make four little wells in the potatoes (it doesn't have to be all the way to the bottom, just a few little holes) and crack in your eggs. Place them in the over for about 5-67 minutes, or until the whites are almost cooked.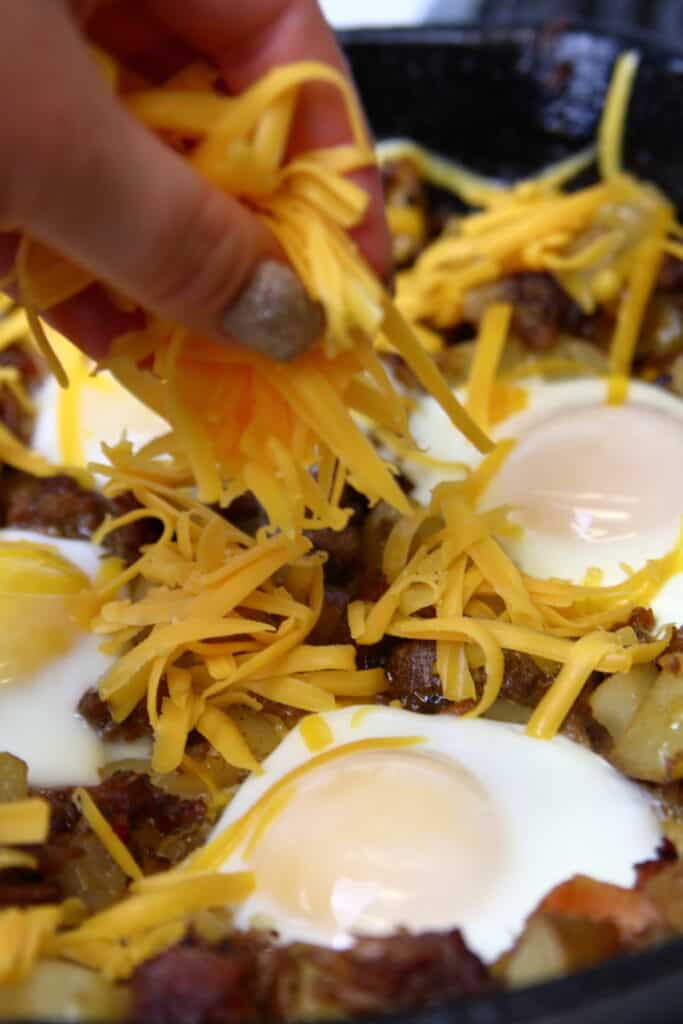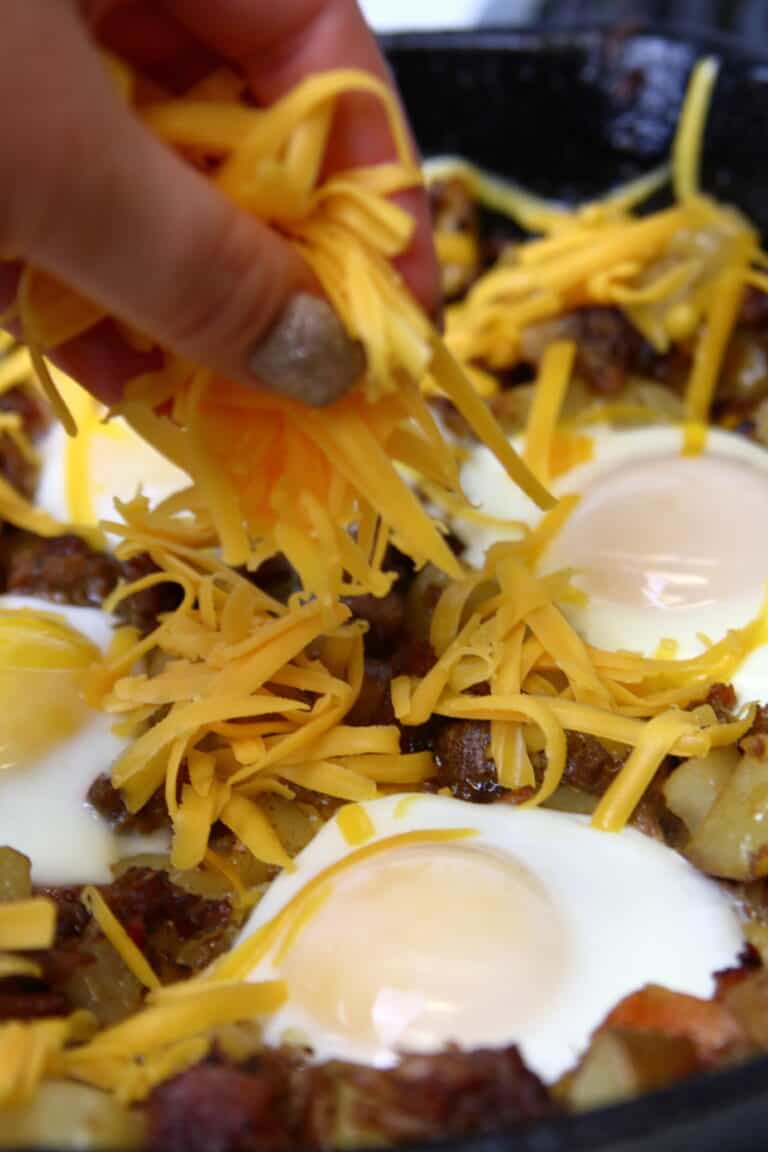 Sprinkle around the eggs until the potatoes are nicely covered. Return to the oven and cook until cheese is melted and egg whites finish cooking.
These eggs came out to a PERFECT over easy. One of them was sunny side up. The yolks were so deliciously runny.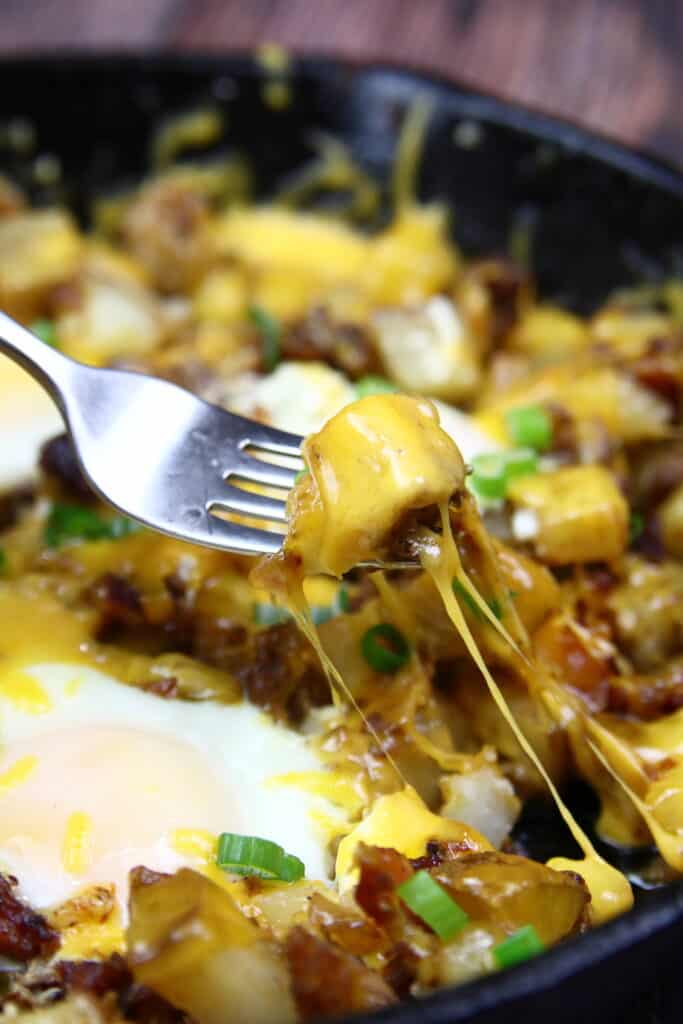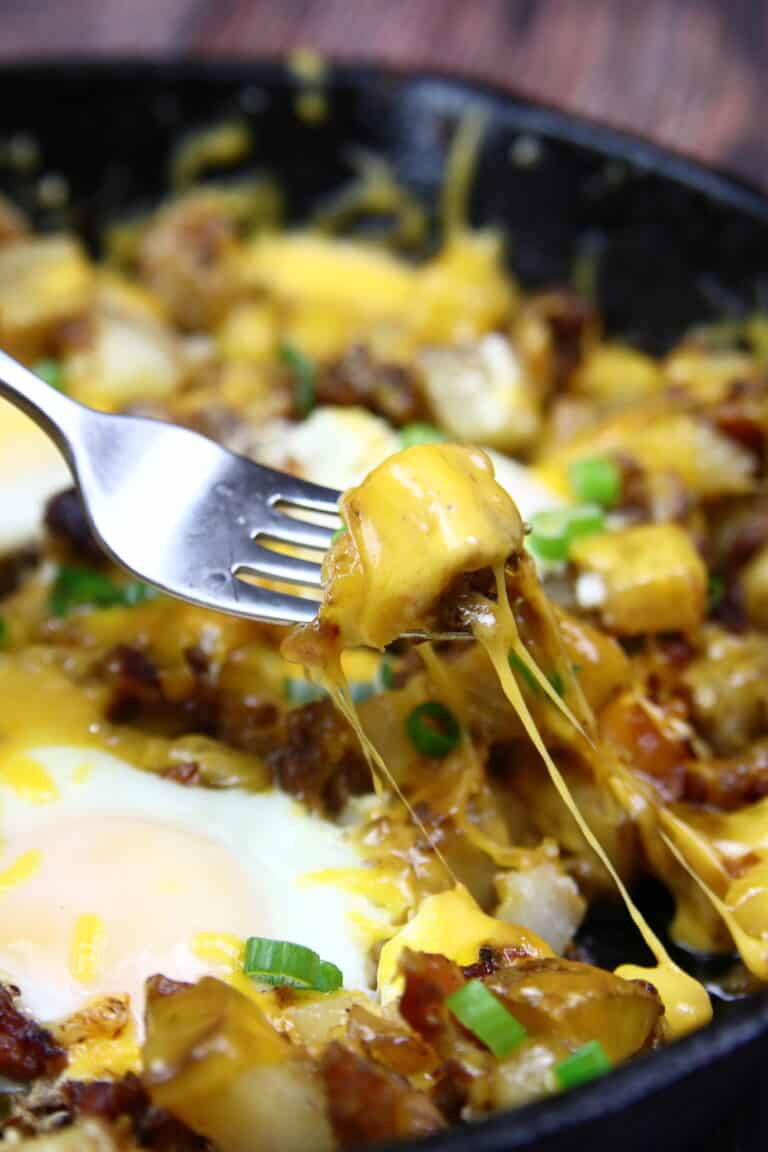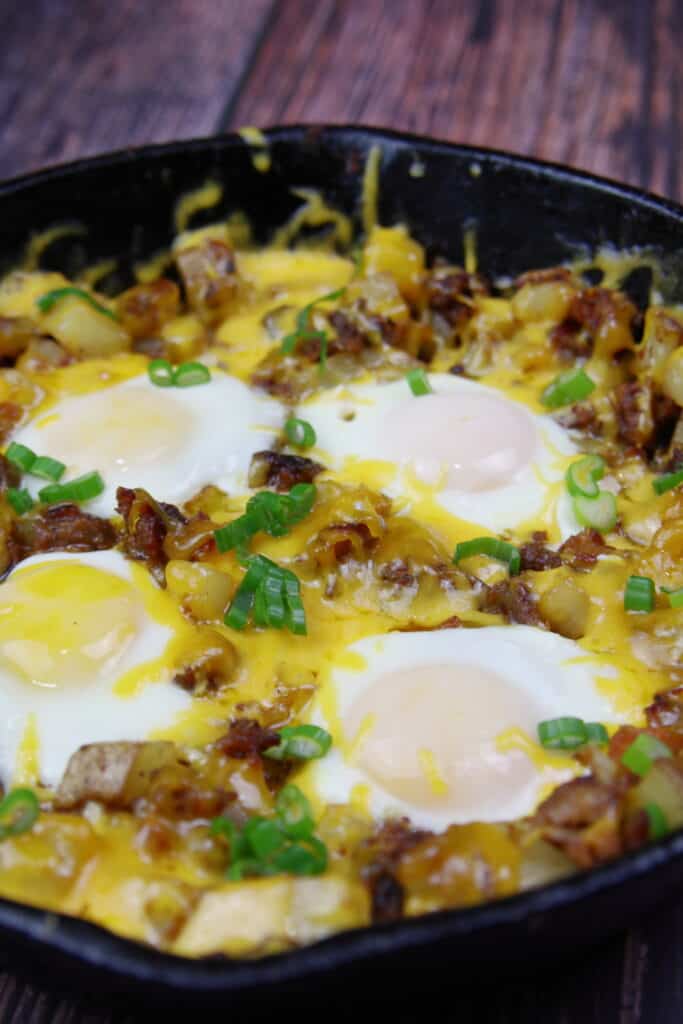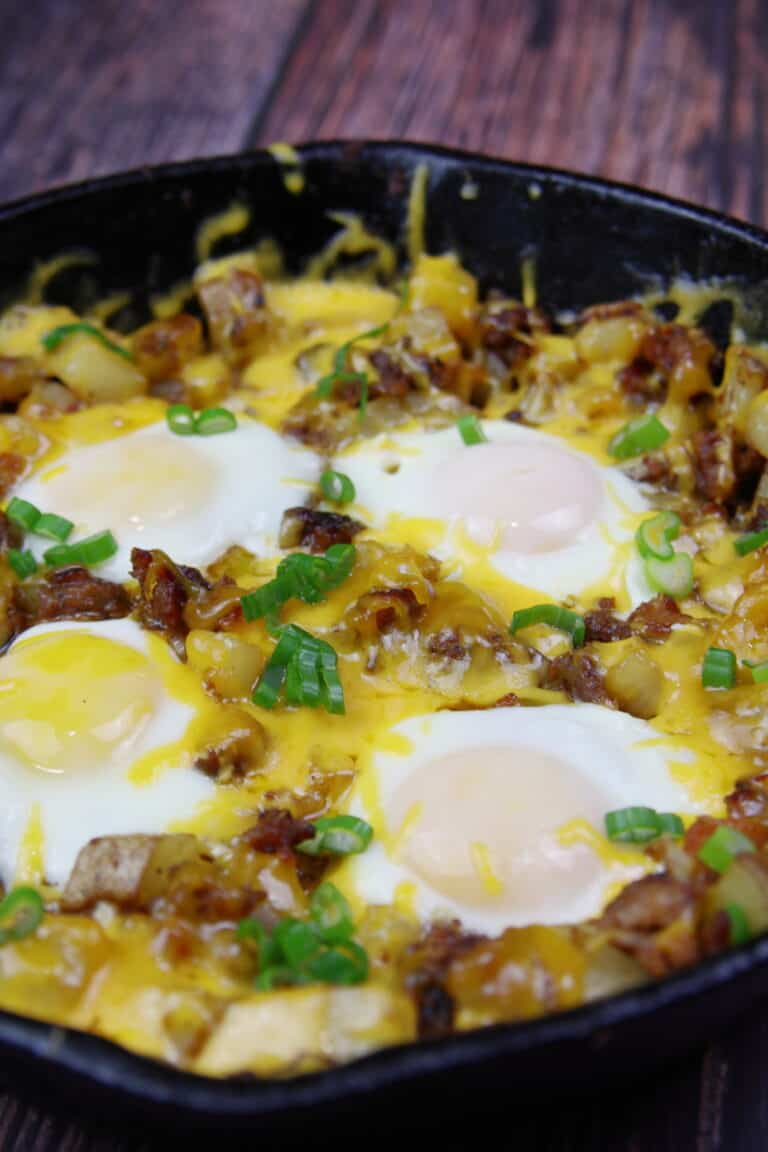 That's pretty much it for this breakfast hash! An easy and delicious way to use some of those leftovers. Our leftover ribs were absolutely PERFECT for this dish. Try some for yourself! Play around with the ingredients!
Enjoy!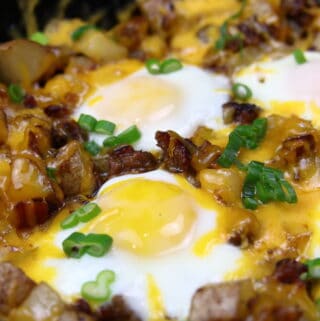 Breakfast Hash with Leftover Ribs
Breakfast Hash is incredibly easy to make. This one is made with leftover ribs, bacons, potatoes, over easy eggs and is topped with melted cheddar cheese.
Print
Pin
Share on Facebook
Rate
Ingredients
2

russet potatoes, ½ inch cubes

About 600 grams

4

slices

bacon

2

tbsp

butter

1

green onion

chopped

1

half

onion, sliced

about ¾ cup

1

cup

chopped ribs

or whatever leftover meat you choose

4-6

oz

shredded cheddar cheese

4

large eggs
Instructions
Over medium heat in a 10 inch cast iron skillet, cook bacon until crispy. Remove bacon and set aside. Leave bacon fat in the skillet.

Saute sliced onions and green onions until soft and fragrant, about 4 minutes.

Add chopped rib meat. Stir around until rib meat is hot.

Add potatoes, and salt and pepper if desired. Stir potatoes into rib meat and onion mixture until well mixed and coated in the butter and oils. Reduce heat to medium low so the potatoes wont burn, cover, and let simmer for about 10-15 minutes. Stir every couple of minutes to avoid burning/sticking. When the potatoes are close to being done, crumble the bacon you set aside and add it back to the pan.

Once potatoes are fork tender, drain excess oil. The amount will vary based on how fatty your bacon and/or rib meat was. I had a lot to drain.

Return to the stove. Make 4 little wells in the potatoes. You don't have to clear it all the way to the pan. Just little pockets in the potatoes.

Crack an egg in each well. Plce in over for about 5-7 minutes, or until egg whites are mostly white.

Add shredded cheese around the eggs and covering the potatoes. Return to over to melt cheese.

Once the cheese is melted and the eggs are done how you like them, remove and serve!