This cheesy chicken enchilada soup is packed with, bold flavors, tender chicken, black beans, corn, cheese, and a creamy, cheesy enchilada broth.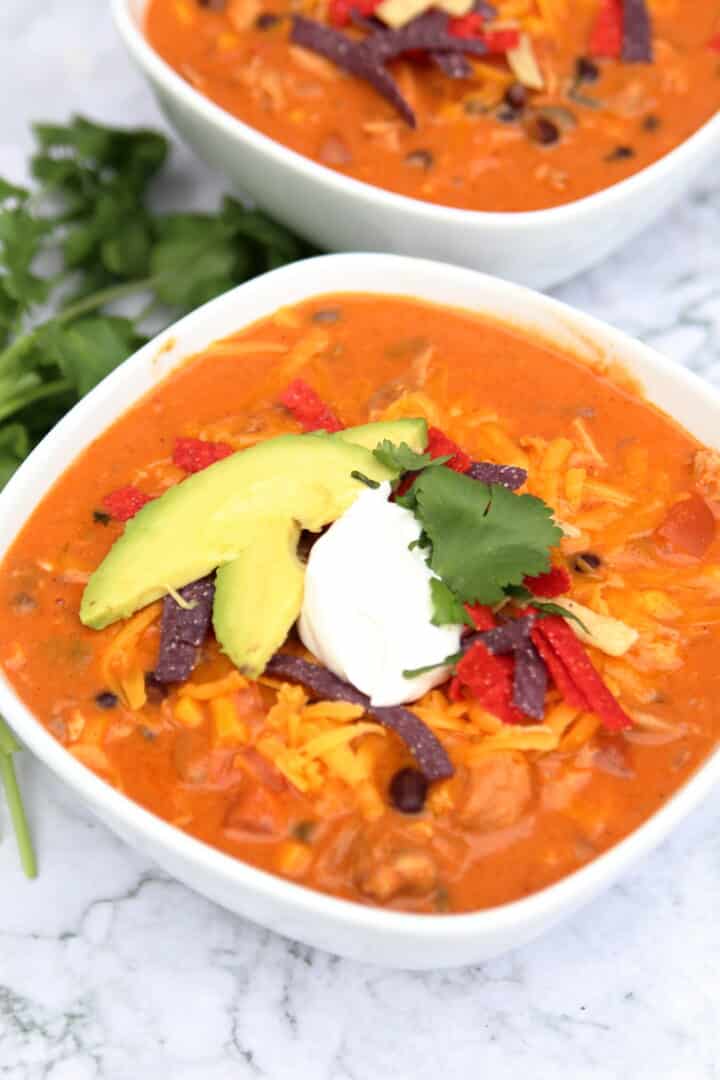 I haven't traditionally spent a lot of time making soups, but lately I've been getting out of my comfort zone a little bit. Just a couple of weeks ago, I made a low carb Loaded Cauliflower Soup and it was DELISH! This soup recipe is a little more indulgent, but it's so so so good! I think I always felt like soups are light meals, but this enchilada soup is actually perfect for dinner. It's very filling and satisfying.
Ingredients needed for chicken enchilada soup
In my opinion, this enchilada soup recipe is pretty simple. It does require a decent sized ingredients list, but the assembly is quite easy and doesn't require a lot of (or any) skill.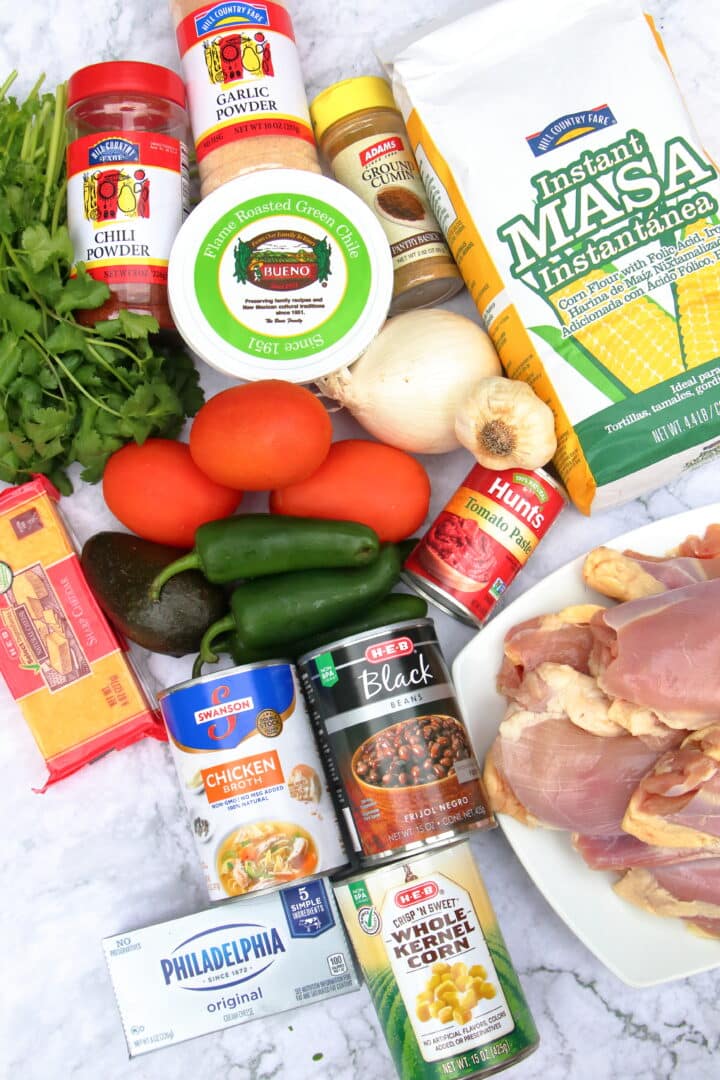 You will need:
3 lbs chicken- I used boneless, skinless, chicken thighs
2 tbsp olive oil
1 white onion, diced
2-3 fresh jalapenos, diced
10 cloves garlic, minced
½ cup Masa harina
6 cups chicken stock
1 tbsp EACH of chili powder, garlic powder, and cumin
6 ounces tomato paste
¼ cup roasted green chiles
4 ounce cream cheese
½ cup shredded cheddar
3-4 roma tomatoes, diced
15 ounce can black beans, drained
15 ounce can sweet corn, drained
sour cream, tortilla strips, avocado, shredded cheese, cilantro- for topping
One of the best things you can do for yourself when making this chicken enchilada soup, or anything really, is get all of your ingredients prepped and ready. Have everything measured out and ready to use before you start, that way when you need them, you won't have to go looking.
What is Masa Harina and do I have to use it?
So I'm not an expert on Masa Harina, and the amount I've used it it pretty minimal at this point, but I will say that you really do need to use it for this chicken enchilada soup!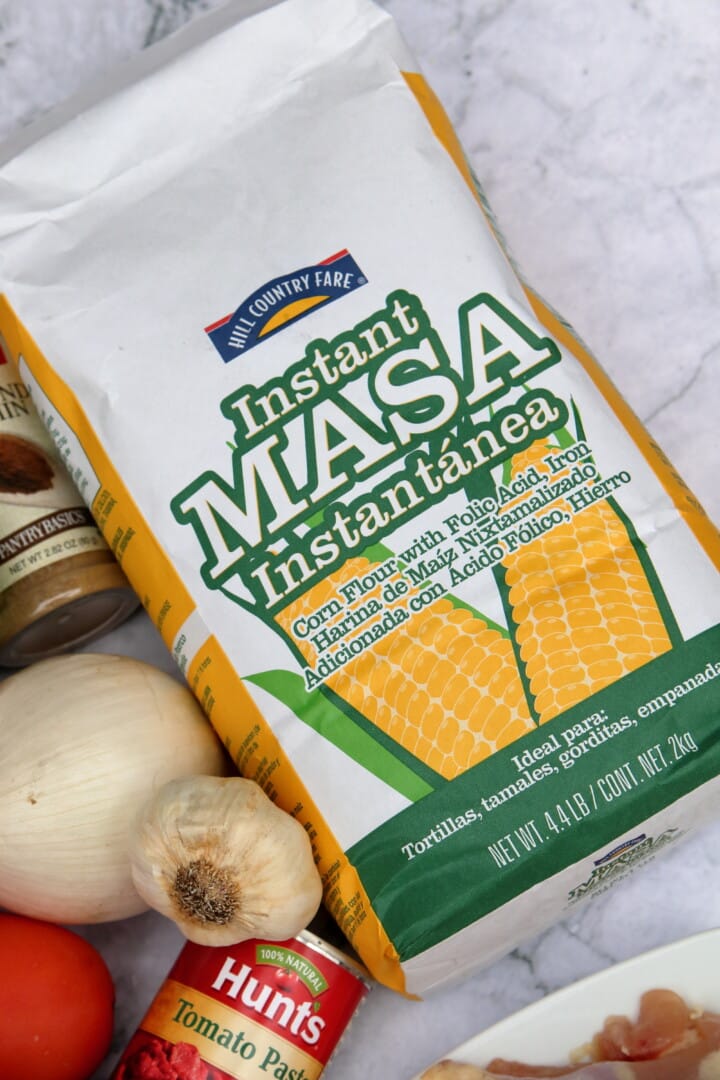 Masa Harina, very simply put, is a dried masa dough or corn flour. Masa dough is used to make corn tortillas and many other things unique to Mexican cuisine. This article on Masa Harina vs Corn Meal contains great information about masa, masa harina, and how it's made.
The masa in this enchilada soup serves a couple of purposes. One reason being that it serves as a thickener. As with any other soup or roux based dish, the masa will thicken up the soup base and make it thick and luxurious.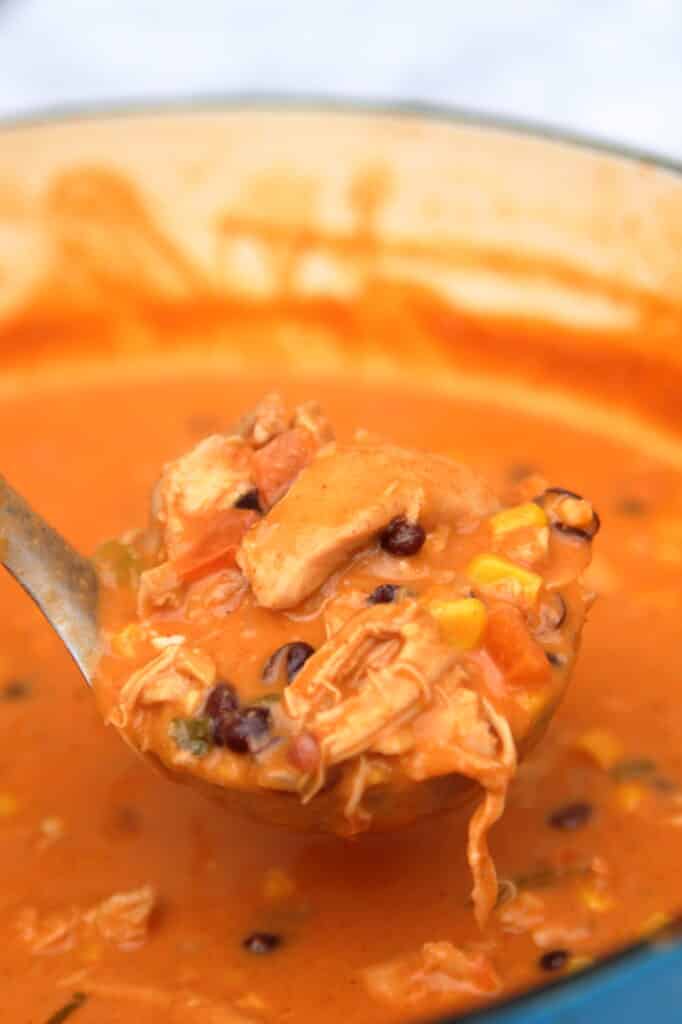 So if it's just a thickener, can't I just use flour?
Not so fast. In addition to being a thickener for the enchilada soup, it imparts this delicious corn tortilla flavor throughout the soup that just cannot be replaced in my opinion. It literally smelled like enchiladas were simmering on my stovetop and the flavor was delicious. You just can't get that kind of flavor from flour or cornstarch.
Even if masa harina isn't an item that you use often (it will be after you try this chicken enchilada soup), it is pretty inexpensive and it keeps for a long time. I was able to get a 4.4 pound bag for about $2.00.
So at the end of the day, yes you can use flour. But you are going to be sacrificing some MAJOR flavor. Don't say I didn't warn you.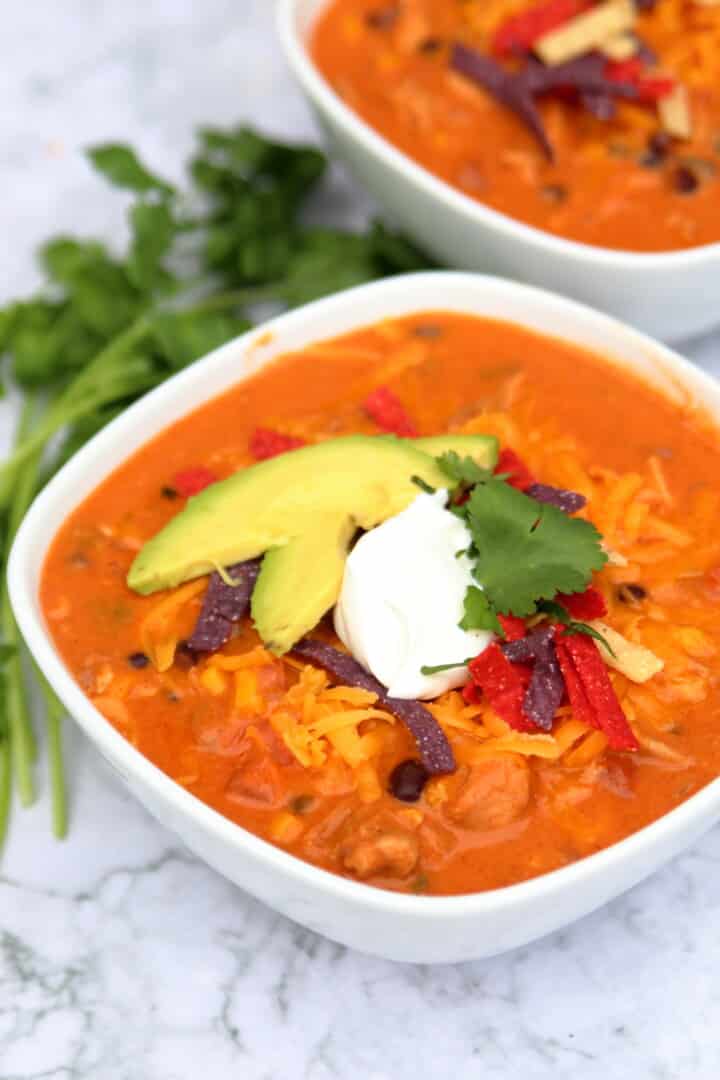 Assembling your chicken enchilada soup
As I said before make sure you have all of your ingredients measured out and ready to go, and this is a piece of cake!
Start with sautéing your diced onions and jalapeños in some heated oil. After a couple of minutes, add the garlic and continue to cook. We always add garlic later because it is more fragile and burns easily. Salt your veggies. Salt is your friend at all stages!
Add the Masa Harina. Mix well into the diced veggies. Let it get mushy and goupy. Pour in the chicken stock and stir with a whisk until the masa dissolves. Mix in your spices and tomato paste.
At this point, I cook the chicken in the broth. Turn up the heat, bring it to a boil, and cook the chicken until done- about 10 to 15 minutes. If you take out the chicken to shred it or cube it and it isn't done, no worries. Just shred it up and put it back. It will finish in the pot.
I mention below that you can use rotisserie chicken. If you are opting for that, go ahead and melt in the cheeses. Then add the rotisserie chicken and the rest of the ingredients.
After all your ingredients are in, let it simmer for about 15 minutes. Give it a taste and adjust the salt and spice levels. Salt is your friend here so don't be afraid to add some!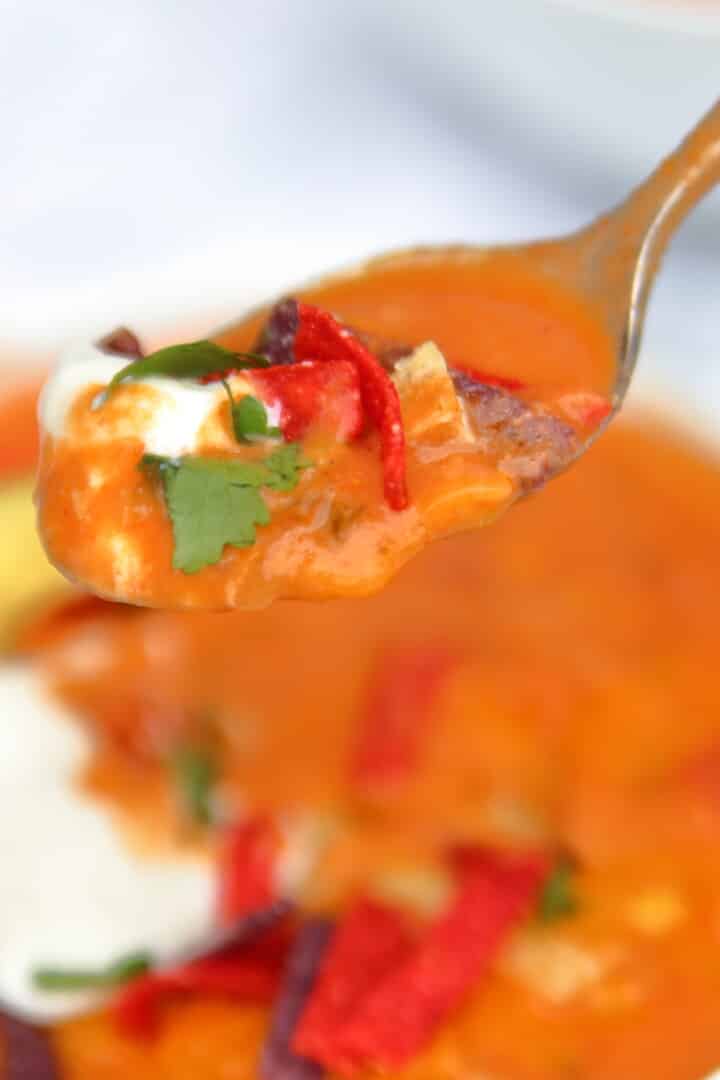 Additional tips for your chicken enchilada soup
The type of chicken you use is very flexible. I've done this a couple times with different types. I've used boneless skinless chicken breasts, thighs, or a combination. I also used bone in thighs too. Just make sure that you remove the skin before you boil it in the soup stock. Otherwise, that skin will add a lot of unnecessary oils that you will just have to spend time skimming off the top. You can even use pre-cooked rotisserie chicken too.
If possible, use New Mexico roasted hatch green chiles. It really does make a difference. NOTHING takes the place of a New Mexico grown hatch green chile. I personally use the Bueno Foods green chiles. I can find them in the freezer section. Absolutely superior to the vast majority of the canned green chiles.
Need more spice for your enchilada soup? Add some hot sauce! I'll admit, I love some taco bell fire sauce. I added some to my pot of soup and it was delicious.
I mentioned it at length above, but I want to reiterate: Don't sub the masa harina with flour. It makes a huge difference in the flavor of your soup!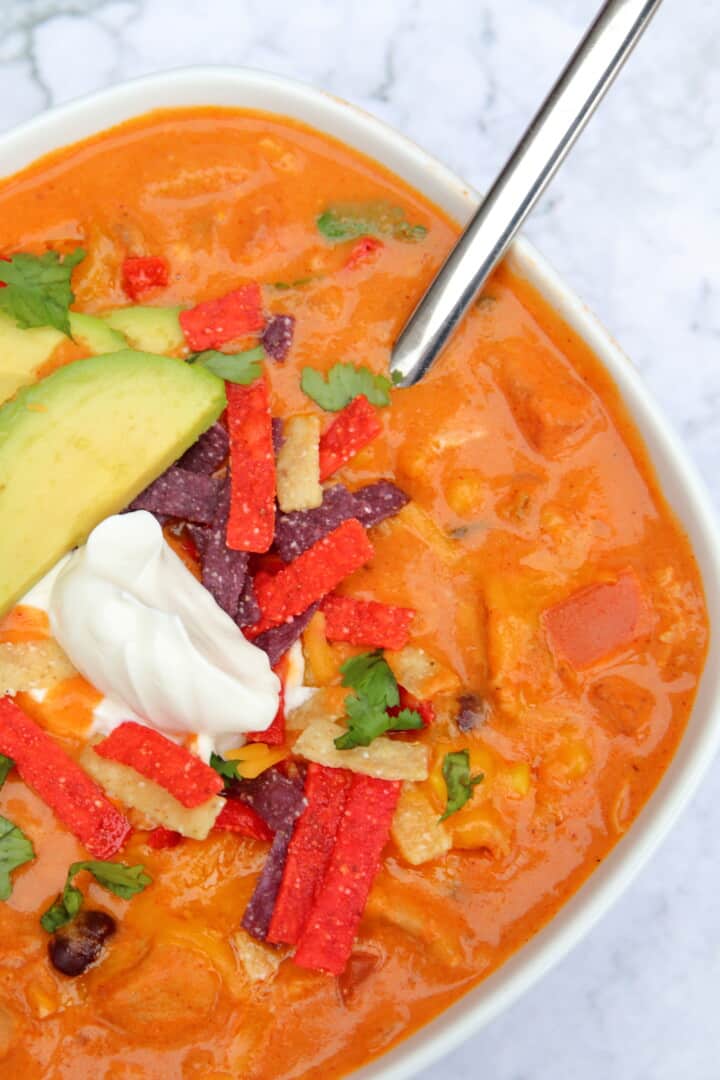 And that's really pretty much it! Bold, flavorful, and easy to make cheesy chicken enchilada soup. Let me know how this worked out for you! It's definitely in our rotation of frequently made dinners here.
Enjoy!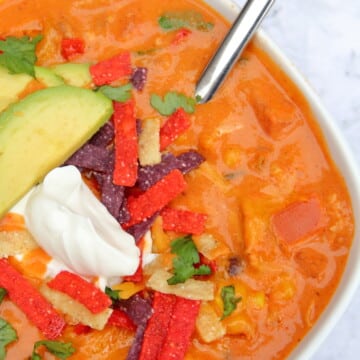 Cheesy Chicken Enchilada Soup
Cheesy Chicken enchilada soup packed with bold flavors, tender chicken, black beans, corn, cheese, and a creamy, cheesy enchilada broth.
Print
Pin
Share on Facebook
Rate
Ingredients
3

lbs

chicken

I used boneless, skinless, chicken thighs

2

tbsp

olive oil

1

white onion, diced

2-3

fresh jalapenos, diced

10

cloves

garlic, minced

½

cup

Masa harina

6

cups

chicken stock

1

tbsp

chili powder

1

tbsp

cumin

1

tbsp

garlic powder

6

ounces

tomato paste

¼

cup

roasted green chiles

4

ounce

cream cheese

3-4

roma tomatoes, diced

½

cup

shredded cheddar

15

ounce

can black beans, drained

15

ounce

can sweet corn

sour cream, tortilla strips, avocado, shredded cheese, cilantro

for topping
Instructions
In a 6-9 quart heavy duty pot, heat olive oil over medium high heat. Saute onions and jalapenos for about 3 minutes. Add garlic and cook for another 2 minutes. Sprinkle generously with kosher salt and stir.

Add Masa Harina. Mix well. Pour in chicken stock and mix until masa has dissolved. Stir in cumin, chili powder, garlic powder, and tomato paste, .

Bring to a boil. Add chicken thighs and cook until done, about 10-15 minutes depending on the thickness of the chicken.

When chicken is done, remove from the pot and shred or cube. Return to the pot. Melt in cream and cheddar.

After cream cheese and cheddar are melted in reduce to simmer. Add corn, black beans, diced tomatoes, and green chiles.

Salt generously to taste. For more spice, add hot sauce or spicy salsa for some kick. Let simmer for 15 minutes.

When you feel the salt and spice level is how you like it, serve! Top with crunchy tortilla strips, sour cream, shredded cheddar, cilantro, and/or sliced avocado. Enjoy!