This Loaded Creamy Cauliflower Soup is a creamy and rich low carb substitute for Loaded Baked Potato Soup. This is a perfect comfort food soup for a nice chilly day that doesn't make you feel like you are sacrificing your favorite foods. It's so packed full of flavor, you truly won't even miss the potatoes.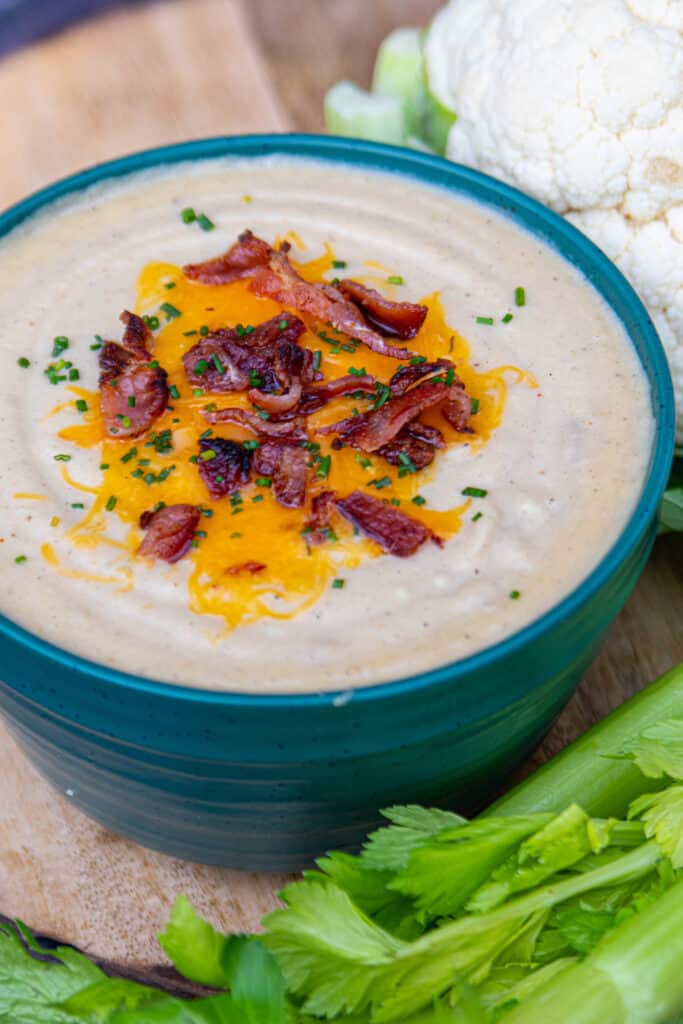 Cauliflower soup doesn't necessarily sound like something that is going to be rich and delicious. But this cauliflower soup recipe truly is. Sometimes those low carb substitutes or dupe recipes are decent but never really hit the spot. This cauliflower soup does. You honestly almost can't even tell that it's not actually baked potato soup.
I also love to just mash cauliflower to substitute mashed potatoes. If you haven't gotten on the cauliflower train yet, give it a shot and try this Mashed Cauliflower Recipe.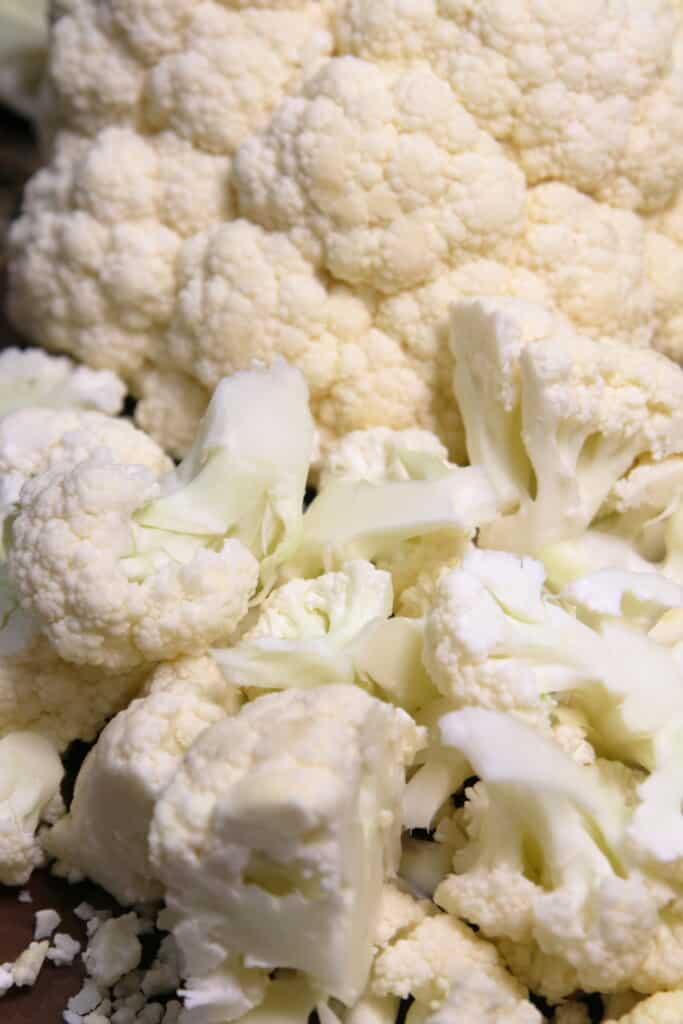 What do I need for cauliflower soup?
This loaded cauliflower soup recipe is so easy to make. But in addition to it being easy to make, the ingredients are all super basic and easy to find. For this cauliflower soup recipe you will need:
1 head of cauliflower
one half of a white onion, diced
2 stalks of celery
8-10 cloves of garlic, minced
4-5 slices of bacon (I LOVE the applewood smoked bacon)
3 cups vegetable broth
½ cup heavy cream
2 ounces plain cream cheese
2 tablespoons of butter
2 tablespoons of sour cream
2 tsp Tony Chachere's Bold Creole Seasoning (affiliate link)
Salt and pepper (don't skimp!)
Cheese, chives, green onions, etc. for topping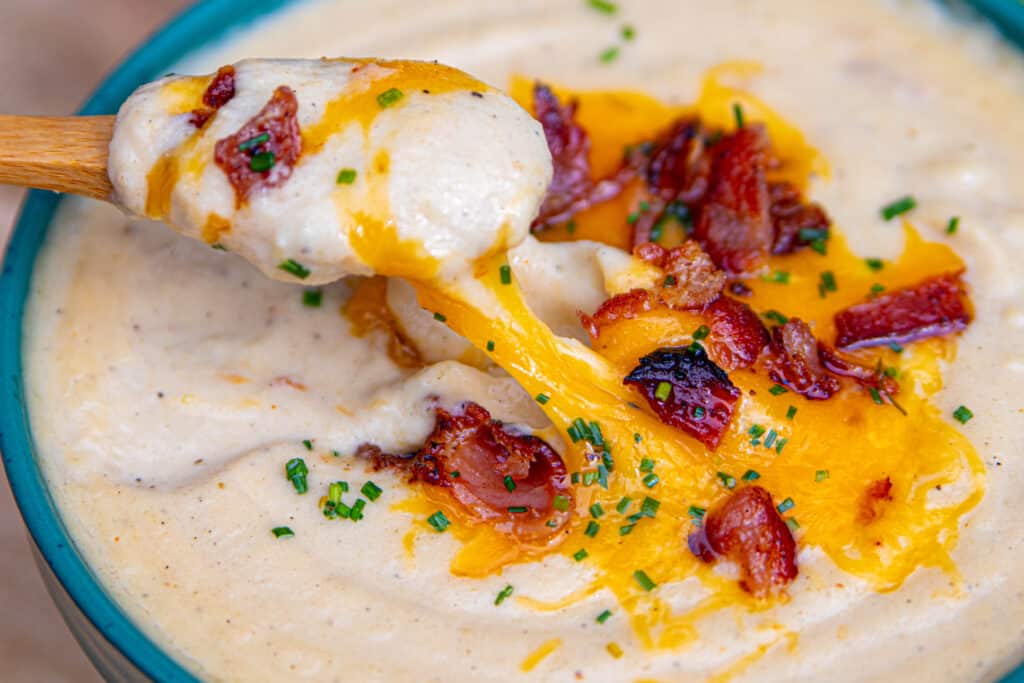 As with anything, you can adjust these ingredients as you like, but you really can't go wrong here. If you want to make things more creamy and rich, add some more heavy cream or cream cheese. Want to make it lighter? Reduce the amount of creamy ingredients.
Do I need any special tools to make cauliflower soup?
The way I made this cauliflower soup is pretty great because it doesn't require much. It's mostly all made in one pot.
However, you do need something to blend all the ingredients together. If you've been here before, you've probably seen me talk about my Ninja Food Processor (affiliate link).
If you want to get an extra creamy soup, you will need something like it. I've also known people to love an immersion blender. I'm not sure how much you will really get every little piece, but people seem to love them.
I particularly love the food processor technique not only because I want mine smooth and creamy, but also because when you blend them all together, you take all those onions, garlic, and celery and layer all those delicious flavors together.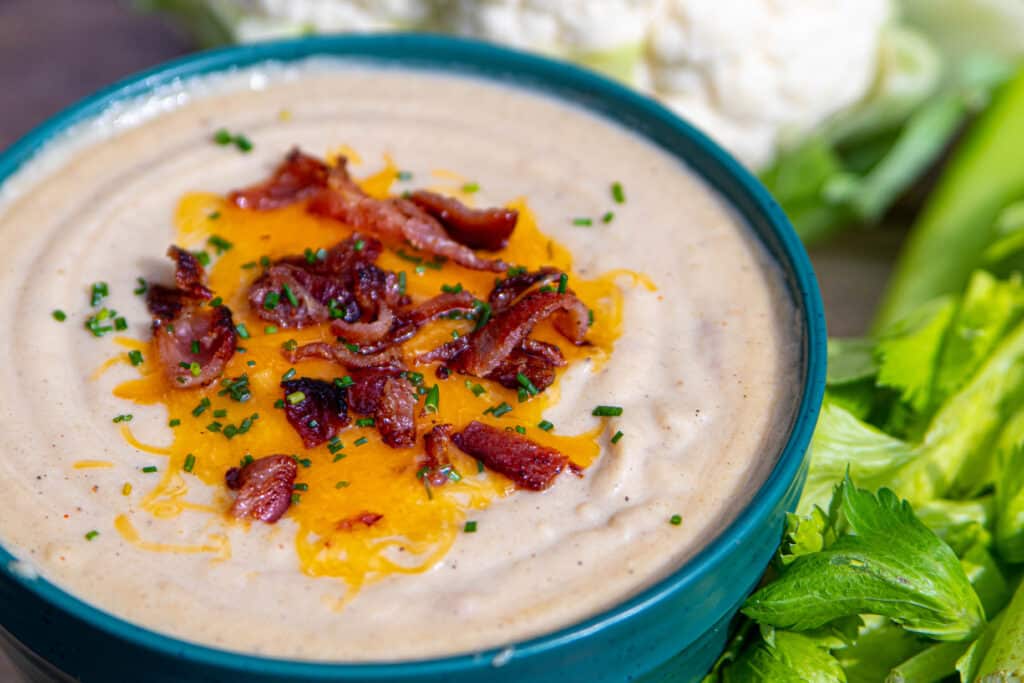 Tips for making a delicious loaded cauliflower soup
1) Taste your cauliflower soup before you serve it!
I know this seems obvious, but sometimes it's surprising how often I see people not tasting food as it's cooking. (Giving my husband a side eye here.
2) Salt generously!
And frequently. I salt the onions/celery/garlic. I salt the cream and broth when they go in. I salt the soup after I blend it. This dish can really handle a lot of salt and it makes it extra delicious.
3. Don't skip the sour cream.
Even if you don't like sour cream, don't skip it here. When you blend it in the soup, you don't taste the sour cream in the same way as if it was a dollop on top of a potato. What it does here is give the cauliflower soup a bright pop because of the acidity. Trust me. Don't skip it!
4) Leave a ladle of cauliflower aside if you want a little chunky texture.
This is certainly a matter of preference, sort of like creamy vs. lumpy mashed potatoes or smooth vs. chunky peanut butter. I wanted mine extra creamy, but you can easily set some aside and not blend them if you want some larger chunks.
5) Don't forget the toppings.
Cheddar, chives, green onions, bacon bits, more sour cream… Really top it the way you would a bake potato soup and it will really amp of the flavor of this cauliflower soup.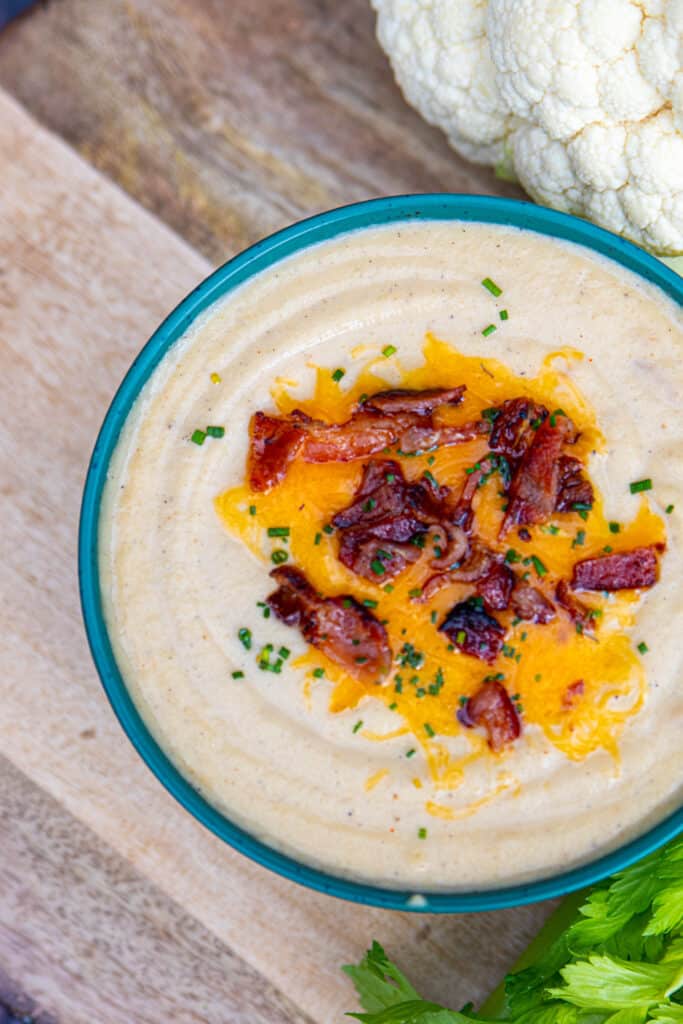 And that's pretty much it! Like I said, you really can't go wrong here. This loaded cauliflower soup really is a super delicious low carb potato substitute.
Enjoy!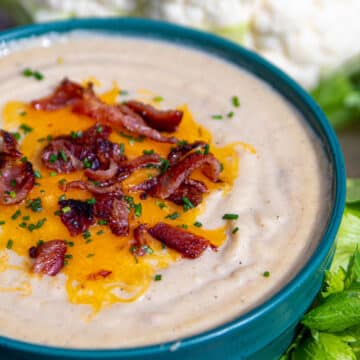 Loaded Cauliflower Soup
This Loaded Cauliflower Soup is a creamy and rich low carb substitute for Loaded Baked Potato Soup. Packed full of flavor, you truly won't even miss the potatoes.
Print
Pin
Share on Facebook
Rate
Ingredients
1

head of cauliflower, chopped into florets

½

medium white onion, diced tiny

use the whole one if you like

2

stalks of celery, diced tiny

8-10

cloves of garlic, minced

4-5

slices of bacon

3

cups

vegetable broth

½

cup

heavy cream

2

ounces

block cream cheese

2

tbsp

butter

2

tbsp

sour cream

2

tsp

Tony Chachere's Bold Creole Seasoning

Salt and pepper

Cheddar cheese, chives

for topping
Instructions
In a large pot (6-8 quarts), cook the bacon (I love the applewood smoked bacon) until crispy and all the fat has rendered out. Remove cooked bacon and set aside.

Over medium/high heat, cook the onions, garlic, and celery in the bacon fat until tender. Add a fingerful of salt.

Add the chopped cauliflower, vegetable stock, and cream. The liquid should barely cover the cauliflower. Add a handful of salt and pepper.

Bring to a boil and cook until cauliflower is tender, about 7-10 minutes. Remove from heat and let cool off for just a few minutes.

Pour entire contents into large food processor or powerful blender. Blend until smooth.

Return to the pot over medium heat. Add butter, cream cheese, and sour cream. Mix until melted in. Return some of the crumbled bacon to the soup if desired.

Taste, and then add salt, pepper, and Tony's to taste.

Top with cheddar, more bacon bits, green onion or chive, etc. Anything that you'd top a potato or potato soup with. Enjoy!
I blended all of my soup because I wanted the whole thing creamy. If you want some chunks in your soup, reserve some of the cooked cauliflower when you go to blend.