I think of all of the southern comfort food out there, Chicken and Dumplings has to be in the top of my favorites. Creamy broth, tender shredded chicken, and fluffy dumplings… it's so delicious and indulgent, yet fairly easy to whip together! These chicken and dumplings are made with flavorful chicken, vegetables, and Bisquick drop dumplings.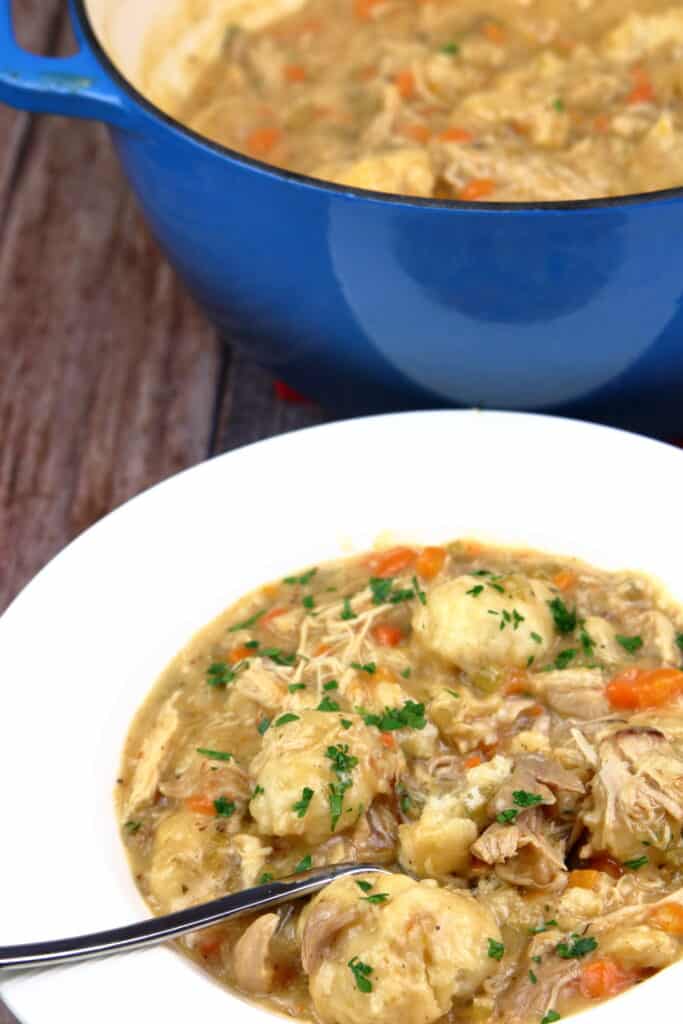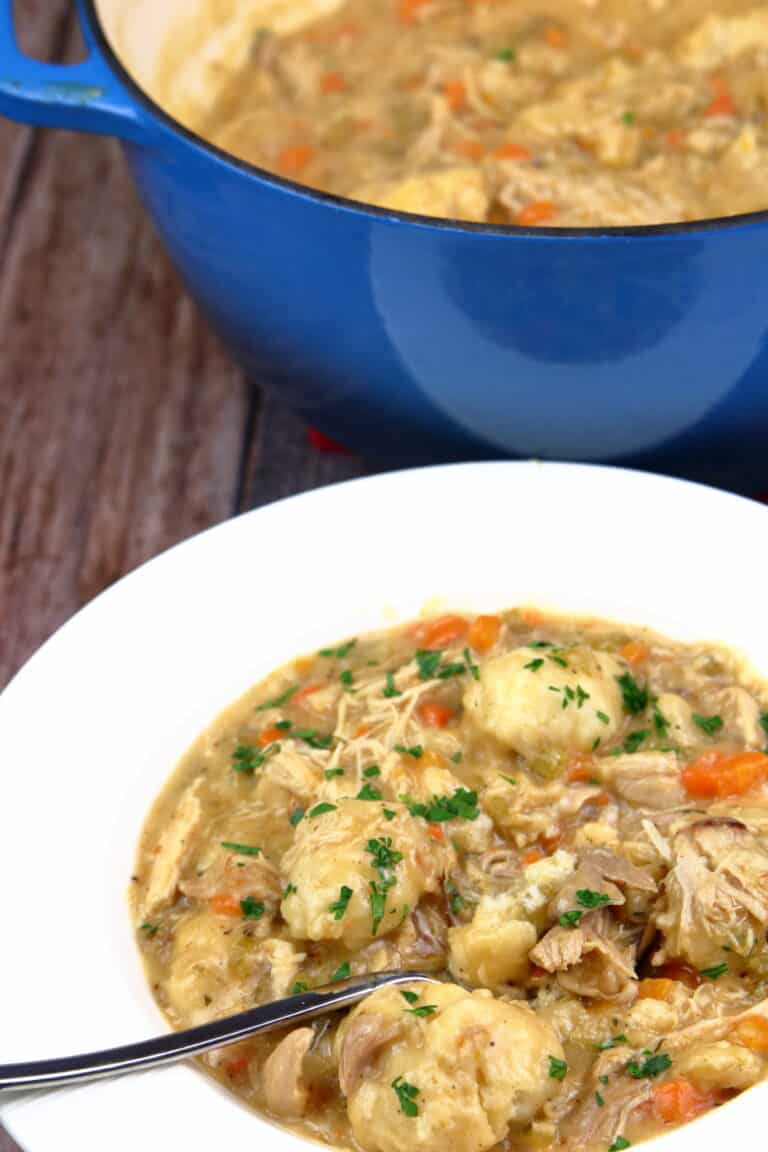 What do you need for Chicken and Dumplings?
There are three main components for Chicken and Dumplings. The Chicken, the dumplings, and the broth. We'll briefly discuss how I like to approach all three.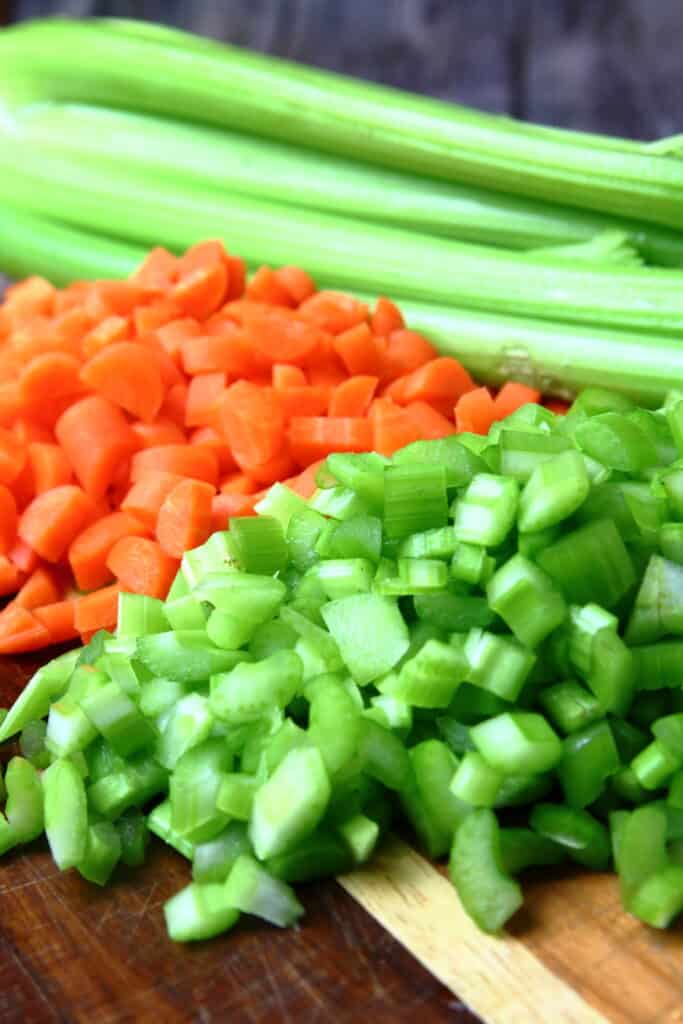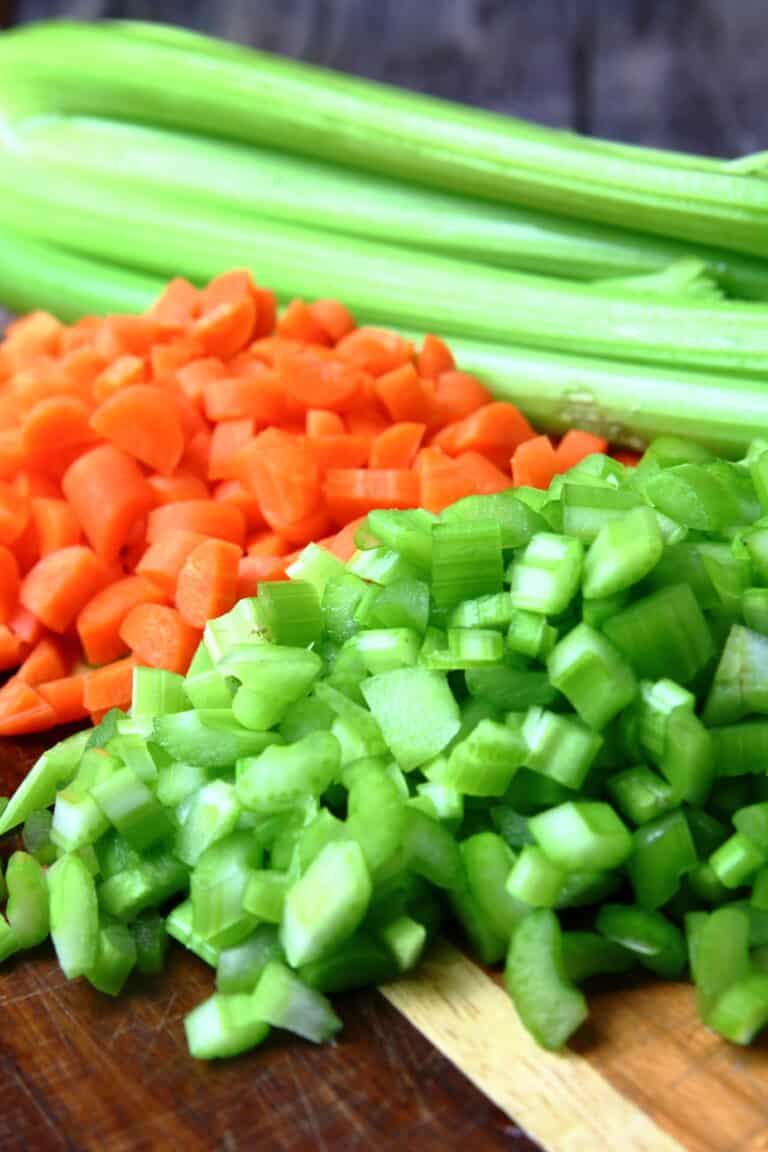 Making the broth for your chicken and dumplings
I've talked about the cajun trinity on System of a Brown before (like in this Red Beans and Rice recipe), but for chicken and dumplings, we start with a classic french mirepoix. It's basically a mixture of 1 part diced carrots, 1 part diced celery, 2 parts diced onion. I didn't follow that ratio exactly, but that's fine. I do what I want.
Over medium/high heat, melt some butter and then sautee your veggies for a few minutes. After they are nice and soft, ad the garlic. It's always good to add the garlic last since it's more tender and can burn easily. It doesn't take as long to cook.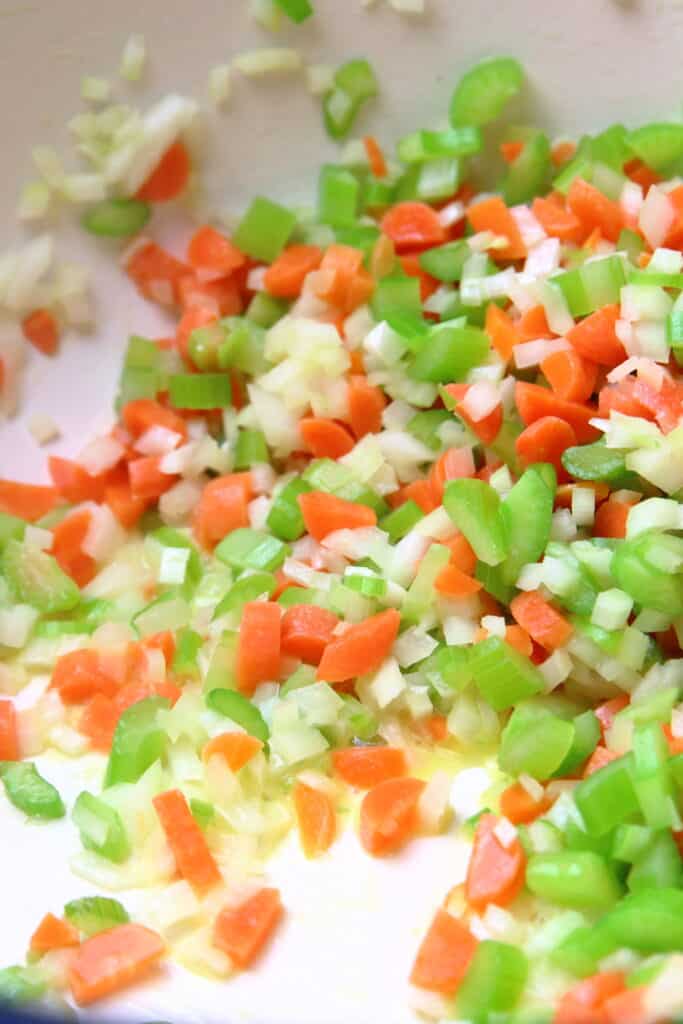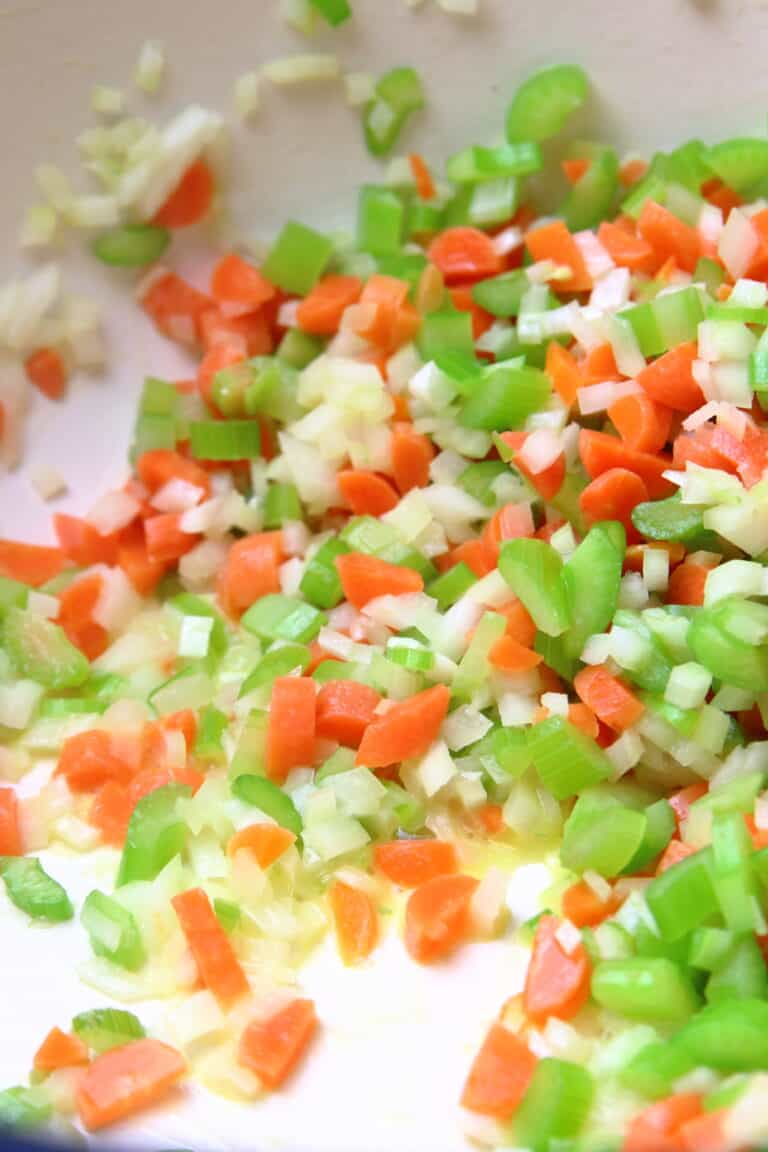 Once the vegetables are sauteed and soft, add the thyme and flour. Mix around and coat the vegetables. Then we add the chicken broth, heavy cream, and Tony Chachere's (affiliate link). Once the vegetables, liquids, and spices are combined, now we can add the chicken.
Note: The broth will be thin. It will thicken substantially when you make the dumplings.
What kind of chicken is best?
As far as what type of chicken to use, it's really a matter of personal preference. I love dark meat, so when I make chicken and dumplings, I use chicken quarters. For this I used about 4-6. Simply boil (on low) the chicken for about 20-25 minutes. Once the chicken is cooked through, remove from the bone and return it to the pot.
If you prefer chicken breasts for your chicken and dumplings, those will be great too.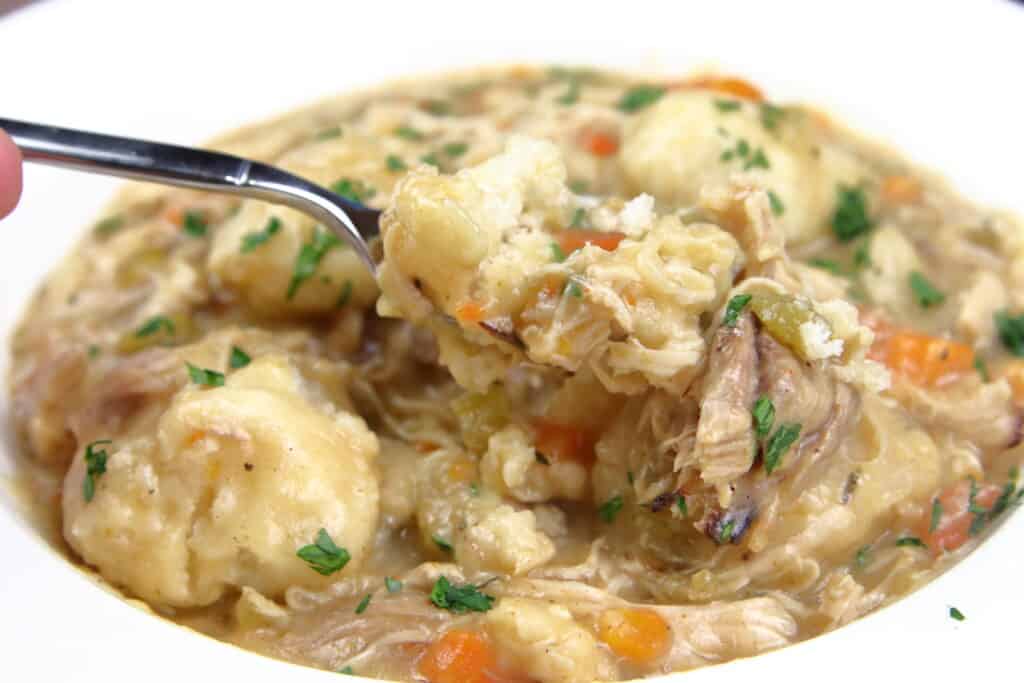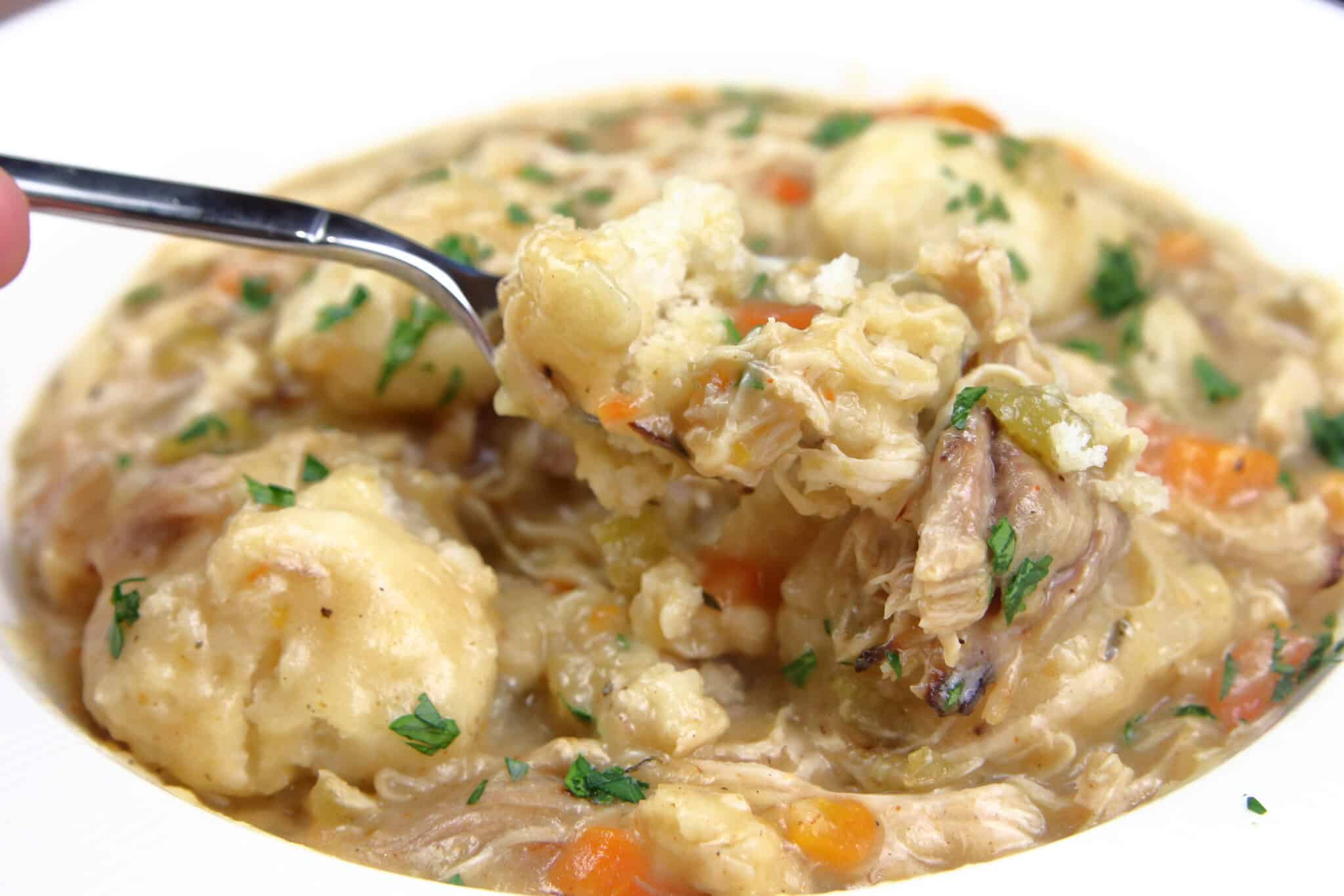 What kind of dumplings do you make for this recipe?
The dumplings for this recipe are SUPER easy to make! There are three different kinds of dumplings I'm familiar with: Rolled dumplings, drop dumplings, and biscuit dumplings.
Rolled dumplings are flat, dense doughy dumplings. Biscuit dumplings are exactly what they sound like: biscuit pieces made into dumplings.
Now, I love dumplings. All dumplings. But my favorite are drop dumplings.
These dumplings are made with bisquick and milk. All you need to do is whisk them together and drop them by the spoonful into the broth. Unless you want GIANT dumplings, don't drop a huge spoonful. They'll expand a lot.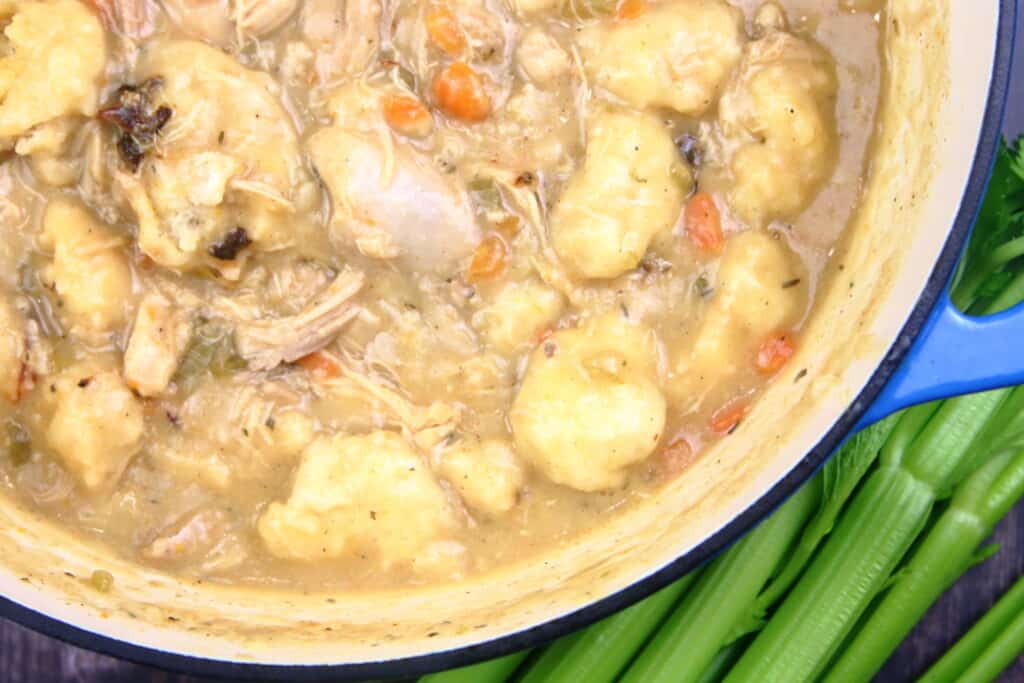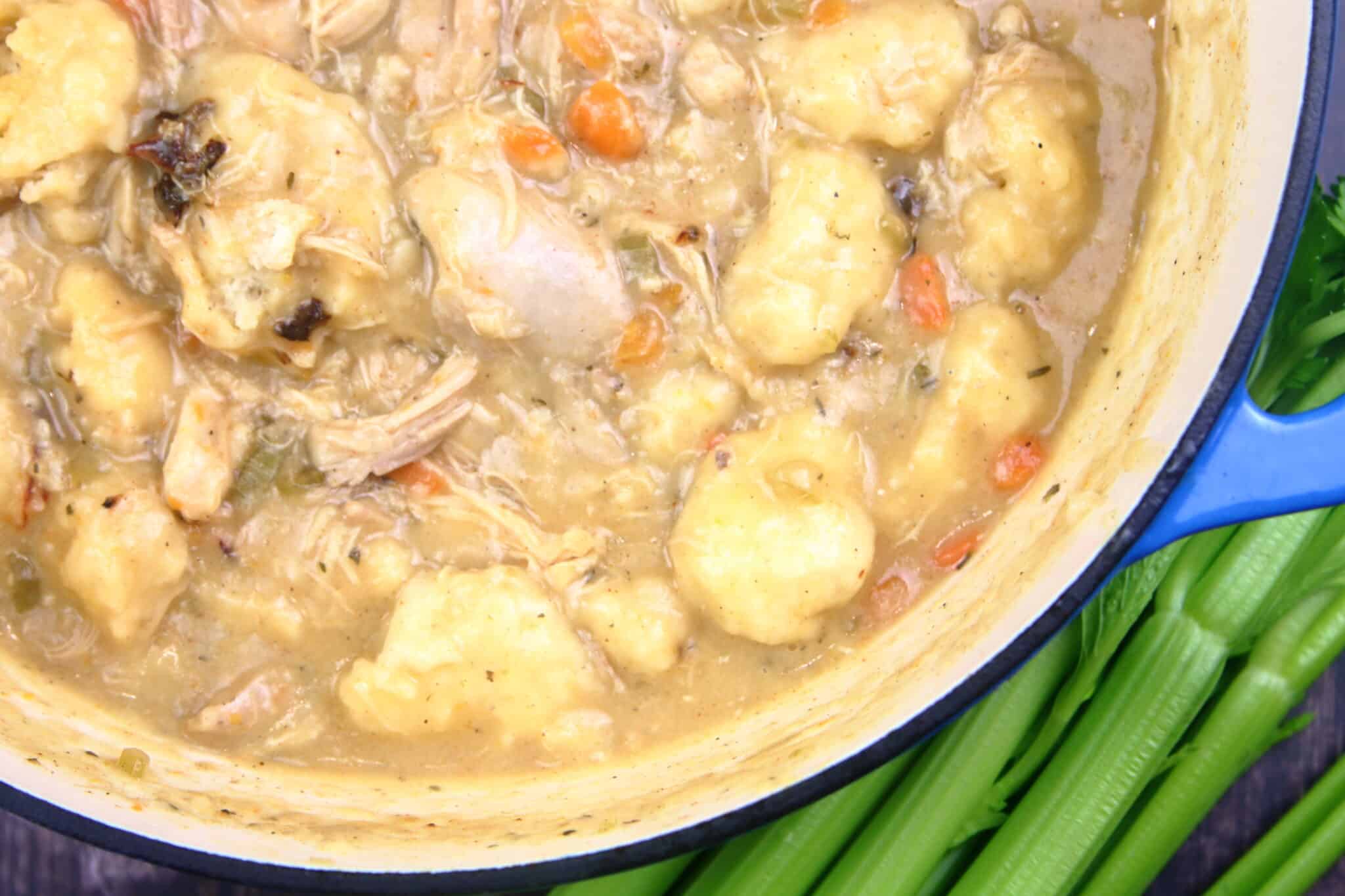 Be careful not to cook them on too high or it WILL burn. Just a low simmer will cook the dumplings nicely.
As the broth simmers let the dumplings cook uncovered. Don't get anxious and stir them too much. The dough is loose and you don't want it to fall apart.
After ten minutes, give them a gentle stir (and break them up if need be) and cover and cook for another 10 minutes. After they have cooked for the second 10 minutes, they should be perfectly light and fluffy. If they aren't done, give them another couple of minutes.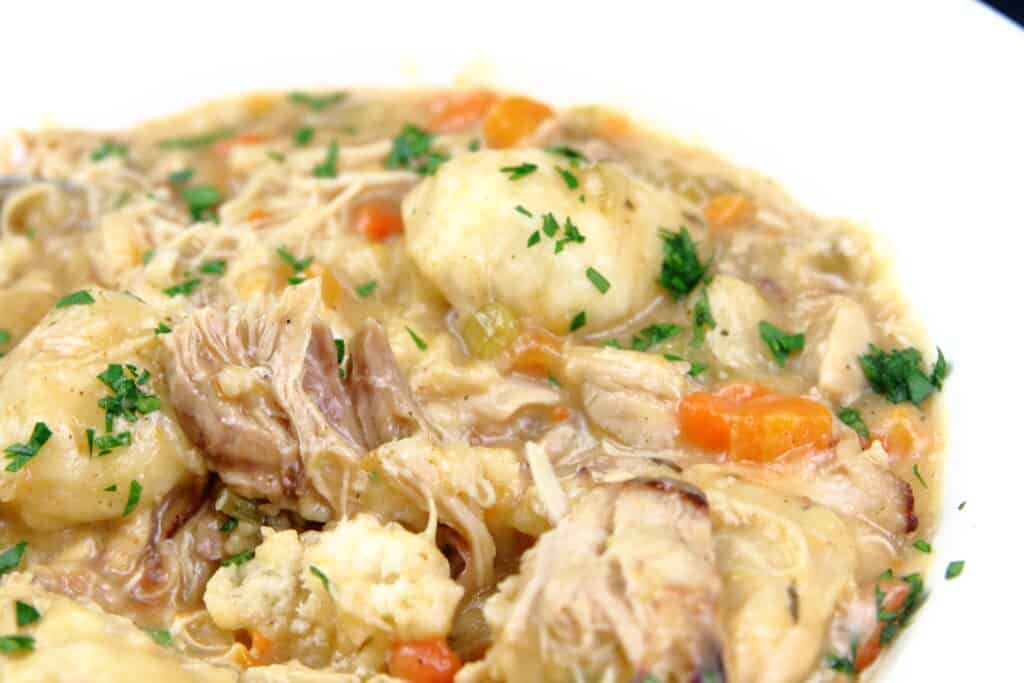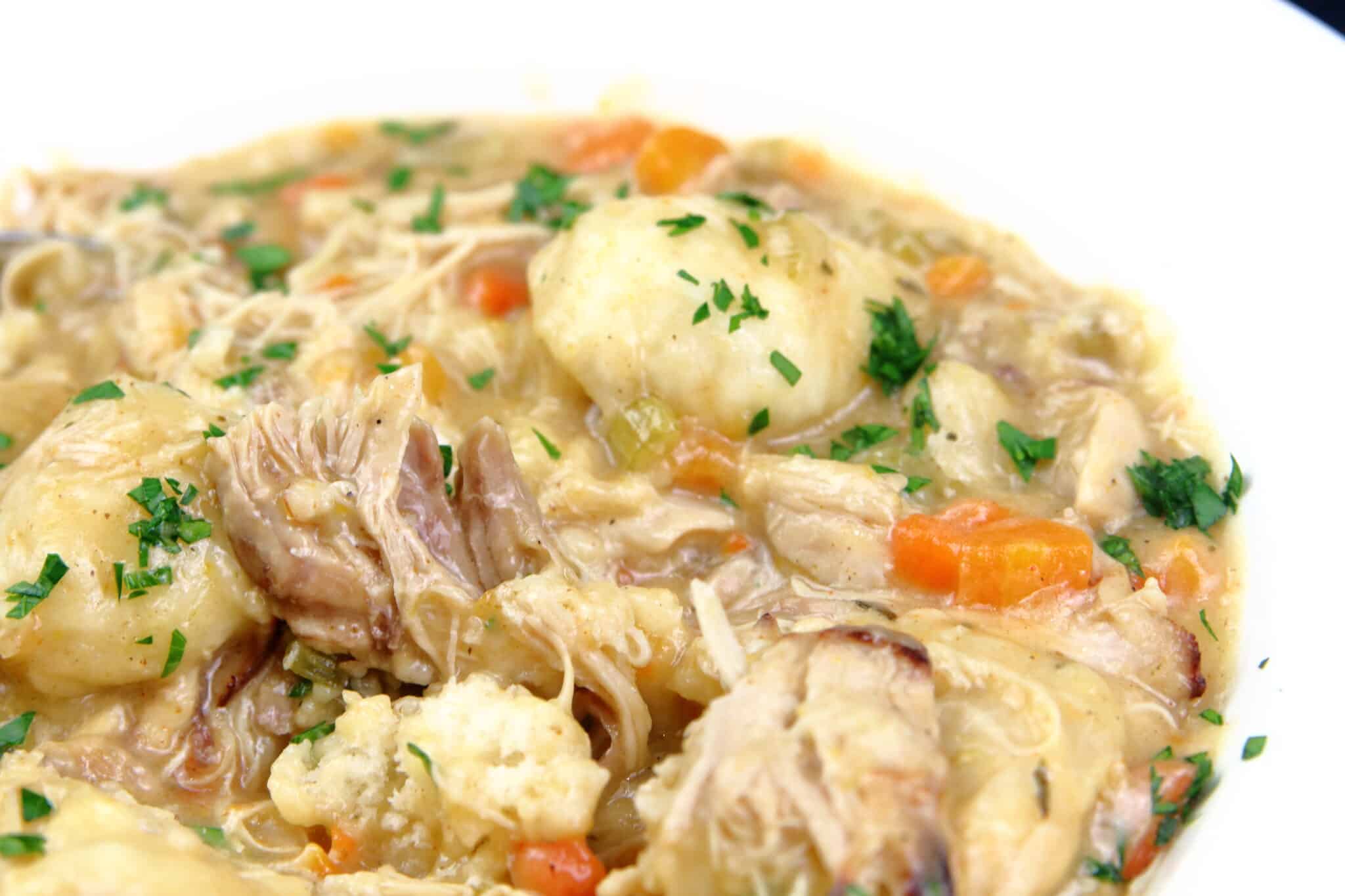 Once your dumplings are done, that's pretty much it! Thick and creamy chicken and dumplings with wonderfully light drop dumplings that are INSANELY delicious.
This is sure to be a frequent flier in your kitchen.
Enjoy!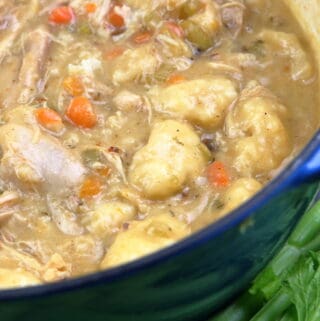 Creamy Chicken and Dumplings
Creamy chicken and dumplings with perfectly light and fluffy dumplings made from bisquick.
Print
Pin
Share on Facebook
Rate
Ingredients
6-8

Chicken leg quarters

2

tbsp

butter

1.5

cups

chopped celery

1.5

cups

chopped carrots

2

cups

chopped onion

6

cloves

garlic

minced

1

tbsp

fresh chopped thyme

2

tbsp

all purpose flour

½

cup

heavy cream

2

quarts

chicken stock

1

tbsp

Tony Chachere's

salt and pepper

to taste
For the Dumplings
2

cups

original bisquick

⅔

cups

milk
Instructions
In an 8-quart pot, melt butter over medium heat.

Add chopped celery, carrot, and onion. Saute until soft, about 5 minutes. Add minced (or microplaned) garlic and chopped thyme. Saute for about another 2 minutes.

Add flour and mix around. Pour in chicken stock and heavy cream. Add Tony Chachere's.

Add chicken quarters. Bring to a low boil and boil for about 20 minutes. If you can't do them all at once, you can do them in 2 batches.

When the chicken in cooked through, remove from pot and remove the chicken from the bone. You can use utensils, or let it cool for a few minutes and use your hands (I always get way more chicken when I use my hands)

Return deboned chicken to the pot. Taste broth and season as needed. Salt and pepper as desired. Reduce heat to low and let simmer for about 30 more minutes.

While the broth is simmering, make the dumplings. Combine 2 cups of bisquick and ⅔ cup of milk. At this point, the broth will be quite thin. When you cook the dumplings, it will thicken substantially.

When you are happy with the flavor of the chicken and broth, you can begin to drop the dumplings. Using a regular kitchen spoon, grab a spoonful and drop into the broth (broth should still be on low, or slightly above). Continue to drop dumplings by the spoonful until it is all used. *Note* The dumplings will puff up substantially so the dumpling dough you drop doesn't need to be a giant spoonful.

Let the dumplings simmer for 10 minutes uncovered. Resist the urge to stir them. You can LIGHTLY push them around after they have been in a few minutes, but don'd do this too much. At this point they will still be quite soft.

After 10 minutes or simmering uncovered, give them a gentle stir (don't fret if they are stuck together) and cover and let simmer for another 10 minutes.

After another 10 minutes, uncover and stir. Dumplings should be cooked throughout, light and fluffy. If not, let them simmer for another few minutes.

When the dumplings are cooked through, spoon into a bowl and enjoy!