This creamy, cheesy, and flavorful spinach and artichoke dip recipe is going to be an instant favorite of your family and friends. Perfect for every holiday party!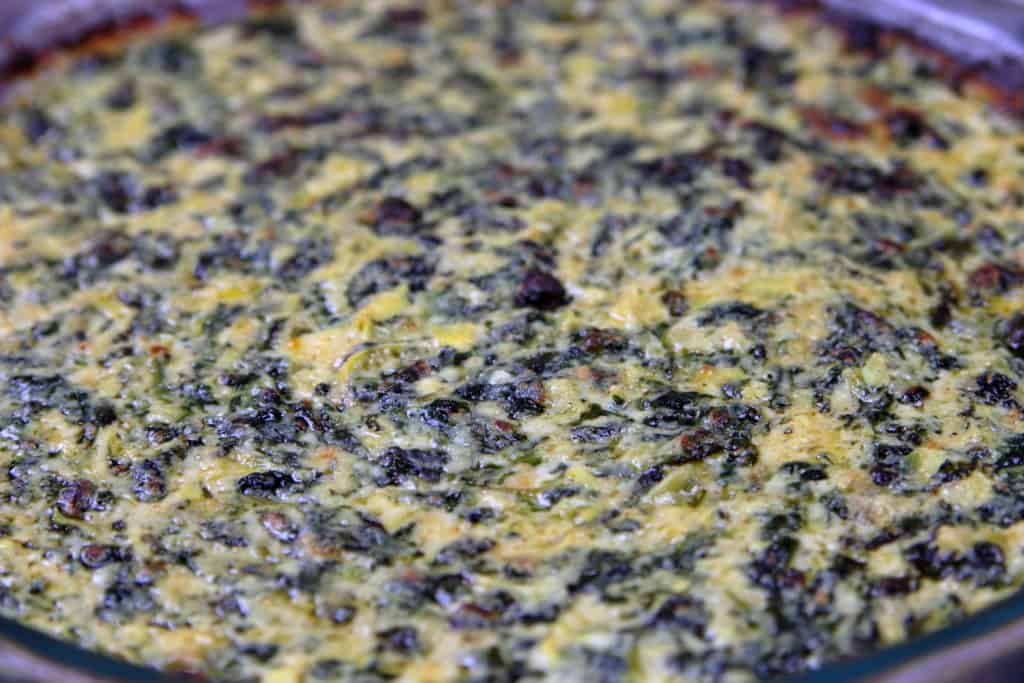 Of all the things that I make, this Creamy Spinach and Artichoke dip recipe is one of my favorites. It's SO flavorful and delicious, and is easily one of my most requested dishes. This spinach dip recipe is made with fresh spinach, canned artichokes, and a variety of cheeses that gives it a wonderful creaminess with a perfect depth of flavor.
This recipe is adapted from the Pioneer Woman's Recipe. I made this version several times before making some adjustments to suit my tastes. It's absolutely scrumptious.
The "Rules" of the Spinach Dip
As with anything, there are so many different ways to make creamy, cheesy, and delicious spinach and artichoke dip. But there are certain things that just MAKE this dish what it is.
Rule #1: FRESH SPINACH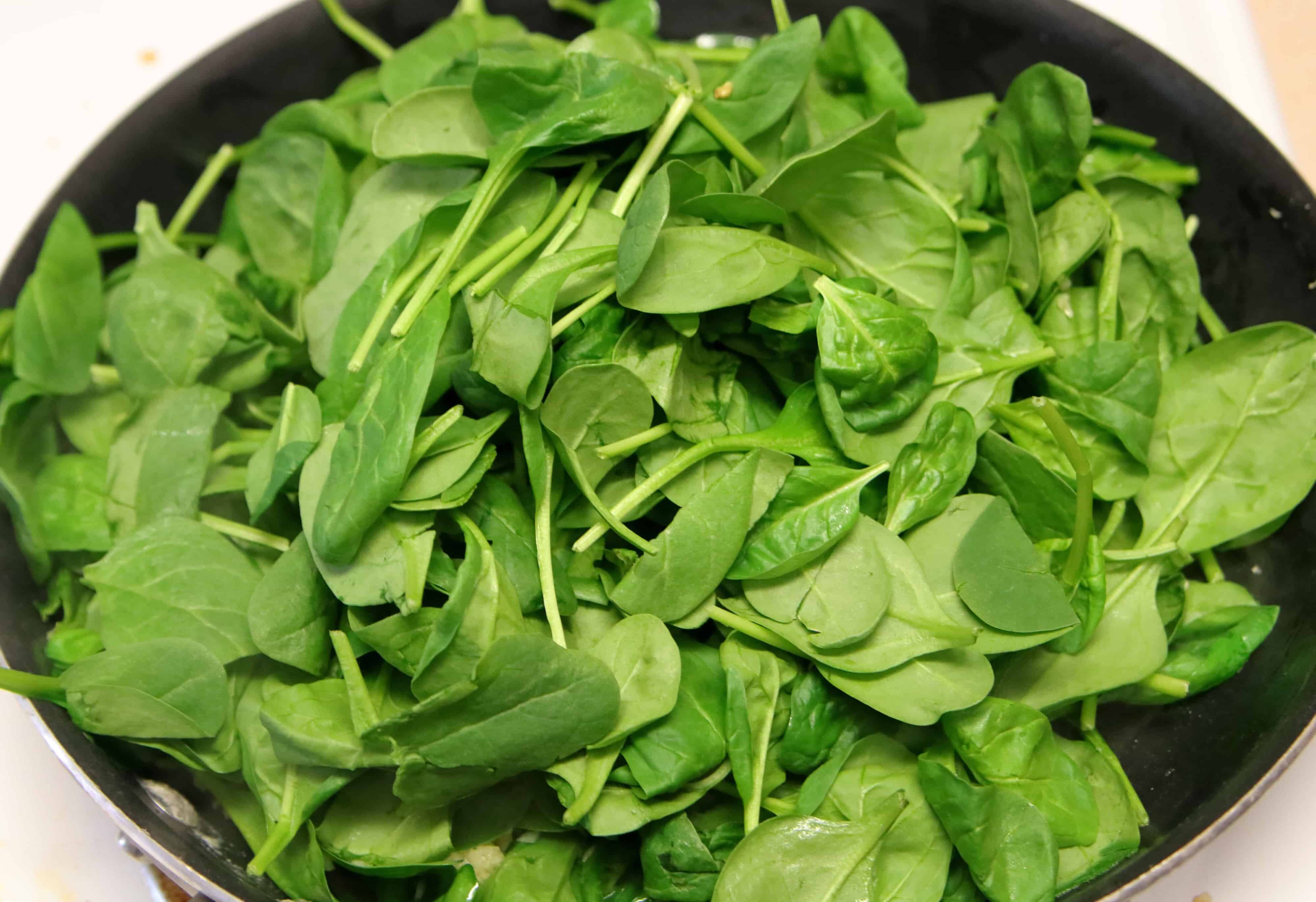 I know many like to use frozen spinach. It's quicker and easier for sure. But to me, the taste of the fresh spinach is enough reason to opt for this every single time.
Rule #2: Use enough garlic to scare off a whole posse of vampires.
Does anyone actually just use 1-2 cloves of garlic when a recipe calls for that? Cause I definitely use a handful. Every time. For this spinach dip recipe, I used an entire bulb. Pack some breath mints.
Rule #3: Make a thinner Roux than normal.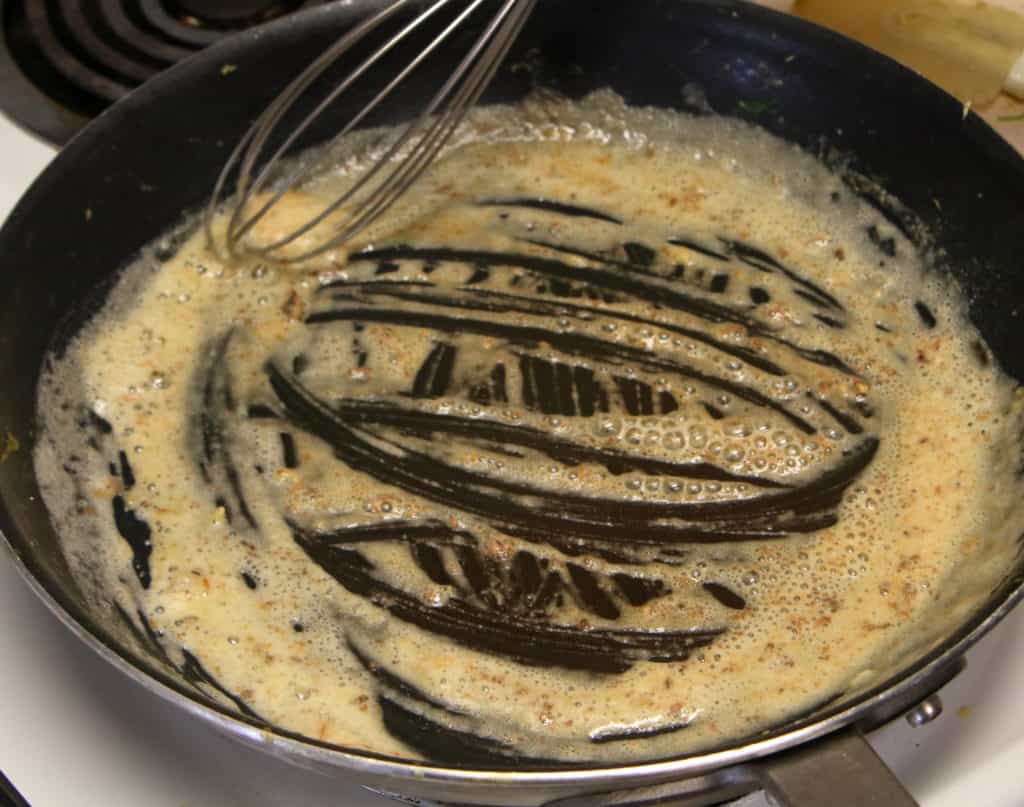 A typical Roux calls for equal parts Butter (or oil) and flour. For this spinach dip, I use only one tablespoon of flour to three tablespoons of butter. Blasphemy, I know. But I have found every time that when I do equal parts ratio, by the time you add all the cheeses and then the veggies, it is far too thick. This way, you'll get a creamier, cheesier base without the graininess that you sometimes get from flour.
Rule #4: Don't skimp on the spice.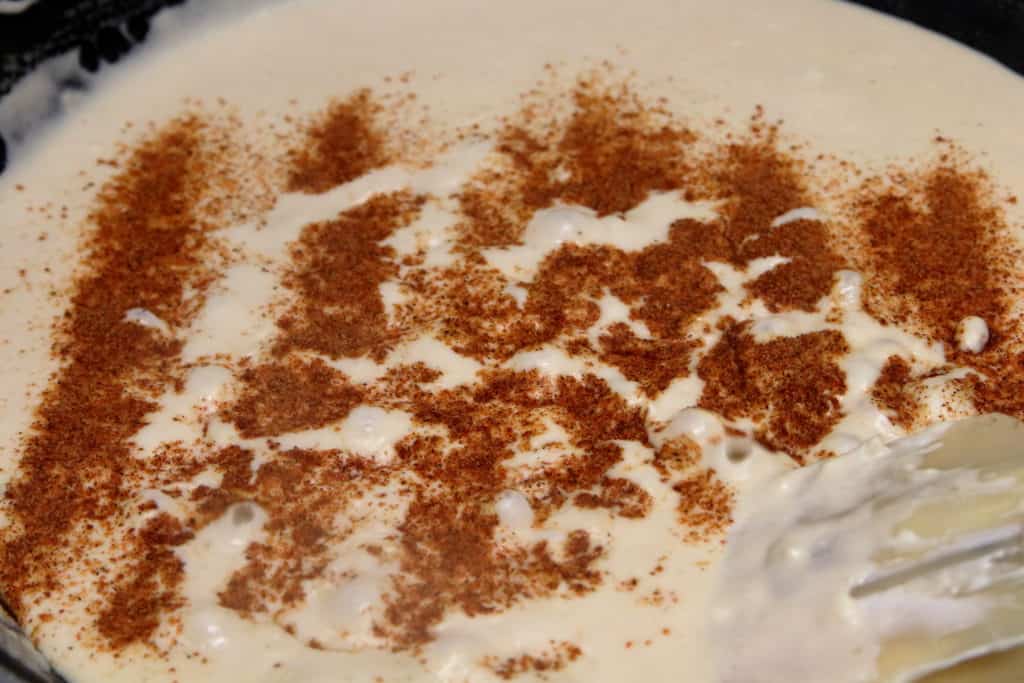 A good, creamy, cheesy roux makes a nice base for this, but it's NOTHING without a heaping helping of Tony Chachere's (affiliate link).
How do you make the spinach and artichoke dip?
Now that we've talked about the rules, let's do this thing! There are a lot of steps, but it's really not difficult. Promise! I've broken down a lot of the steps below.
First, melt three tablespoons of butter in a large non-stick pan. Saute an entire head of minced garlic. Yes, an entire head. Normally, I microplane my garlic. But for this, I chopped it in my Ninja Blender.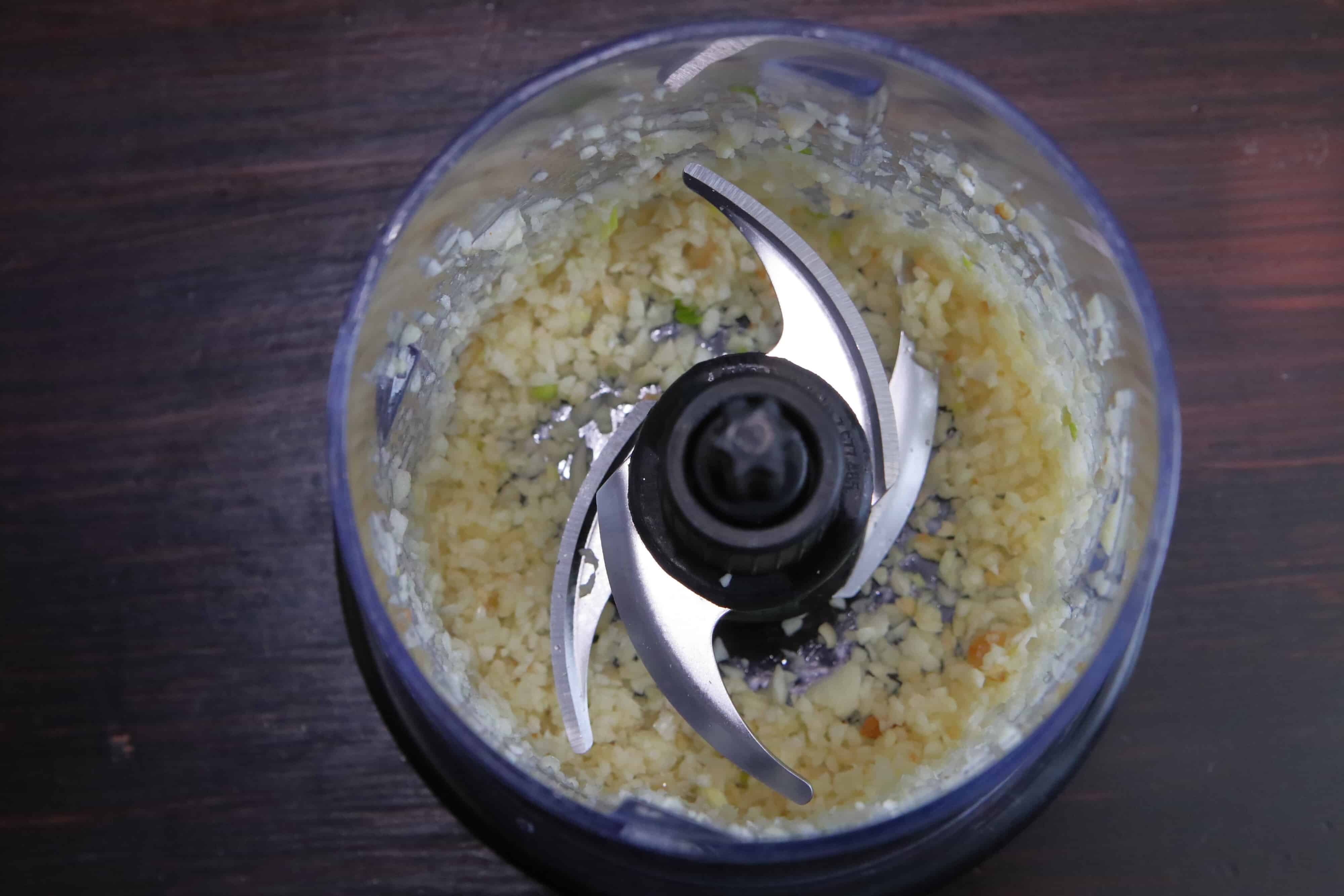 One of the reasons I chose to chop it is because I wanted the pieces to be a little bit bigger and more substantial so it would stand up to all of the ingredients it was about to be mixed with. The other reason? Microplaning an entire bulb would take FOR-E-VER (read in the Squints voice from The Sandlot, please).
The Spinach and the Artichokes
After about 2-3 minutes of sautéing the garlic in the butter, start to mix in the fresh spinach. You're going to have to do this a little at a time. Sixteen ounces of fresh spinach makes a MASSIVE pile and it will never all fit into the pot at once. It may seem like too much but it's not. I just add a few handfuls at a time. It will cook down to a small little pile when it's all done.
Tip: Make sure that you toss and stir the spinach well as it cooks down so the butter coats the spinach and the garlic mixes up there as well. You don't want to leave the garlic on the pan surface under the spinach. It will burn, and that would be unfortunate.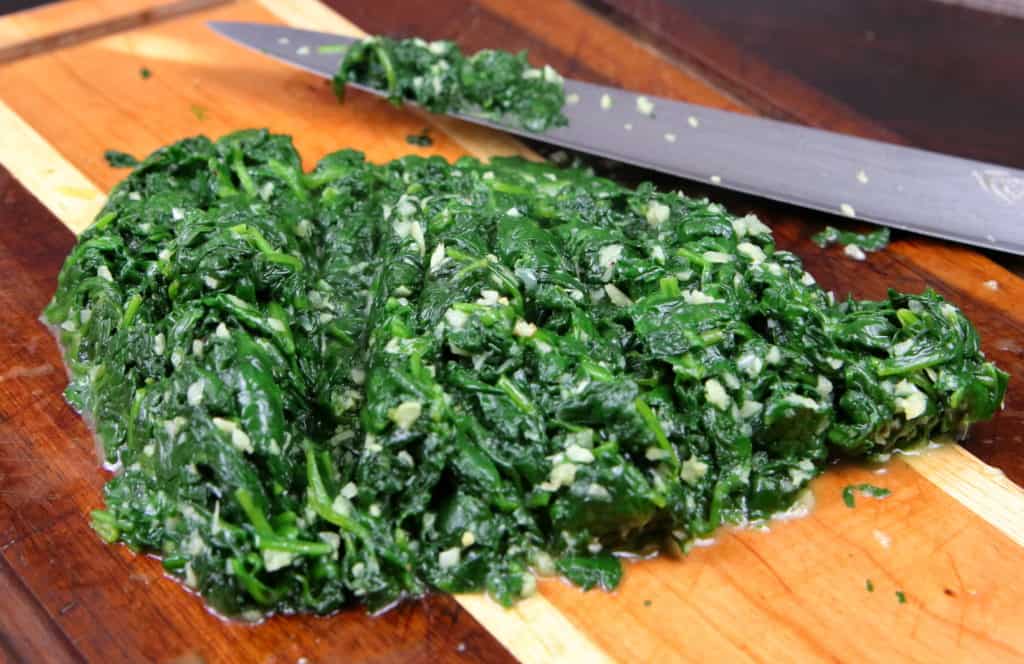 When all of your spinach is cooked down, use a slotted spoon or some kind of fine mesh strainer and remove the spinach. I usually do a spoonful at a time by putting it in a mesh strainer and squishing the liquid out back into the pan (You'll need this in a minute). Remove all the spinach, wringing out as much juice as possible into the pan as you do. Chop the spinach on a cutting board into small pieces. Set aside.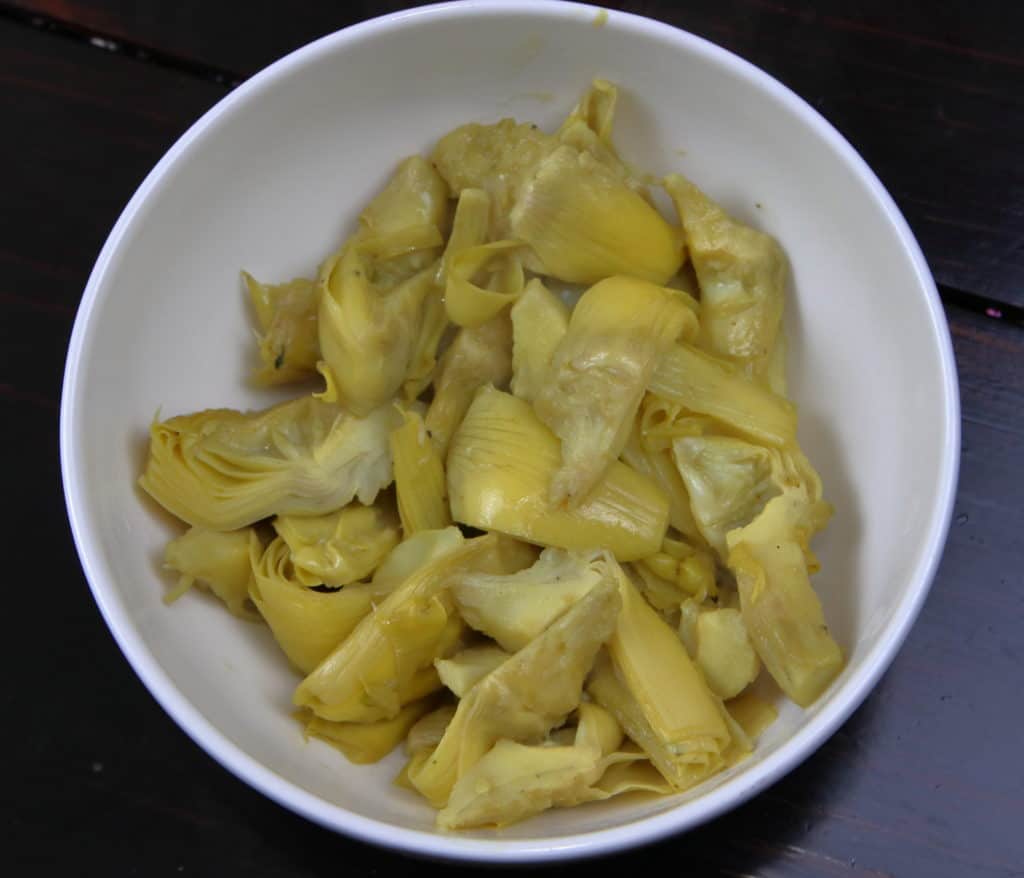 Using the liquid left in the pan, sauté the atichoke hearts on med-high heat. Mix them well in the spinach juice, and let them cook until they brown and the liquid reduces all the way out. When the artichokes are browned, remove and chop into very small pieces. Set aside.
Making the Roux for your dip
This is where it gets good. In the same pan you cooked the Spinach and Artichokes, melt three more tablespoons of butter on medium heat. When it's all melted, add one tablespoon of all purpose flour. Stir thoroughly and keep stirring while the roux browns. Remember: It will not be as thick as a typical roux. When the roux is slightly browned (about 2-4 minutes), pour in the milk. Stir WELL so there are no clumps leftover. Bring the roux to a low boil. Keep stirring so it doesn't burn, but allow some time for it to thicken slightly. When the Roux has thickened some, add the Tony Chachere's.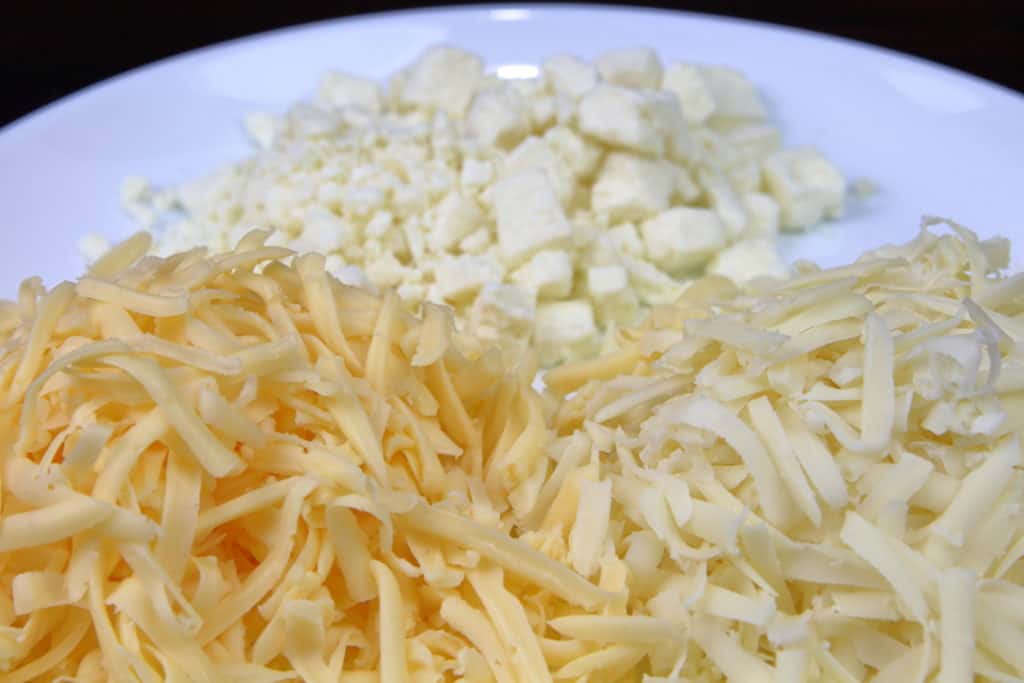 It's time to get cheesy! Ba-dum-tssss. (It's late. Please excuse me).
After your Roux has thickened slightly, it's time to add the cheese. First, add the cream cheese. You may have to break the cream cheese into smaller pieces, but it should melt in no problem. Follow this up by adding the harvarti, gruyere, and feta. Make sure each one melts completely. Stir continuously throughout this whole part.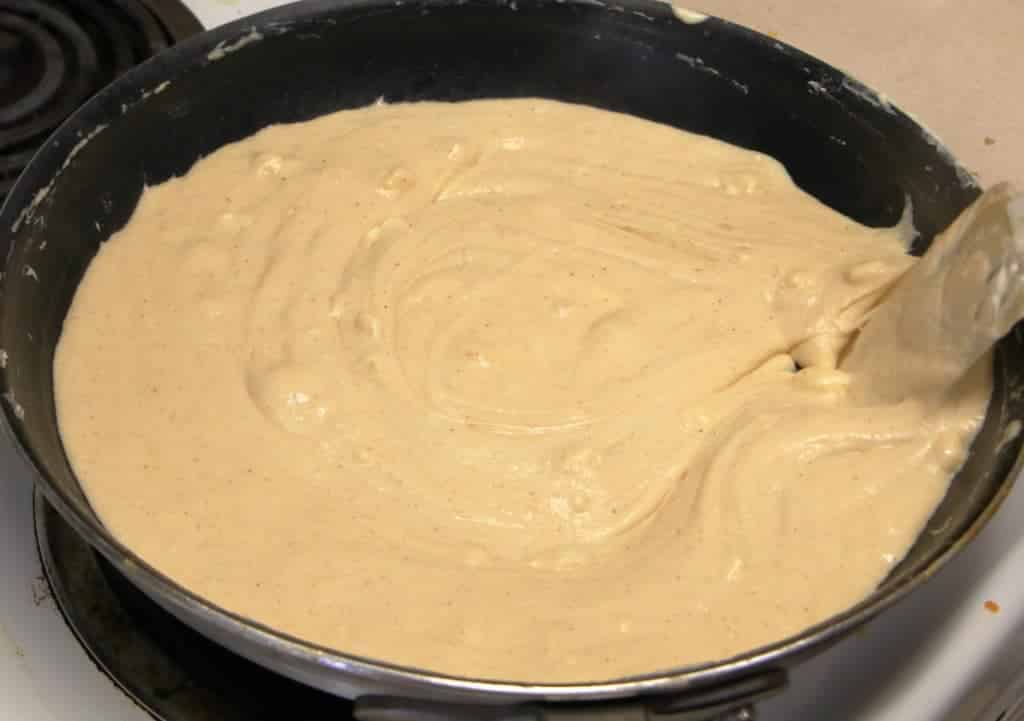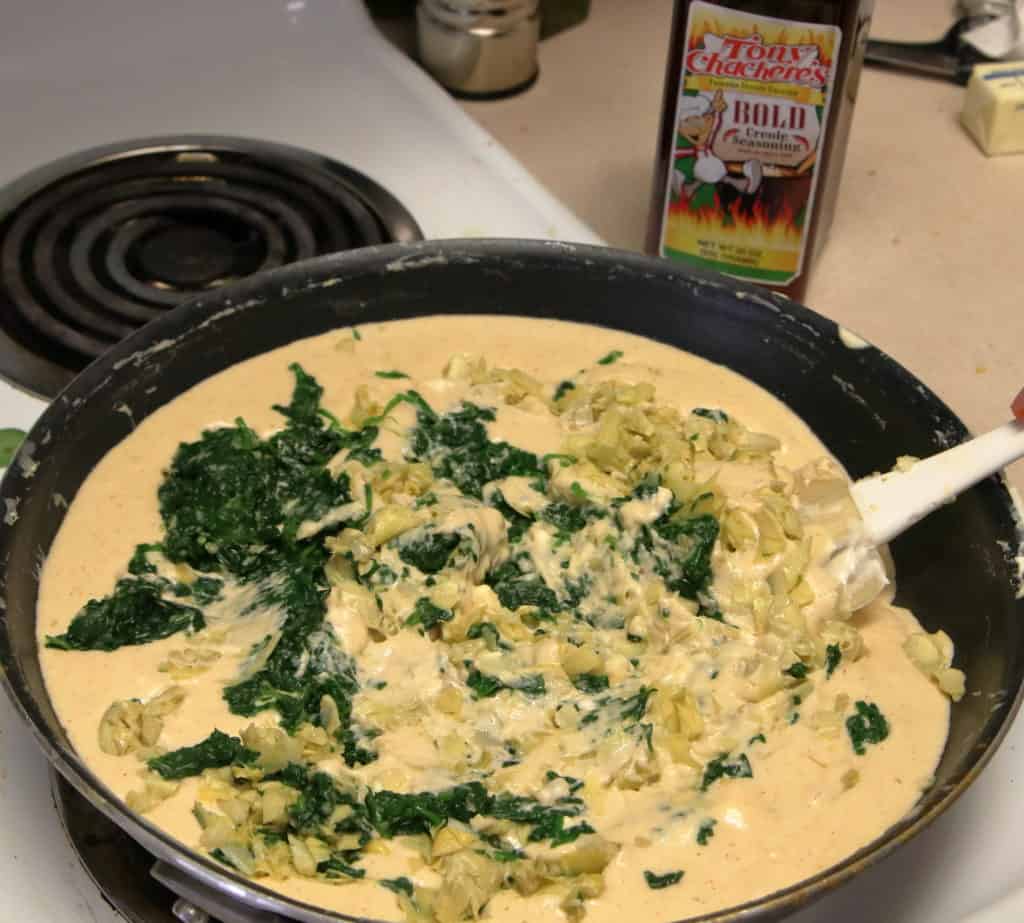 The Finishing Touches
After the cheeses have all been melted in, add your spinach and artichokes. Mix in well, and then pour into some type of baking dish. I usually use a 9-inch glass pie pan. It's the perfect size. (Before you pour it into a pie pan, be sure to take a little taste and make sure the spice is just right!)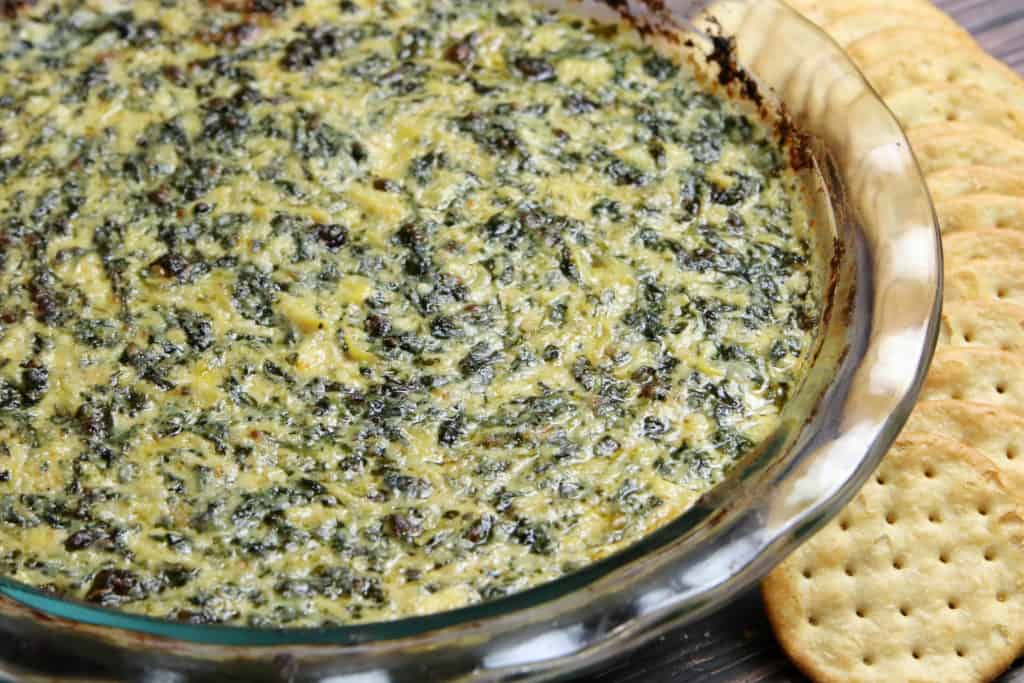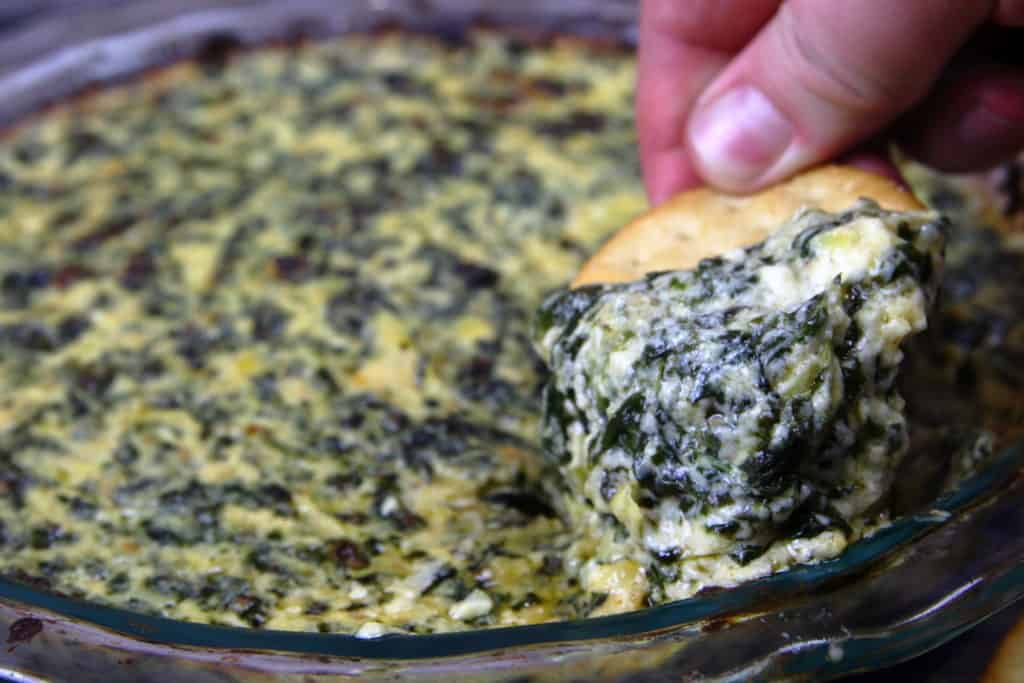 Bake your spinach and artichoke dip at 350F for about 20 minutes. Everything is already cooked before you put it in the oven, but this extra bake time will allow all those delicious flavors to mix in and settle. If you desire some EXTRA cheese, throw a little extra grated gruyere/havarti on top.
Remove from the oven and serve with your favorite dip eating vessel (crackers, tortilla chips, pita crisps, etc). Be careful! This stuff is like molten lava for a few minutes. Tip: Sometimes I transfer the spinach dip to a mini crock pot so it stays hot and gooey all afternoon/evening.
Also be careful because you are likely to get tackled by people dying to dig in.
And that's it! A wonderfully delicious and perfect spinach and artichoke dip. Get ready to make it a lot, because people are going to keep asking for it! Between this and my Queso Blanco with Green Chiles, I've got my go-to party dip bases covered!
Enjoy!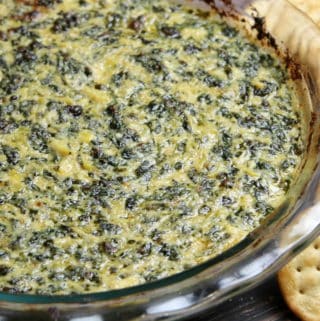 Creamy Spinach and Artichoke Dip
This creamy, cheesy, and flavorful spinach and artichoke dip is going to be an instant favorite of your family and friends. Perfect for every holiday party!
Print
Pin
Share on Facebook
Rate
Ingredients
16

ounces

fresh spinach

1

can

quartered artichoke hearts

15 ounce can

6

tbsp

butter

divided in two equal portions

1

bulb

garlic

1

tbsp

all purpose flour

1 ½

cup

milk

8

ounce

cream cheese

4

ounce

fresh grated havarti

4

ounce

fresh grated gruyere

3

ounce

crumbled feta

1

tbsp

Tony Chachere's Bold Creole Seasoning
Instructions
Prepping the ingredients
Shred havarti and gruyere. Portion out Feta and Cream Cheese. Set aside.

Peel and mince a whole head of garlic. Set aside.

On medium heat in a large saute pan, melt three tablespoons of butter. When the butter is melted, add the garlic to the pan and saute for 2-3 minutes.

One handful at a time, add the spinach and cook down a little to create more room in the pan for more. Stir well with butter and garlic. Don't let the garlic stay on the pan surface under the spinach so it won't burn.

After all the Spinach has been cooked down, remove from the saute pan. Squish out all the juices as you remove the spinach. Leave the juices in the pan.

Turn up the heat to medium high. Brown the quartered artichoke hearts in the spinach juice. Stir frequently as until all of the spinach juice has reduced out. Remove from the pan.

Chop the spinach and artichokes into very fine pieces. Set aside for later.
Making the cheesy roux base
Melt the remaining three tablespoons of butter into the pan. Add the one tablespoon of flour. Using a whisk, mix the butter and flour, stirring until the roux is a light brown. It will be thinner than a typical roux.

Pour in the milk and whisk until all is mixed. Bring the mixture to a boil and let thicken slightly. Stir constantly. Mix in the Tony Chachere's.

Add the block of cream cheese to the roux and stir as it melts in. When the cream cheese is fully mixed in, add the havarti, gruyere, and feta.

When all the cheeses have melted in, return the spinach and artichokes to the pan. Mix well.
Baking the Spinach and Artichoke Dip
Pour the entire pan of dip into a 9 inch glass pie pan. Bake at 350° for 20 minutes. Melt some extra cheese on top if desired.

Remove from oven and serve with crackers, tortilla chips, or pita crisps.

Serve in the glass pan or transfer to a mini crock pot if you would like it to stay hot for a longer period of time.