Who can resist a good, creamy, delicious queso dip? If you can, then you're better than I am! Put a queso dip in front of me and it's going to be gone. Fast. You can buy packaged queso dip pretty much anywhere you go, but making it from scratch is so much better, plus- it's as easy as throwing all the ingredients in the pot and melting them. And bonus- you can customize what is in it so it is exactly how you like it. This Queso Blanco with Green Chiles recipe is super delicious and extremely easy to customize!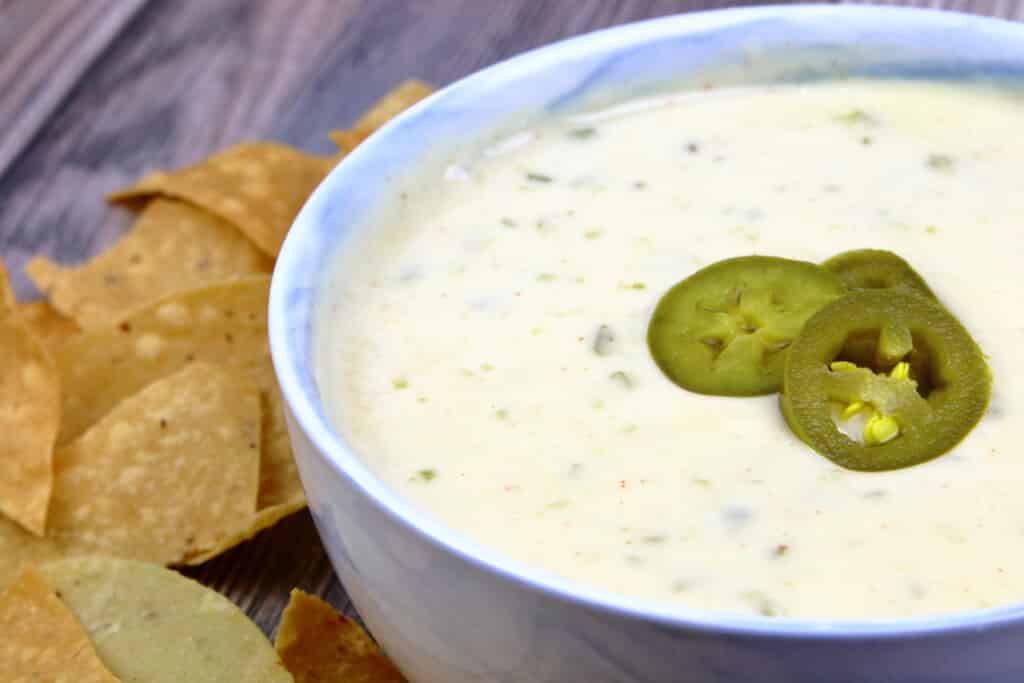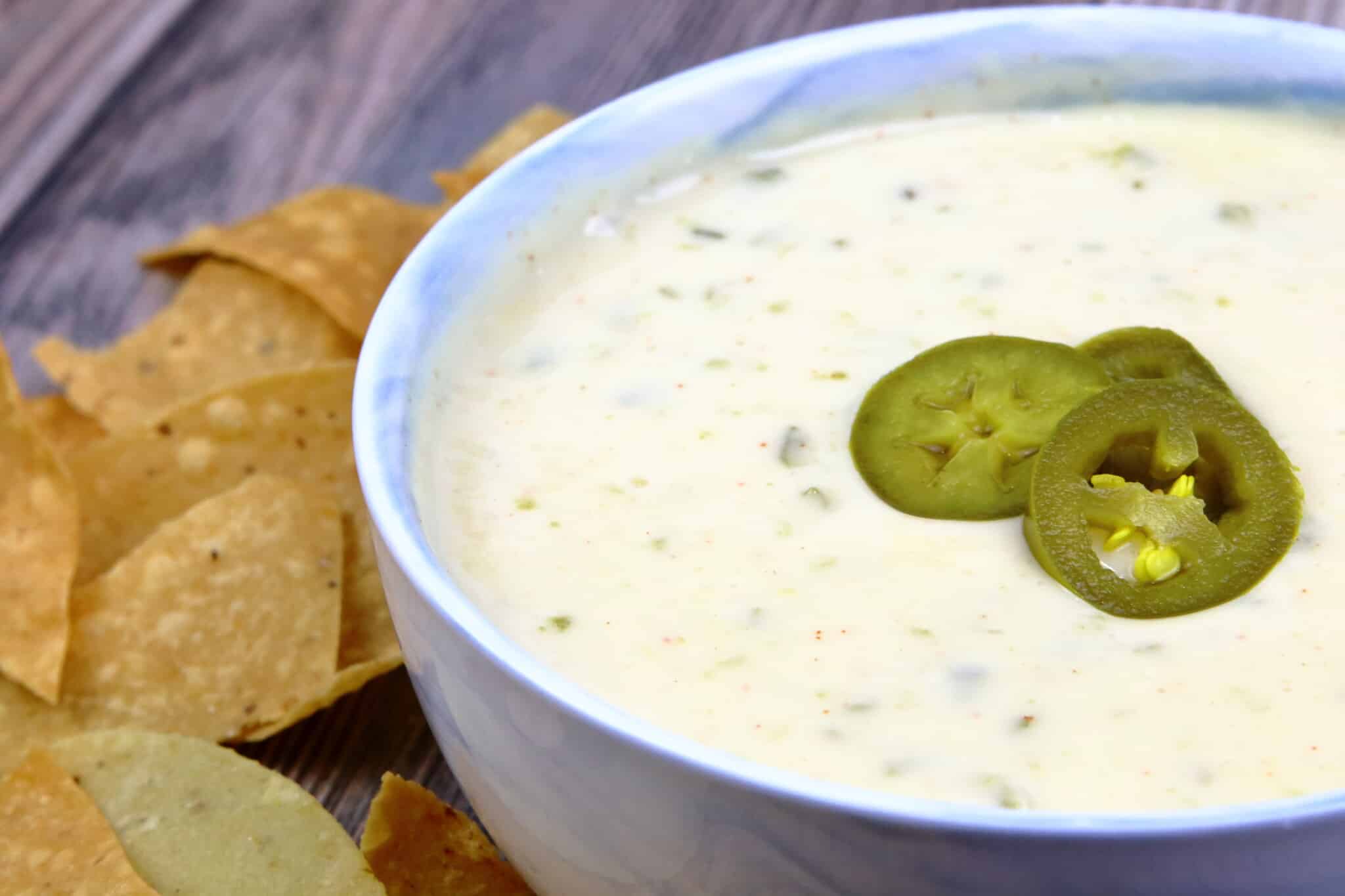 What goes into this queso blanco dip?
The ingredients list for this queso blanco is pretty short! I just used:
White melting cheese, like velveeta
milk
green chiles
cumin
chipotle chili pepper
cornstarch- for thickening
There really isn't much else to do but melt it all together!
Why do you need cornstarch?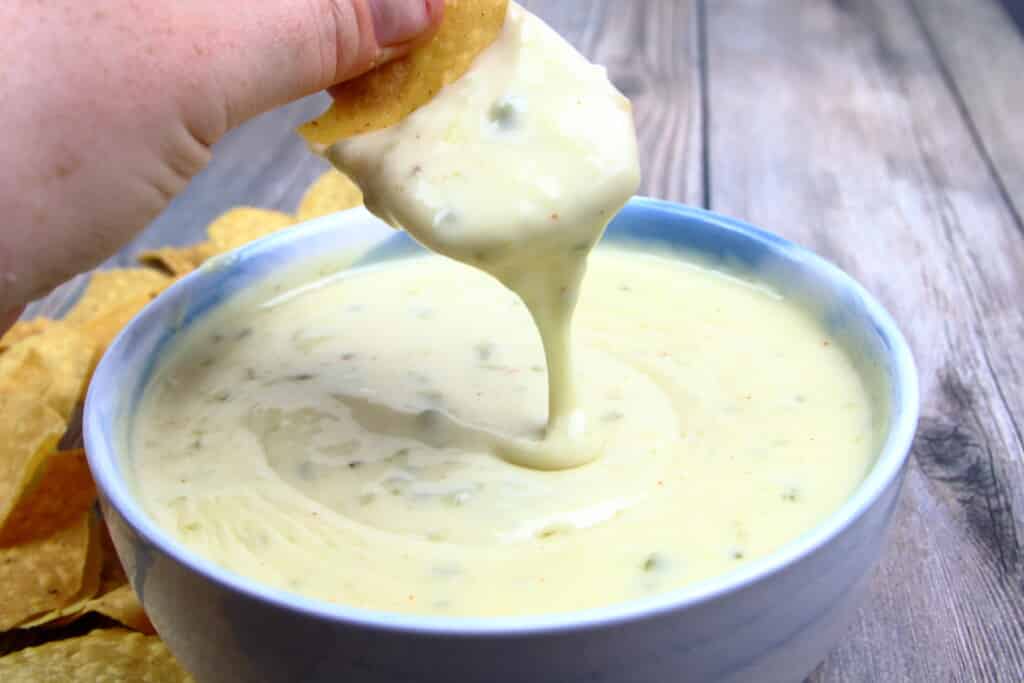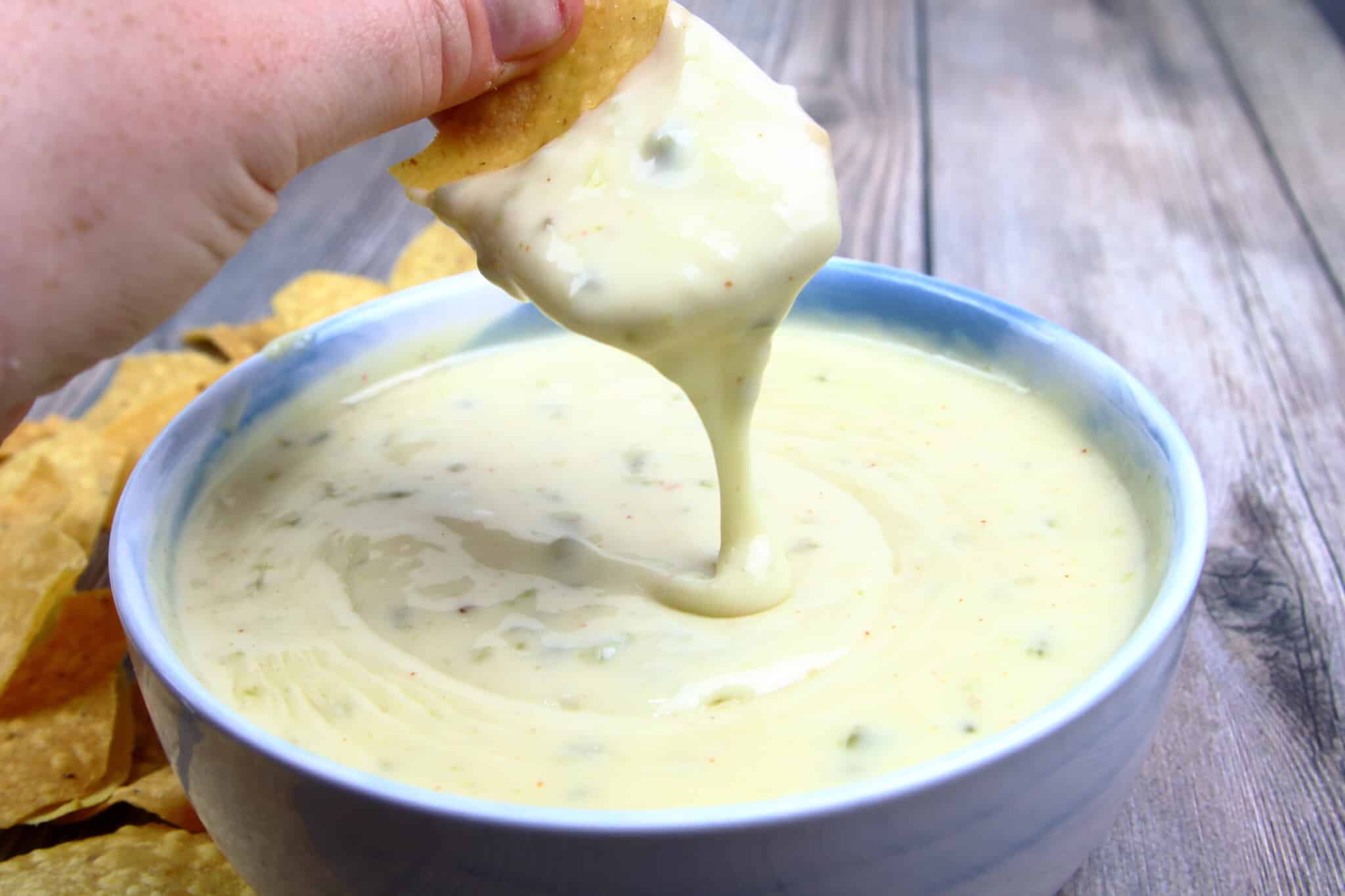 Well, I'll tell ya. When I was first making this queso dip, I used a little too much milk and it was suuuuper thin! No one likes a watery queso blanco. I could have have just added more cheese to make it thicker, but I was out.
This was actually a fortunate accident.
I really liked the flavor of what I had with the cheese to milk ratio, and adding more cheese would have made the flavor different. To be honest, I don't LOVE the flavor of this super soft processed cheese. The milk cut it a little bit, and with the cumin and chipotle pepper, it was perfect!
So thickening with cornstarch kept the flavor exactly as it was, but made it thick, creamy, and luxurious.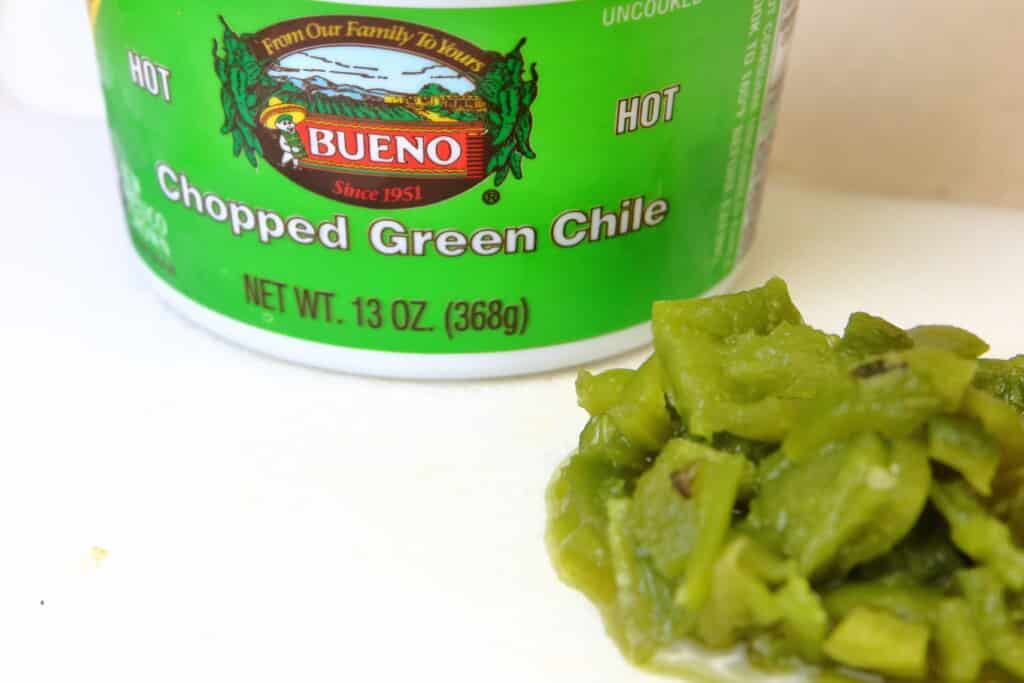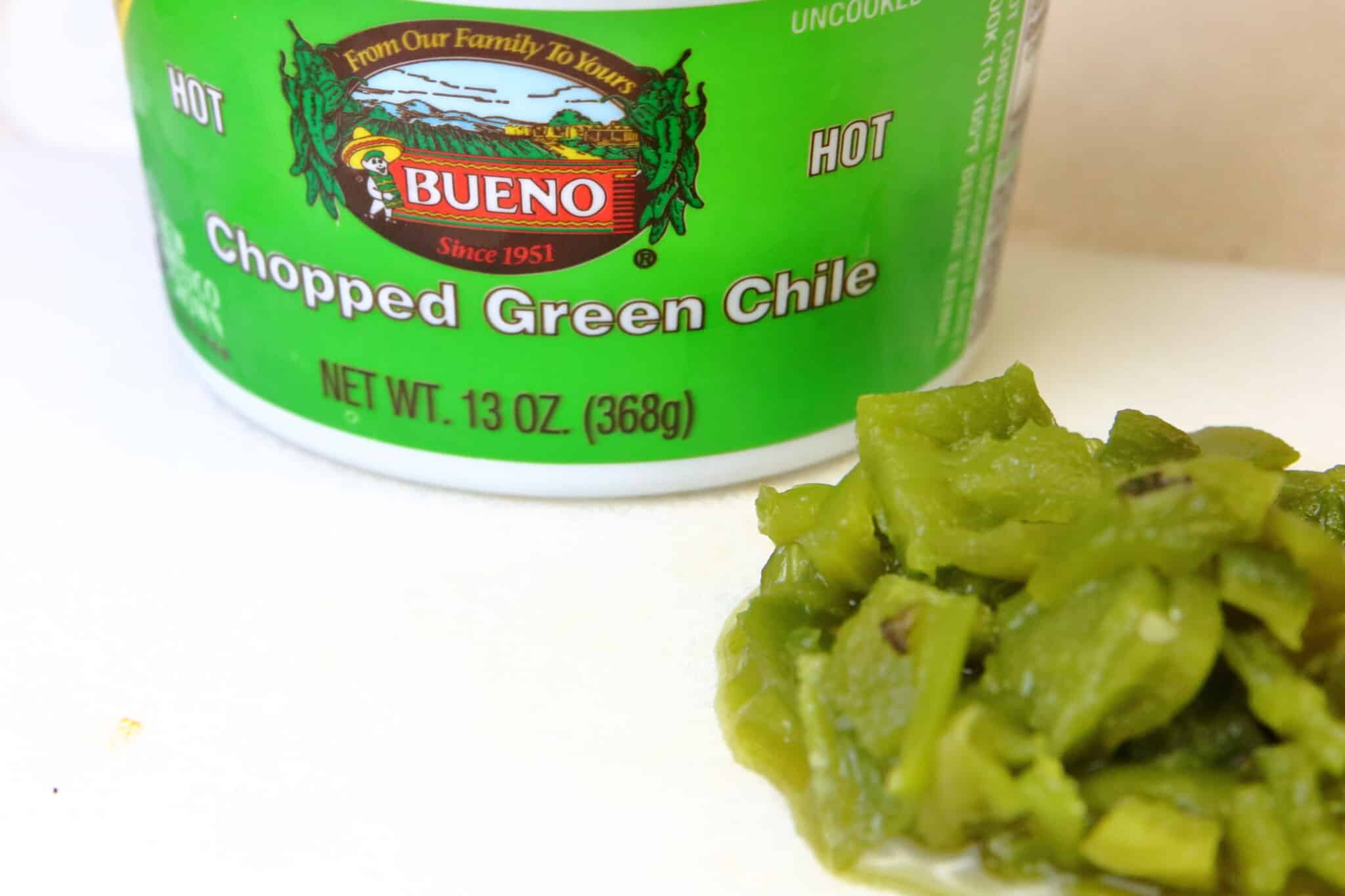 Can I adjust the spice level to the queso blanco?
Yes! Easily!
I like mine spicy, and to be honest, I'll add more chiles next time. But this one had a nice layer or spice without being overwhelming. All you need to do is add more or less according to how spicy you want it.
Seems silly to simply say just add more or less (like, duh right?), but sometimes it can really mess with a recipe. Not with this queso dip. Customizing is super simple. It's hard to mess it up.
Tip: If you want to add some extra heft to this queso dip, add some ground meat or chorizo!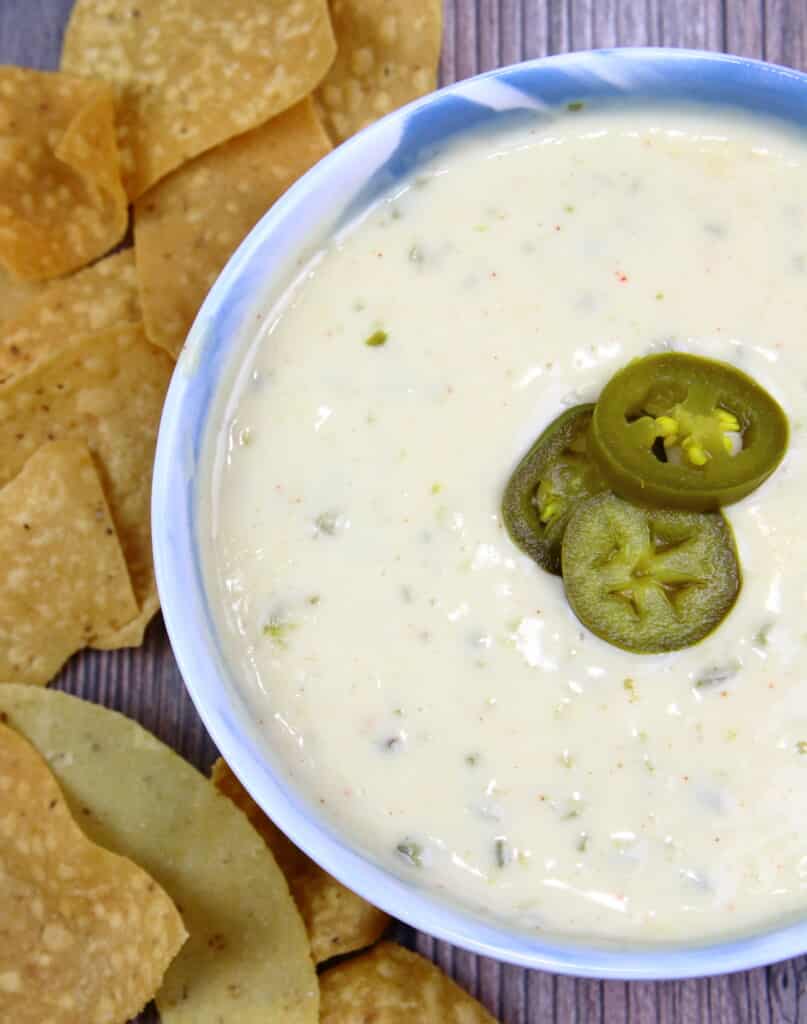 That's pretty much it, guys! Short and sweet. EASY! But so yummy! This is queso blanco with green chiles is definitely the perfect addition to your next party!
Enjoy!
Need a companion dip for this queso blanco? Try this Creamy Spinach and Artichoke Dip!
Some other awesome appetizer ideas are these Low Carb Mozzarella Sticks or these Bacon Wrapped Jalapeno Peppers!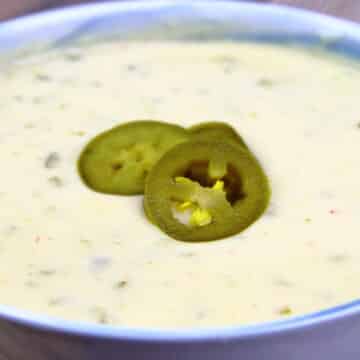 Queso Blanco with Green Chiles
This Queso Blanco made with spicy green chiles is ultra creamy, flavorful, and perfect for your next party!
Print
Pin
Share on Facebook
Rate
Ingredients
1 ¼

cup

milk

1

lb

white melting cheese, like velveeta

cubed

¼

cup

Roasted Green Chiles, chopped very small

preferably from New Mexico

2

tbsp

cornstarch

1

tbsp

water

½

tsp

cumin

¼

tsp

chipotle chili pepper
Instructions
In a medium saucepan, warm the milk on medium/low heat. Don't burn it!

Once the milk is warm, add the chunks of white cheese and stir around until melted.

Add chopped green chiles, cumin, and chipotle chili pepper.

Mix cornstarch with water. (just enough to turn it into cornstarch sludge)

Add to queso mixture. Turn heat to about medium, just enough to allow the queso to bubble and thicken. Continue stirring so it won't burn.

Once queso has thickened to your liking, serve and enjoy!