I'm like most red blooded humans in that if you put a plate of fried cheese in front of me, I'm going to eat it. Fast. It is a super indulgent treat that I just can't resist. What I do love about this recipe is that it is low carb. Now, I'm not going to pretend that it is healthy. I mean… it's cheese breaded in pork rinds and deep fried. There's really no way to spin health there. But for those that are trying to cut back on carbs because you are trying to follow a low carb or even keto diet, or just can't have carbs at all, this is a great alternative to the traditional mozzarella sticks.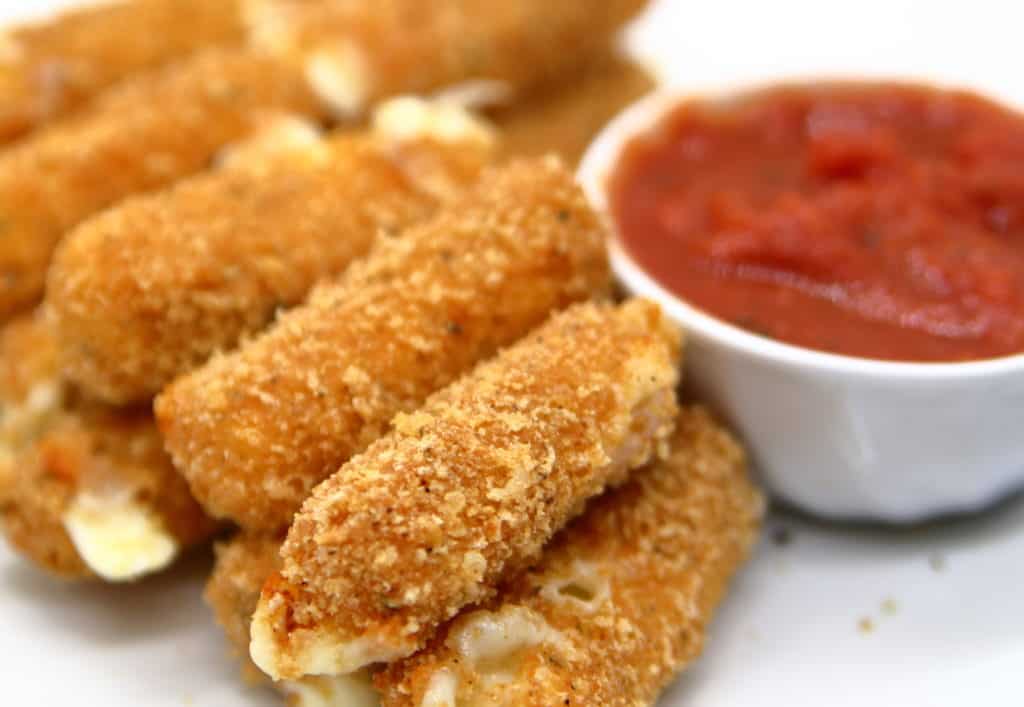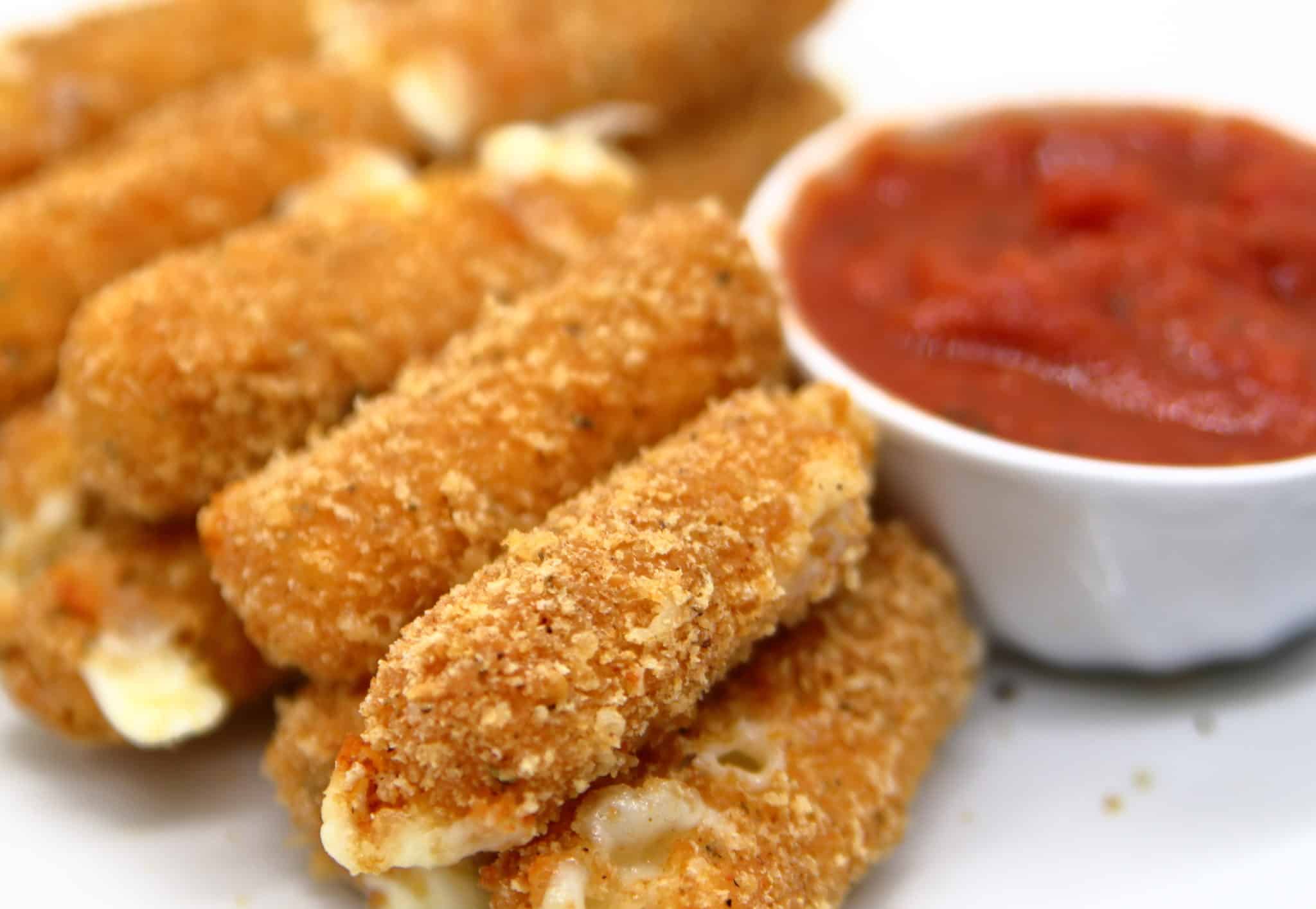 Assembling your Low Carb Mozzarella Sticks
There aren't many ingredients involved with putting these together… bonus! The "breading" just requires three ingredients: 1. Pork Rinds 2. Italian Seasoning and 3. Tony Chachere's (affiliate link).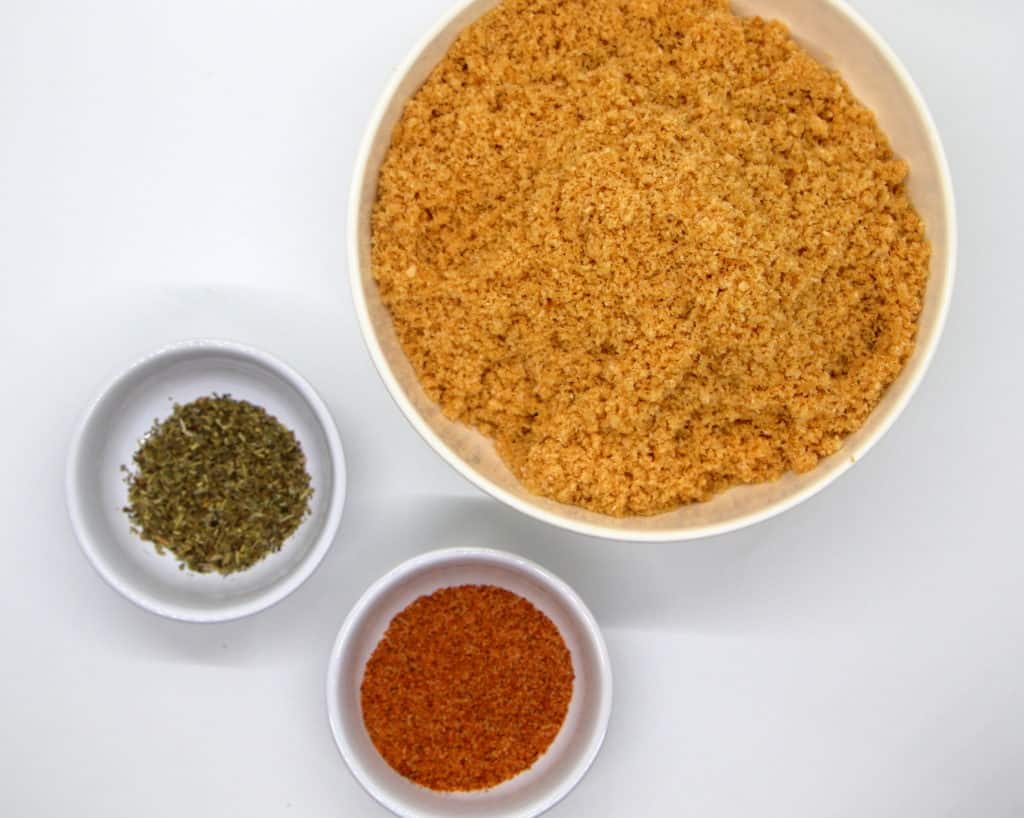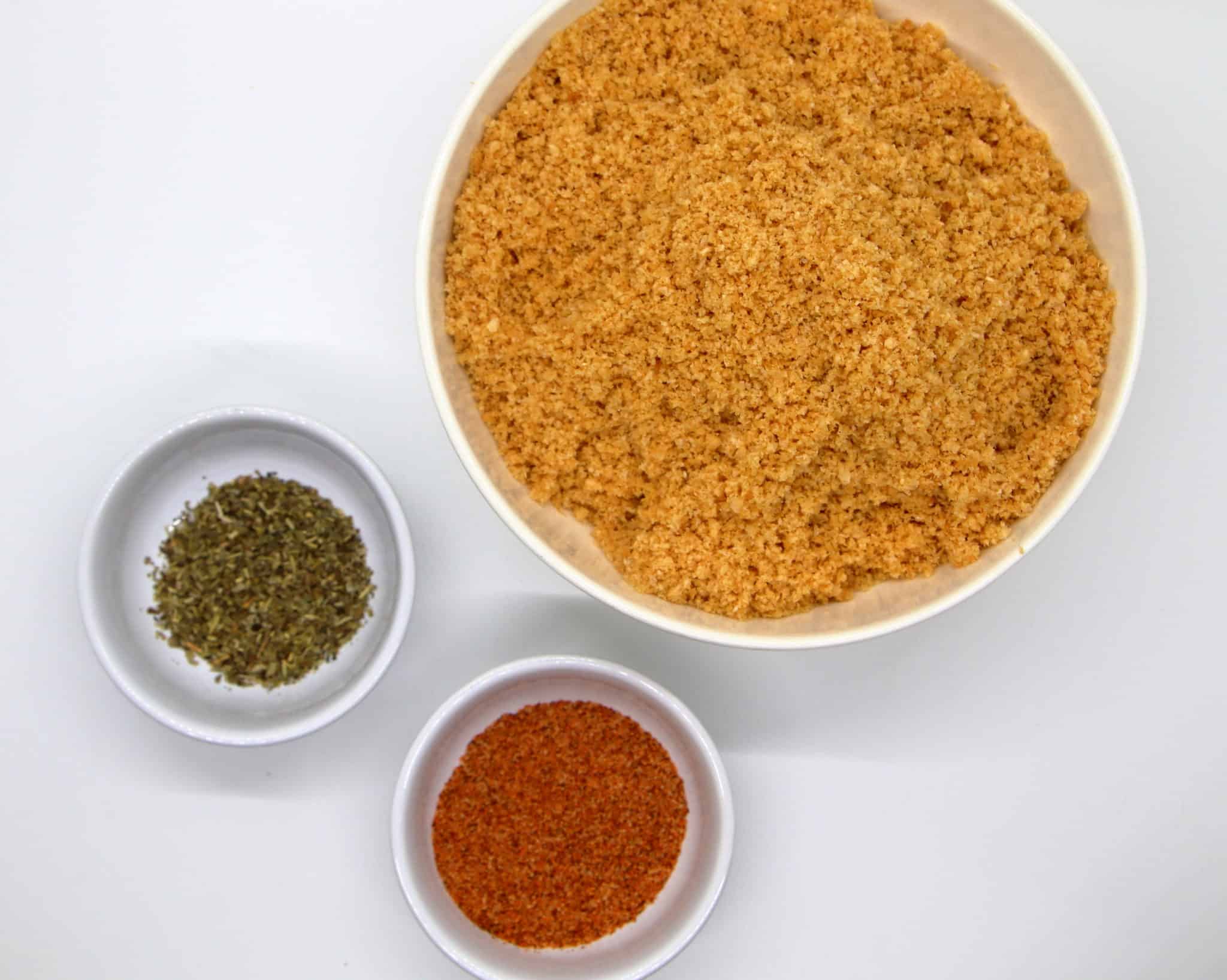 You can certainly choose to use one of the many varieties of pork rinds out there. I chose to use an unflavored variety of pork rinds so I could season it myself. You can season it how you like, or not at all. I felt like a little Italian seasoning and some Tony's (because, duh) would be a great option.
A few assembly tips
Make sure to finely grind the pork rinds so the crumb is fine so that it will stick to the cheese.
Whisk the eggs REALLY well so that everything breaks up completely and you can coat the cheese well.
You MUST double coat the cheese. One coating will not cover the cheese and it will just becoming a big gooey mess in the oil.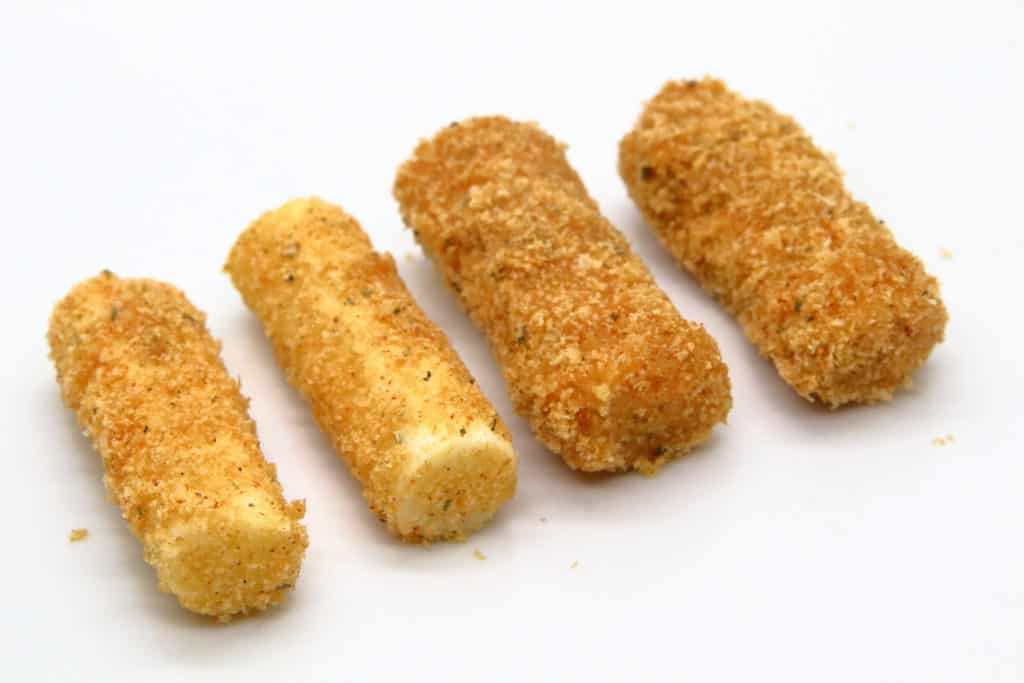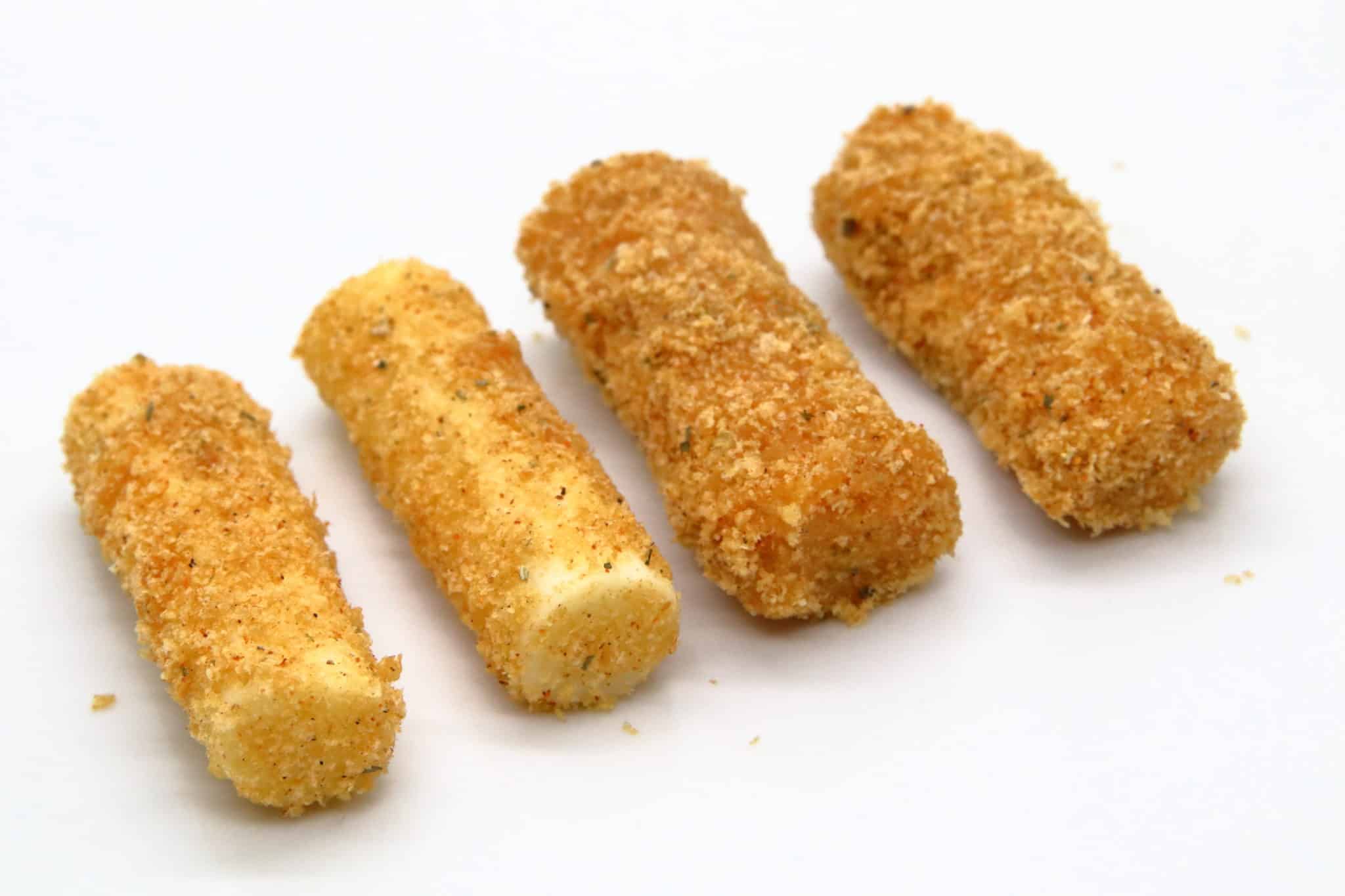 The two mozzarella sticks on the left have one coat, the two on the right have two. After you put the second coating on, you can use your fingers to mold the breading so that the cheese is completely covered all the way around.
Frying your mozzarella sticks
One of the great things about this recipe is how quickly these things fry up. As soon as the oil is ready, they are ready to fry. They don't need to be frozen or chilled at all. Heat the oil to 365F (No hotter than 375F). I recommend you only fry about 5 at a time so that you can put them in quickly and remove them quickly. Fry each batch for about 60 seconds.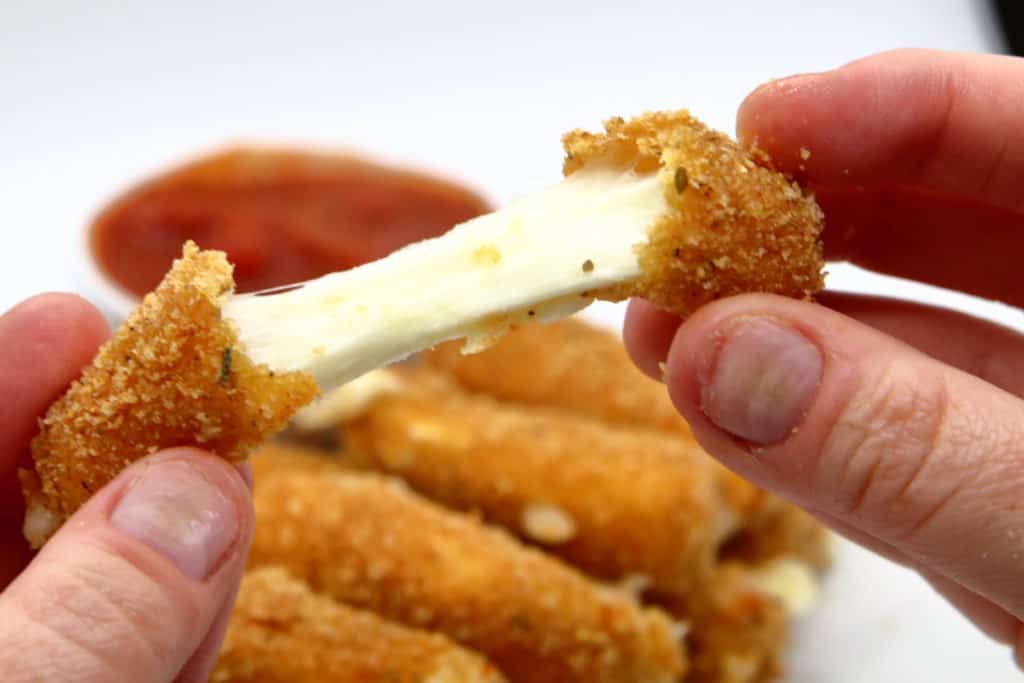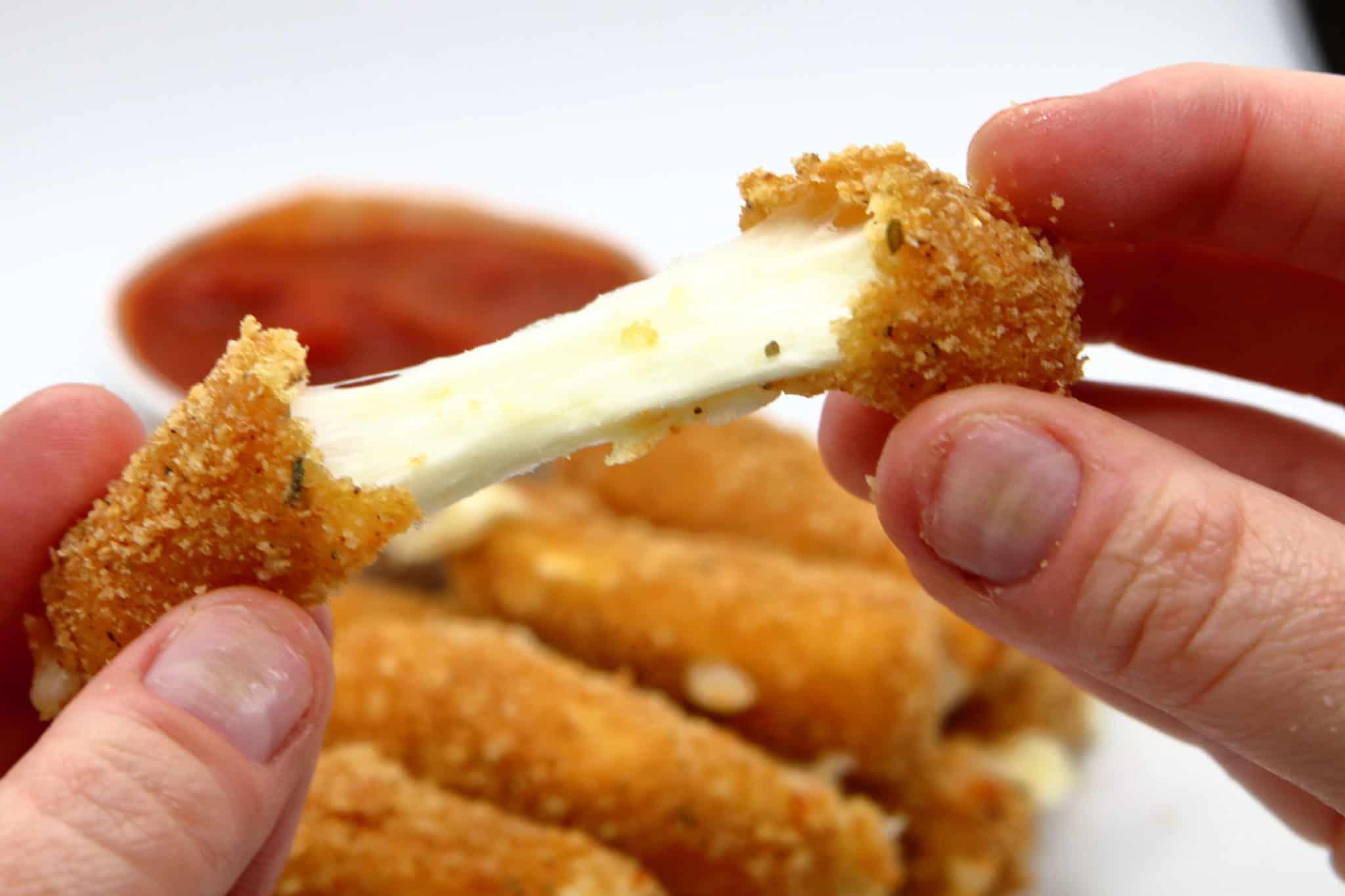 You might start to see a little bit of cheese start to sneak out through the corner. There is really no way to avoid that but it shouldn't be too bad. As long as you are in the 60-90 window your mozzarella sticks are going to be stringy and scrumptious. Be careful though because when the cheese starts oozing out, they can go too far really quickly. That's why I advise only doing about 5 at a time, so you can remove them quickly if they do. But since they cook so quickly, you'll have the whole batch done in no time.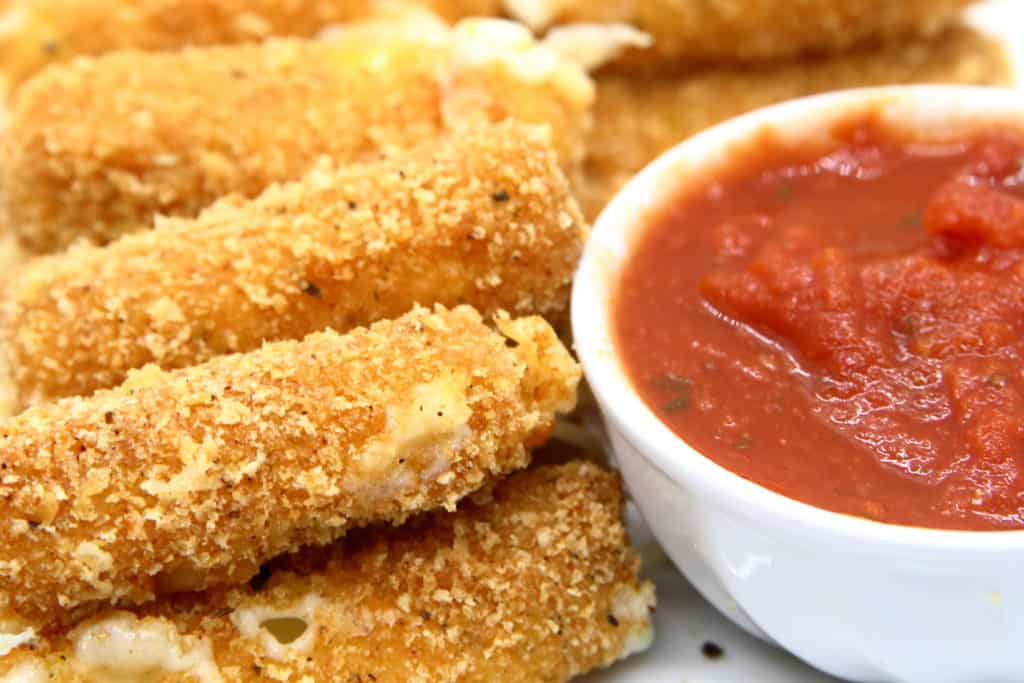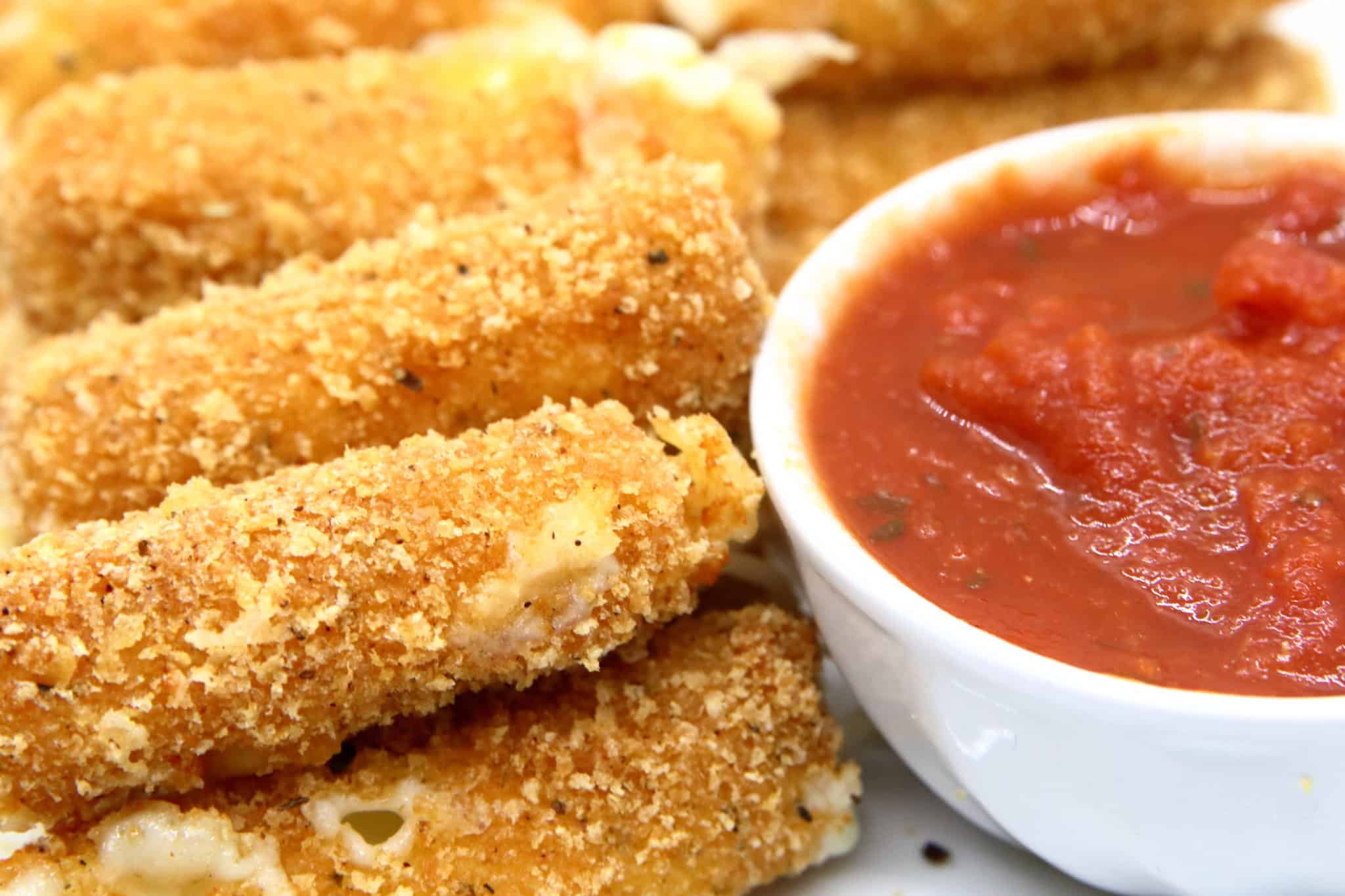 That's pretty much all there is to it! Crispy, stringy, cheesy Low Carb Mozzarella Sticks crusted with zero carb pork rinds and served up with your favorite dipping sauce. Without all those carbs, we can PRETEND like it's healthy, right?
Enjoy!
Looking for another low carb alternative meal? Try this recipe for Almond Crusted Chicken Breast!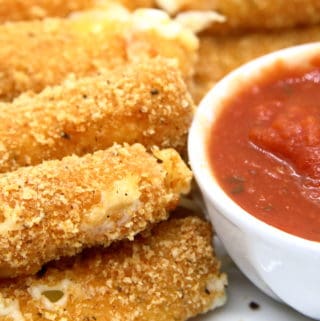 Ingredients
1

5 oz bag of pork rinds

10

pieces of string mozzarella cheese

1

tsp

italian seasoning

1

tbsp

Tony Chachere's

½

gallon

Oil for frying

corn, peanut, vegetable, etc.

2

eggs
Instructions
Cut string cheese in half to create 20 short pieces

In a food processor, blend pork rinds until finely crushed. Add italian seasoning and Tony Chachere's.

Whisk two eggs completely until everything is completely broken up

Dip cheese in eggs (a few at a time) and transfer to pork rind mixture. Completely coat in pork rind. Return the cheese to the whisked eggs and coat again in pork rinds. Coating will be moldable, so make sure all parts of the cheese is covered. Repeat until all cheese pieces are coated.

When the oil is hot, drop a few in the pot (about 5 or so) and fry for 60-90 seconds. At the first sign of cheese leakage, remove from oil. Repeat process for all cheese sticks. Serve immediately with your favorite dipping sauce.