This Mardi Gras King Cake is filled with Strawberries and Cream, accented with cinnamon and brown sugar, and glazed with icing and sugar sprinkles. A standard for Mardi Gras season in Louisiana! You can flavor it how you like, but the strawberry and cream cheese filled king cake is one of the classics!
To be honest, I don't know that I would necessarily categorize this as an easy king cake recipe. There are several steps, but if you just read and follow all the steps, it's really not too bad!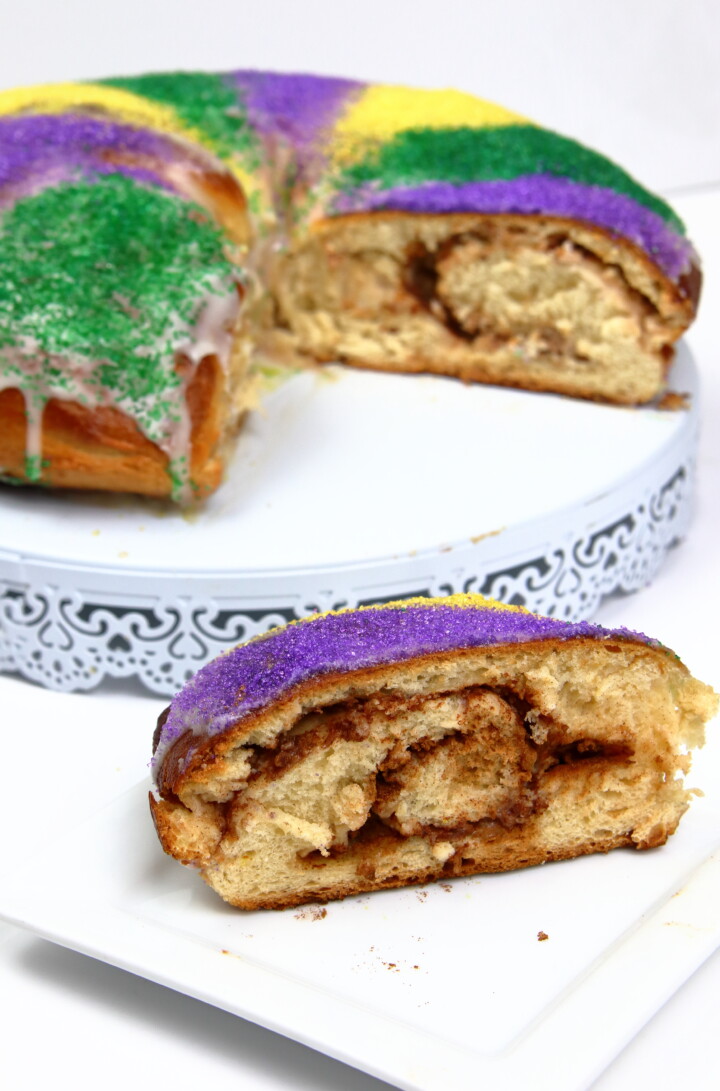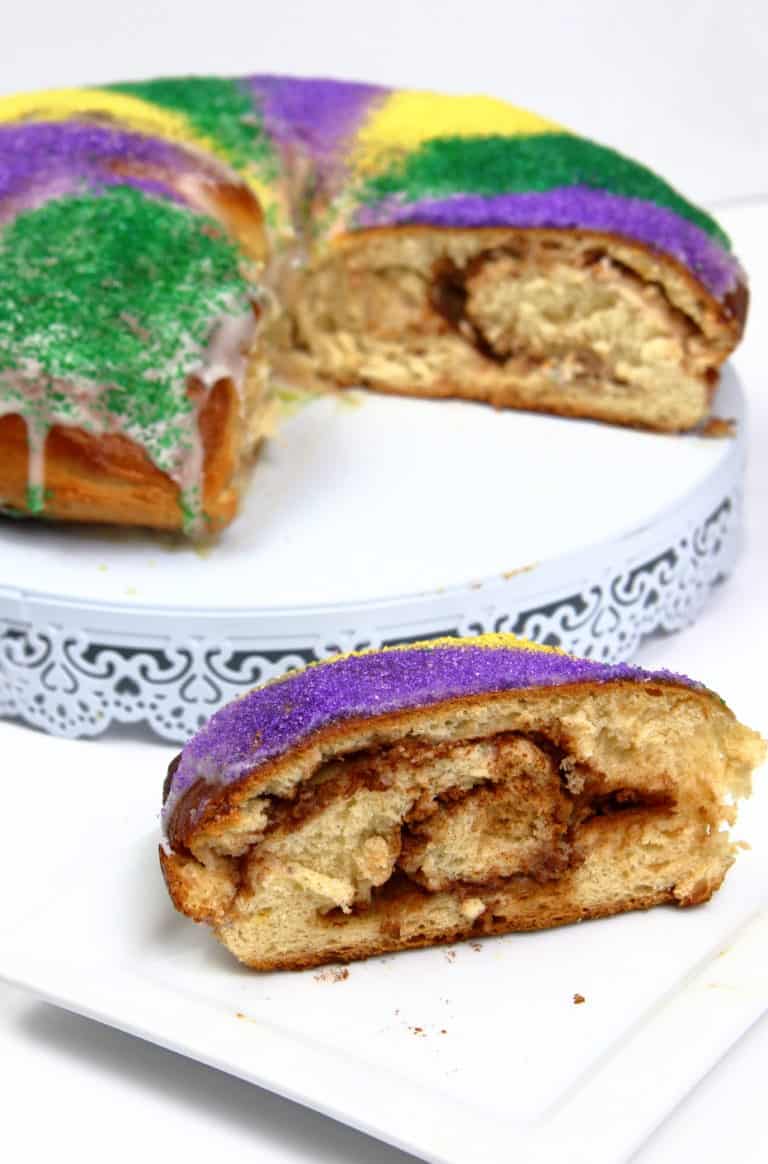 January 6th. That's about how long it takes any Louisianian to give up on their New Year's resolution to eat healthier. Why? Four Words: Mardi Gras King Cake. Yep. That's all it takes. I'm not from Louisiana originally, but I have spent a huge portion of my childhood and the beginning of my adult life there, so king cake is a staple. As fas as I'm concerned, holiday food goes as such: 1. November: pumpkin spice. 2. December: peppermint and 3. January: KING CAKE. There are a lot of ways you can do king cake, but I'll start with one of my favorites: Mardi Gras King Cake with Strawberries and Cream filling.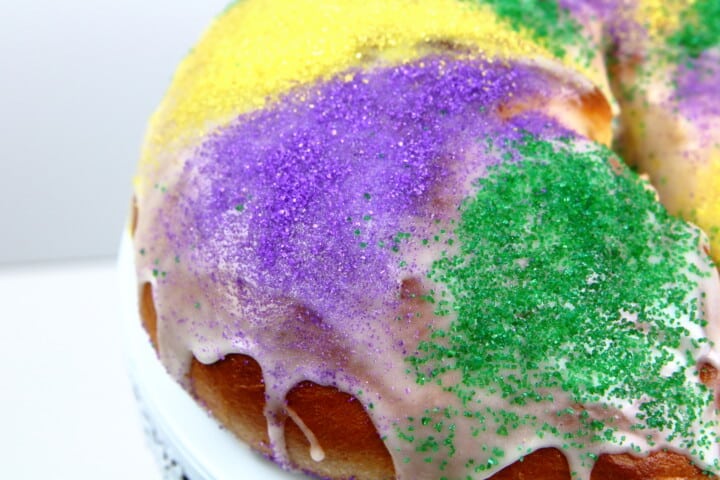 What is Mardi Gras King Cake?
I'm not going to go into the details of the king cake tradition because it's definitely not in my area of expertise (I mean, I'm here to write about tasty food), but if you want to know the history of where it actually originates, here is a really great article on the King Cake and its History from Manyeats.com.
Anyhow, if you search for king cake recipes, you'll find a buuuuuunch of them with a lot of different king cake flavors. I'm sure many of them are great. Basically what I did here is what I normally do: I threw together a bunch of ingredients until I liked it and Voila! A System of a Brown concoction.
Basically, a king cake is a cinnamon roll type cake covered in frosting and/or sugar. I've seen it described as a brioche style bread with frosting. Now, I'm not a bread expert, so I don't know if this qualifies as brioche, but I will tell you as a self proclaimed king cake expert by way of years of experience, this recipe is good stuff. It's fluffy, moist, and flavorful. Nothing is worse that biting into a piece of dry, tough, and flavorless king cake (looking at you HEB). Yeah I said it.

A couple of basics:
There are a variety of ways to flavor and stuff your king cake, but there are a few things you need to follow here:
Use active dry yeast. For the timing involved with this recipe, you need to use active dry yeast. It will probably work with other kinds, but the timing will be different. It behaves differently. I've never used another kind, so I can't speak as to how to do it differently, but if you are familiar with how other kinds behave, go for it. See if it works.
DO NOT mix cold eggs/milk with hot melted butter. You will end up with curdled milk and scrambled eggs. Melt the butter, but let it cool off before you use it. Also, let the milk come to room temperature, or even melt it slightly. Your goal is for all three of those ingredients to be as close to the same temperature as possible before you mix them. I let the eggs sit in a bowl in some hot water and heated the milk slightly.. just barely for about 15 seconds.
You really need cinnamon. I mean…. flavor it how you like it. buuuuut King Cake and Cinnamon go together like peanut butter and jelly. Trust me on this.
Don't skimp on the filling. When you roll it, it's going to make a big ol' mess, but the flavor is going to be fantastic. Again, an empty and dry mardi gras king cake is a sad king cake. And we don't do sad at Mardi Gras.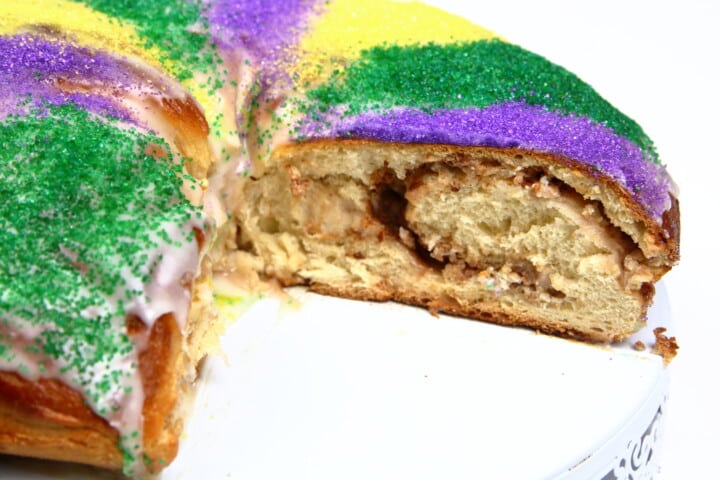 Other flavor options
If you don't care for strawberries and/or cream cheese, you can totally sub something else. Here are some more tasty king cake filling options:
Apple chunks and nutmeg
Blueberry
Raspberry
Lemon curd
Pecans and cinnamon
Bavarian Cream
But I would still definitely coat it with cinnamon and brown sugar no matter what!
Here's one small heads up: I put a lot of strawberry jam, but when I cut it after it cooked, you couldn't see it AT ALL. The red color totally faded. It didn't really look like a strawberry and cream cheese filled king cake. But fear not! It definitely tasted like one.

A quick note on the king cake dough:
For me, I didn't find this to be as finicky as doing a cake or cupcakes. It's not as fragile. And like I said, I'm not a bread expert. I'm not even a bread amateur. But I found that it worked really well to mix all the wet ingredients and then slowly mix in the flour. The dough wasn't over worked or underworked. It came out really well.

The king cake dough at first will be pretty wet. It was extremely sticky at first, but when you are kneading it, slowly ad some more flour bit by bit until it's not sticky. It's not supposed to be really dry though. With all the butter, eggs, and milk, it's bound to be wet, but that's going to make for a most, flavorful bread. We don't do bland in the south.
Frosting your Mardi Gras King Cake
As many king cakes as I've seen (ok.. eaten), there are really two types of icing that prevail. One being a typical glazed frosting, sort of like really thick donut glaze, and the other being a sugary donut glaze and then completely covered in sugar sprinkles (affiliate link). Now, there's no wrong answer here, but I am FIRMLY in the sugar sprinkles camp. I love the flavor of the icing, but with the crunch and texture of the sugar. It just adds a little twinkle to the cake.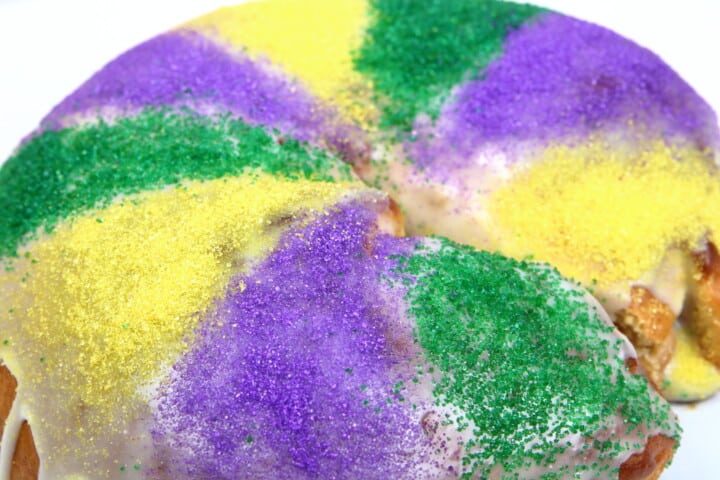 That's pretty much it! It seems like a lot and sort of intimidating, but you got this! It's not bad at all. Even if it takes a bit to get the hang of how it looks, you won't go wrong with the taste.
As always, feel free to drop me a comment or question below! I'll do my best to help if I can!
Enjoy! Laissez les bon temps rouler!
Make sure to check out this Red Beans and Rice recipe or Southern Style Black Eyed Peas for more Louisiana favorites!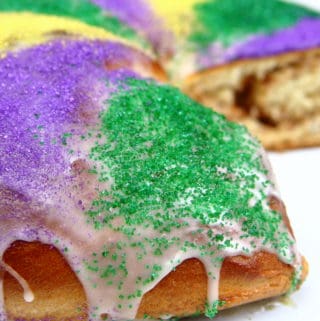 Mardi Gras King Cake with Strawberries and Cream
This Mardi Gras King Cake is filled with Strawberries and Cream, accented with cinnamon and brown sugar, and glazed with icing and sugar sprinkles.
Print
Pin
Share on Facebook
Rate
Ingredients
For the Dough
1

packet

active dry yeast

about 2 ¼ teaspoons

500

g

all purpose flour

⅓

cup

granulated sugar

½

tsp

salt

1

tsp

cinnamon

3

large eggs

room temperature

4

tbsp

melted butter

(half a stick)

½

cup

milk

room temperature
For the Filling
2

tsp

cinnamon

2

tbsp

brown sugar

8

oz

block cream cheese

2

tbsp

powdered sugar

½

tsp

LorAnn Bavarian Cream flavor

substitute 1 tsp vanilla extract

½

cup

seedless strawberry jam
For the Icing
1

cup

powdered sugar

sifted

2

tbsp

milk

1

tsp

vanilla extract
Instructions
For the Dough
Proof the yeast. Follow the directions on the pack. Make sure you used ACTIVE DRY YEAST. While yeast is dissolving, prepare the rest of the ingredients. Measure out dry ingredients (reserving about 50g of flour separate from the other 450g, whisk eggs in a small bowl, measure out wet ingredients. When the yeast is creamy and ready, proceed.

In a stand mixer with the paddle attachment on low, mix the eggs, milk, and butter until combined. Note: Make SURE the butter isn't too hot and the eggs and milk are at least room temperature. Your milk will curdle and your eggs will scramble if they butter is too hot and the eggs/milk are cold. Add one teaspoon of cinnamon , salt, and ⅓ cup granulated sugar. Mix until combined. Add yeast. With the paddle continuing on low, Add about half of the flour (remember to reserve about 50g for later). When half the flour has been added, change to the dough hook. Continue to add flour one spoonful at a time. When all of the flour (except 50g) is added, let dough hook knead the dough for about 5 minutes. Dough will be wet.

On a lightly floured, but clean counter (or on parchment paper), turn dough onto surface. Continue to knead the dough for about another 5 minutes, adding remaining flour bit by bit until dough is mostly no longer sticky. (it will still be a little sticky, but it shouldn't be sticking relentlessly to hands and counter.

Ball up dough and place in a large, greased bowl. Cover with plastic wrap and set aside for 3 hours. Dough will triple in size.
For the filling
Measure out cinnamon and sugar. Keep separate until needed.

In a stand mixer or with a hand mixer with the whisk attachment, whip softened cream cheese. Add 2 tablespoons of powdered sugar and half a teaspoon of LorAnn Bavarian Cream flavor (1 tsp of vanilla extract to substitute).

Whisk by hand the strawberry jam until creamy and smooth.
Rolling the dough and rolling the cake
When the dough has risen, punch it down and pour it back onto a lightly floured or otherwise non stick surface. Roll the dough out with a rolling pin into a rectangle ( I recommend about 12 inches by 18 inches). Dough should be very thin when rolled.

Sprinkle the cinnamon and brown sugar onto the surface of the dough. The smear on the cream cheese, followed by the strawberry preserves on top of that.

Roll dough with hands, starting at the long end until completely rolled into a long tube. The dough will be stretchy, so when you get to the end, stretch the edge around and make sure it is on the bottom, under the entire roll so that when it bake, it will not unravel.

Shape tube into a circle, connecting both ends. You should end up with basically a giant donut shape.

Bake at 350°F for 30 minutes.

While the cake is baking, prepare the icing. Combine sifted powdered sugar, milk, and vanilla.

When cake is finished baking, let cool completely, about 1 hour. Pour frosting over the top and smear over the top. Coat with sugar sprinkles, preferably purple, green and gold!

You may notice that the color of the preserves did not retain. Depending on original thickness of filling, it may not be noticeable when you cut into it. Rest assured, the flavor is absolutely there!