These red wine braised short ribs are fall of the bone tender and so insanely delicious! Braised in beef broth and red wine, this is a rich and flavorful dish perfect for anything from date night to a comfy night at home.
I work a lot. A LOT. I also love to cook; however, I just don't always have the energy for it. These braised short ribs are one of my go-tos when I want something hearty and delicious. They don't have a ton of ingredients and can be done in one pot. Bonus!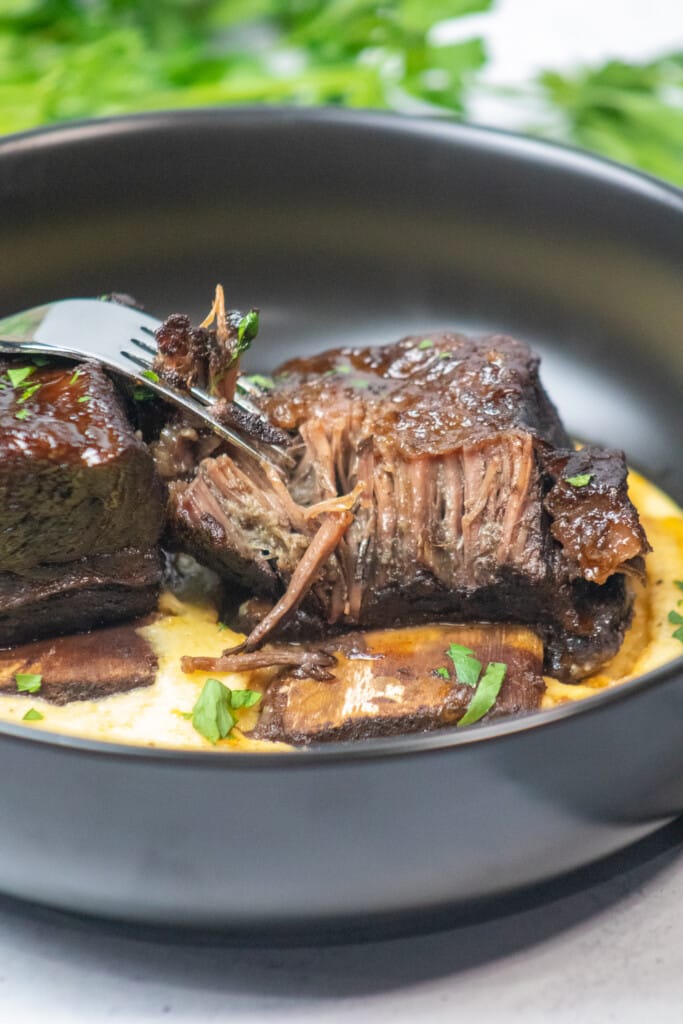 What do I need to braise short ribs?
As far as your ingredients for your red wine braised short ribs, you will need:
2 lbs short ribs
vegetable or canola oil for searing. If you can, avoid olive oil because it has a low smoke point.
1 medium white onion
1 bulb garlic about 10-15 cloves
4 cups beef broth
2 tablespoons tomato paste
3-4 sprigs of fresh thyme
1.5 cups red wine
your favorite beef rub I like Tony Chachere's Creole Seasoning
salt/pepper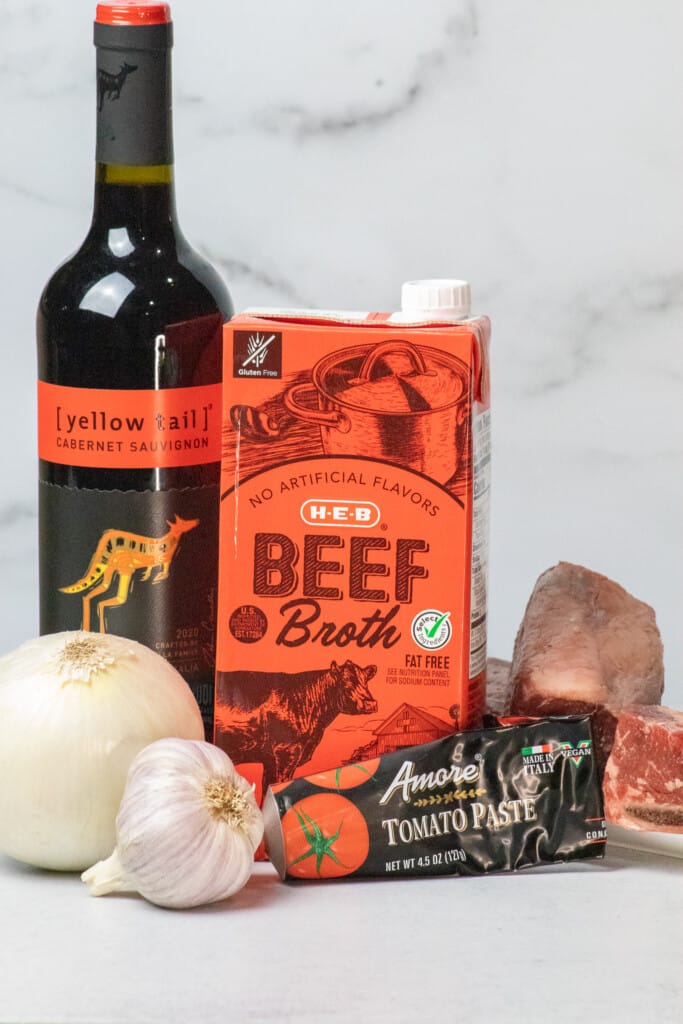 As for the equipment needed, you will need some kind of heavy duty dutch oven. I have a 7.3 quart enamel cast iron that is absolutely perfect and affordable.
As an Amazon Affiliate, I earn a small commission at no extra cost to you.
I highly recommend the enamel cast iron above. I have this exact one and it is the one I used for this particular recipe. However, if you don't have an enamel cast iron, I have successfully used a 13×9 glass cake pan with tightly wrapped aluminum foil on top, but I much prefer the cast iron.
How do I pick the best short ribs?
When I'm selecting my beef short ribs, I always try to look out for a couple of things. First, I try to make sure the marbling looks great. You want a decent amount of even marbling throughout the short ribs.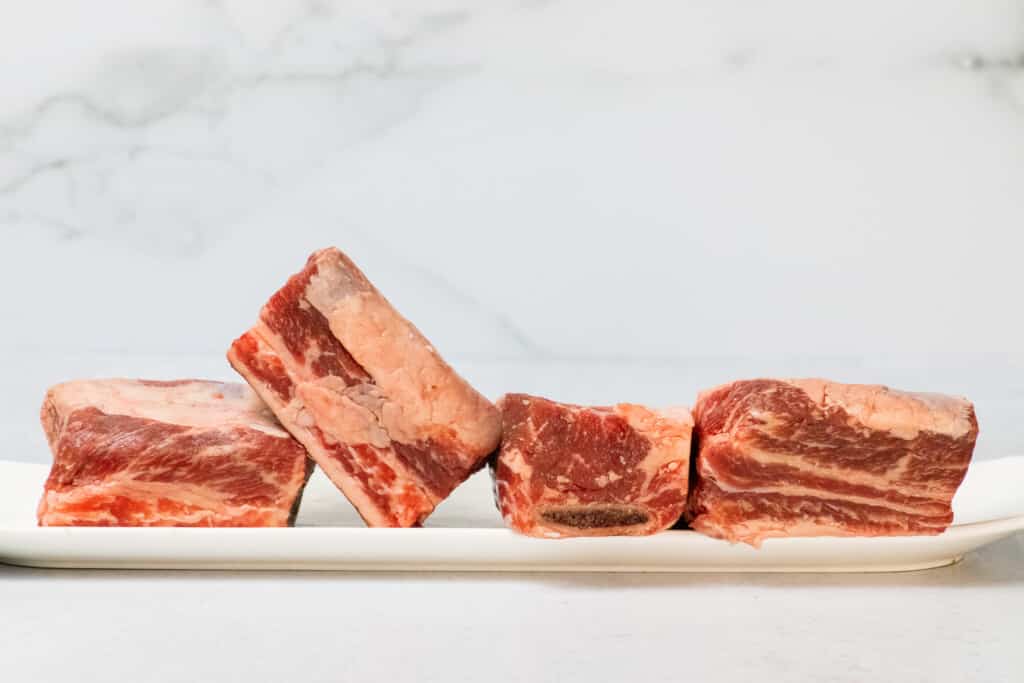 I also try to ensure that the meaty portion of the rub is nice and thick and firmly connected to the bone.
Third, I try to make sure that the short ribs are all close to the same size if possible so they cook evenly.
Getting your braised short ribs started
As with pretty much anything you cook, prep all of your ingredients before you start. Fortunately with this red wine braised short ribs recipe, there isn't a whole ton of prep work involved. The biggest thing you'll need to do is peel your garlic cloves (if you don't buy them by the pre-peeled bag like I do) and then rough chop your onions.
Season your short ribs generously. Cover each side with plenty of seasoning. I like to use Tony Chachere's for this. It's my go-to for pretty much everything. You can use your favorite beef rub, or any combination of salt, pepper, garlic and onion powder, and cayenne. Feel free to experiment and make your own!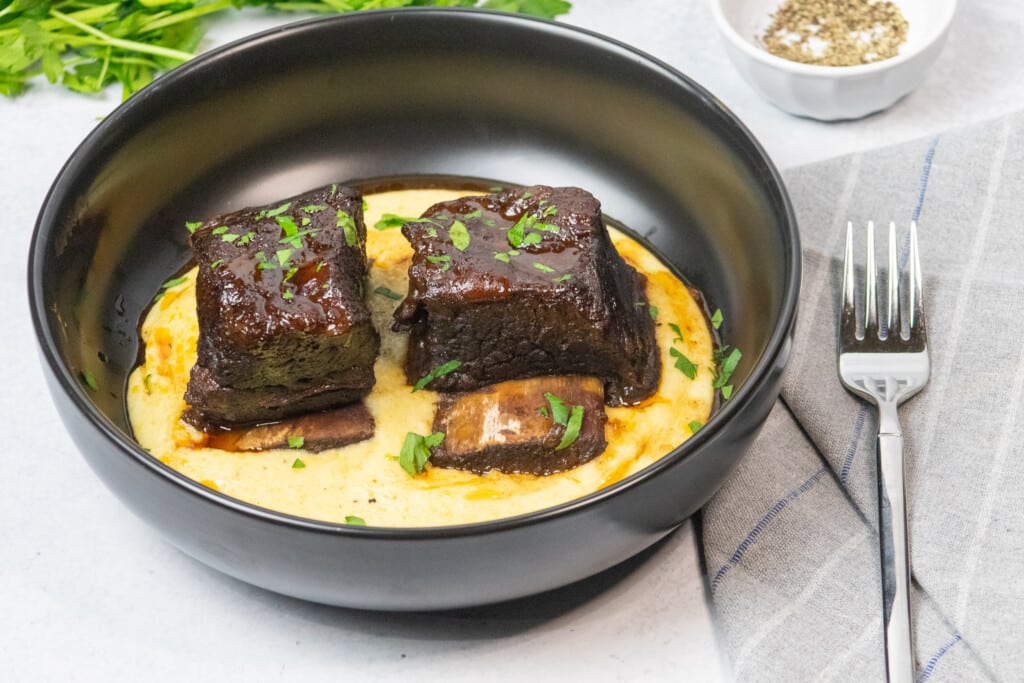 Once your ingredients are all measured and ready, heat the dutch over over medium high heat with a couple tablespoons of oil. Vegetable or canola are perfect for this. Searing meat in olive oil isn't ideal because it has a low smoke point.
When the oil is nice and hot, sear every side of your short ribs. Two minutes per side is generally enough to get a nice sear.
When you have seared all sides of the short ribs, remove them from the pan and set aside.
Leave the cooked on brown bits in the bottom of the pan. This is the good stuff we'll come back to later.
Add your onions, garlic, and a fingerful of salt and let the cook for about 3-4 minutes over medium/high heat.
Remember those brown bits I just talked about? Here we go. Make sure the pan stays nice and hot so we can deglaze. Take your wine and pour it over the onions and garlic. Use a wooden spoon or a firm spatula to scrape up all those bits off the bottom of the pot. There is so much flavorful gold here!
Let your wine boil lightly over medium heat for about 5-7 minutes until it reduces by about half.
Bonus: You only need a cup and a half of wine so make sure you use a kind you'll enjoy sipping as you wait for your short ribs to braise!
Braising your short ribs
After your wine has reduced for a handful of minutes, return the short ribs to the pot. I like to make sure I scooch the onions and garlic around so the short ribs sit on the bottom of the pot. The main reason for this is because I want the short ribs to sit lower in the pot so that you don't need as much beef broth.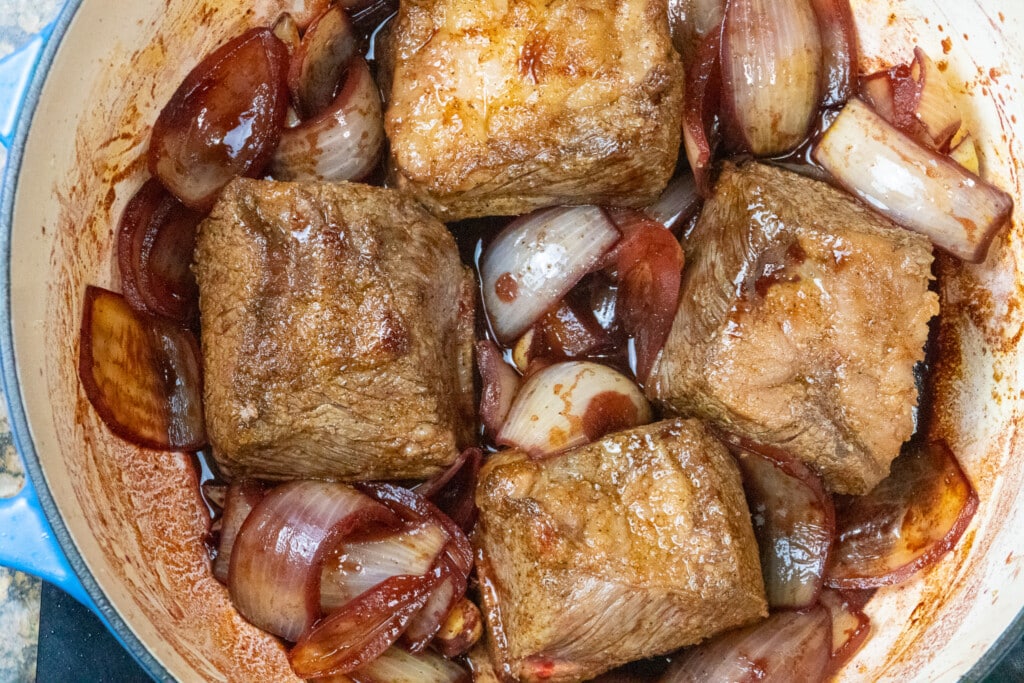 Pour in the beef broth. There should be just enough beef brother to barely cover the top, if that. It's also acceptable to put in enough broth to cover the sides and come just to the top without actually covering them.
Mix in the tomato paste and add your sprigs of thyme to the liquid. If you prefer, you can also sub rosemary if you prefer that, or use both.
The last thing you'll need to do for your braised short ribs is cover the pot and place in the oven preheated to 325F.
And now we wait! Let them braise for about 3 hours. There is no need to check on them or even open the oven. If you keep that heavy duty lid on, all that steamy moisture will stay in the pot and they'll get even more moist and tender.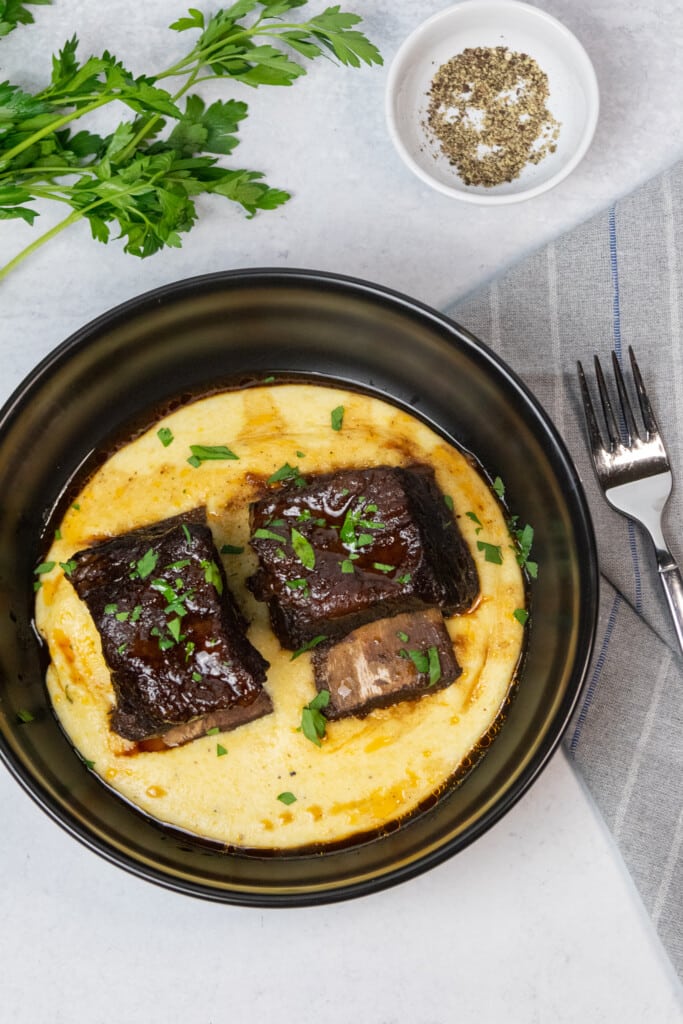 What to serve with your red wine braised short ribs
One of my favorite things to serve with any hearty, beefy dish is mashed potatoes. These Garlic and Thyme Mashed Potatoes are some of my favorite!
I served this batch of red wine braised short ribs polenta and it was delicious! This is quickly becoming one of my favorites. There is a bit of a learning curve and I haven't gotten it quite right yet, but I used this recipe for Creamy Polenta. Check it out! It compliments the wine braised short ribs wonderfully!
Whatever side you choose, make sure you drizzle some of that braising liquid over it! There is so much edlicious flavor there!
And that's pretty much it! They make take a while, but these wine braised short ribs are sooo easy and delicious! Let me know how they work out for you!
Enjoy!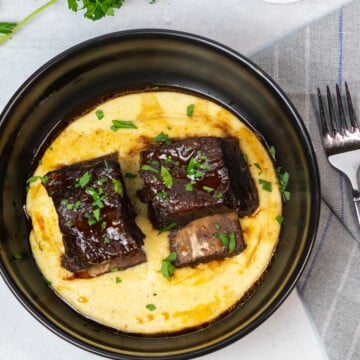 Braised Beef Short Ribs in Red Wine
Fall apart tender beef short ribs braised in red wine. A super easy and delicious one pot meal!
Print
Pin
Share on Facebook
Rate
Ingredients
2

lbs

short ribs

oil for searing

vegetable, canola (avoid olive oil)

1

medium white onion

1

bulb

garlic

about 10-15 cloves

4

cups

beef broth

2

tbsp

tomato paste

3-4

sprigs of fresh thyme

1.5

cups

red wine

your favorite beef rub

I like Tony Chachere's Creole Seasoning

salt/pepper
Instructions
Generously season all sides of your beef short ribs with Tony Chachere's (or whatever you like) and salt and pepper. Don't skimp!

In a heavy duty dutch oven (I love a good enamal cast iron), heat oil over medium-high heat.

Once the oil is hot, sear the short ribs on each side for about 2 minutes, or just until a good seared crust has formed.

Once all sides are seared, remove from pan and set aside. Add chopped onion and peeled garlic. Add a fingerful of salt. Saute for about 3-4 minutes. Note: It's ok if you have seasoning left over from the ribs sticking to the pot.

When garlic and onions are sweated out a bit, add red wine. The red wine will deglaze the pan releasing all those cooked on bits.

Let wine boil and reduce to about half it's original volume- about 5-7 minutes.

Add your seared short ribs back to the pan. Move around the garlic and onions so that you set the beef straight on the pan, rather than on the bed of onions/garlic.

Pour in beef broth until it reaches the top. They don't need to be completely covered, but the liquid should reach level with the top of the ribs. Add your fresh thyme to the liquid.

*You may not need all four cups depending on the size of your pan. Mine is about a 7 quart.*

Cover and put in preheated oven. Cook in oven for 3 hours. No need to check or open the lid. As long as you have a heavy duty pot/lid, all that liquidy goodness and steam will stay in the pot. Lifting the lid lets out all the heat and steam.

Remove from oven after 3 hours. CAREFULLY remove lid. It's HOT and it will pump out a lot of steam!

Serve over a bed of creamy polenta or mash potatoes. Drizzle some of the juice on top.
The sauce will be very thin, so if you want it thicker, make a tiny bit of cornstarch sludge (about 1 tsp cornstarch and water). Add to the pot and put back in the oven for about 10 minutes.