Looking for a delicious and easy way to cook southern style mustard greens? This mustard greens recipe made with sausage and bacon is perfect for a main dish served over rice, or with a side of cornbread.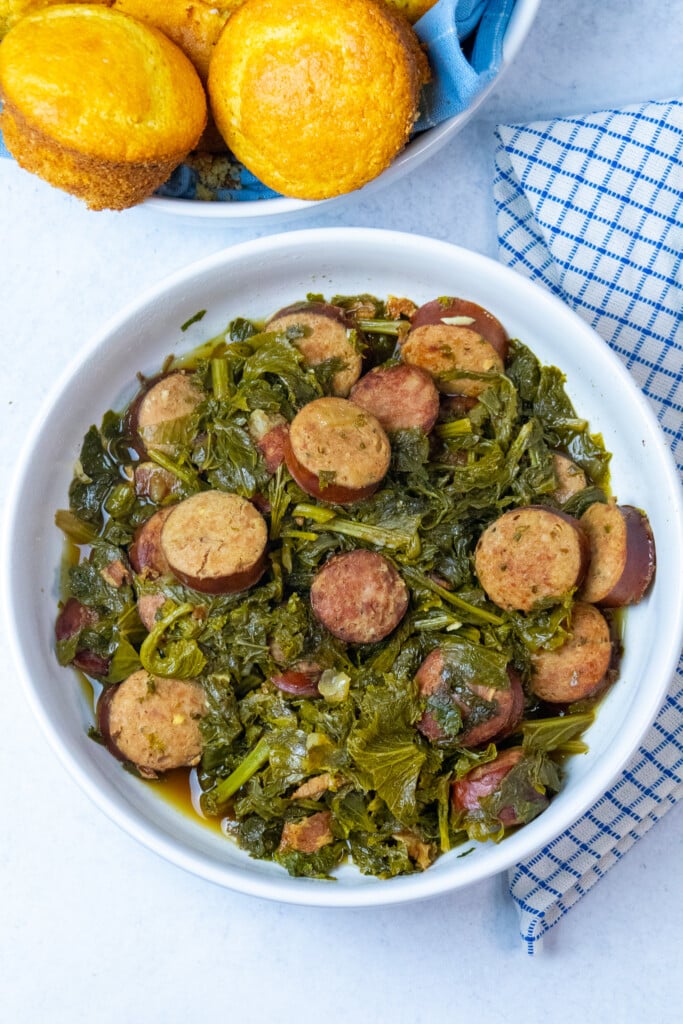 I've never been a huge fan of mustard greens. Or collared greens. Or any kind of greens. EVen though I grew up in the south, I never had a good experience with greens. I always associated greens with an overly bitter and unpleasant taste.
This mustard greens recipe completely changed my mind! This all started with my husband making these mustard greens for himself one night. I made something else for myself because I knew I would hate it. I realized how wrong I was when I kept requesting another bite of his dinner!
What is the difference in all the types of greens?
There are at least… a TON of different types of greens. Mustard, collards, turnips, They all have different flavor profiles, different uses, and different nutritional values.
One of the wonderful things about mustard greens is that they are packed with vitamins A, C, K and fiber. They can have a slightly more bitter taste than some other greens, but if you cook them down long enough, they mellow out a LOT.
Here is a great article on a few different types of greens and their uses.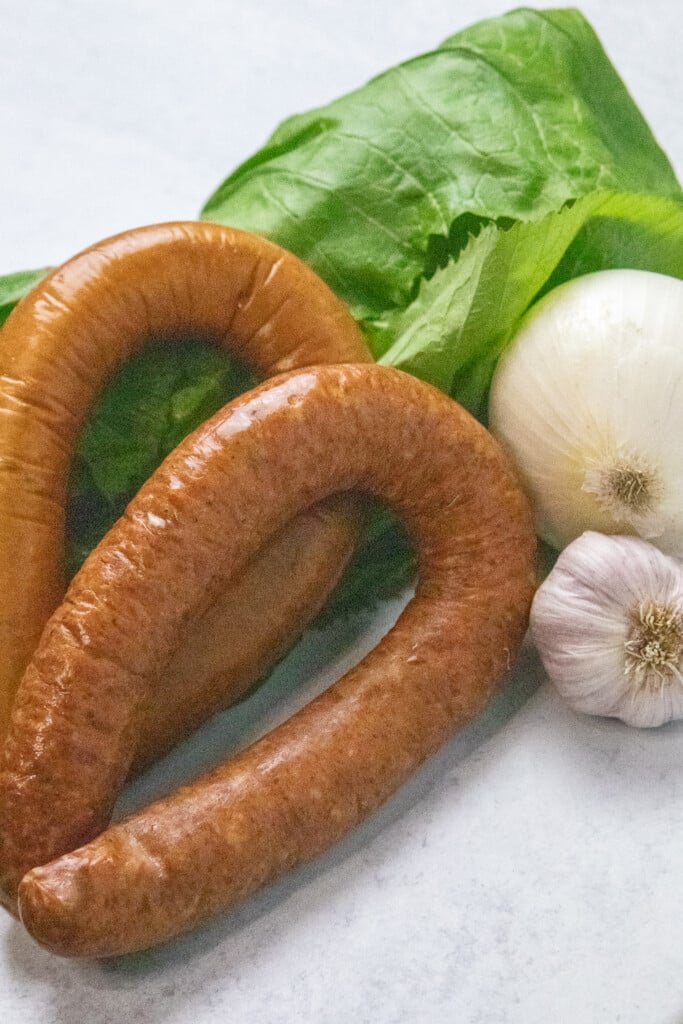 What do you need to cook this mustard greens recipe?
This mustard greens recipe only calls for a handful of basic ingredients!
To make this mustard greens recipe, you will need:
16 ounces of mustard greens: For this, it's easiest to get a bag of pre-chopped mustard greens. But of course, you can also grab a fresh bundle of greens. Make sure to pull out all of the big spines.
2 twelve ounce packs of smoked sausage: Use whatever kind you like! I love the Holmes Smokehouse brand sausage, or generally any king of spicy jalapeño sausage.
2 strips of bacon: again, use whatever kind you like! It doesn't have to be fancy. But I'm a HUGE fan of the Wright's Applewood smoked bacon.
½ white onion: White onions are great because their taste is nice and potent.
A whole heap of garlic: Like, at least 10 cloves, sliced.
1 quart of chicken stock
creole/cajun seasoning: My go-to is always Tony Chachere's (paid link).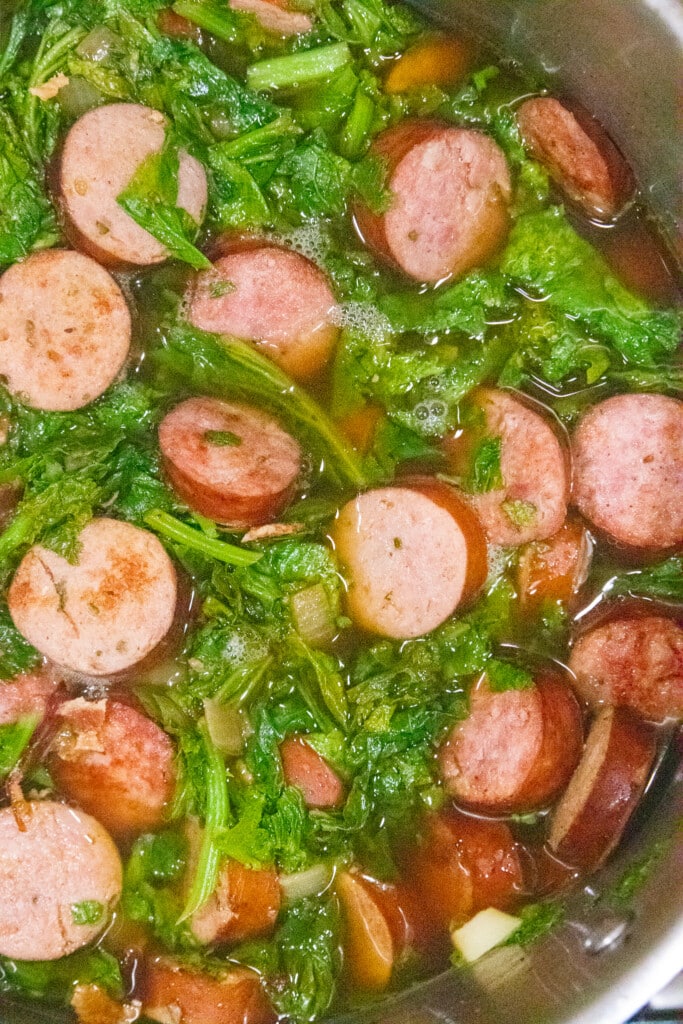 How do you cook mustard greens?
In addition to this mustard greens recipe not calling for many ingredients, it's also very eay to make, and only requires one pot! Who doesn't love a good one-pot meal?
Start with preparing your ingredients, always! Remove large spines from the mustard greens, slice your sausage into rounds about ¾ inch wide, dice your onions, slice your garlic, measure out the stock.
Over medium heat, cook your bacon until it's crispy and all the fat has rendered out. Remove the bacon.
In the bacon fat, cook your sausage until there is a light sear on each side. Remove and set aside.
Saute the onions in the bacon/sausage fat for a few minutes. Then add garlic. Add a generous ginferfl of salt. Sate for just a couple minutes, until everything is tender. Note: You always want to start with the onions before adding the garlic. The garlic is tender and burns easily.
Add mustard greens, sausage, chicken stock, crumbled bacon, and cajun seasoning. Bring to a light boil.
Reduce to a simmer and let cook for at least 30 minutes. You can go longer if you like.
Make sure you taste your mustard greens occasionally so that you can adjust the spice as you go.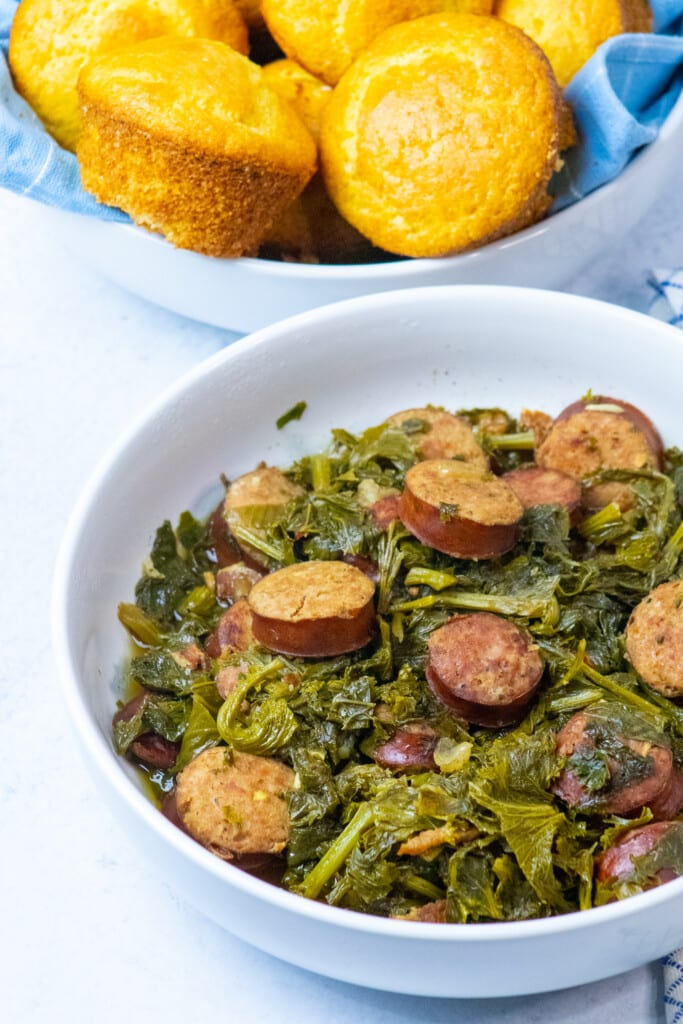 What can I serve with mustard greens?
This mustard greens recipe is perfectly delicious on its own as a main dish! One of my favorite ways to serve it is with a side of cornbread. Regular ol' cornbread is great, but if you want to zsuzh it up a little bit, try our Cheesy Chorizo Stuffed Corn Muffins!
These mustard greens are also delicious served on a bed of rice!
But, if you want, these greens can certainly be treated as a side as well!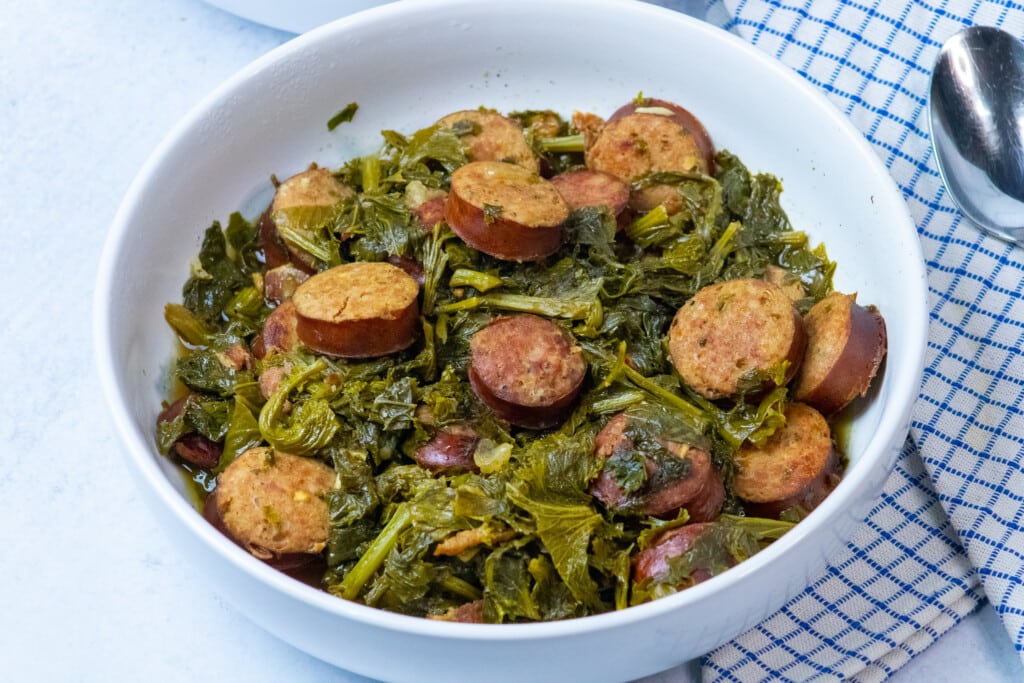 And that's pretty much it! One of our go-to one pot meals that is super easy, healthy, and delicious!
Enjoy!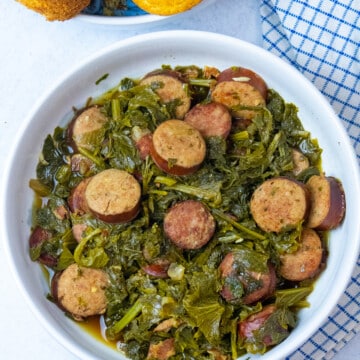 Southern Mustard Greens with Sausage and Bacon
Spicy and flavorful mustard greens with seared sausage, served best with cornbread and/or rice, or as a delicious side dish!
Print
Pin
Share on Facebook
Rate
Ingredients
16

oz

mustard greens

Pre chopped in a bag is fine

2

packs

sausage (each pack should be about 12 ounces)

We like jalapeno sausage

2

strips

bacon

We love the fatty thick cut applewood bacon

½

medium white onion, diced

10

cloves

garlic, sliced.

1

quart

chicken stock.

salt and pepper

2

tsp

cajun/ creole seasoning

We use Tony Chachere's
Instructions
In a medium stockpot over medium heat, cook bacon until all the fat is rendered out and the bacon is crispy.

Slice sausage into rounds about ¾ in rounds. lightly sear in pan. Remove and set aside.

Saute onions for about 3 minutes. Add garlic and cook for another 2. Add a fingerful of salt.

Add greens and cooked sausage to pot. Stir in chicken stock and cajun seasoning. Crumble bacon and return to pot. Bring to a light boil.

Reduce to a simmer and let simmer for at least 30 minutes. Stir and taste occasionally. Adjust spice level as needed.

After about 30 minutes or so, once you are happy with the spice level and all the flavors have melded together, serve and enjoy! This tastes great on it's own, with a side of cornbread, or served over rice.