I love eggs. LOVE them. Fried, poached, boiled, in tuna salad, stir fry, egg salad- you name it! I could probably eat them for every meal if I could. Deviled eggs are easily one of my favorite ways to make eggs. They are perfect as an hors d'oeuvres, snacks, or as part of a whole meal. Deviled eggs are also incredibly versatile. You can get really creative with how you want to dress them up. I grew up eating deviled eggs the traditional way- Mayonnaise, Mustard, and pickle relish. Maybe a little garnish of paprika. As much as I love them prepared that way, I do like them with a biiiiit more kick! So I decided to make some Cajun Spiced Deviled Eggs, and man are the DELICIOUS!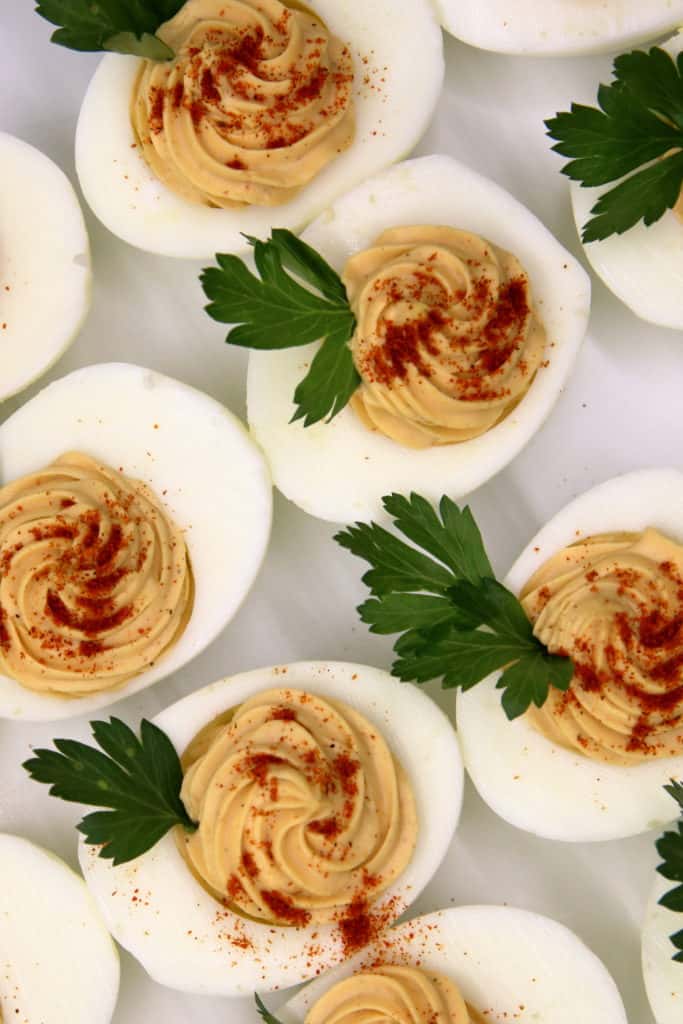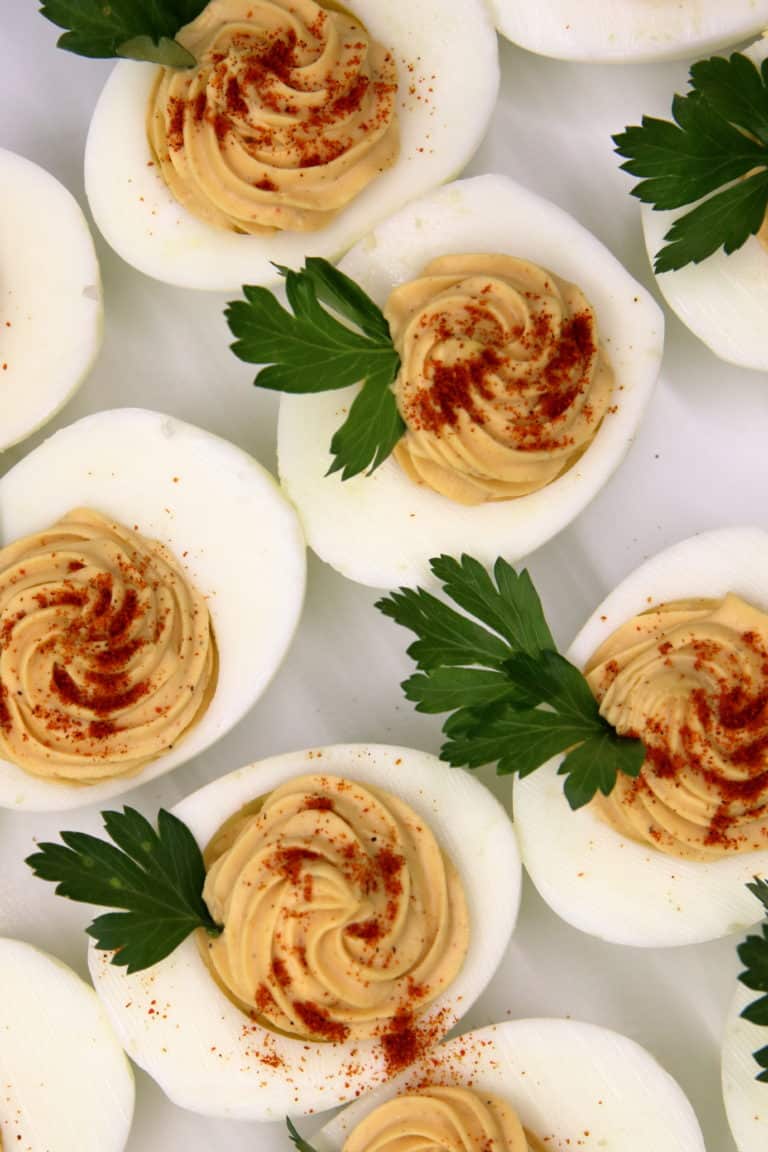 One great thing about these Cajun Spiced Deviled Eggs is you don't need any fancy tools or appliances. I did use my ninja food processor to blend the yolks with the other ingredients and a piping bag and tip to fill them, but you can absolutely just *smash smash smash* with a fork and scrape it in with a spoon!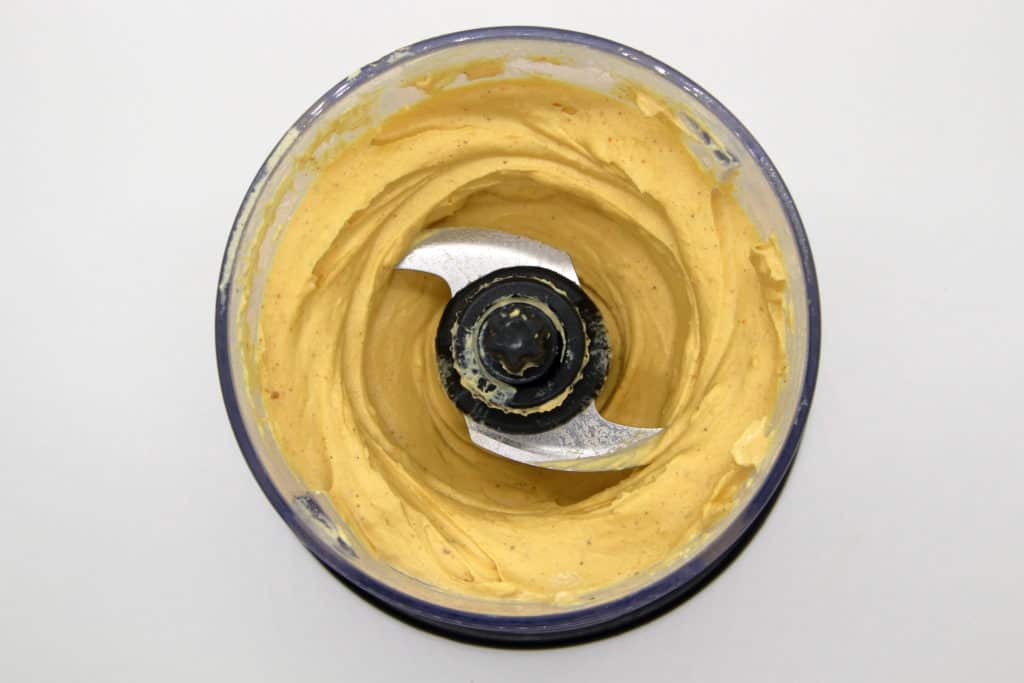 One important tip: when you are boiling your eggs, put about a teaspoon of baking soda in the water. They will peel SO MUCH EASIER. I always get SO annoyed when I'm trying to peel eggs and the shells just won't come off and the eggs end up looking like they've been dropped in the garbage disposal! I mean, they still taste fine, but presentation is important!
Cajun Spicing the Deviled Eggs
If I've said it once, I've said it a thousand times: I can't live without Tony Chachere's creole seasoning. I buy the biggest jar I can find and it still doesn't last very long. But allow me to introduce you to another one of my favorite things: Remoulade sauce!
Now, I normally use remoulade sauce for fried fish and shrimp. It's also delicious with hushpuppies, fried clams, and crab cakes. You can read the full ingredients from the link above, but one of the things that gives it the tastiest kick is the horseradish. It's not overpowering at all. It's loaded with TONS of herbs and spices. When I was putting these eggs together I thought, "I wonder what remoulade sauce would taste like in the deviled eggs?"
Spoiler alert: It was delicious.
I mean, duh. We wouldn't be talking about it if it wasn't.
To relish or not to relish?
I always feel like relish in deviled eggs is polarizing. People are normally squarely set us in the firm yes or hard no corner. Personally, I'm a no. I just don't like the texture . For me, creamy is the way to go (I did get a tiiiiiny bit of texture from that little sprig of parsley and it was delightful)! I DO however, like the flavor of the pickles. So I just add a little of the dill pickle juice for the flavor. Love relish? Go ahead! There are no rules here.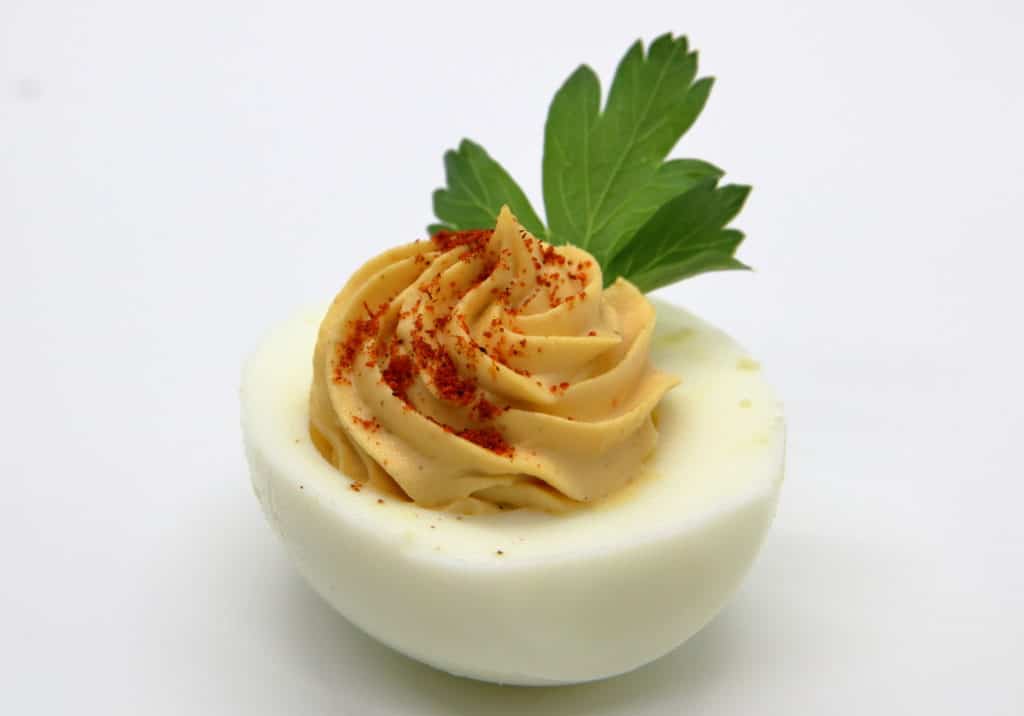 Now as always, you can use more or less of any of these ingredients you like (or don't like!). I rarely actually measure things out when I do deviled eggs- I just add things until I think it tastes good. But feel free to experiment with the amounts to get more or less kick, depending on how much spice level you like. I think this was a pretty good ratio.
That's pretty much it! Not really a whole lot to it! Easy, straight forward, and yummy! Now whip up a batch and bring them to your next pot luck (or just keep them all for yourself)!
Enjoy!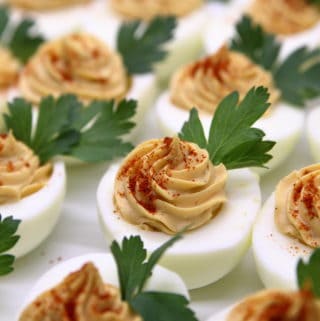 Cajun Spiced Deviled Eggs
Put a little flare on deviled eggs with some cajun spice and remoulade sauce. Traditional, but with a little kick!
Print
Pin
Share on Facebook
Rate
Servings:
24
deviled eggs
Ingredients
12

hard boiled eggs

3

tbsp

mayonnaise

3

tbsp

dijon mustard

2

tbsp

remoulade sauce

2

tsp

dill pickle juice

1

tsp

Tony Chachere's Bold Seasoning

¼

tsp

chipotle chili pepper

paprika and parsley

for garnish
Instructions
Hard boil a dozen eggs. Add a teaspoon of baking soda to the water so they will peel easier.

After the eggs are boiled and peeled, cut them in half lengthwise and remove yolks.

Put eggs yolks, mayo, dijon mustard, remoulade sauce, Tony's, and chipotle chili pepper into a medium bowl and smash them up a little.

Put the smashed eggs yolks into a food processor and continue to blend until smooth.

Using a piping bag and tip of choice, pipe into the eggs halves. If you don't have any piping bags, you can just spoon the yolk mixture in.

Sprinkle with paprika and garnish with parsley, if desired.
Need some more side dishes? Try this Honey Sriracha Roasted Broccoli or this Oven Baked Spaghetti Squash!