Cheddar and cream cheese onion dip is a perfect, easy dip recipe when you need something quick and delicious! It's a perfect last minute party dip that can be thrown together in a hurry! There are a ton of different dip recipes with cream cheese, but this one is one of my favorites.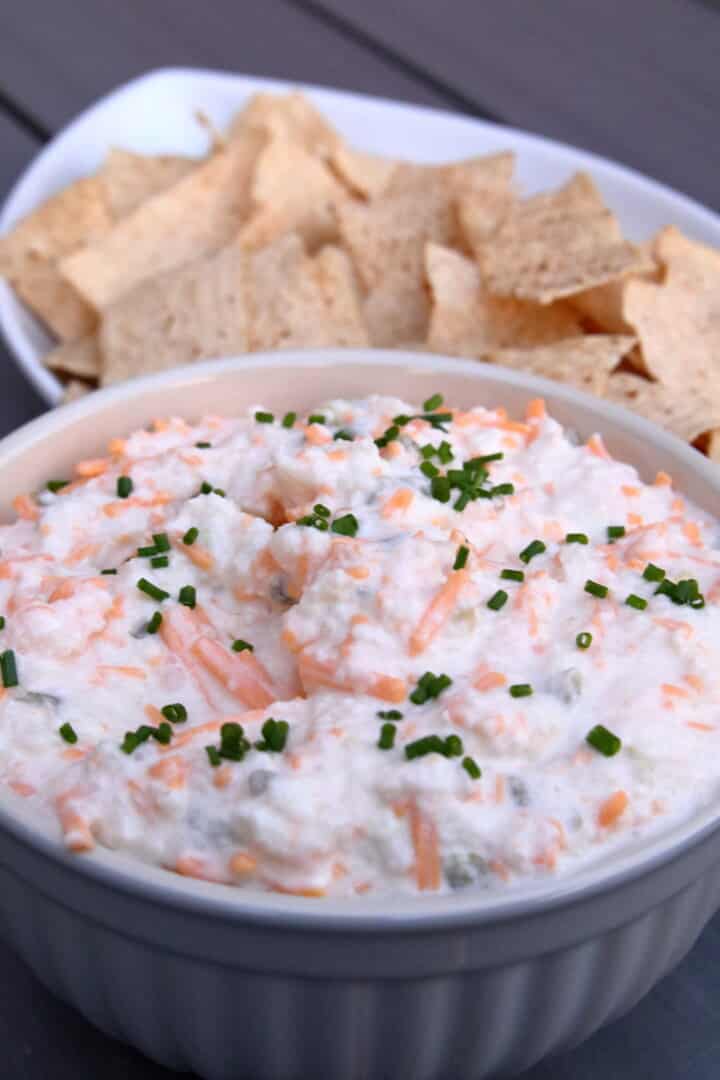 I honestly can't take credit for this. This is straight out of my sister's arsenal of dip recipes, and man, it's delicious. But I will warn you up front. The first time she made this for me I said "wait, you put what in it?" I do like all of the things that make this dip, but all combined in a bowl just sounds like something I would not enjoy.
And can I be really honest? It looks gross. It really does.
But now that I've told you it sounds gross and looks gross.. dig in right?!
It really is one of my favorite dips ever. But you'll either love it or hate it. The flavors aren't for everybody, and that's fine.
The flavors are bold and very specific, and they kind of don't sound like they go together, but when you mix them all together, it's magic. And bonus: it's a cold party dip so you don't have to sorry about keeping it warm or reheating it.
The one tool you need for your onion dip
Now, this is a super fast and easy dip recipe with few ingredients, but you do need one tool to make it the best way.
A food processor.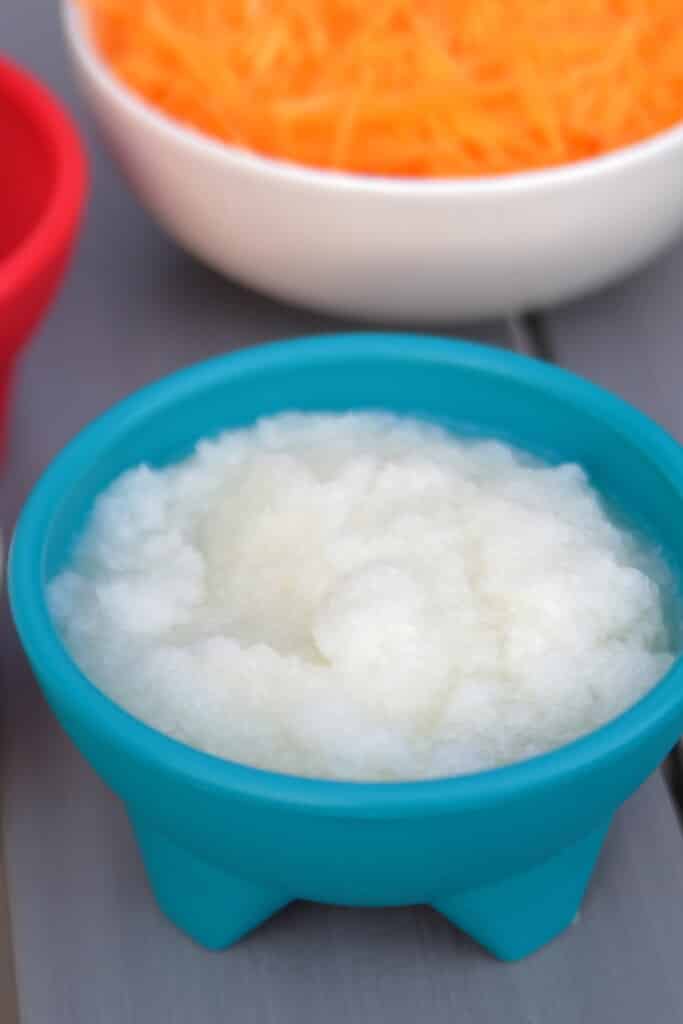 It's not enough to dice the onions. You REALLY need to blend the onions. Part of the delicious flavor of this onion dip recipe is getting all of that onion juice mixed in to the rest of the ingredients. There are lots of great food processors out there, but I love my Ninja Food processor (paid link).
I use it for SO many things. But for this onion dip, it's perfect because you don't want diced onion. You need blended onion. The food processor will take the onion and pulverize it into a juicy paste, and that's how you get that flavor throughout. It will create an oniony flavor without the crisp bite of a raw onion.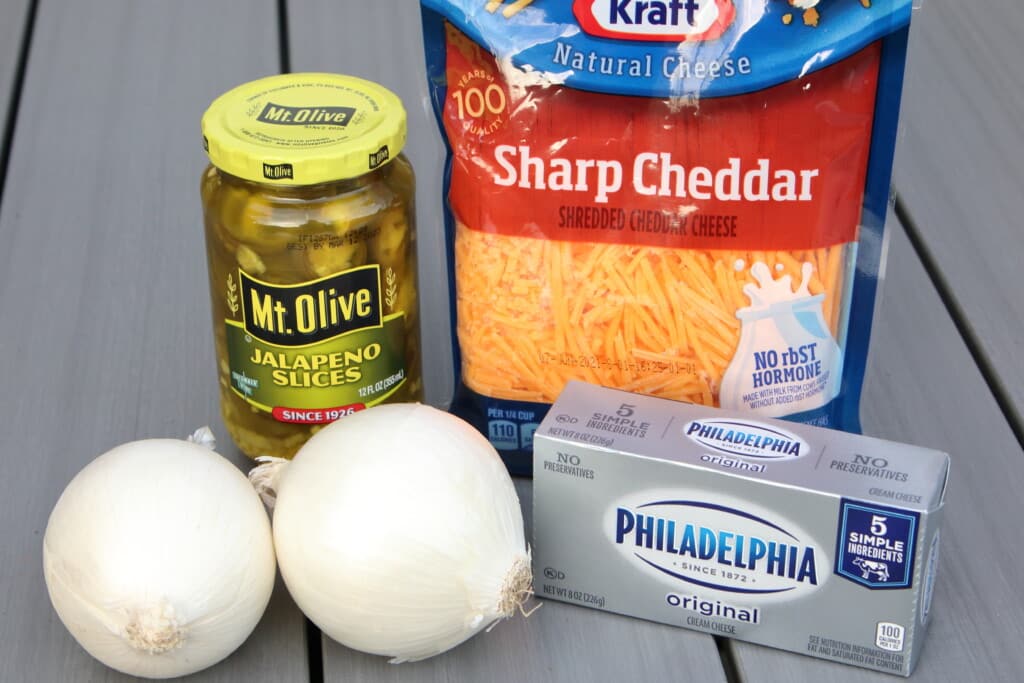 Putting it all together
This onion dip recipe really is super easy. Other than getting the onion blended just right, the rest is a piece of cake. You need:
the blended onion
cheddar cheese- normally when I cook I advocate for fresh shredded, but in this case, the bag of pre-shredded sharp cheddar is perfect.
cream cheese- softened so you can mix it well
diced pickled jalapeños- jarred jalapeños are best here. I used about a quarter cup but you can use as many as you like. Tip: Pour in some of the juice and it will really infuse some delicious flavor without making it super spicy.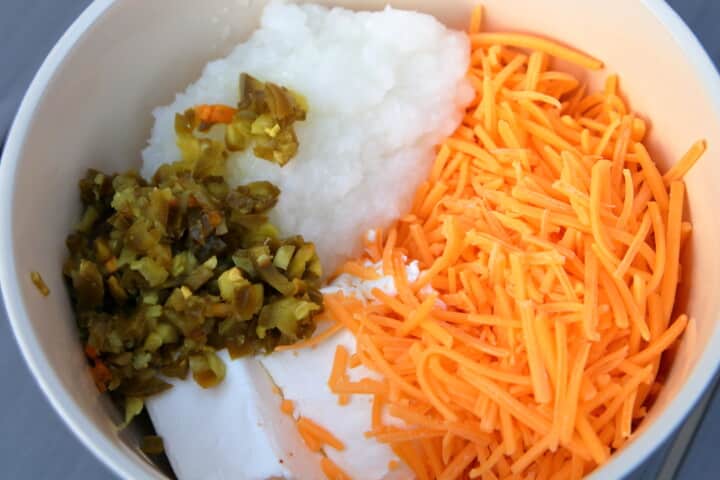 Put all of these ingredients in a bow and mix mix mix. At that point, it's done. But if you want to infuse just a little more flavor into your dip, let it sit in the refrigerator for about 30 minutes. It's not super necessary, but it does give it a little extra goodness.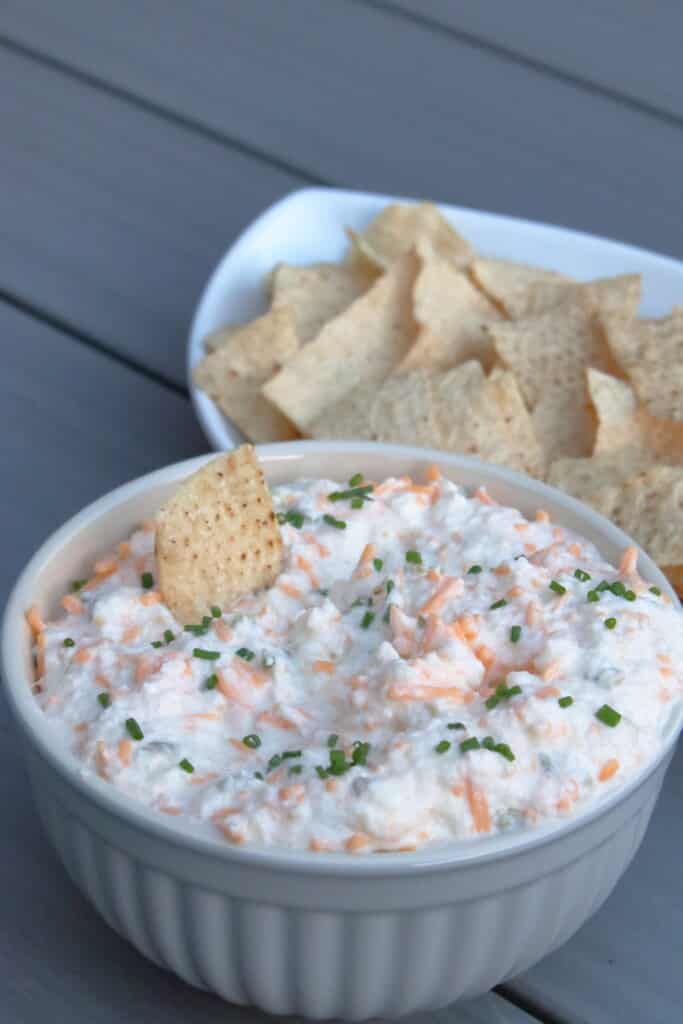 And that's pretty much it! Super easy, super delicious cheddar and cream cheese onion dip recipe with a few ingredients! Serve with your favorite tortilla chip!
Enjoy!
Prefer a warm party dip? Try this classic Creamy Spinach and Artichoke dip!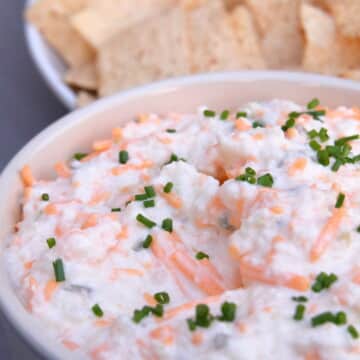 Cheddar and Cream Cheese Onion Dip
This four ingredient onion dip is a perfect, easy dip recipe when you need something quick and unique!
Print
Pin
Share on Facebook
Rate
Ingredients
8

ounces

plain cream cheese

(1 standard block)

8

ounces

pre-shredded sharp cheddar cheese

2

onions

2 small or 1 large

¼-1/2

cup

diced pickled jalapenos
Instructions
Chop onions into smaller pieces. Place in a high powered food processor and blend. You will basically turn the onion into onion paste.

Chop pickled jalapeños into small dices.

Mix onion, jalapeños, cheddar cheese, and cream cheese in a bowl.

Add more jalapeños for more spice if desired. Pour in some jalapeño juice from the jar for extra kick.

Serve with tortilla chips and enjoy!

Optional: Let sit in the refrigerator for 30 minutes or even make ahead the day before to really let those bold flavors mix well together!