This Cheesy BBQ Chicken with bacon and peppers is one of my favorite, simple chicken breast recipes for dinner. This chicken dinner is made with tender chicken breasts, sweet and spicy BBQ sauce, sautéed peppers and onions, and topped with melted cheese and crumbled bacon. It is one of my favorite, easy weeknight dinners.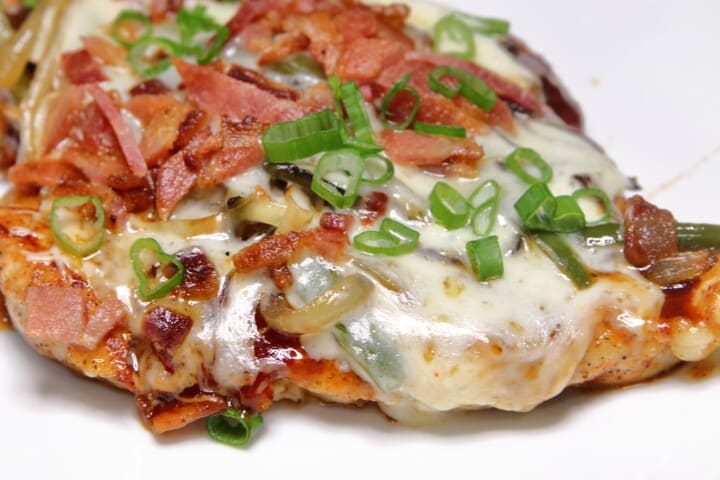 Like many people, I work a ton and I don't always have a lot of energy to devote to making a big dinner in the evening. On the flip side, I don't always want to grab fast food either. This simple chicken recipe is usually my go-to because it's made with ingredients that I pretty much always have.
What you'll need:
The ingredients list for this simple chicken recipe consists of pretty basic items that most people have at home or can acquire very easily:
Boneless, skinless, chicken breasts
shredded cheese, like cheddar or pepper jack
bacon (try cooking your bacon in the oven! Super easy!)
onions
jalapeno peppers
BBQ sauce
Salt, pepper, and other seasonings you love. I uses Tony Chachere's (paid link) of course.
The amount for each ingredient is pretty flexible. You can easily adjust according to your own tastes. The amounts that are listed in the recipe are what I used for one large chicken breast.
In addition to the basic ingredients, the prep work is fairly minimal, which is why this is such a simple chicken breast recipe. But let's talk about the one thing that does require some effort (until you get the hang of it).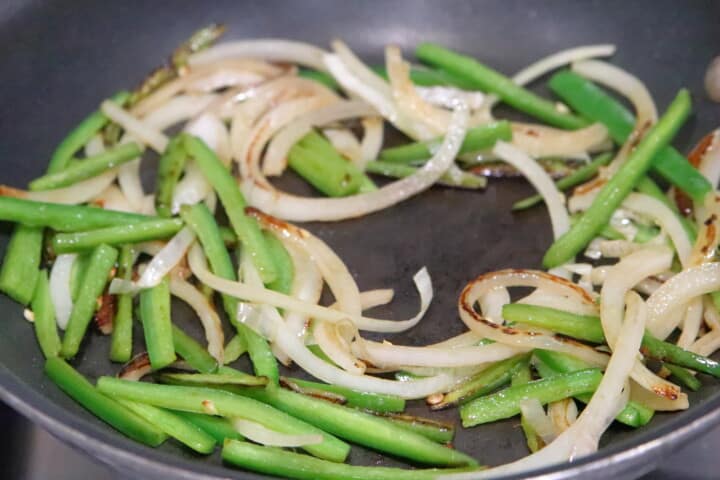 How do you cook tender chicken breasts?
You know, chicken breasts get a bad rep. They are known for being flavorless, tough, dry, and all kinds of other not nice words people use to describe food they don't like. The truth? Cooking a tender and juicy chicken breast is all in the prep.
Most of the time when you buy just plain ole boneless, skinless, chicken breasts, they come in a big flat pack of several. And they are HUGE. You can get the ones that are split, but they are usually so much more expensive!
The drawback to the big chicken breast is that they are no uniform thickness. They've got a big, thick side that taper off into a skinny little point. If you cook them how they are, they will most definitely cook unevenly and they'll most likely be tough.
Follow this simple step and you'll never look at chicken breasts the same again.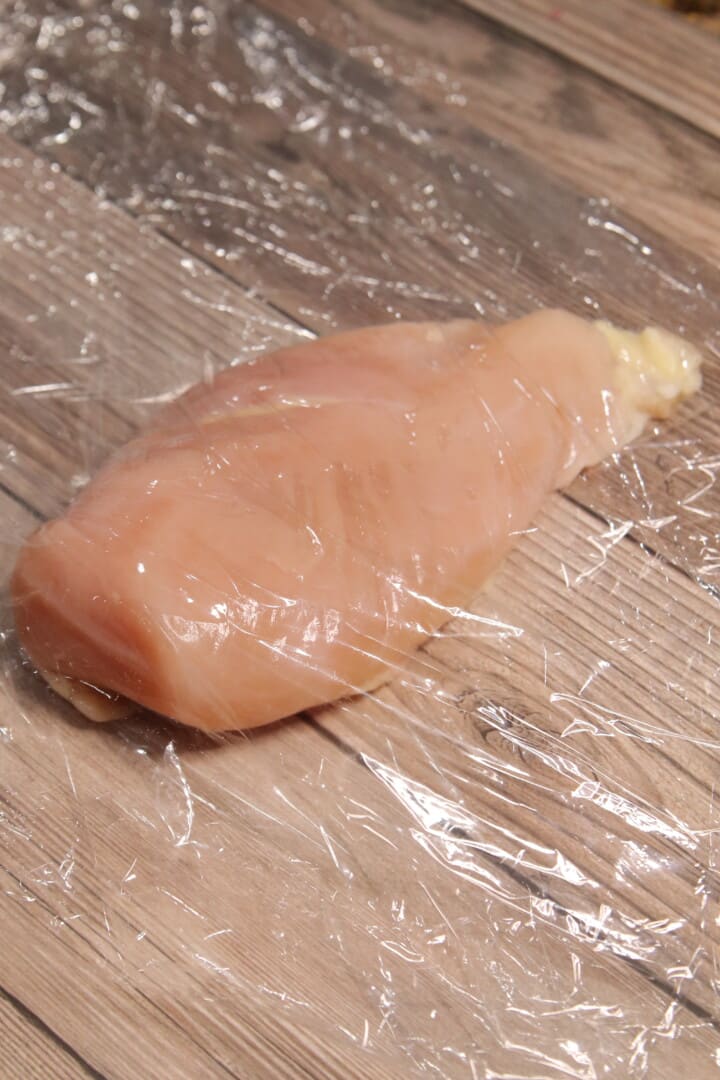 Say it with me: Meat Mallet.
I use my meat mallet (paid link), or meat tenderizer, for many things. But it does get the most use from tenderizing chicken.
I never cook chicken without using the meat tenderizer first, and this cheesy chicken is no exception. Not only does it tenderize the chicken to the point where you can literally cut it with a fork, it cooks the chicken evenly. No overdone, dry tips.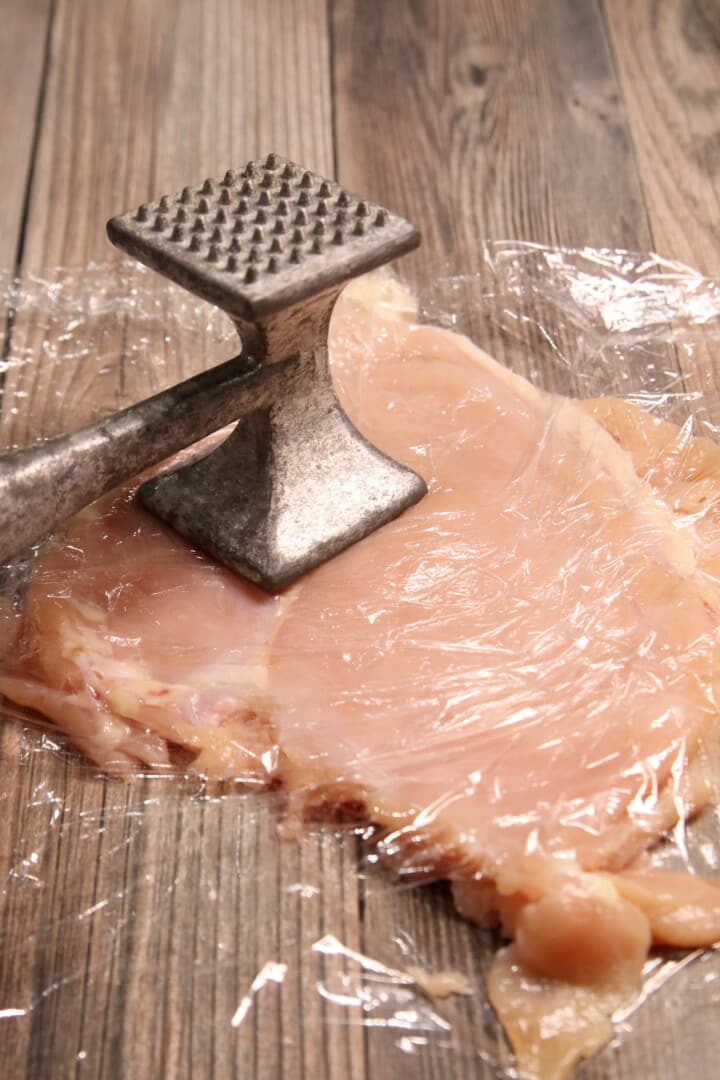 All you have to do is place your thawed chicken breasts in between to pieces of plastic wrap and get to hammerin'. Using the flat side of the mallet, hammer out the chicken until it is ¼-1/2 in thick and completely even. In many cases, the chicken will nearly double in size.
It will take a little force to hammer out the chicken, but be patient. Don't smash it TOO hard, or you'll start to tear it. Pound the chicken all around until the whole thing has been hammered out. After you hammer our the chicken with the meat tenderizer, it's time to season and cook! The rest is a breeze!
No meat mallet? I've actually successfully used a large spoon before. More time consuming, but it eventually works!
Finishing up!
Again, most of the work is in the prep. Slice the onions and peppers, cook the bacon, shred the cheese.
Heat some olive oil in a medium pan and sautee the peppers and onions. These don't need too much attention. Keep the pan nice and sizzly and give them a stir every few minutes. They'll get some nice char and soften right up. Let these cook for a little bit before cooking the chicken. They'll take about 10-15 minutes depending on how tender you want them.
In a large pan, heat some more olive oil to about 300F. Place your seasoned chicken in the pan and cook for about 5 minutes or so. Flip. Wait about a minute and then pile on your ingredients. Layer on the BBQ sauce (I LOVE the Stubb's Sweet Heat).
Then add your peppers and onions, then cheese (I use a pretty substantial handful for extra cheesy chicken) then bacon. Cover and and let melt.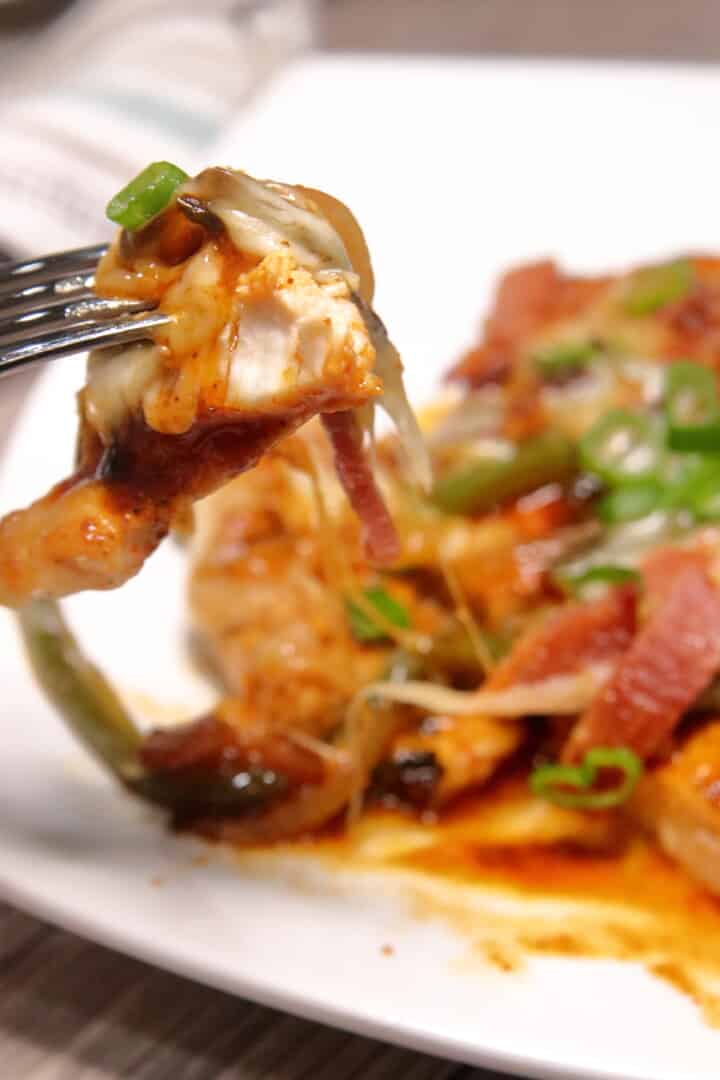 By the time the cheese is melted (about 3-4 minutes), the chicken will be cooked through. If you find that the cheese is being stubborn, add a little humidity to the pan by adding a tablespoon of water and covering. It will steam up and create a sauna to create that ooey-gooey cheesy chicken topping.
And that's pretty much it! One of the best, simple chicken breast recipes that I come back to time and time again. It's easy, it's cheesy, and it's so so good. Serve it up with some Honey Sriracha Roasted Broccoli.
Enjoy!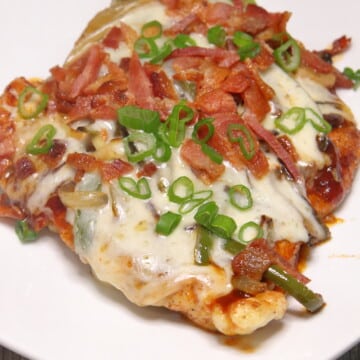 Cheesy BBQ Chicken with Bacon and Peppers
This Cheesy BBQ Chicken with bacon and peppers is one of my favorite, simple chicken breast recipes. It's made with tender chicken breasts, sweet and spicy BBW sauce, sautéed peppers and onions, and topped with melted cheese and bacon.
Print
Pin
Share on Facebook
Rate
Ingredients
½

lb

chicken breasts1

(see note below)

2-4

tsp

Tony Chachere's bold seasoning

½

small white onion, sliced.

2

fresh jalapeños, cored and sliced

2

tbsp

your favorite BBQ sauce

I LOVE Stubb's Sweet Heat

3-4

ounces

shredded cheese

Cheddar or pepper jack are great options

2

slices of bacon

3

tbsp

olive oil

salt and pepper
Instructions
Cook bacon and crumble. Set aside. You can cook it however you like. I love to cook it in the oven.

Shred cheese and set aside.

Place chicken breast in between two places of plastic wrap. Using the FLAT side of a meat mallet tenderizer, pound out the chicken until it is all one thickness, approximately ¼-1/2 inch thick, depending on the original size. The chicken breast will spread out substantially.

Season both sides with salt and Tony's Bold seasoning. Set aside for now.

In a medium, nonstick pan, heat 1 tablespoon olive oil over medium/high heat until oil is hot. Add sliced onions and jalapenos and saute for about 10-15 minutes or until soft. Stir frequently so they won't burn. After about 5 minutes or so, reduce heat to about medium. Add a sprinkle of salt.

Continue to monitor while you prepare the chicken. Stir frequently. The goal is for them to be soft and pliable with a night brown saute, but not black and burned.

In a large nonstick pan over medium heat, heat 2 tablespoons of olive oil. Heat until about 300°F.

Place chicken in pan. Cook for about 5-7 minutes depending on the thickness. Flip over. After about 2 minutes, spread the bbq on top of the chicken. Try not to let it spill over onto the pan. It's best if you keep the BBQ on top of the chicken as much as possible.

Add sauteed onions and pepper mixture. Distribute evenly. Pile on cheese and top with bacon.

Cover the pan with a lid and let the cheese melt. As the cheese melts, the chicken will continue to cook through. After about 3 minutes or so, the chicken should be done (again, depending on thickness. I pound mine pretty thin.

Tip: sometimes I feel like the cheese isn't melting well enough, so when the pan is nice and hot, I'll throw in about 1-2 tablespoons of water and cover immediately. Don't worry, it won't make things soupy. The water will sizzle immediately creating steam and melting the cheese if you cover it right away.

When the cheese is melted and the chicken is cooked through, remove from pan, serve, and enjoy!
I actually made this with one big 8 ounce breast but you can do 2 four ounce breast, or use whatever side you like. the ratios are easy to adjust here.