This Cheesy Chicken Enchilada Orzo Bowl is made with toasted orzo, tender chicken, corn, black beans, green chiles, and red sauce. Top it with sliced avocado, sour cream, cilantro, or anything else that you love!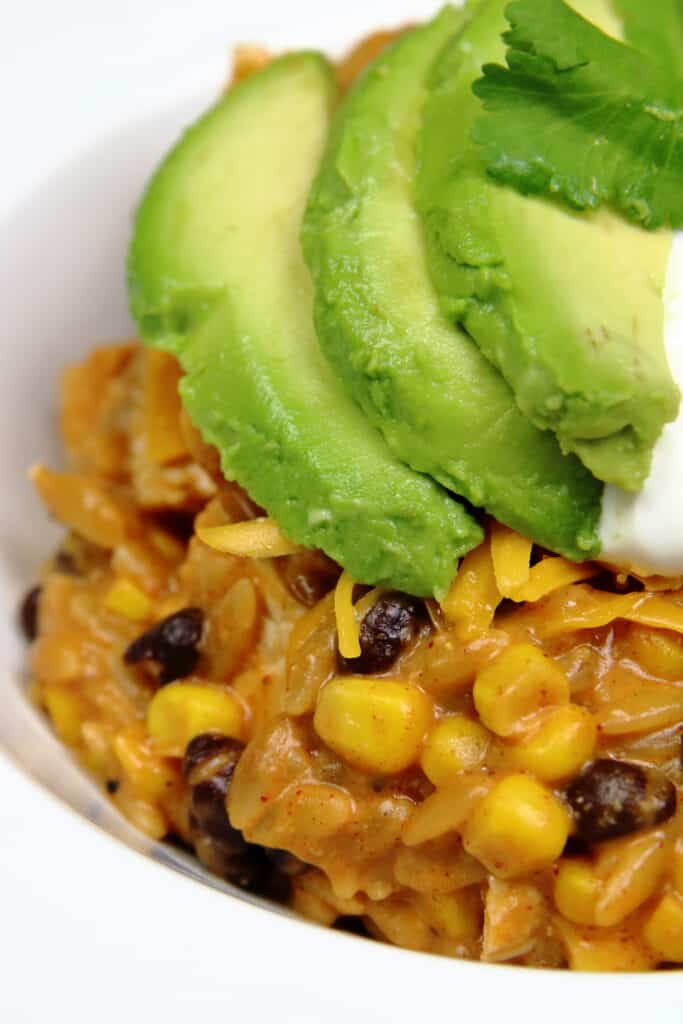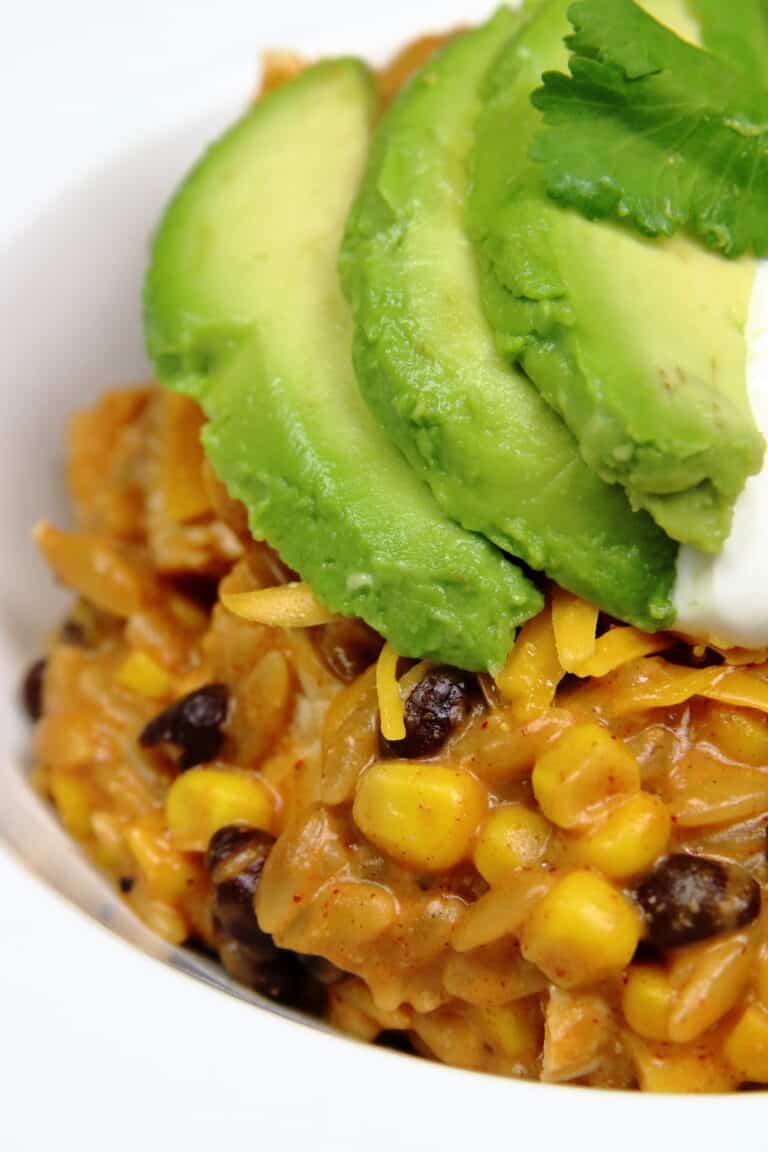 I'm fairly new to orzo recipes, but I'm LOVING them so far. I made a Creamy Spinach and Parmesan Orzo recently and it became such an instant favorite, I had to try another one.
First thing's first…
What is Orzo Pasta?
Orzo is a very small pasta that looks a lot like rice. To cook it, you boil it like any other pasta. It's great served in a variety of ways: soups, sides, casseroles, and pretty much any way you would serve rice. Like any other pasta, orzo doesn't have much flavor on its own, so you can really impart whatever flavor you like, which makes it PERFECT to use in a chicken enchilada bowl.
What do I need for this Chicken Enchilada Bowl?
The ingredients list for this chicken enchilada bowl is kind of long, but it is not at all complicated, and some of them can be altered or omitted based on your own personal tastes.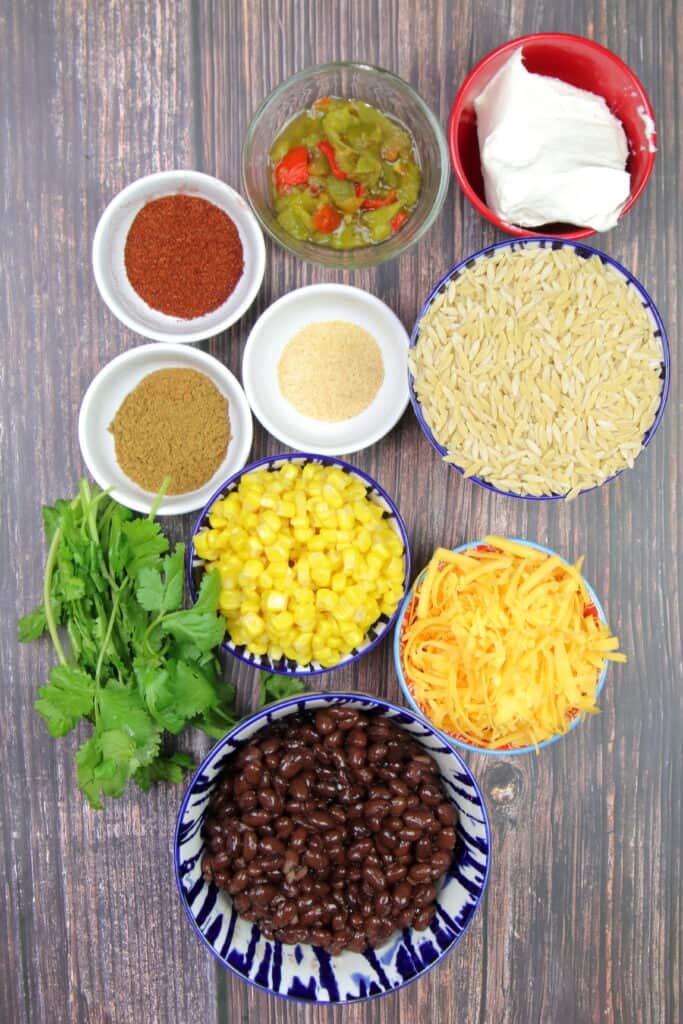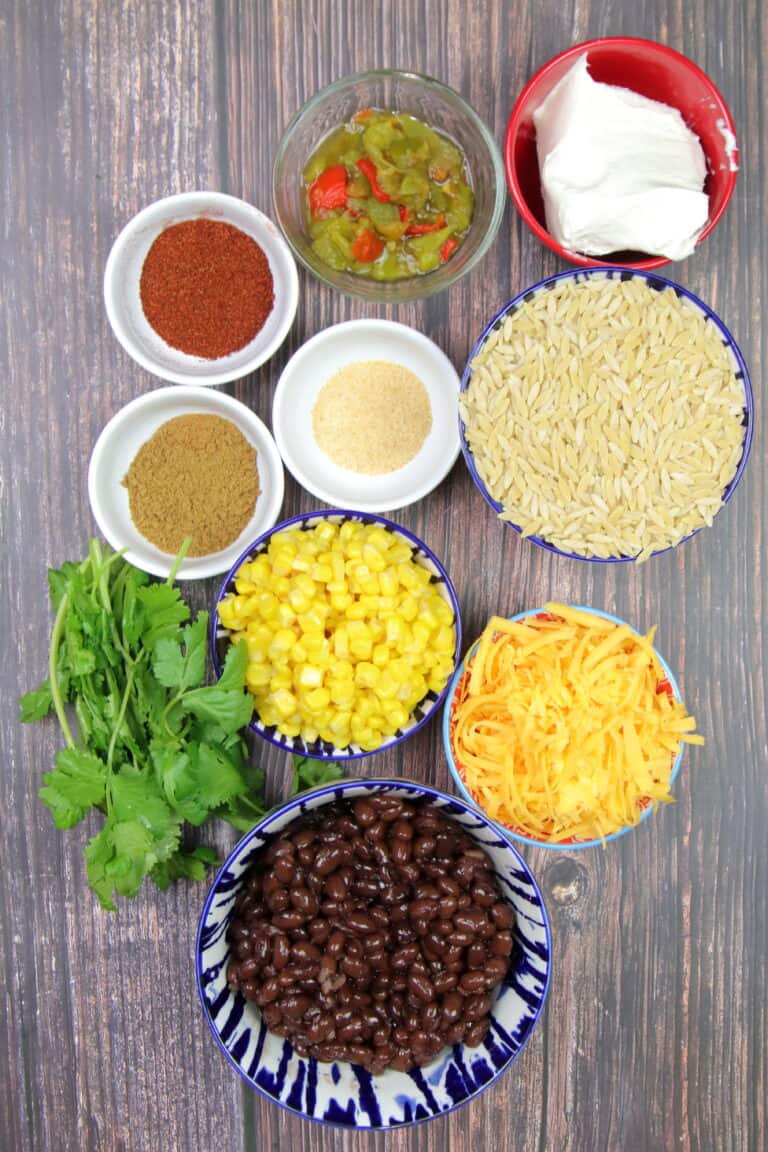 For your chicken enchilada bowl, you will need:
Chicken Breasts
Uncooked Orzo
Butter and Olive Oil
Cumin
Chili Powder
Garlic Powder
Cream Cheese
Shredded Cheddar
Sweet Corn
Canned Black Beans
Tomato Paste
Roasted Green Chiles
Garnishes if desired: Avocado, Cilantro, Sour Cream, Onion, Pico de Gallo
You can always adjust things like the chili powder and green chiles if you are sensitive to heat, but with the amounts I used, I really didn't find it too spicy at all, but as always adjust it to your tastes.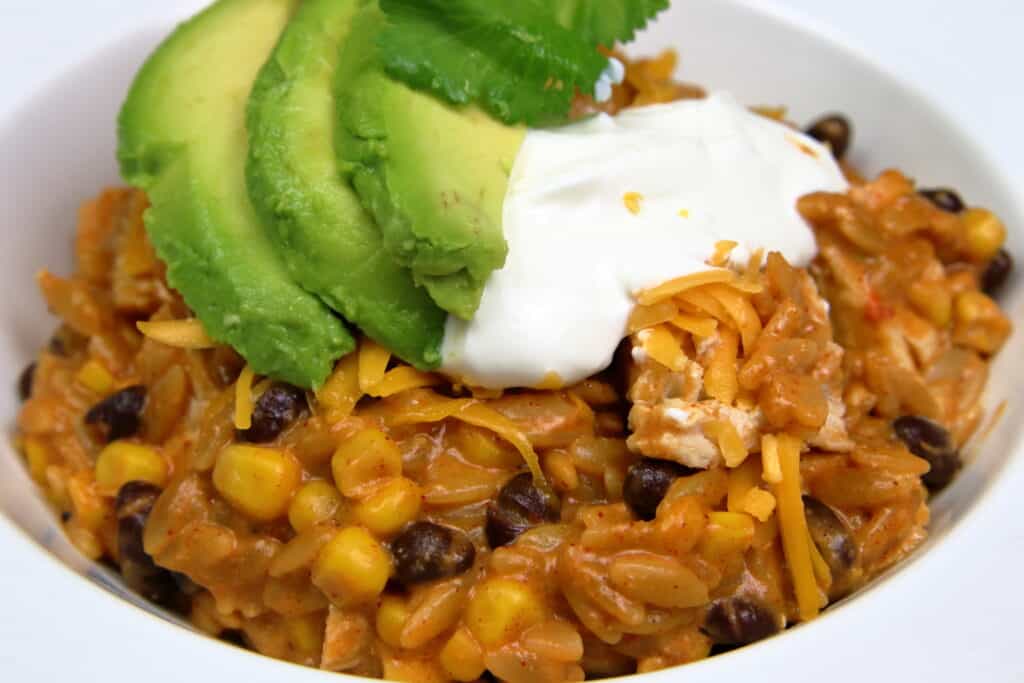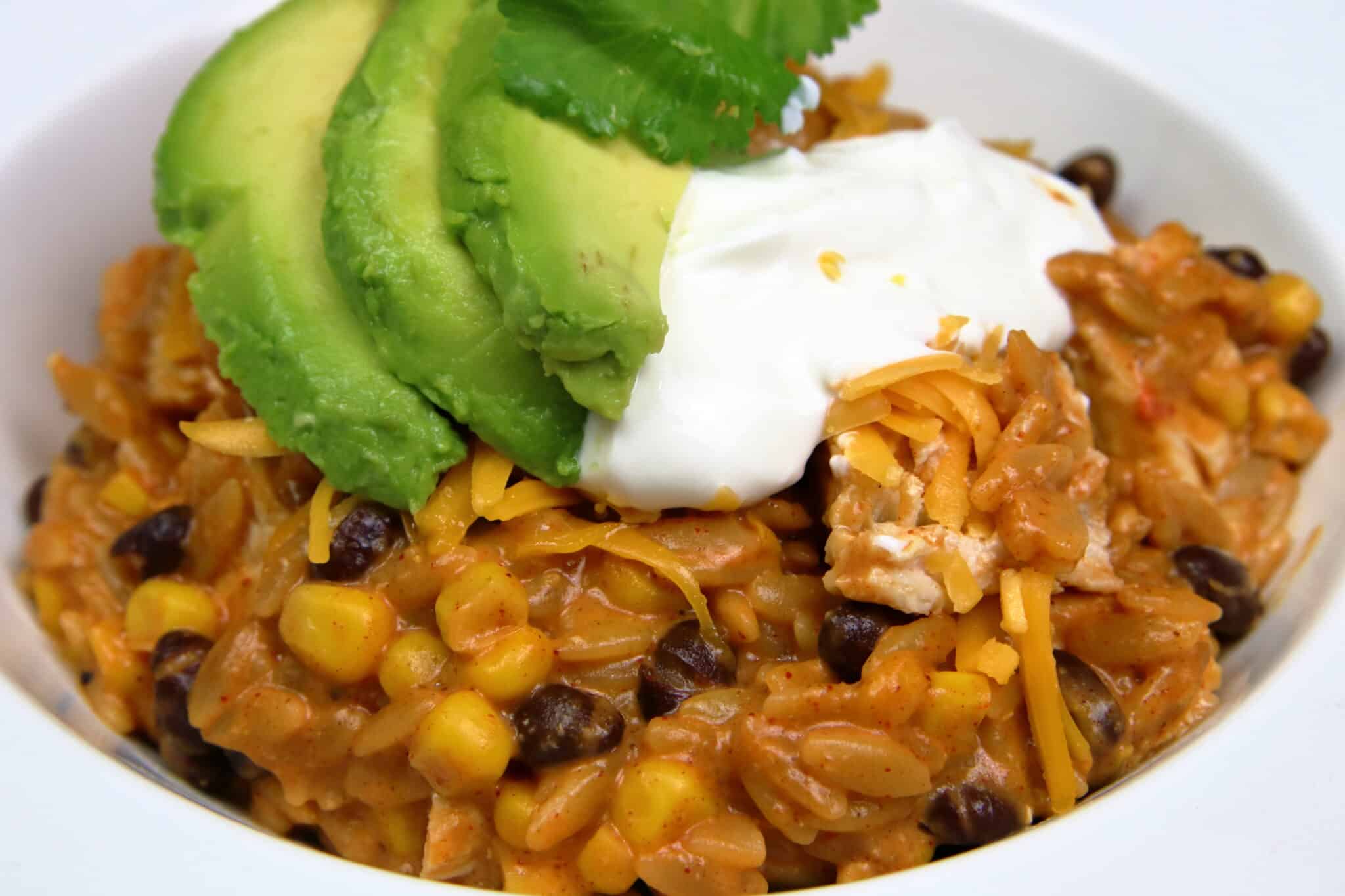 Do I have to take the time to hammer out the chicken?
I mean.. you don't HAVE to do anything, but I highly recommend it. I use my meat tenderizer (paid link) ALL. THE. TIME.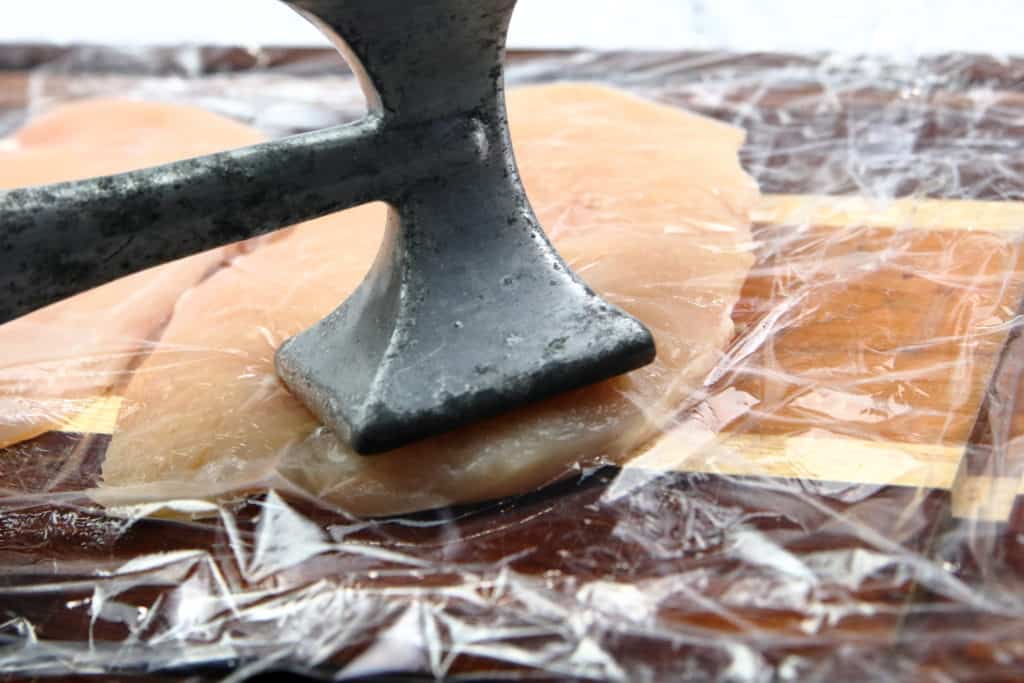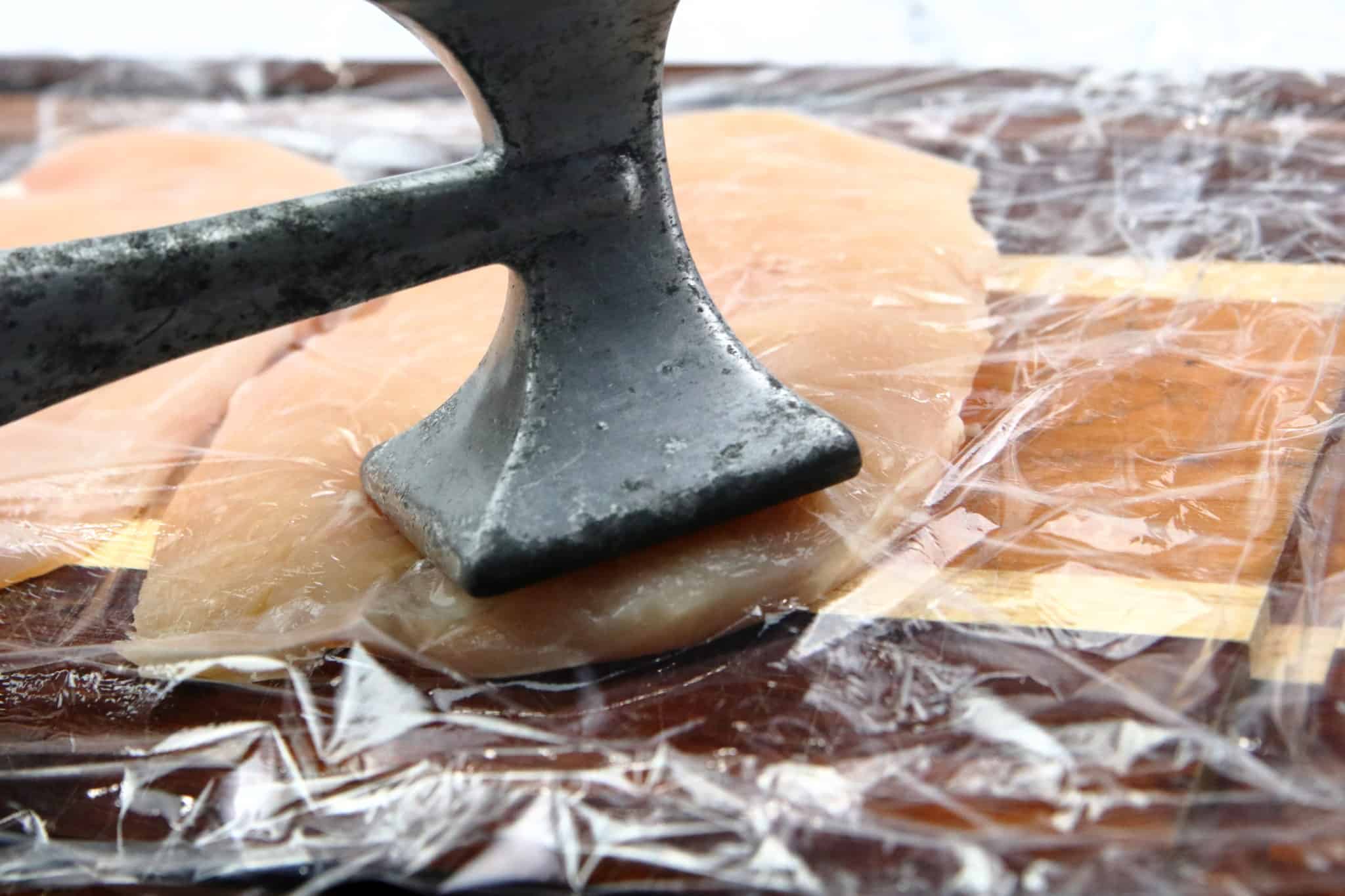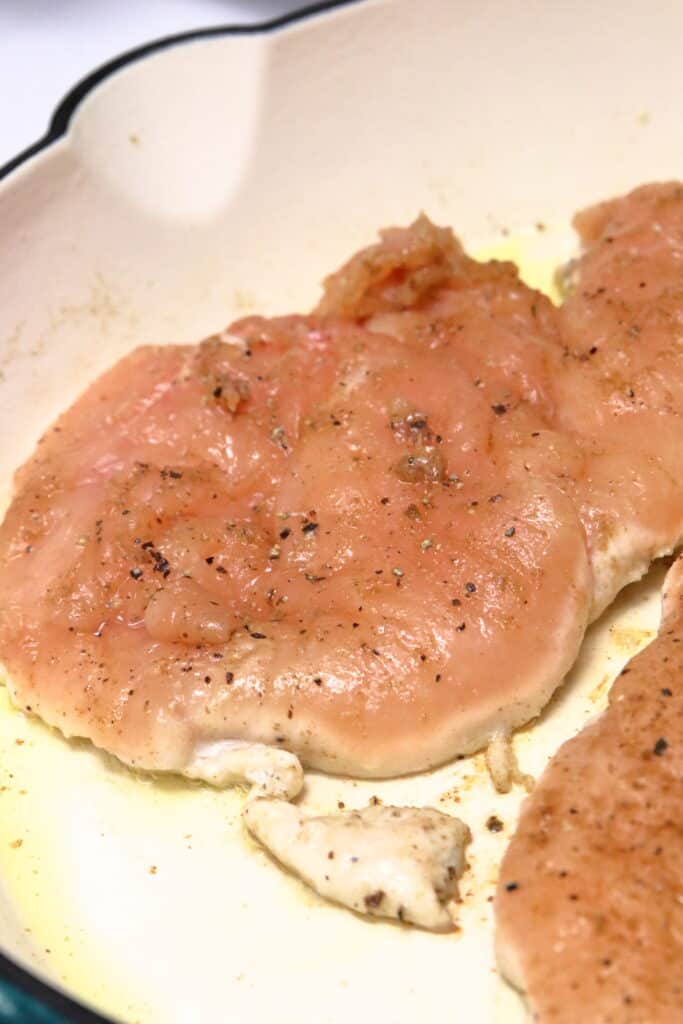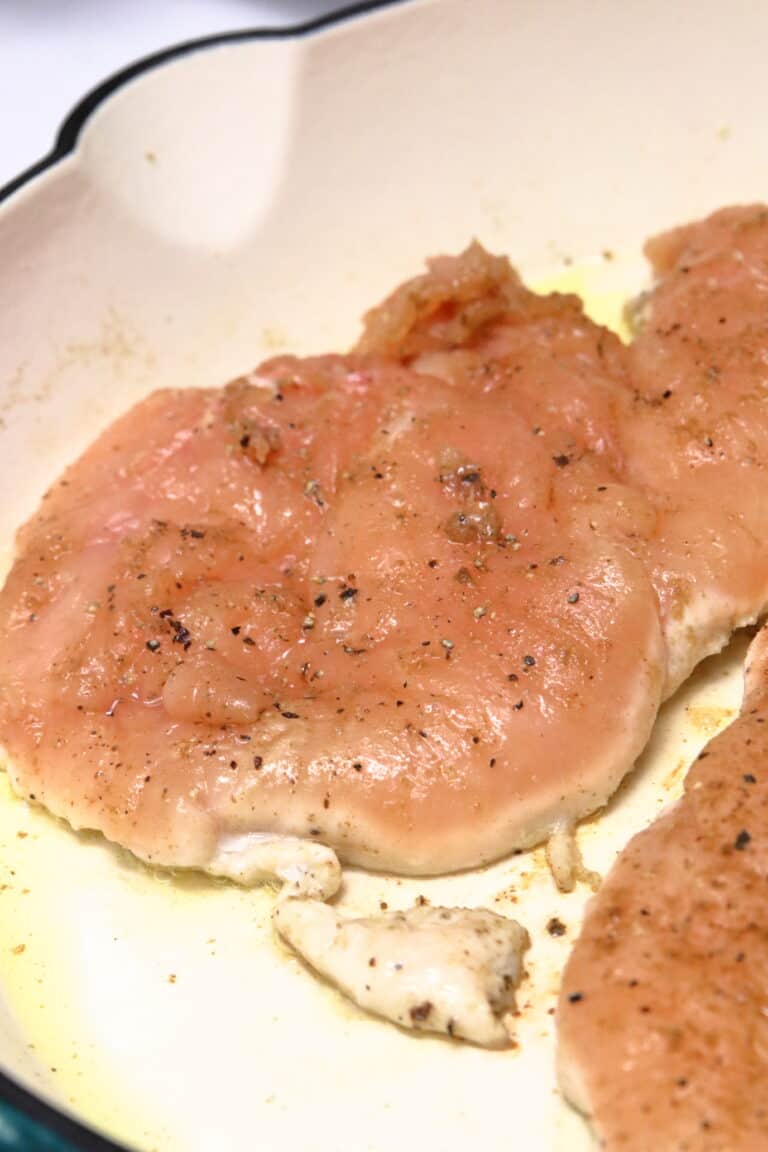 Since you are cutting it into cubes and mixing it in, it's a little less important than if you were just making a simple sautéed chicken breast for dinner. However, PART of the benefit of pounding out the chicken is that it cooks evenly. Chicken breasts are often very thick in the middle all the way to super thin at the end, and hammering it out will not only make each bite super tender, but it will cook hinder one end from overcooking and drying out while the rest is still raw.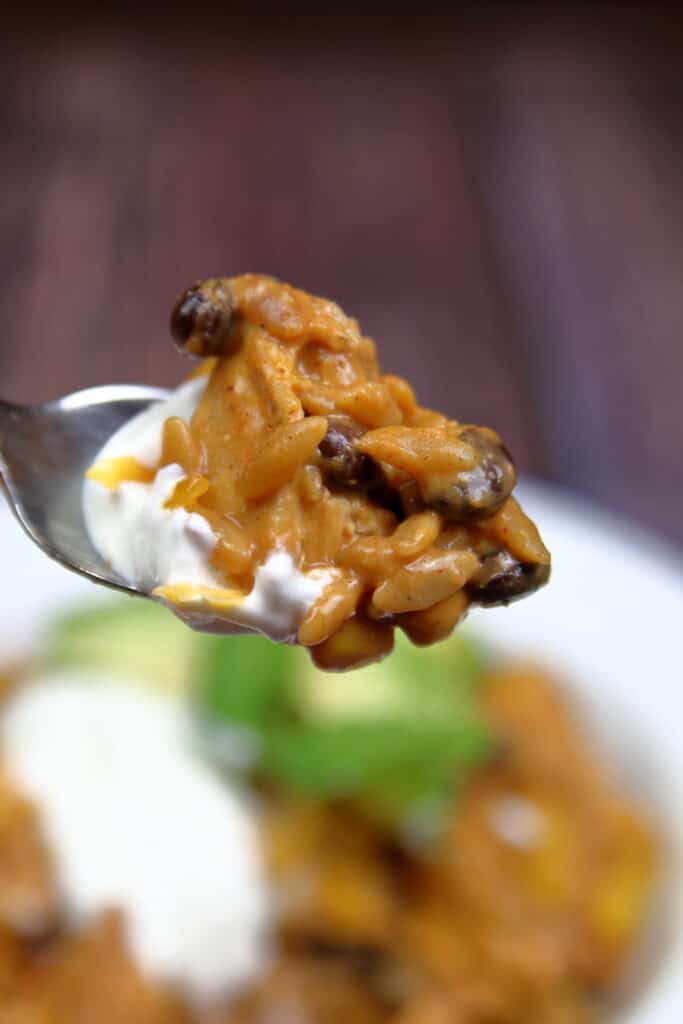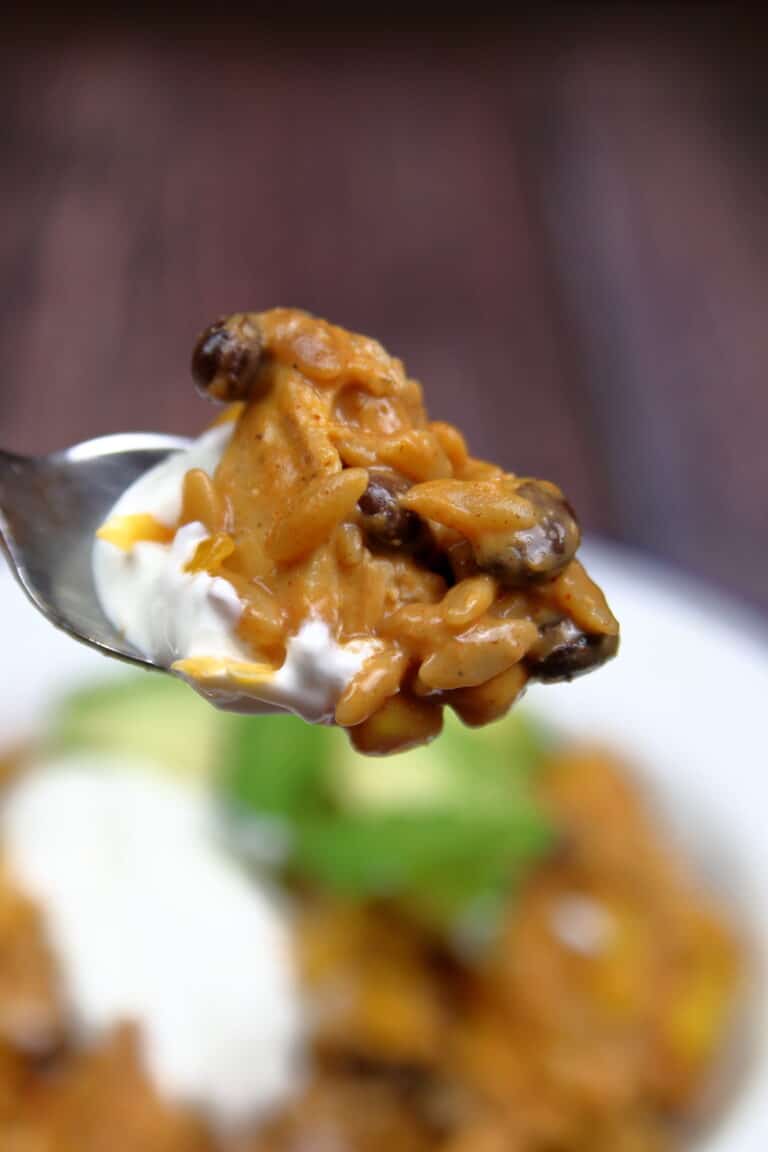 Additional Tips:
Be careful when you are toasting your orzo! It needs to be over a slightly higher heat but stir constantly because it will burn FAST!
The times in this recipe are relative as everyone's stoves and pans are different. Just follow the process and use your best judgement!
Spices are always relative, so make sure you taste your food as you go! If you find it's too spicy, you can dilute it with more broth. Not spicy enough? PILE IT ON!
Use whatever cheese you like, but I find that the sharper cheddars really stand up to all of these spices and ingredients.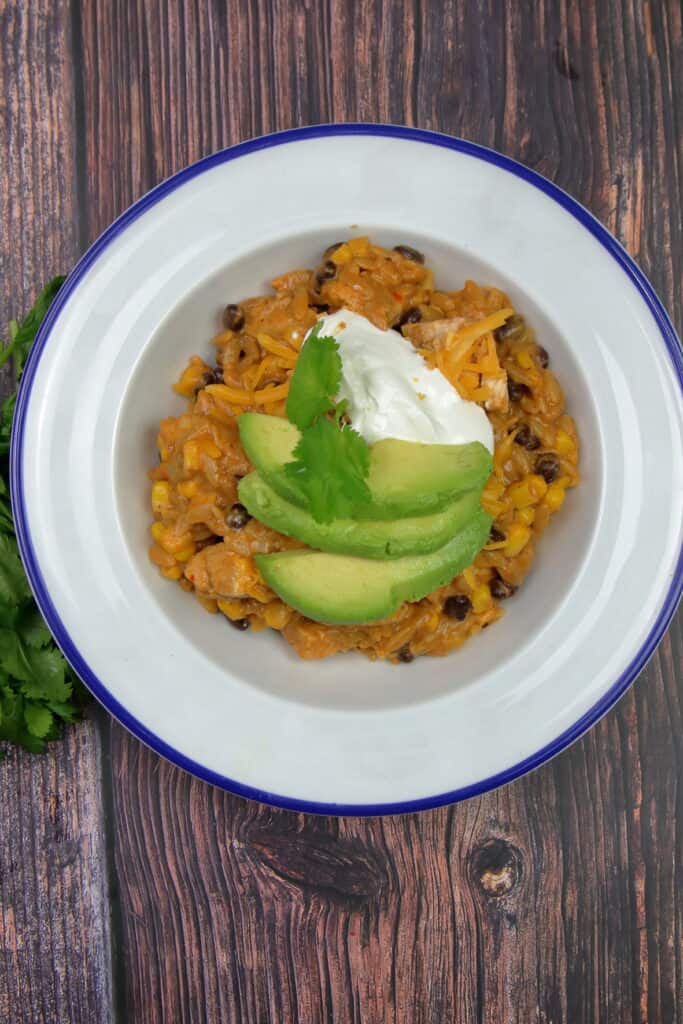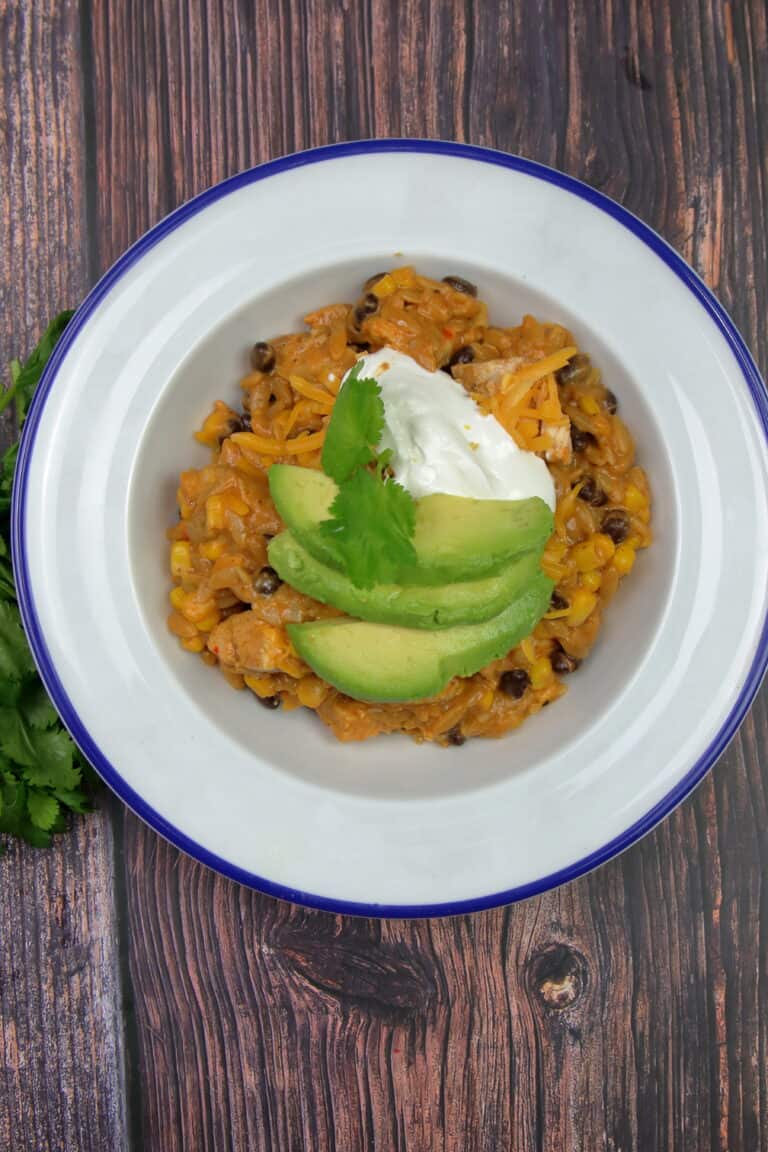 And that's pretty much it!
Toppings for your chicken enchilada bowl can include avocado, sour cream, extra cheese, cilantro, fresh onion, pico de gallo, extra salsa… lots of ideas!
I'm really becoming a fan of working on these orzo recipes, so expect more to come! Enjoy!
Looking for more types of pasta dishes? Check out: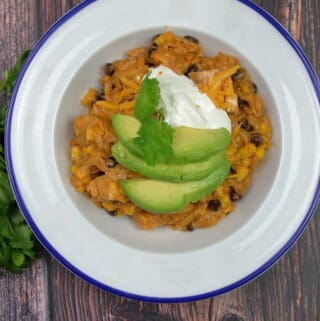 Cheesy Chicken Enchilada Orzo Bowl
This Cheesy Chicken Enchilada Orzo Bowl is made with toasted orzo, tender chicken, corn, black beans, green chiles, and red sauce.
Print
Pin
Share on Facebook
Rate
Ingredients
1 ½

cups

uncooked orzo pasta

1

lb

chicken breasts

2

tbsp

olive oil

2

tbsp

butter

3

cups

broth (I used chicken, use vegetable if you like)

1

tbsp

ground cumin

plus a little extra for the chicken

2

tsp

chili powder

1

tsp

garlic powder

2

tbsp

tomato paste

15

ounces

canned black beans

drained

10

ounces

canned sweet corn

drained

4

ounces

cream cheese

½ a standard block

4

ounces

shredded cheddar

plus extra for topping

2-3

tbsp

roasted green chiles, chopped
Instructions
Place chicken breasts between two pieces of plastic wrap. Using the flat side of a meat tenderizer, hammer out chicken until the whole breast is the same thickness, about ½ inch. Sprinkle generously with salt, pepper, and cumin.

Heat olive oil in a large saute pan over medium heat. Cook chicken for 5-6 minutes per side, or until cooked all the way through.

Remove from pan and set aside.

Melt butter in pan. Pour in orzo and coat with melted butter. Toast orzo until golden brown, stirring constantly. It will burn fast if you leave it alone. When orzo is toasted, pour in broth. Mix in tomato paste, cumin, chili powder, and garlic powder.

Cover and let simmer over medium low for about 10 minutes, stirring every couple of minutes.

After about 10 minutes, stir in cream creese and cheddar cheese. (Orzo will not be cooked through at this point yet).

After cheeses melt in, chop chicken and add to pan. Mix in black beans, corn, and green chiles.

Cover and let simmer for another 10 minutes, or until orzo it cooked through. Be sure to taste for spice level.

By this time, orzo should be cooked through and sauce should be much thicker. If sauce is too thin, let simmer uncovered until most of the liquid soaks up and bubbles out until it reaches desired thickness.

Spoon into bowl. Top with avocoados, pico de gallo, cilantro, sour cream, onions, or anything else that compliments this enchilada bowl. Enjoy!
Nutrition
Calories:
749
kcal
|
Carbohydrates:
83
g
|
Protein:
54
g
|
Fat:
23
g
|
Saturated Fat:
8
g
|
Cholesterol:
107
mg
|
Sodium:
1688
mg
|
Potassium:
1460
mg
|
Fiber:
12
g
|
Sugar:
8
g
|
Vitamin A:
985
IU
|
Vitamin C:
25
mg
|
Calcium:
421
mg
|
Iron:
7
mg