Jump to Recipe
I'm pretty much at the point where if you say "puff pastry," I'm in. I've already done a Beef Stew Pot Pie and Puff Pastry Apple Pie Bites. I also have another puff pastry apple cinnamon roll up coming soon too! But in the meantime, I present to you a Creamy Chicken Pot Pie topped with a buttery, flaky, puff pastry.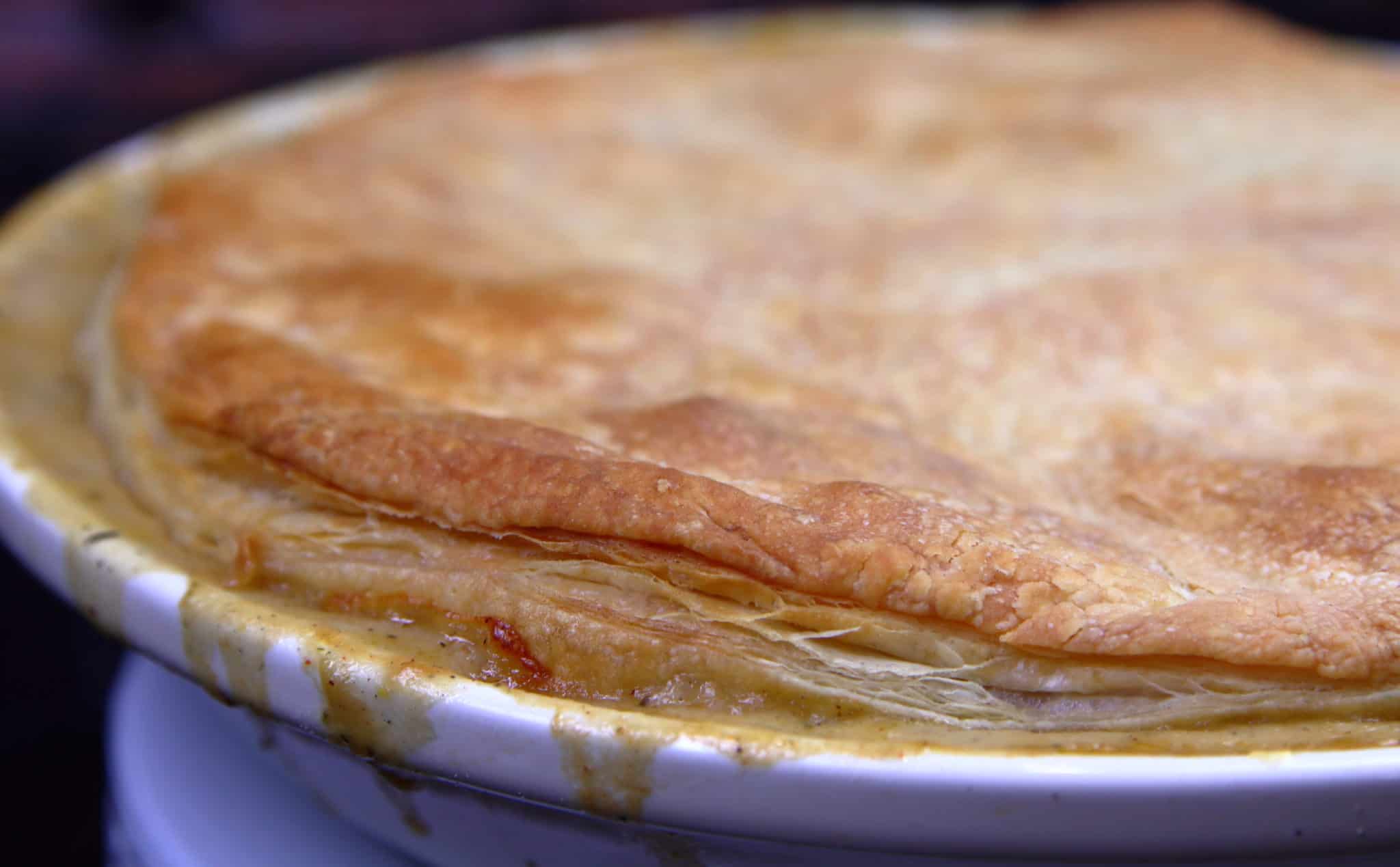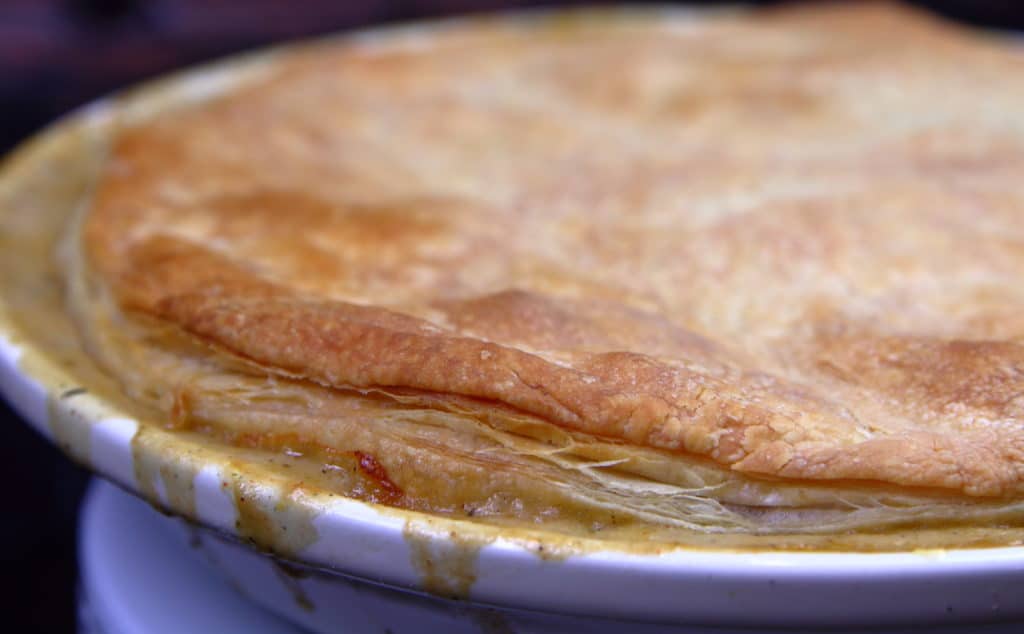 My husband found the original recipe from Alton Brown at the Food Network, and for the most part, I followed much of it.
Some things I kept the same in my creamy chicken pot pie
The Roux ratios. Normally, the butter and flour are the same. In this case, there is more flour. When I was first making it, I tried keeping the flour to four tablespoons to match the butter because I didn't want it TOO thick, but it was actually too thin. So I added the other two. Alton knows best here!
The liquid amounts. I figured start here and adjust if needed. Spoiler alert: It was not needed.
The vegetable amounts. For the most part, the veggies he used was what I did. I used slightly fewer mushrooms because I felt like the ENTIRE 8oz package was a little too much.
The chicken: I used the same amount of chicken he asked for. It turned out ok, but in all honesty, when I make this again, I'll probably add more.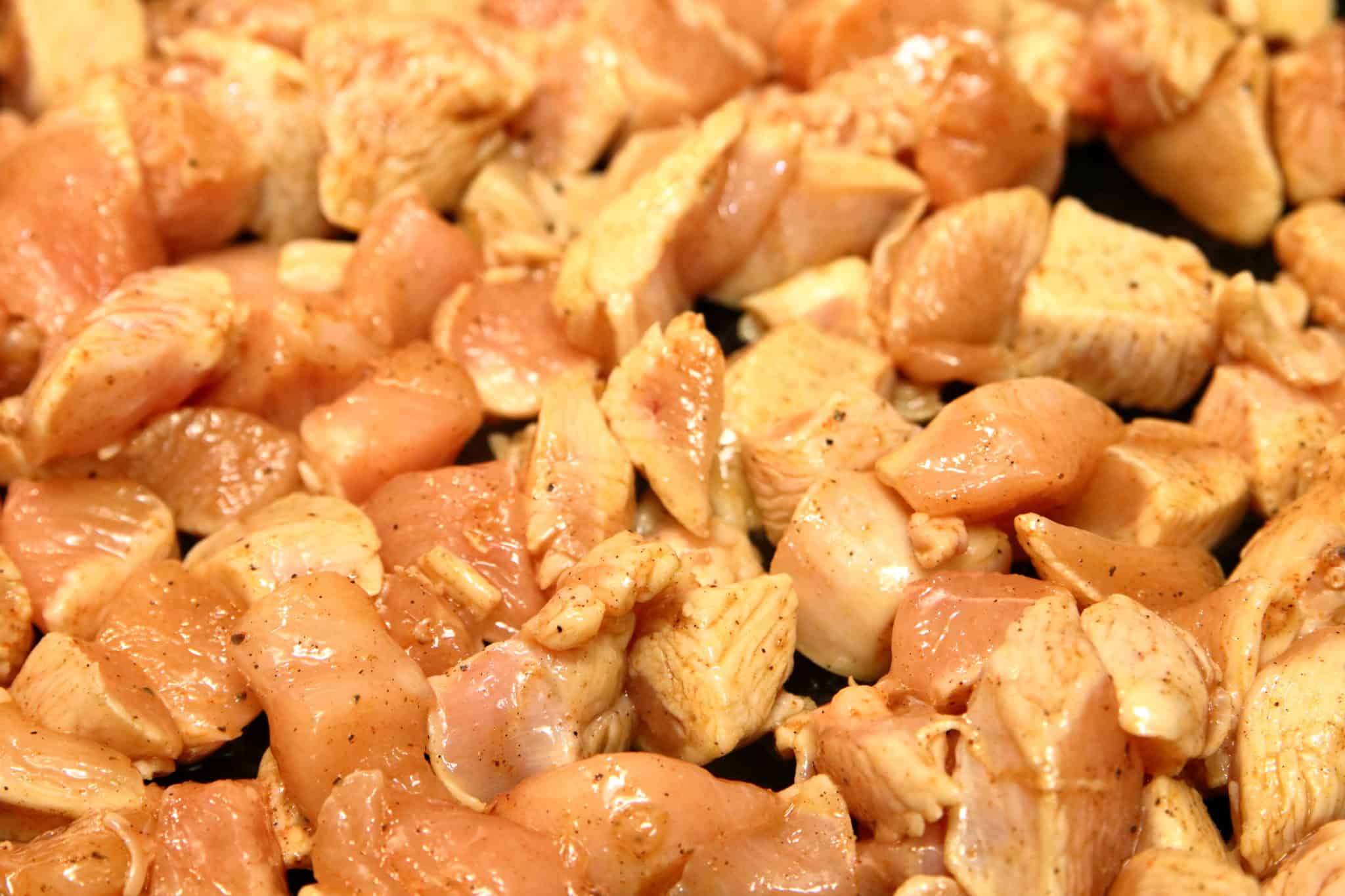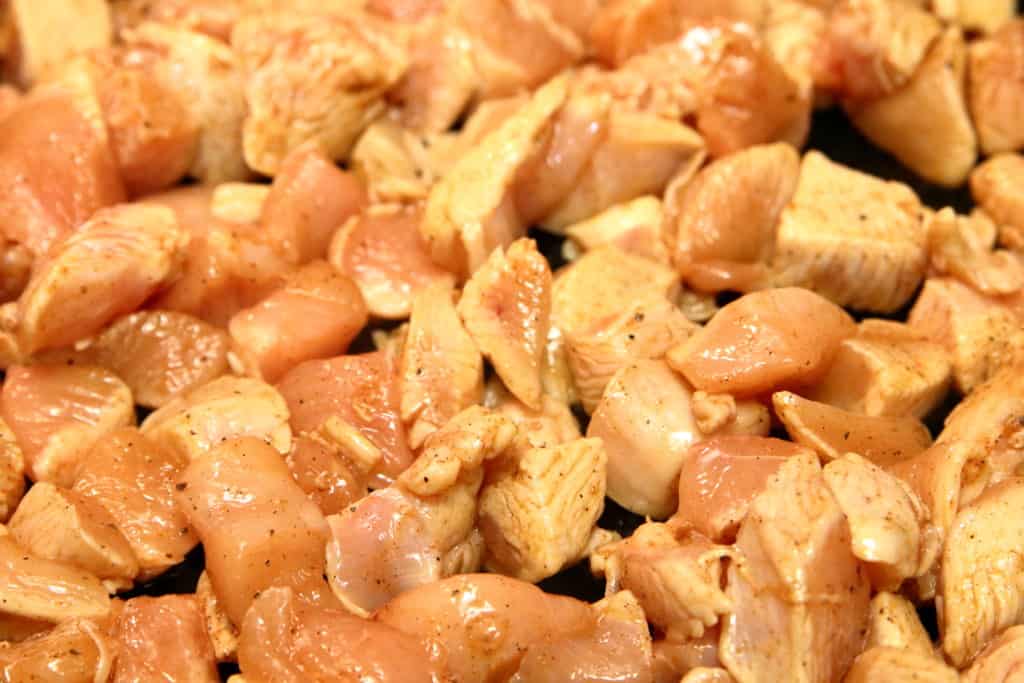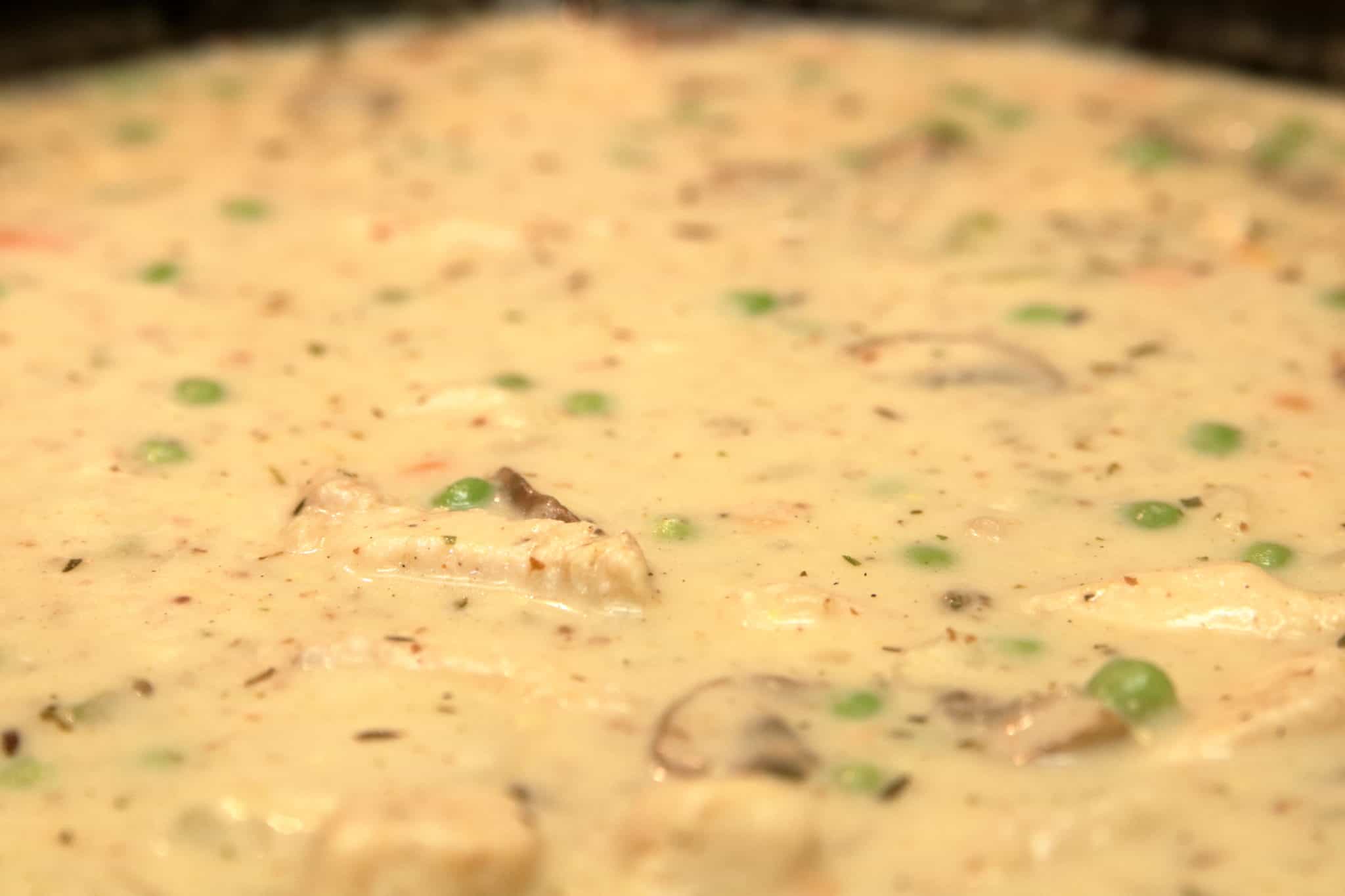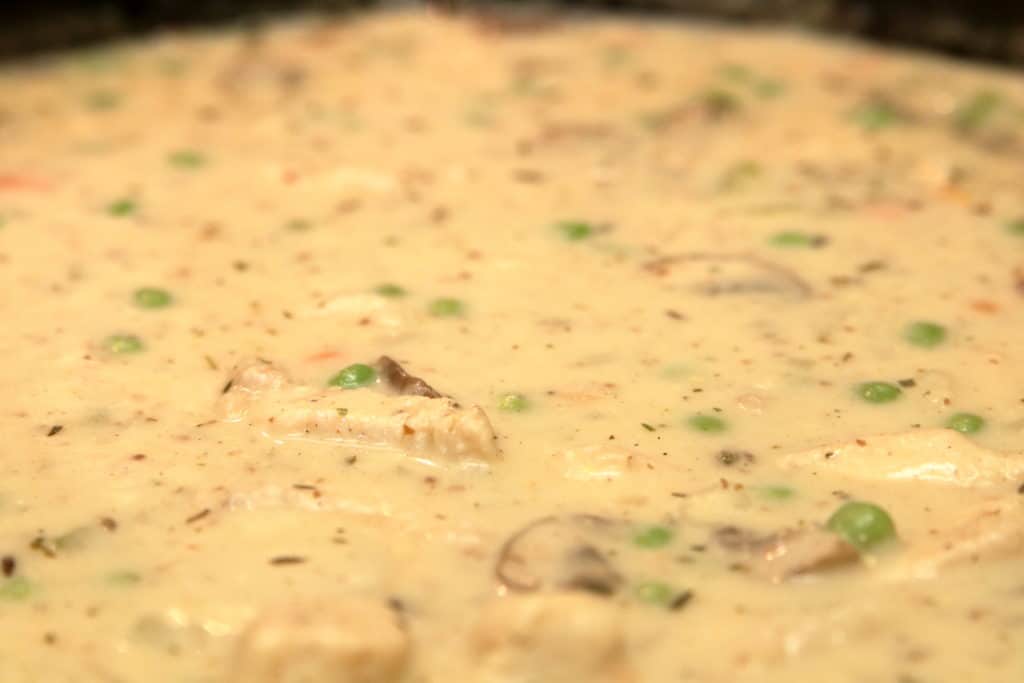 What I changed:
As always, I can't just let a recipe I find stay untouched. For example, if it doesn't have Tony's, I'm prooooobably going to add it. Jussayin'.
The Herbs. I love Thyme. LOVE it. So I added more by doubling the amount. Tarragon is not my favorite, but I didn't want to completely removed it, so I cut it in half. I also left out the fresh herbs. I found that the dried herbs did enough.
The Spices. As with most things I cook, I added Tony's. I know I seem like a fangirl (and I supposed I am), but my food isn't a one hit wonder across dishes. Tony's just really adds some fantastic flavor and enhances the other things you are doing. I also added creole mustard. I love the taste of mustard to add a bit of zazz.
The crunch. I wanted a bit of texture, so I added sliced water chestnuts, and man. That was a good idea. Super tasty in this dish!
The Puff Pastry. I didn't make mine from scratch. I'm not THAT fancy! I used the box kind and it was totally delicious as always.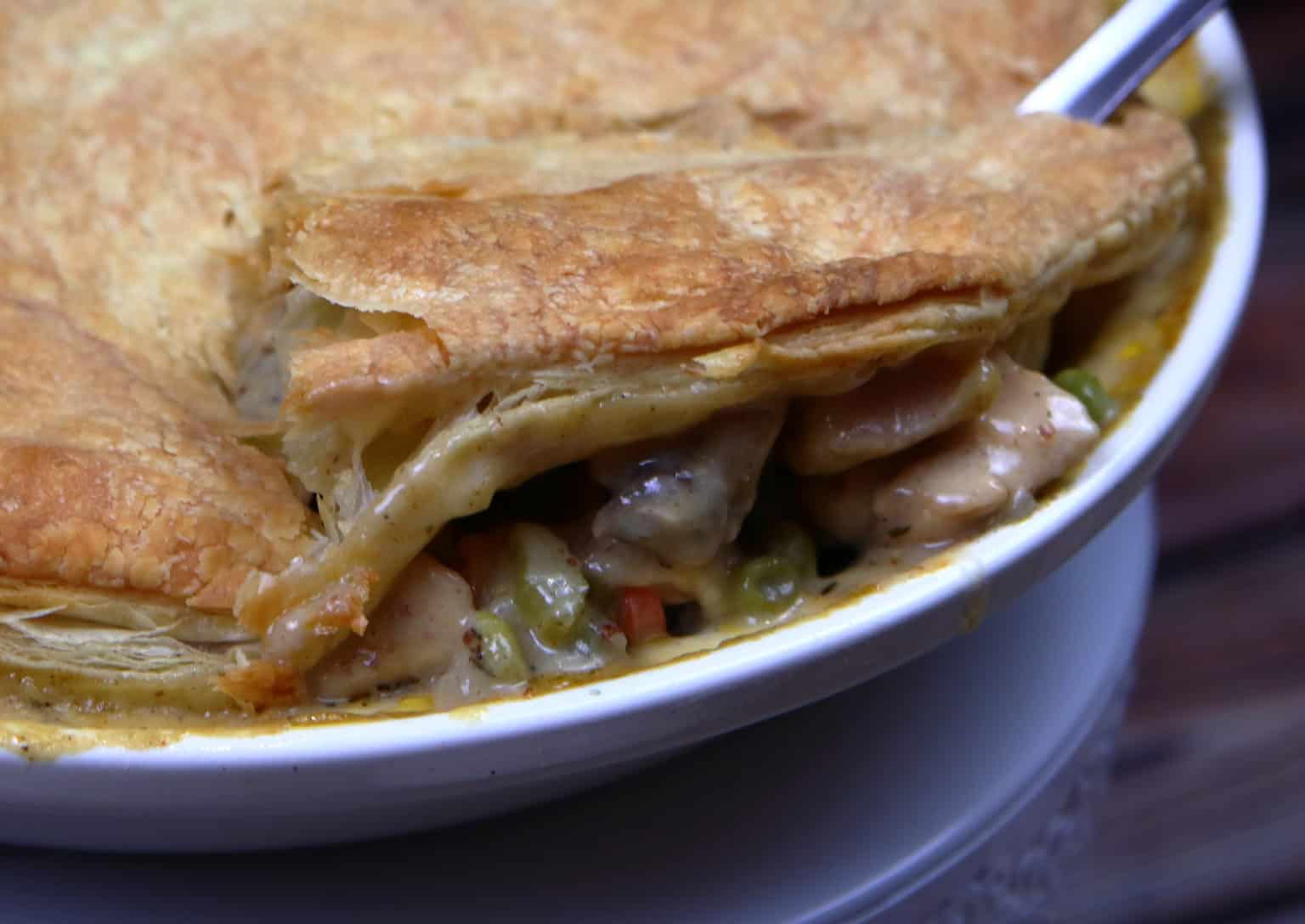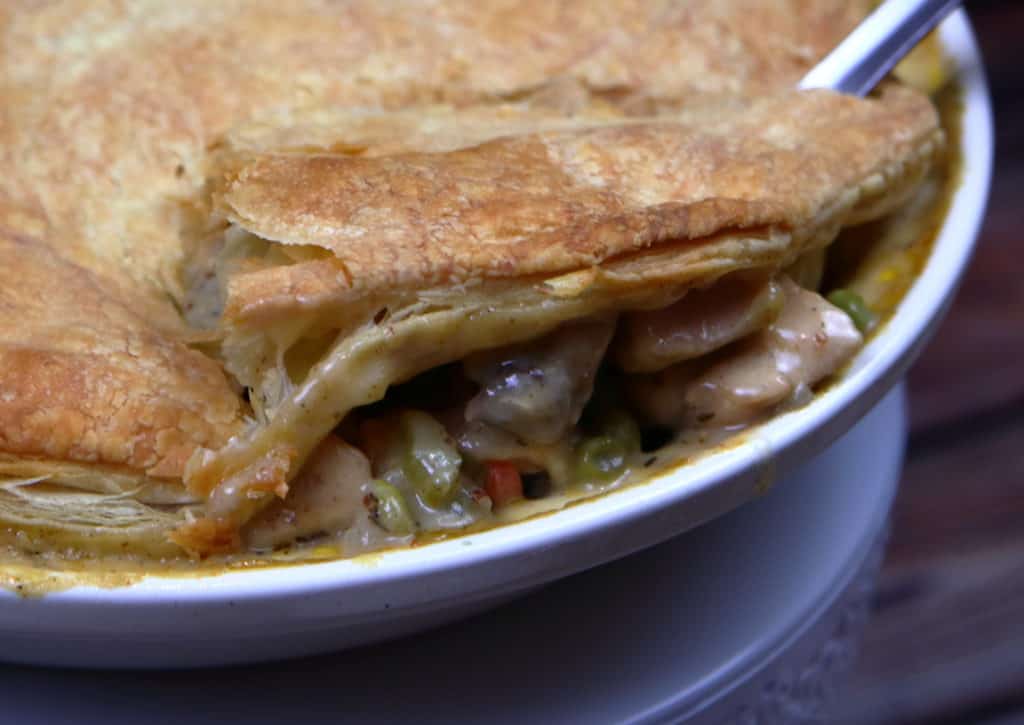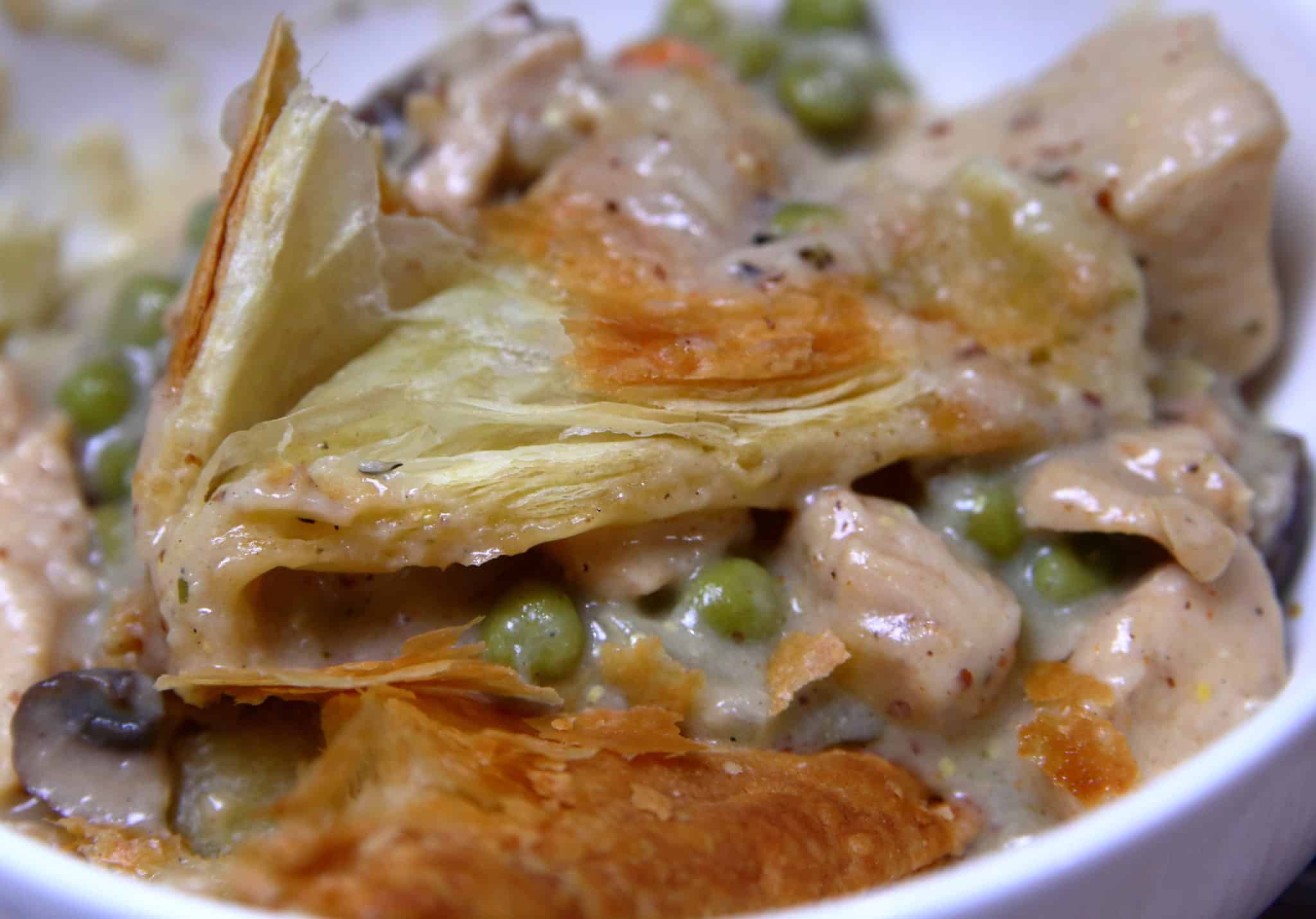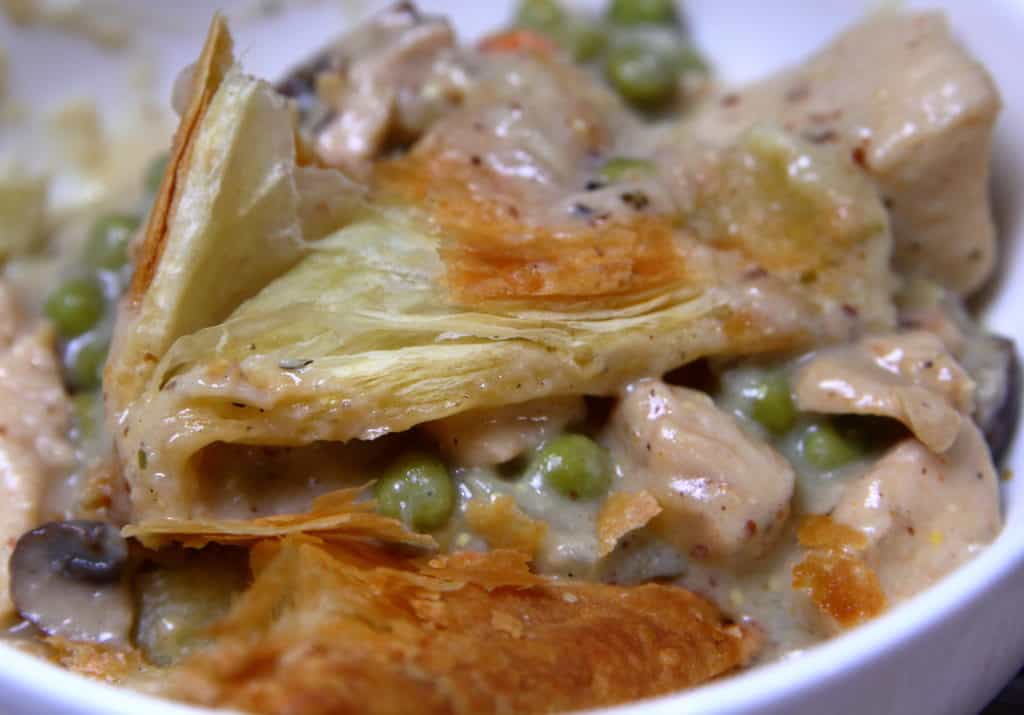 When I made my beef stew pot pie, I put them in their own individual cast irons. You can totally do this for the creamy chicken pot pie too, but I decided to just use a regular, full sized pie pan. I had to roll out the pastry a little bit to get it to completely cover the pan, which accounts for why the pastry didn't puff as much as normal, but it was still just as flaky and tasty.
That's pretty much it! It's really pretty simple. Feel free to drop a comment below if you have any questions!
Enjoy!
Creamy Chicken Pot Pie
This creamy chicken pot pie is full of delicious vegetables in a creamy filling topped off with a flaky, buttery puff pastry. Perfect for family dinners and makes wonderful leftovers… If you don't eat it all first!
Ingredients
1

sheet

puff pastry

defrosted

2

tbsp

olive oil
For the Chicken
1.5

lbs

cubed chicken

1

tsp

Tony Chachere's

1

tsp

salt

cracked black pepper
For the filling
4

tbsp

butter

6

tbsp

all purpose flour

1

cup

chopped mushrooms

1/2

cup

diced celery

1/2

cup

diced carrot

1

cup

diced onion

1

cup

frozen peas

6

cloves

garlic, minced or microplaned

1

tsp

dried thyme

1.2

tsp

dried tarragon

8

oz

canned water chestnuts, sliced.

1

tsp

Tony Chachere's

1

tsp

salt

2

tbsp

creole mustard

2

cups

Chicken Broth

1.5

cups

milk
Instructions
Preheat over to 400°. Remove Puff Pastry from freezer to thaw.

In a small bowl, mix the cubed chicken, Tony's, salt and pepper until the chicken in coated.

In a large saute pan, heat oil over medium heat. Saute chicken until cooked all the way through. set aside in a small bowl.

In the same pan, melt butter over medium heat. Add onions, carrots, celery, garlic, and mushrooms. Saute for 4-5 minutes or until soft. Add Dried thyme and Tarragon. Stir.

Add flour. Stir until combined. Pour in milk and chicken stock. Mix until flour is dissolved.

Add return chicken to the pan. Add water chestnuts, frozen peas, Tony's, Salt, and creole mustard. Bring to a low boil.

Boil for about 3-4 minutes. Reduce heat to low, and let simmer for about 20 minutes. The filling will continue to thicken.

When the puff pastry is thawed and the filling has thickened, Pour filling into a 9 inch pie pan. Cover pie pan with puff pastry.

Bake for 20 minutes. About 5 minutes before it is done, brush pastry with melted butter (if desired).

Removed from oven. Let stand for a few minutes before cutting.