If you are looking for a light and tasty summer salad, this Cucumber Dill Salad is perfect for you! Made with English Cucumbers, fresh dill, red onion, and apple cider vinegar, it is probably one of the easiest side dishes you'll ever make!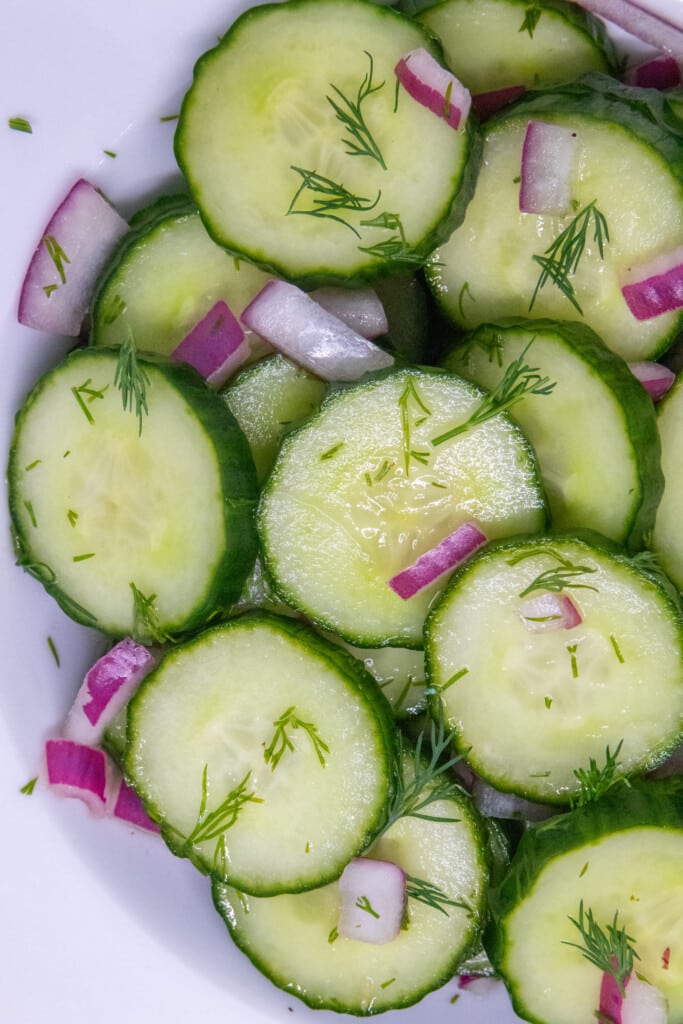 I feel like I'm always looking for some lighter options for side dishes when we are smoking meat around here, and especially in the summertime! This cucumber dill salad is one of my absolute favorites because it's light and bright and contrasts a rich main dish of meat. It doesn't get much easier than this!
What do I need for this cucumber dill salad?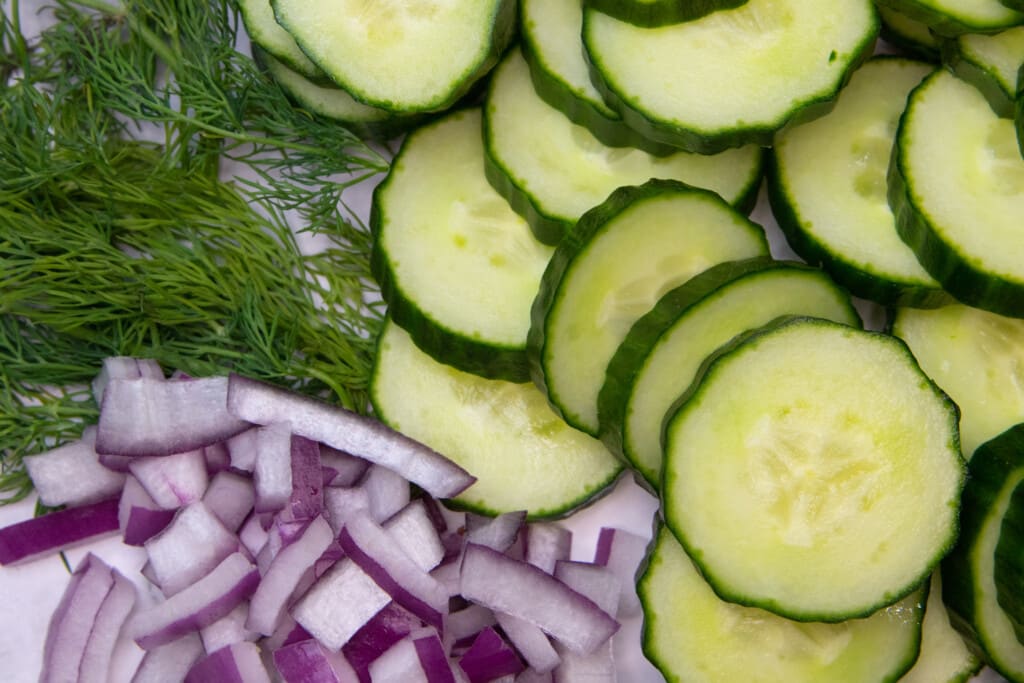 One of the great things about this cucumber salad is that the ingredients list is super small. It is an extremely light and easy side dish with a nice bright flavor. You will need:
English cucumber

– You can use a regular cucumber if you want, but two of the major bonuses about the English cucumber vs. the regular cucumber is that the skin is much thinner and the seeds are much smaller and less prominent. You can usually find them in the produce section of your regular grocery store. They are very long and usually wrapped in shrink wrap (at least the are in my store)!

Red Onion

: sliced thin. Leave them as long slices or dice them smaller. I prefer mine to be bite sized.

Fresh Dill

: simply remove it from the stems and dice it up small

Apple cider vinegar

: Slightly less acidic than white vinegar, but still enough to provide some great flavor without making your face pucker!

Salt

: Because every dish requires salt!
Can I use regular white vinegar instead of Apple Cider Vinegar?
If you only have regular white vinegar, you certainly can use that, just know that it is quite a bit different that apple cider vinegar. For starters, as stated above, white vinegar is quite a bit more acidic than apple cider vinegar. It is going to have quite a bit more bite in that taste. You can offset some of the strong flavor of the vinegar with some white sugar. Technically, it won't neutralize the white vinegar, but it will detract from its intensity a little bit.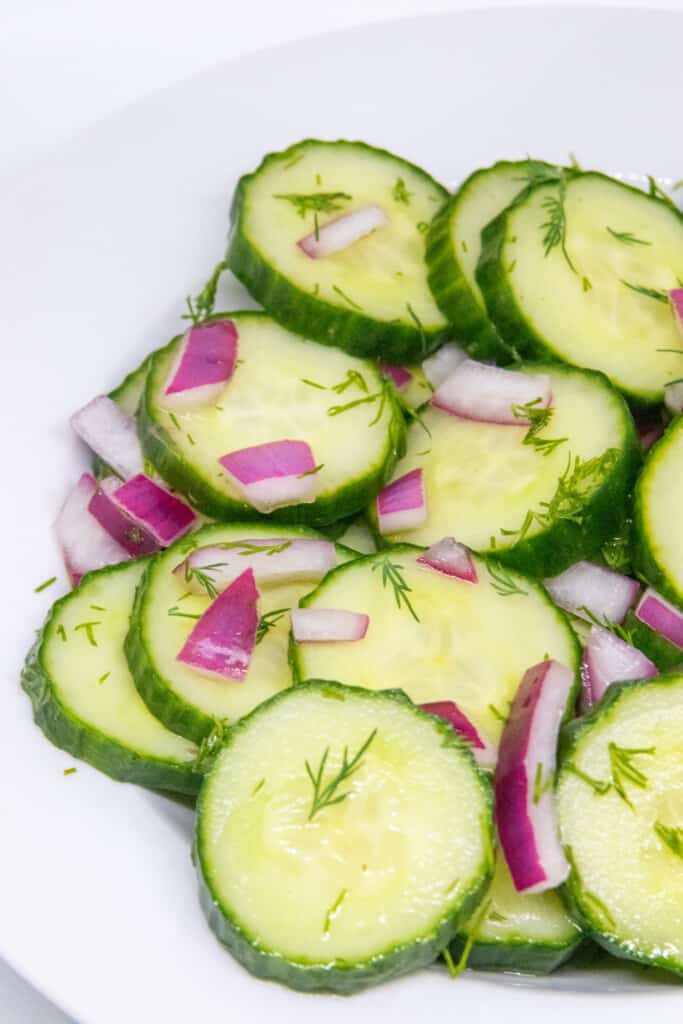 Or, if you just enjoy that strong vinegar flavor, then great! No issue! I just don't love white vinegar. I find apple cider vinegar to be just right.
Here is a great article talking about some of the different kinds of vinegars.
Do I need to soak the cucumbers in salt first?
If you google cucumber salad recipes, you'll probably find that many of them call for you to sprinkle the cucumbers in salt and let them sit for a little bit in a strainer.
The logic behind this is that it will draw out the liquid and get rid of the excess liquid. Now, there is nothing wrong with this, but in my experience, it's not really necessary. I have done it both ways. I've made the cucumber salad with and without letting the salt draw out the liquid, and in my experience, the amount is negligible.
What can I serve with cucumber dill salad?
You can eat this cucumber dill salad on it's own as a super easy snack, or a an easy side dish. I love to serve it with things like Smoked Baby Back Pork Ribs. But you really can use it for whatever you like!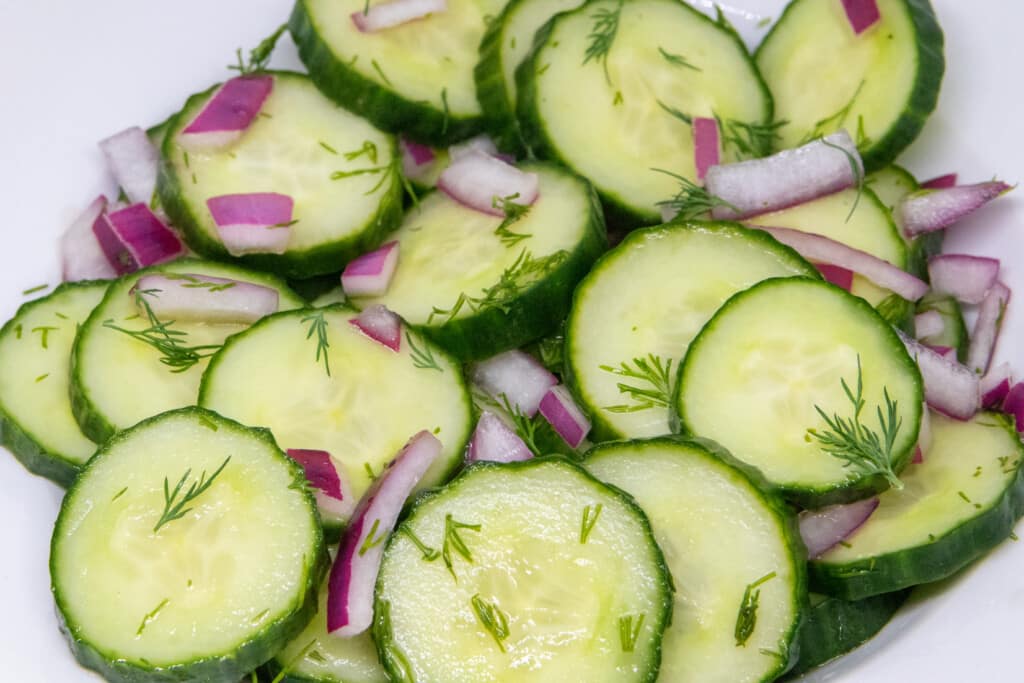 So that's pretty much it! Easy and delicious cucumber dill salad. Add this one to your arsenal of healthy and easy side dishes!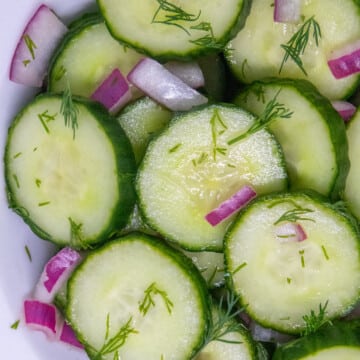 Cucumber Dill Salad
English Cucumbers, fresh dill, red onion, and apple cider vinegar make up this easy and delicious summer snack or side dish.
Print
Pin
Share on Facebook
Rate
Ingredients
1

english cucumber

¼

cup

red onion

sliced or diced

2 tbsp

fresh chopped dill

¼

cup

apple cider vinegar

salt to taste
Instructions
Slice cucumber into rounds about ¼ inch thick.

Slice red onion into thin pieces. You can keep them in slices or dice them smaller if you prefer.

Remove dill from the stems and chop into small pieces.

Mix the cucumbers, onions, dill, vinegar, and salt together in a bowl, preferably something wider with a slightly larger bottom.

Put in the refrigerator and soak for 20 minutes. Stir periodically so all of the cucumbers can soak in the vinegar.