These Leftover Pulled Pork Enchiladas with Green Chile Sour Cream Sauce are an easy and delicious way to make use of your leftover BBQ meat! Stuffed with pork, peppers, and cheese and topped with a green chile sour cream sauce, these cheesy enchiladas have quickly become one of the favorite leftover pulled pork recipes!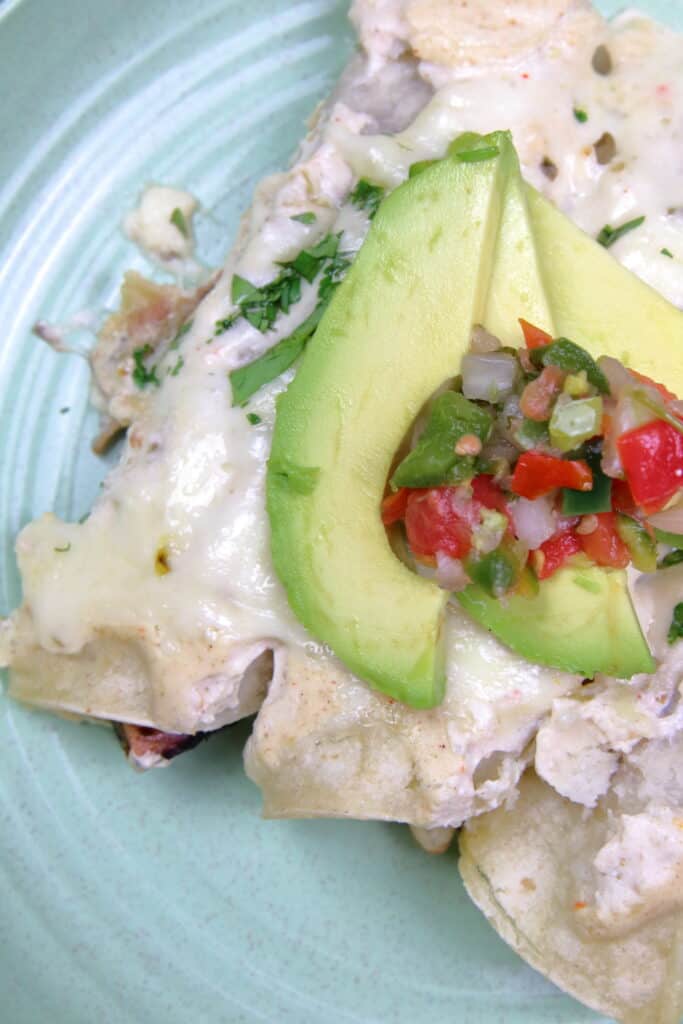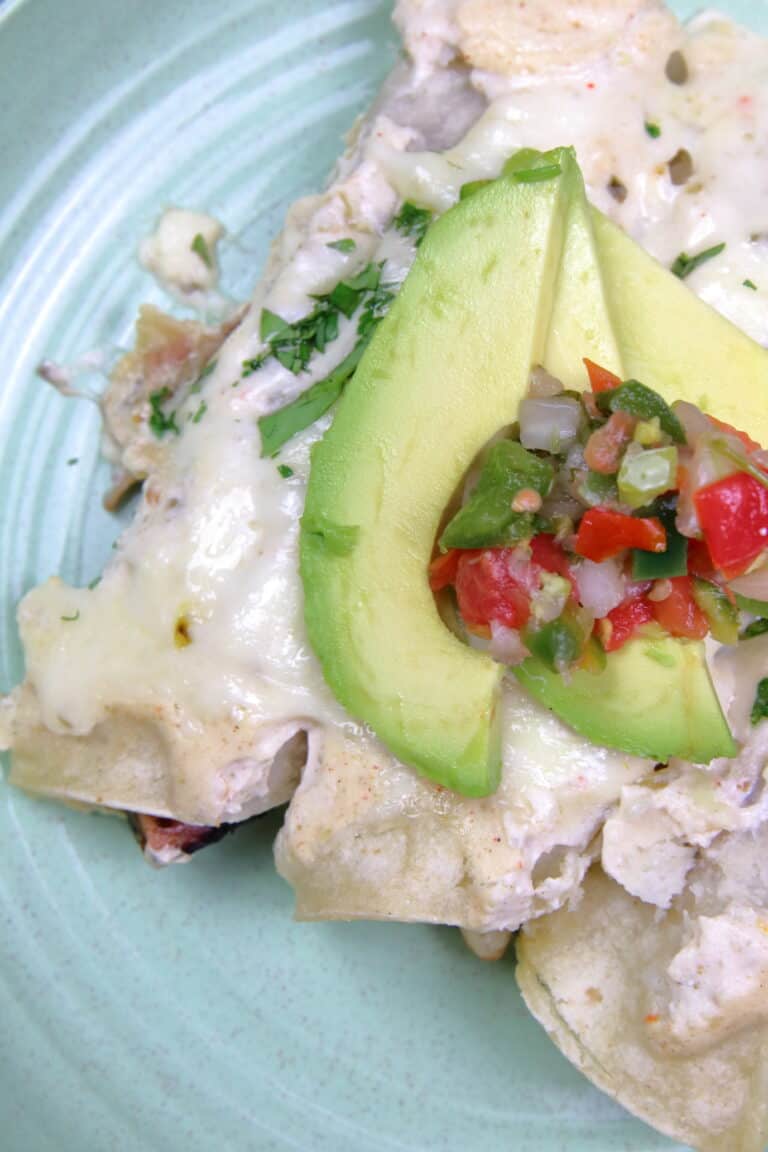 We smoke a lot of meat in this house, and we aren't always the best with making sure we use up all the leftovers. But lately I've been making it a point to try to get creative with leftovers to avoid being wasteful.
Some of our other uses for BBQ meat leftovers are Leftover Smoked Brisket Taquitos, Breakfast Hash with Leftover Ribs, and Cheesy Smoked Rib Quesadillas.
What do I need for these enchiladas?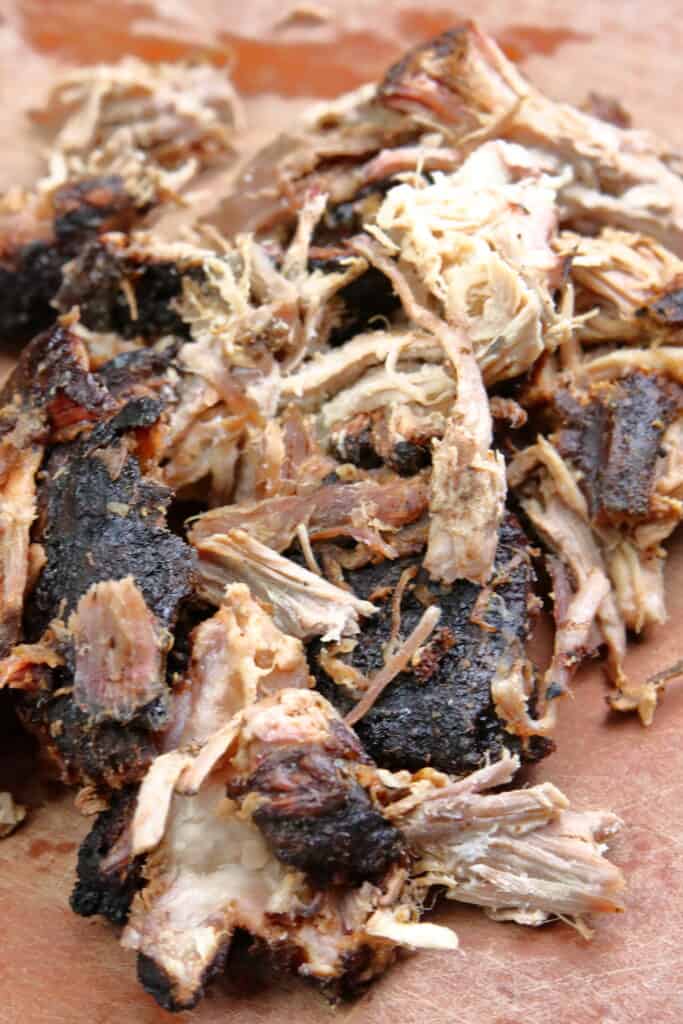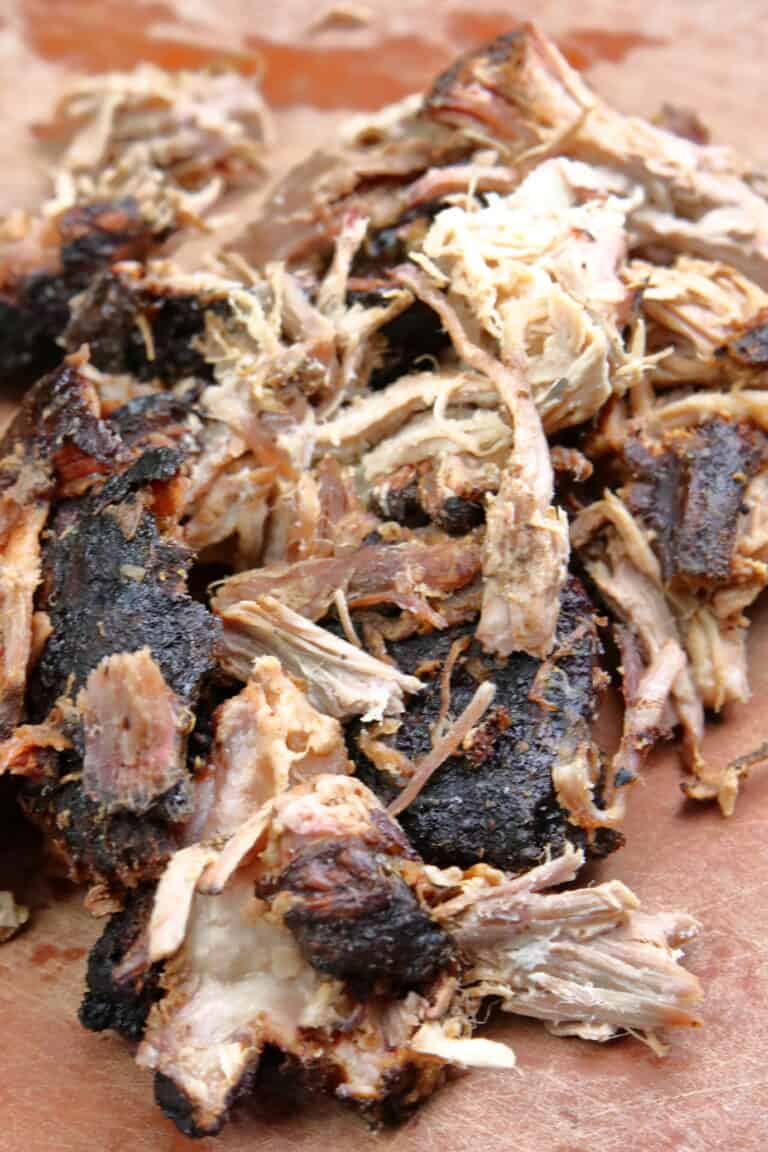 One of the great things about these leftover pulled pork enchiladas is that you don't need much! Most of the ingredients are typical items that many people keep. For these enchiladas, you will need:
Corn tortillas (or flour if you prefer)
leftover pulled pork (brisket and ribs will work great too!)
onions,
peppers
green chile (we'll talk about these a little later)
For the sour cream sauce sauce you'll need:
Sour cream
Chicken stock
green chiles
cumin
chipotle chile powder
salt/pepper
cornstarch if you want it thicker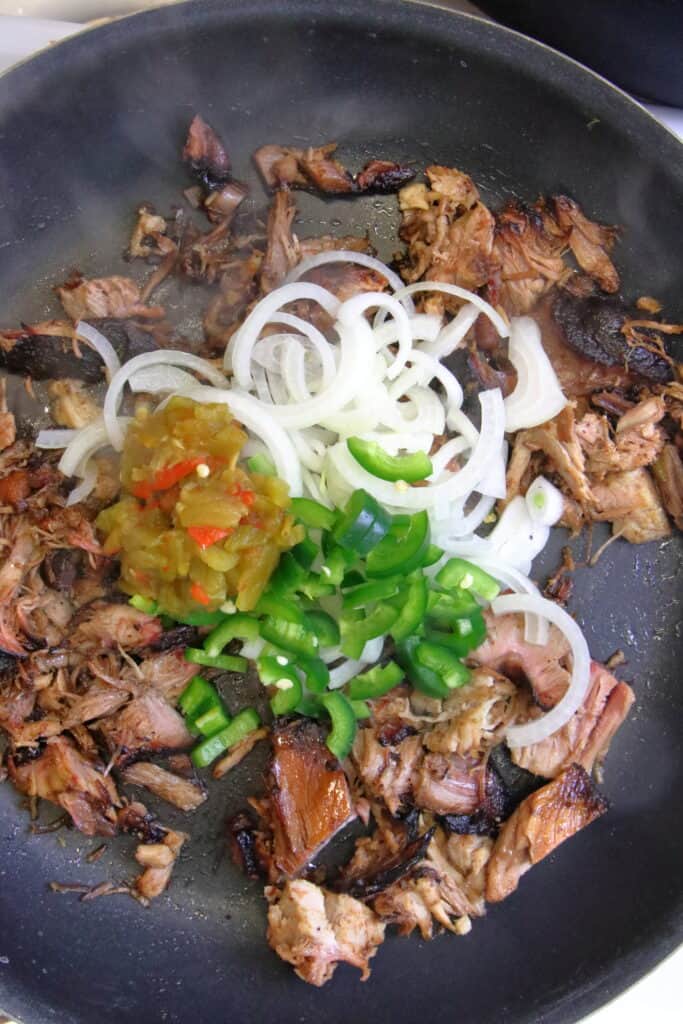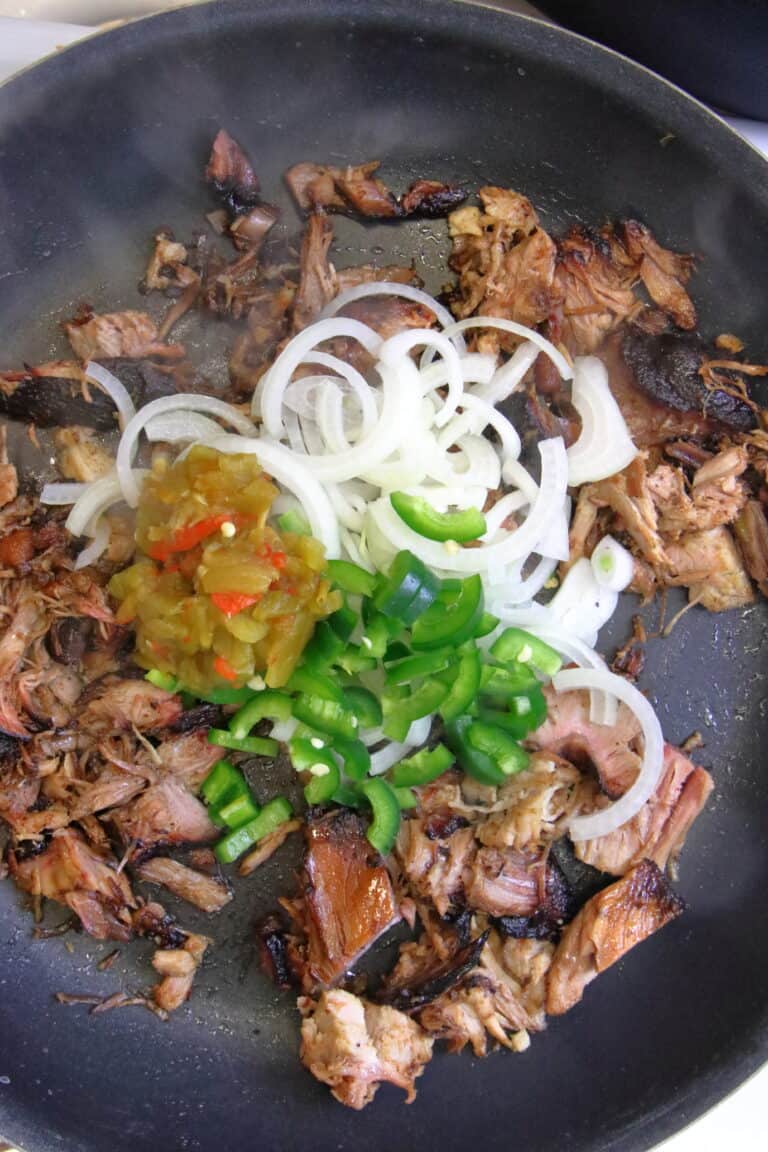 What kind of Green Chiles should I use?
It's always my disclaimer on System of a Brown that if you like the way it tastes, then you're not wrong.
However.
You can find green chiles from many places from many brands, but NOTHING tastes as delicious as the hot, roasted New Mexico grown chiles. So in my opinion, there is just no substitute for this.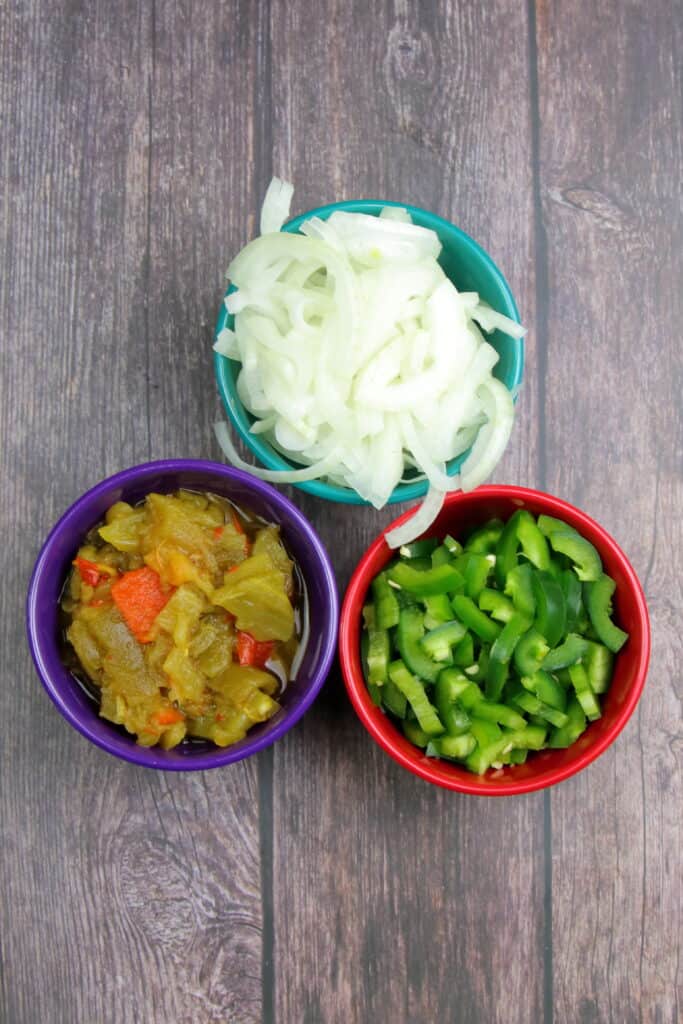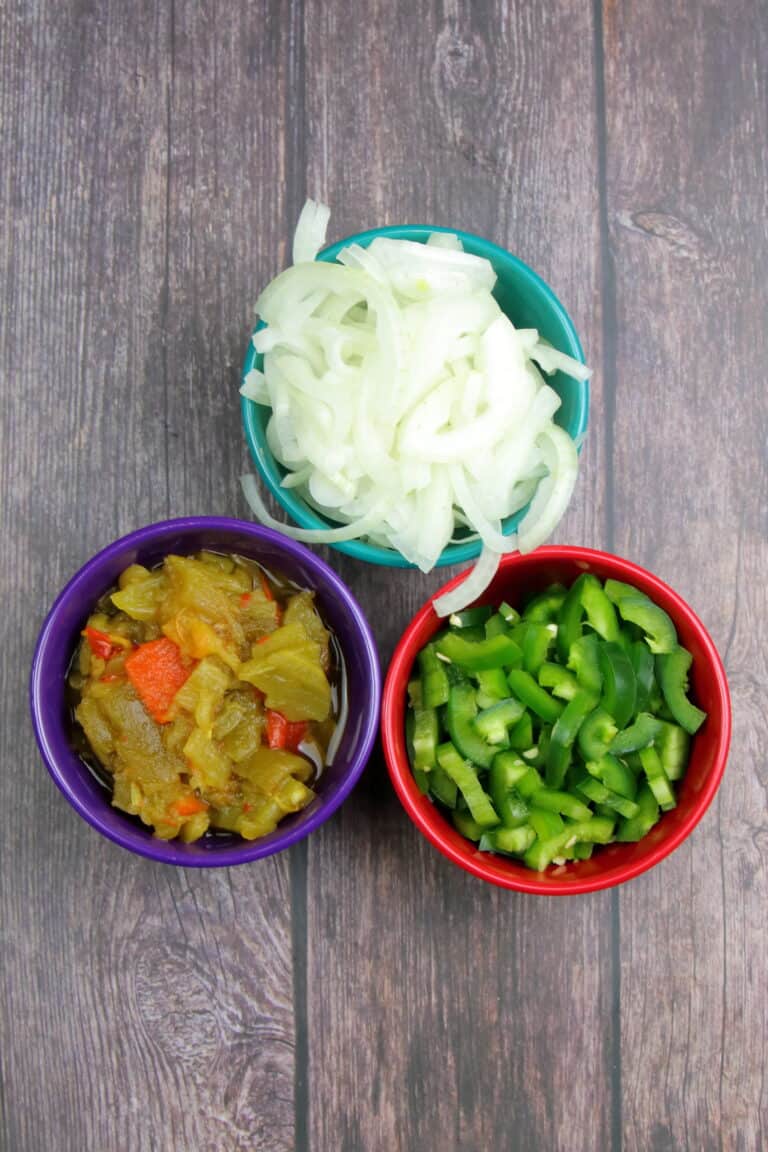 Green Chiles and New Mexico go together like peanut butter and jelly. New Mexico Green Chiles are iconic to the state and there is nothing quite like them. That particular flavor of the magically delicious green chiles is paramount to this recipe!
I found mine in the freezer section of my regular grocery store. That's where they'll be most of the time. Most of the time, there will be some kind of indicator that they are from New Mexico. The other green chiles you find in the canned food section ARE NOT THE SAME!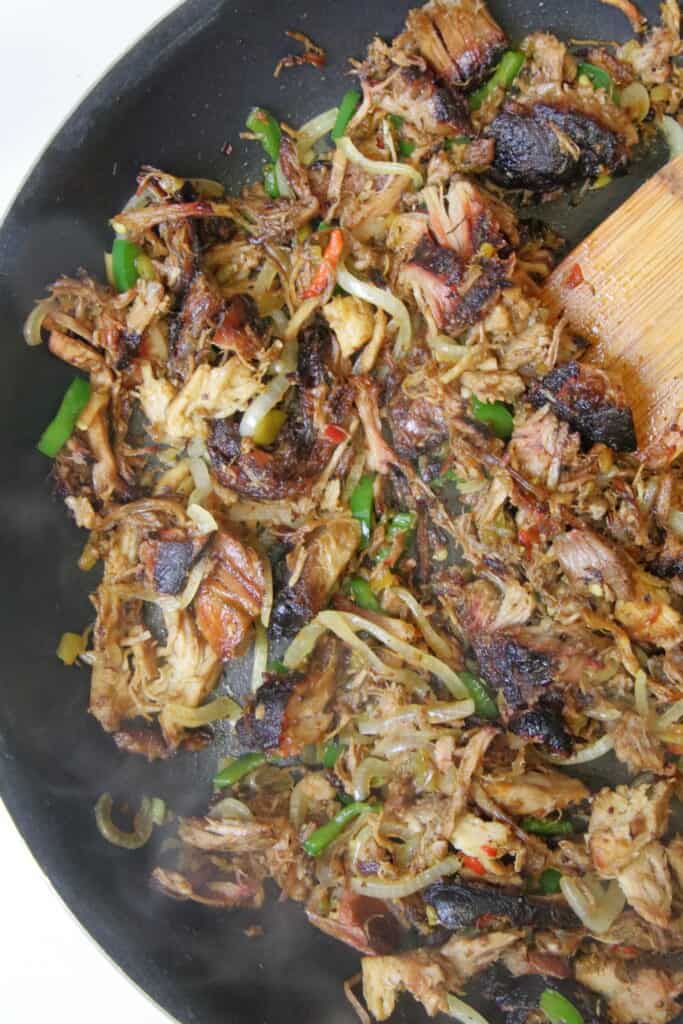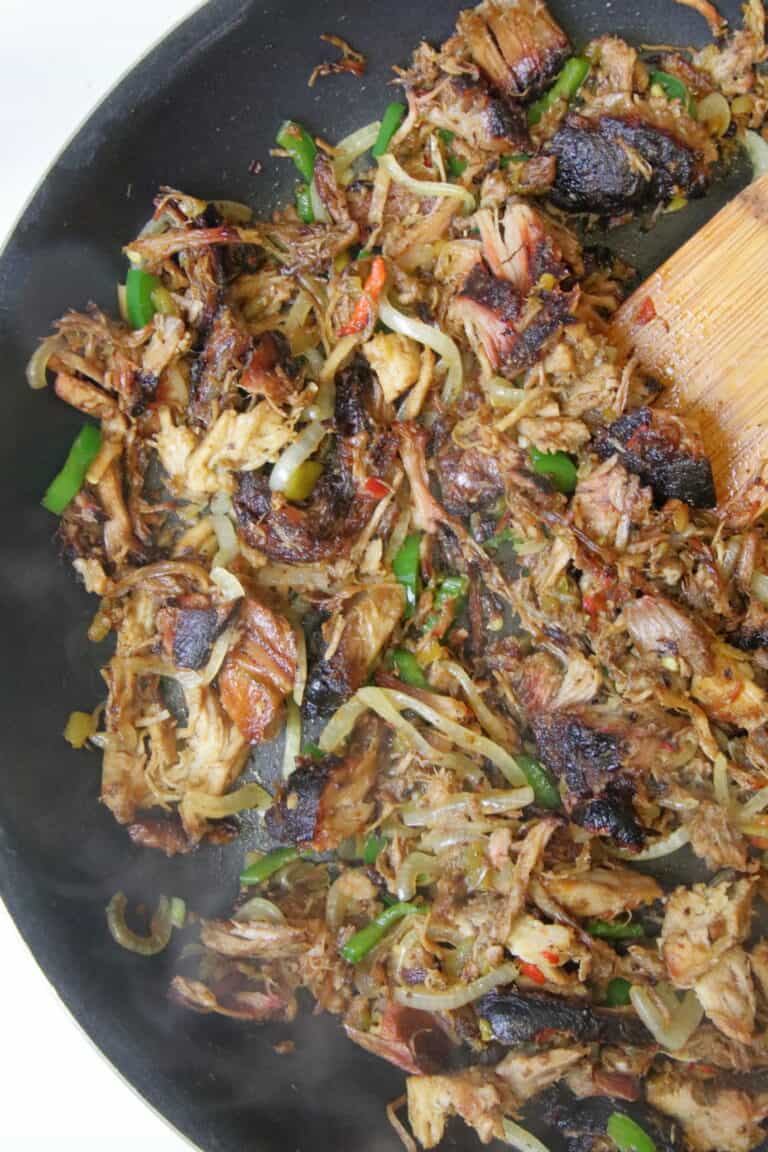 Putting together your leftover pulled pork enchiladas
The great thing about this leftover pulled pork recipe is that it is so easy. It's basically as simple as heating it all in a pan on the stove, rolling it up, and baking it.
There are two main stages:
Make your filling and roll the enchiladas. Heat your leftover pulled pork and peppers in a saute pan on the stove and mix around until your peppers soften. Using about 2 tablespoons or so, place filling onto a HEATED corn tortilla and roll. Place in a roasting pan seam side down. Repeat until you run out of filling or tortillas! I made about 10.
Make your sauce. This is as simple as mixing together all of the ingredients in a saute pan (I wanted a wide surface), bring to a gentle boil, and let thicken. If it doesn't thicken as much as you like, add a little cornstarch/water mixture. Don't forget to taste! We all have different sensitivities to spice and salt. To puree the green chile, I used my Ninja Blender (paid link). SO SO good!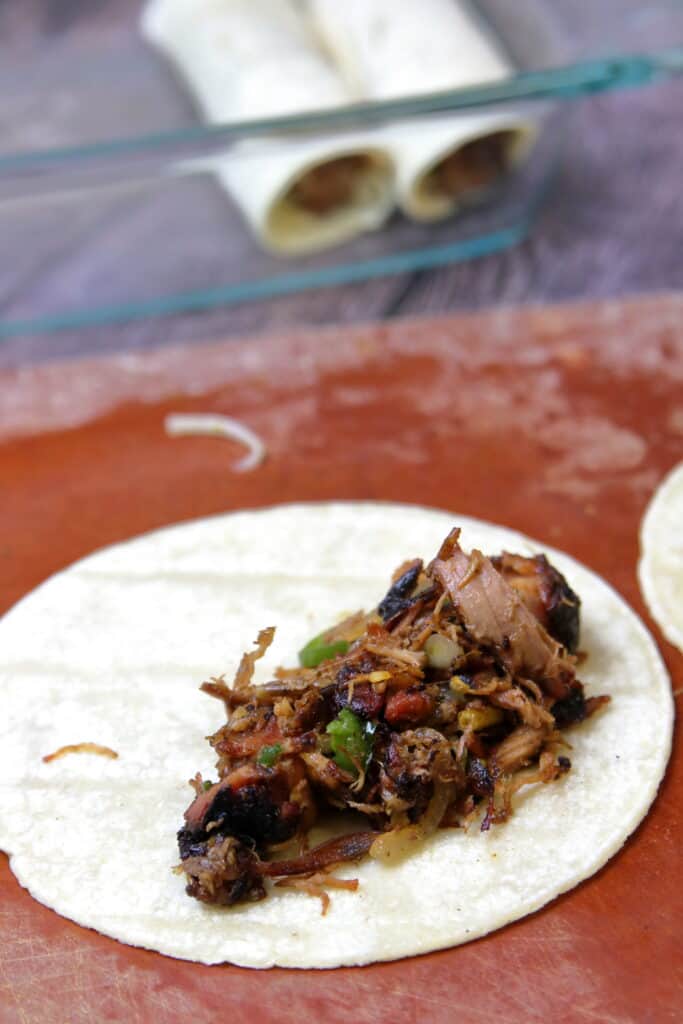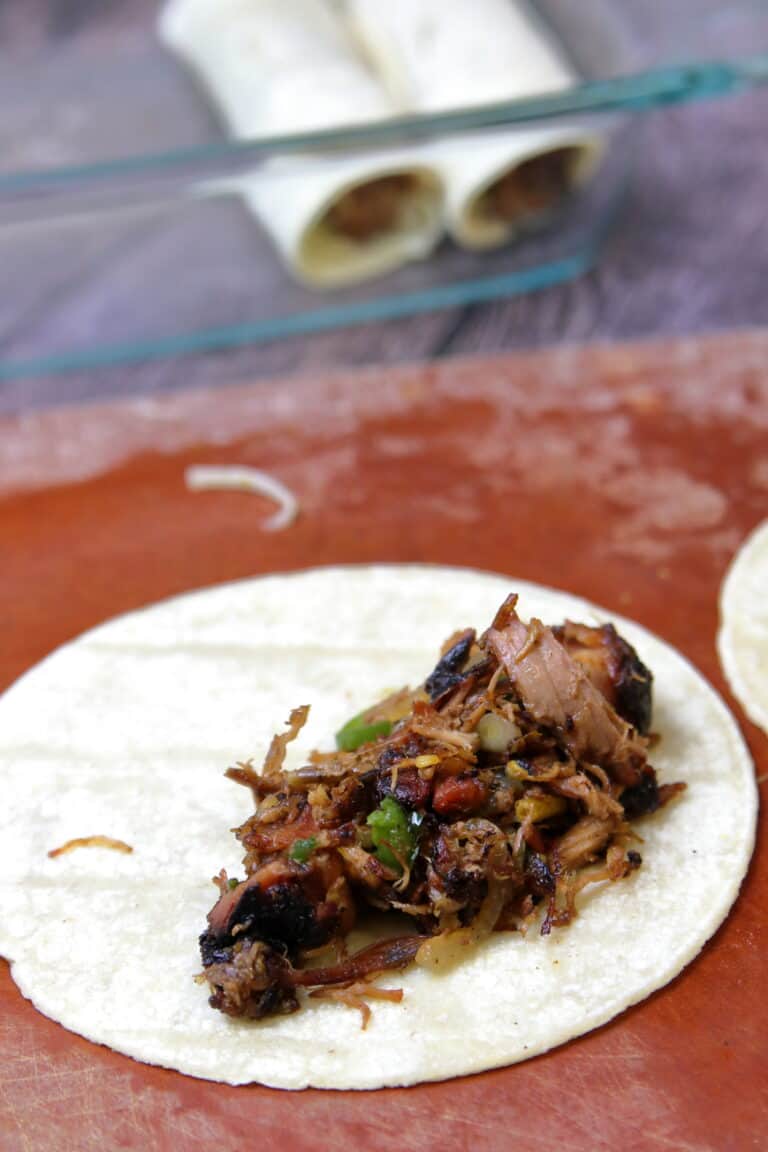 Note: It's best if you only heat about 2 tortillas at a time. If they aren't hot, they'll crack. So if you heat too many at once, they'll get cold while waiting to be used.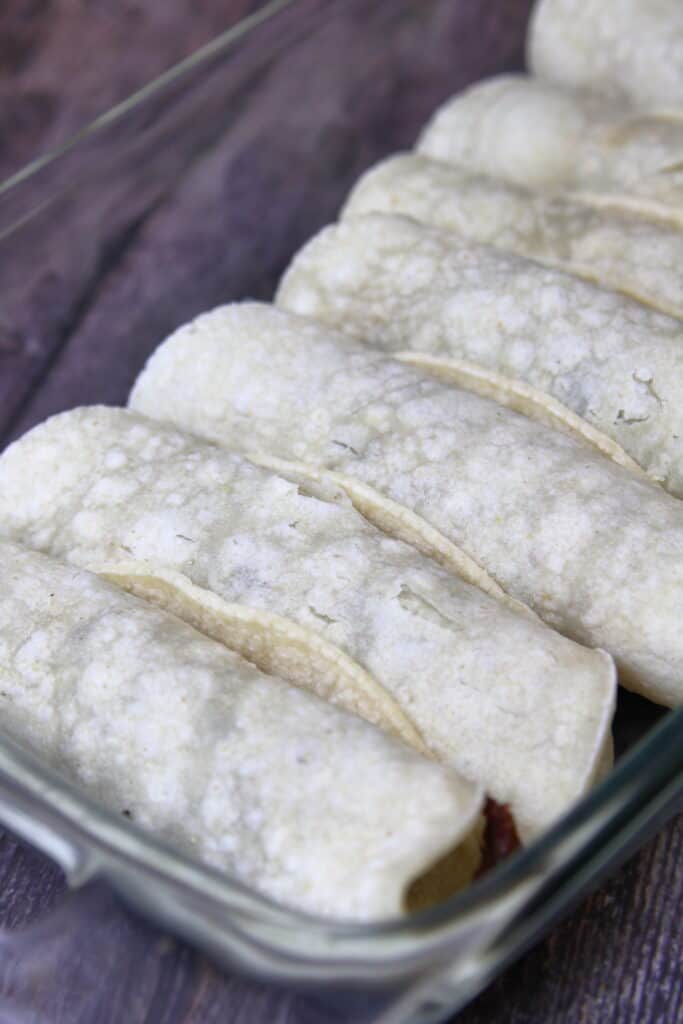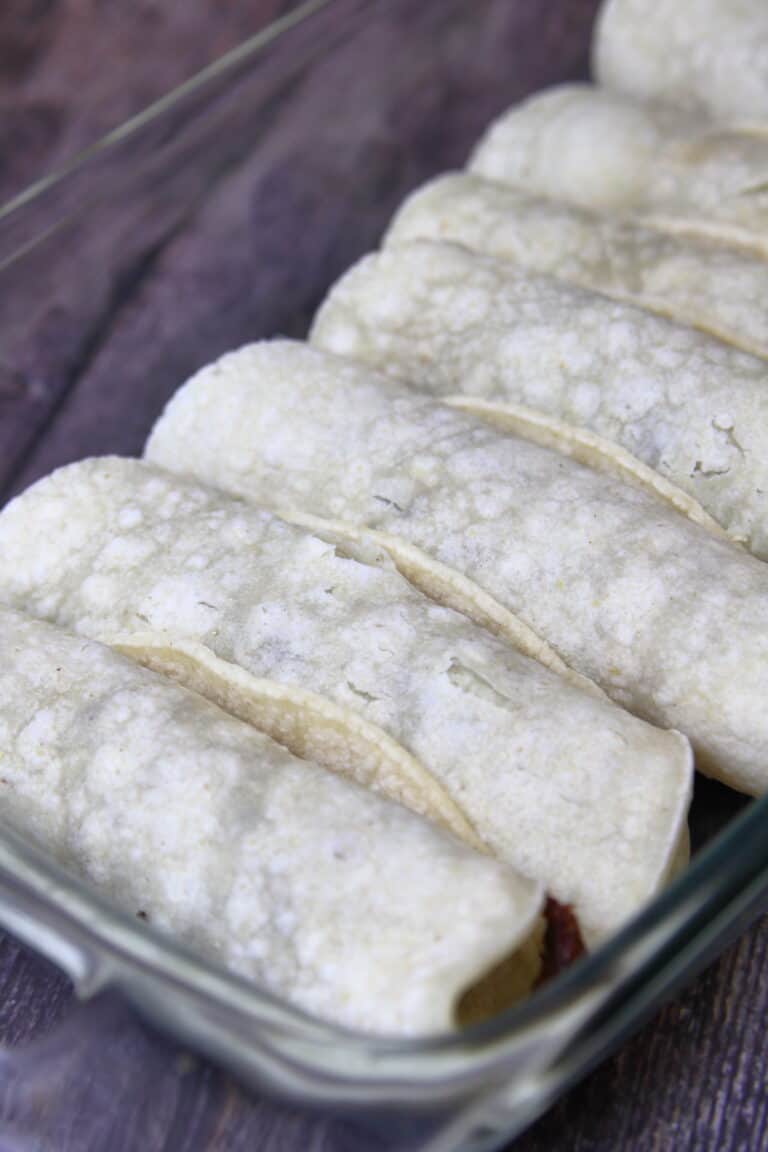 After you've rolled all of your enchiladas, pour the enchilada sauce over them. Cover as much or as little as you want! I used quite a bit. After they are coated in enchilada sauce, sprinkle a generous portion of cheese over them. The more, the better! Can you really have too much cheese?
No you can't.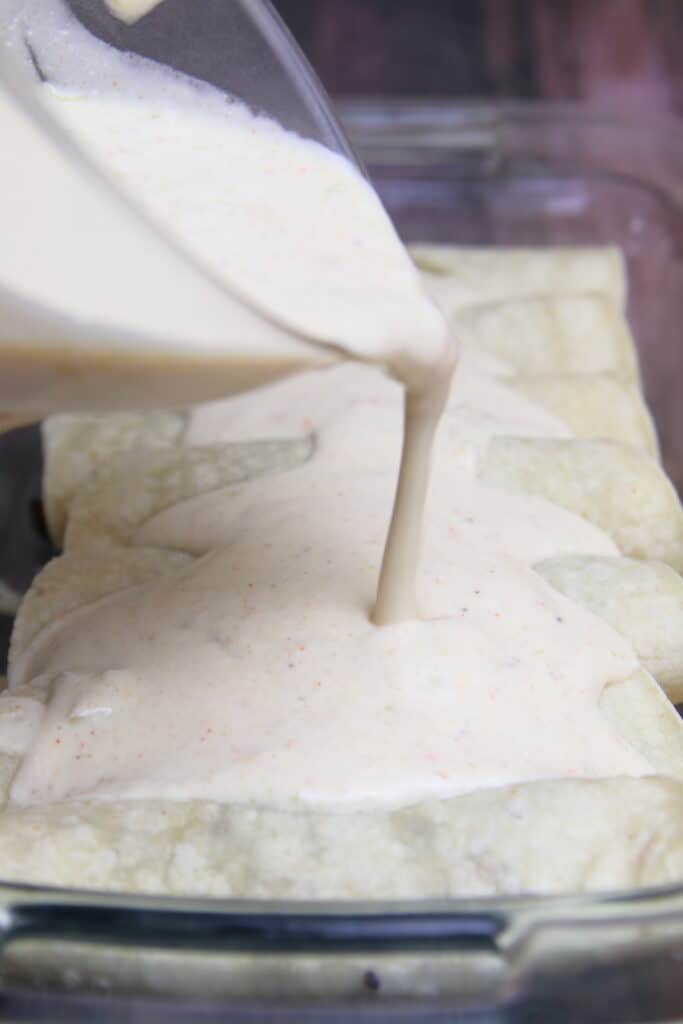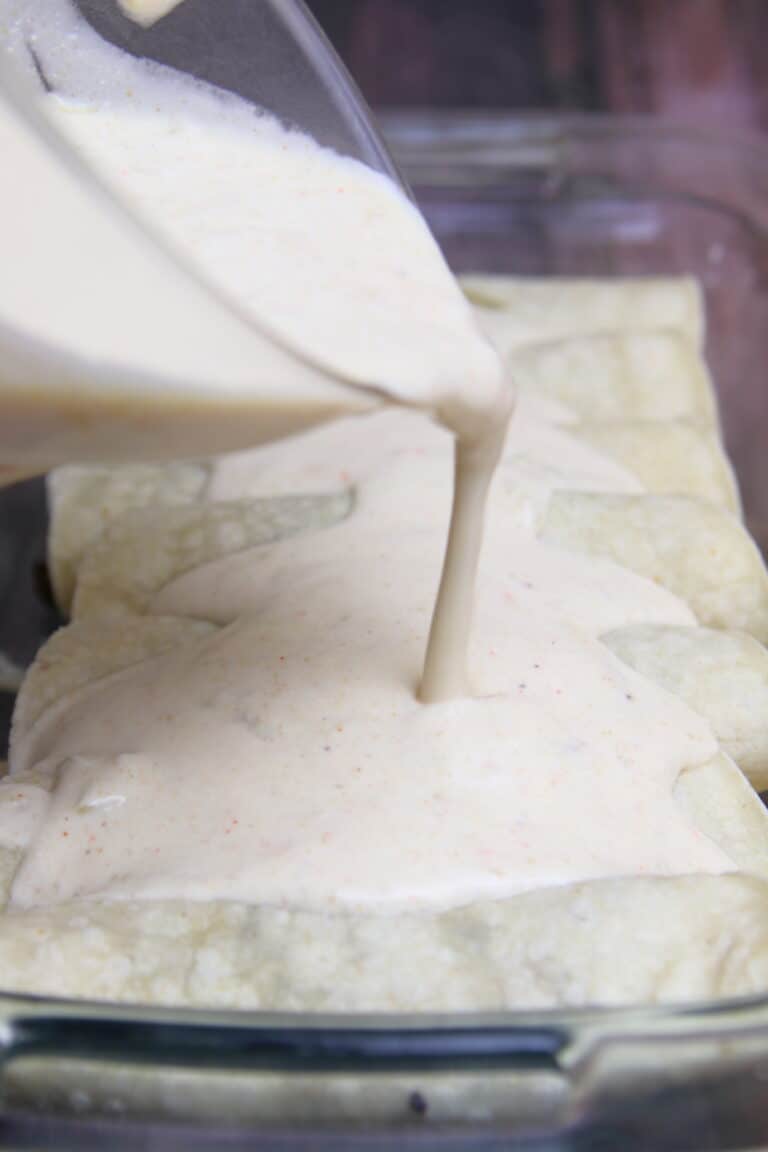 Bake for about 15-20 minutes, or until the cheese is melted and the sauce is nice and bubbly.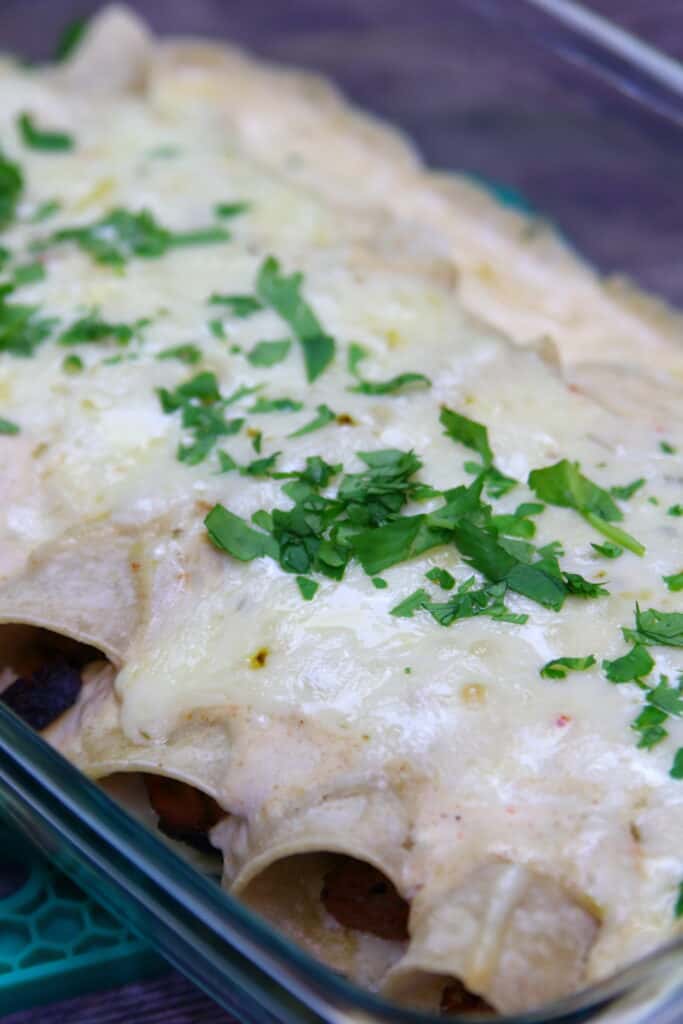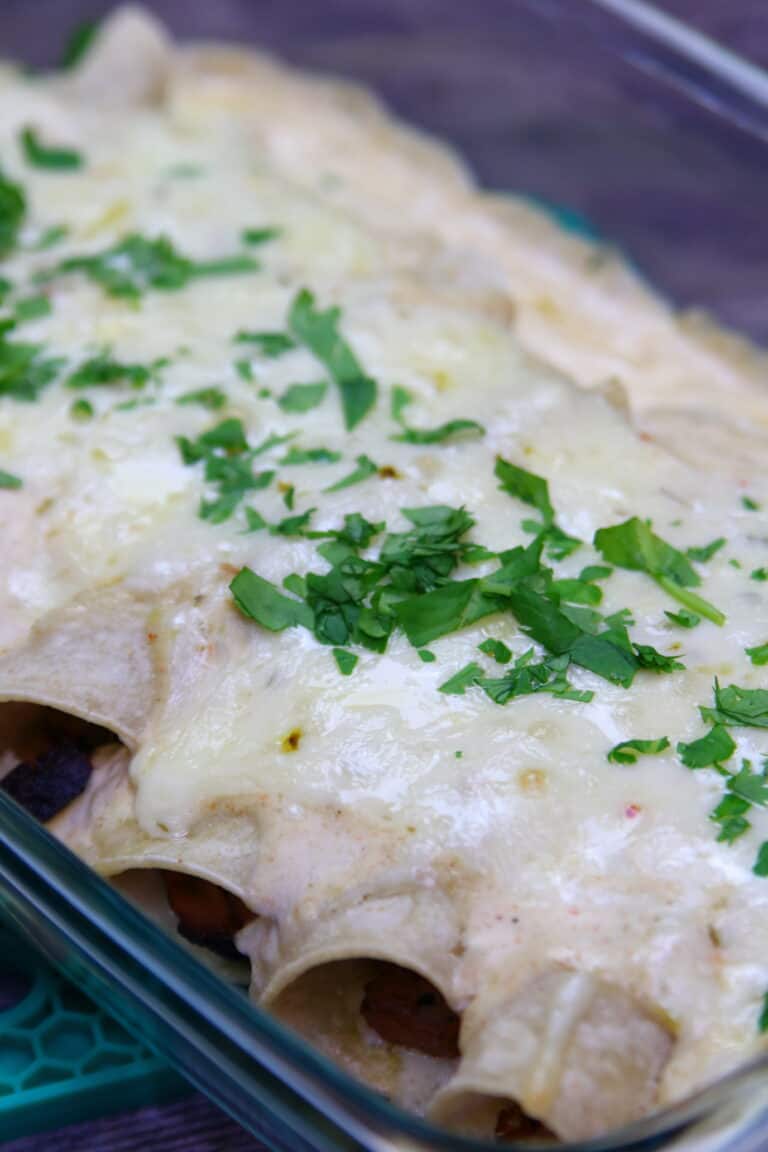 And that's pretty much it! Easy and delicious Leftover Pulled Pork Enchiladas! One of my favorite leftovers recipes so far! Top them with a multitude of tasties- pico de gallo, avocado, cilantro, salsa, hot sauce, guacamole, sour cream… Go to town!
Enjoy!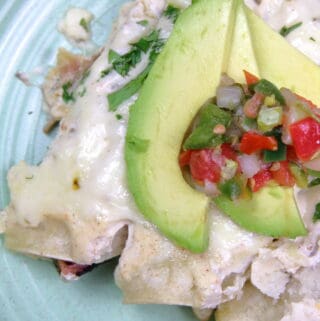 Leftover Pulled Pork Enchiladas with Green Chile Sour Cream Sauce
Stuffed with cheese and peppers and topped with a green chile sour cream sauce, these leftover Pulled Pork Enchiladas are a perfect and easy way to make delicious use of your leftover BBQ and smoked meat!
Print
Pin
Share on Facebook
Rate
Ingredients
For the Enchiladas
10

Corn tortillas

give or take a few

2

cups

leftover pulled pork

(or whatever you choose)

½

cup

sliced onions

¼

cup

sliced jalapeno

¼

cup

roasted green chiles

8

ounces

shredded pepper jack cheese
For the Sauce
1

cup

sour cream

1

cup

chicken stock

1

tsp

cumin

2

tbsp

green chiles, pureed

¼

tsp

chipotle chili pepper

½

tsp

salt

Cornstarch, if needed, for thickening.

Pico de gallo, avocado, salsa, for topper if desired
Instructions
For the enchiladas
Over medium heat in a large saute pan, heat pulled pork until warm and pieces are shredding off. Add onions, peppers, and chiles and saute until soft- About 5-7 minutes.

Heat corn tortillas in the microwave a couple at a time, for about 15 seconds. Place about 2 tablespoons of filling onto a corn tortillas, add shredded cheese, and roll tightly. Place rolled enchilada in a roasting pan (the one I used was about 11X7 but 13×9 works too). Make sure you place the "seam" of the enchilada down so it doesn't unroll.

Repeat until all stuffing is used. Heat tortillas a few at a time. so they are hot. If you heat them all at once, they will cool before you get to them.
For the Sauce
Over medium heat, mix sour cream, chicken stock, pureed green chile, cumin, chipotle chili pepper, salt, and pepper in a saute pan.

Mix well and bring to a slow boil/simmer. Let bubble for about 3-5 minutes so it will thicken. If it doesn't thicken to your liking, add a small mixture of cornstarch sludge (about a tablespoon of cornstarch dissolved in a tiny bit of water).

Make sure to taste the sauce as you go so you can make adjustments if you need!

Pour sauce over rolled enchiladas. Top with plenty of shredded cheese.

Bake at 350 for 15-20 minutes.

Remove from the oven, and serve. Be careful of the molten hot cheese!

Top with pico de gallo, salsa, avocado, guacamole, more sour cream… whatever you like!