These Spiced Apple Cider Cupcakes with Apple Cider Cream Cheese Buttercream are one of my favorite fall recipes! Light and fluffy spiced apple cider cakes with rich and creamy apple spice cream cheese buttercream!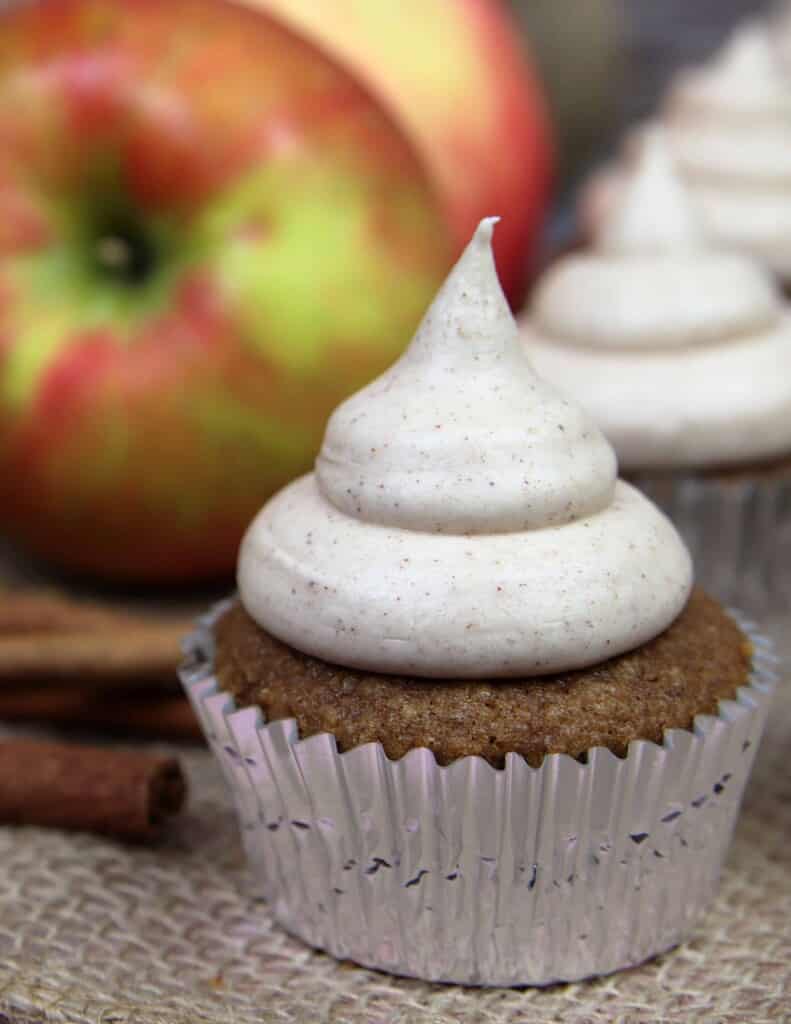 Move over, pumpkin spice! Let's give some love to some Apple Spice! Really though, I love pumpkin spice, but it's taking over the world. The day I saw pumpkin spice salmon was the day I decided we had a problem. These Spiced Apple Cider Cupcakes are JUST the ticket to break up the pumpkin-palooza we're all obsessed with! (I'm still gonna chomp on some pumpkin spice cupcakes though). But first, APPLE SPICE!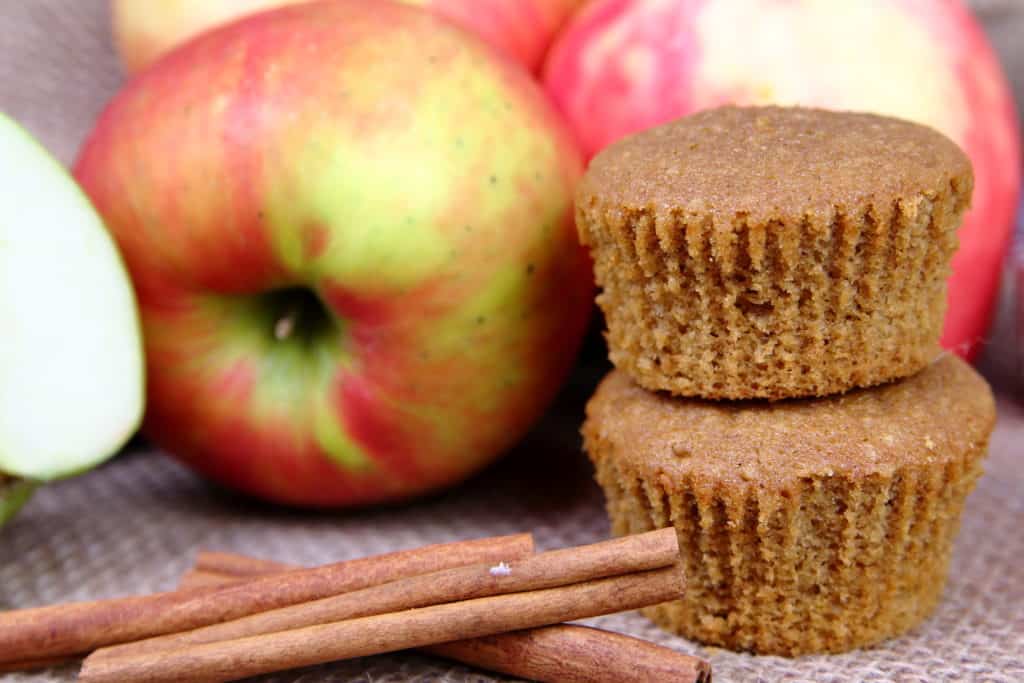 This recipe took a bit of trial and error. The first batch I made were tasty and the texture was nice, but they actually reminded me too much of pumpkin since there are some flavors in common (cinnamon, nutmeg, all spice). I did use LorAnn super strength Apple flavor, but they weren't "apple-y" enough. One thing about my cupcakes is I want the cake itself to be delicious and not have to depend on the frosting. More importantly, I want the flavor of the cake to SCREAM what it is. I never want a "hmm. This kinda tastes like apple. No ma'am. None of that.
In the second batch, I changed ONE THING and they were a complete and total failure. Because science, right? Baking is a very testy balance. I used apple flavored yogurt in this batch and they were way too heavy and wet so the center complete cratered.
The Successful Spiced Apple Cider Cupcakes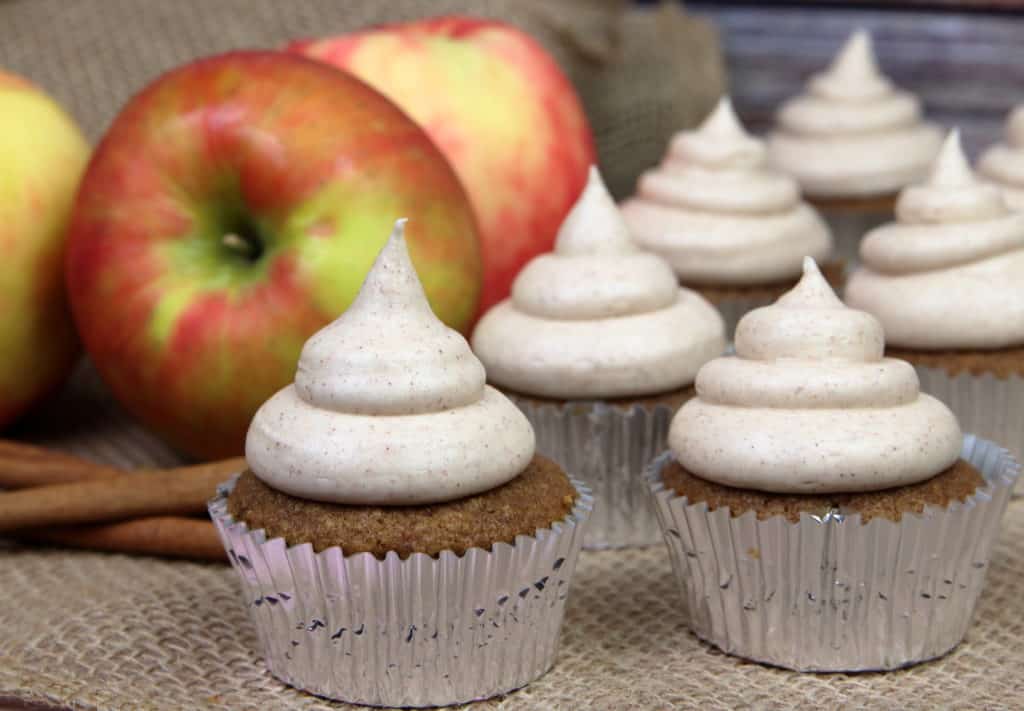 So in round three, I went back to the original recipe and made two small changes that wouldn't mess with the texture of the original:
I subbed out the LorAnn apple flavor for the LorAnn Apple Pie Flavor (affiliate link). Trust me, this matters. A lot.
I subtracted a liiiittle bit of all spice and added half a teaspoon of cardamom. It gave the flavor a bit more dimension.
I knew I hit a home run (watching the Astros in the world series as I type this, so I feel this analogy is required) when I tasted the batter. Oh my. YUM. It was good.
Even better, when the cakes got closed to being finished baking, the whole kitchen started to smell like spiced apples. It smelled like I had a gooey apple pie in the oven. Slam dunk. Wait, wrong sport. Aaaaaanyway…..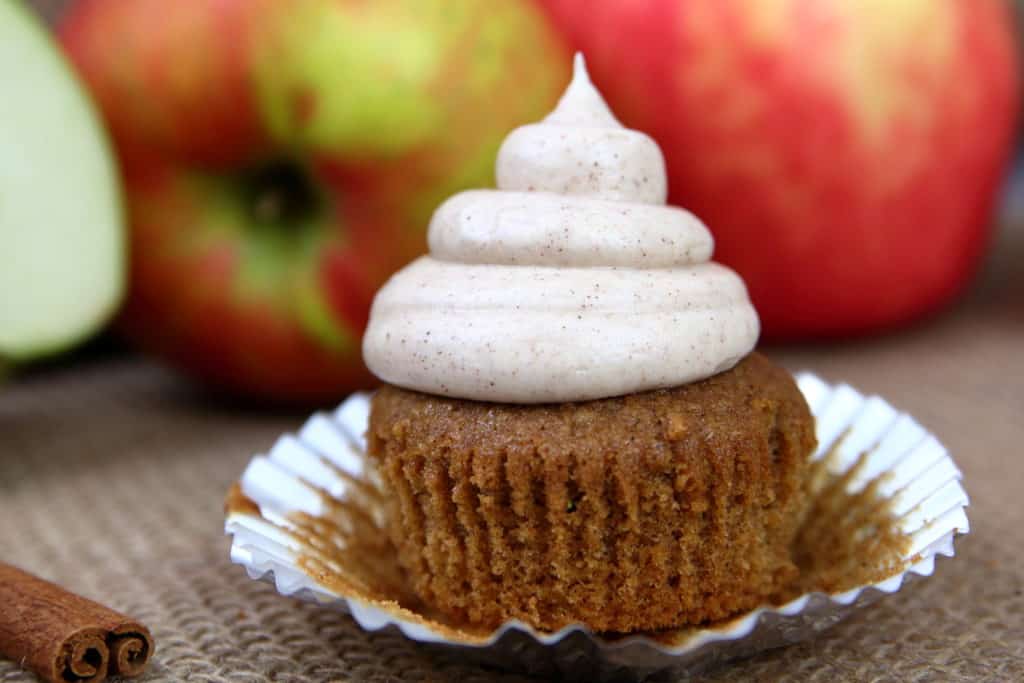 A few more specifics
Always use room temperature ingredients. Everything blends sooo much better. If you put cold ingredients in cake batter, it can REALLY mess with consistency.
Heat the apple cider. I have nothing other than anecdotal evidence that this makes for a light, fluffy cake. The first time I did this was when I was following someone's chocolate cake recipe (which I believe is to actually bloom the cocoa), but I've started to do this for all my batters in some way or another. I need to research this more, but for now, it works in my system.
DARK brown sugar! That extra rich molasses flavor is so stinkin' delicious. I can seriously eat brown sugar by the spoonful.
Sift your dry ingredients so you get more air in the batter.
Whip your wet ingredients for the same reason you sift the dry. Using air effectively can REALLY help the texture of the cake. There are some rich, heavy ingredients so it takes some effort to keep it light.
Blend the granny smith apple (you need a little tart bite!) and ¼ C of apple cider really well with a food processor. It basically turns into applesauce and that granny smith apple gets aaaaall up in the batter incorporating another layer of flavor everywhere.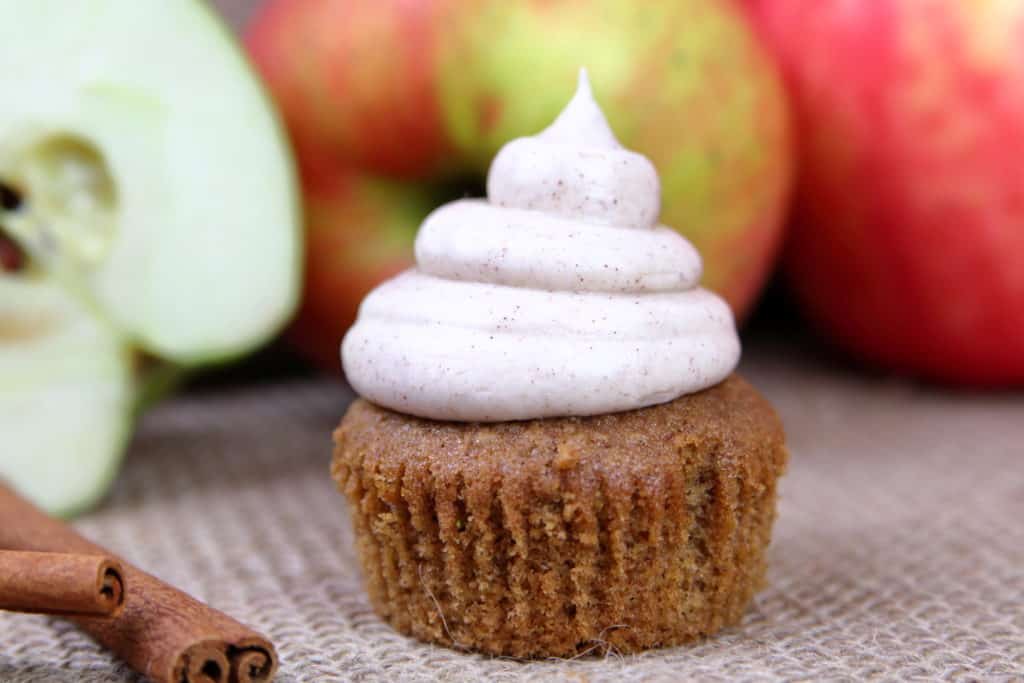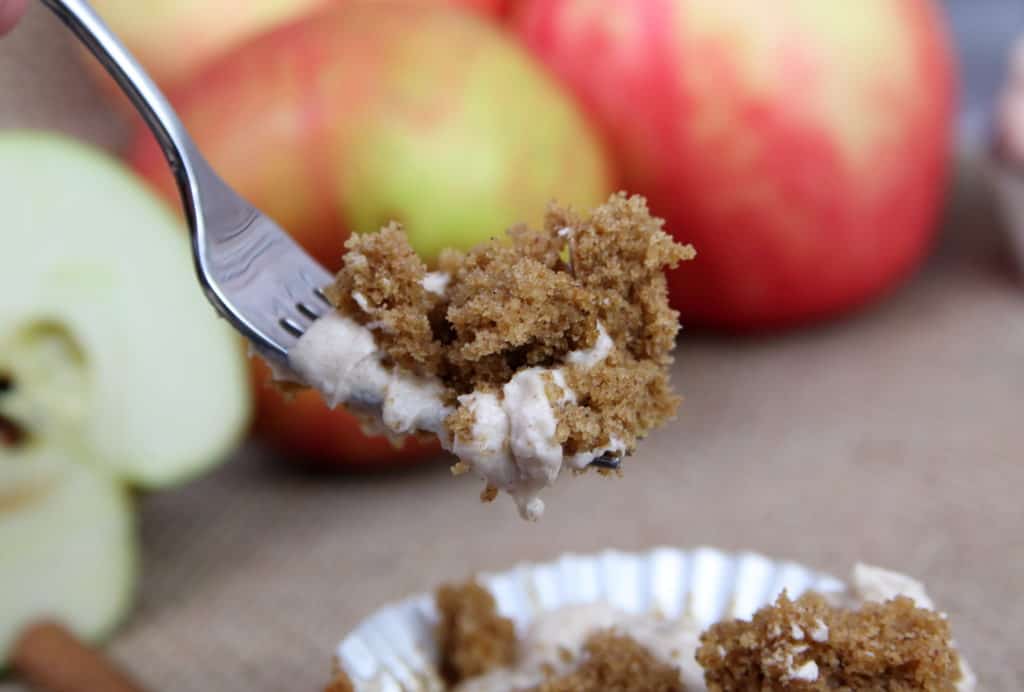 So there you have it! After some experimentation and minor frustrating setbacks, we have a SUPER delicious Spiced Apple Cider Cupcakes that are PERFECT for this fall season we are currently enjoying. Southeast Texas is finally experiencing some crispy fall weather, and it's AWESOME.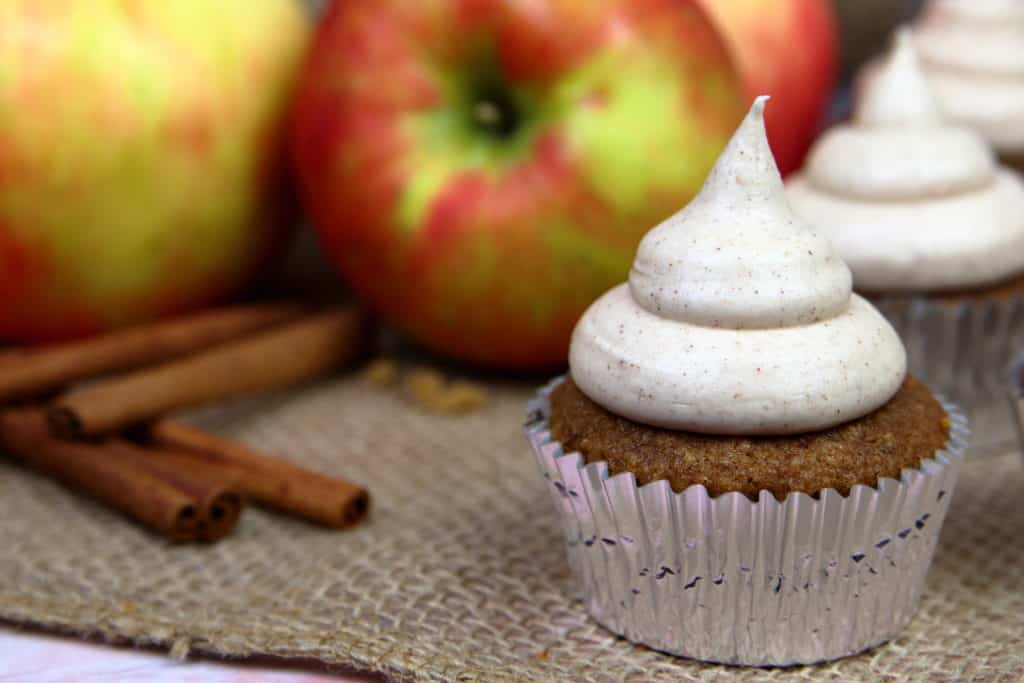 So put away the pumpkin, grab an apple, and get baking!
Enjoy!
Need a tasty fall side dish? Try this Oven Baked Spaghetti Squash or bring some Creamy Spinach and Artichoke Dip to your next holiday gathering!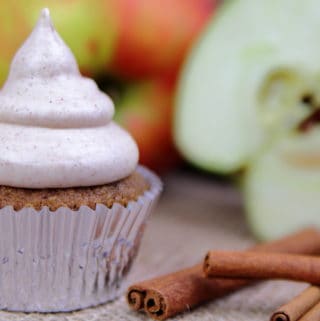 Spiced Apple Cider Cupcakes
Move over, pumpkin spice! Try these Spiced Apple Cider Cupcakes with Apple Cider Cream Cheese Buttercream. Light and Fluffy cake with rich and creamy frosting. YUM!
Print
Pin
Share on Facebook
Rate
Ingredients
For the cake
2

sticks

butter

275

g

dark brown sugar

2

eggs

½

tsp

vanilla extract

1

tsp

LorAnn Apple Pie flavor

300

g

All purpose flour

¾

tsp

baking soda

1

tsp

baking powder

¾

tsp

salt

1

tbsp

ground cinnamon

2

tsp

fresh ground nutmeg

using a microplaner

½

tsp

all spice

½

tsp

cardamom

¾

cup

spiced apple cider

hot

100

g

Granny Smith apple

about half a medium apple

¼

cup

spiced apple cider

to be blended with the apple
For the Frosting
1

8 ounce

stick butter

1

8 ounce

block of cream cheese

500

g

powdered sugar

2

tsp

ground cinnamon

½

tsp

LorAnn Apple Pie Flavor

¼

tsp

vanilla extract

2

tbsp

Spiced Apple Cider

½

tsp

salt
Instructions
Measure and prepare all ingredients. Make sure everything is room temperature. Chop 100 grams of a green apple (about half a medium apple) and blend with ¼ of the apple cider in a food processor until fully blended.

Using the whisk attachment on a stand mixer on high speed, whip butter until smooth and creamy.

Add brown sugar to the butter and continue to whisk until fully combined

Add eggs. Whip until smooth, light, and fluffy. About 2-3 minutes

Add vanilla extract and LorAnn Apple Pie Spice Flavor

Combine all dry ingredients (sifted flour, baking powder, baking soda, salt, cinnamon, nutmeg, cardamom, all spice) and mix together well.

Replace whisk attachment with paddle attachment. On low speed, slowly spoon in the dry mixture, alternating with the blended apple mixture, until fully incorporated.

While the stand mixer is running on low, slowly pour in hot apple cider. Mix until just incorporated.

Spoon into baking cups evenly. This batter will make 24 standard sized cupcakes.

Bake at 350°F for 14-16 minutes.
For the Buttercream
Using a stand mixer with the whisk attachment on high, blend cream cheese and butter until smooth and creamy.

Slowly spoon in sifted powdered sugar.

Add in cinnamon, extracts, and apple cider. Whip until smooth and creamy.

After cupcakes have been removed from the oven and cooled, frost and enjoy!