I really love hosting parties. My absolute favorite thing about it is getting to create and prepare a menu for our guests. When I get to host, these Stuffed Mushrooms are one of my go to dishes. They are easy and REALLY good, and I'm not even a huge fan of mushrooms in general. Stuffed mushrooms are easy to make with lots of variety, and these particular mushrooms are stuffed with italian sausage and pepper jack cheese. And BONUS: they aren't made with breadcrumbs so they are low carb and gluten free.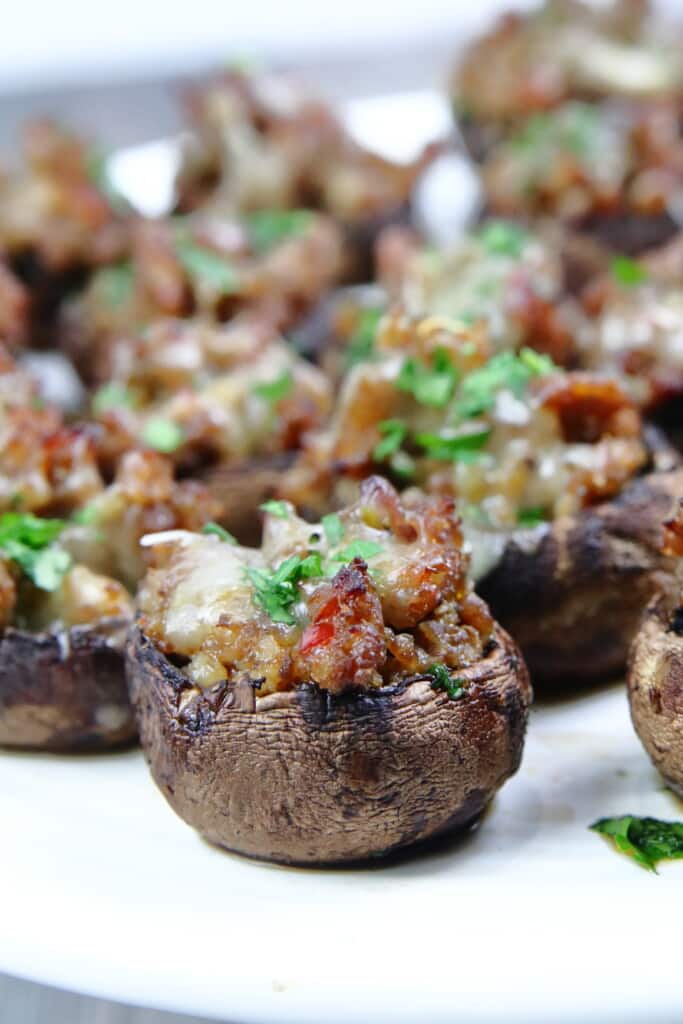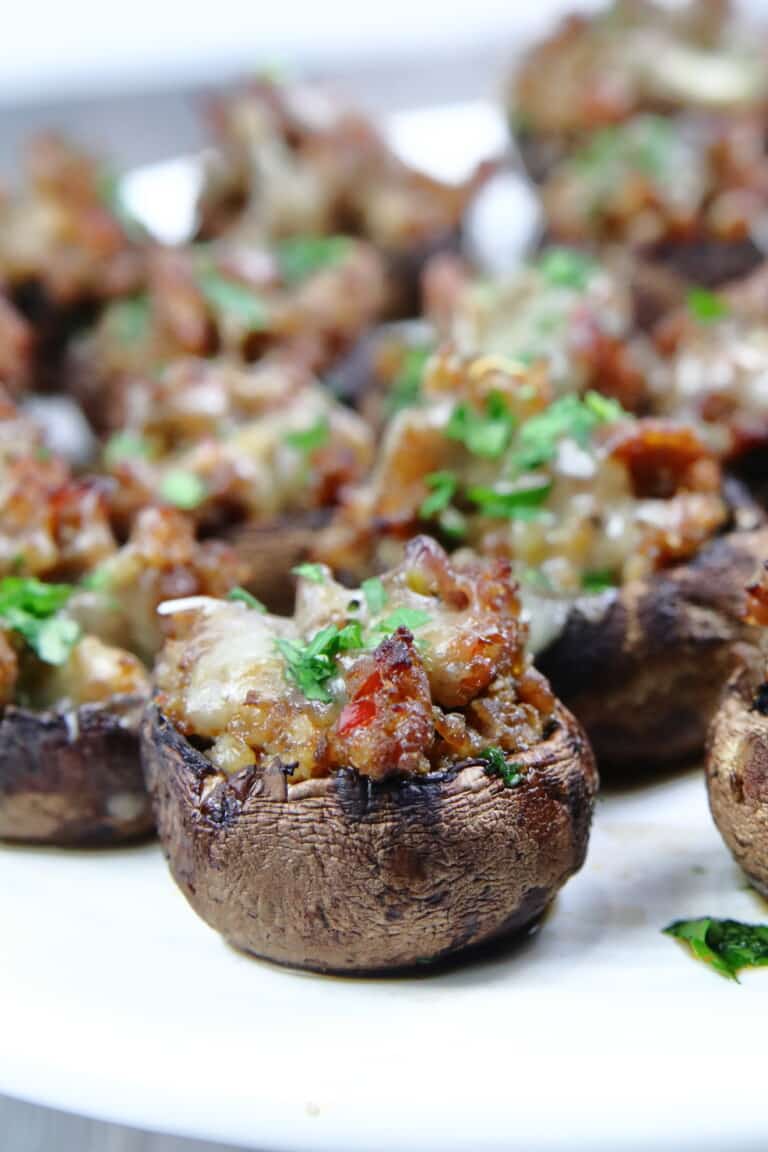 Prep: Should you wash your mushrooms to clean them?
To wash or not to wash? That is the hot debate.

Before you stuff your mushrooms, you definitely need to clean them.

For ages, we have all been told that mushrooms soak up water like a dry sponge that was just plunged into a bowl of water.

Is that true? Well… according to Alton Brown… Nope.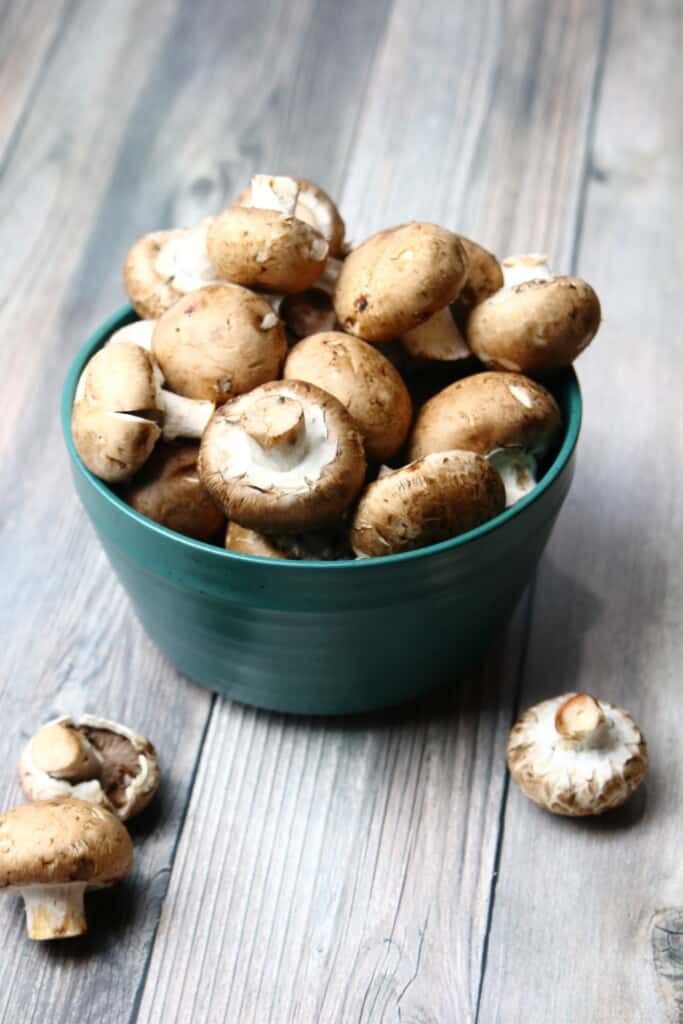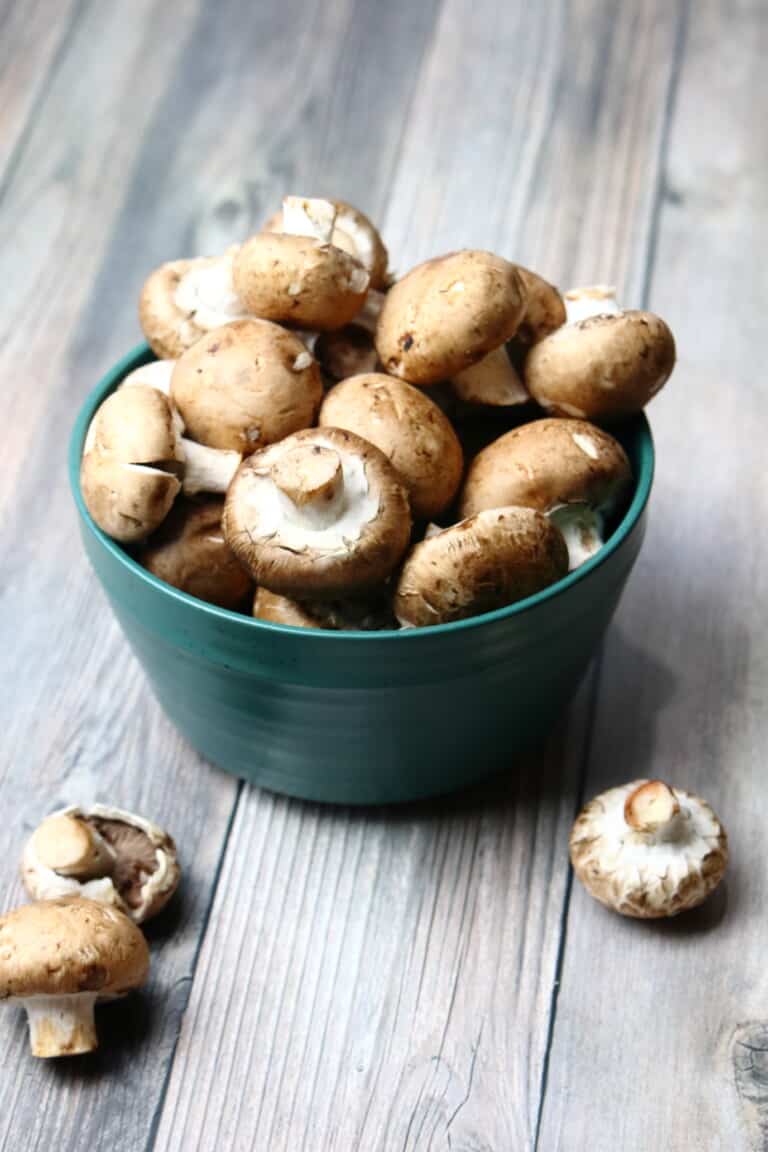 My husband is an avid Good Eats watcher, and without going into too many details, there was a whole thing on how mushrooms don't really soak up moisture like we have all believed for a while.
What is in the stuffed mushroom stuffing?
This is seriously one of the easiest and most basic stuffed mushrooms recipe you can do. I decided on Italian sausage because it is already packed with flavor so it didn't really need any doctoring. Just make sure you drain out all of the oil.

Basically, I cheated.

All that was really needed to make these stuffed mushrooms delicious was the sausage itself, the mushroom stems to really amp up the mushroom flavor. I use a Ninja Food Processor (paid link) and it is sooooo good for so many things.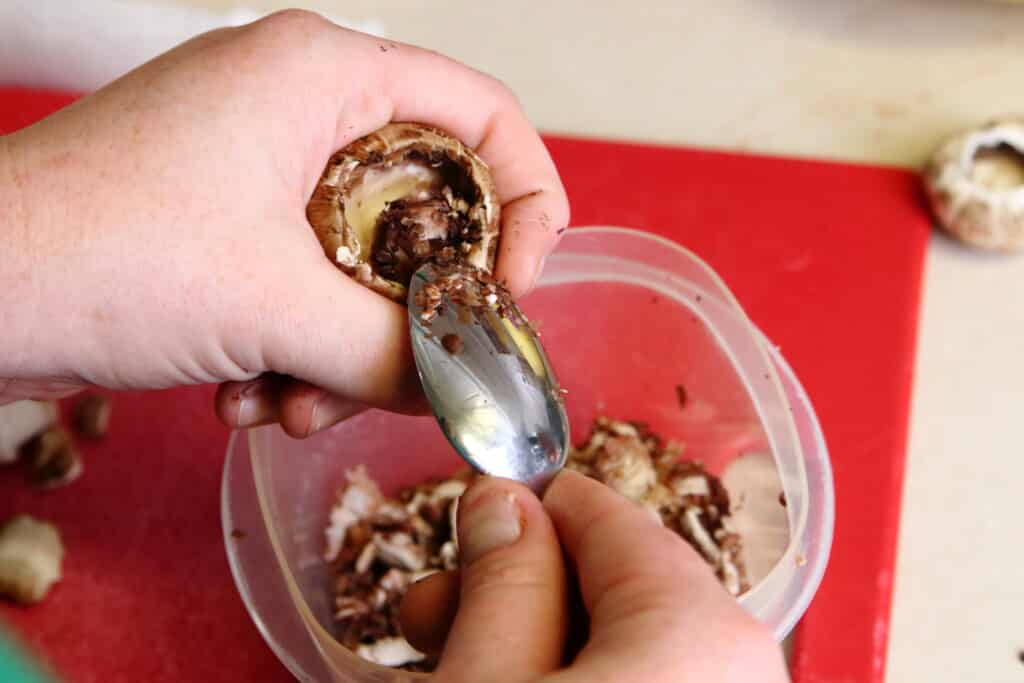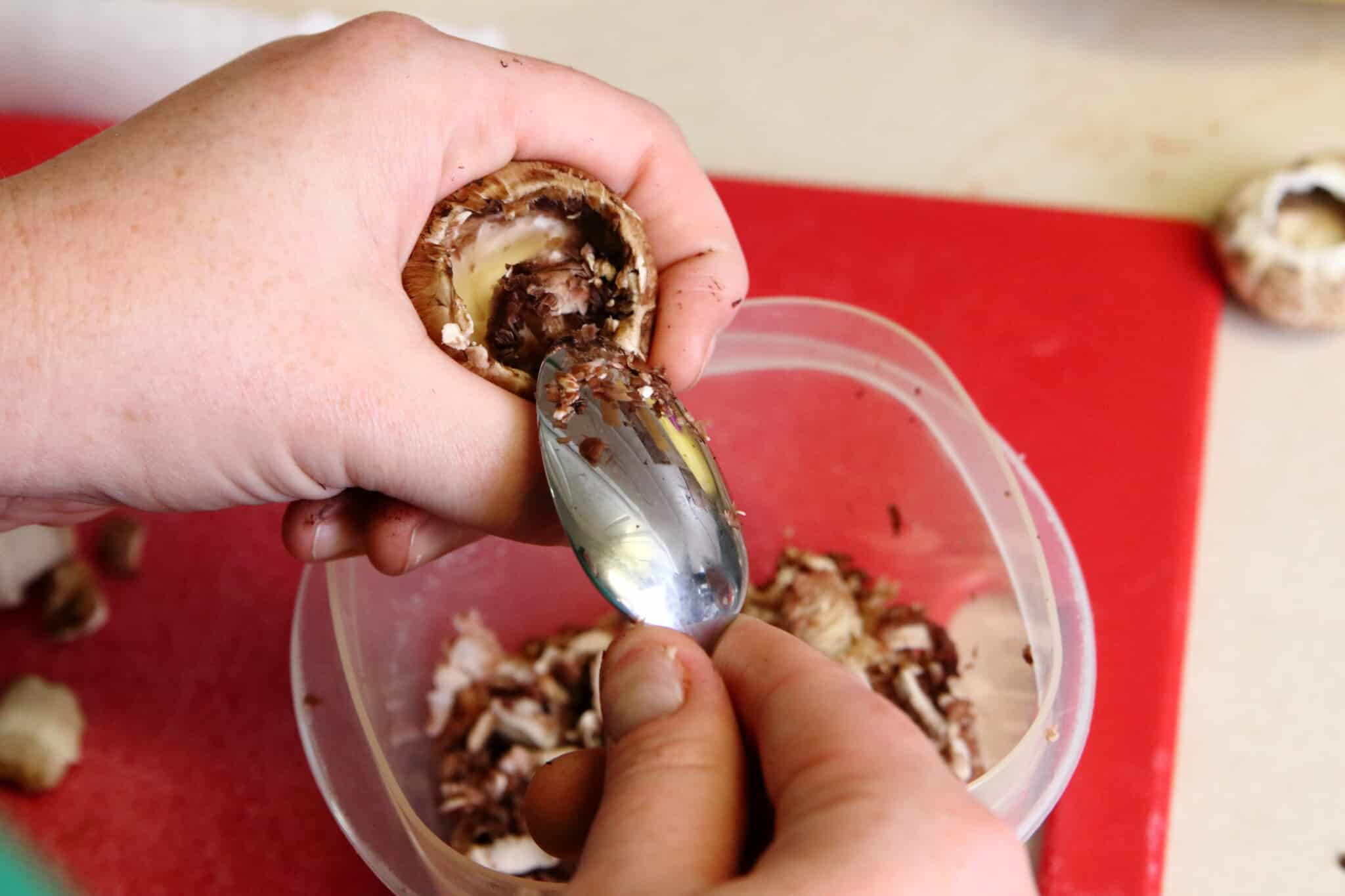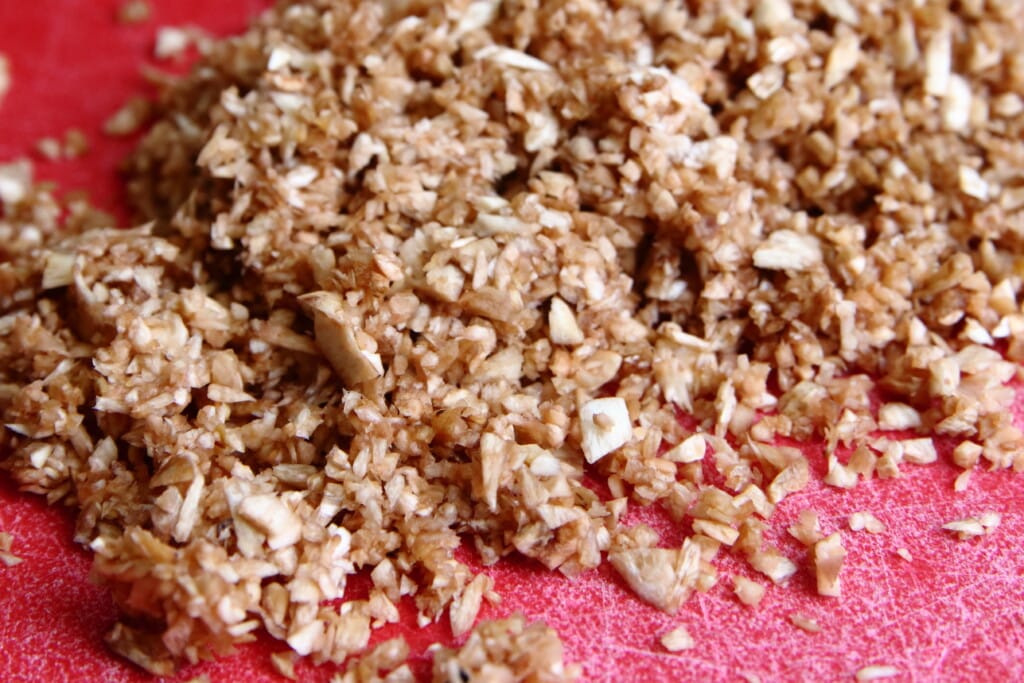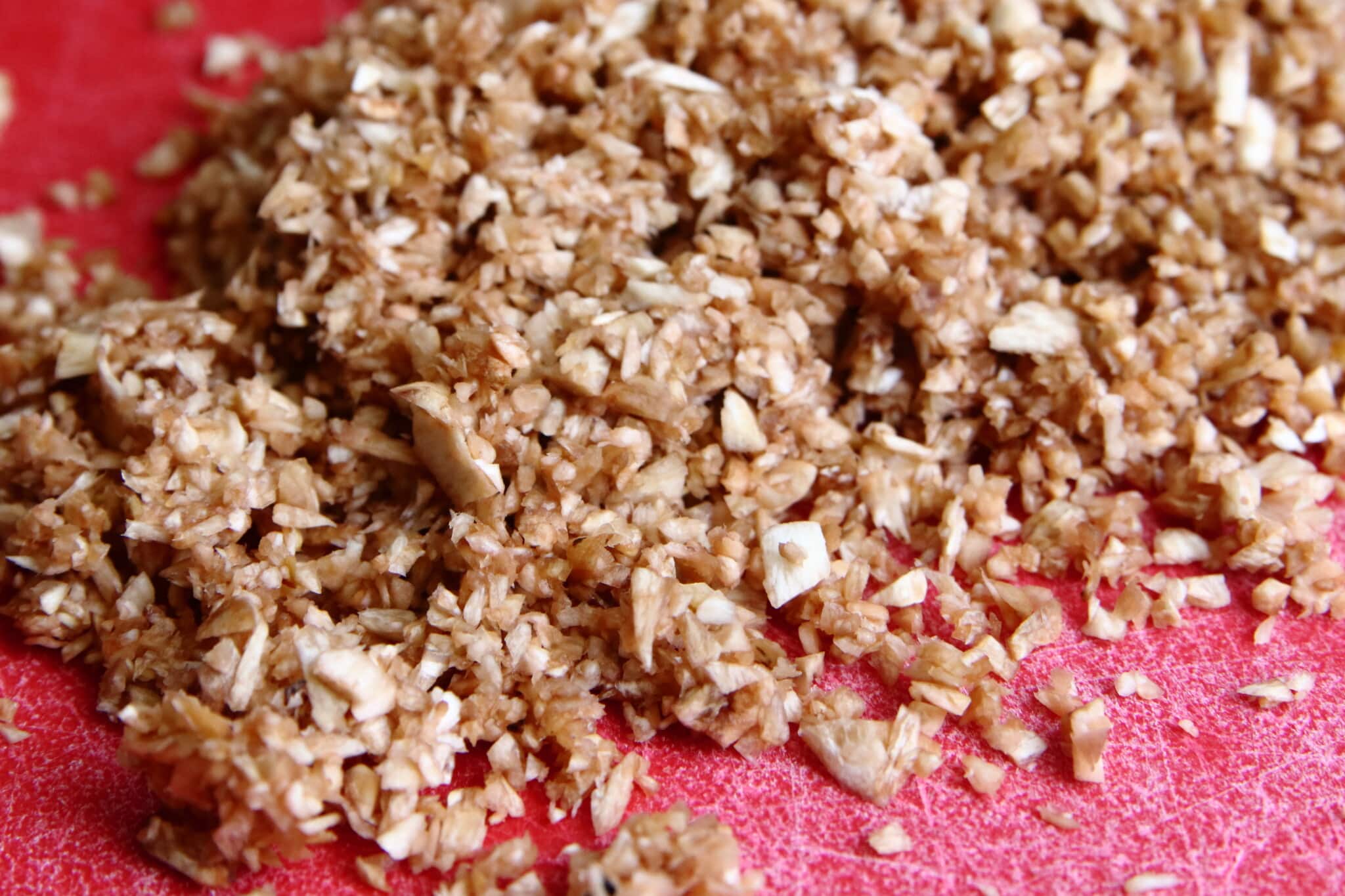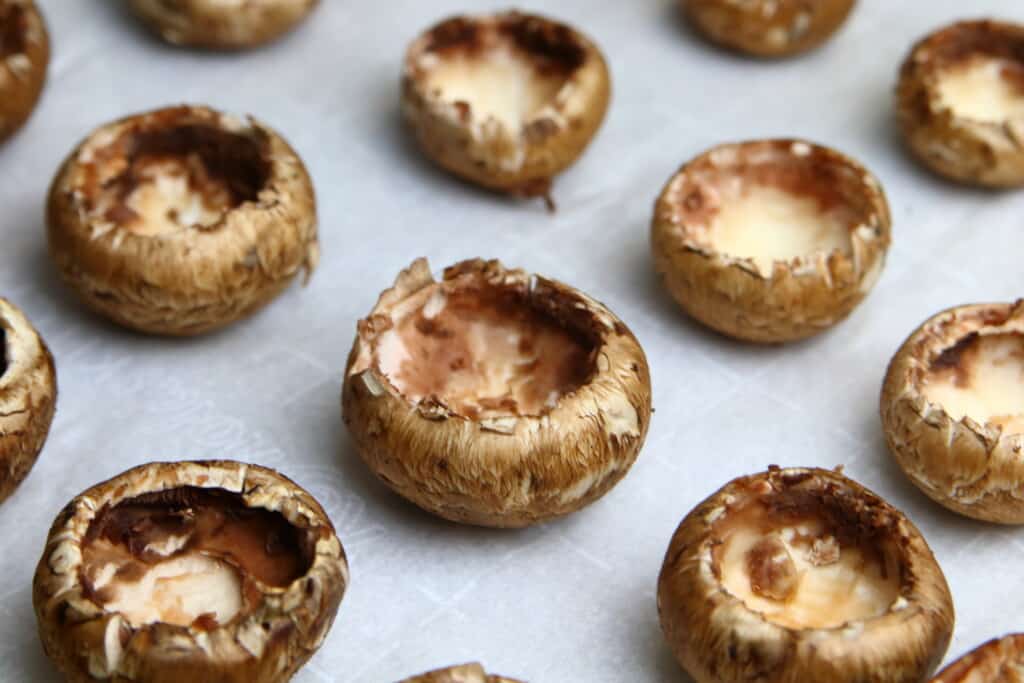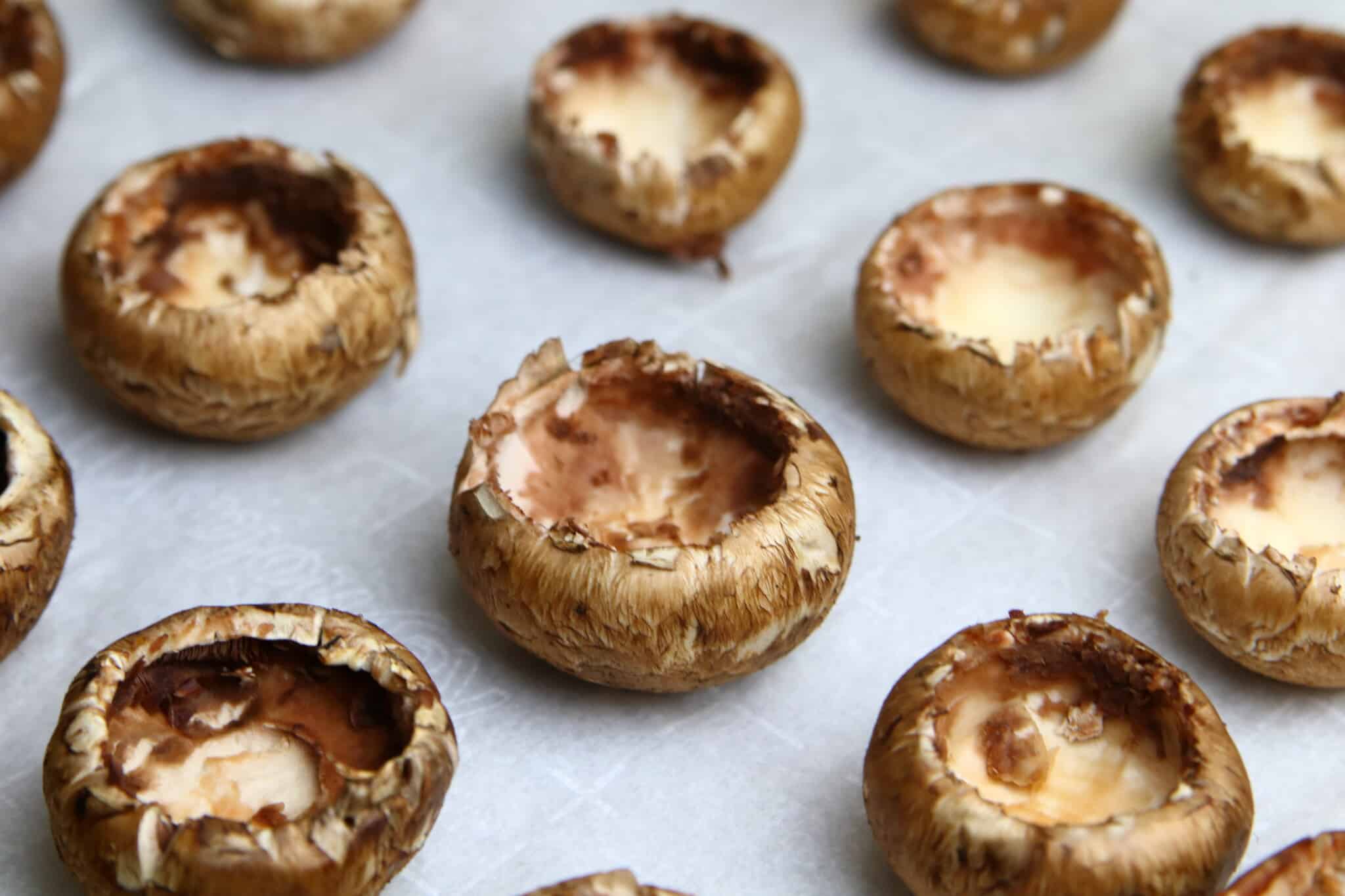 Are these stuffed mushrooms healthy?
Now, we all have different health needs, so what's healthy for one may not be desirable for the next. But one thing that IS great about these stuffed mushrooms is that they are low carb and gluten free.

The Italian sausage, however, has a higher fat content, so that may not be healthy for some. But if you are looking for keto or gluten free side dish or appetizer ideas, these stuffed mushrooms are perfect.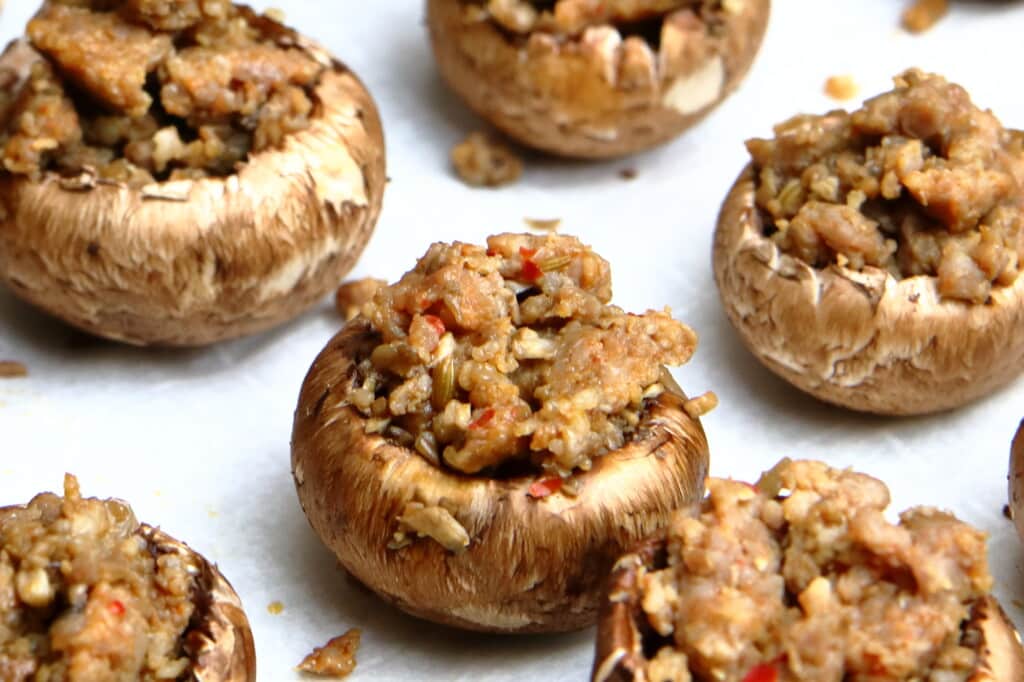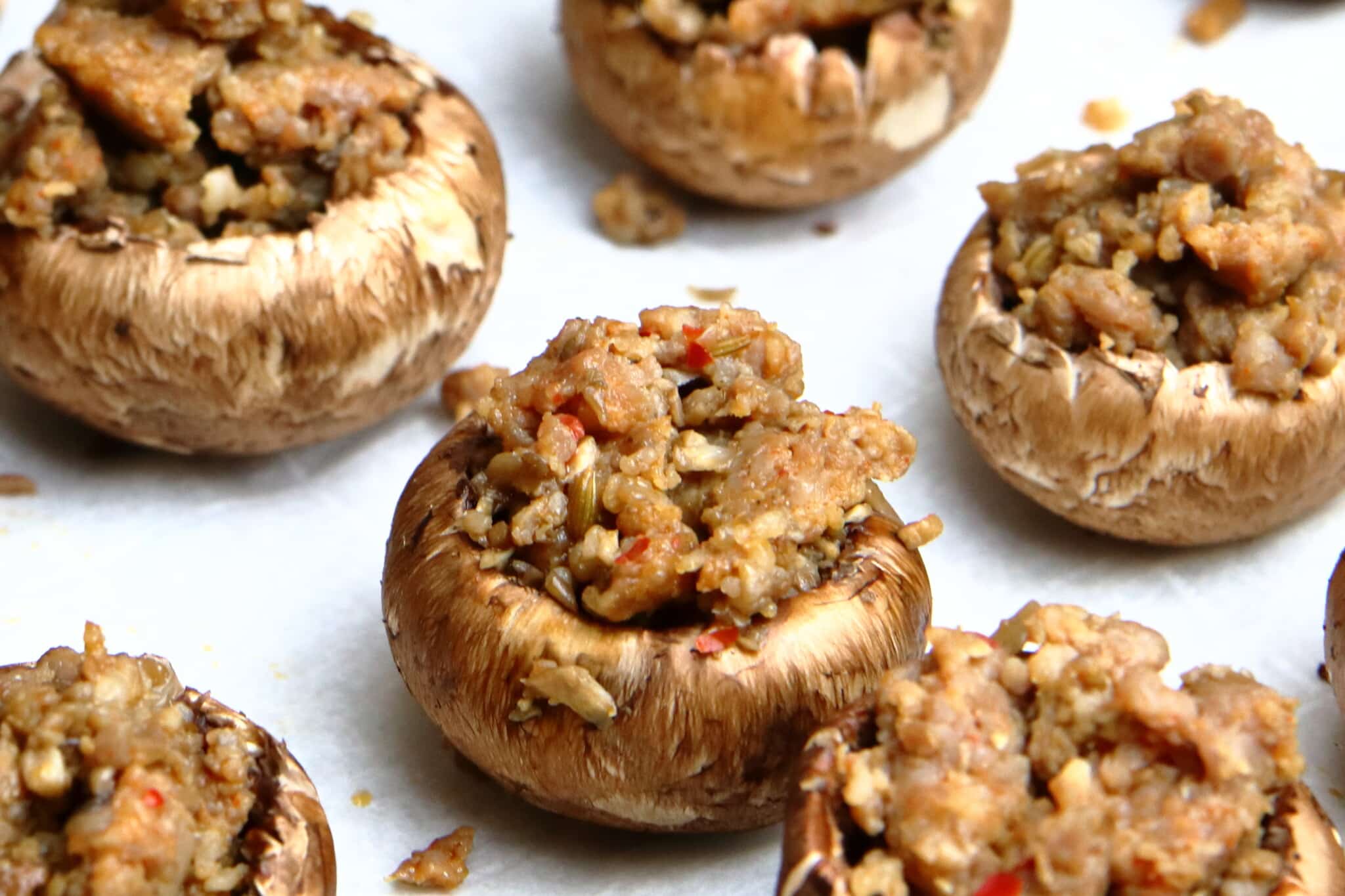 Baking the Stuffed Mushrooms
This is definitely one of the easiest appetizers you can do.

After browning the meat and mixing in the chopped stems, all you need to do it spoon them into the mushrooms. I piled it nice and high.

Bake them for about 10 minutes on 400F before adding the cheese and baking for about 5 more minutes.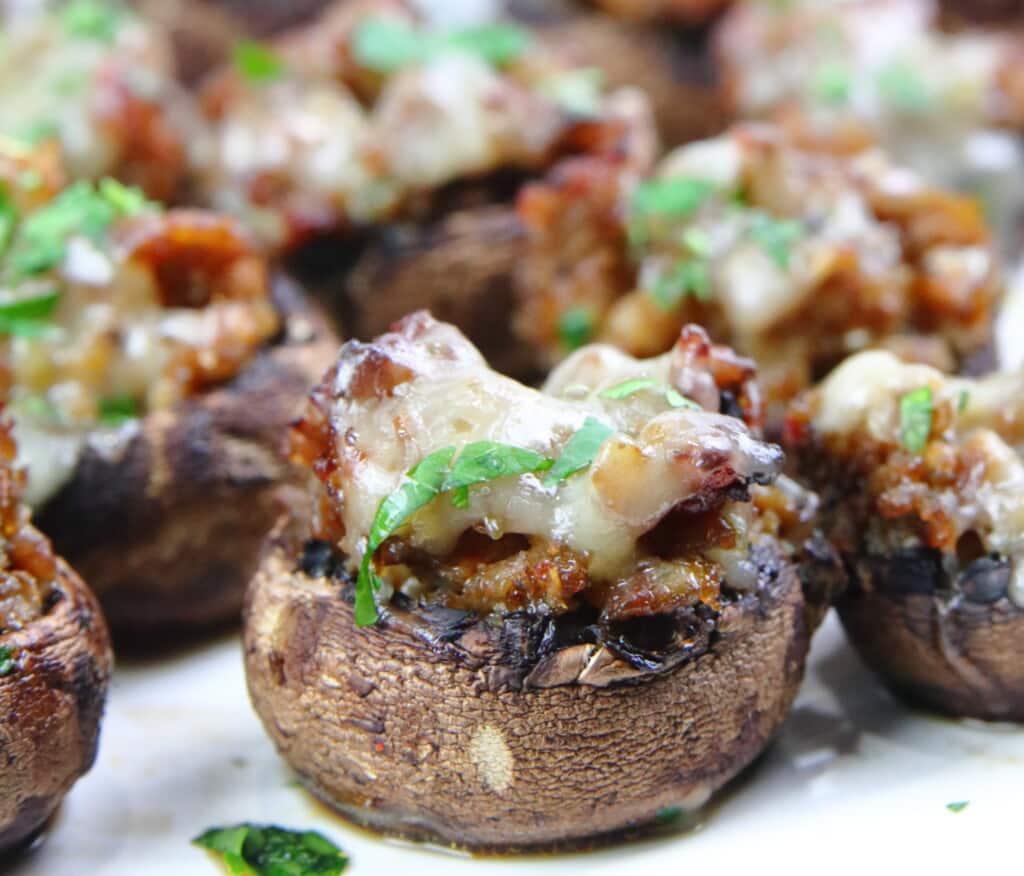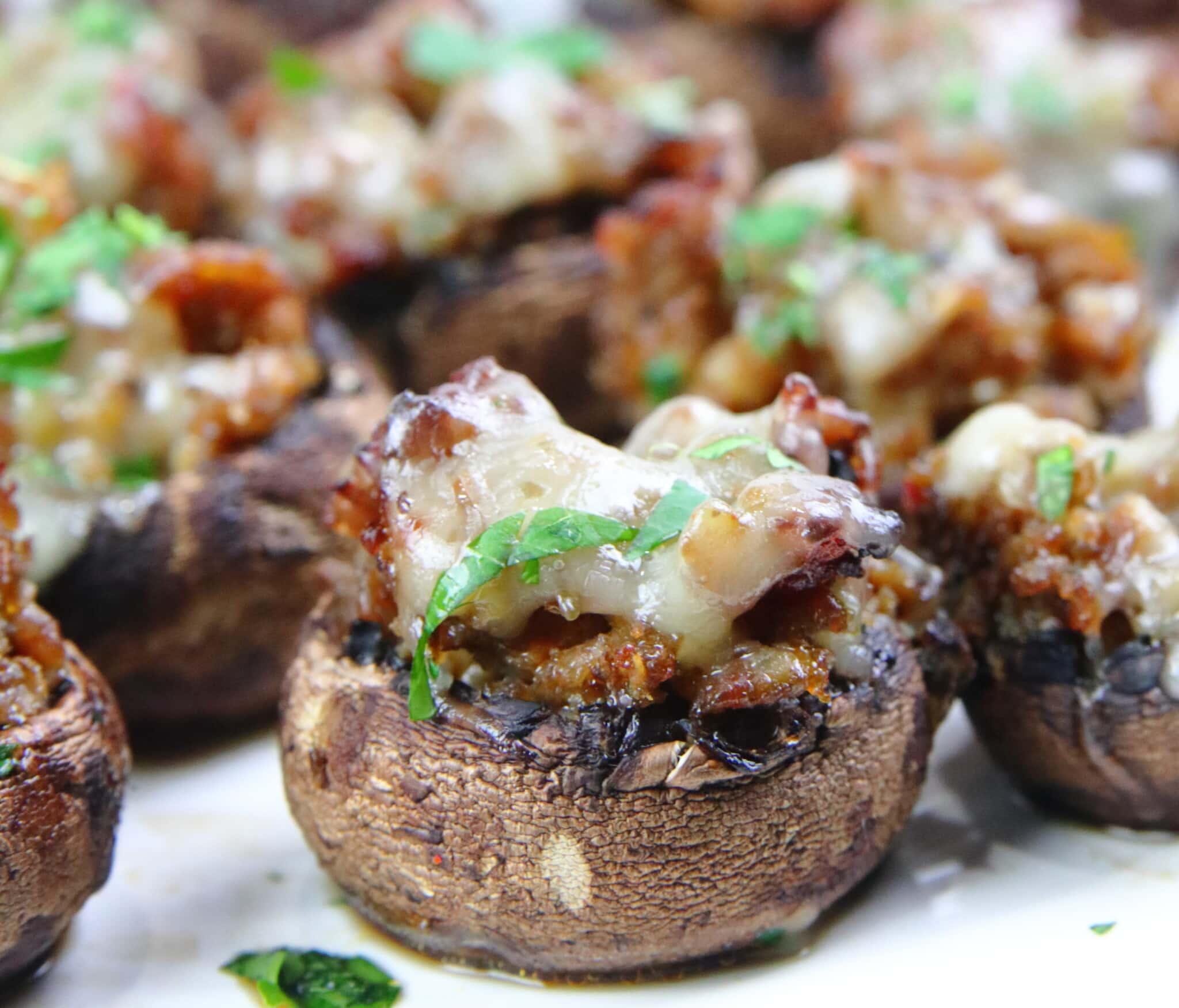 After baking, your stuffed mushrooms might be a little on the dark side, but that's mostly from the leftover oil. They won't taste burned.
That's pretty much it! Easy peasy. Flavorful and delicious stuffed mushrooms that everyone is going to love.
Enjoy!
Need more appetizer ideas? Try this Creamy Spinach and Artichoke Dip or Queso Blanco with Green Chiles!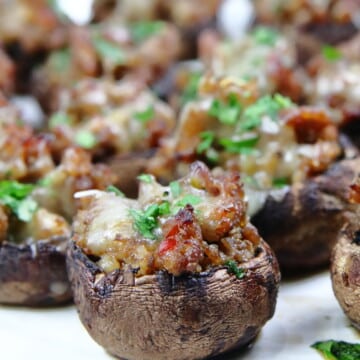 Stuffed mushrooms with italian sausage
These low carb, gluten free italian sausage stuffed mushrooms are topped with spicy pepper jack cheese and are a perfect hors d'oeuvre, snack, or side dish.
Print
Pin
Share on Facebook
Rate
Ingredients
1

lb

baby bella mushrooms

12

oz

italian sausage (I used hot)

4

ounces

pepper jack cheese

parsley, for topping
Instructions
Clean any dirt off the mushrooms if necessary.

Remove the stems. Set aside. Using a spoon, scrape out the gills of the mushroom and discard. Line mushroom shells on a baking sheet.

Place stems in a food processor and chop until very small.

Over medium heat, brown the Italian sausage. Make sure to chop the pieces small while you are browning. After a few minutes of browning the meat, mix in the chopped mushroom stems. Continue to cook the meat. When the meat is cooked, drain ALL of the oil.

Spoon sausage and mushroom mixture into the empty mushroom shells.

Remove from oven, and carefully top each mushroom with shredded cheese.

Bake for an additional 5 minutes.

Remove from the oven, top with chopped parsley, serve, and enjoy!