These No-bake Apple Cinnamon Cheesecake bites perfect for the fall season! Apple Pie flavored cream cheese filling topped with diced apples cooked in a buttery brown sugar cinnamon glaze. Make these delicious bite sized fall treats for your next holiday party!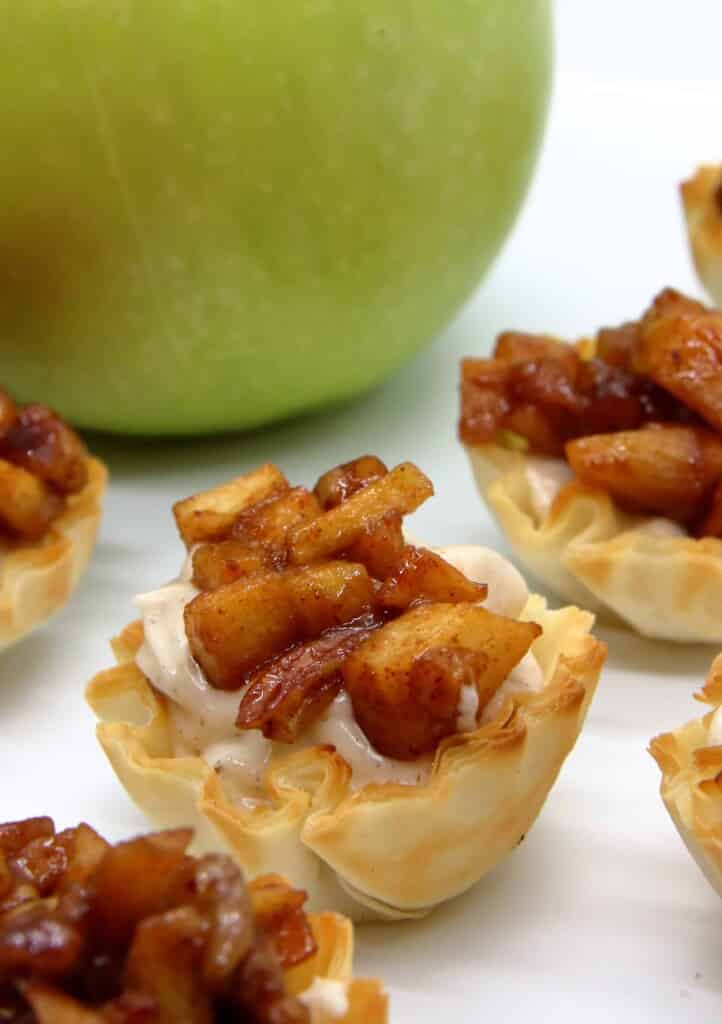 So I've definitely been neglecting the pumpkin this fall season. But I can't help it. I still want to show the apples some love. I always love to work on apple pie recipes AND cheesecake recipes. Cheesecake is one of my absolute best desserts, but it can be quite the undertaking. These apple cinnamon cheesecake bites are the perfect fall treat, and bonus! They're SO easy. No baking, no water baths, no springform pans. Just sweet cheesecake goodness in some crispy, flaky, phyllo shells. Delightful!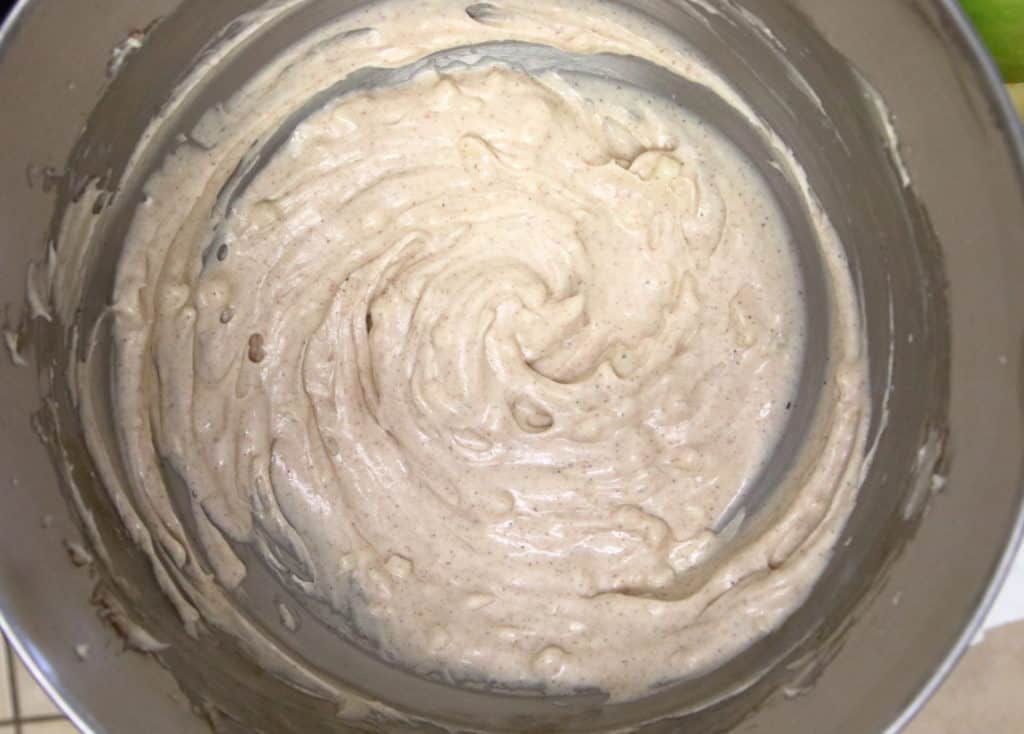 One of my favorite things about these little bite-lets is that they are tiny little sweet treats perfect for Thanksgiving or other holiday gatherings because there are normally PILES of pies and cakes, and this way guests can have a bite without having to slice off a whole piece. I mean, not that there is anything wrong with multiple slices of multiple desserts. No judgy pants here (Only stretchy ones).
Prepping your Apple Cinnamon Cheesecake Ingredients
These cute little apple cinnamon cheesecake bites really are super simple to make. There are just a few key points I want to highlight: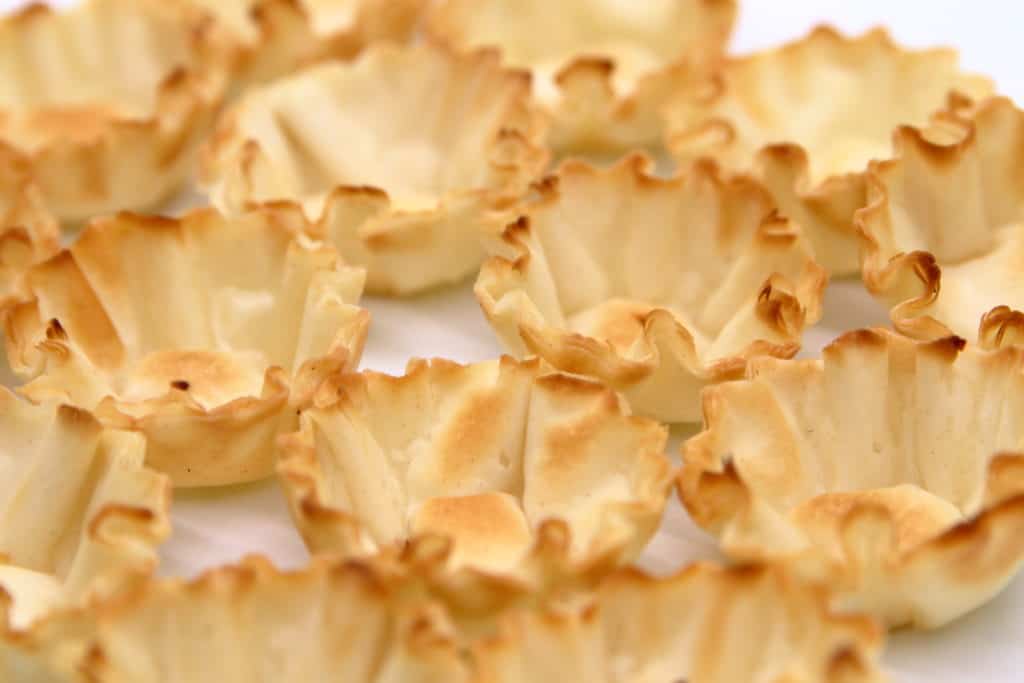 Use Granny Smith Apples. In truth, use whatever you like. We do what we want here. I just recommend the granny smith. That wonderful tartness pairs nicely with all the other sugars in this dessert.
Chop the apple for the topping in very small pieces. You don't want them too big because the phyllo shells are very small. These really are bite sized!
Bake the phyllo shells. The package I used said you could just let them thaw and then use, but I really felt like they needed some color and some extra crisp.
Use fresh nutmeg. You always want the nutmeg to be fresh and potent. I microplane a fresh one each time I use nutmeg.
Use whatever nuts you want. I chose pecans just because I love them so much. But walnuts or almonds would be super tasty too! Not a nut person? Just omit them altogether.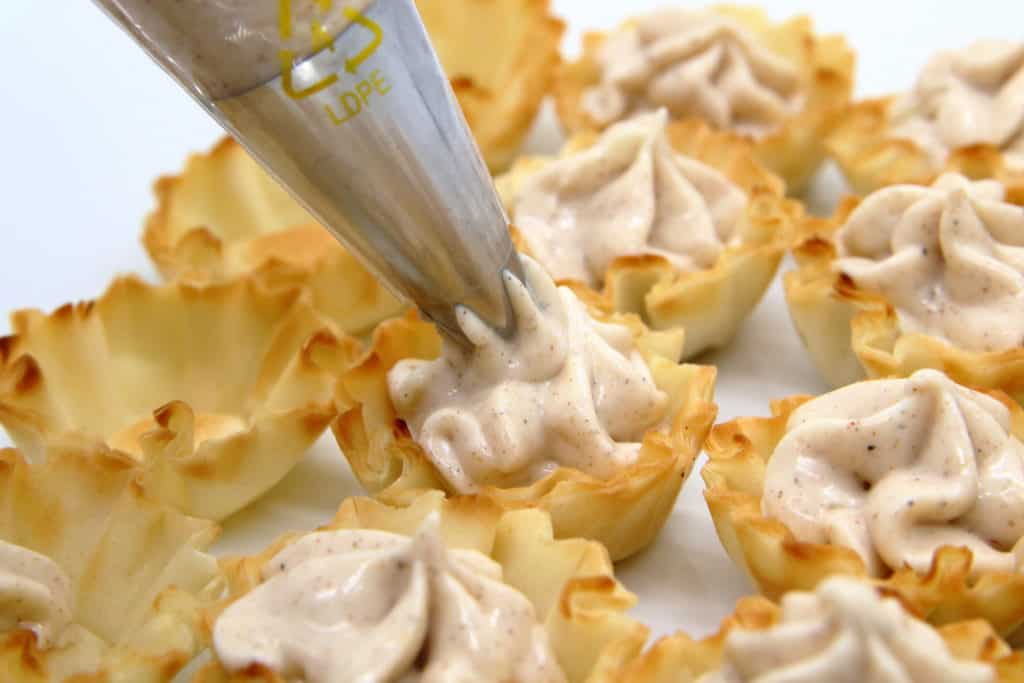 These microplaners are AWESOME for fresh nutmeg, fresh parmesan, citrus zest, grating fresh garlic. I can't function without them. Seriously. I have four.
As an Amazon Affiliate, I earn a small commission at no extra cost to you.
Chop the apple for the filling reeeeeeally small. Don't blend it unless you want applesauce. I decided to shop it because I wanted the fresh apple texture, but really really small so it won't clog up your piping tip.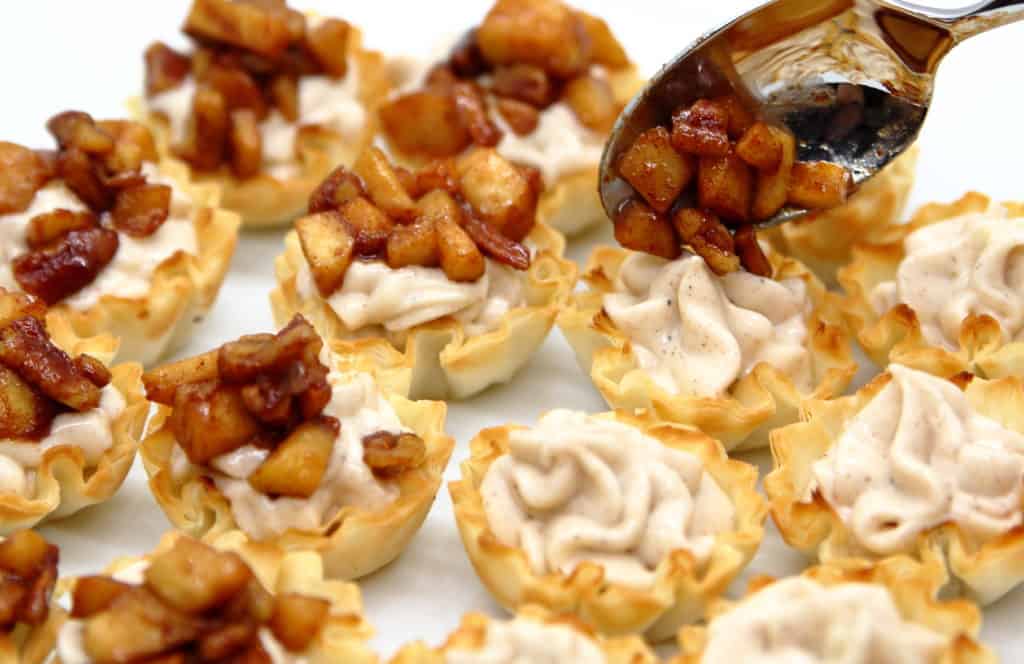 Putting it all together
For filling the shells, I used my Wilton 1M piping tip, although I'm not really sure why because the pretty piping was covered up by the topping anyway. But at least it was pretty for a minute, right?
Overall, the spices I used made for a pretty potent cheesecake. I wanted the flavor to pack a punch! I didn't want to just have some plain ol' cheesecake with some cooked apples on top. Feel free to adjust them to your liking, but it did come out pretty darn tasty this way.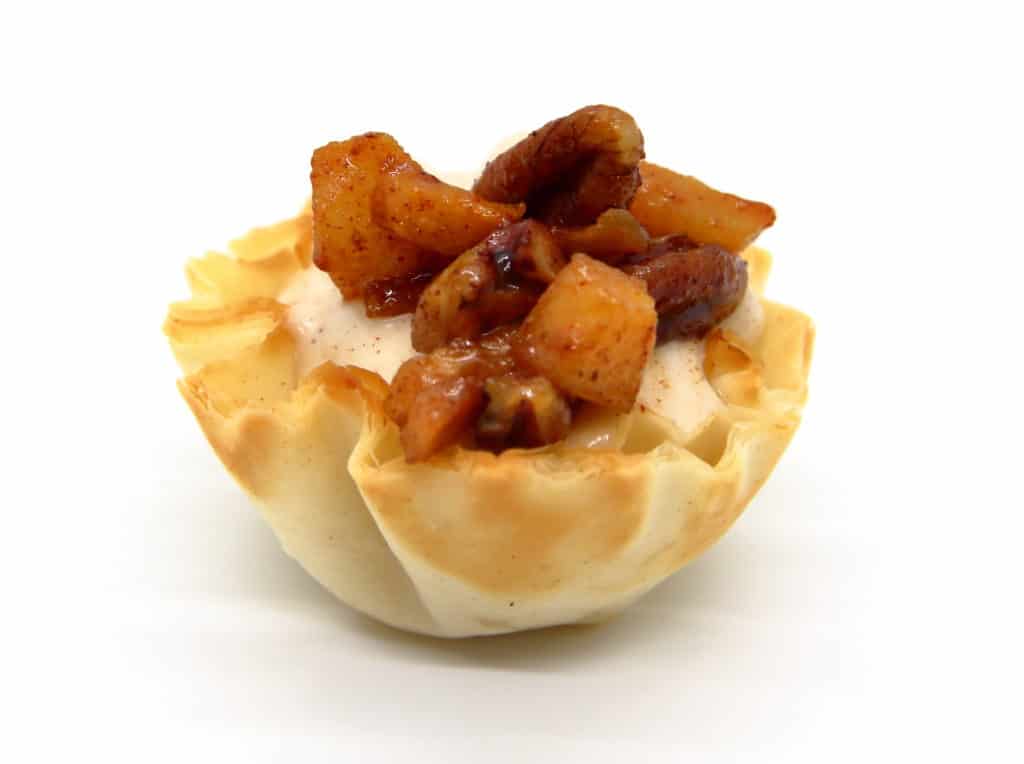 That's pretty much it! Short and sweet. Ba-Dum-Tsssss.
Really though. There's not much to these! Super Simple. Super Tasty. And Super Cute!
Cheesecake not your style but still need some apple treats? Try these Puff Pastry Apple Pie Bites or these Spiced Apple Cider Cupcakes.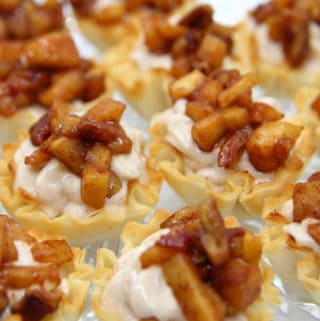 Apple Cinnamon Cheesecake Bites
No-bake Apple Cinnamon Cheesecake bites perfect for the fall season! Make these bite sized treats for your next holiday party.
Print
Pin
Share on Facebook
Rate
Ingredients
For the Topping
1

tbsp

butter

½

Granny Smith Apple

1

tbsp

dark brown sugar

2

tbsp

chopped pecans

¼

tsp

ground cinnamon

¼

tsp

nutmeg
For the Filling
1

8 oz

block cream cheese

120

grams

powdered sugar

½

tsp

ground cinnamon

½

tsp

nutmeg

½

tsp

cardamom

⅛

tsp

all spice

½

tsp

vanilla extract

½

tsp

LorAnna Apple Pie Flavor

25

grams

granny smith apple
For the Cup
1

package

Phyllo Dough Cups

contains about 15
Instructions
Pre-Prepare the topping
Chop apple into very small cubes. In a small bowl, coat apple with the brown sugar, cinnamon, and nutmeg. When the apple is coated, mix in the pecans. Set aside.
The cups
Bake Phyllo cups according to the packaging. I baked mine for 5 minutes just to get some brown and crisp. Set aside when finished.
The Filling
In a stand mixer with the paddle attachment, whip the cream cheese on high for 1-2 minutes until smooth and creamy. Add sugar and mix until smooth.

Reduce speed to med/low and add cinnamon, nutmeg, cardamom, allspice, vanilla, and apple pie oil.

Dice apple into tiny, tiny, bites and fold into the filling.

Put filling in a piping bag and pipe into phyllo cups.
The Topping
In a small saute pan, melt one tablespoon of butter over medium heat.

Pour in apple and pecan mixture. Saute for 4-5 minutes, or until apples are soft and the sugar and spices have turned into a glaze.

Spoon small amounts (about a teaspoon) on top of the cheesecake filled cups.

All done! Serve and enjoy!