I'm not normally a cookie making guru. I'm usually more of the cupcake queen, but this time, I decided to get out of my comfort zone and bake some toffee cookies! I have a whole bunch of LorAnn oil flavors in the cabinet that I've been wanting to use, so I started with the English Toffee oil and made Toffee Cookies with Chocolate Chips and Pecans.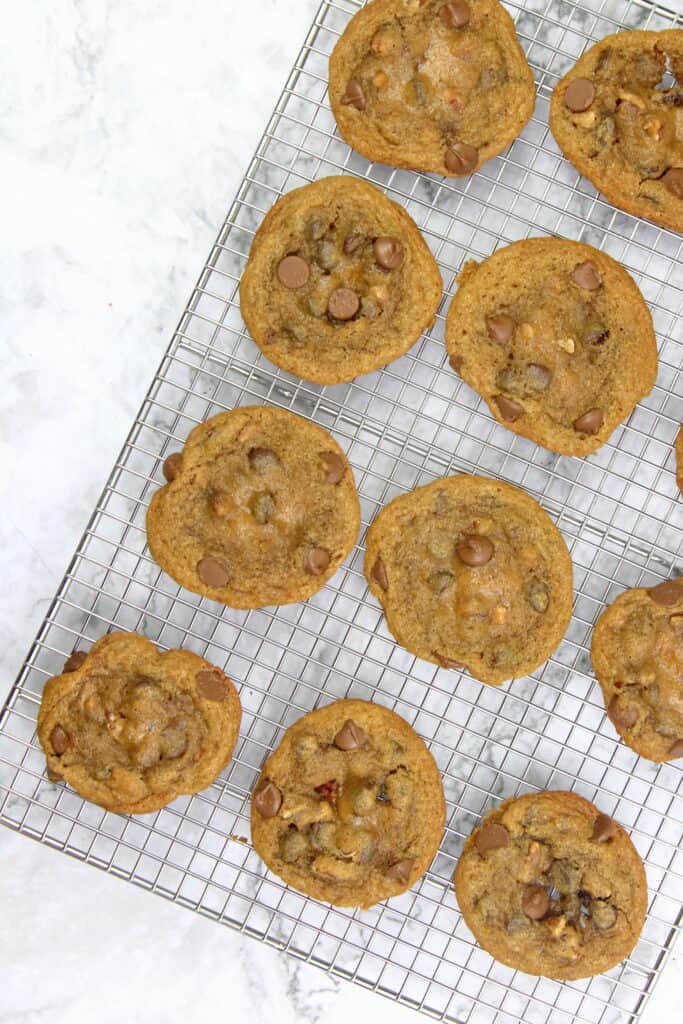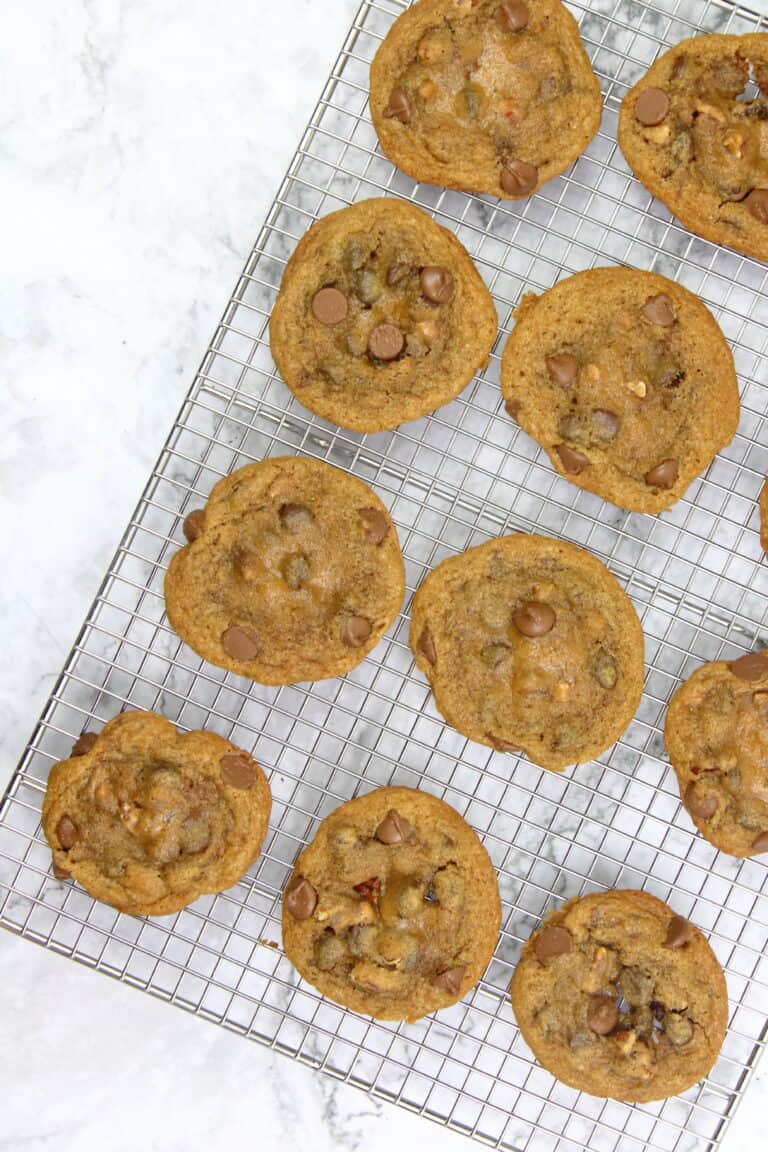 For these toffee cookies, I started with the tried and true Original Nestle Tollhouse Cookie Recipe, but made a few adjustments.
What is Toffee?
Toffee is a crunchy candy made by caramelizing sugar with butter, and heated to the hard crack temperature. It's similar to caramel, but different in that caramel is made with sugar and milk/cream and heated until brown. Caramel is not brought all the way up to the hard crack stage.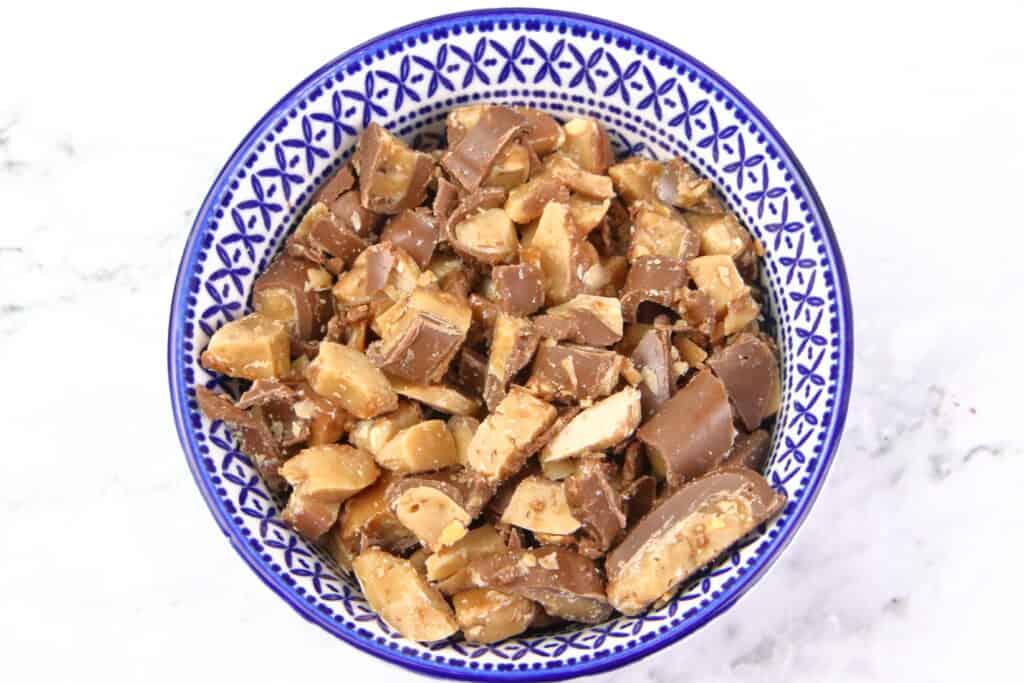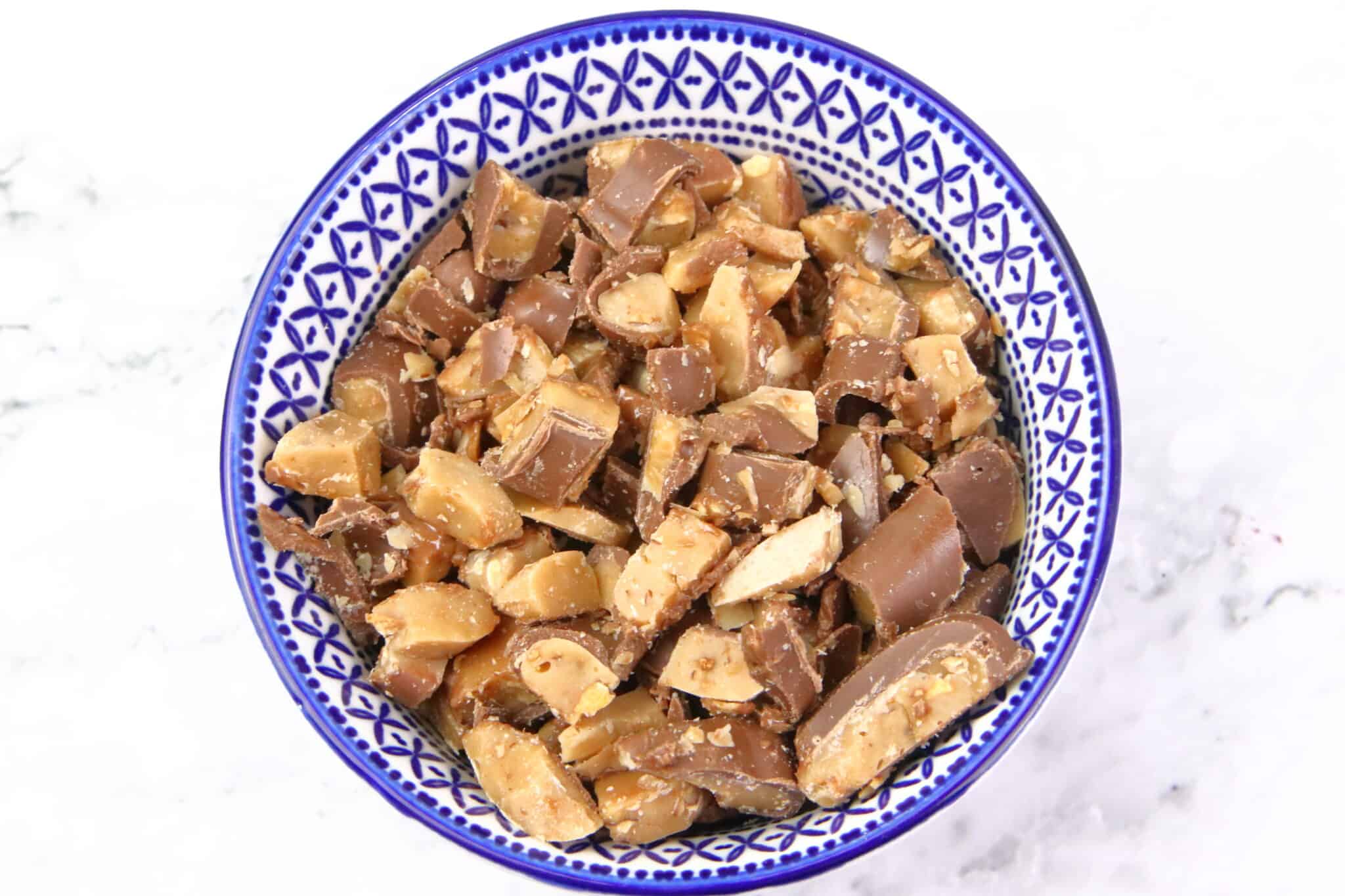 Toffee is GREAT in cookies because it gives a delicious flavor and a wonderful texture. It's not as soft as a chocolate chip, but not necessarily as crunchy as a nut. For these toffee cookies, I used chopped up heath bars. I wanted the toffee from the heath bars with the added bonus of being coated in chocolate.
Flavoring the Toffee Cookies
When I eat cookies, one of my favorite things is when the cookie batter has a great flavor and it is chock full of a variety of candy, chocolate and/or nuts. These Toffee Cookies have all three of those with the addition of chocolate chips and pecans. The gooey chocolate, sticky toffee, and crunchy pecans, these cookies have a really great variety of texture.
If you don't like pecans, you can use whatever kind of nut you like, or omit them altogether…. and then add more toffee!!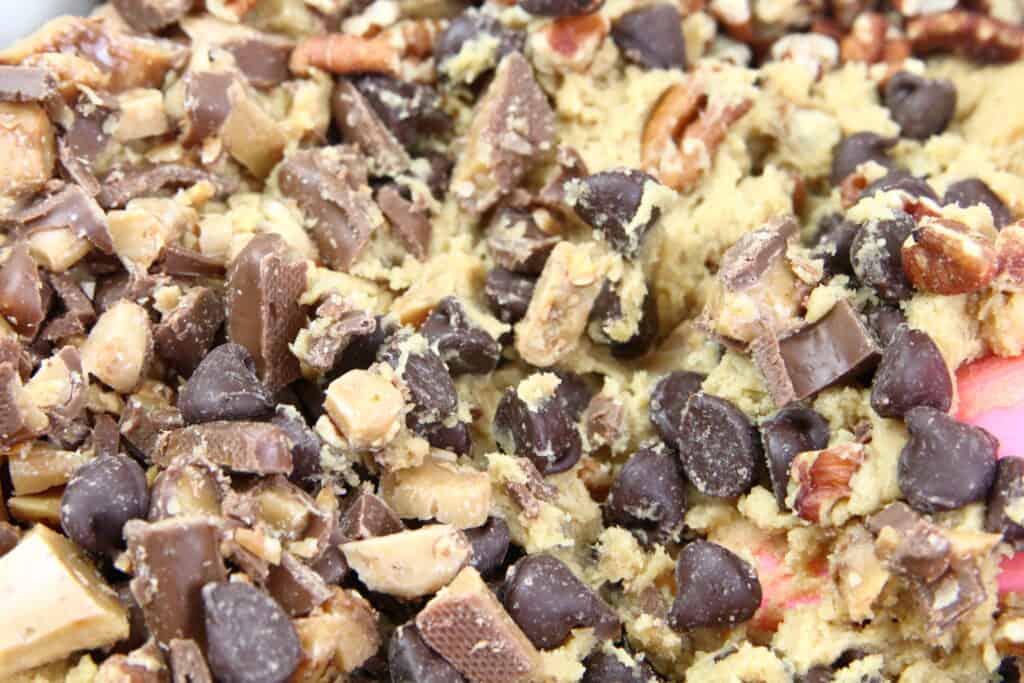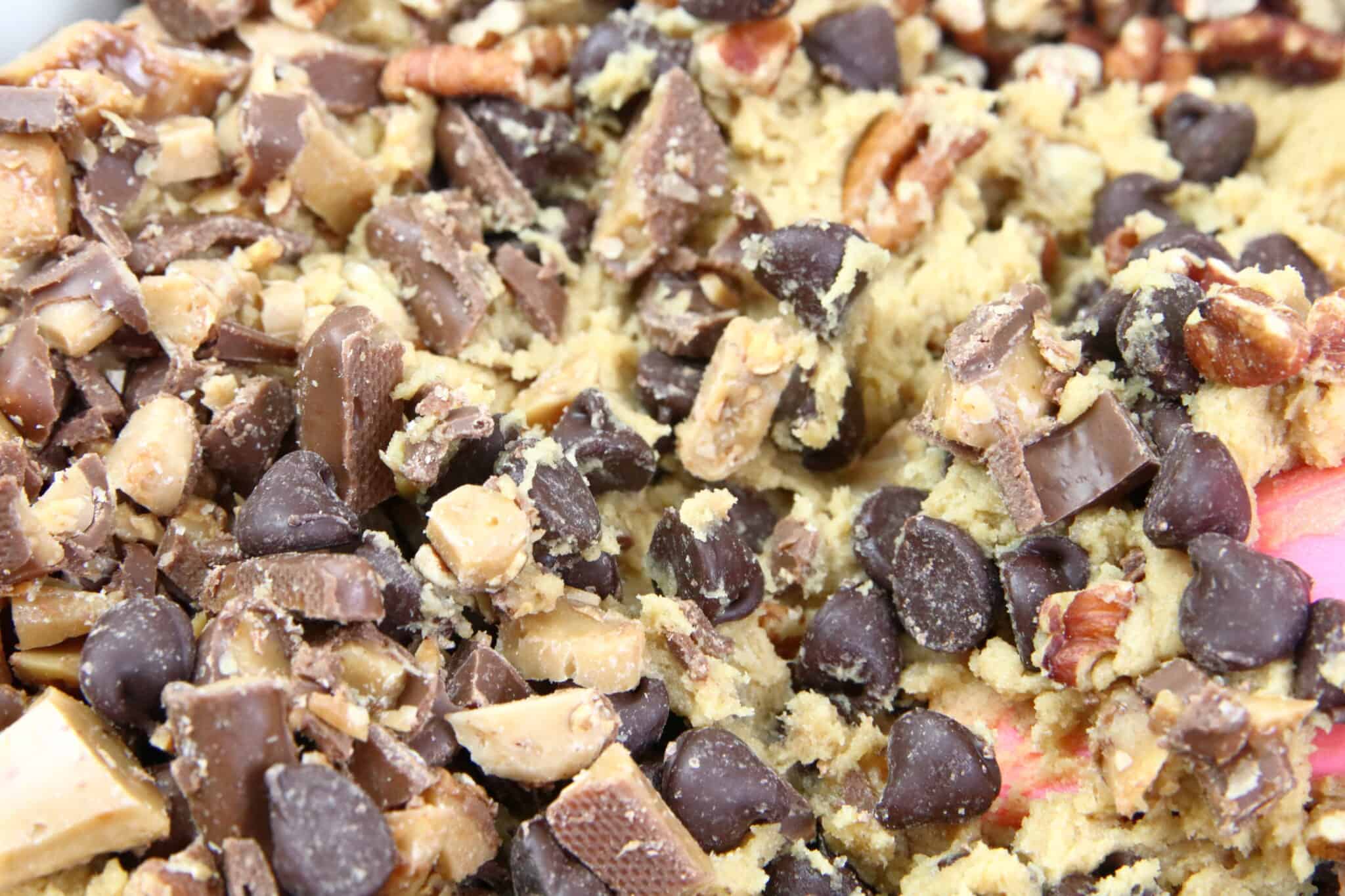 In addition to the lovely texture of the heath bars, chocolate chips, and pecans, I used the English Toffee flavor from LorAnn.
As an Amazon Affiliate, I earn a small commission at no extra cost to you.
SO. GOOD.
I love to use these flavors from LorAnn because it always adds a delicious little pop of flavor throughout that is absolutely addictive. You get a really rich flavor throughout the batter in these toffee cookies when you add one dram.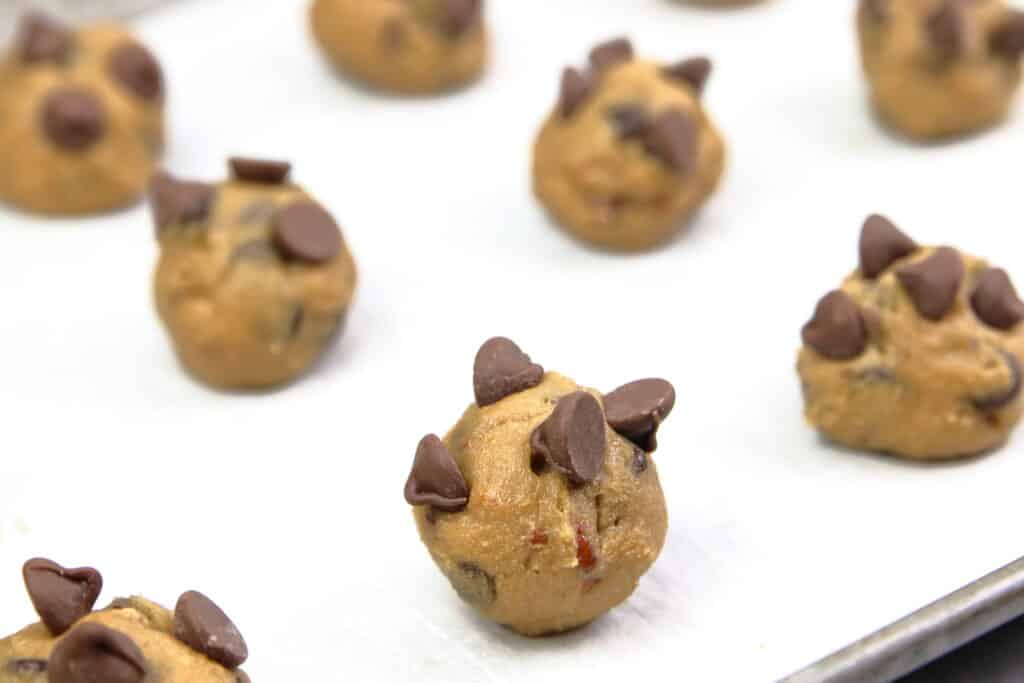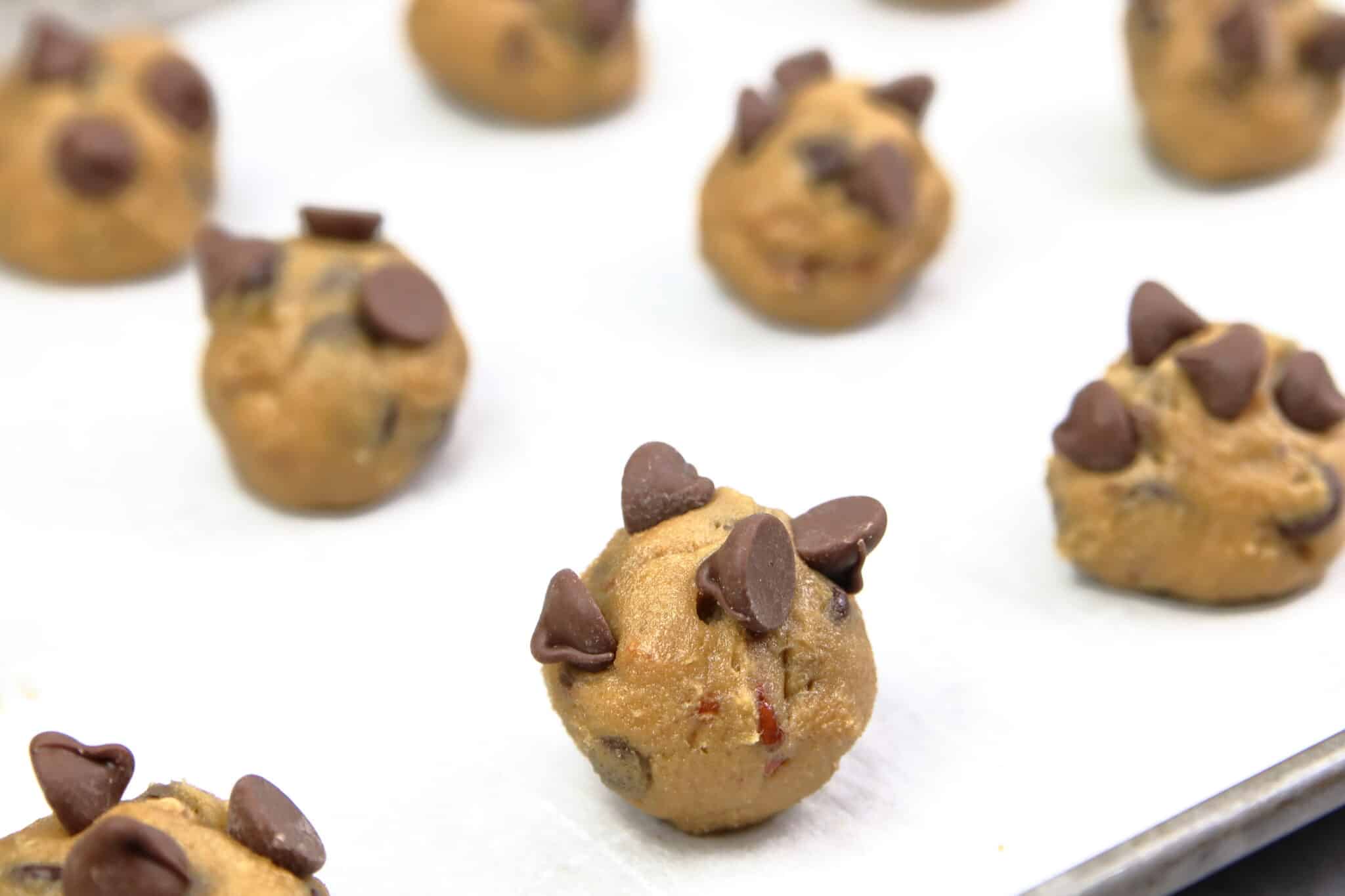 Mixing and baking the cookie batter
As with any other baking recipe, start with room temperature ingredients. Cookies are a little less finicky than cake, but at least the butter needs to be at room temperature so it will mix evenly.
Before you start your toffee cookie batter, mix the dry ingredients (flour, salt, baking soda) in a bowl and set aside.
I use a stand mixer now, but it's not necessary. I made at least 2 million tollhouse cookies growing up and always used a hand mixer. Just make sure that you get the butter nice a creamy, and then add the sugars. Continue to whip until light and creamy. Add the eggs, extract, and flavoring oil, then whip some more.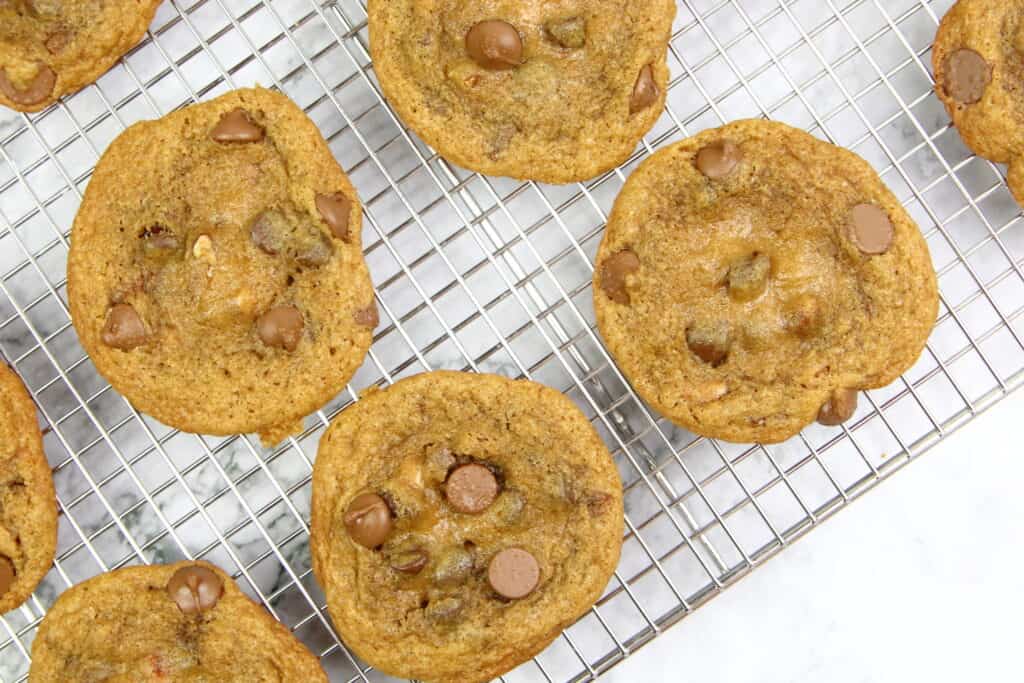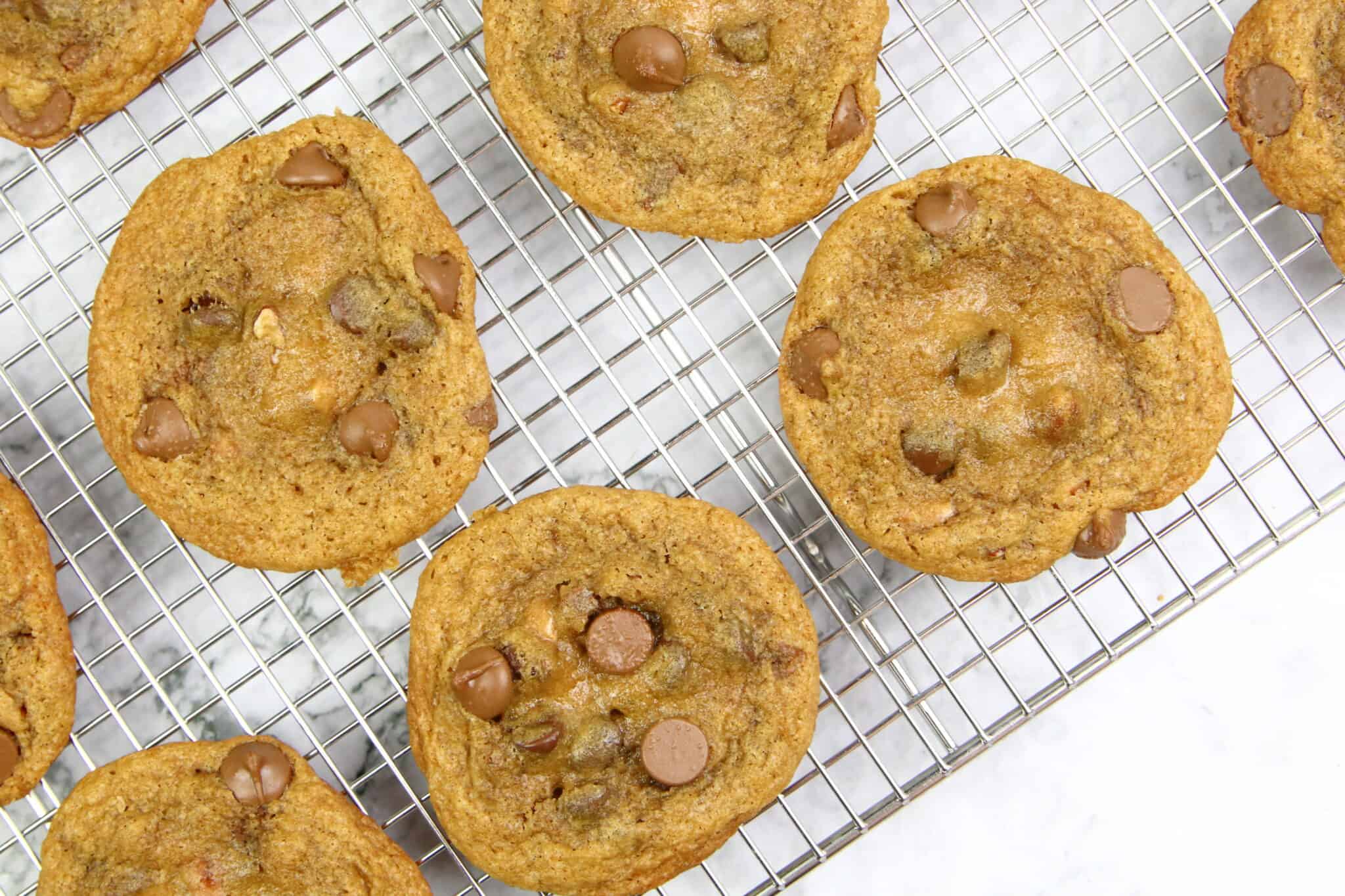 Once you get the wet mixture all creamy, start to add the dry mixture a little at a time. If you are using a stand mixer, you can use the paddle mixer on low to mix the batter, but be careful because it gets thick really quickly.
Once the dry ingredients are in, pour in the chocolate chips, toffee pieces, and pecans into the toffee cookie batter. This will most certainly need to be mixed by hand because it will be extremely thick.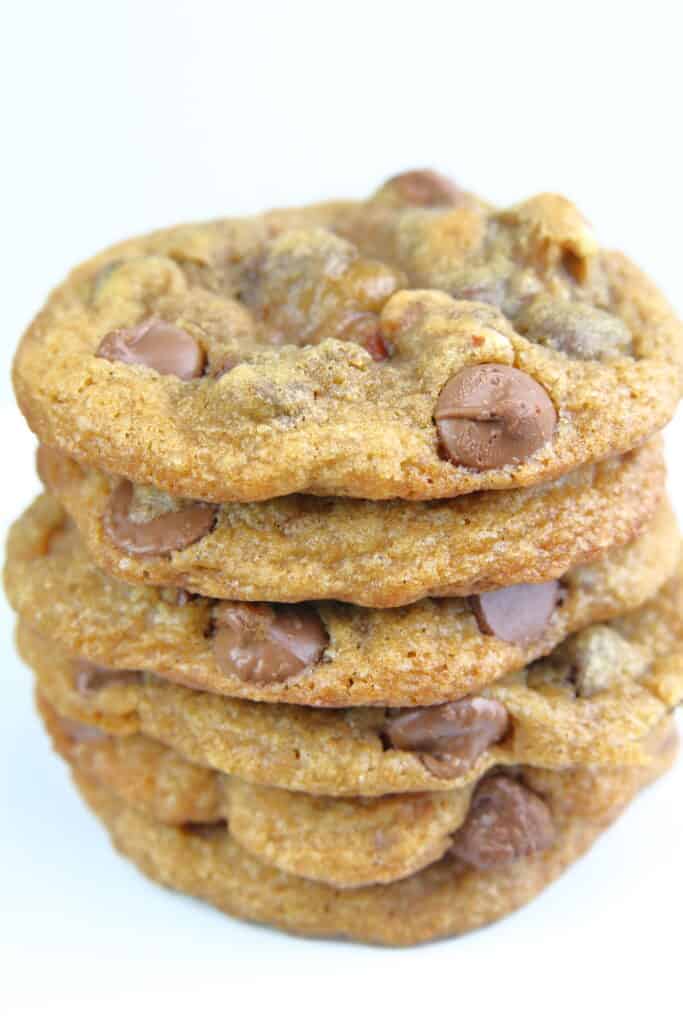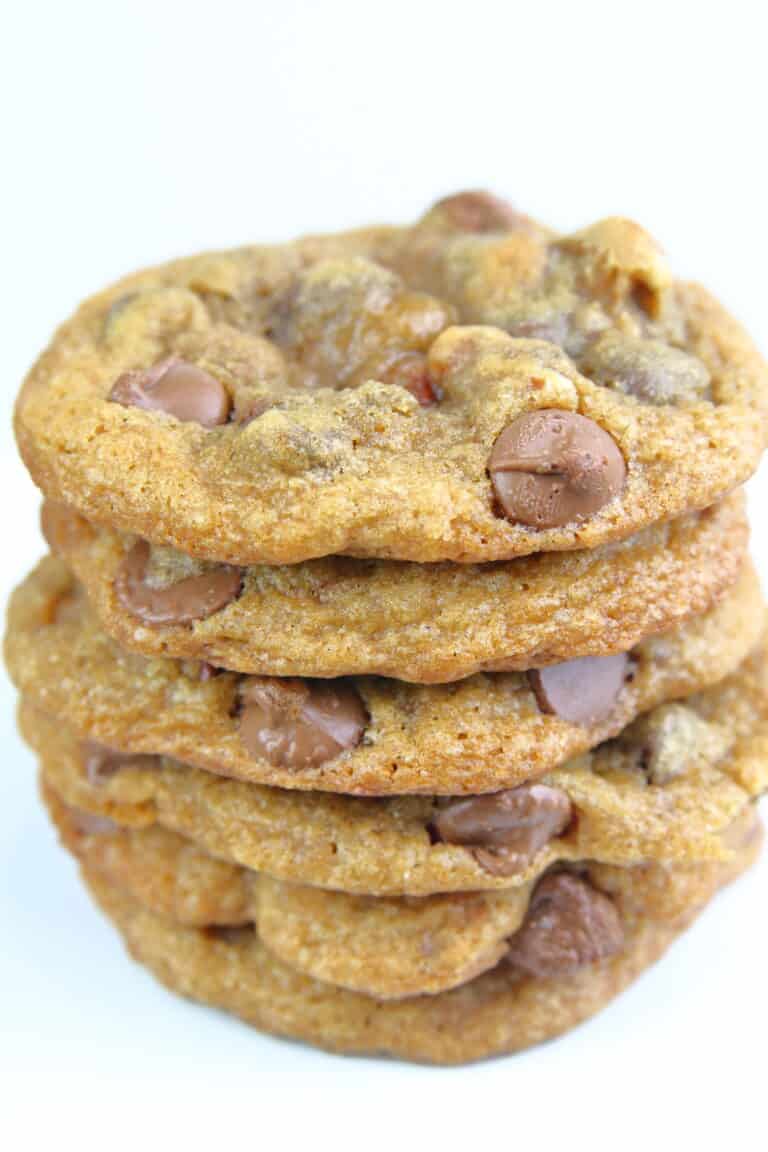 How long should I bake the toffee cookies?
How long you bake the toffee cookies depends on what kind of texture you like.
I baked them for exactly 9 minutes in a 375F oven. When they come out, the cookies will be very soft in the middle, but they will harden up after a couple of minutes, but still remain soft and chewy.
When you take them out of the oven, let them sit on the baking sheet for a few minutes before transferring them to a cooling rack.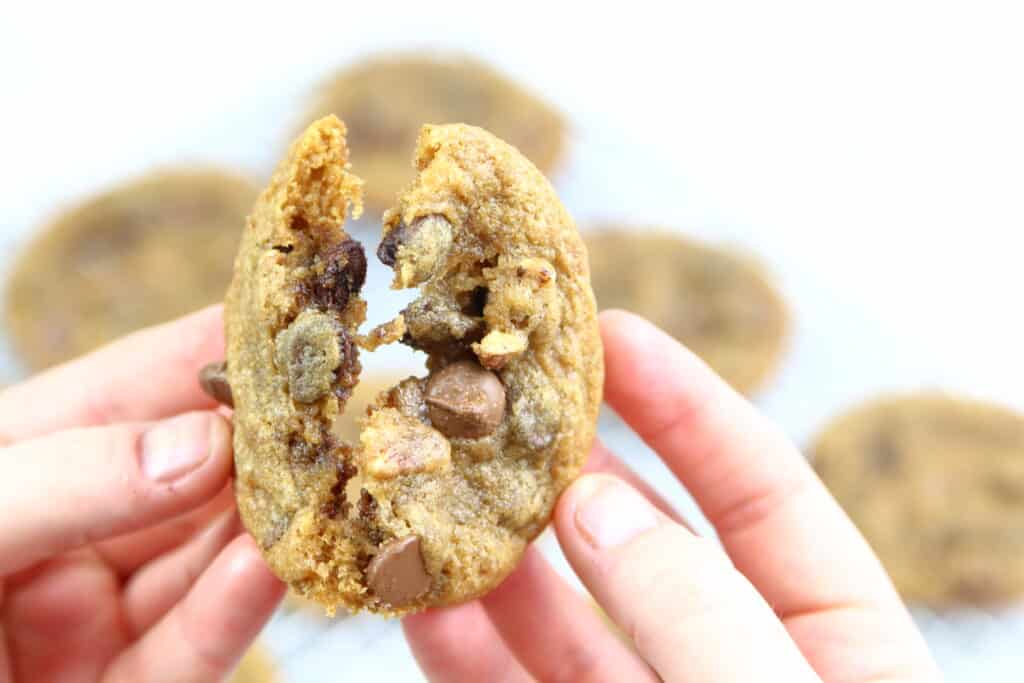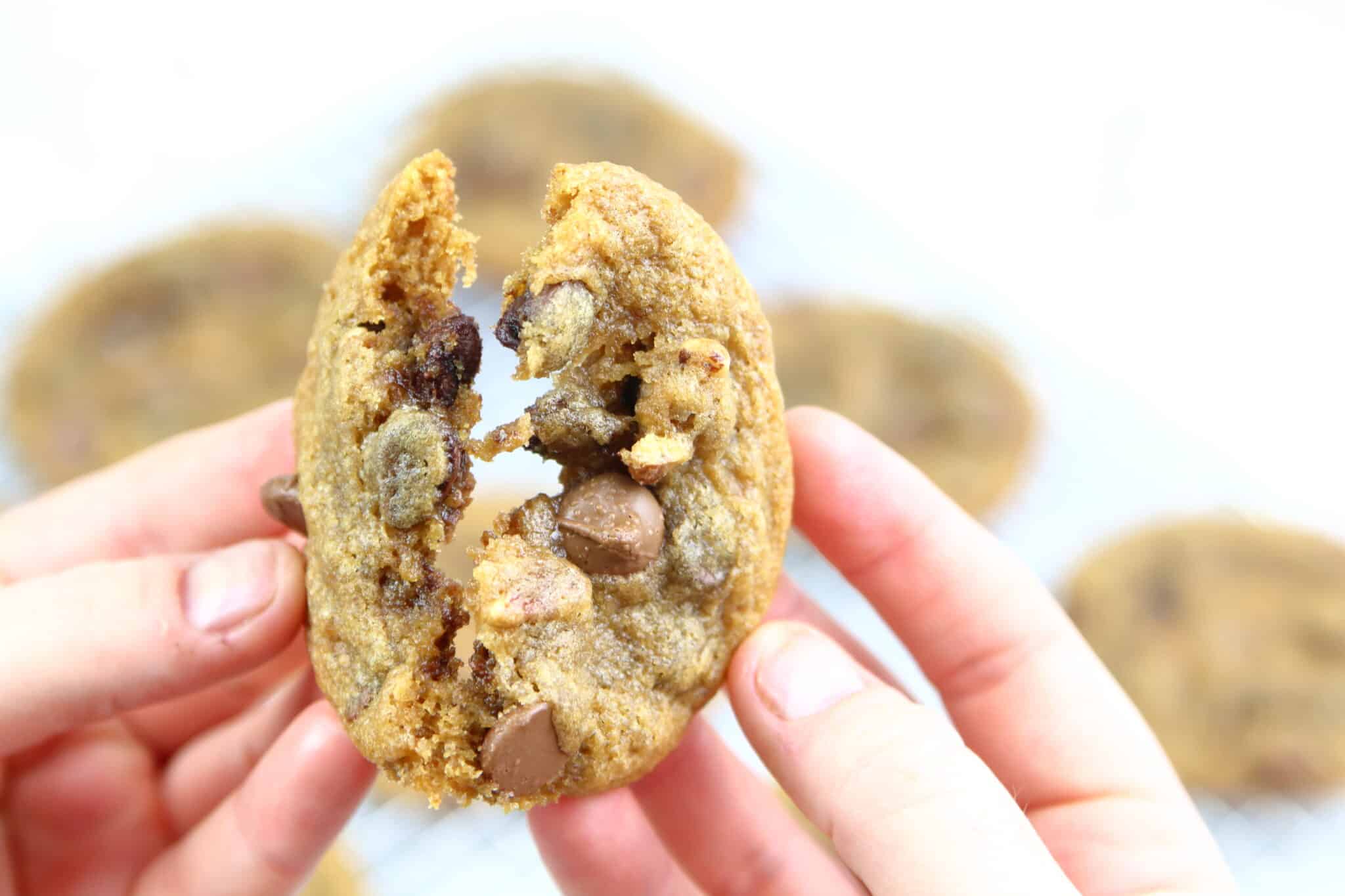 If you like a crispier cookie, bake them for another minute or two. It's really a matter of personal preference.
How many toffee cookies will this batter make?
I made about 30 cookies with this batter. I used a tablespoon to scoop out the batter and rolled it into a ball. You can certainly make them larger if you prefer big cookies.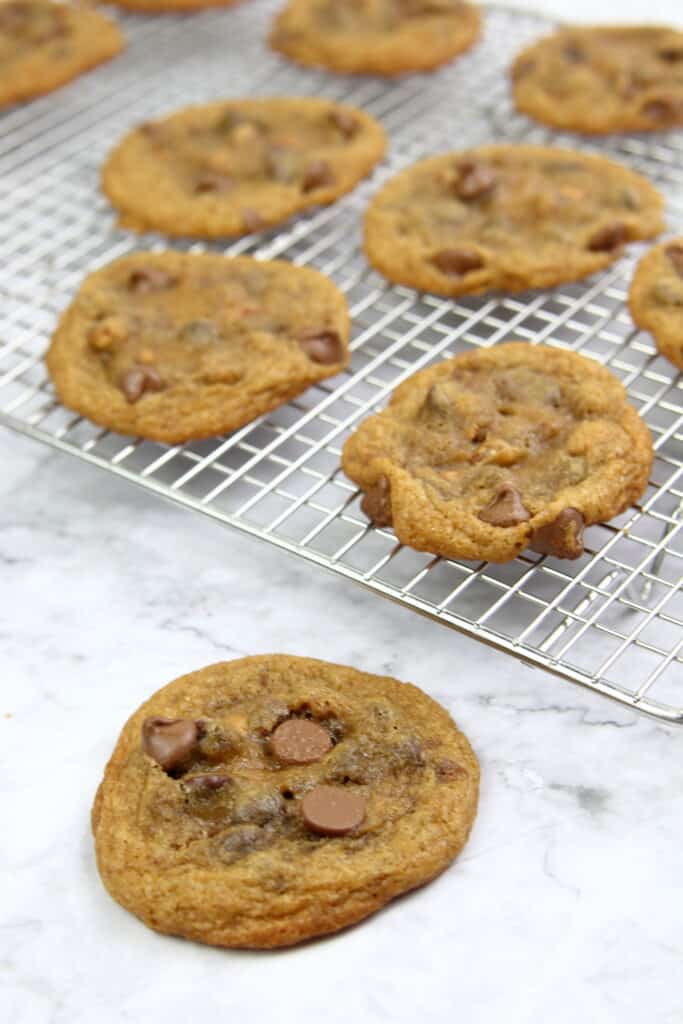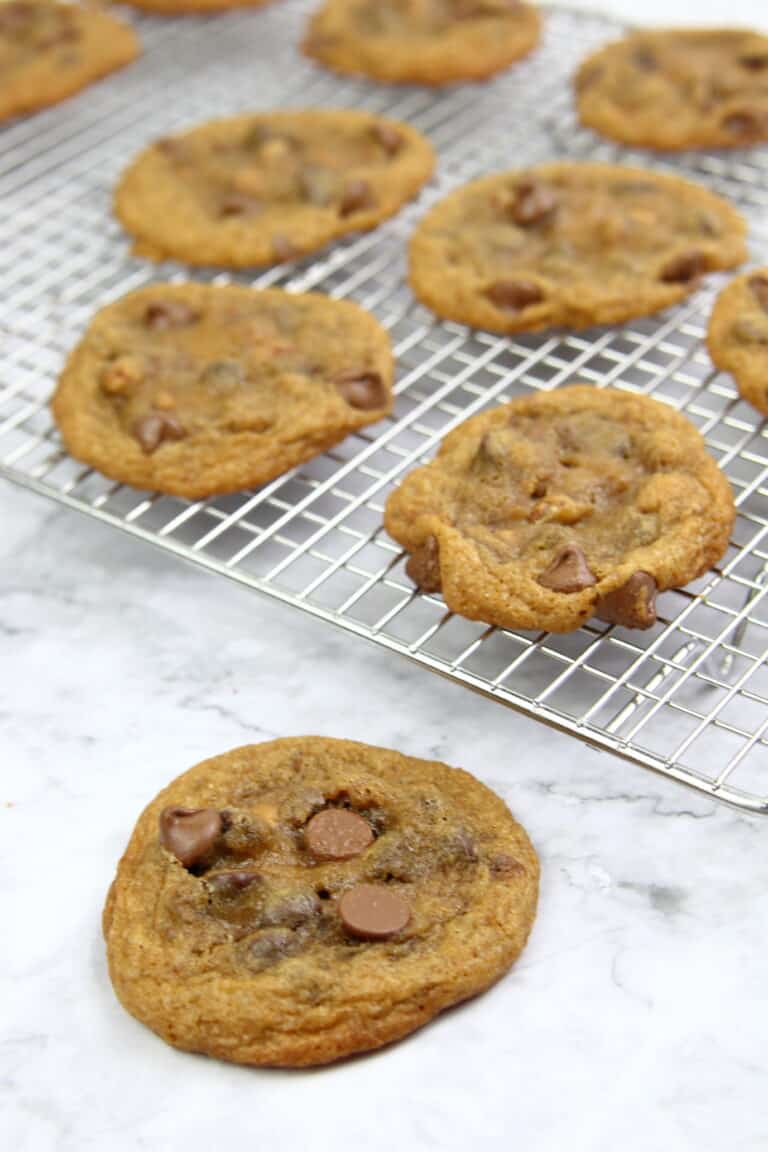 That's pretty much it! Perfectly soft and chewy Toffee Cookies with Chocolate Chips and Pecans that everyone is sure to love! I'll definitely be frequenting this recipe.
Enjoy!
Looking for more delicious desserts? Check these out: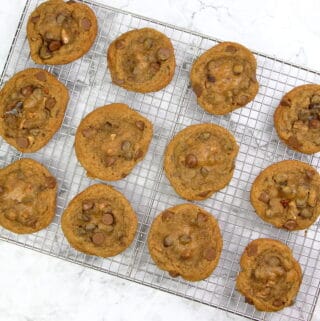 Toffee and Chocolate Chip Cookies
Chocolate Chip Cookies with pecans and Toffee pieces. Soft and chewy cookies with English Toffee flavored batter.
Print
Pin
Share on Facebook
Rate
Ingredients
2

sticks

butter

226 g

200

grams

Dark brown sugar

100

grams

granulated sugar

2

large eggs

½

tsp

vanilla extract

1

dram

LorAnn English Toffee Flavor

270

grams

all purpose flour

1

tsp

baking soda

1

tsp

salt

6

oz

semi sweet chocolate chips

½

cup

chopped Heath bars

maybe a little extra

½

cup

chopped pecans
Instructions
Mix together flour, salt, and baking soda. Set aside.

In a stand mixer with the whisk attachment, whip the butter until creamy (make sure it is room temperature first).

Add both sugars. Continue to beat until creamy. Add vanilla extract and toffee oil.

Replace whisk attachment with the paddle attachment. On low, mix in the flour mixture a little at a time.

Remove from stand mixer. Pour in chocolate chips, heath bar chunks, and pecans. Mix by hand.

Get a spoonful, about a heaping tablespoon, and roll it into a ball. Place on parchment paper lined baking sheet.

Bake for 9-10 minutes. After 9 minutes, remove from the oven. Cookies will be pretty soft. Let them sit on the baking sheet for about 2 minutes. Transfer the cookies to a cooling rack. When they are cool, enjoy!