This moist and fluffy coconut cake recipe really packs a coconut punch! Coconut Cake with Coconut American Buttercream topped with toasted sweetened coconut.
I've made a lot of cakes and cupcakes. A LOT. But this Coconut Cream Cake has become an instant favorite. It's moist, it's fluffy, and it's packed FULL of coconut goodness. This coconut cake is not for the casual coconut lover. It's chock FULL of coconut flavor. In this coconut cake recipe, you'll find coconut milk, coconut extract, coconut yogurt, toasted coconut…. You aren't going to wonder what the flavor is when you take a bite.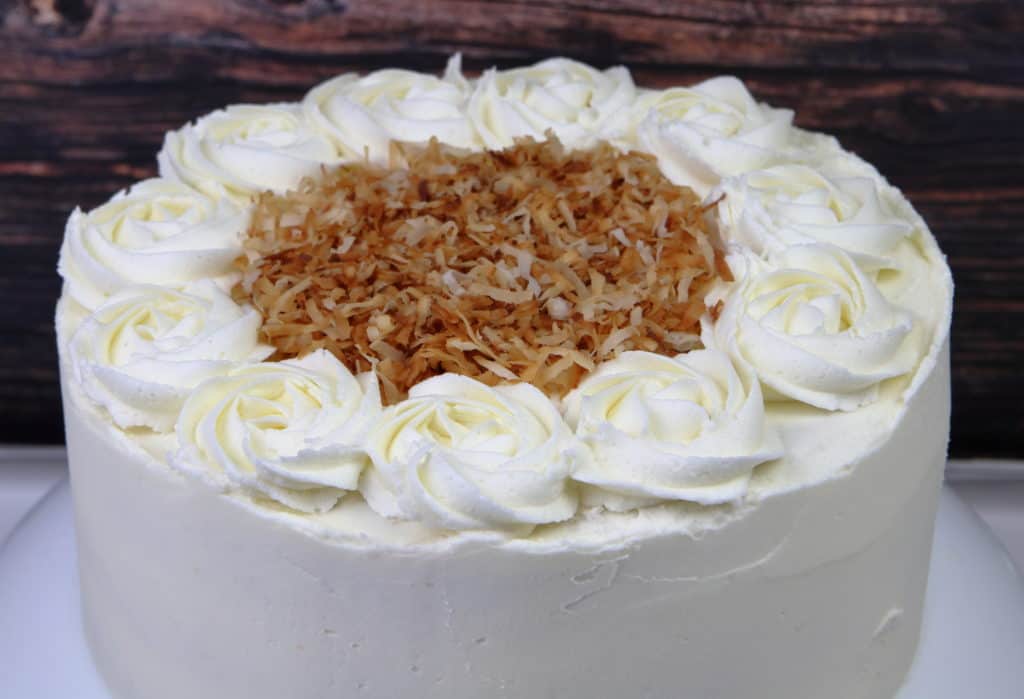 A Few Cake Baking Tips
Make sure all ingredients (butter, liquids, yogurts, eggs) are all completely brought up to room temperature. This is critical! Ideally, you would sit them out a couple hours ahead of time, but you can accelerate things if you forget. (soaking eggs in hot water, setting butter on stove to soak up heat while the oven preheats, etc).
Measure everything by weight (ounces/grams). Kitchen scales are super affordable and a MUST for 100% consistency in baking.
Take advantage of the use of air: sift flour, beat sugar, butter, and eggs, etc. This will help with the lightness and leavening in addition to the chemical leaveners.
Don't overmix! When you start mixing the dry ingredients into the creamed mixture, mix on low only until incorporated. If you continue to mix or whip the ingredients too fast, you risk a tough bakes product because of the overproduction of gluten.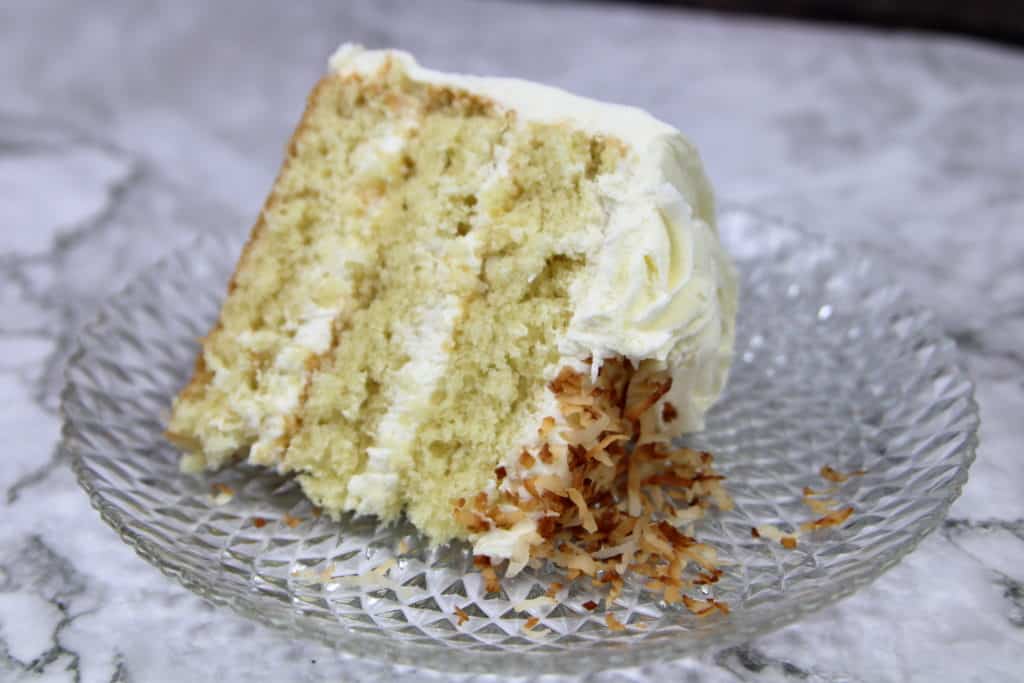 I could really be here all day on technique. Baking is sooooo much more than throwing all the right ingredients into a bowl. But those are some of my big ones!
What do you use to get the intense coconut flavor in the cake?
One of my goals when making cakes is for the cake itself, without the icing, to be packed full of the intended flavor, and this coconut cream cake is no exception. I used coconut extract, coconut milk, coconut yogurt, and coconut flakes in and on the coconut cake to get the flavor packed throughout.
Making the coconut cream cake batter
To get the dry ingredients all together, combine flour, baking soda, baking powder, and salt. I measure the flour by putting a large bowl on a scale, zero out the scale, and sift the flour straight into a bowl. After I get the exact amount of flour, add the baking powder, baking soda, and salt. These you can mix around manually, but you can also include these in the sifting as well.
When you have all your dry ingredients ready and on deck, let's get some sugar and butter creaming. On high speed (I use a CuisineArt stand mixer), mix together softened (NOT MELTED) butter and sugar. Beat until creamy and fluffy (about 3-5 minutes). I stop occasionally to scrape the sides. You want to make sure you get it all creamed together. It will get lighter both in texture and color.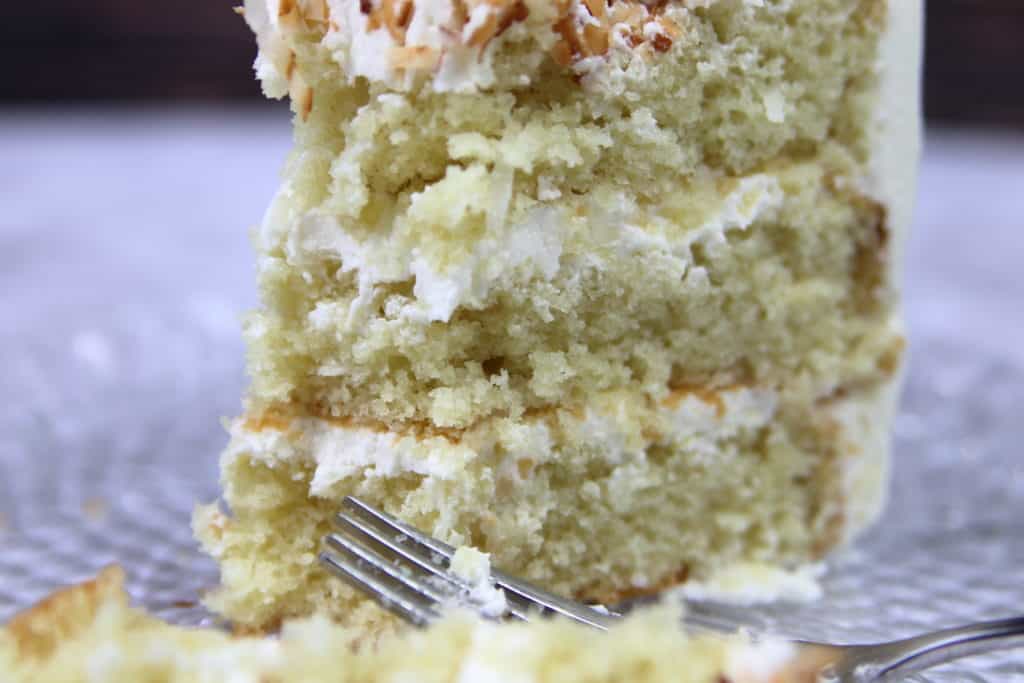 Add the eggs, one at a time, and mix thoroughly. Follow that with the extracts, the yogurt, and the sour cream. Don't add milk yet.
Yogurt and Sour Cream in a cake?
Yogurt and sour cream? Yep. I love using greek yogurt for a couple of reasons. It's got protein, so it helps with the structure of the cake. And with this cake, there is a lot of rich and heavy ingredients, so structure is good. One other thing I love is is that I can use a yogurt with the same flavor as the cake to add even more depth of flavor. When I make a cake, I don't do subtle. I want the cake itself to be a star, not have to drown it in buttercream. There is no place for "mmm. Is this coconut?" Not my cakes. I want "BAM COCONUT ALL DAY." I normally use the Light and Fit brand because you get all the flavor protein but not very much sugar. Too much sugar in a cake will affect the texture as well.
And the sour cream? It adds a lot of fatty creaminess that will create a luscious, moist soft, and fluffy cake.
Once you have all the wet ingredients (except the milk), turn the mixer down to the lowest speed, and begin adding the dry mixture and the coconut milk (canned, not carton!!). Start with spoonfuls of the dry mixture, then add some milk, slowly. Alternate until all is just incorporated. Two things:
Do not mix above low speed!
Do not overmix!
Both of those things will cause the gluten to overdevelop and create a tough cake.
The last thing we need to do for the batter is fold in the coconut flakes. I did this by hand using a rubber spatular to avoid over mixing.
Baking the Cake and Making the Coconut Buttercream
When your batter is ready and your oven is preheated to 325F, divide the batter evenly between three 8-inch pans. I also do this on a scale so everything matches exactly.
Side Note: I prepared my pans by schmearing shortening and then sprinkling flour.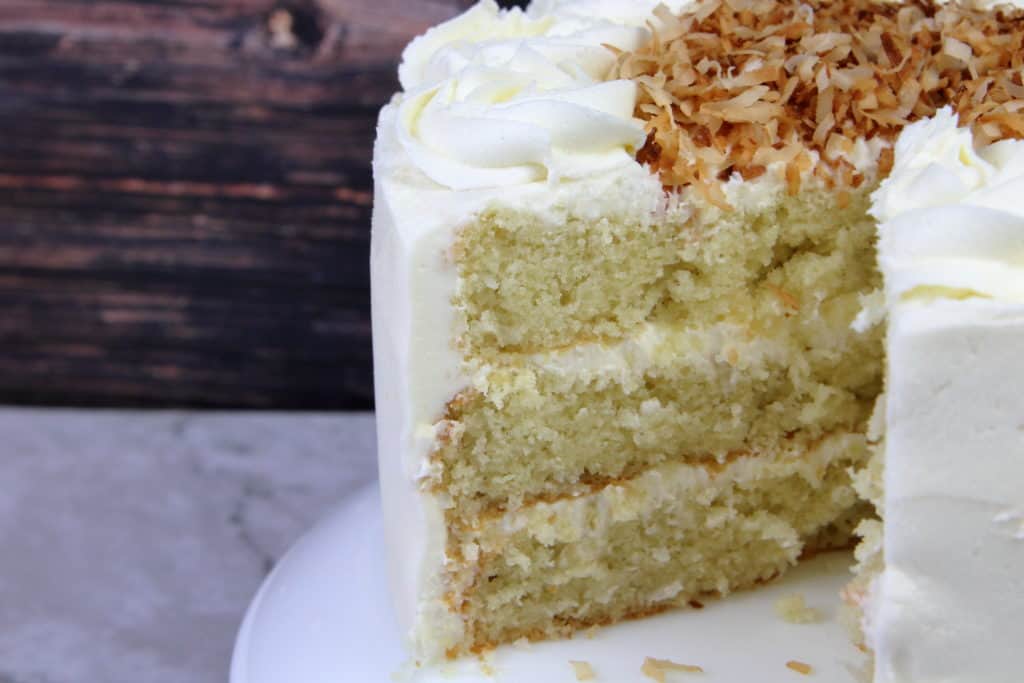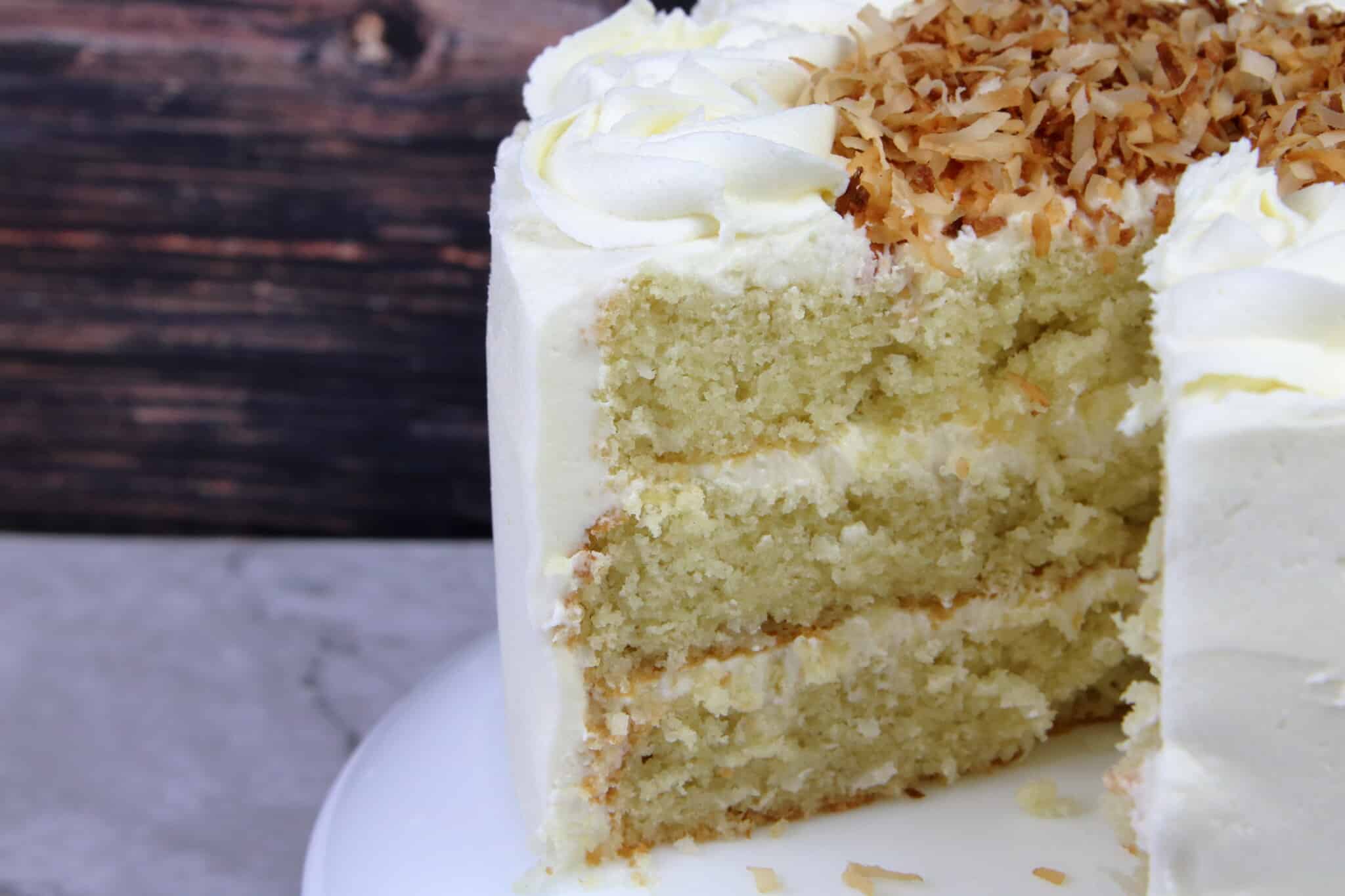 Bake at 325F for 25-30 minutes. I generally bake cakes at 325 instead of 350 because at lower temperatures, the cake will be flatter and you generally want flatter cakes when you are layering. It cooks more evenly and domes less.
While the cake is baking, whip together your buttercream. I usually start with a little bit of the butter and a little bit of the powdered sugar and start mixing on medium. Add the rest of the butter and powdered sugar a little at a time. Somewhere in all that mixing I add the extracts and the coconut milk. There is less science here. (Whew!)
When all the ingredients are in there, whip on medium/high for 3-5 minutes. Depending on your mixer, you may have to stop and scrape the sides. The color will lighten up, and you'll definitely be able to see streaks of butter if it is not thoroughly mixed.
When the cake is done, remove from the oven and cool on cooling racks (if you have them, this is ideal). Let them cool in the pan for about 10 minutes or so, then remove them carefully. If you prepared your pan well, you should be able to scrape between the cake and the sides, and then flip over CAREFULLY. Let cool COMPLETELY before frosting. The last thing you want after all this work is a big melty mess!
Frosting and Finishing your Cake
Now, you can frost and decorate your coconut cream cake however you see fit. Slather on the coconut buttercream aaaaall over and in between every layer. But for this presentation, I followed a method. I had some tiny domes, so I cut them off with a large knife. I was able to eyeball it, but you can use a leveler too.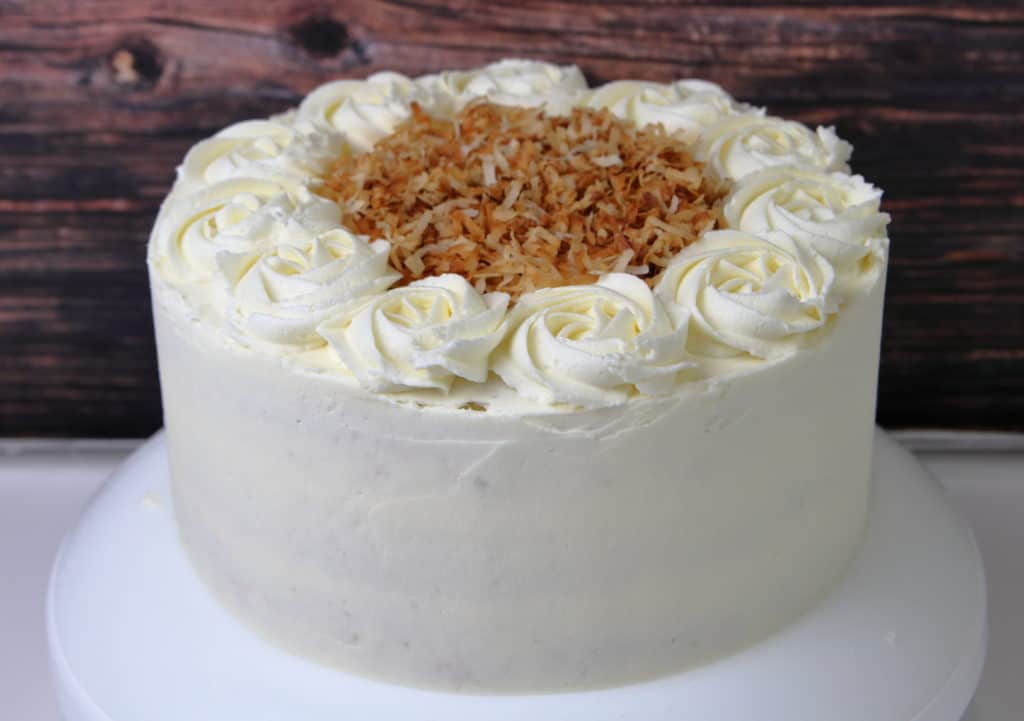 First, after applying a generous layer of frosting on top of two layers and stacking, I did a crumb coat, which is basically applying a super thin layer of frosting around the sides and across the top, and then chilling for 10 minutes. It kinda looks like a naked cake. It's ok if crumbs get in it. That's kind of the point. After it chills, it will be firm all the way around. Add frosting to the top and around the sides (lots and lots, don't hold back!), and now there won't be any crumb pieces in the final product because of the crumb coat.
For the top, I used a Wilton 1M tip and made the rosettes all the way around, then filled it in with toasted coconut (about a ½ cup of sweetened coconut flakes that I toasted in a sauté pan on the stove).
And that's it! It's kind of a lot, and I tried to include a lot of details without going on forever (and I definitely can). But if you try this Coconut Cream Cake, you'll understand why it's become an instant favorite. It's light, moist, fluffy, and wonderfully delightful.
Enjoy!
Need some more cake ideas? Try these!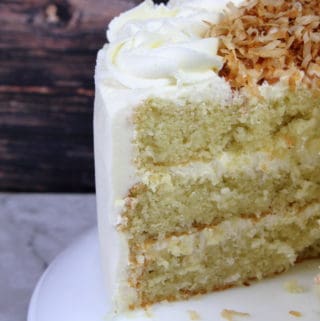 Coconut Cream Cake
This moist and fluffy cake really packs a coconut punch! Coconut Cake with Coconut American Buttercream topped with toasted sweetened coconut.
Print
Pin
Share on Facebook
Rate
Ingredients
Coconut Cake
360

grams

All Purpose Flour, sifted

I use King Arthur unbleached

2

tsp

baking powder

½

tsp

baking soda

1

tsp

salt

2

sticks

butter

(1 cup)

400

grams

granulated sugar

4

whole eggs

1

tsp

vanilla extract

2

tsp

coconut extract

150

grams

coconut flavored greek yogurt

I use the Light and Fit brand

50

grams

sour cream

full fat

1

cup

canned coconut milk

1

cup

sweetened, shredded coconut

All ingredients room temperature
For the Coconut Buttercream
3

sticks

butter

750

grams

powdered sugar

3

tbsp

canned coconut milk

1.5

tsp

vanilla extract

1

tbsp

coconut extract
Optional Cake Topper
½

cup

sweetened coconut flakes
Instructions
Coconut Cake Batter
Make sure all ingredients are room temperature!

Measure out the flour, and sift into a large bowl.

Add baking soda, baking powder, and salt into flour. Mix around until thoroughly incorporated.

Cream butter and granulated sugar together until creamy and fluffy (3-5 minutes) on medium/high speed.

Add eggs one at a time and mix until fully incorporate.

Mix in extracts, yogurt, and sour cream.

Reduce mixing speed to the lowest setting. Spoon in dry mixture one spoonful at a time. Alternate dry mixture and coconut milk (pour slowly) until all ingredients are just incorporated. Do not overmix.

Fold in (by hand) the sweetened coconut flakes

Pour equal portions into three 8-inch cake pans. (I prepare mine with shortening and flour so the cake doesn't stick.

Bake at 325° for 25-30 minutes

Remove from oven and let cool on cooling racks. After about 10 minutes, remove cakes from cake pans and continue to cool completely before frosting.
Coconut American Buttercream
Slowly add butter and powdered sugar, a little bit at a time, into a stand mixer (or mix by hand if that's what you have) until all is mixed together.

Add extracts and coconut milk.

Whip on medium/high speed for 3-5 minutes until light and creamy.

To frost cake, apply generous layer of frosting on one layer of cake. Stack a second layer and repeat. Stack top later and completely cover cake with frosting.

Decorating: I used a scraper to smooth the sides and a Wilton 1M tip for the rosettes.

If desired: Top with toasted coconut (I toasted the coconut stirring constantly in a saute pan on the stove.