You know, I love strawberries. They are close to the top of the list of my favorite fruits. But for some reason, I do not love strawberry flavored things. Candy, ice cream, and even cakes. It's usually one of the last flavors I'll go for. But these strawberry cupcakes are pretty darn tasty. They are PACKED with strawberry all throughout the ingredients, and they are even flavored with one of my new favorite oils, thus creating the ultra luxurious and elevated Strawberries and Cream Cupcakes.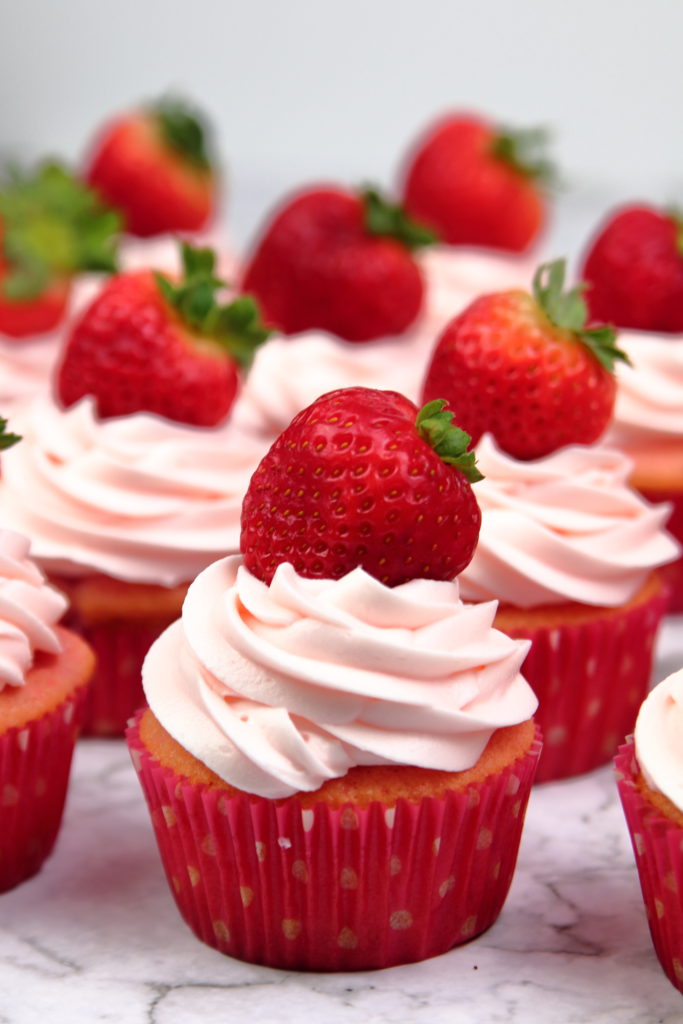 Now, when I make cupcakes, one of my main goals is for the CAKE to be delicious on its own without being hidden behind or reliant on the frosting. And these cakes sure met that goal. They are packed with multiple layers of strawberry from more than one source to make sure they are saturated with fruity flavor.
Getting the Strawberry in the Strawberry Cupcakes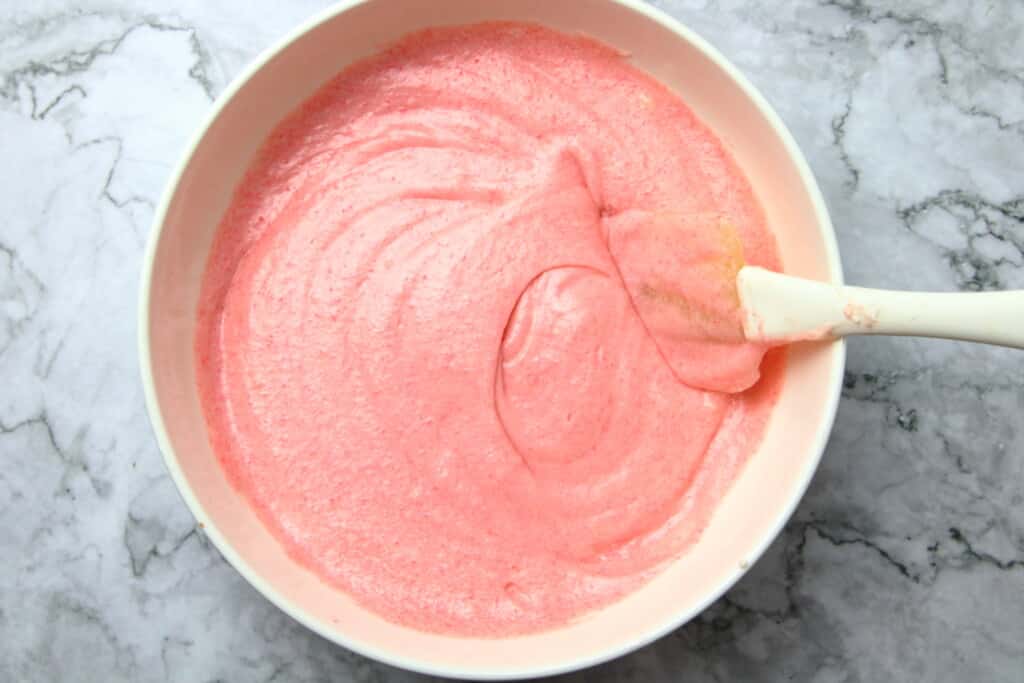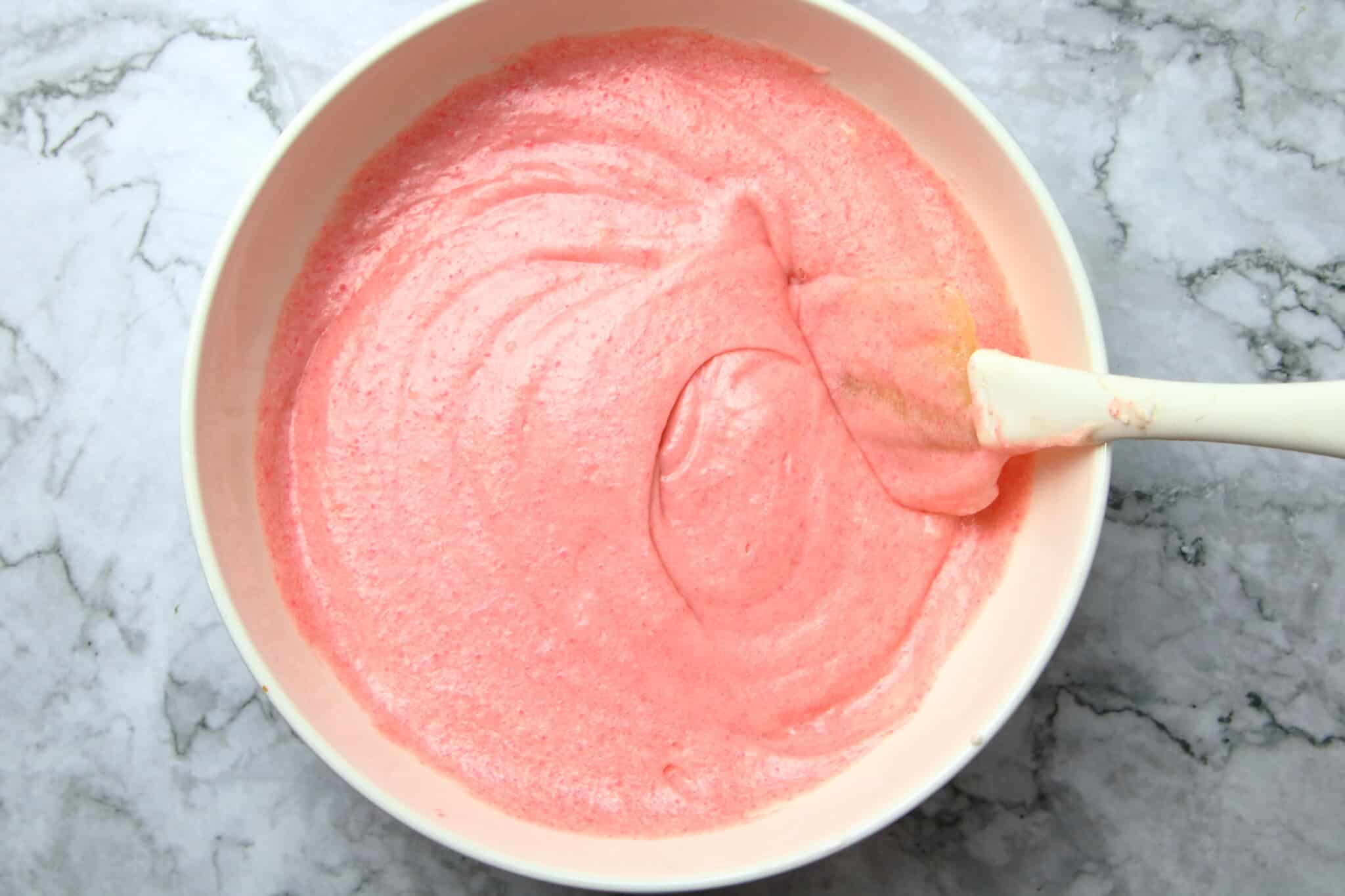 As with any cakes I make, I try to find the main flavor and get it into the recipe with as many sources as possible so that the flavor permeates the cake. These strawberries and cream cupcakes are no exception. There are extracts in tons and tons of flavors, but that is never enough for me. There are several ways you can layer in flavoring into a cake. For this batch I chose:
That third one is my favorite. I have found that adding gelatin to the milk REALLY gets that flavor throughout every morsel of cake.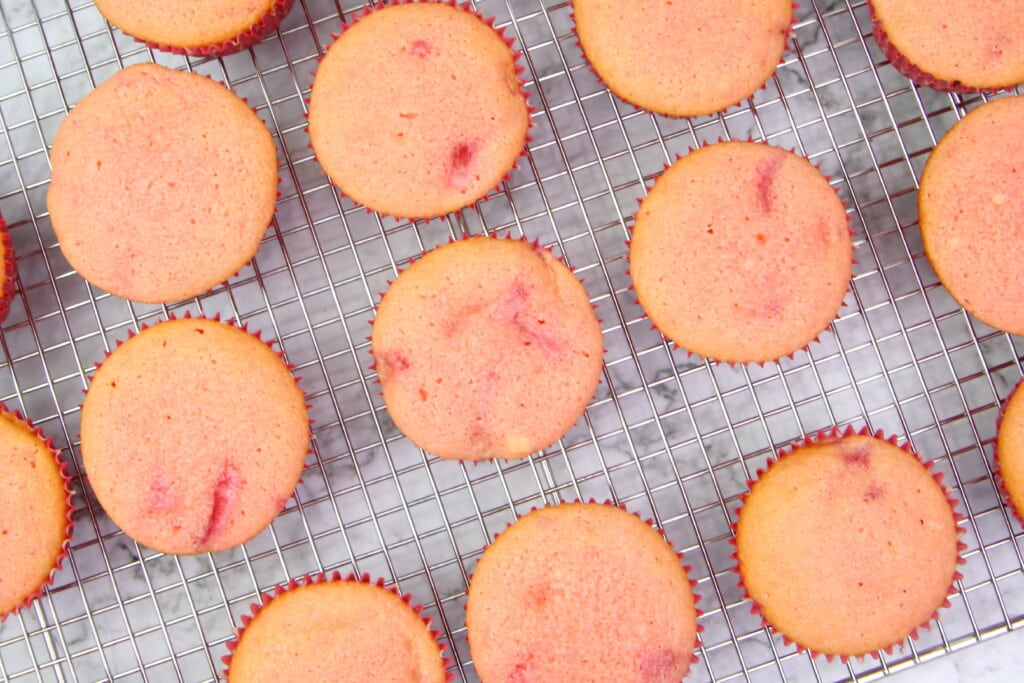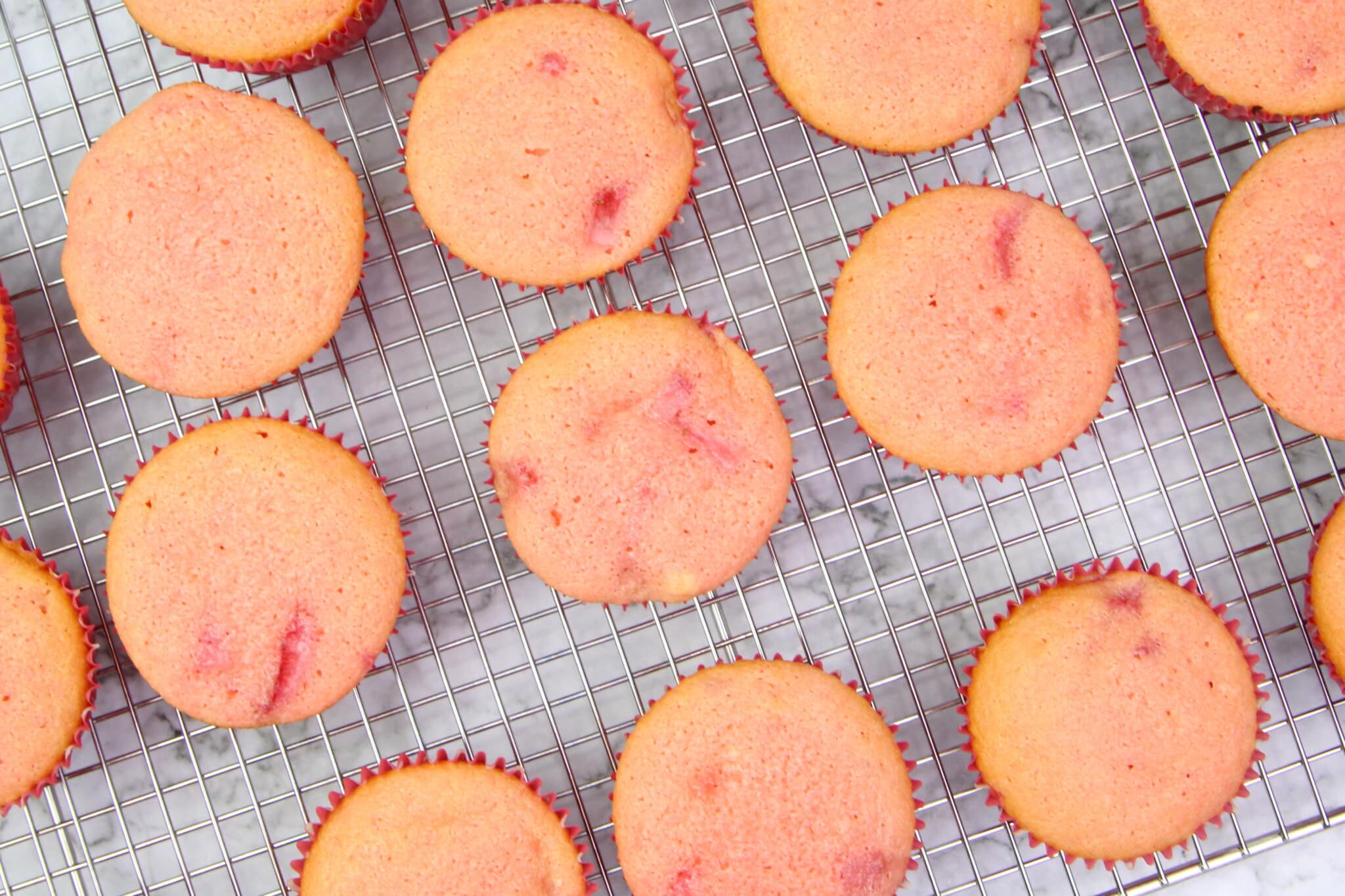 Turning Strawberry Cupcakes into Strawberries and Cream Cupcakes
So how do you take ordinary strawberry cupcakes and make them strawberries and cream cupcakes?
Two words: Bavarian. Cream.
I started using this super-strength flavor as an experiment and it changed everything. It makes everything sooo dang delicious. Just adding a half teaspoon of this Bavarian Cream (paid link) adds a whole new dimension of flavor to these strawberry cupcakes.
Side note: I know I talk about LorAnn flavors a lot, but I'm not paid by LorAnn. I just REALLY love the stuff.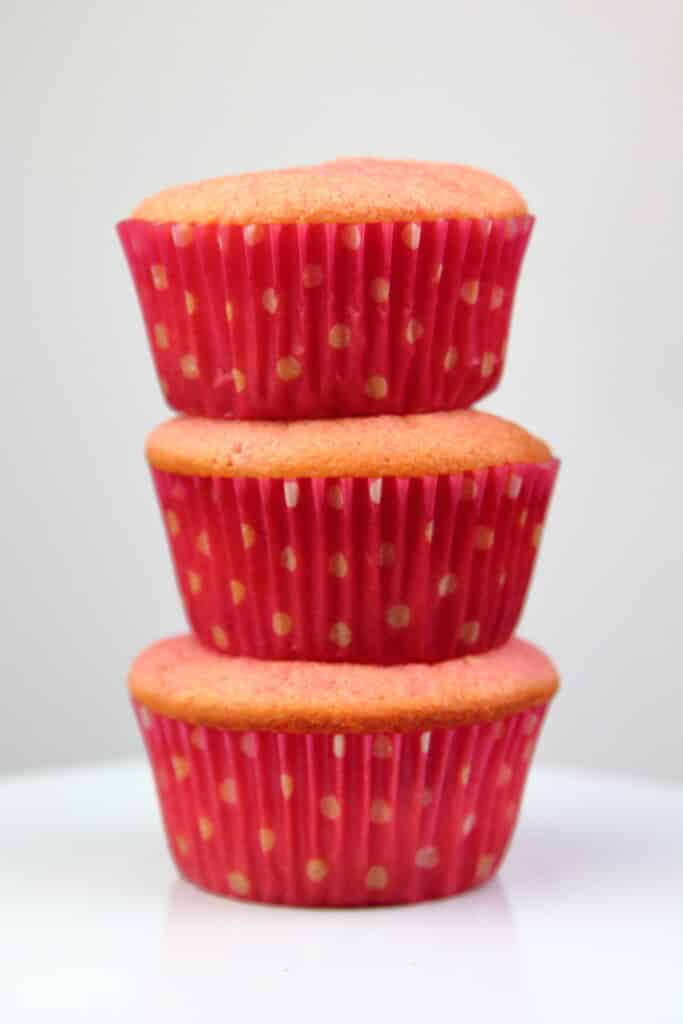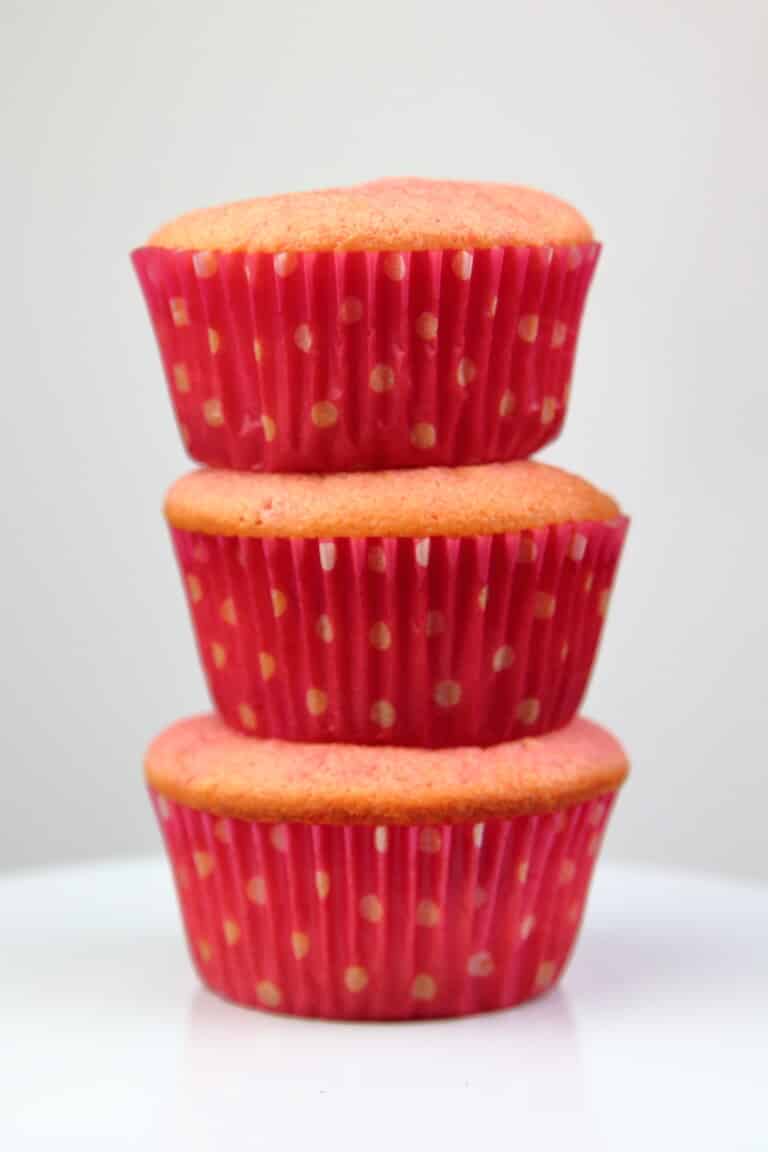 Tips and tricks for fluffy, soft, delicious cupcakes
As with any cupcakes, there are some general techniques that contribute to making them the most delicious they can be. I followed some of the standard methods for these strawberries and cream cupcakes.
Room temperature ingredients. Butter, eggs, creams- all need to be room temperature. Anything cold is going to hinder a nice smooth, mix.
Sour Cream. Sour Cream is very fatty. Fats in cupcakes serve as a moisturizer.
Using the whisk attachment in the beginning. This one if controversial because MOST people prefer the paddle. I love the whisk for everything until it's time for flour. Whisking the butter, sugar, and eggs whips air into the batter. Air=lightness.
Sifting the flour. Sifting flour puts air into it. Again, air=lightness. Since I use all purpose flour, I try to lighten as soften as much as I can with air. All purpose flour has more protein than cake flour. Protein= structure. Too much protein is drying. Countering this with sour cream and air works GREAT for me.
Do Not Overmix. Overmixing the batter will develop the gluten too much resulting in a tough, chewy cake.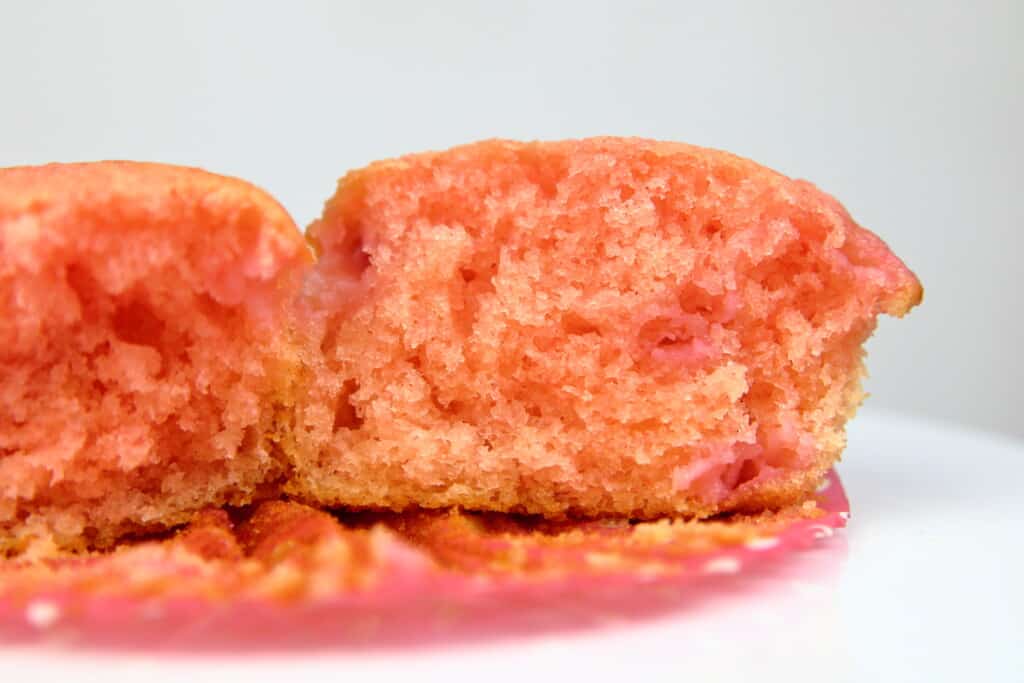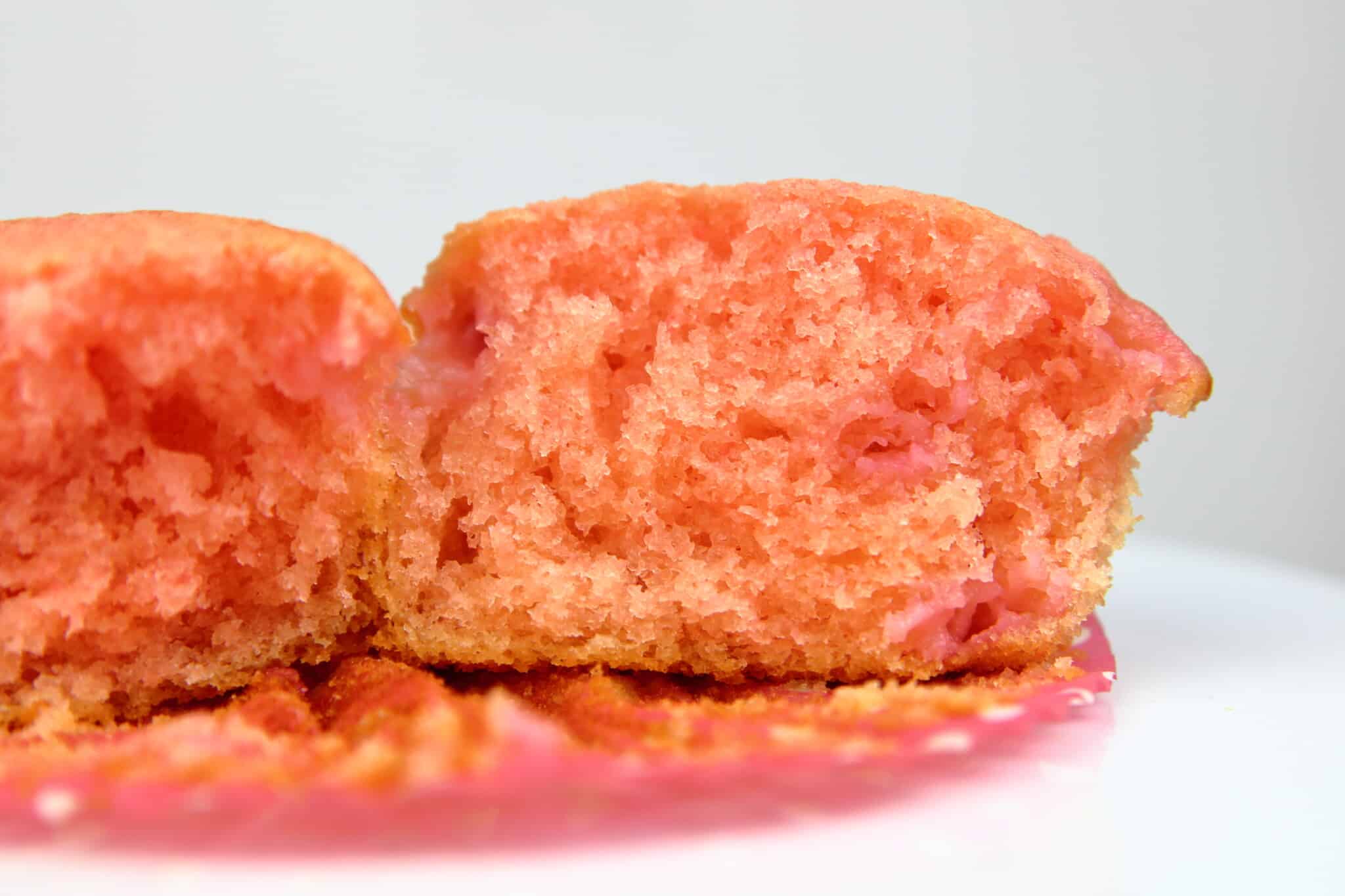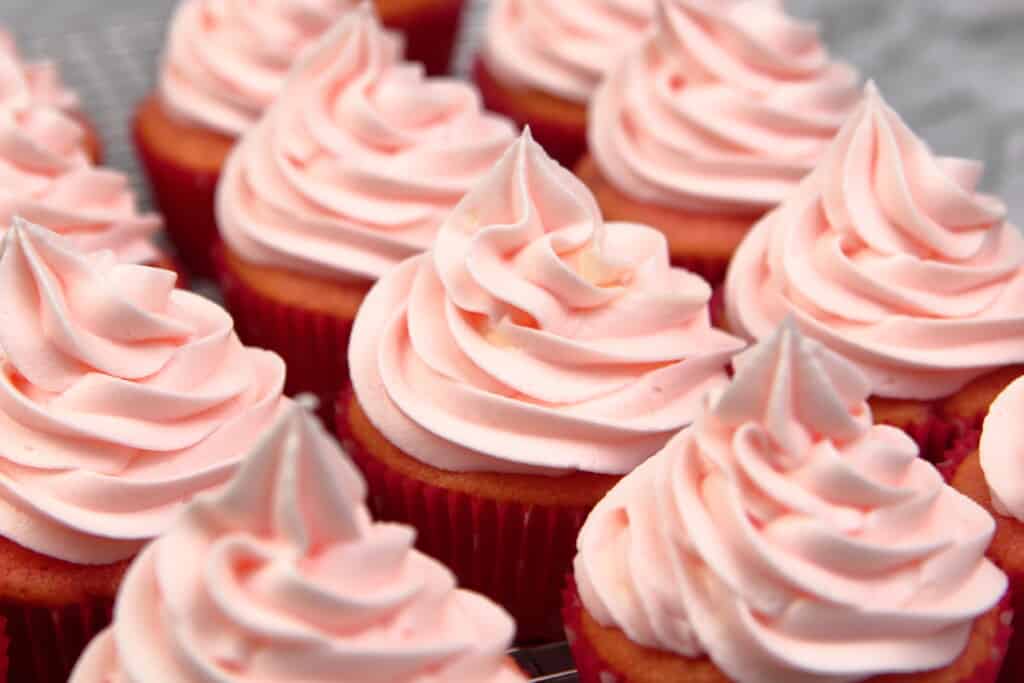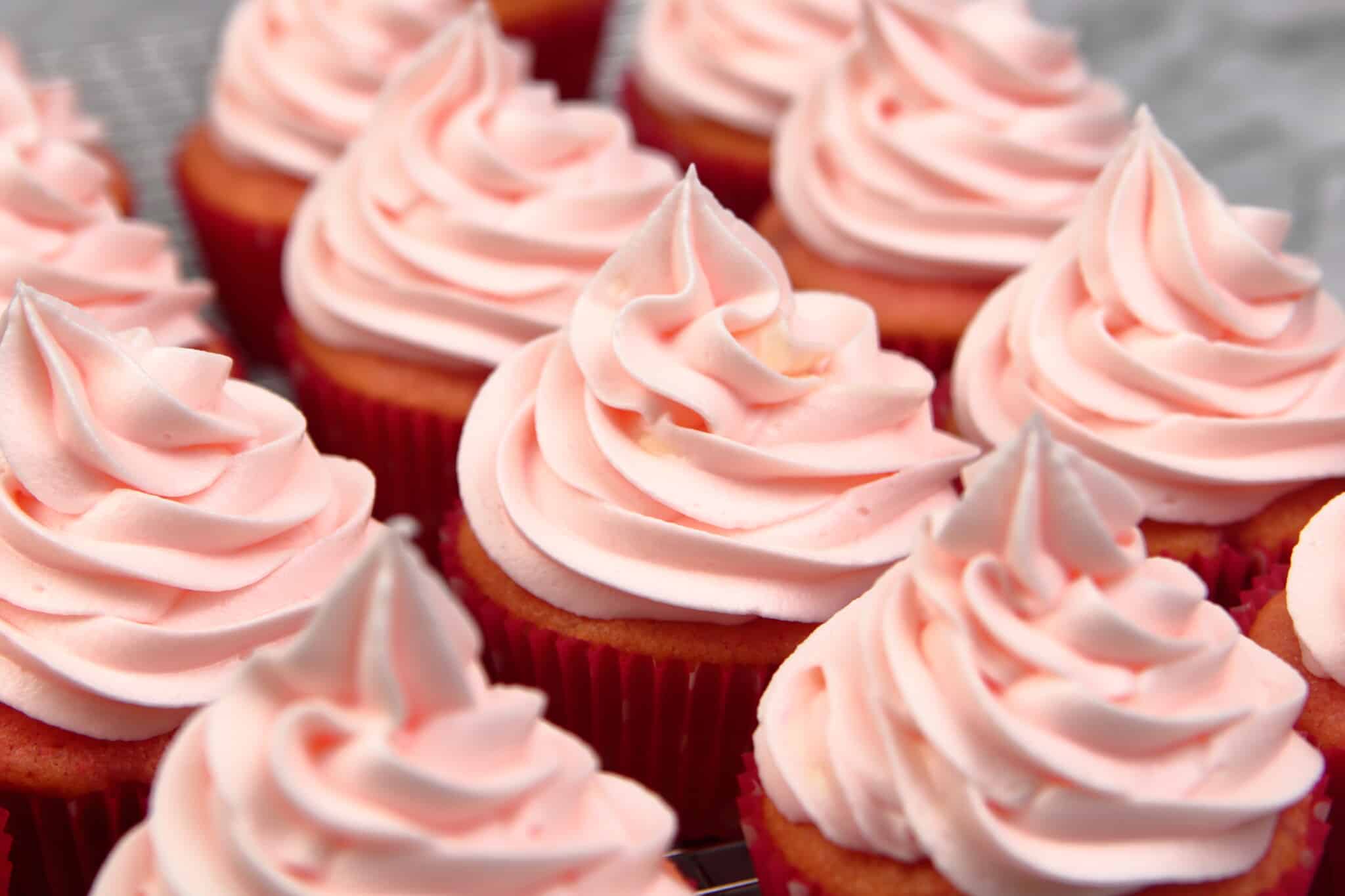 For the frosting, I opted for a cream cheese buttercream with a liiiiittle more cream cheese to butter than normal. I really wanted the cream flavor to be in the forefront for the strawberries and cream cupcake theme.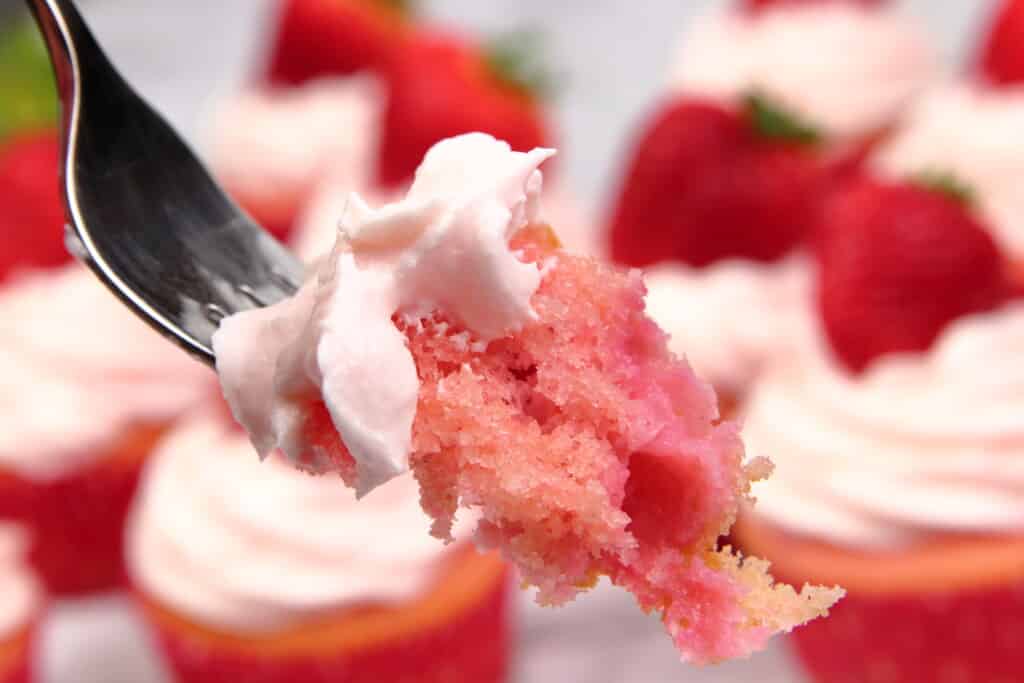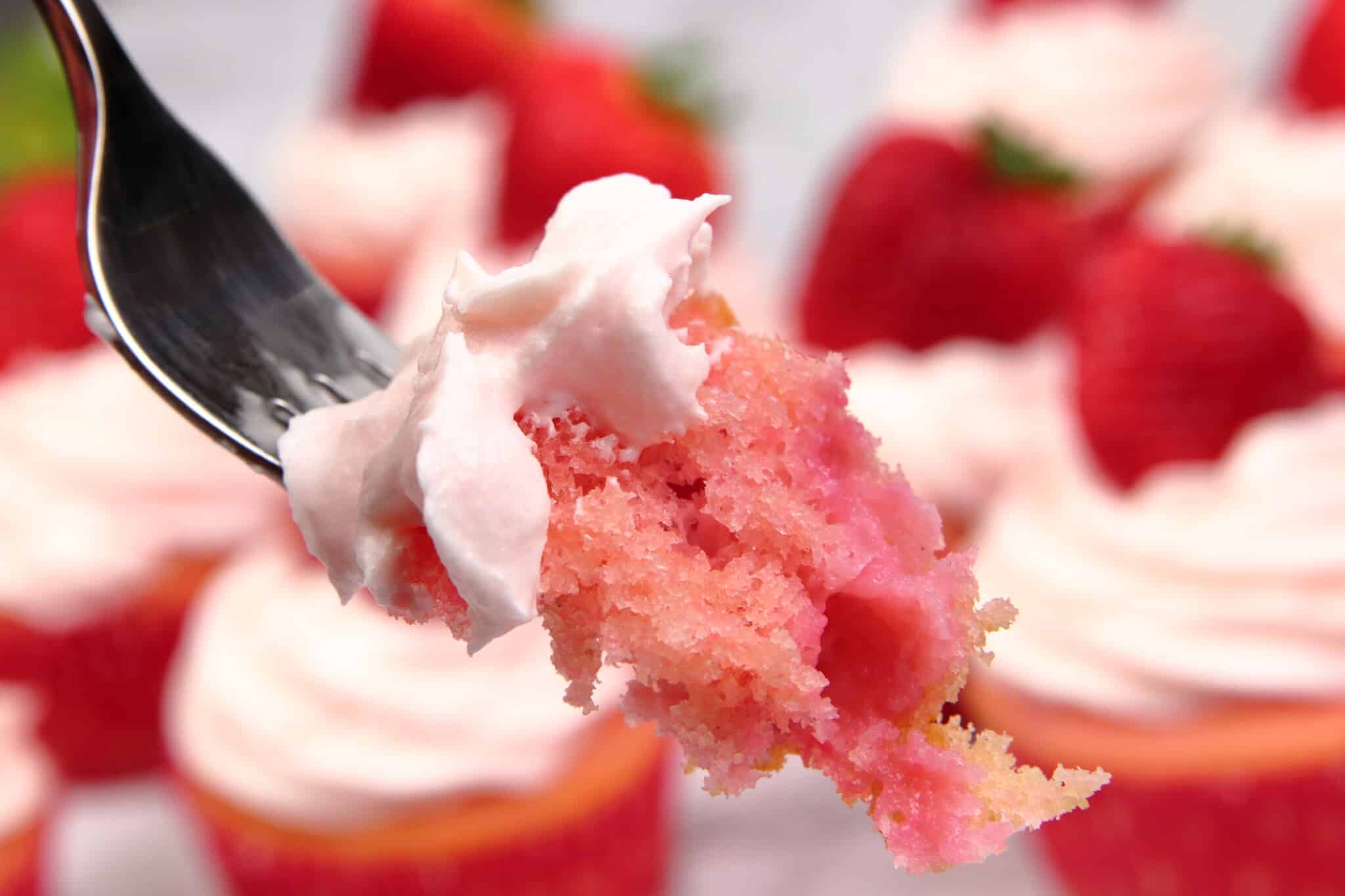 These strawberry cupcakes are delicious on their own, but topped with that strawberry cream cheese buttercream… phenomenal.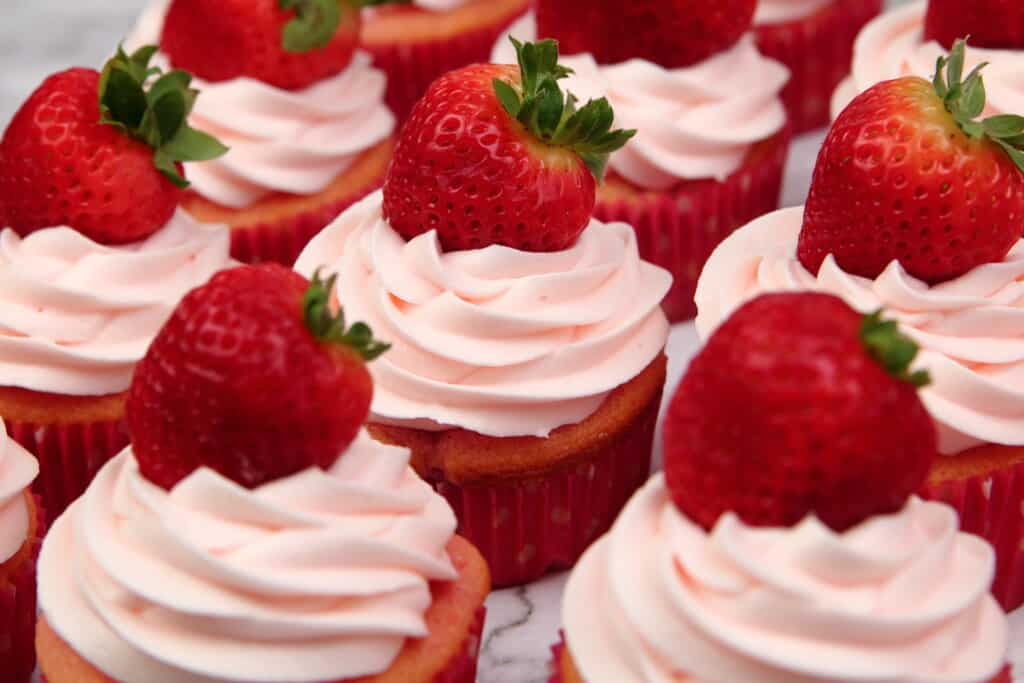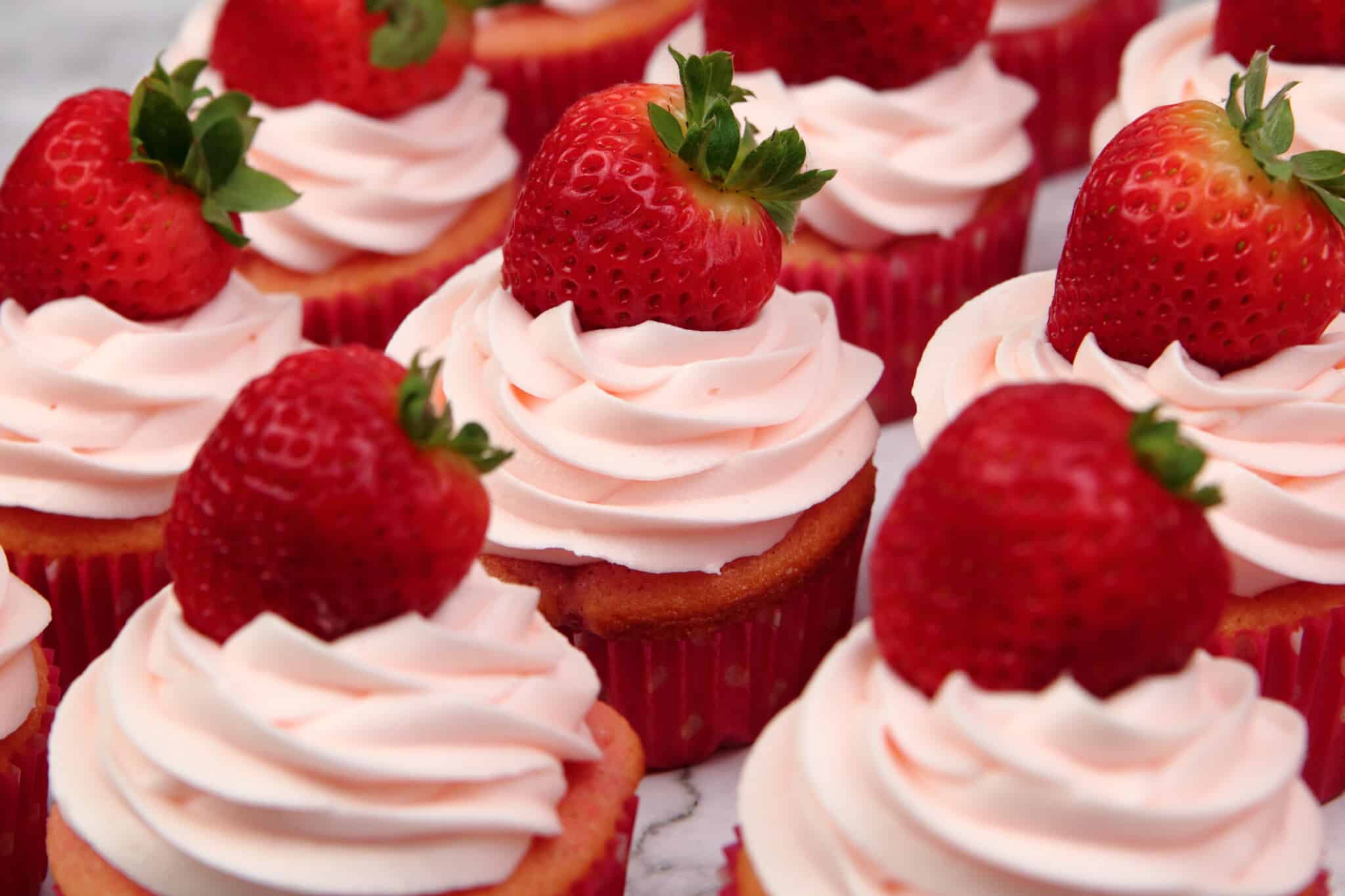 That's pretty much it for these! Top them off with from fresh strawberries for a super fancy and romantic look. Plus it's fresh fruit, so it's gotta be healthy, right?
These strawberries and cream cupcakes are sure to become an instant favorite! Enjoy!
Try these other cake/cupcakes flavors if strawberry doesn't do it for you: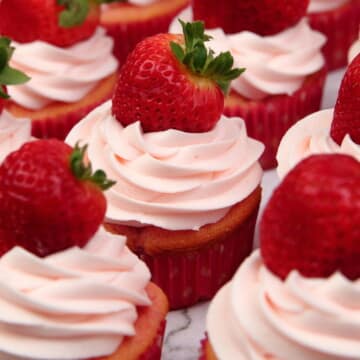 Strawberries and Cream Cupcakes
Strawberries and cream cupcakes with strawberry buttercream are moist, fluffy, and packed with fresh strawberries and topped with strawberry cream frosting.
Print
Pin
Share on Facebook
Rate
Ingredients
All ingredients room temperature
210

g

Flour

200

g

sugar

1

stick

butter

2

eggs

115

g

sour cream

5

oz

milk

2

tbsp

strawberry gelatin

½

tsp

LorAnn strawberry flavor super strength

½

tsp

LorAnn Bavarian Cream

¼

tsp

Vanilla Extract

½

tsp

salt

1

tsp

baking powder

½

tsp

baking soda

½

cup

chopped strawberries
For the Buttercream
½

stick

butter

8

oz

block cream cheese

350

g

powdered sugar

¼

tsp

LorAnna Strawberry super strength

¼

tsp

Bavarian Cream

Pinch

salt
Instructions
For the cakes
In a medium bowl, combine and mix sifted flour, baking powder, baking soda, and salt.

In a stand mixer, whisk on high the butter and sugar until light and fluffy. Add eggs, extracts, and oils. Mix.

In a small saucepan, warm milk. Whisk in the strawberry gelatin.

Switch to the paddle attachment. With the paddle on low, mix in spoonfuls of flour mixture and portions of milk, alternating until they are all used. Do not overmix.

Fill cupcake liners ¾ full. Bake for 14 minutes, or until an inserted toothpick comes out clean.

Frost when completely cooled.
For the buttercream
Sift powdered sugar so that all the clumps are out.

Whisk on high all ingredients together until light and fluffy, about 5 minutes.

When cakes are cooled completely, pipe onto the cupcakes. Top with fresh fruit if desired.